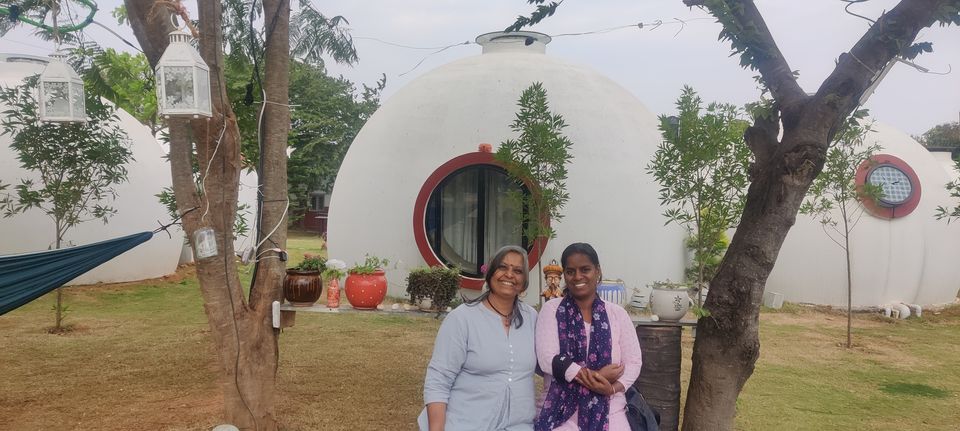 I am excited to introduce you to a unique homestay that I believe will pique your interest. The five-room dome homestay is the first of its kind and is designed to provide a perfect blend of nature and tranquility.
Located in close proximity to the city, the dome homestay called El Domo Sarovara is the perfect place for those who want to escape the hustle and bustle of the city but still want to be close to all the action.
The homestay is situated in a picturesque location, surrounded by lush greenery and breathtaking natural beauty, just 15 mins drive from Yelahanka.
Sarovara homestay is built in the shape of a dome, providing a unique and stylish accommodation experience. The construction has sustainability as a core feature. The energy within these domes are positive and reverbrational. Come and experience it.
Each of these five rooms are designed with comfort and luxury in mind, featuring top-notch amenities and facilities to ensure that guests have a memorable stay.
One of the highlights of the dome homestay is the private splash pool that suit rooms have access to. The guests can relax and unwind in the cool, refreshing waters of their own private pool while enjoying the stunning ambience that surrounds them. One can also have a private campfire or a private barbeque.
In this homestay, they understand the importance of privacy and exclusivity. That's why they offer guests a peaceful and secluded environment, away from the noise and distractions of the city.
Sarovara homestay is perfect for those who want to rejuvenate their mind, body, and soul, and reconnect with the 5 panchaboota elements of nature.
I invite you to come and experience the tranquility of this dome homestay. The friendly and attentive staff are ready to welcome you and provide you with the best hospitality experience you can imagine.
in-house chef has some signature dishes to give you the best gastronomic experience. He can arrange breakfast in the private pool as well.
At this place, they celebrate valentine's day everyday. We can help you celebrate your birthday or anniversary with the perfect room decoration, cake flowers etc.
You if want some activities along with leisure, you have just the right combination for you. You can immerse yourself in pottery, TT, carrom, chess, Badminton etc
Sarovara is attached to a beautiful lake and hence the Dome homestay is called Sarovara.
At the sarovara you can sit by the lake, feed the fishes, or just enjoy bird watching at leisure
It's on a 1.5 acre campus and you can also hire the entire place for private parties, birthdays, corporate events or small marriages.
For more details call me and I can guide you from my first hand experience.
B C Kiran
8105545777