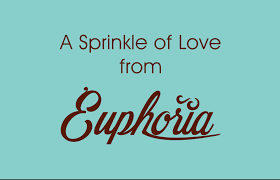 Euphoria speak alot of word in there carefully selected menu of BROWNIES owned by Faisal and his wife who have opened this lovely outlet where you could place your order and get delivered or else pick up your self .
Location :- 79, 3rd Cross Road, Hastinapuri Colony, Sainikpuri, Secunderabad, Telangana 500094
contact number :- 099490 02305

MENU -
1. Classic Chocolate Brownie
2. Chocolate Walnut Brownie
3. Chocolate Coffee Brownie
COST :- EXTREMELY ECONOMICAL
What I like about it :- It packed extremely beautiful it has a mint green box and with golden letter on it . Inside it has plastic wrap in it which keep brownie safe . The brownie is gooey and very soft not at all dry which is very big plus point .
HOW CAN I ORDER IF AM FROM HYDERABAD OR SECUNDERABAD
You could contact them through 099490 02305 and atlest place your order minimum 2 to 3 day prior
Zomato also deliver there product to your desired location
HOW CAN I ORDER PAN INDIA
http://snackishq.com/brands/euphoria/ you'll could order buy this website pan India
Euphoria also courier pan India for cost 150 rupee for 500 gm you could always get in touch with them for more information .
MUST VISIT OR ORDER IT YOU WILL LOVE IT !!