These fruits literally saved me from dying of hunger in Greece, I tell you. So it happened that I became victim to a gypsy pick-pocket when I traveled to Athens from London. Not like I would have been rich with the few pennies that my purse held (forget euros and cents. But it had my dear debit card!) I was broke, my plans of visiting the Greek islands were doomed and obviously, I had NO MONEY TO BUY FOOD. So I spent my two days in the capital city, leisurely walking to all of it's sights and praying to the Greek Gods for a miracle.
Mishaps apart, Athens was breathtakingly beautiful and the sweltering heat gave me a much awaited opportunity to finally bid good bye to my thick black coat from London. Also, being young comes with perks when it comes to having the energy to beat the heat. It is these subtle things like the weather of a new place that bring about a renewed enthusiasm in me, every time I travel.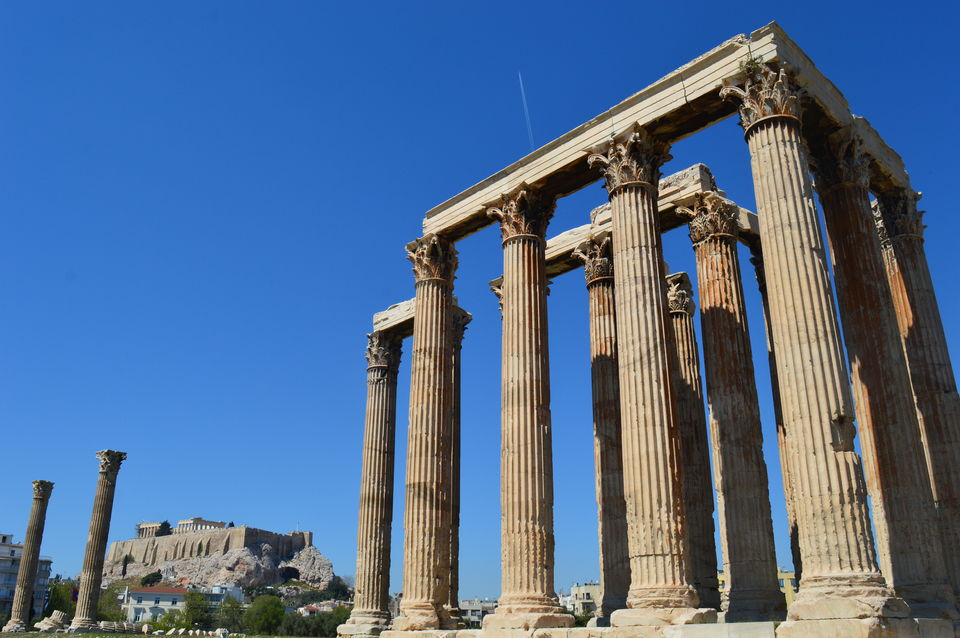 My first destination was the Temple of Zeus Olympian, a mile from the hotel to which I owed a debt now. Kind as they were, they trusted me and agreed to let me stay and pay later. I think the Greek Gods had also decided to show mercy, because I found my way into the city gardens that very evening. Oranges grew there in plenty. I could eat one now and then, fresh from the orchards! Guess It was my turn to steal :P After eating and stuffing some in my backpack, I climbed up the Mount Lycabettus, the top of which I had seen only from a distance, that morning. The moment I set my foot there, my pride in having conquered the peak was humbled by the fleeting golden rays that came with a spectacular sunset over the city which spread around the mountain, indefinitely.
My tired legs didn't stop at the Mount Lycabettus, because now my heart raced excitedly at the prospect of watching the sun rise over the mountain, next morning. So on the following day, I was all set for an early start while the city slept soundly. I made my way to the Acropolis and finally to the Parthenon of Goddess Athena, from where I could see the mountain in the distance and a most perfectly timed sunrise around 7:15am. This visit to Athens had robbed me off my wealth, but in return it had rewarded me with what nobody can take from me. Epiphanies that were mine and mine alone. I think, I now know for certain that there is greater good beyond anything that seems formidable! :):)
Where to stay:
I booked my accommodation via Booking.com in the Kimon Athens Hotel (much in advance). It was extraordinarily comfortable for the 22 euros/day and right in the heart of the city :) I usually prefer hostels, but Greece was my last destination after 15 days of non-stop travel across 5 countries in Europe and I needed the comfort of an independent room! :):)
Transportation:
Its really easy to walk around Athens. Also, you don't want to miss out on the crazy amount of entertainment on the streets. Don't worry about the heat. There's a Greek yogurt shop around every corner ;)
Travel Tips:
i.Be a little alert with respect to your belongings
ii.The Greek temples close down by 3 pm, so start early! :)
iii. Buy the Acropolis ticket for 12 euros. Acropolis is the complex which houses the ruins of all these historical temples. This ticket is much cheaper than buying the entry ticket into all of the sights separately.
Duration
2 days and 2 nights.