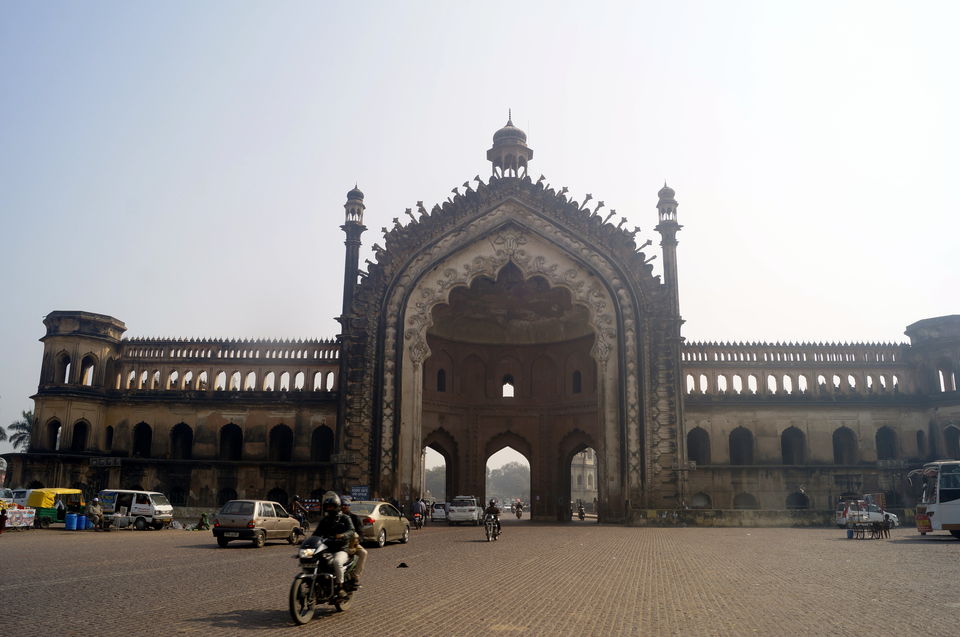 It was a last minute decision to take a solo trip to Lucknow. I took an overnight bus from Delhi to Lucknow and reached the city early morning on Saturday. Cabs are easily available in Lucknow and I took an Uber to my hotel in Hazratganj. My friends from Lucknow had told me that it would be best to stay at Hazratganj as all the historical places would be easily accessible from this location.
Hazratganj gives the feel of Delhi's Connaught Place and is a popular shopping and dining hangout amongst Lucknowites. Without wasting any time, I checked in my hotel at around 6:00 am in the morning and took a short nap before leaving for the famous 'chowk' at around 9:30 am.
As directed by hotel staff, I took a shared auto from Hazratganj and reached chowk within 20 min. My friends had told me to eat at 'Shree' and therefore I asked a pan shop owner for directions. However, they suggested that being a tourist I should actually try 'Sewak' ki poori. I decided to trust their recommendation, and entered the main market through 'Gol Darwaza' and reached Sewak's shop. They had just opened for business and gave me freshly made poori and hot sabzi. Devoid of any breakfast, I quickly gobbled two plates of poori and sabzi and didn't even burp. Next, I tried the 'kali gajar ka halwa' for the first time in my life and it was simply amazing. As I walked back towards the chowk and crossed the gol darwaza, there were several vendors selling malai makkhan', lassi and rabri. Now malai makkhan is like 'Daulat ki chaat' in Delhi's Chandini Chowk, but lucknow one is lighter and tastier.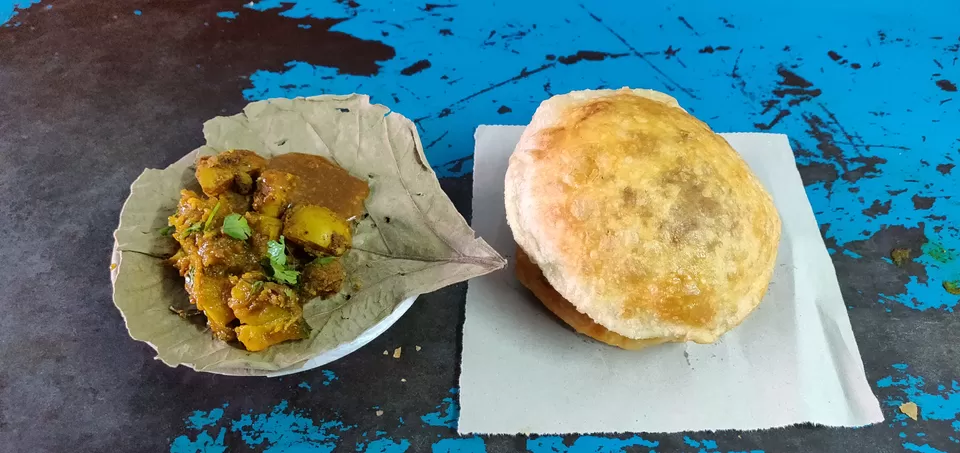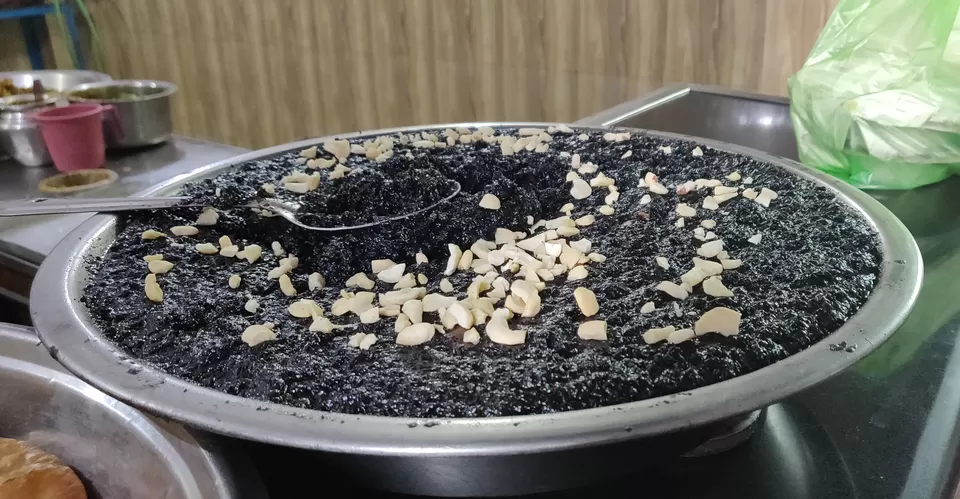 Having filled my stomach, I decided to check out the historical places around the chowk, which were Rumi Darwaza, Bara Imambara, Clock Tower, Chota Imambara and the Jama Masjid.
All these historical monuments are within walking distance from Chowk and one can either ask the locals or simply consult google maps. I prefer to use both.
The first thing to appear on the road would be the majestic Rumi Darwaza. I would save you the history lessons but it's one the most beautiful gateways I have ever seen. I just stood there for some time gazing at the structure. I later came to know that tourists can go on the top of the gateway also, so anyone else going should inquire about that.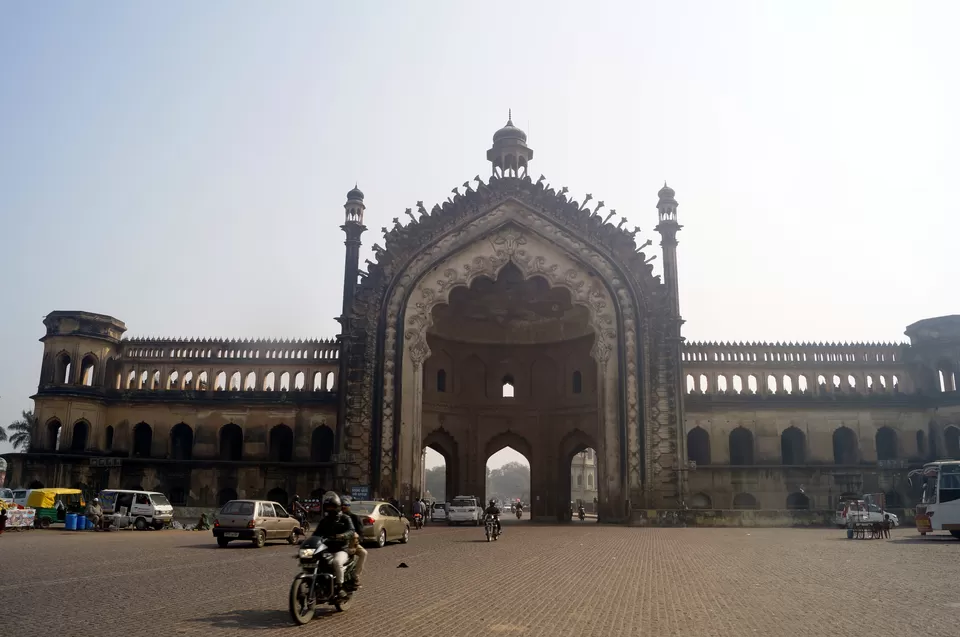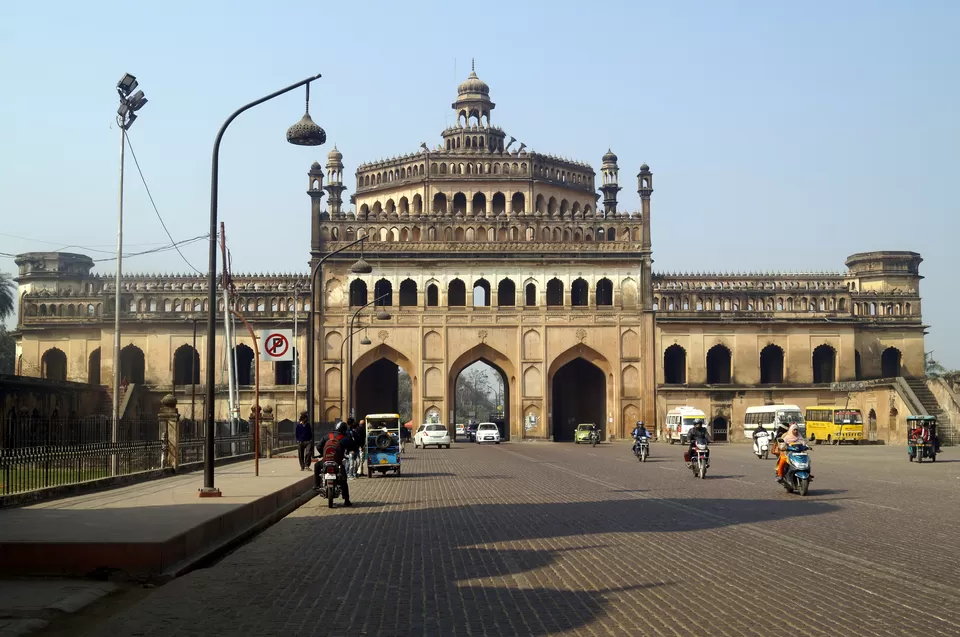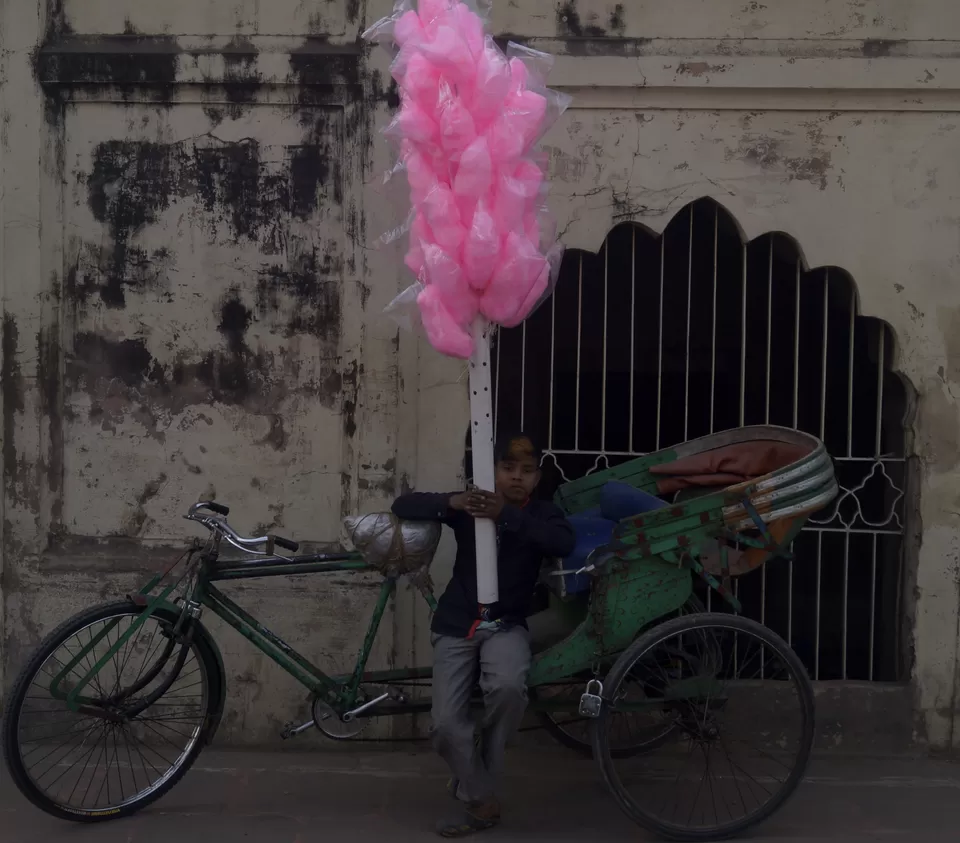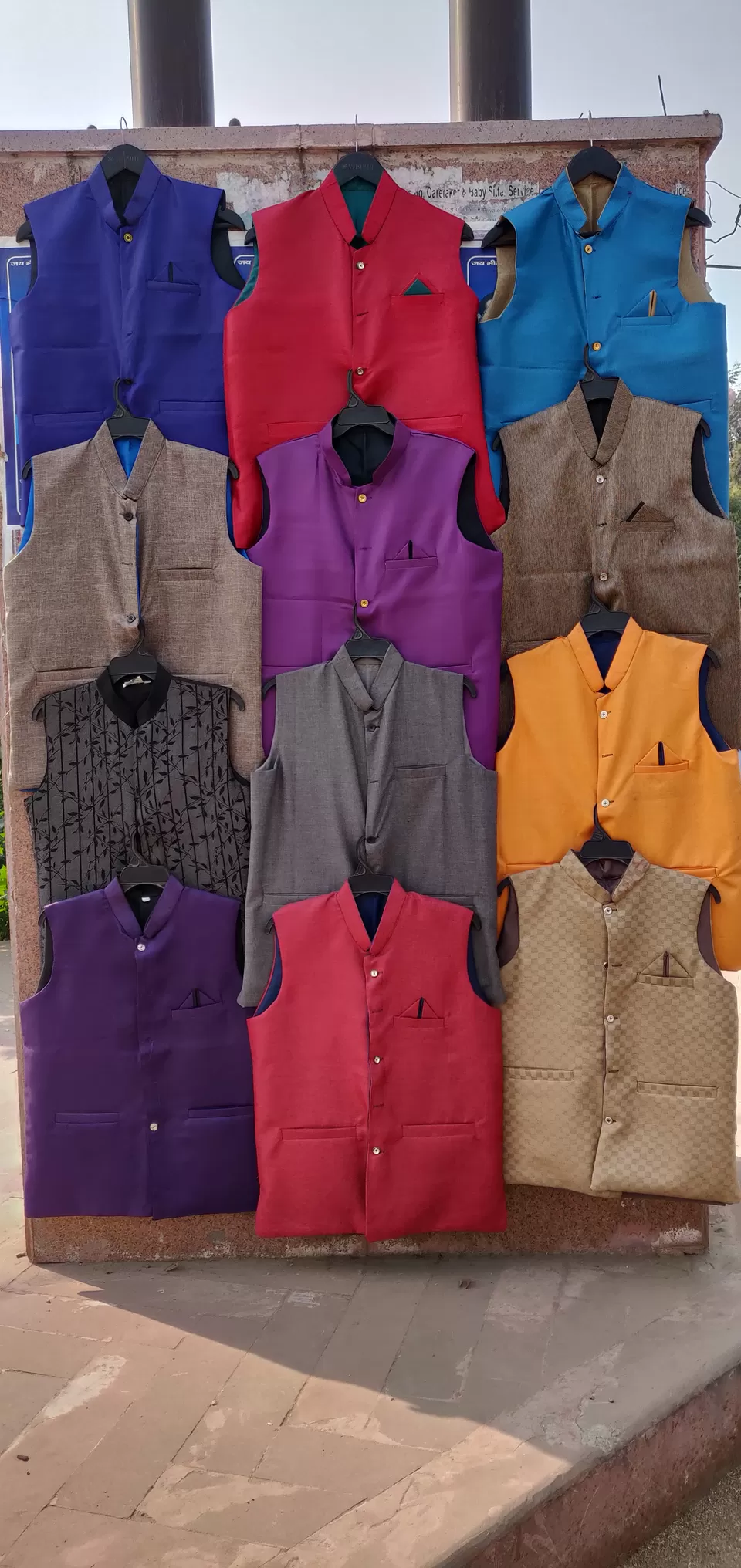 On crossing the gateway, you will reach the entry point of the Bada Imambara. Although, I didn't hire the guide here, I would advise people to take a guide as there are some parts like the maze on the roof that you would not be able to visit without the guide. They charge just Rs. 100 and talk very nicely in that melodious lucknowi style. Besides the lush green lawns and the grand mosque within the imambara complex, there is a stepwell cut with an amazing geometric precision.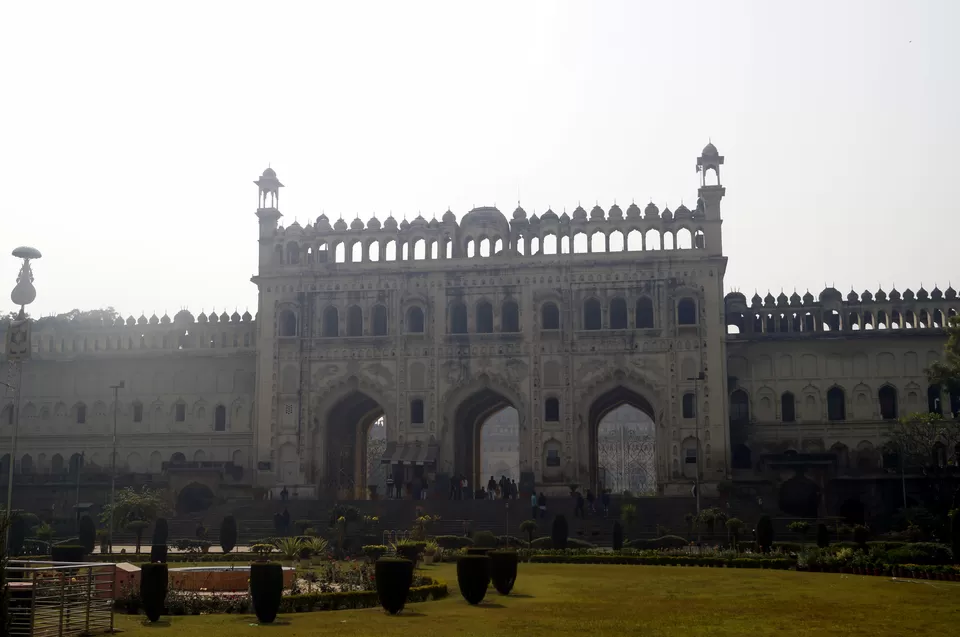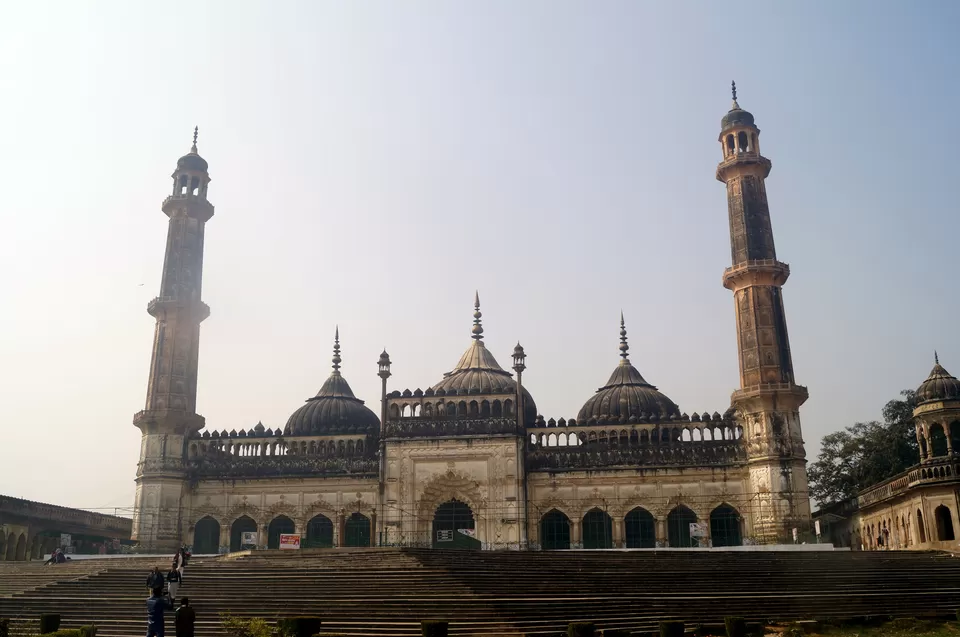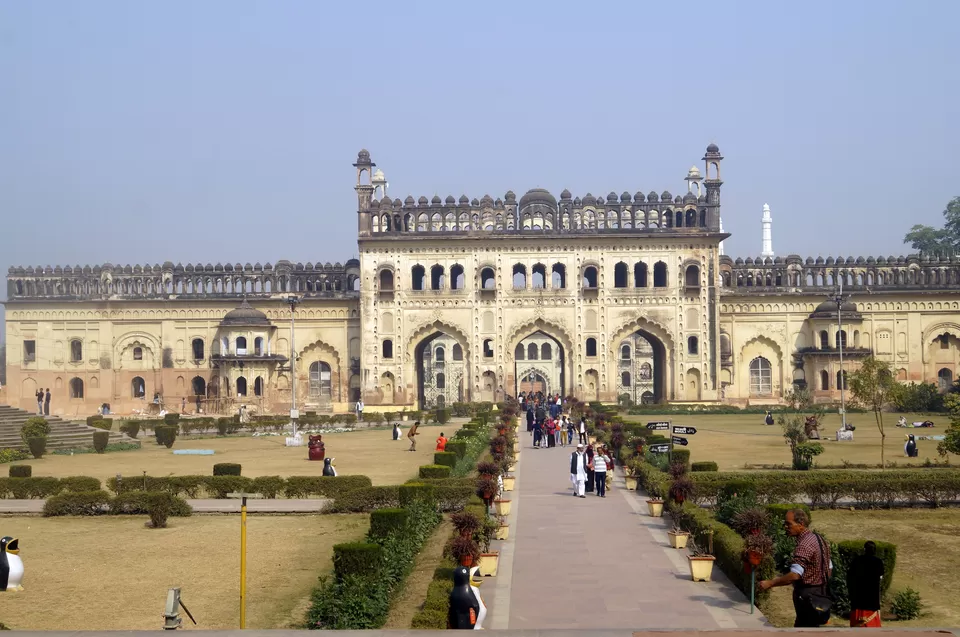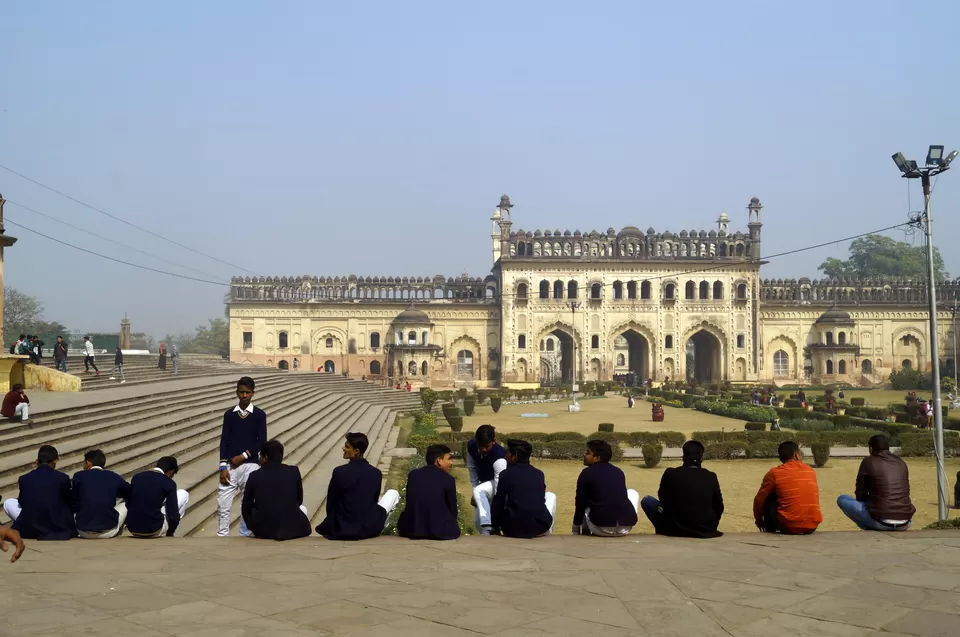 Then, there is the main building with a large hall, with windows at each end that give a dramatic effect as a minimal amount of light seeps in. The maze is at the top of this building and there are guides available at the entrance.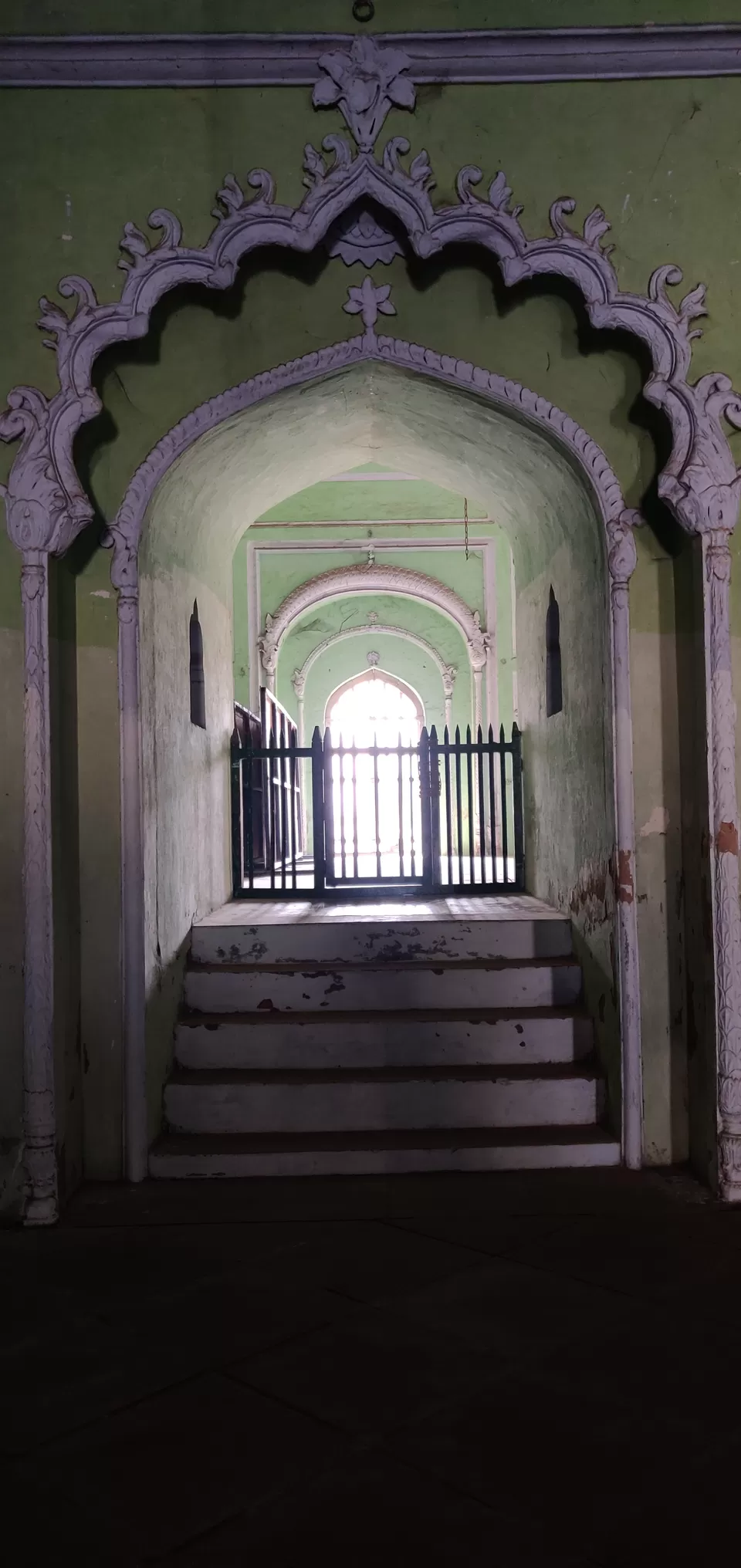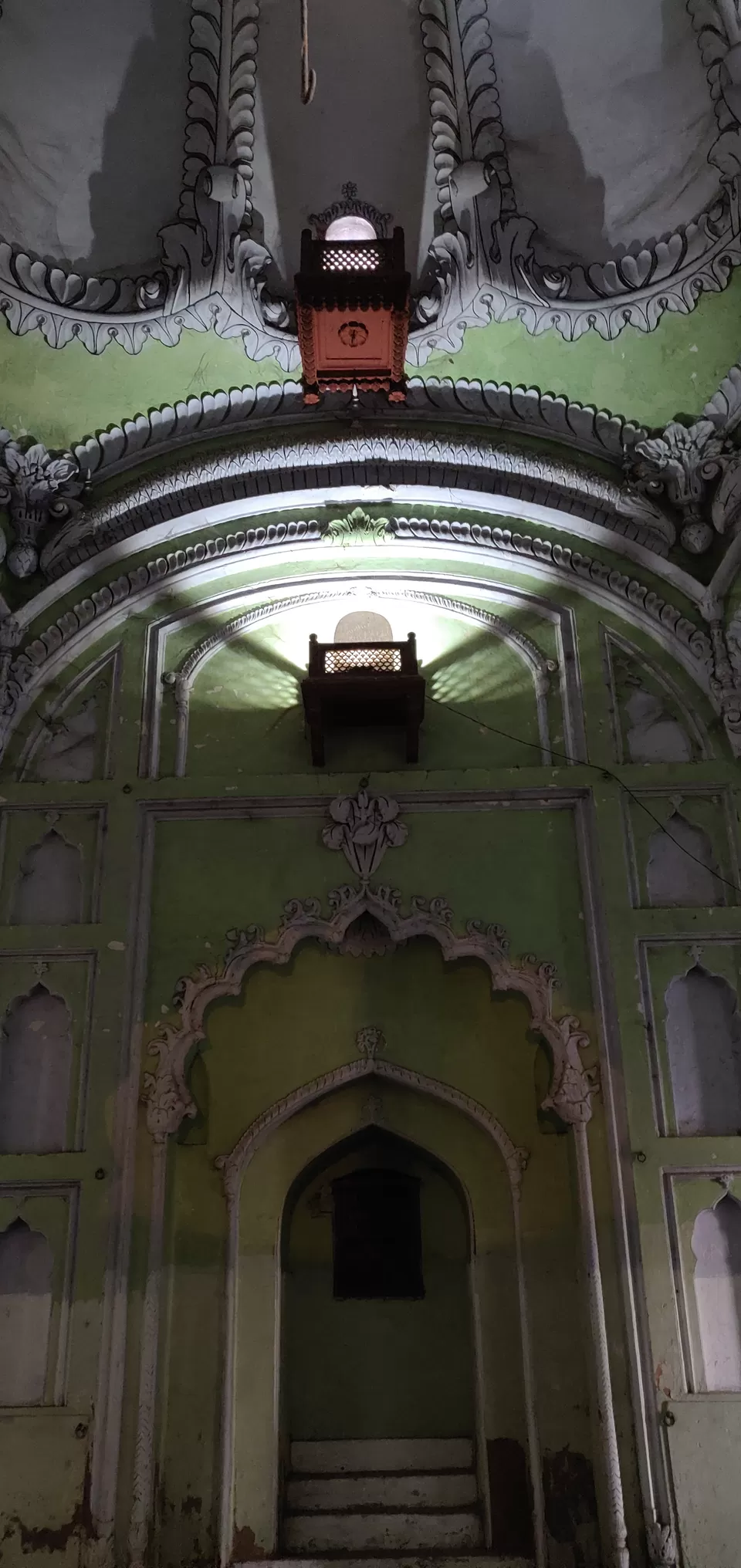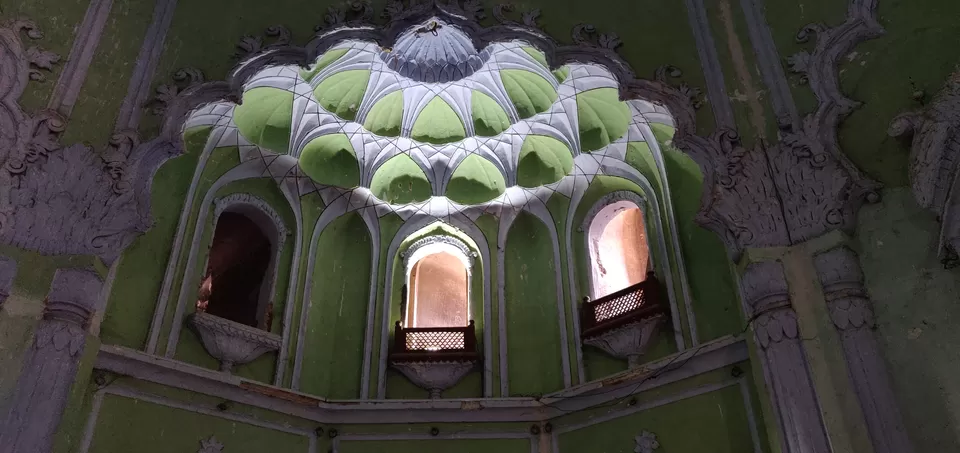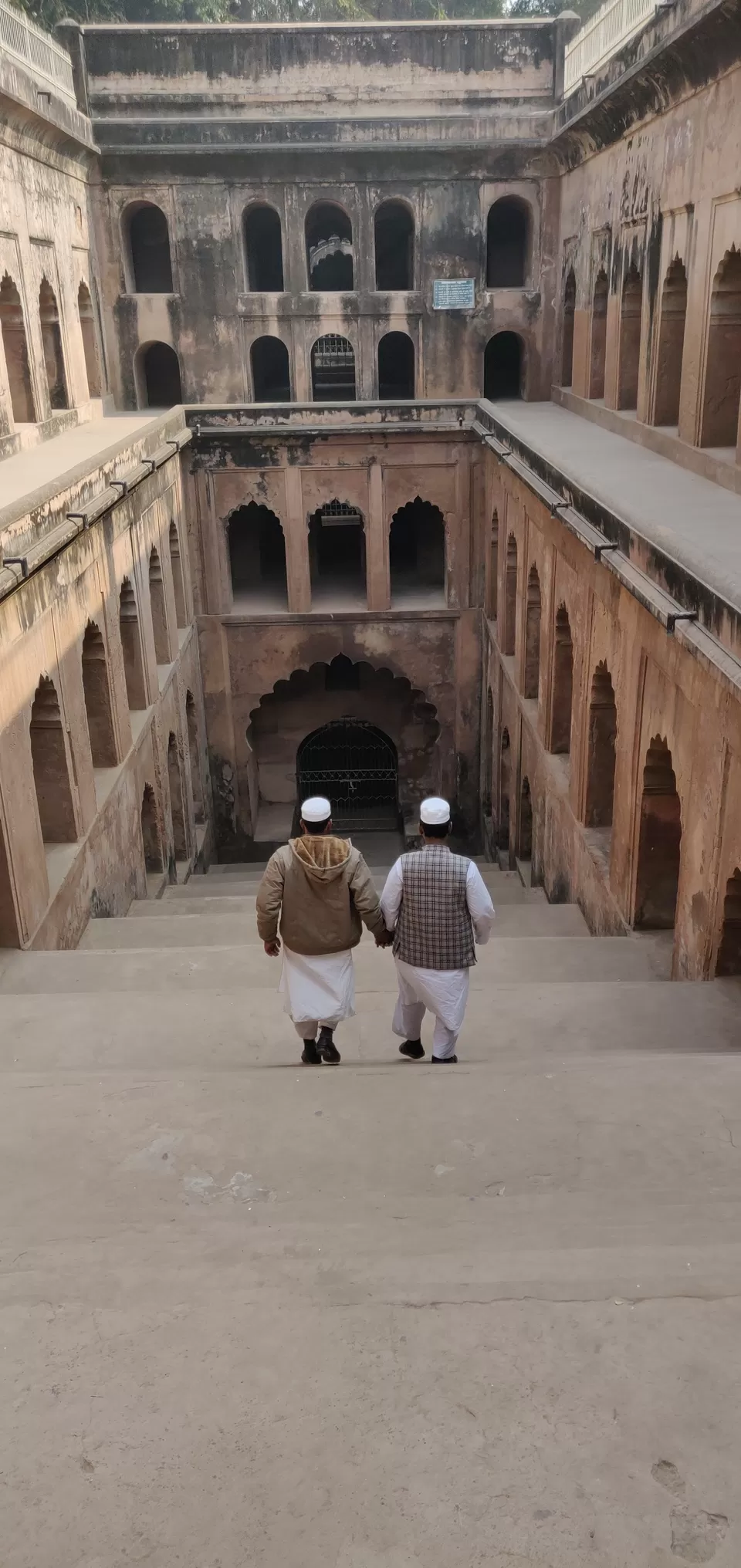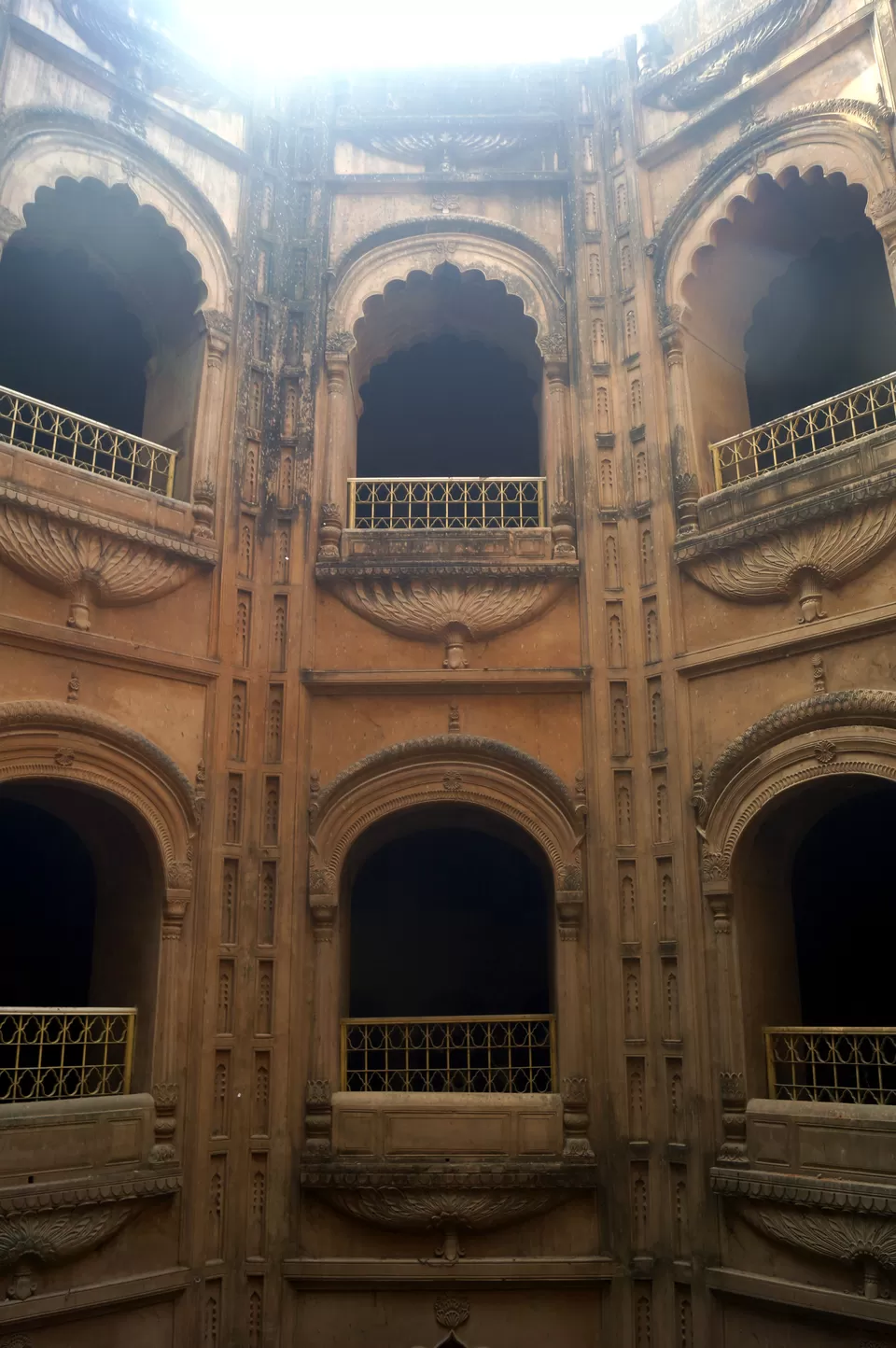 After the Bada Imambara, I took the main road again, crossed the Rumi Darwaza and walked straight. The clock tower falls on the way and will make you stop and admire its structure for few minutes. It is surrounded by benches and a park and can be used for a bit of a rest. On walking a bit further, I reached the Chota Imambara. Here, I hired the guide and he very courteously gave me the whole tour of the complex. It is quite small than bada imambara but has a nice fountain in the middle as well as some beautiful glasses and chandeliers in the main building.
As soon as I got done with Chota Imambara, I got a call from my college friend, Alisha, whom I had planned to catch up with. She instructed me to come back to Hazratganj, where there is a nice cafe. I booked an uber and reached The Cherry Tree Cafe at Habibullah Estate in Hazratganj. My friend told me that the cafe building was earlier part of a big house, which the estate owner converted into a cafe. It was filled with friends and couples having a good afternoon coffee. I ordered an Espresso and a sandwich, both of which turned out to be really good. Alisha and me talked about the old college days and 100 different things under the sun after which she had to leave for some work. I bid her goodbye and walked towards my hotel, which was surprisingly very near to the cafe.
Somewhere in the middle of the day, I booked a heritage walk provided by an organization called 'Tornos'. I came across the walk on a blog and though the price was steep at Rs. 1400, the reviews very really positive. I decided to give it a try and booked it online in the afternoon only. Tornos got back to me quickly and informed that I would be the only person on the walk and provided me with the location and contact details of my guide. The walk mostly focuses on the market area and doesn't include any of the monuments.
After rest a bit at my room, I again took an Uber to the chowk. Just to inform, most of the Uber rides during my trip cost around Rs. 100, which is a small price to pay for the time and energy you save in not running after public transport. I reached the chowk at 5 pm where my guide, Ravi Naimish, was patiently waiting for me. I was a bit concerned as to whether the walk will be worth my time and money. But, I learned soon that my fear was unfounded.
Ravi started the walk by providing me with another malai makkhan. Instead of telling him that I already had one in the morning, I kept quiet and gobbled the treat. Next, we entered the gol darwaza and Ravi started telling me the history of buildings and vendors. He took me inside the small lanes to show the workshops where Lucknow's famous chikan embroidery work was being done. He also took me to small colonies besides the market called 'Tolas', which have only one entrance and one exit. He gave me the history of the kathak dancers, whose art was greatly admired by the Nawabs of Lucknow. From delving into the history and methods of preparing paan to learning the story behind the local flower sellers who moved from depending upon the kathak dancers as their major customers to the local hindus, Ravi went into a lot of details. We stopped and looked at old houses and their architectural design. We also stopped at several shops, including the one where countrymade perfume or 'itra' is sold. I smelled a variety of aromas and couldn't stop myself from buying one. The range of the perfume for a 10 ml bottle can vary from Rs. 400 to Rs.1200 to Rs. 24,000!!! You read that right. The most amazing part was that the owner of the 'itra' shop had a couplet or sher for every single aroma he made me try. We sat down at several places to have tea, or just talk and there was no sign of any hurry from Ravi.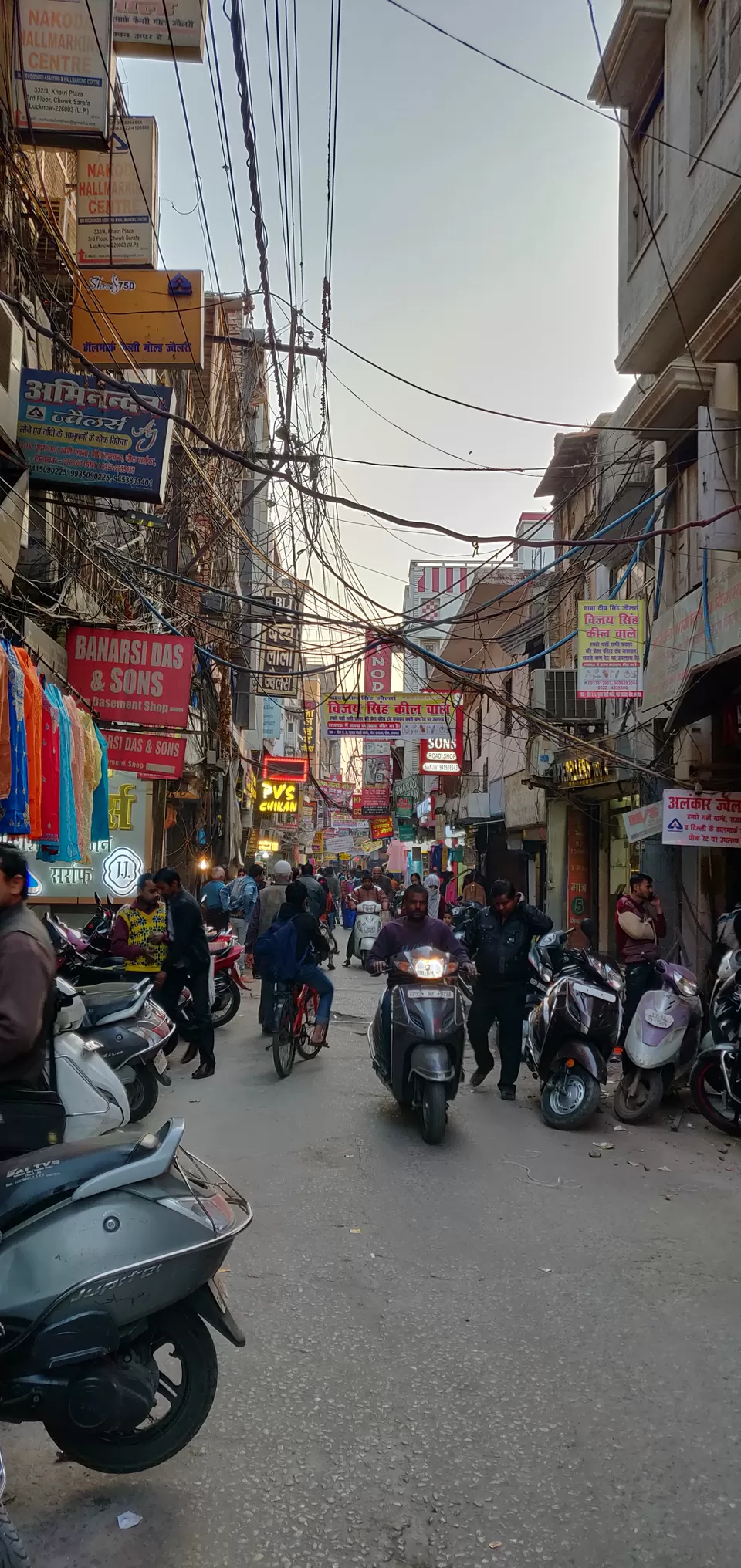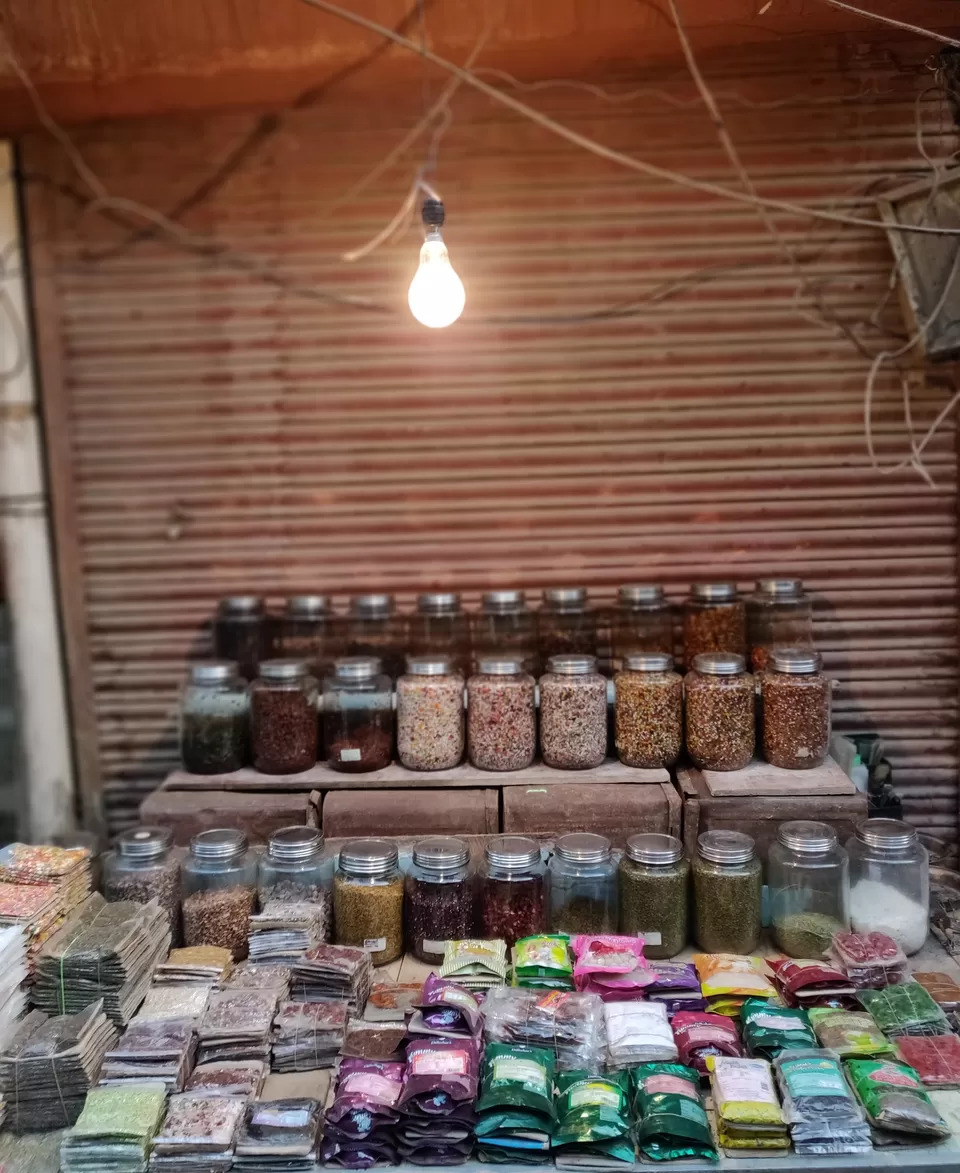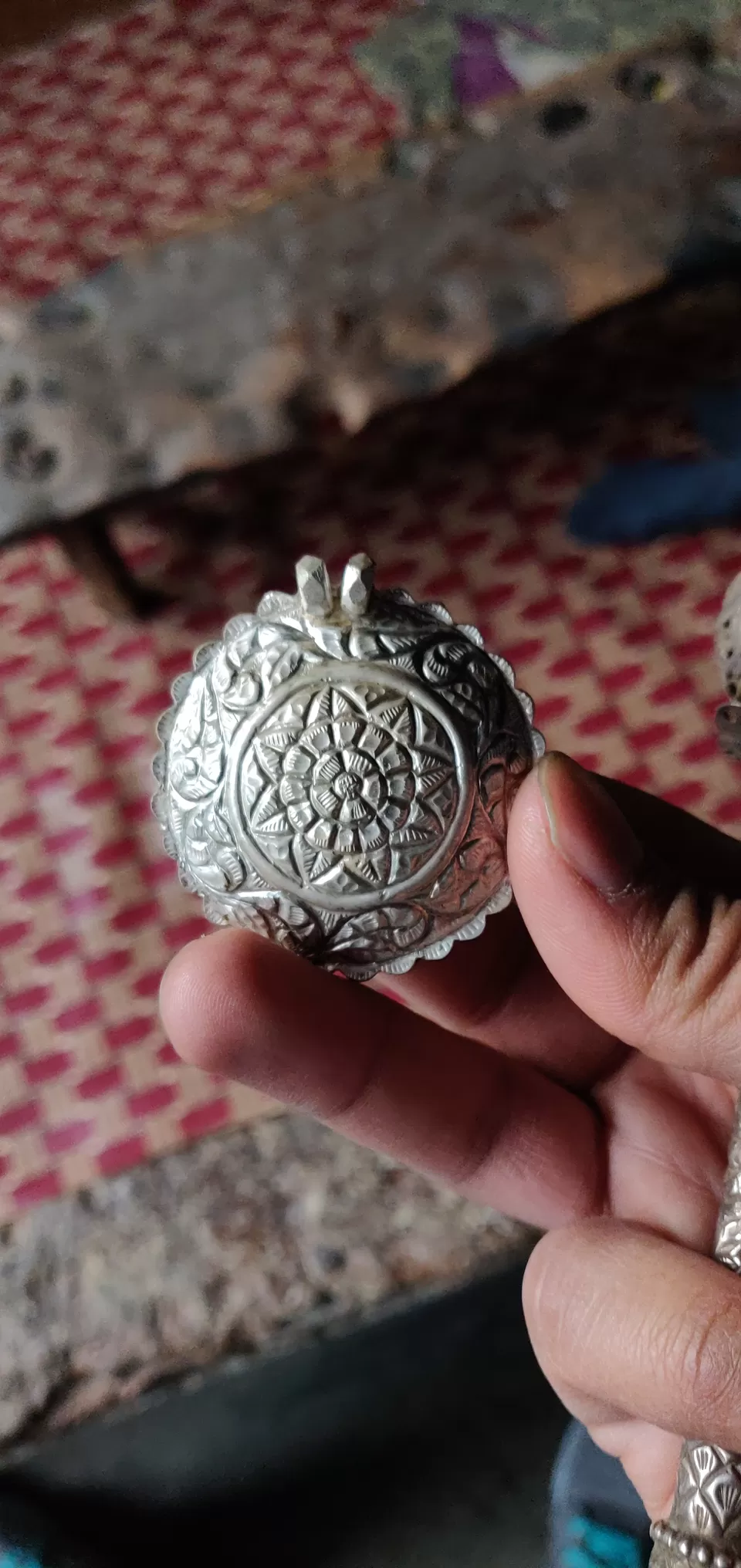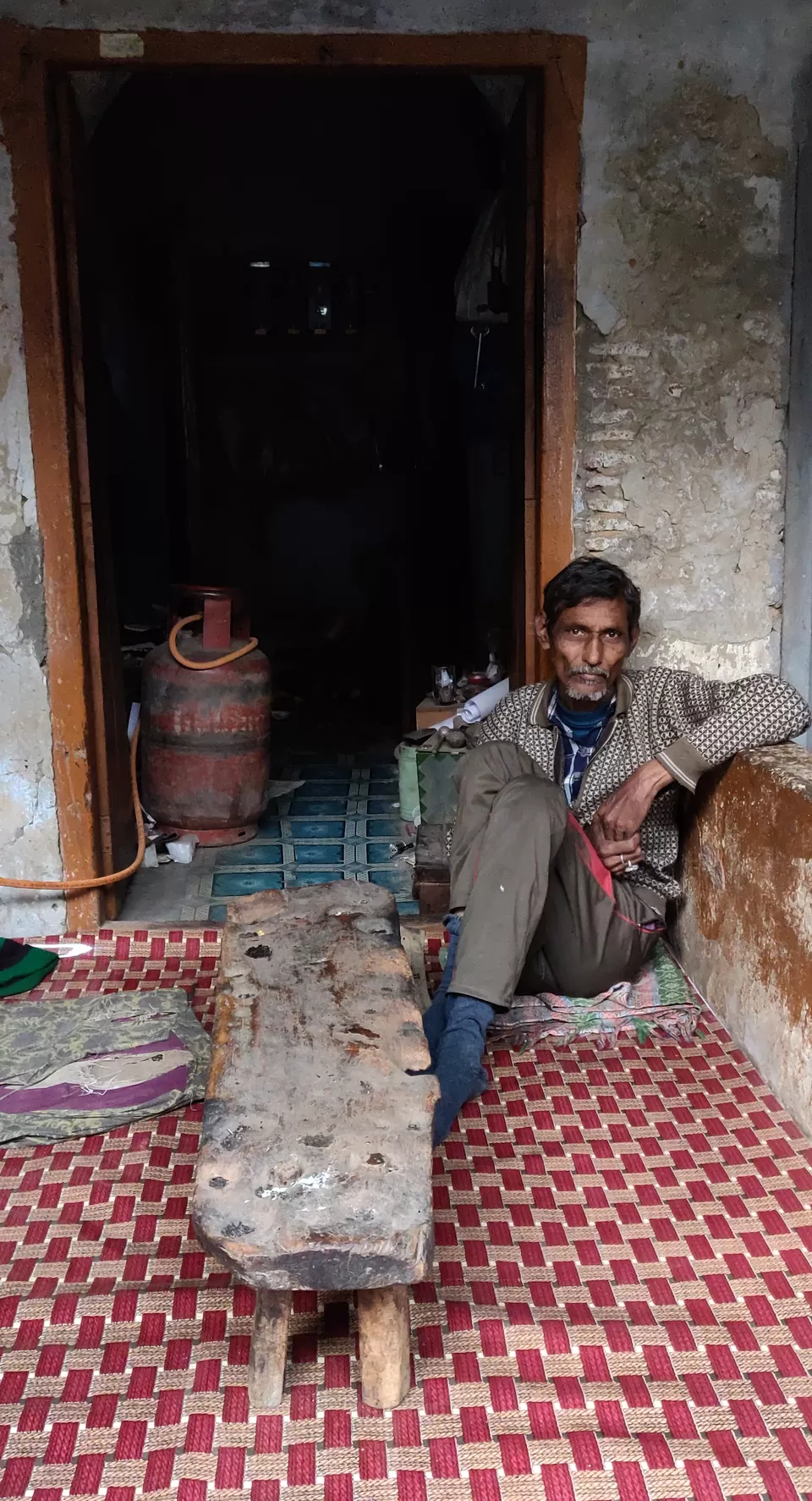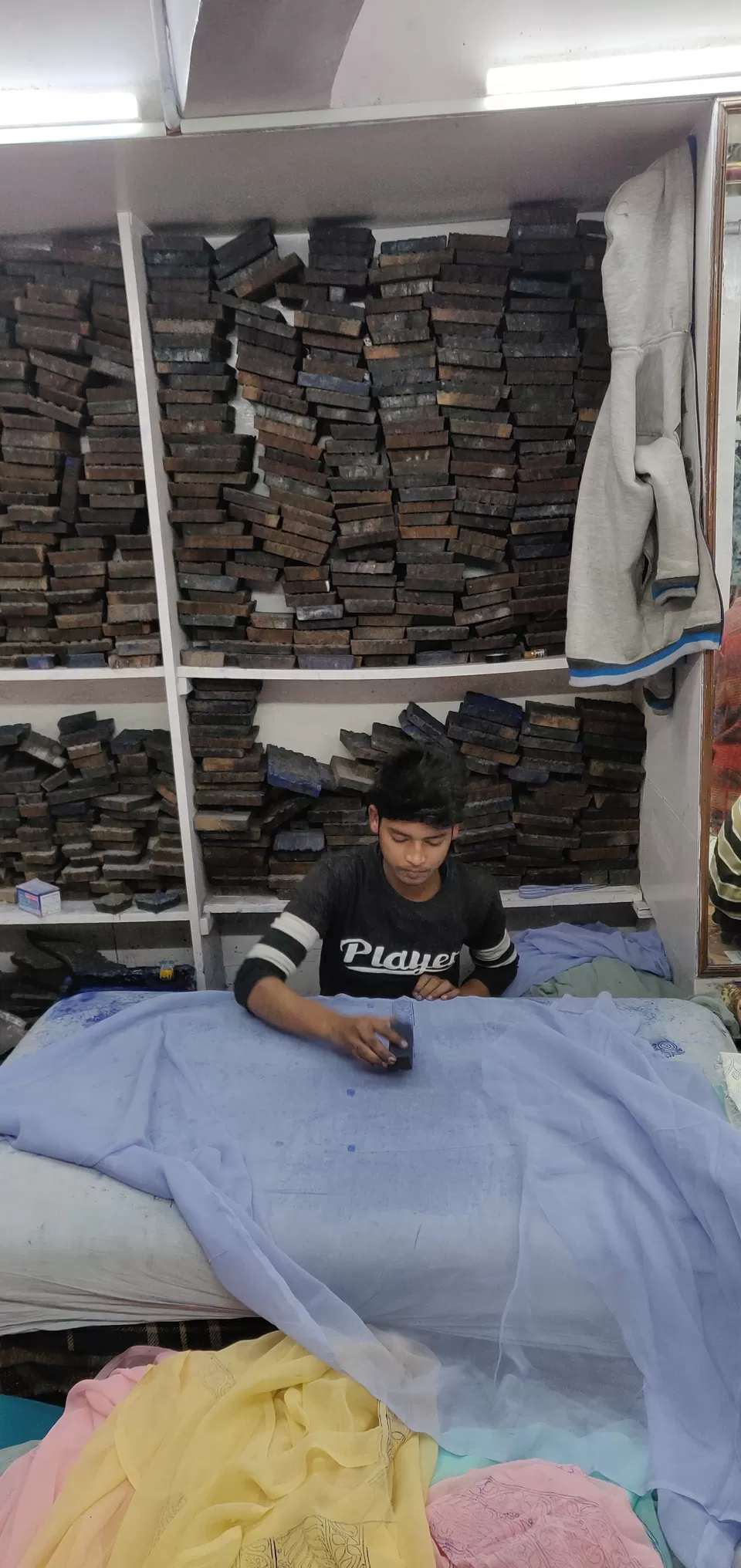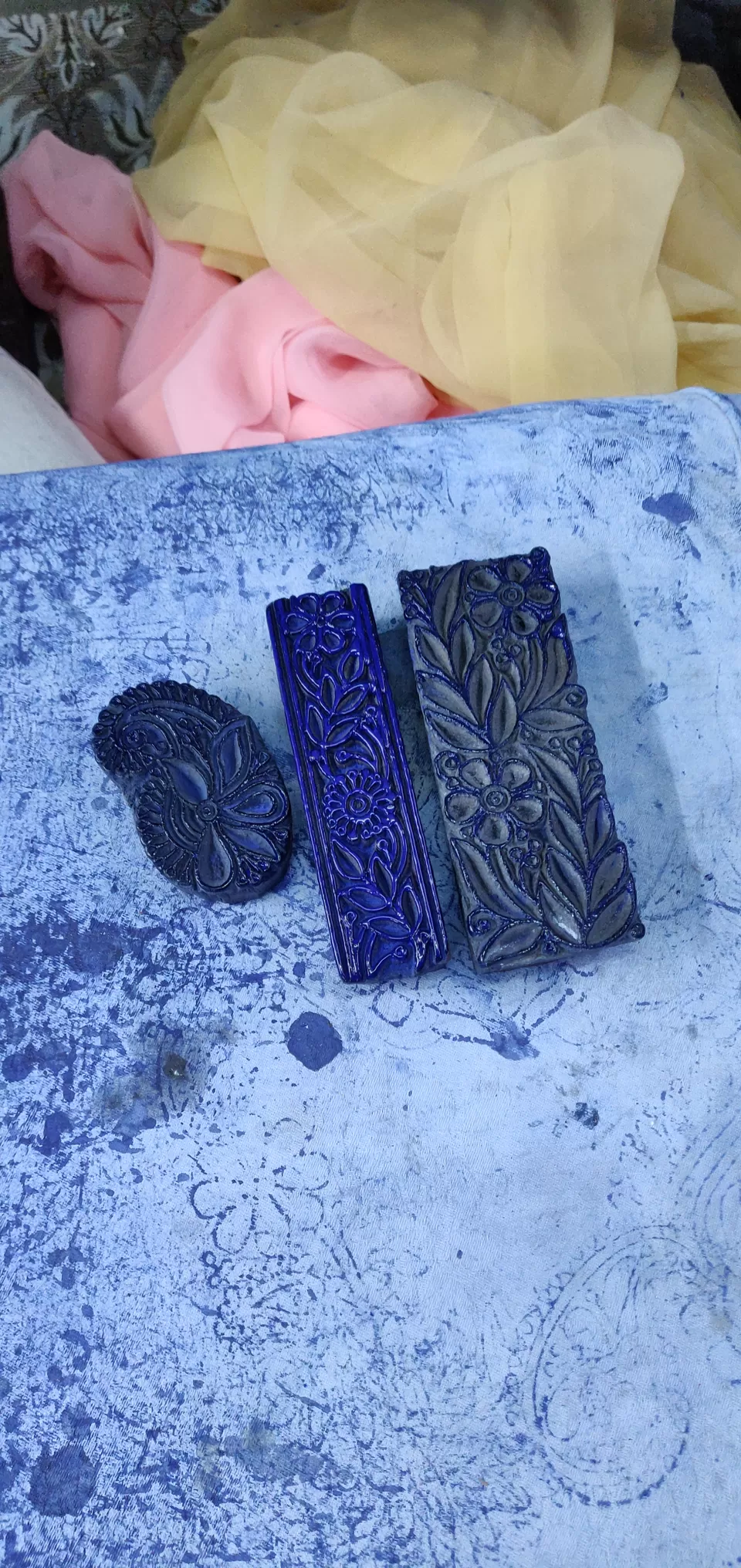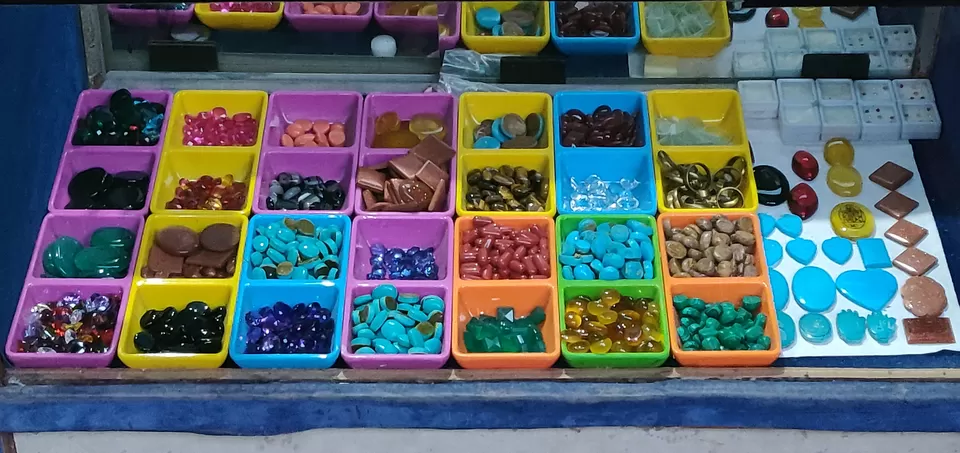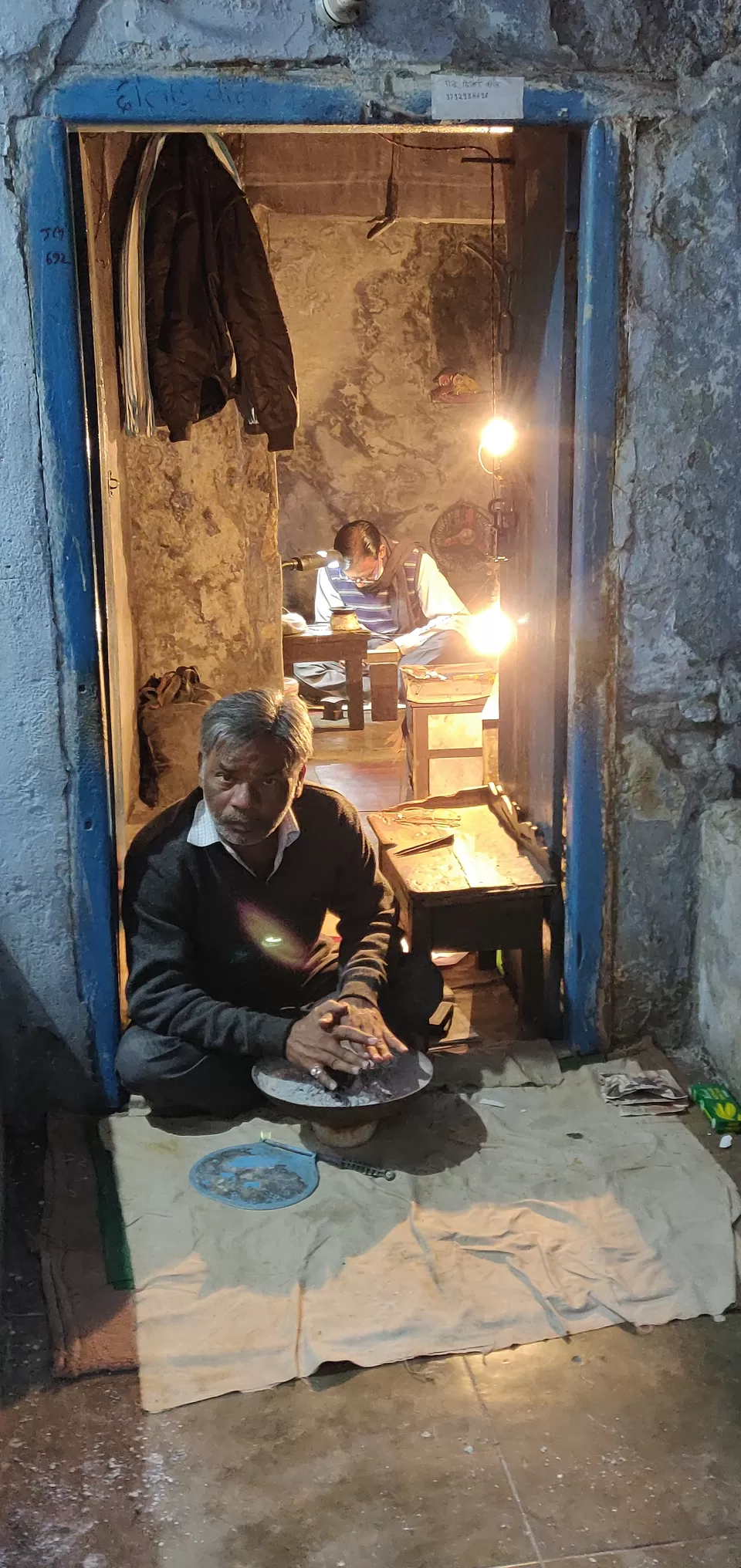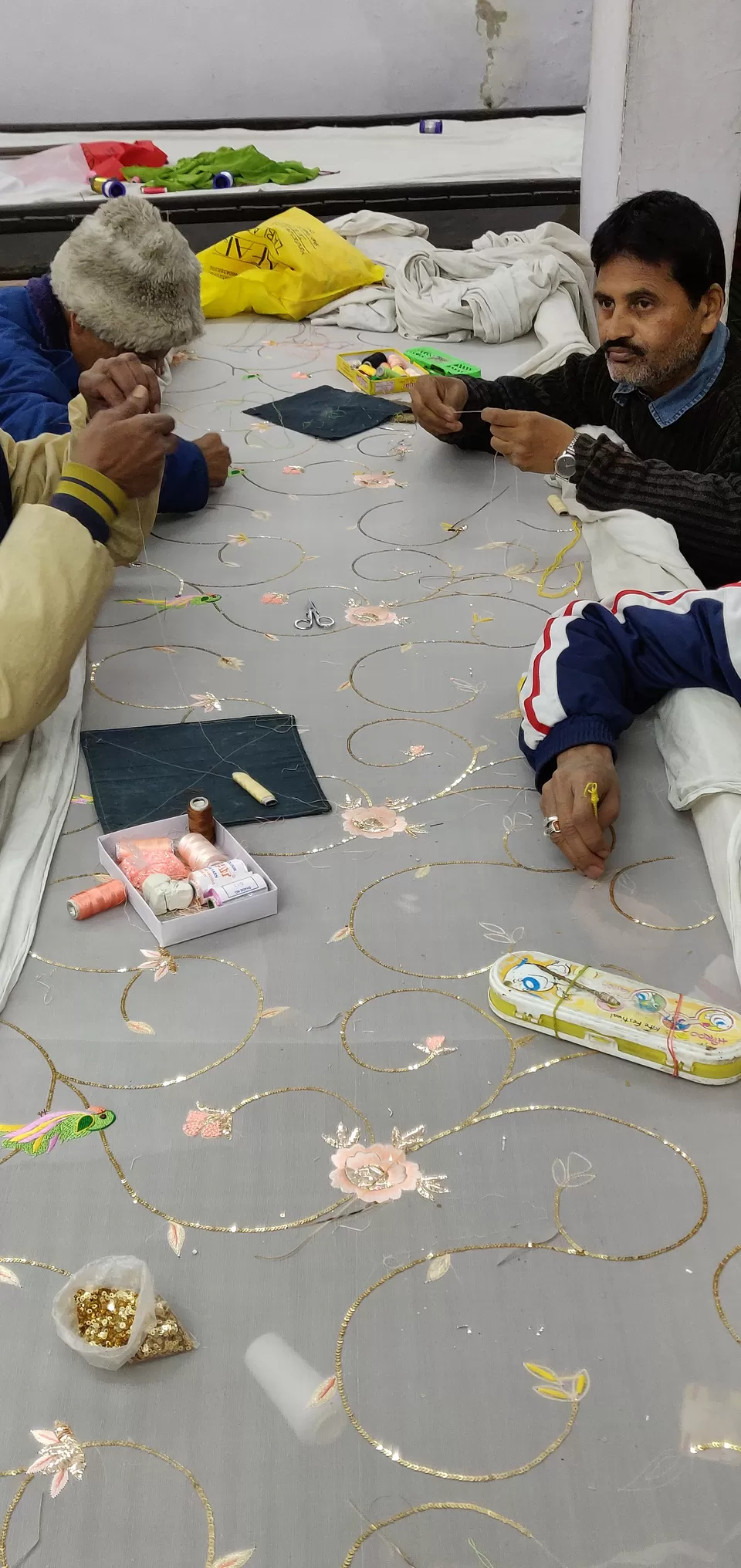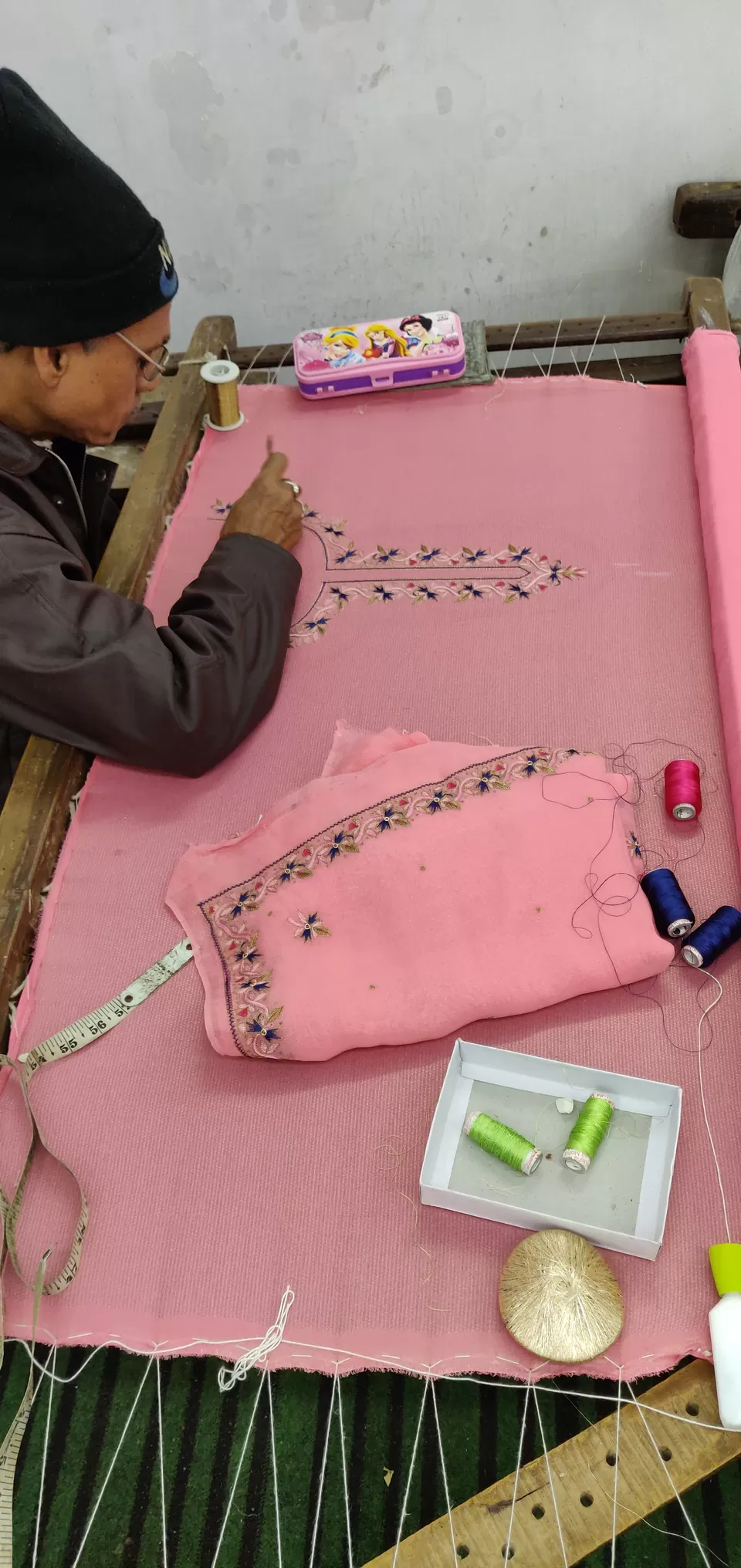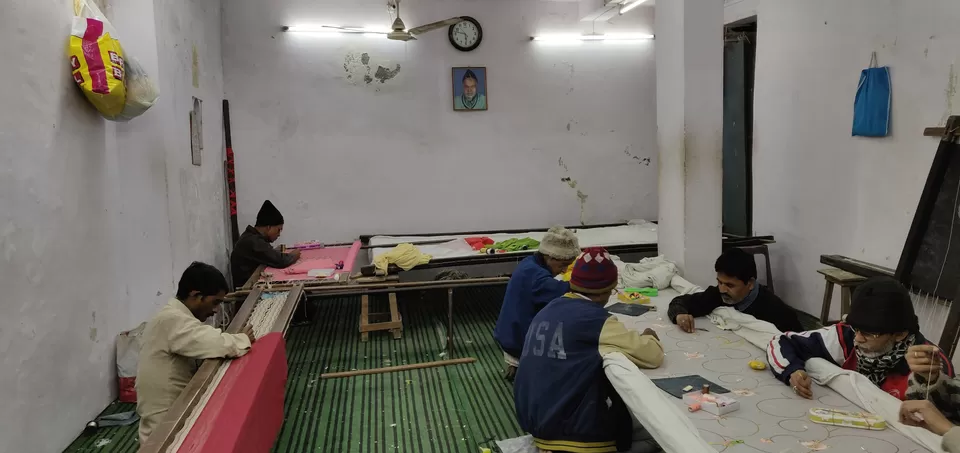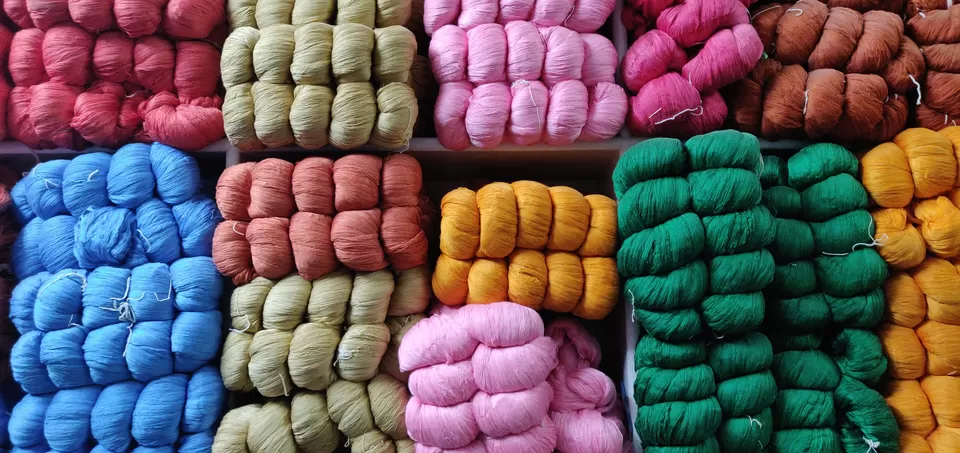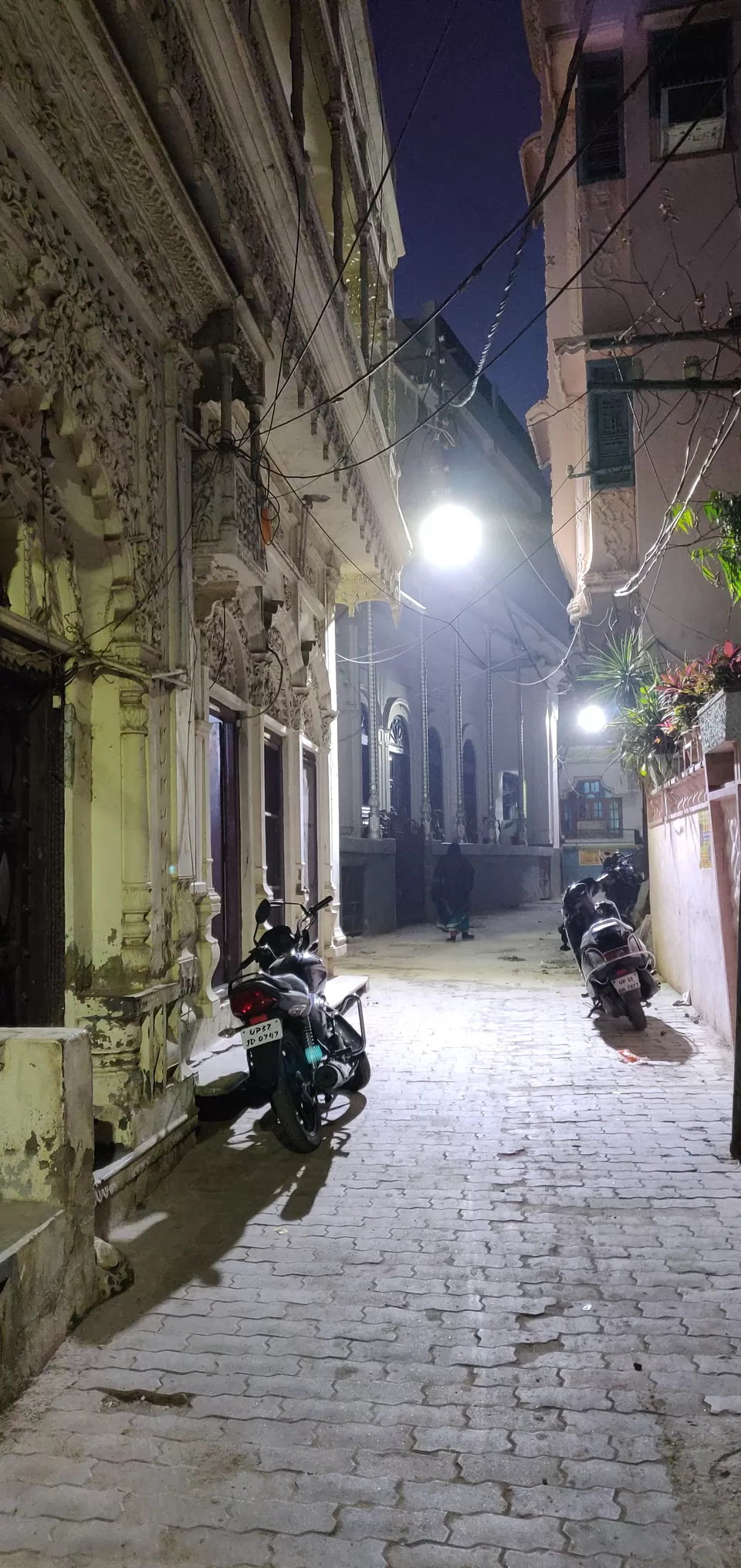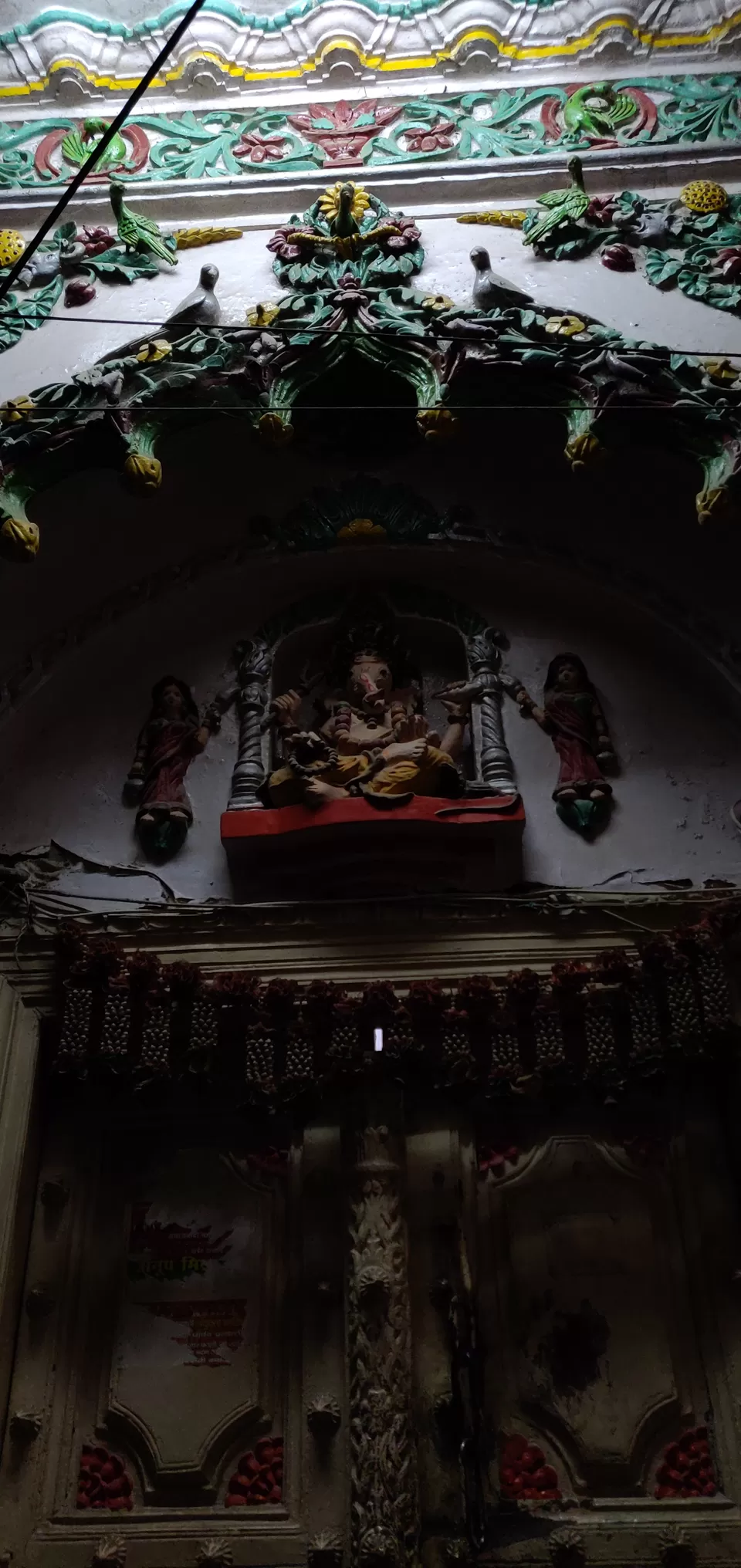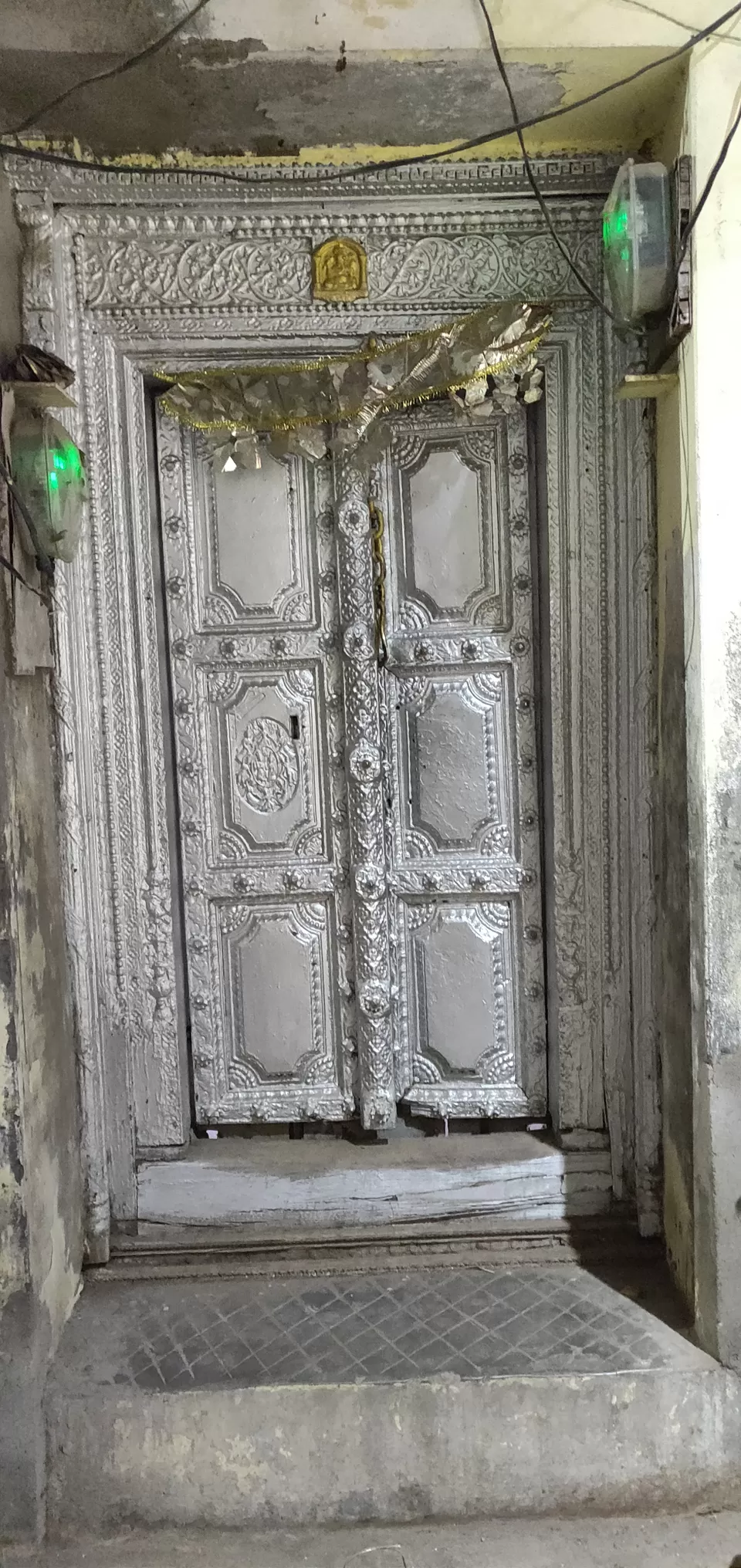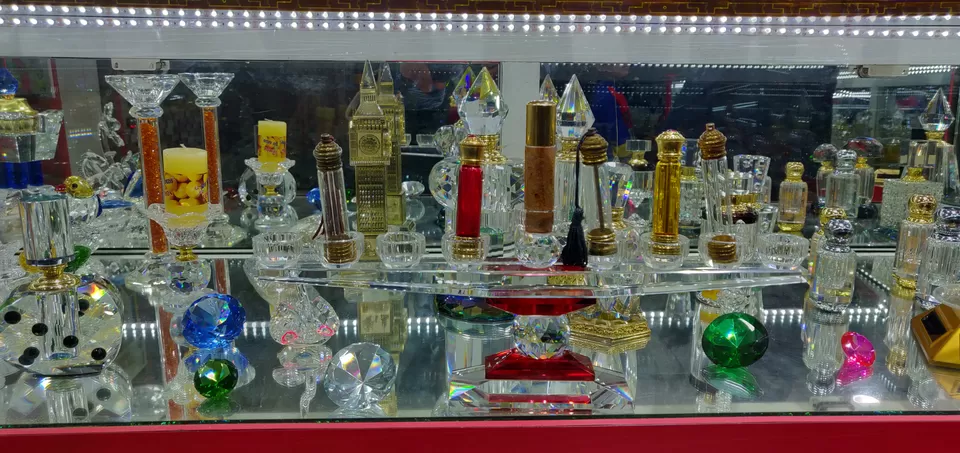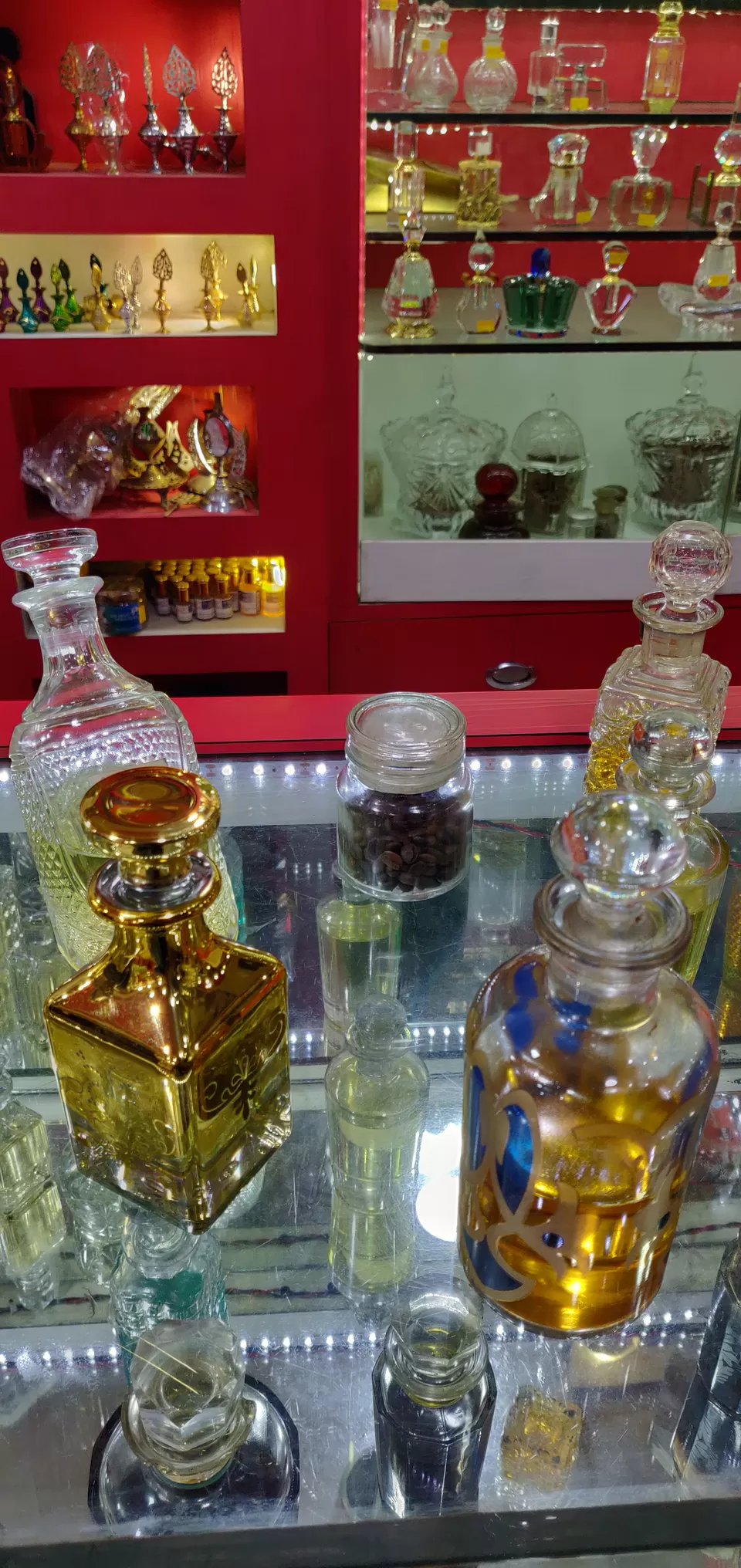 The walk ended at the Akbar Darwaza and I was glad to have opted for it. I bid Ravi goodbye and headed to 'Shree' to have dinner. Shree, as told by friends, had really nice chola baturas and lassi. After stuffing myself, I took an auto back to the Hazratganj market. I was looking for a nice place to drink but wasn't able to find one. Hence, I just went to a model shop and went to sleep after a few pegs of white rum in my room. Lucknow has an amazing tradition of families eating and shopping together, but there is not much of pub culture for drinking and it would be difficult for you to find a nice place for a mug of beer.
I woke up next day a bit late; the rum was a bit stronger than I had thought. I got ready and reached another famous outlet suggested by my friends - Bajpai ki kachori. Even this place was within walking distance of my hotel, and by 10:30 am, there was line of hungry locals waiting for their share of kachoris. I waited in the line and ate the delicious kachori which was wrapped in newspaper with chole given in a leaf bowl. The Bajpai kachori gives you a truly local feel. I checked my google maps and moved to next place - Sharma ji ki chai - which was also within walking distance.
Sharma ji ki chai is quite famous and provides amazing tea with bun. It was crowded when I reached but their staff handles the customer nicely and you just have to wait on one of those sidetables and the tea will be served. I was fascinated with their method of tea making, which looked like more like an art and less of a cooking activity.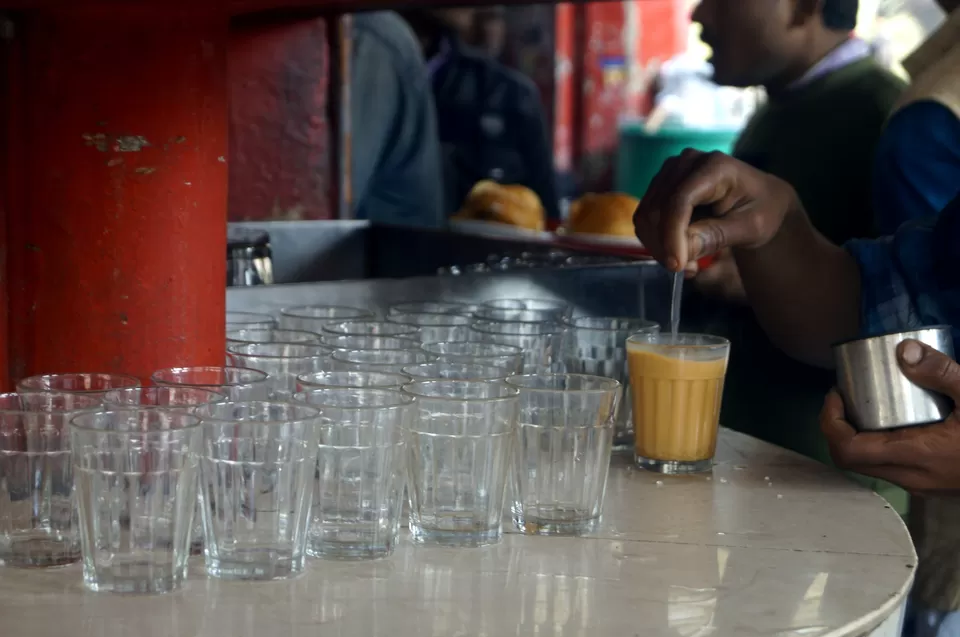 I finished my tea and booked an Uber for a famous monument - the ruins of British Residency maintained by the Archaeological Survey of India. This was the residential areas of British before the revolt of 1857. After the mutiny broke out, the rebels surrounded the complex and shelled it with cannons for several days which killed several british residents. The complex was under the siege until the British reinforcements arrived and took back the city. The moment I entered the monument, I was overwhelmed by the simplicity and beauty of the ruins. One can still easily spot the cannon marks on several buildings. There is a small museum in the middle of the complex which also demands a visit. ASI has filled with the structure with lush green lawns and birds as well as squirrels can be found everywhere. One can also notice a lot of lovebirds trying to find a private space in the ruins. The colonizers have finally been colonized themselves.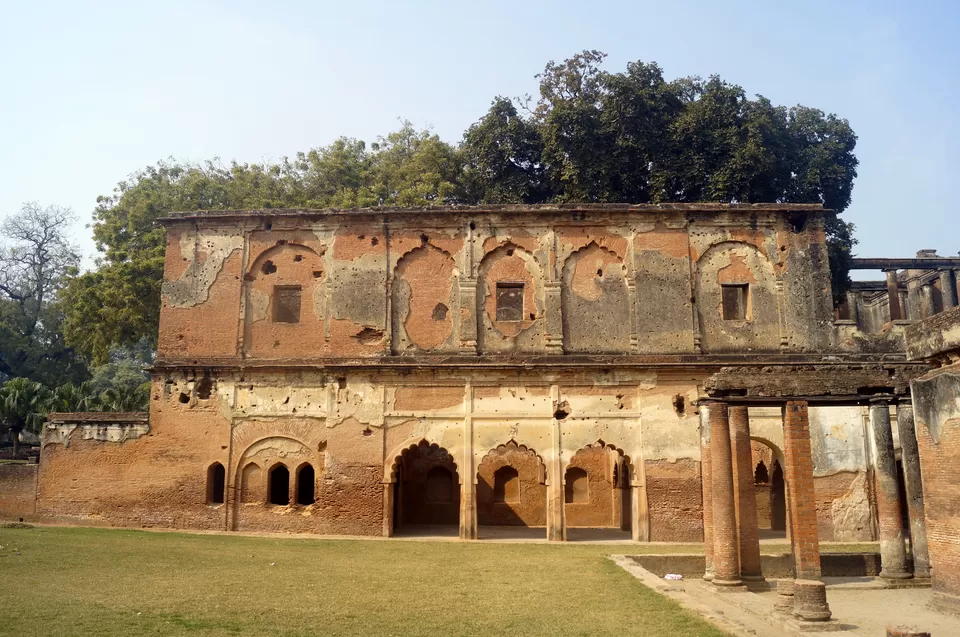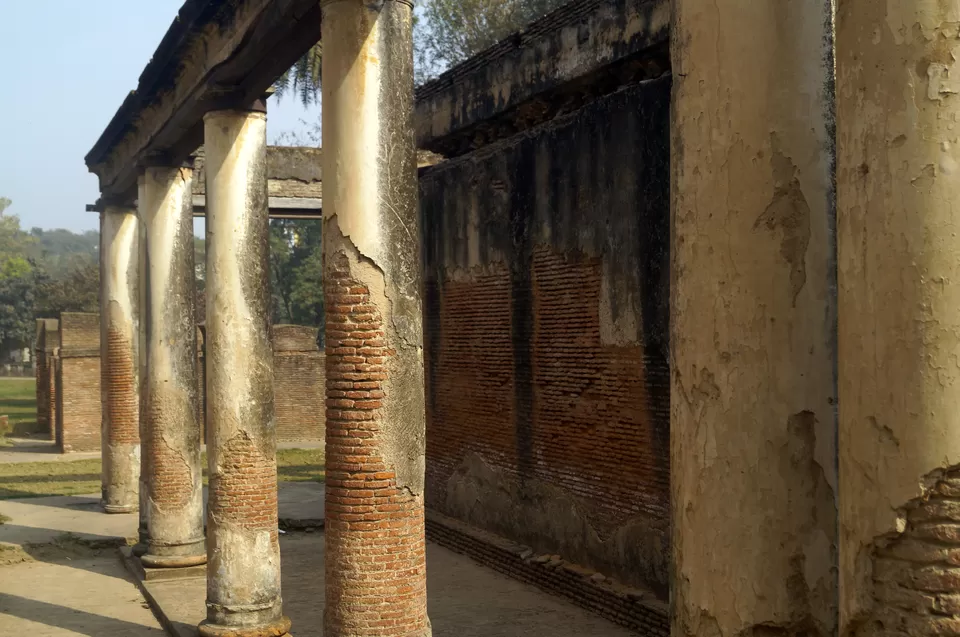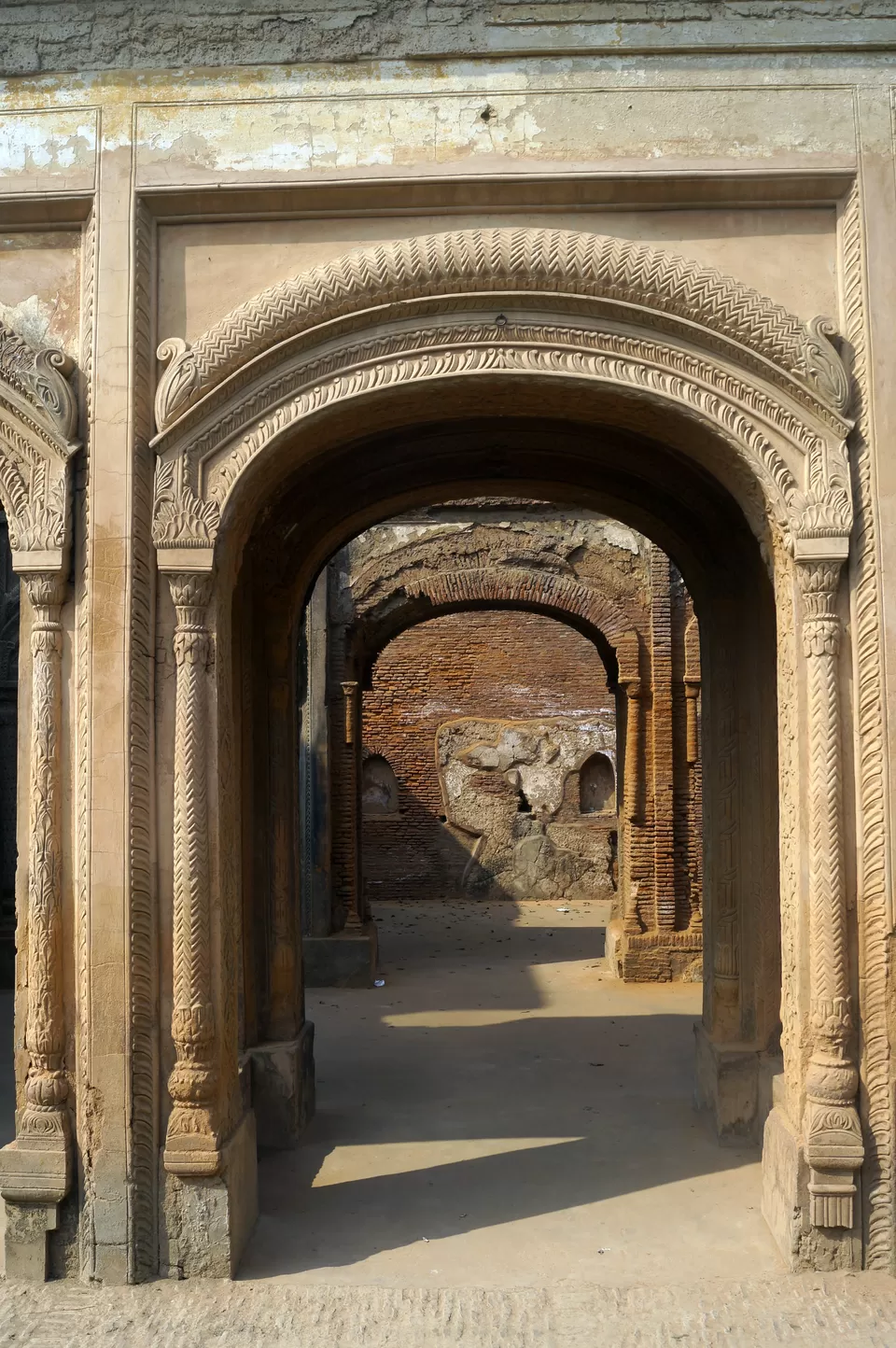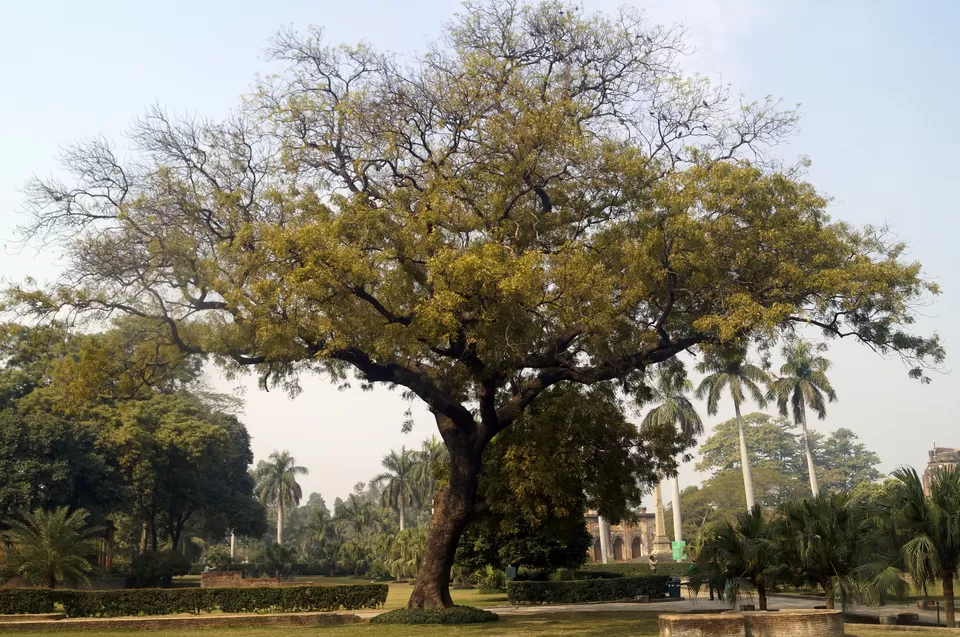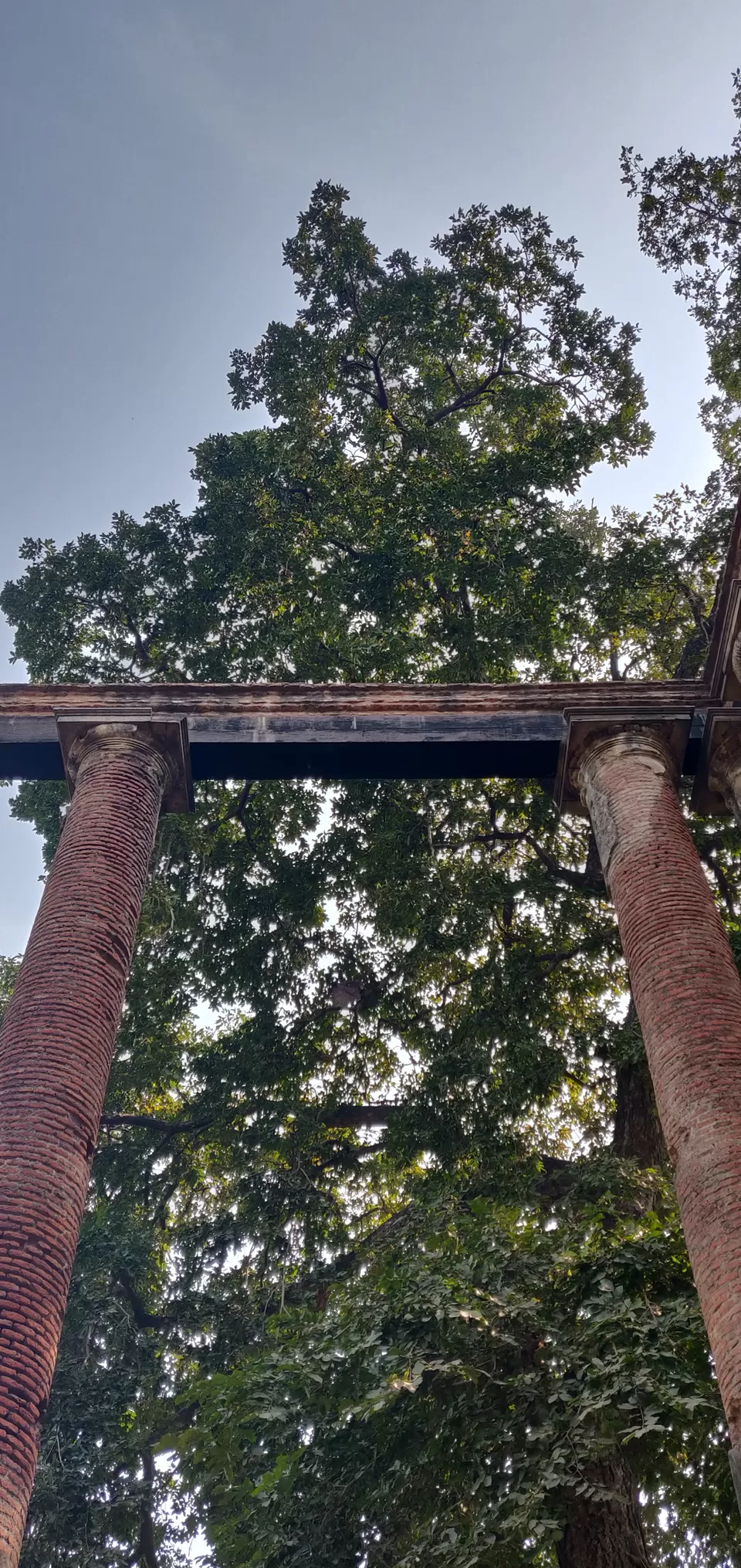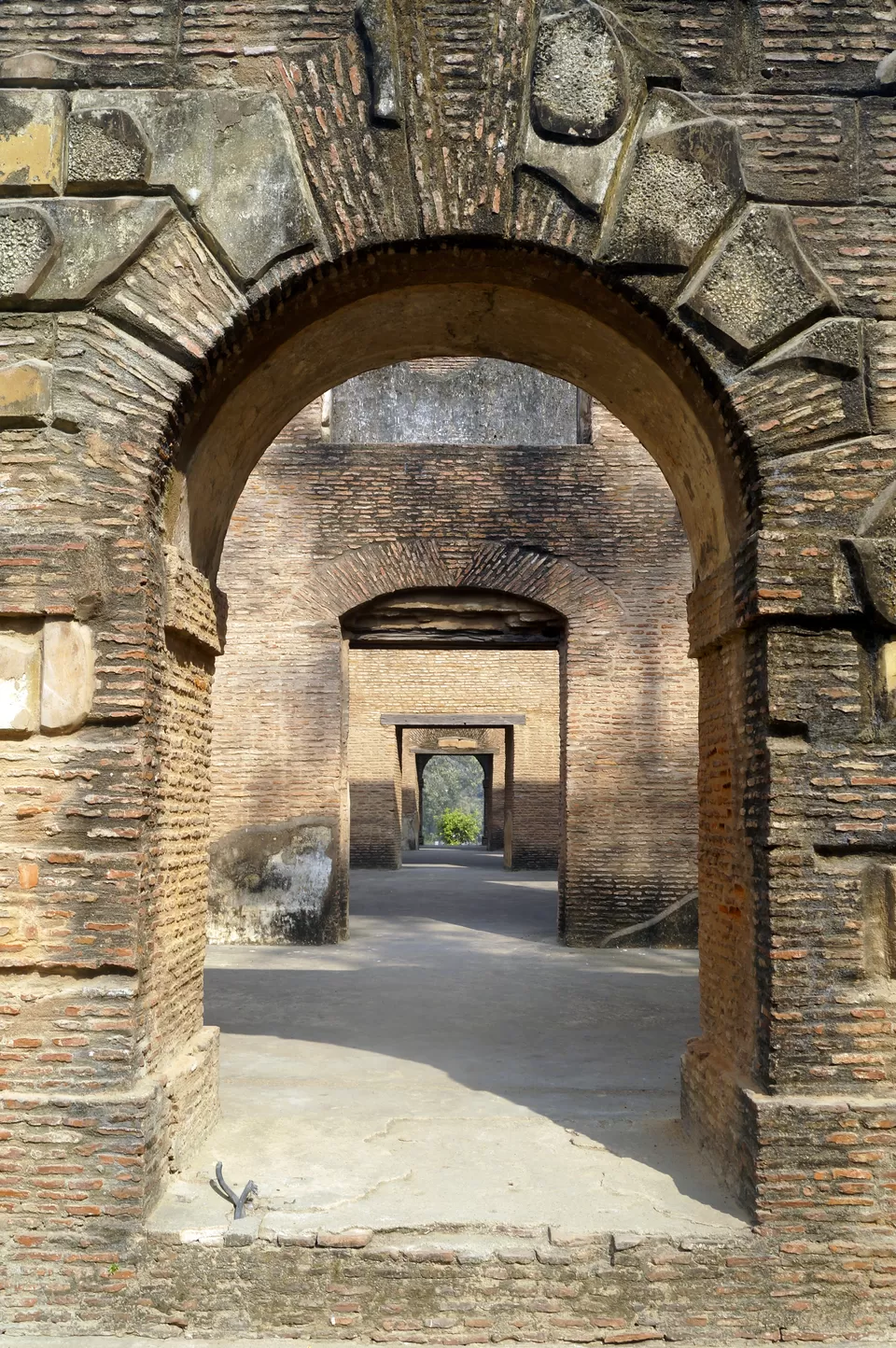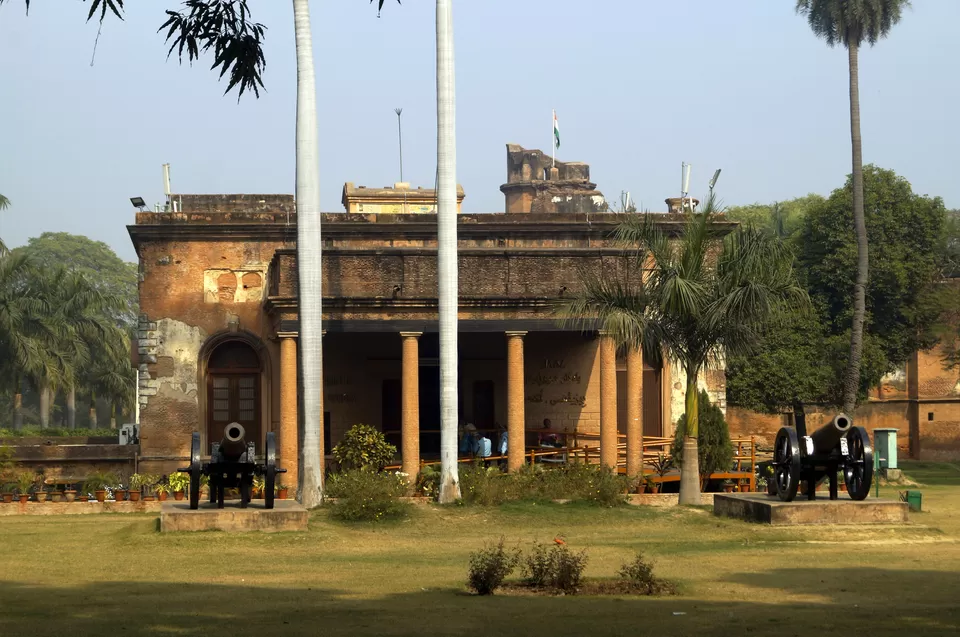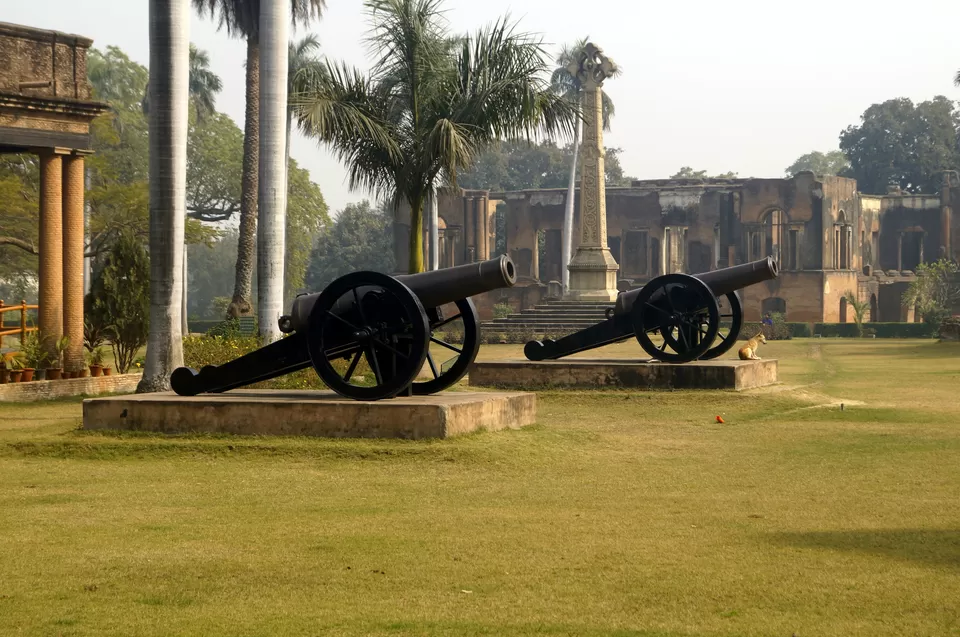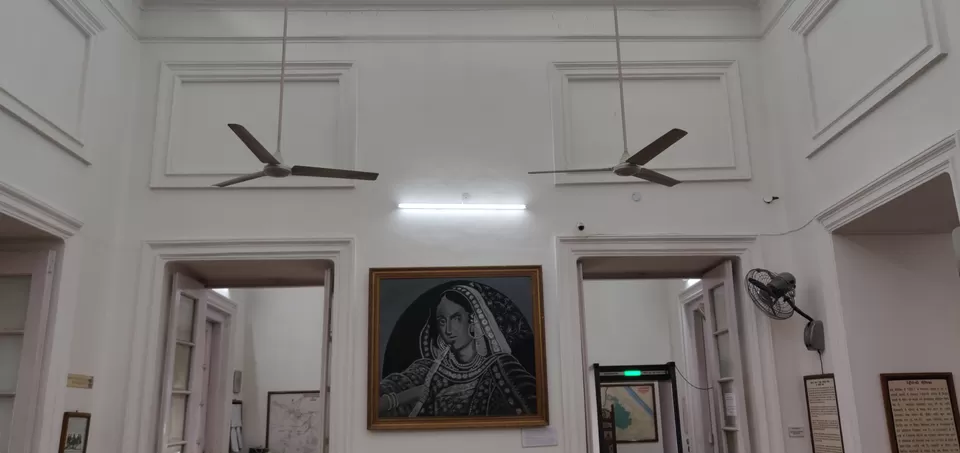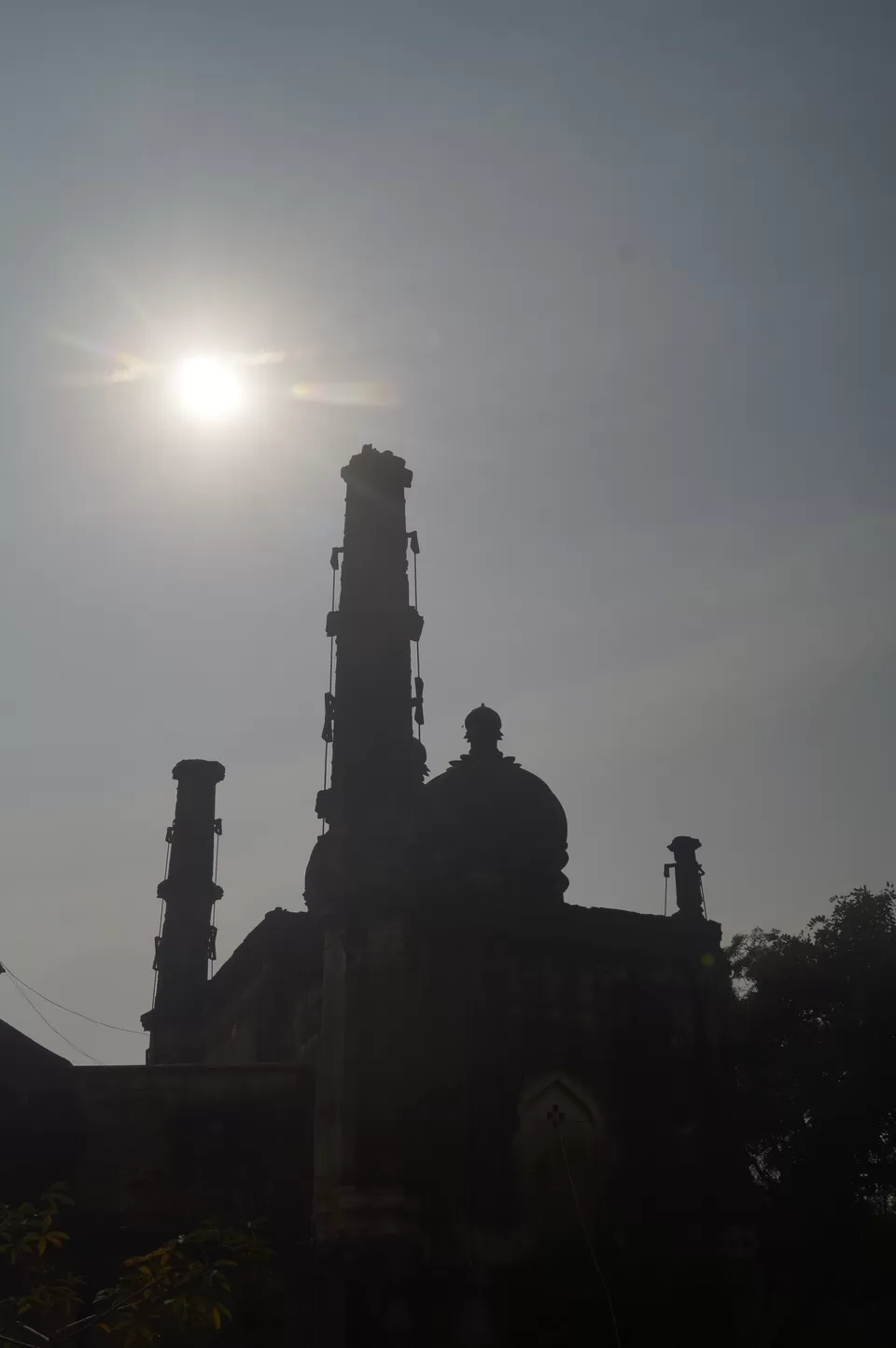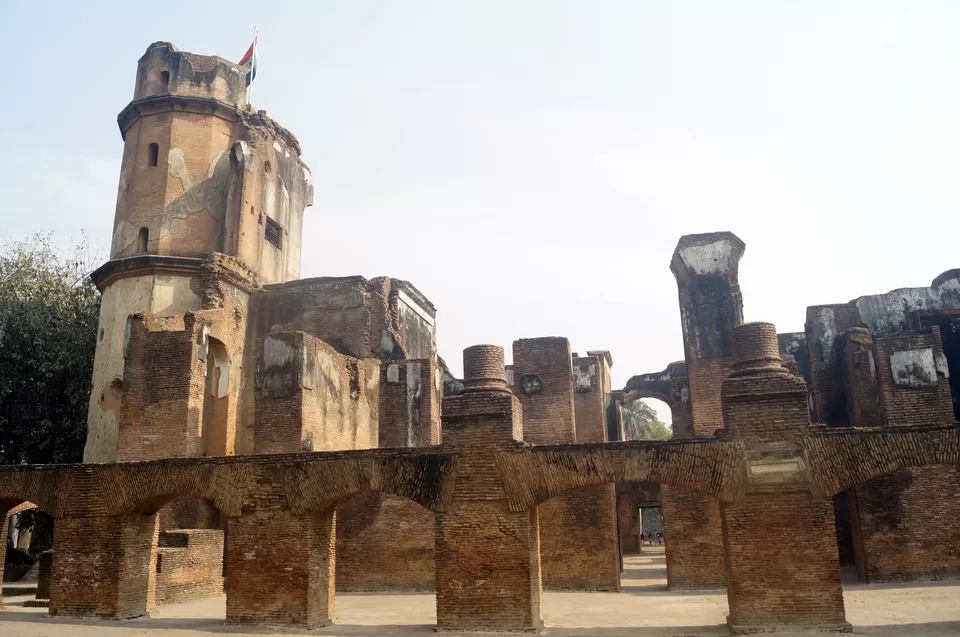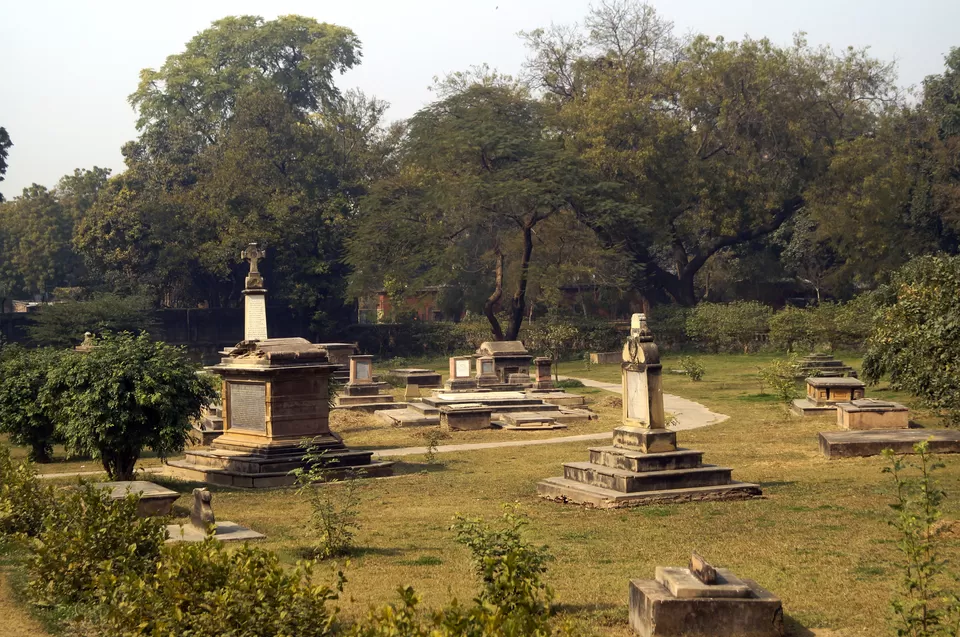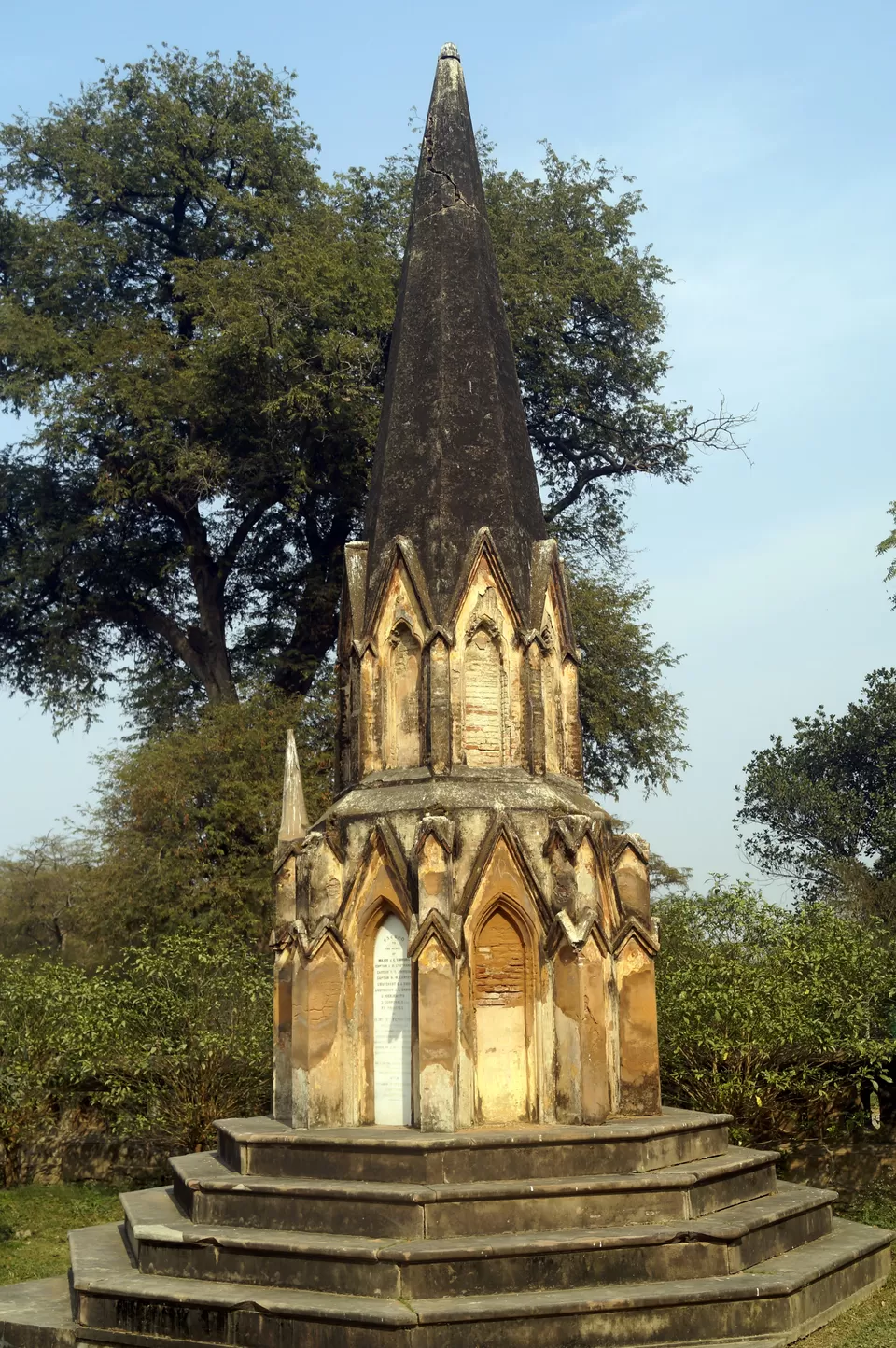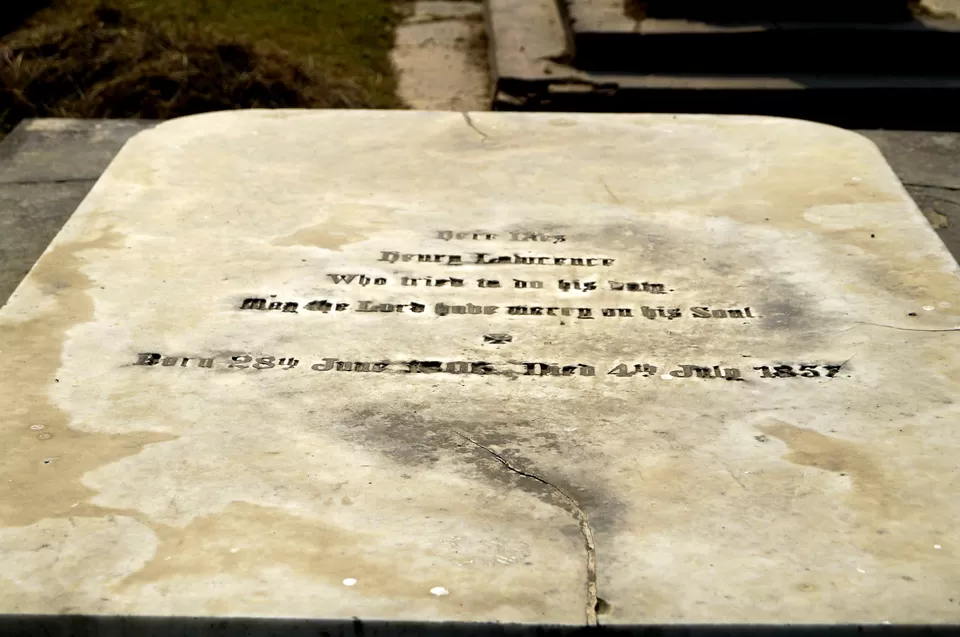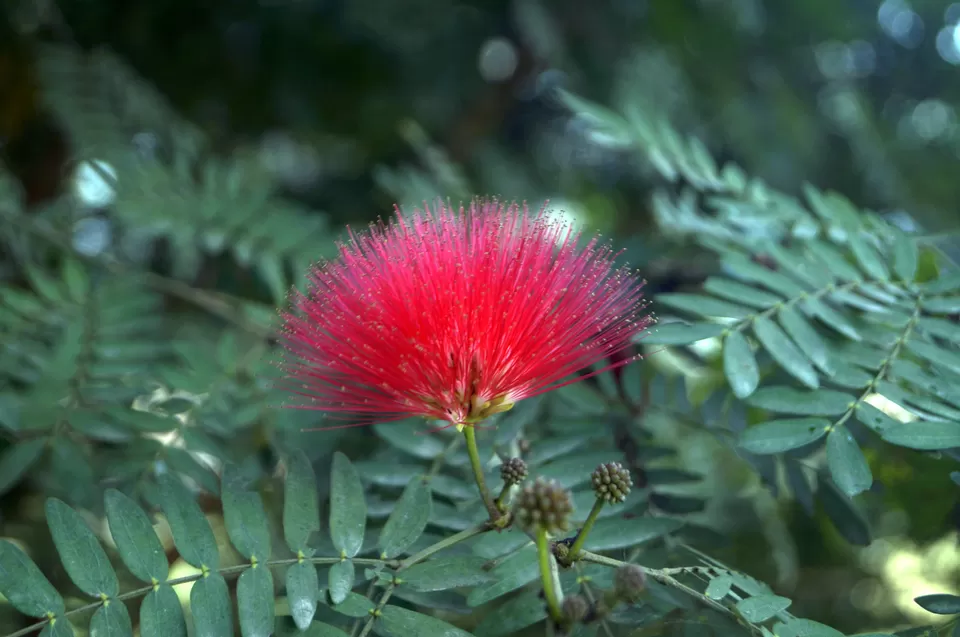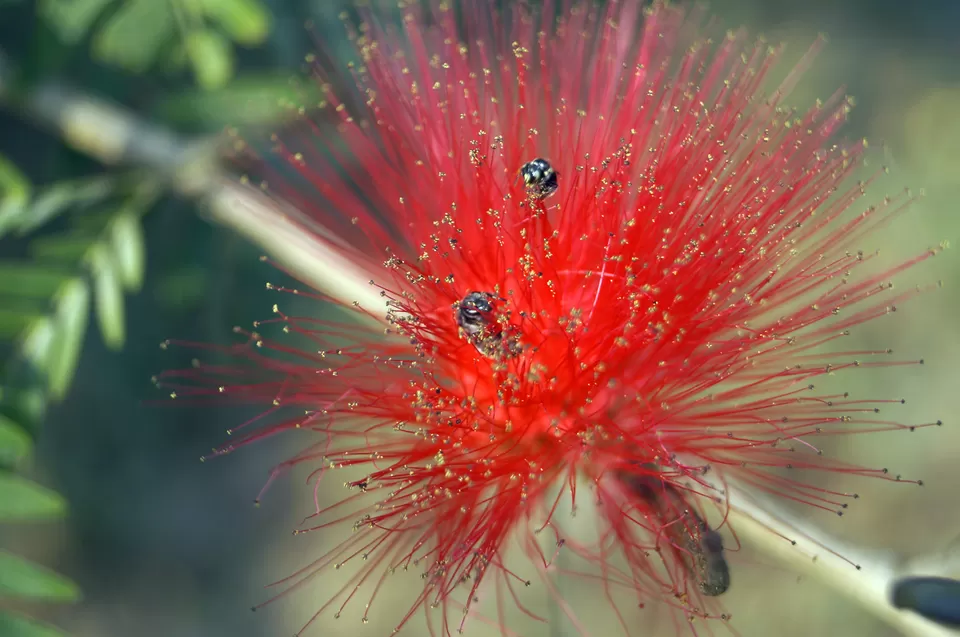 I was so amazed by the Residency that I spent half of my day there. Around 4:00 pm, I finally booked another cab to visit the famous La Martiniere college. The evening drive to the college is amazing, especially when one passes the Gomti river. The college's main building is open to tourists and one can have a nice tea and sandwich at the small canteen near the main college building.
La Martiniere's architecture can match any cathedral in India and the beautiful combination of yellow and pink color on the roofs will leave you breathless. The round stairs along with several amazingly lit chandeliers further add to beauty of the building. I walked around the college and was lucky to witness the sun setting behind the building. I couldn't have asked for a better way to end my day. However, something more amazing was in store for me.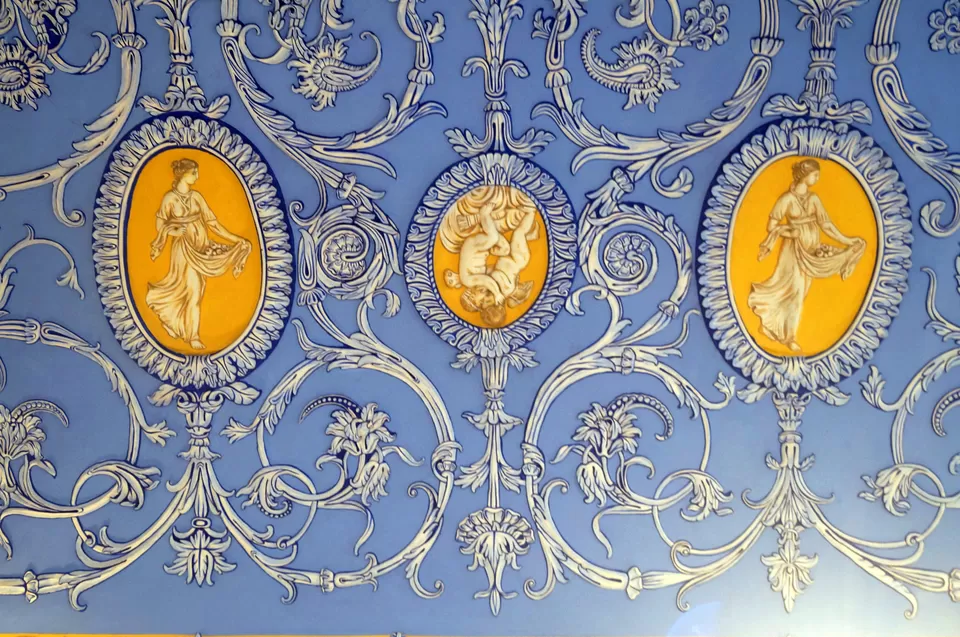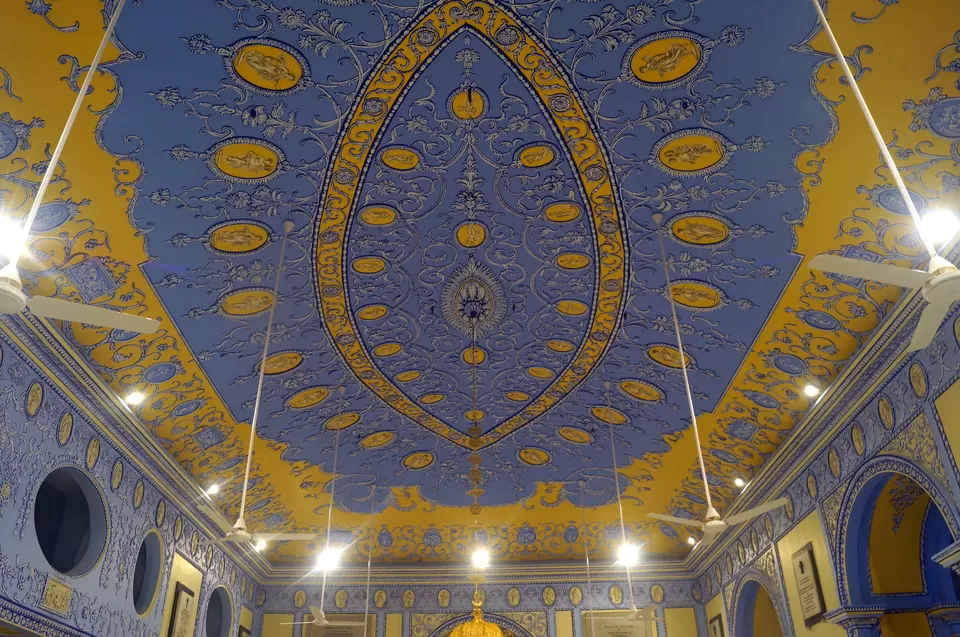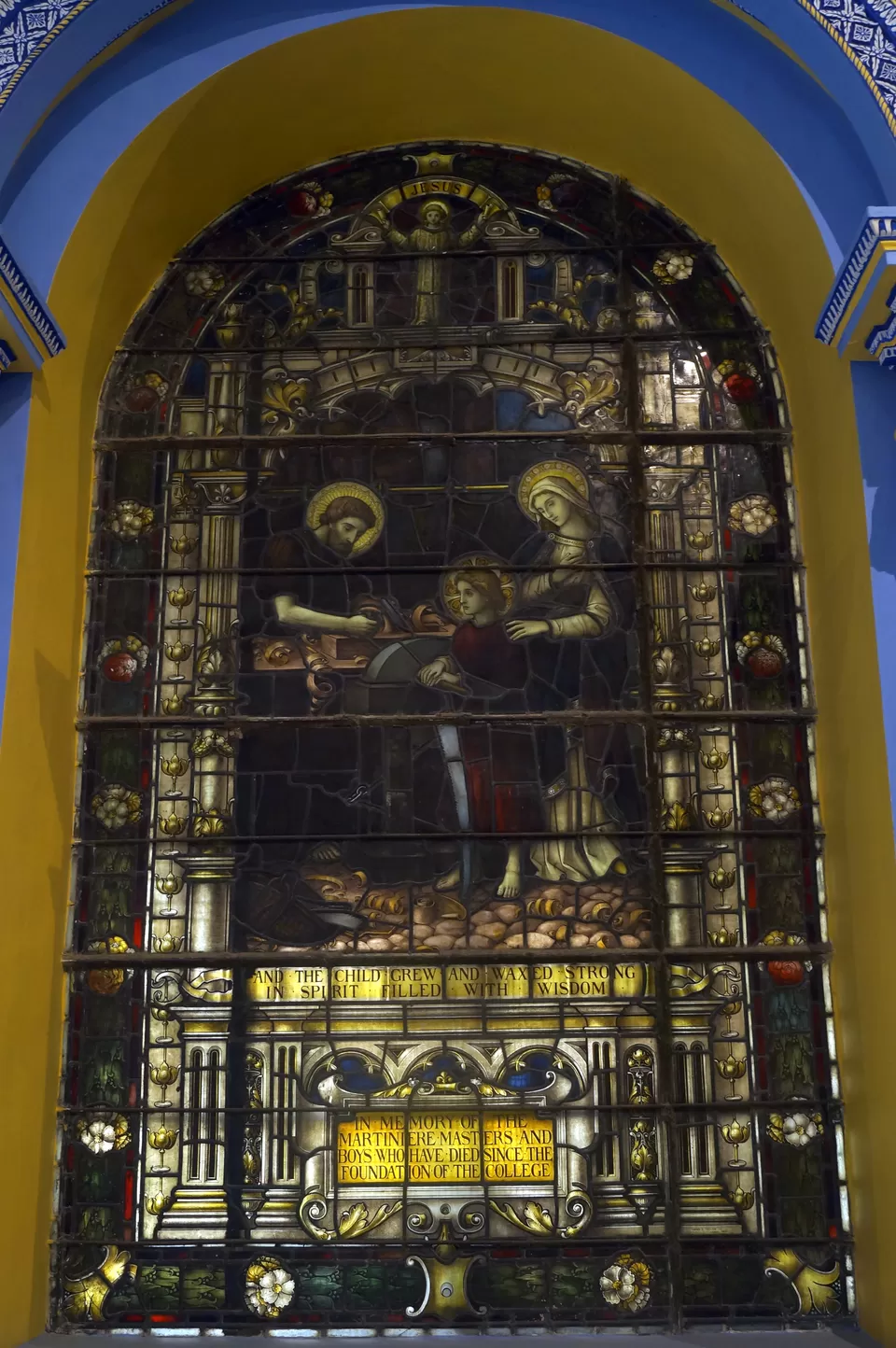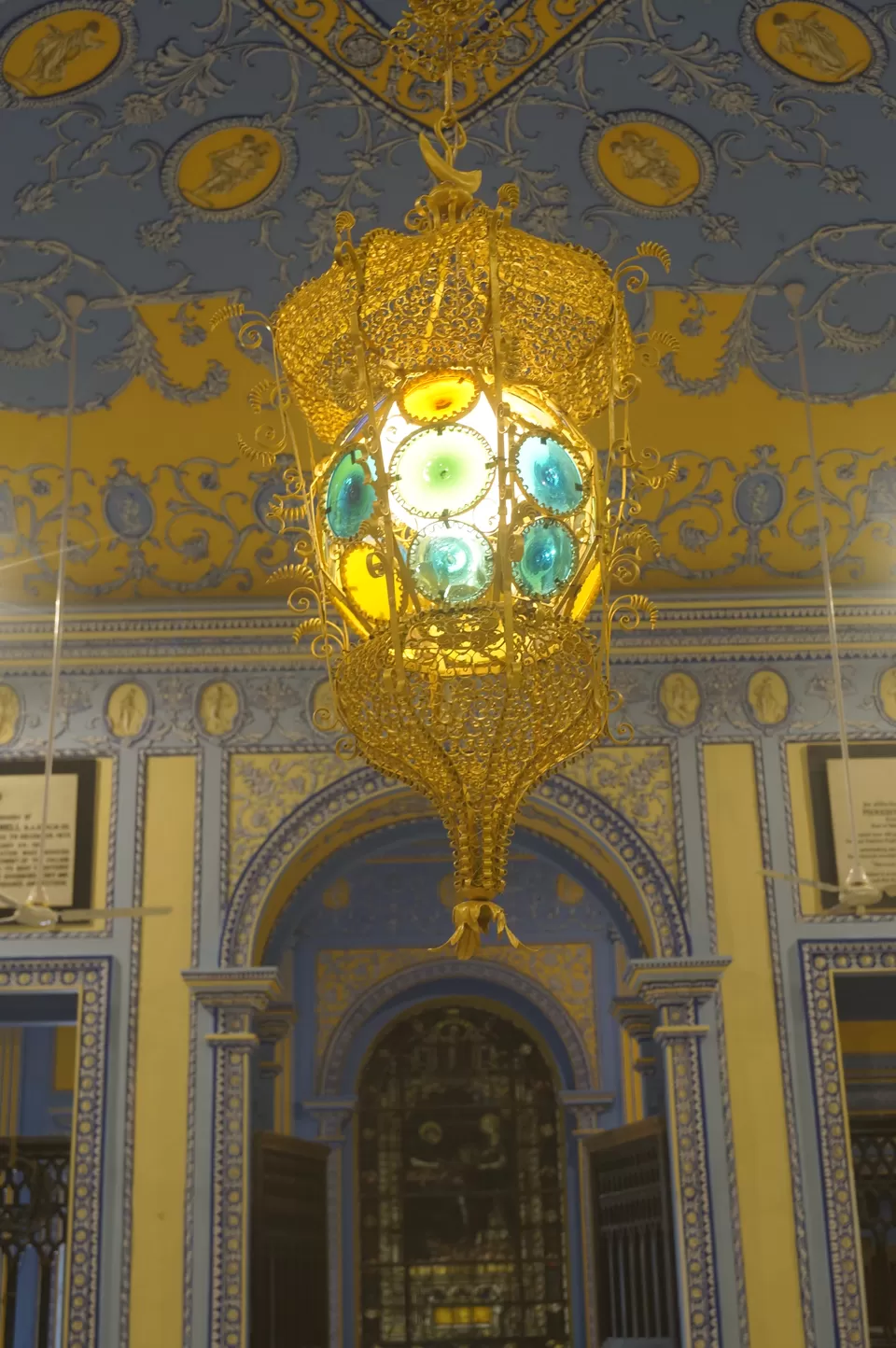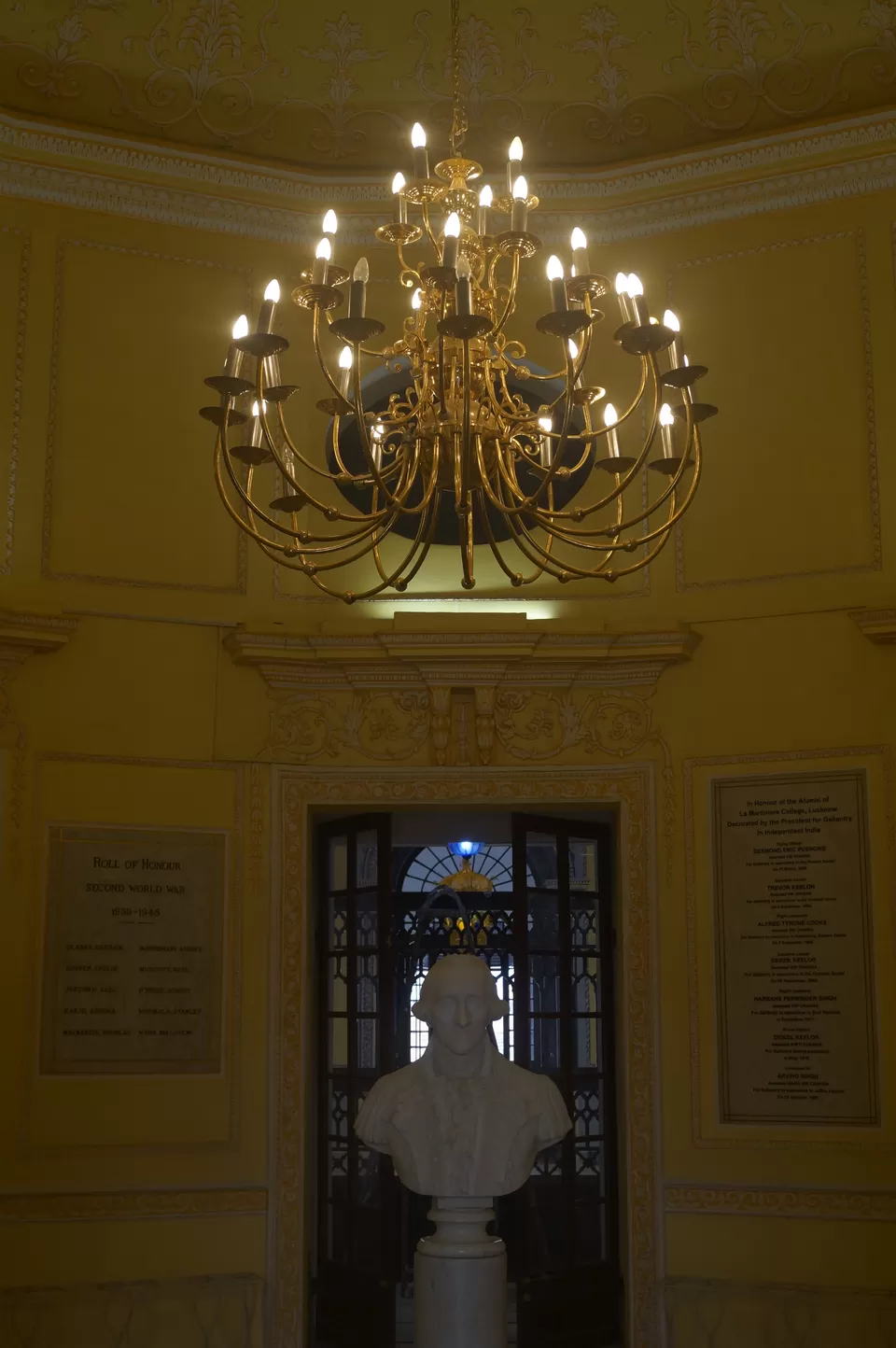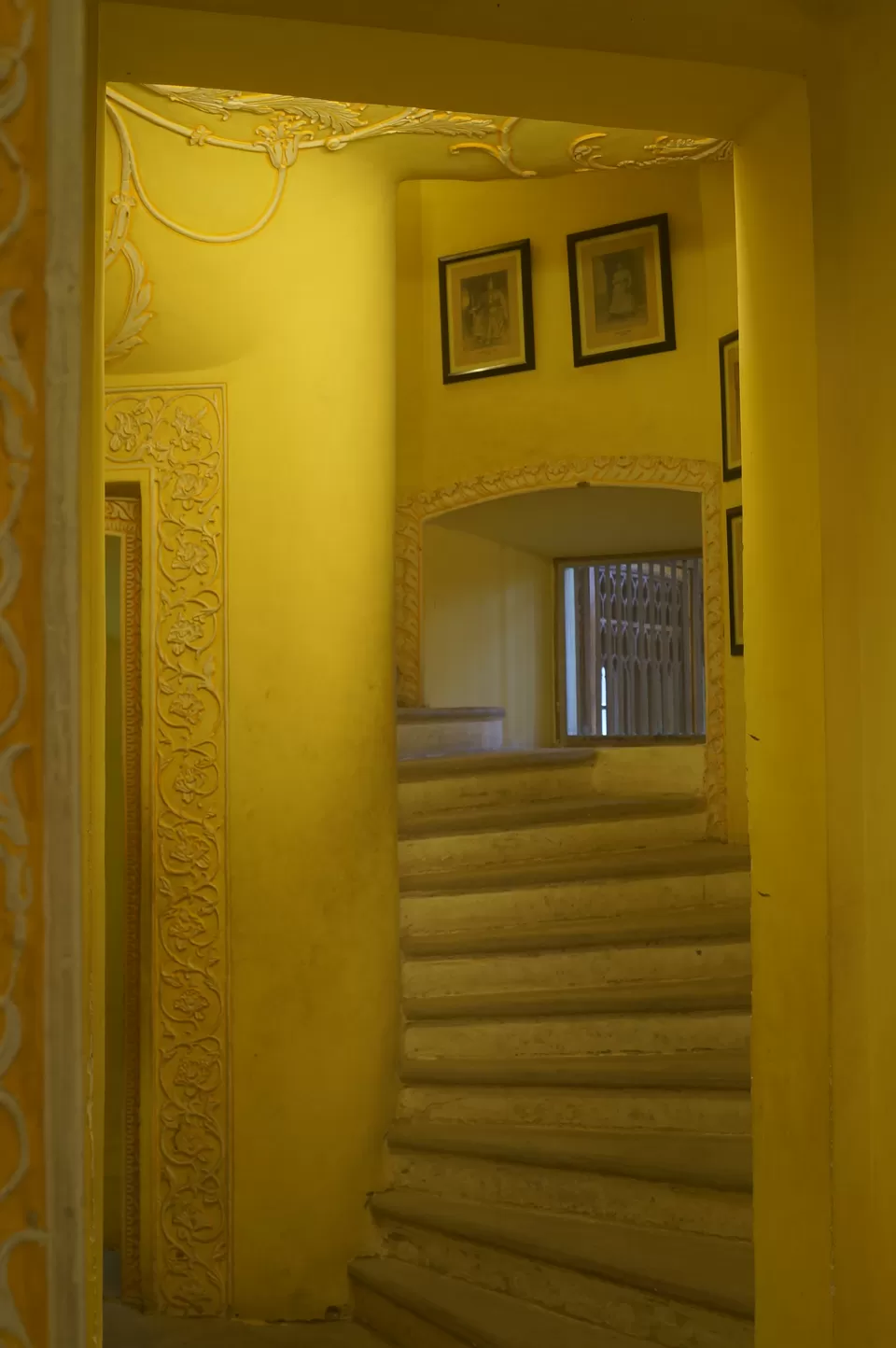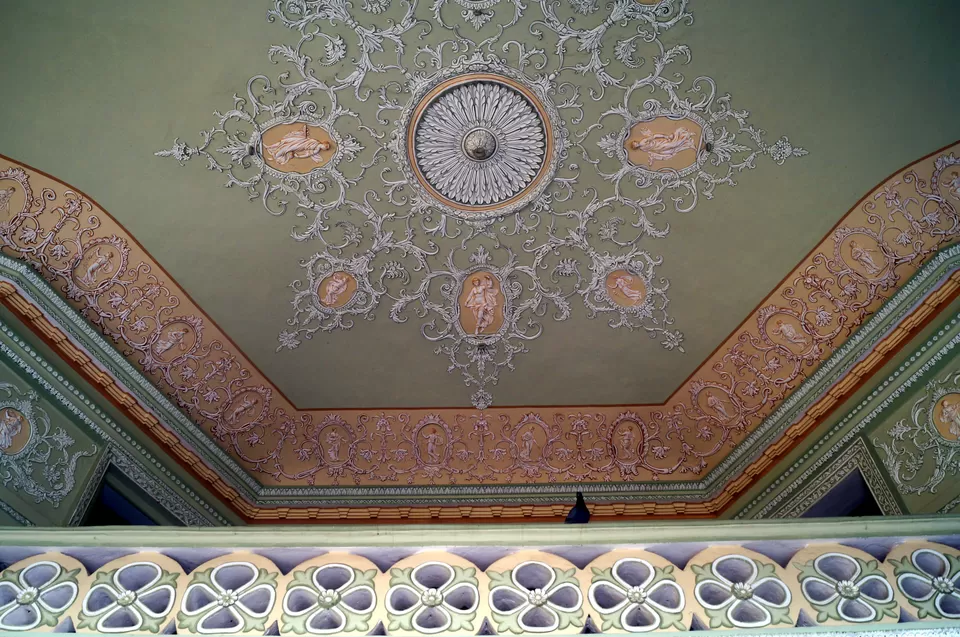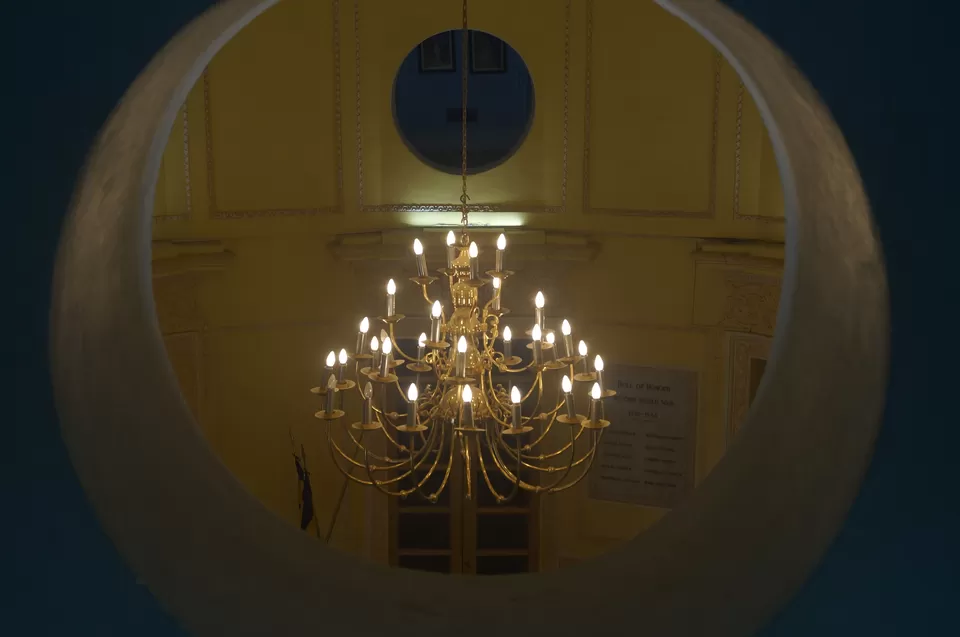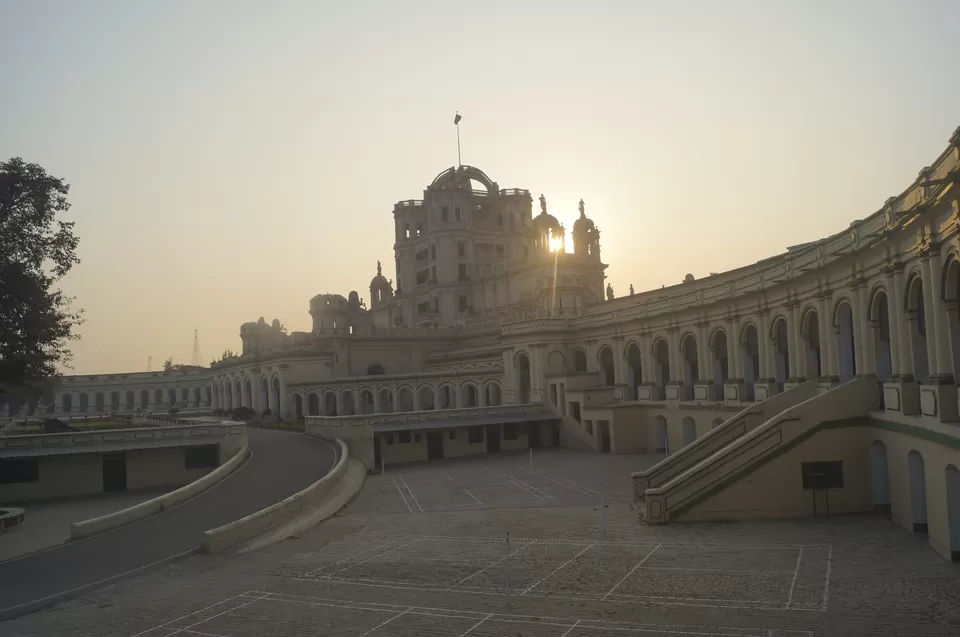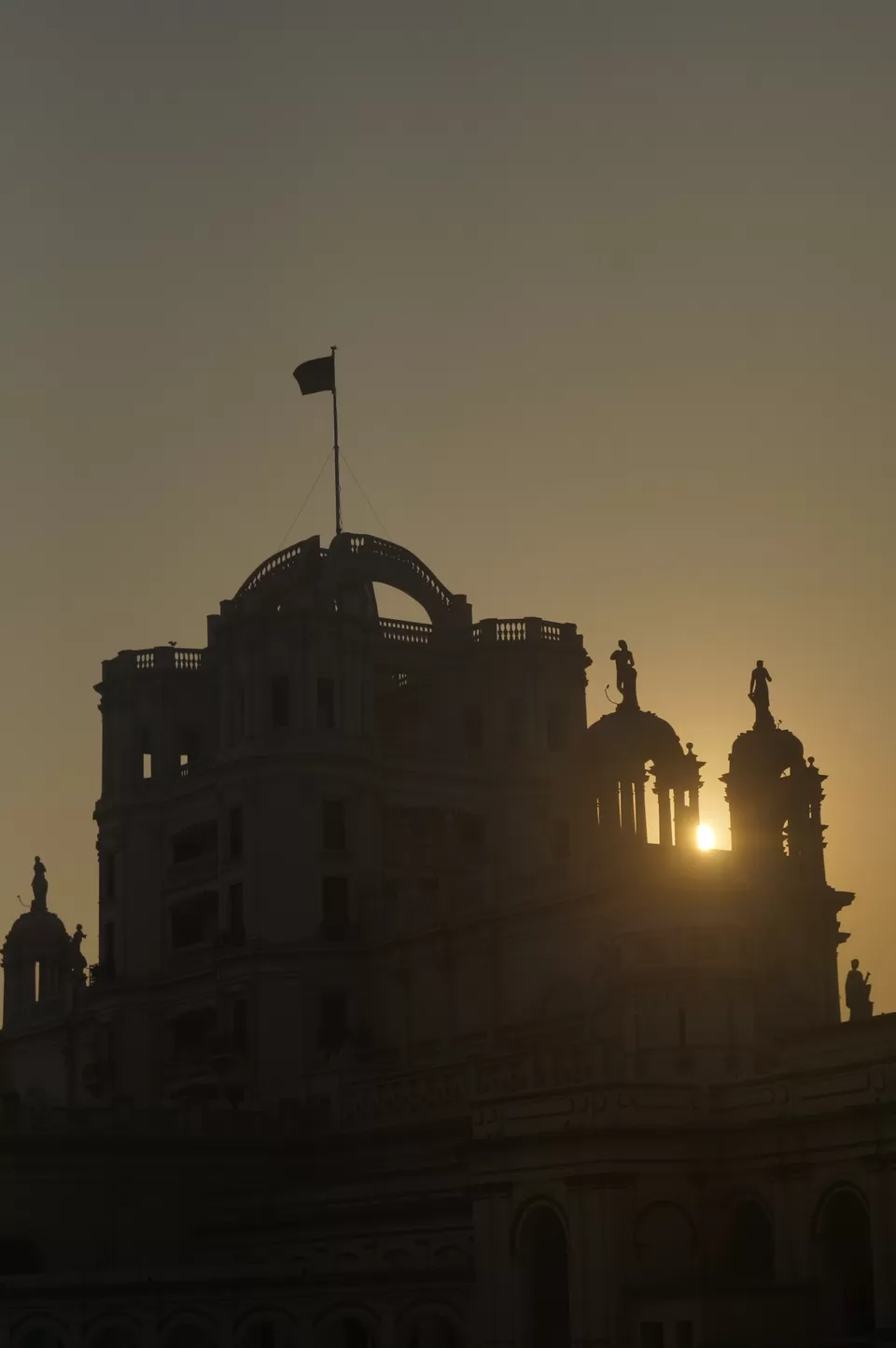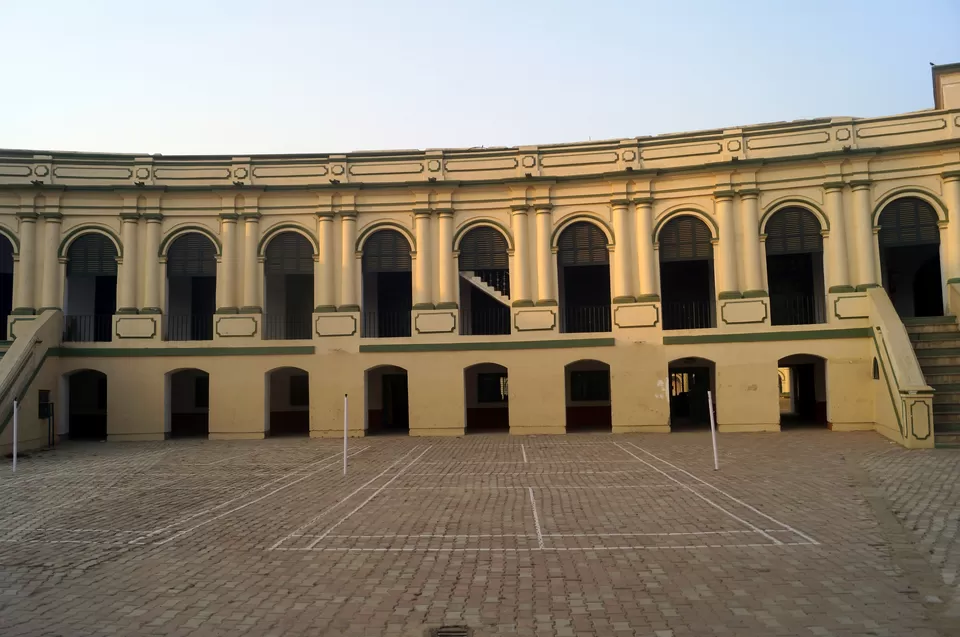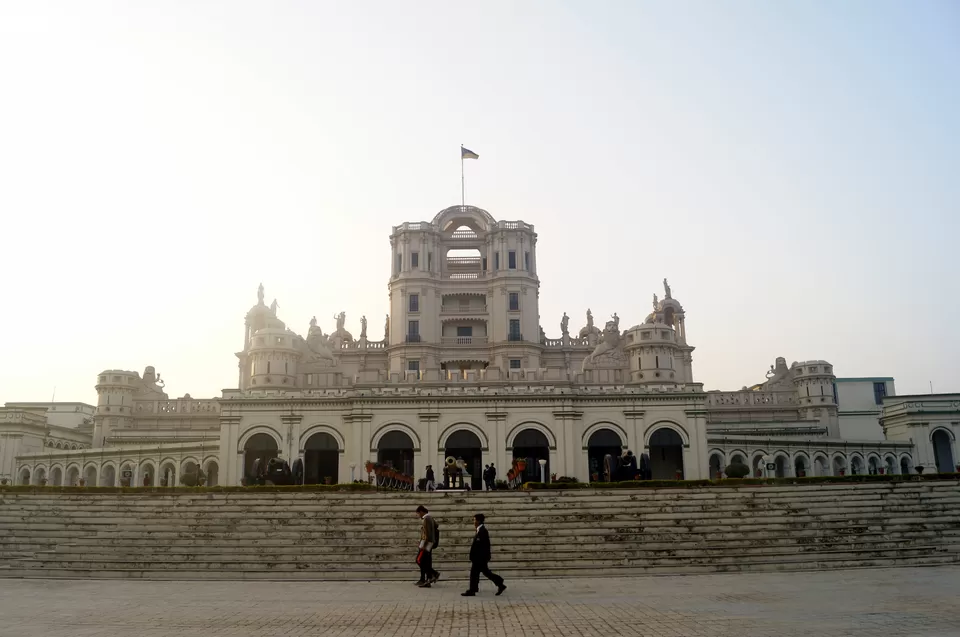 You cannot talk about Lucknow without mentioning shayari or poetry. I really wanted to attend a poetry session during my trip and Alisha pointed me towards something exactly similar. She invited me to attend a Dastangoi session by Ankit Chadha at the Kaifi Azmi Academy. As the sun set, I booked another cab for the venue and reached there by 5:45 pm.
Ankit Chadha told the story of famous poet Rahim, who was one of the foremost intellectual voices of his time in Mughal emperor Akbar's court. The session was intellectually stimulating and I couldn't do enough 'wah wah'. After the session, I headed back to Hazratganj for some last minute food and shopping chores.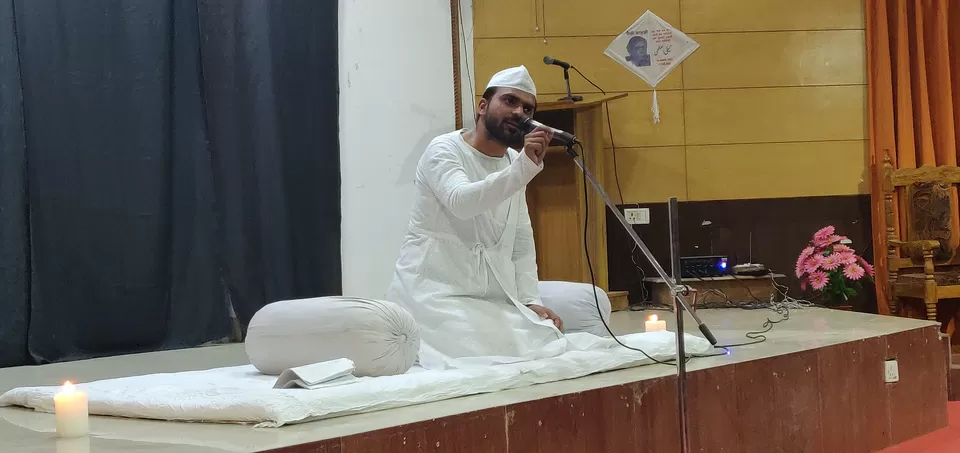 I went to the Royal Cafe and ate their famous 'basket chaat', which was both filling and left me licking my fingers. From there, I walked to the nearby Janpath market and bought some clothes with the famous chikan work for family and myself. It was already 10 pm by the time I got back to hotel. I freshened up, rested, packed and left around 11:15 pm to catch my 12:00 am bus back to Delhi.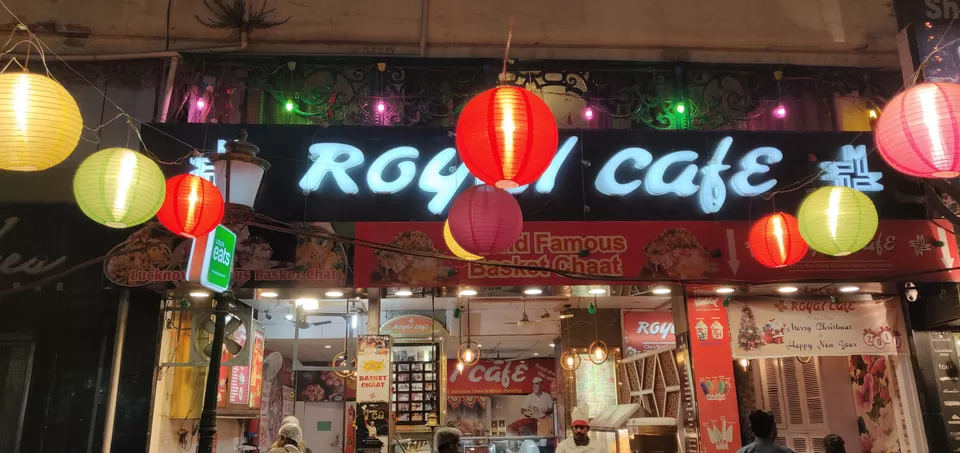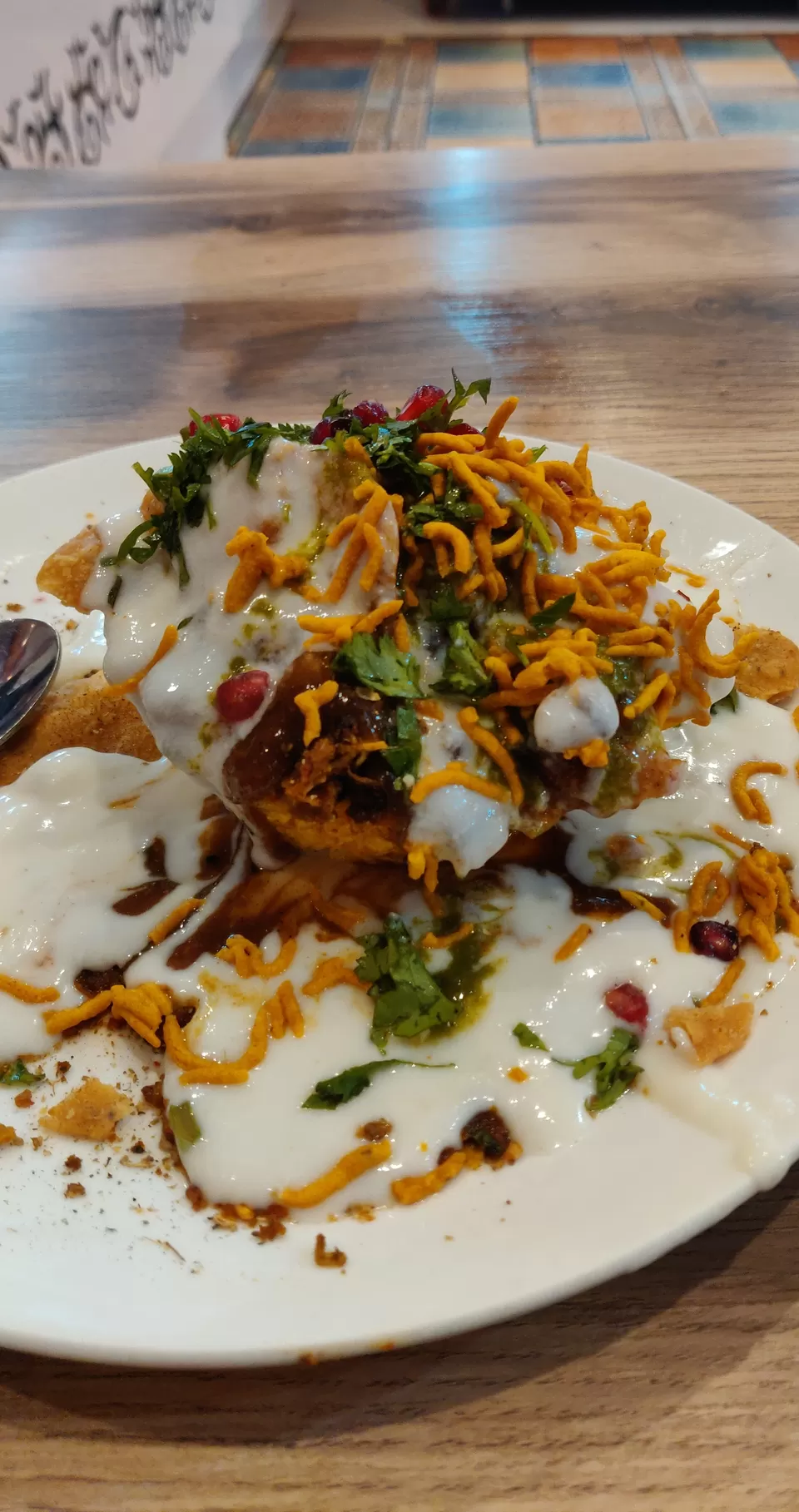 Lucknow is an amazing combination of food and history and every Delhite should visit the city at least once. I missed on a few things like the Jama Masjid near the chota imambara, the maze at the bada imambara as well as walks in several of the big parks, including Janeshwar Mishra park and Ambedkar park. However, I really liked the city and perhaps will come back soon to tick them off my list. I would like to end with this sher on lucknow by Bismil Saeedi.
kiyā tabāh to dillī ne bhī bahut 'bismil'
magar ḳhudā kī qasam lucknow ne luuT liyā
Frequent Searches Leading To This Page:-
lucknow places to visit, places to visit in lucknow at night, places to visit near lucknow within 200 km, hotel clarks awadh lucknow, radisson hotel lucknow, famous street food in lucknow, famous veg food of lucknow, up tourism lucknow