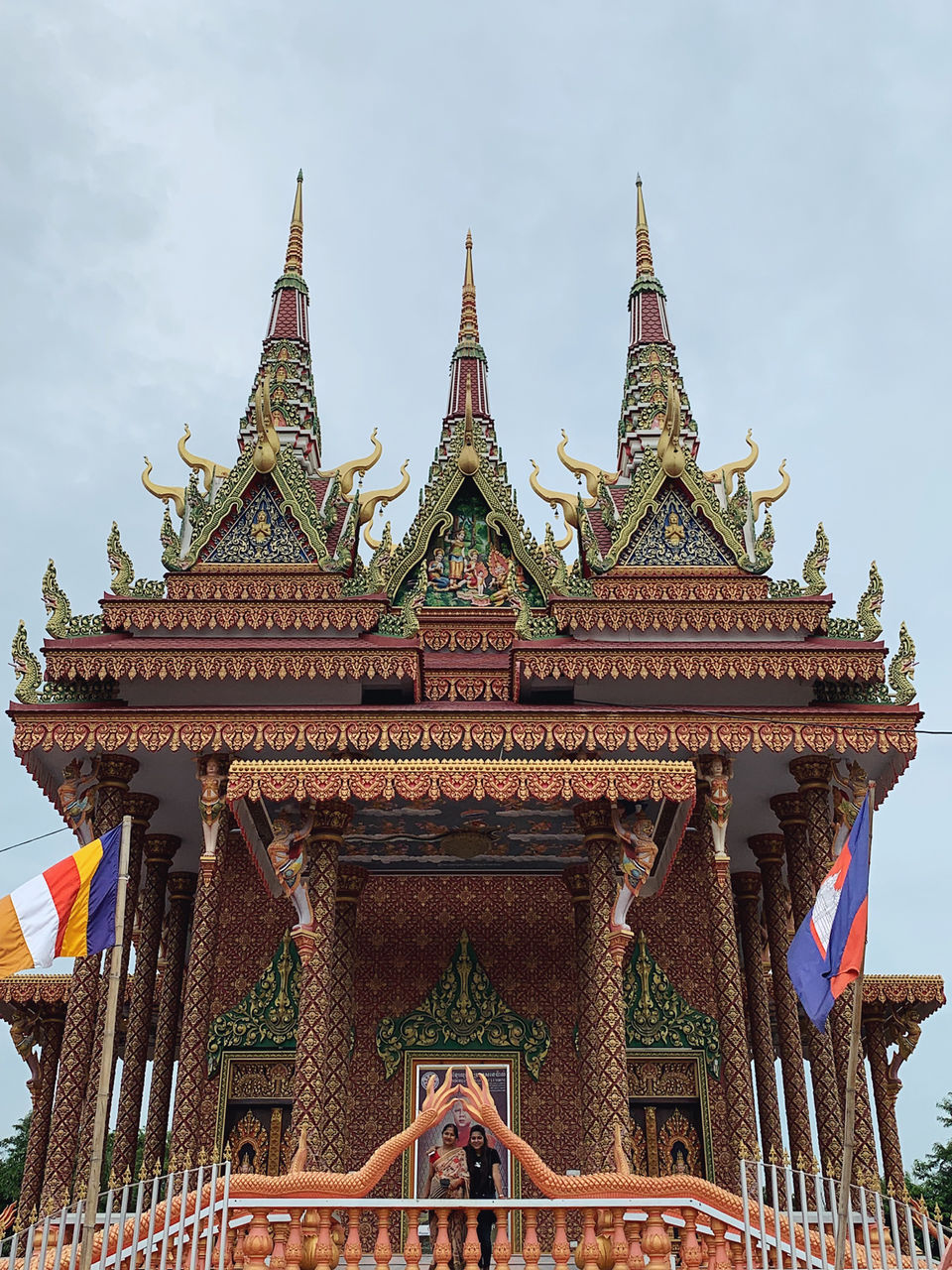 Want to see varied Asian architecture styles in a synopsis, visit the Monastic zones in Lumbini. Monasteries/pagodas built by different countries highlighting their architectural beauty, paying homage to Lord Buddha are very aesthetic, very peaceful and worth a visit.
1. One of my favourites, the Cambodian Monastery built by the Govt. of Cambodia in respect and tribute to Gautam Buddha has the most elaborate roof decorations of any of the sites. The multicolored murals and door panels, the detailed iconography, the architectural design matching the famous Angkor Wat are fascinating and visually-pleasing!
P.S. Angkor Wat is a temple complex in Cambodia and is the largest religious monument in the world.
2. The World Peace Pagoda, located outside and opposite the main compound and is constructed by Japanese Buddhist. the monument is coloured white with a golden buddha statue. The shining golden statue depicts the Buddha in the posture he assumed when he was born. Near the base of the stupa is the grave of a Japanese monk murdered by anti-Buddhist extremists during the construction of the monument.
3. The Great Lotus Stupa, this truly extravagant stupa constructed by the German Tara foundation consists of hollow crown partly covered in glass, revealing a small Buddha within. The 'Great Lotus Stupa' is one of the prominent monasteries in the area and rises to a height of forty meters, which is similar to the Shanti Stupa at the site. The stupa design goes back to the writings of Tibetan scholar Rigzin Choskyi Drakpa and is based on his ideas.
4. Myanmar Golden Temple is the oldest structure of the city. Built in Burmese style of architecture, the temple is dedicated to Lord Buddha. The impressive corncob-shaped shikhara, styled after the temples of Bagan gives a regal look to the whole structure. There are three prayer halls and a Lokamani Pula Pagoda inside the building.
5. The Maya Temple is the main temple at Lumbini, a site traditionally considered the birthplace of Gautama Buddha. The temple stands adjacent to a sacred pool (known as Puskarni) and a sacred garden. The archaeological remains at the site were previously dated to the third-century BCE brick buildings constructed by Ashoka. In 2013, an international team of archaeologists digging under the temple discovered the remains of an ancient tree shrine.
The researchers speculated that the site is the earliest evidence of Buddhist structures and the first archaeological evidence of Gautama Buddha's life. The entire place is very peaceful and beautiful. When you are done appreciating the beauty of the Maya Devi temple, take a moment to appreciate the serenity too. It is said that the Buddha achieved enlightenment meditating under a Peepal tree, people try their luck here by sitting underneath any of the beautifully decorated trees near the Puskarna Pond.