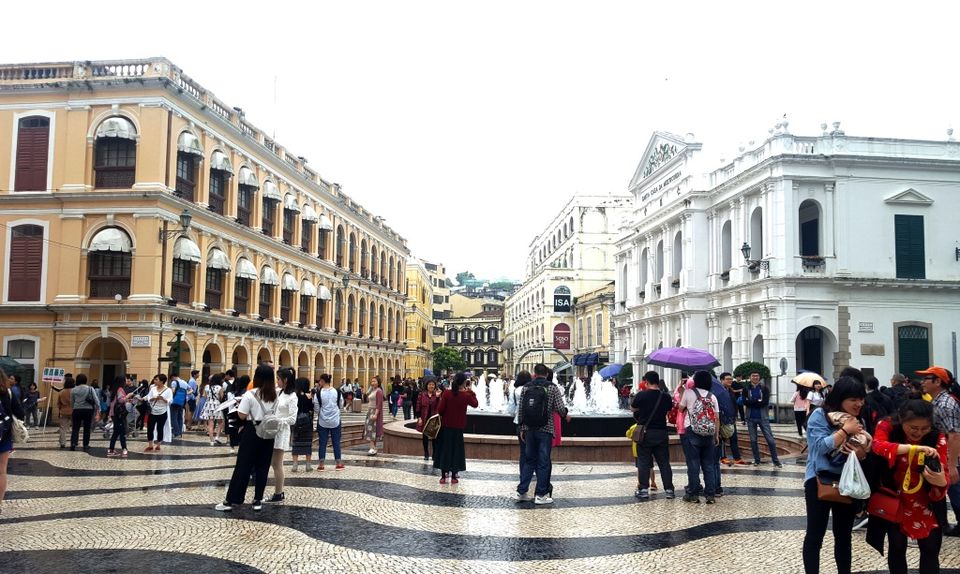 Often referred to as the Las Vegas of Asia, Macau is an autonomous region on the south coast of China. A tiny speck of land that has quite fashionably marked it's spot on the world map today. What's even more amazing is that as an Indian traveler you don't really need a visa to enjoy a quick getaway here. Macau can be classified into 3 areas - The Macau Peninsula, Taipa (where Cotai strip is at) and Coloane. Most people prefer to stay at hotels on the Cotai Strip as that's where all the action is.
While it's cousin Vegas is far more hedonistic in it's approach, Macau as of today hasn't really reached that peak. Don't get me wrong the casinos here are beyond excellent and the stakes are strong...stronger than even Vegas, but it's relatively new and the famed Cotai Strip is more about some of the best hotels clustered together with in-house shopping complexes, restaurants, bars, clubs and ofcourse casinos. Don't expect a lively atmosphere outside, the action happens indoors, and I have the perfect itinerary for you to enjoy a weekend here.
Day 1: Arrival, exploring The Venetian, Lord Stow's Bakery, Authentic Chinese Dinner
After a long-ish flight to Hong Kong we went directly to the Sky Pier ferry terminal at the airport to catch our ferry to Macau. It's important to note here that one must not head towards immigration at the Hong Kong airport if you are traveling to Macau immediately. Just hand over your boarding pass with the luggage stickers at the Ferry reception and they will get your bags on board the ferry for you. I had booked my tickets on the Cotai Water Jet and was pretty pleased with the service.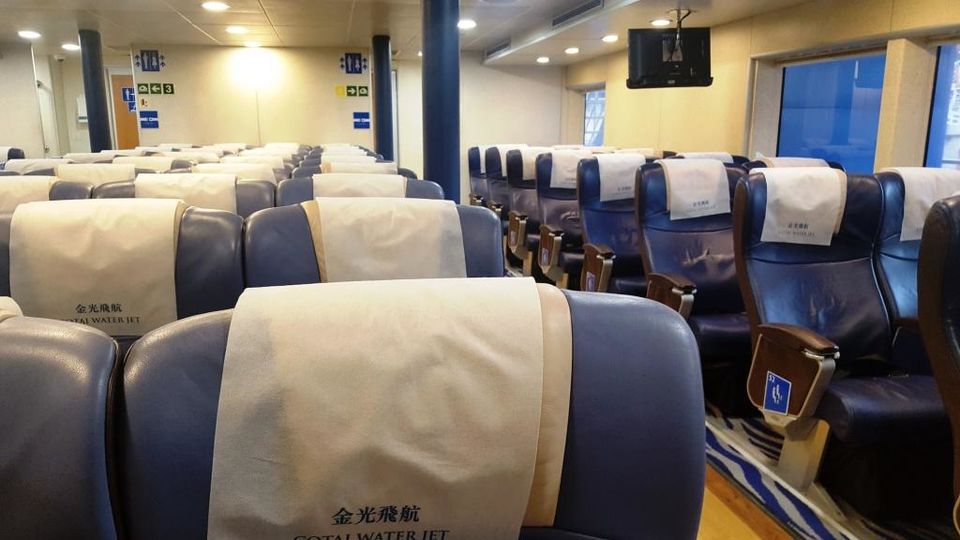 A one hour ferry ride later, we reached Macau at 3.00 pm only to be greeted by a thunderstorm. It was unbelievably dark and I wondered if my vacation was over even before it began. Nevertheless after collecting the suitcases we made our way to the pick-up point where the buses of all the hotels were waiting to take their guests to the hotel. We immediately spotted the Venetian Bus and in less than 10 minutes were on our way to an indulgent weekend ahead.
The check-in was swift and you are provided a map of the resort on check-in. It is much needed, only by the end of the 2nd day was I able to figure out all the nooks and corners of the place. We checked-in to our uh-mazing suites and eager to explore what else the resort had to offer we stepped out of our rooms after an hour of rest, I mean who wouldn't want to immediately sleep on these beds!
The shopping complex's architecture with the theme of Venice came with all the works; the canals, gondola rides etc. We decided to shop for a while and then head to Lord Stow's bakery which was within the premises of the hotel to try the famous Portuguese Egg Tarts. It was okay but not worth the hype, maybe not for my palate. I didn't really have it after that one trial, so I guess that says a lot.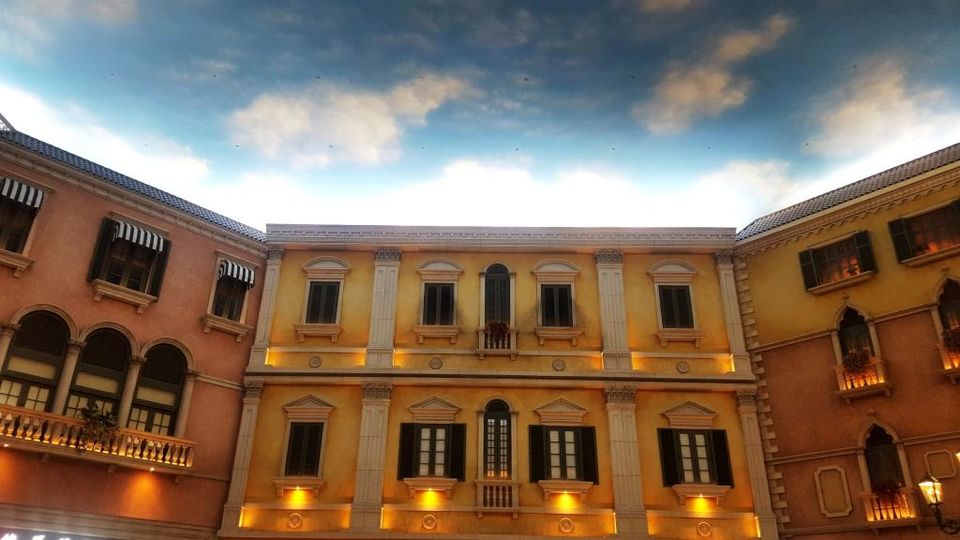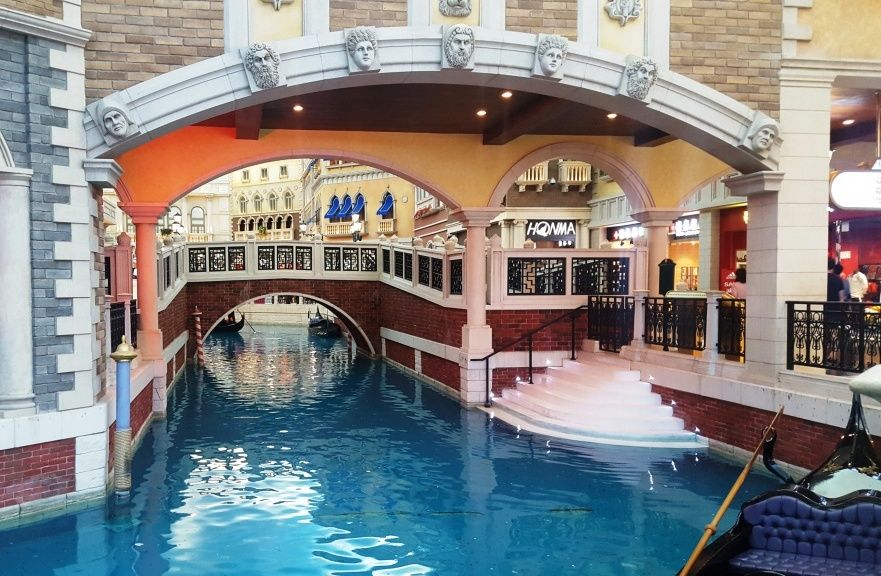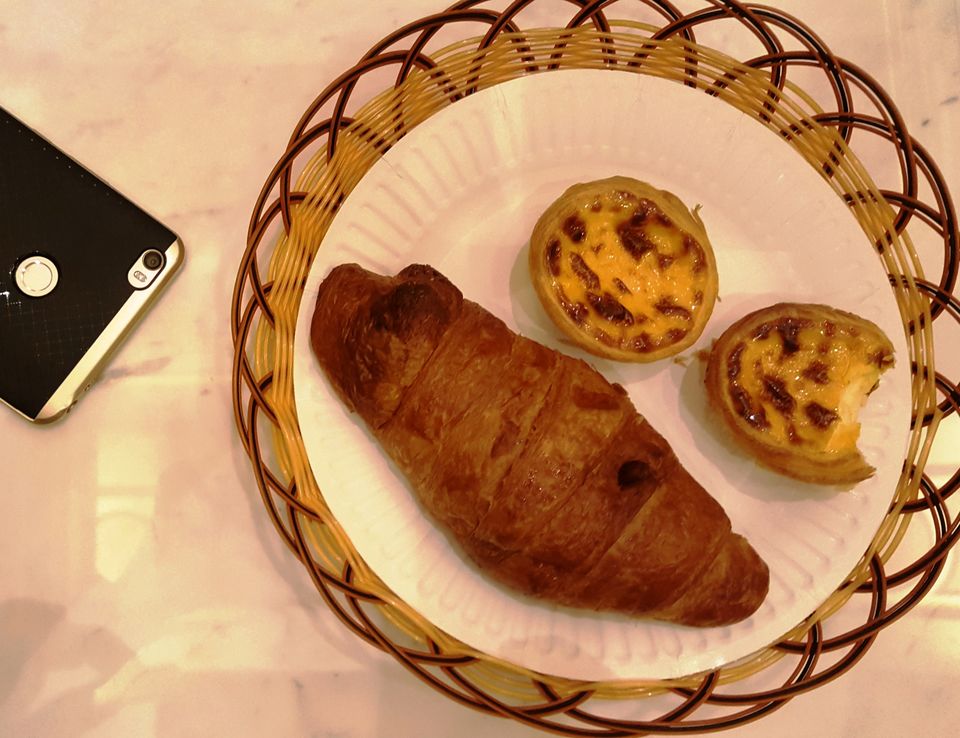 Next we went to the Casino to see if if we wanted to try our luck at any of the tables. Barring the Casinos in Goa, I hadn't been to any other and this was so intimidating. While it looked like a lot of fun, I had absolutely no idea what the games were, how to operate the slot machines or the other stuff happening there. The stakes to join the tables started at 200 MOP going upto 500 MOP. I wasn't keen on wasting too much money when clearly everyone there seemed like accomplished gamblers! I found something called the Wheel Of Fortune, where you needed just 100 MOP to participate. I made a note of it and decided to try my luck after dinner. Dinner was had a a restaurant called the Red Dragon at the Casino itself, the food was great and they had a small list of vegetarian food available as well. We had had a long day and there was a case of a missing phone in between dinner as well, so the hunt for that took away some of the energy as well, so we decided to call it a night, but not before another round of the Canal Shoppes.
Day 2: Largo Do Senado, Ruins Of St. Paul, Guia Fortress, Koi Kei Bakery, Casino, Dinner at a Michelin Star restaurant.
The thing about great beds is that you never wake up early and in this case, I didn't really mind. Its not everyday that you stay in such a gorgeous suite, so why not make the most of it! But eventually we did get out of the room as we wanted to head to the old part of town which still had architectural remnants of it's former Portuguese administration. Obviously the rain had to play spoilsport, and we decided to have brunch at Cafe Deco (within the Venetian) first and wait for the rains to stop. The food at Cafe Deco wasn't really best, and that irked me a bit, I mean how difficult is it to make some good Eggs Benedict?! Finally the rains diminished and we decided to head out armed with umbrellas. We took a taxi to Largo Do Senado, popularly referred to as the Senado Square; a paved town square which is a part of the UNESCO Historic Centre of Macau World Heritage Site. It has many colorful buildings still standing from the Portuguese era and now the building house shops for different brands. It's a cute little area full of people.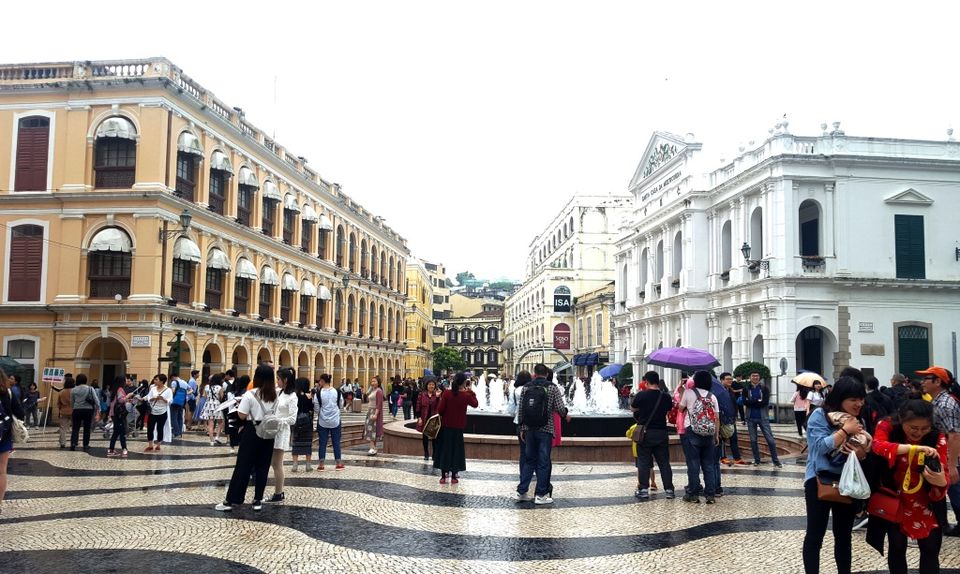 We checked out St. Dominic's Church- a beautiful yellow building on the way to the Ruins of St. Paul. We walked around a lot of these buildings, often stopping for pictures. On my to do list was to pick up cookies from the Koi Kei Bakery. We went a little cookie crazy inside as we came back armed with 8 boxes of various types of cookies. Go for the Almond Thins, they are the best. Biscuits in hand we then went to see the Ruin's of the St Paul Cathedral. The facade itself was so pretty,once can only imagine what the entire structure would have looked like. A quick walk away is the Guia Fortress that can give you a Birds' eye view of Macau Old Town. We wanted to head to the Macau Tower for a Bungee Jump, but bad weather prevented us from doing so, I guess there is always a next time.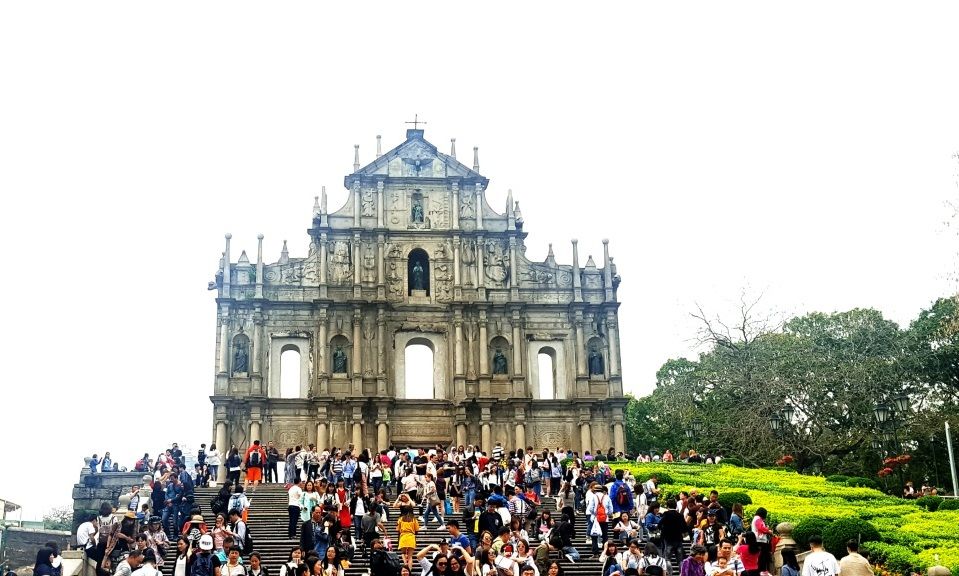 Tired we headed back to the hotel for a dip in one of the many Venetian pools (temperature controlled water- what a blessing you are!) and some cocktails and snacks. Now obviously one can't come to Macau, stay at the World's largest Casino resort and not gamble, so armed with 500 MOP we made our way to the only game we understood (Wheel of Fortune), but not before I googled -'How to play Wheel Of Fortune'. A game based purely on luck, that was the fastest I had lost money. Oh well, atleast I got to experience what gamblers feel like!
For dinner we wanted to have something more familiar to the palate, but more importantly the option to order vegetarian food as well. Luckily we found a Michelin Star Indian restaurant called The Golden Peacock inside The Venetian itself. This being my first Michelin Star experience, I had high expectations. For a cool Rs.10,000 or so we had a decent dinner which included Lamb Shanks Dhansak that tasted nothing like Dhansak, some Butter Chicken, Dal Tadka, Karare Bhindi, Kasundi Prawns, Dum Aloo, Rice and Rotis. Not to say that I wasn't happy with the food (it was actually good) but I have obviously had far better Indian food back home so maybe this restaurant is for Non-Indians or Indians craving Indian food abroad. Nevertheless it was a good meal and a perfect way to end the last night in Macau.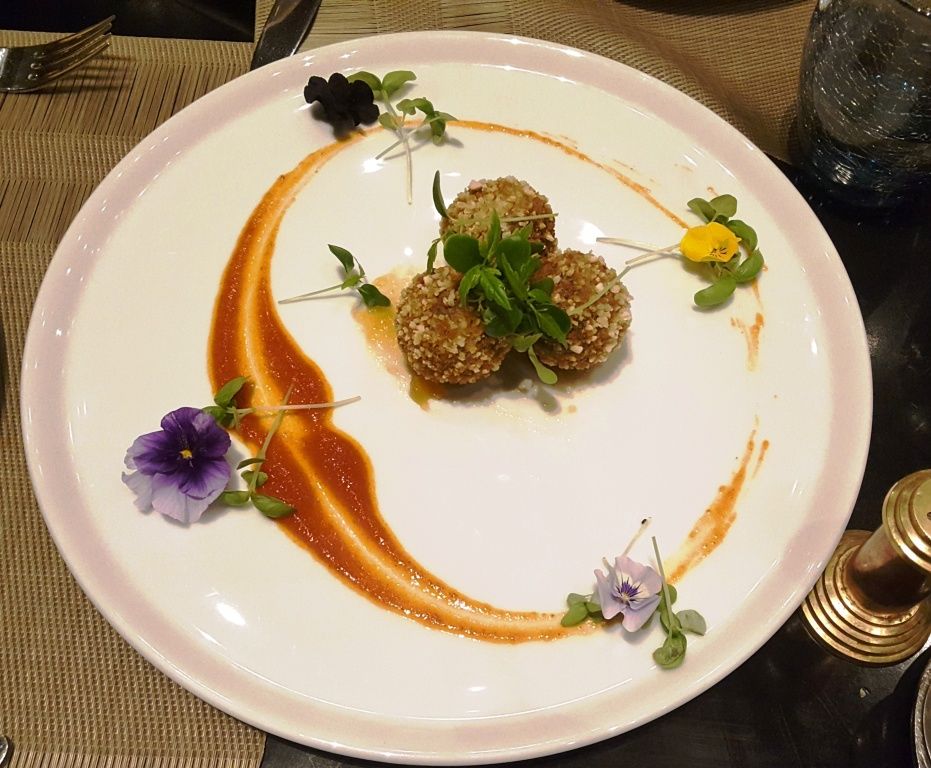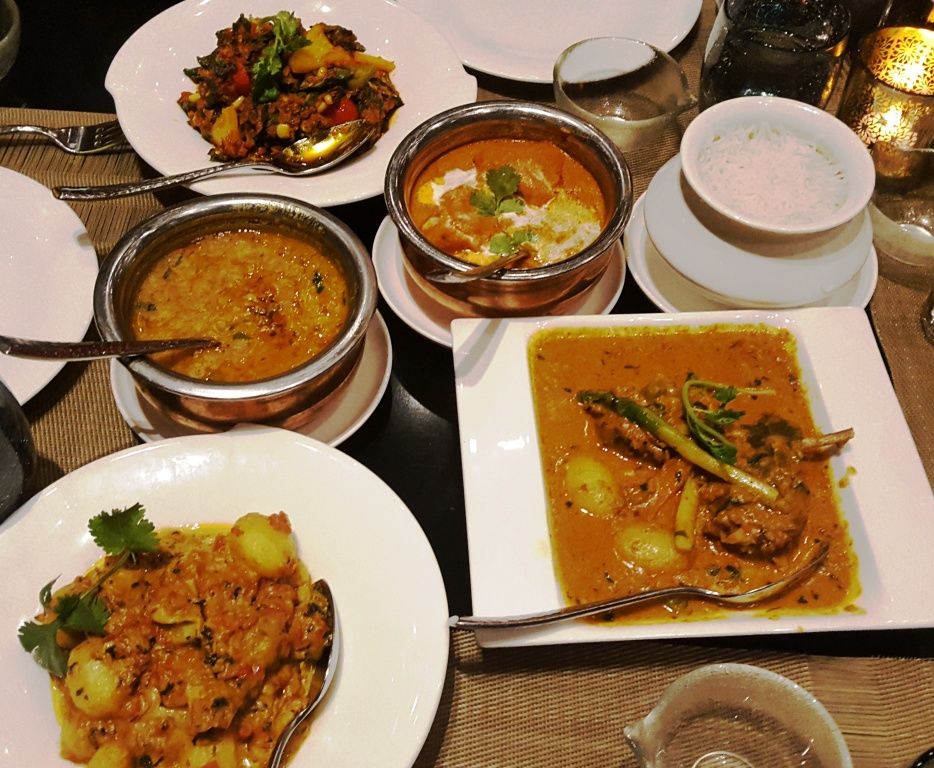 My family loves to shop, so after dinner we went back to the Canal Shoppes and did just that, besides what more can you do when you have pretty much covered all the things to do in Macau and shopping is a better way to spend money than lose it all at the Casino.
Day 3: Next morning we checked out of the hotel and made our way to the Ferry terminal that would take us to Hong Kong. Macau was fun and indulgent, but I was already looking forward to what Hong Kong had to offer!
The big question: Is Macau worth visiting?
I would say yes, but only if you are clubbing it with Hong Kong as there is not too much to do, unless you are an exceptionally skilled and affluent gambler who can make it rain money! So more than 2 days here and you will get bored. On the other hand a one day or a day trip from Hong Kong wont really do justice. While there are tons of hotels to choose from, I'd strongly recommend The Venetian as it is an experience in itself.
Traveler's Tips
1. Carry an umbrella, thsi was supposed to be summer but it rained everyday. You never know when to expect a shower.
2. Currency: Make sure you are carrying MOP and not HKD while in Macau. Most hotels including the Venetian don't accept HKD
3. Finding vegetarian food is not any easy feat. If you are vegetarian or traveling with a vegetarian, do your research. Most restaurants may have a vegetarian menu,which they may not give you till you ask for vegetarian options, so do try that.