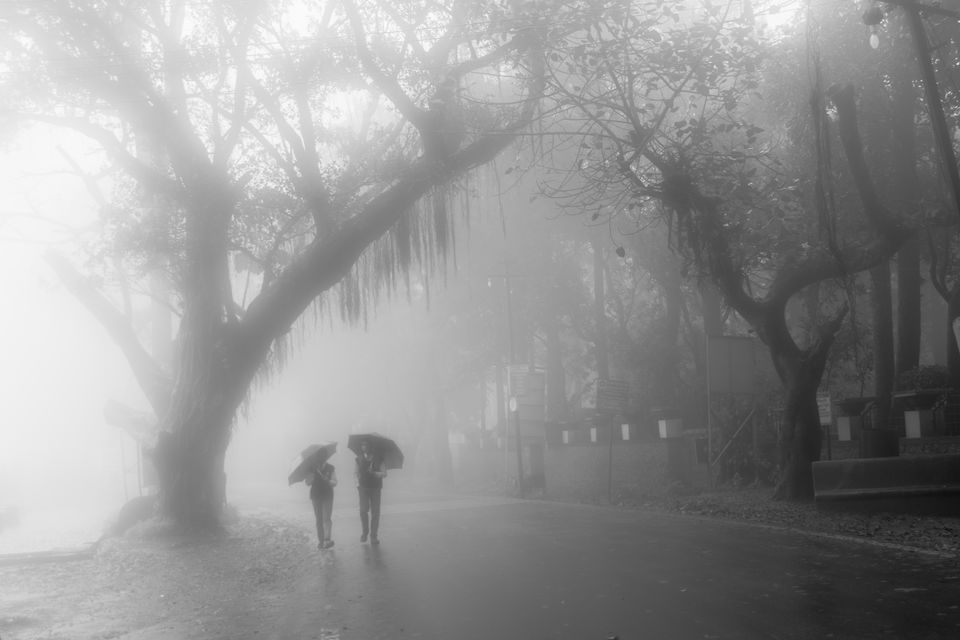 Monsoon brings Magic, Happiness and it also adds a lot of Colors to our lives.
I love this season the most as it gives me freedom from the scorching summer heat and also frees me from carrying the weight of woollen clothes in winters. This is the best time to travel especially in certain places of Maharashtra that officers beautiful views of Lush Green Mountains along with Clean and Fresh Air to Breathe. I didn't know that Maharashtra is so beautiful until I experienced it first hand.
There are plenty of small treks and hill stations around Pune and Mumbai which are just peaceful and amazingly beautiful in Monsoons. Just going there and taking a deep breath is itself like Meditation.
Last year, when I went to Pune for some work, I was lucky enough to take out some time to head to trek at Duke's Nose trek and Karnala Fort and make a day trip to Panchgani. I had zero ideas about these places and yet I decided to go for it. I had no plans to travel anywhere and so I didn't carry my Raincoat, Umbrella and my favourite Hiking Shoes when I went to Pune. And since it was my first time in Pune during Monsoon, I didn't know how it was going to be.
Duke's Nose
So the first place I visited was Duke's Nose. I started my journey early in the morning from Pune and took the local train till Lonavala. I had a never-fading kinda Smile on my Face when I saw the Greenery. So Rich and So Magnificent! Even though I had got a seat in the train but still I got up and stood near the door to enjoy the sight and the wind that seemed to have a musical feel.
It was raining heavily when I reached Lonavala. So I waited for the rain to stop while I had the delicious and cheaply priced Sambhar-Vada and Tea for breakfast. In just 50/-, it was "Plate Khali, Pet Full" for me. I requested a shoemaker to give me a Raincoat or Umbrella on Rent but he didn't agree. So I had no option but to wait for the rain to stop.
One needs to hire a cab to reach the point from where the trek starts. So I chose the option of a sharing cab as it is a lot cheaper for obvious reasons. At the starting point, thankfully I came across a shop that provided Raincoat and Umbrella on rent and also was equipped with refreshing tea and snacks. After knowing that I was the only one who was going for the trek, the kind shopkeeper didn't charge anything for the raincoat.
Finally, I started my trek. It was a weekday and hence, I was the only one present. It seemed like the whistles of birds, the fresh air, the clouds and the abundant greenery were all blooming exclusively for me. I must admit I was a little scared when I first heard that whistling sound as I thought that someone must be around but didn't see anyone. But when I realized that it is some kind of bird, I was relieved. The trek doesn't take much time and so I would suggest to stop by at any point and enjoy Nature and take a lot of pictures at this picturesque location.
This place is so magical that it can turn into a fairyland right in front of your eyes. The surrounding changes within seconds there. And when I reached the top, I couldn't believe my eyes. I stood quite near to the edge and looked at the deep valley below and I saw that clouds were coming over me with the strong wind. OMG - Just reliving the experience gives me goosebumps! I can never forget that moment. I danced there, clicked some pictures and spent some time with Nature. Visiting this small place was such an amazing experience for me. And trust me I just spent approx. 500/- on this trip even when I had to take a private cab from my place till Railway Station.
Panchgani
The next place I visited was Panchgani. I have heard about this place in so many movies and I was looking forward to this day-long outing. It took me around 4 hours to reach there by bus from Pune. The rain was quite heavy there and so I bought a very colorful Umbrella which you are going to see in most of the pictures. The next day I had to leave for Mumbai so I had only one day to explore the beauty. Hence, I just decided to go to the famous points i.e. Table Land, Parsi Point and Sydney Point.
All of the points are situated at quite a distance from each other and it was raining quite heavily but unfortunately, I couldn't find any sharing taxi. So finally I decided to go to walk to each of these spots. All of the points are so beautiful in their own way and offer some really mesmerising views. The wind was so strong, especially at the Sydney point, that I felt that I am going to fly away! The scenes were like straight out of beautiful paintings. Surely God is the greatest Artist. I am sharing some of the pictures to let you decide how beautiful that place was. And I wish that I had at least one more day to explore more of this little town.
Karnala Fort
After reaching Mumbai, I and One of My Best Friends decided to go to Karnala Fort. So we took the train till Panvel and then hailed a sharing taxi till the entry gate of the fort. It took us quite some time to reach the top but it was surely worth it. A little bit of Rain was helping us to keep going because in Mumbai, the weather was quite hot comparatively. But on the top, the view below and ahead of me once again was of the OMG category! And yes there were clouds, drizzling rain, beautiful plants, strong wind accompanied by the charming views of the Fort. So so so wonderful! And as a picture can say thousands of words, so just look at them and admire the beauty of this fort.
Things to be taken care of –
· Raincoat is a must in Monsoon because umbrella won't be able to help you all the way
· Carry your hiking and water-resistance shoes
· Eat sufficiently and carry something to eat before leaving for the treks because you won't find anything on the way
· Don't carry so much of weight because in Rain it will be difficult to handle the stuff
· Never wear white clothes because you never going to see them white again :P
There are so many other places to cover but I wrote about where I could go and I hope if not my words then at least the pictures will make you go there, at least once.