Hai friends, I am one among you,who uses the online world to find our destinations.So thought I should also write something about my trip.
About trip :Me and my pal somewhat traveled in the mountains to be exact PARVATI VALLEY in Himachal Pradesh,India.we tried to cover some parts of it in 3 weeks
Trek Map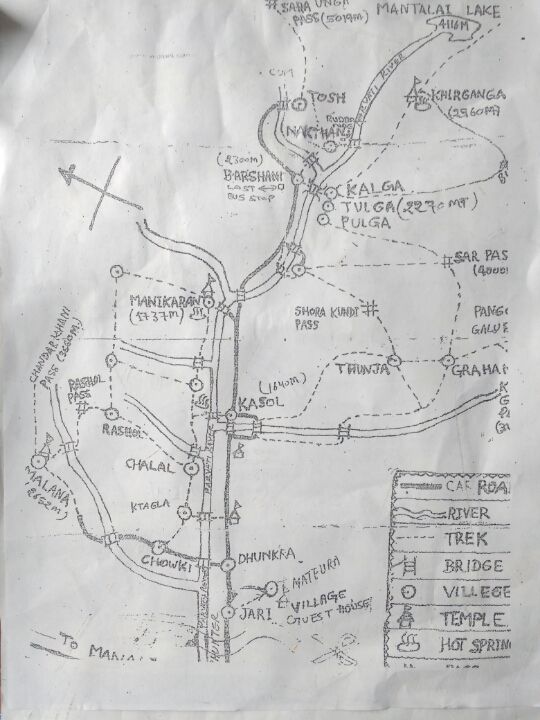 This one will give a rough idea about the place w've covered,we started our trip from Delhi and to be precise started from Bhuntar.So I'll tell a list of places we've covered and a small description about tat place in my way :)
Bhuntar>Kasol>Chalal>Ktagla>Manikaran>Barshani>Tosh>Khirganga and my creamy Malana 
Why this trip ? We've planned this trip at least for 6 months,as always we had lot of hardships in btwn.we only had a rough idea of this place from our online communities,and I've been to Manali some time back with my parents.We followed many thngs to get an idea of these places,out of it Instagram was my favourite.I've gone through lot of peoples profiles and the photos just stunned me...and it inspired me very much.It was truely a life changing experience for me...
Kasol :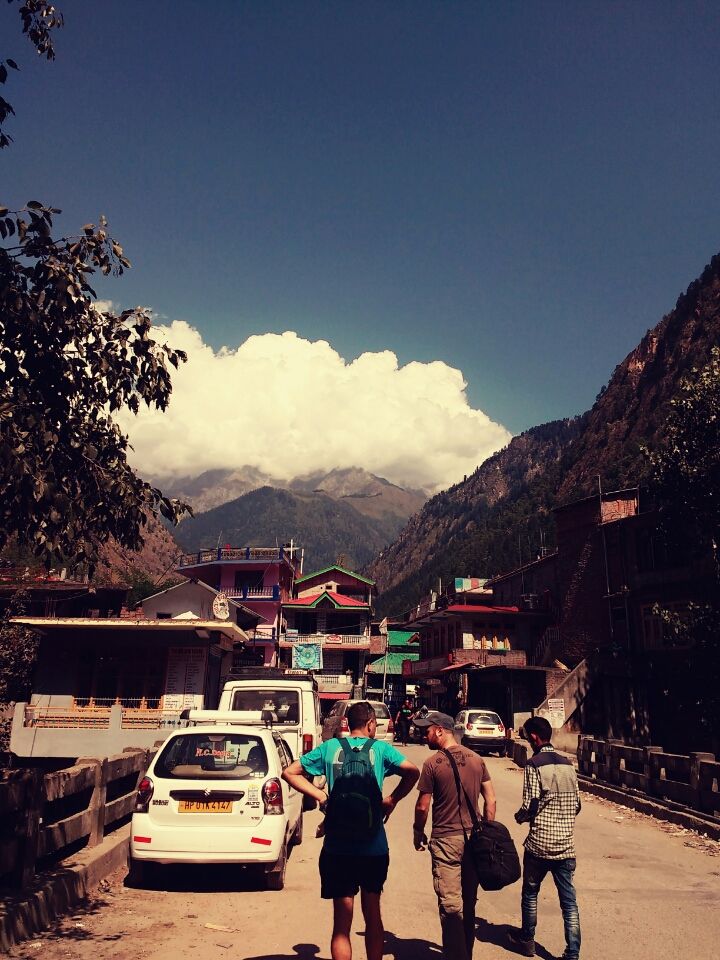 Kasol is the place which we called as  base camp  and truly it was 1 for us.This place is the most civilized out of all the other places.there's lots of cafes,funky stuff stores,good places to hang out,place to buy all the last minute accessories. We kept all our unwanted thngs out there in a cafe,so we can move free.You can rent decent places for Rs 200-300 and if you are planning to stay more the prices even goes down.we tried the Israeli breakfast and much more dishes.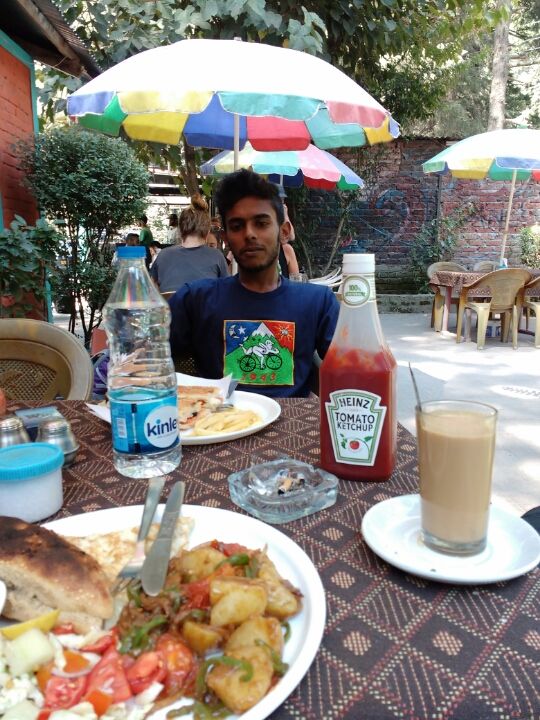 We stayed at this place for 2 days and the main difference we felt was the presence of foreigners, a lot of them.so times I've thought is this really Indiamore nd I've reasons to ask that.All the people we met were good,genuine, kind nd lots more and if u are an Indian u know u can't find lots of them in our country. But again mountain amazed me,the way people live out there in soo much peace,u won't that anywhere.So that made us soo calm in our minds and we started enjoying to maxx.
Chalal & Ktagla These are two villages nearby Kasol,you need to cross parvati river to reach them.Its a small trek of half hour to reach Chalal.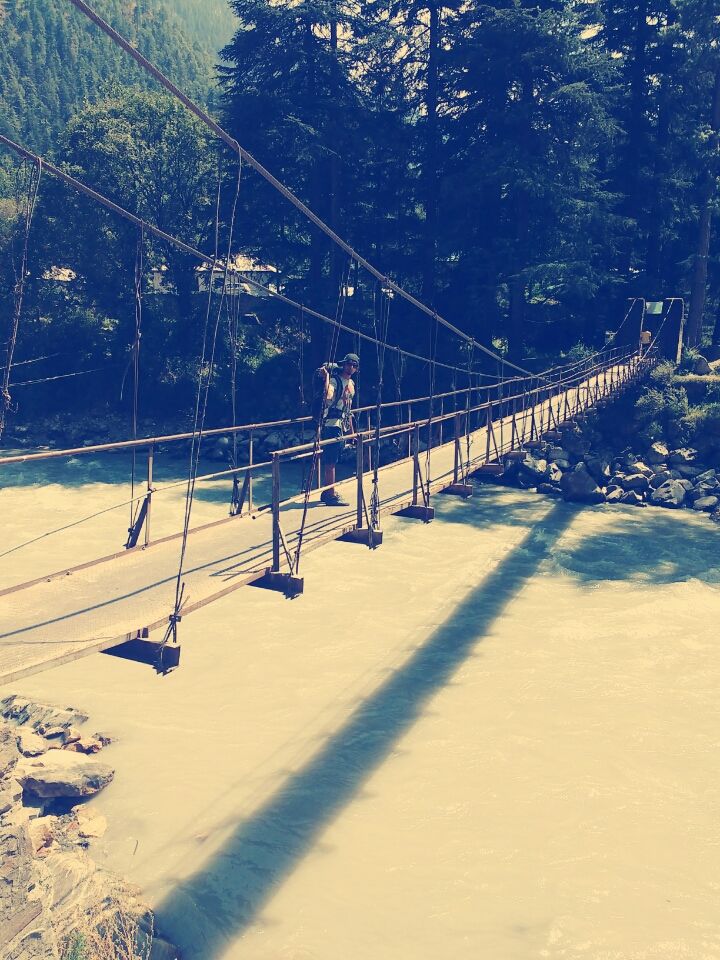 We stayed @ a place named Om Naggis Camp near the river bed.The owner of that place naggi bhai was too gud to us and the place were we stayed was a party ground so there was party coming and he was so appealing to attend the party,but we had a huge target in front of us in a small time frame.So we couldn't attend the party and we thought something might happen to make us happy.
From chalal we have moved on to ktagla,the next village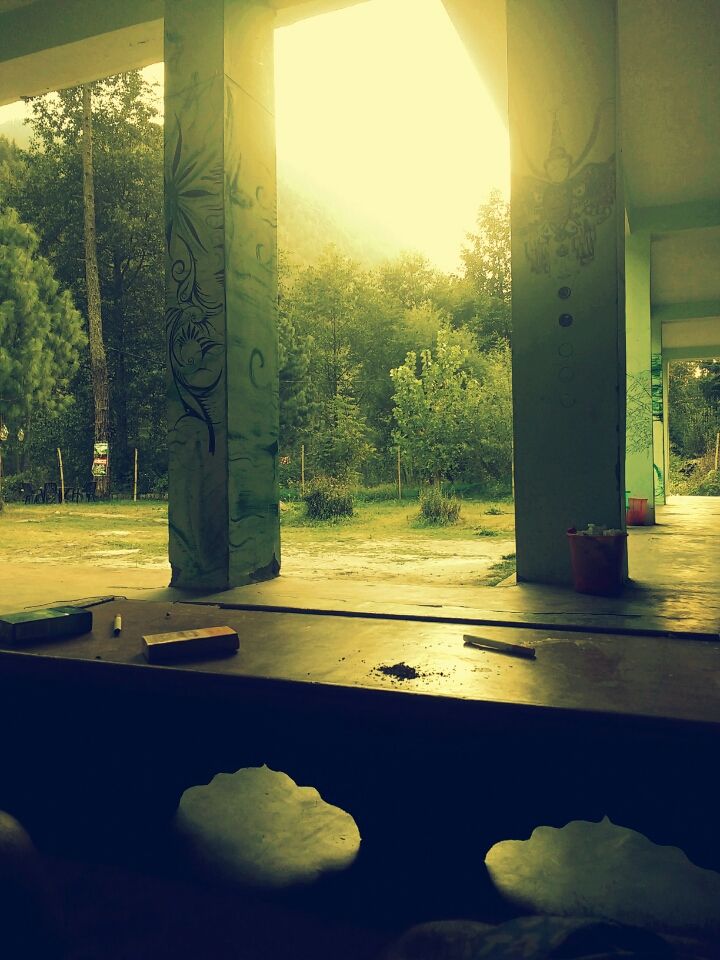 There are few villagers in this village and we went to a cafe and had coffee's. We just had a quick Rome over this village and the dogs out in these valley were  supercool.  They are soo free,they even don't bark or provoke u..Through out the trip we got many friends on our way and helpd us through out.we just need to follow them,and I think these dogs out here have there own Culture and I purely respect that.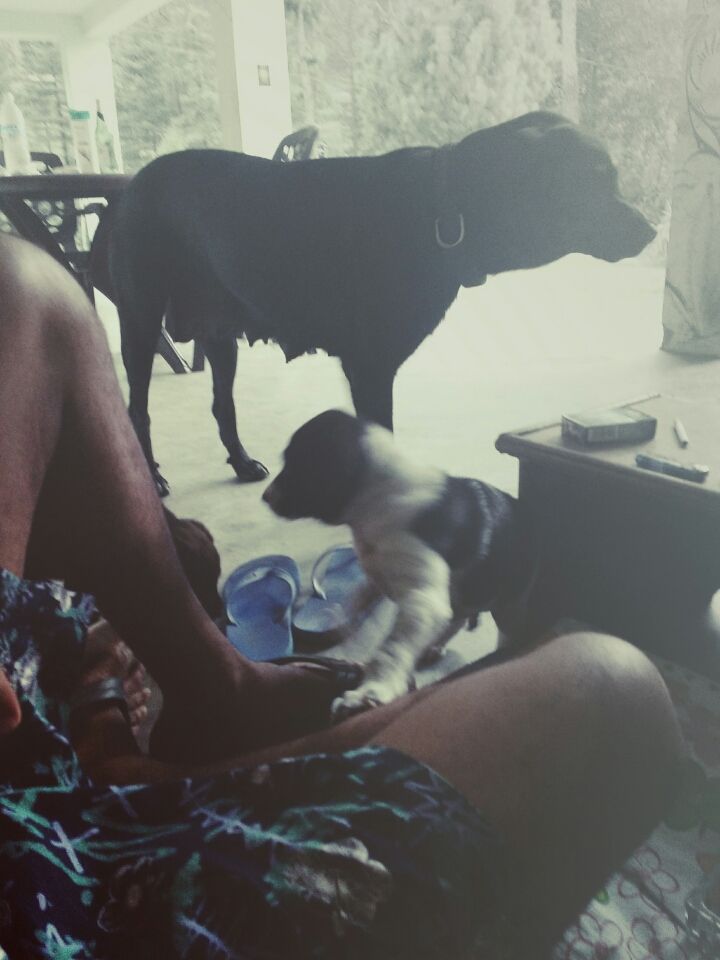 The PIC says it all.

Manikaran : This is small town on the way to Barshani.There is a temple in this town which have a hotspring  which makes it religious and hot 
We had a quick walk over this place and bought some home made shawls and woolen stuff.
Tosh : We didn't had much idea about this place,but it was a bounty for us.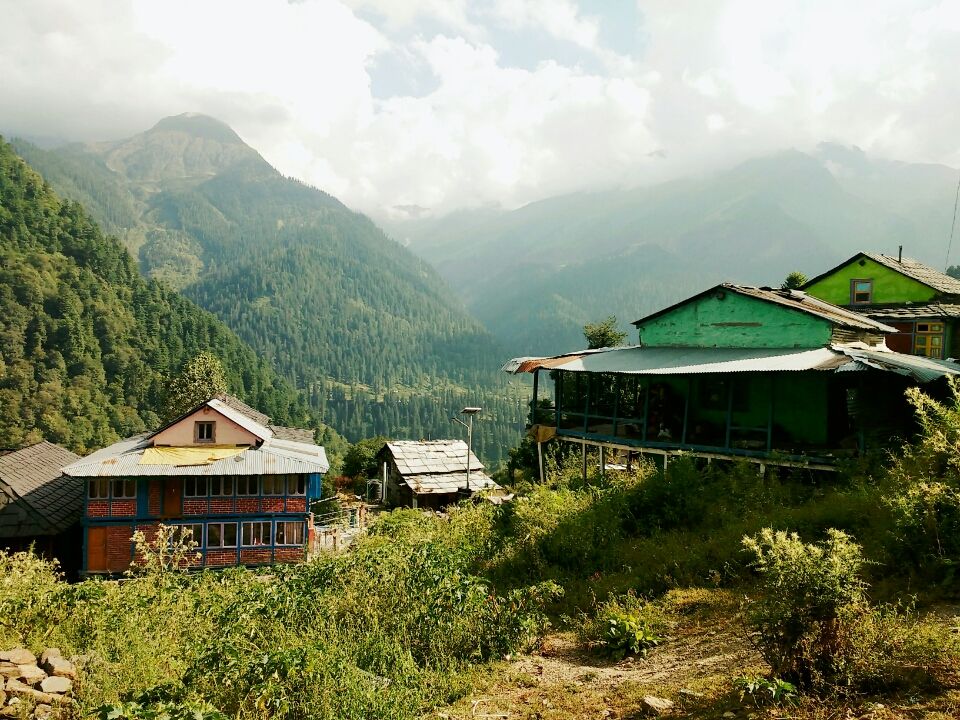 This place was somewhat lonely and its soo calm and peace out here,you have to trek 10mins from the road to reach this place.since tere are no vehicles its super silent out in these places,nothing to worry you or disturb you...all you have is silenceWe met another group from banglore,nd went for a trek with them.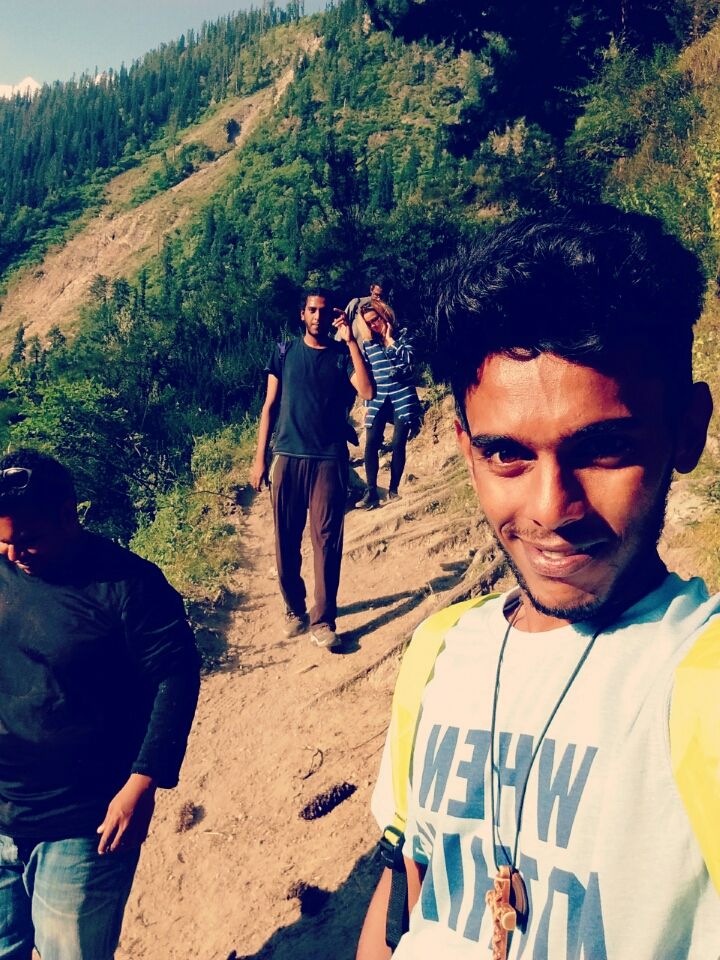 on unknown trek 
Surprise :  After meeting these people, we went for a trek but no one was sure about the route.we just walked and walked,it was a blinder.we dnt knew whether there was a way.But here nature was at its best.saw all beautiful thngs around,and only @this trek we dnt saw any1 up or down.at some places the route was washed away...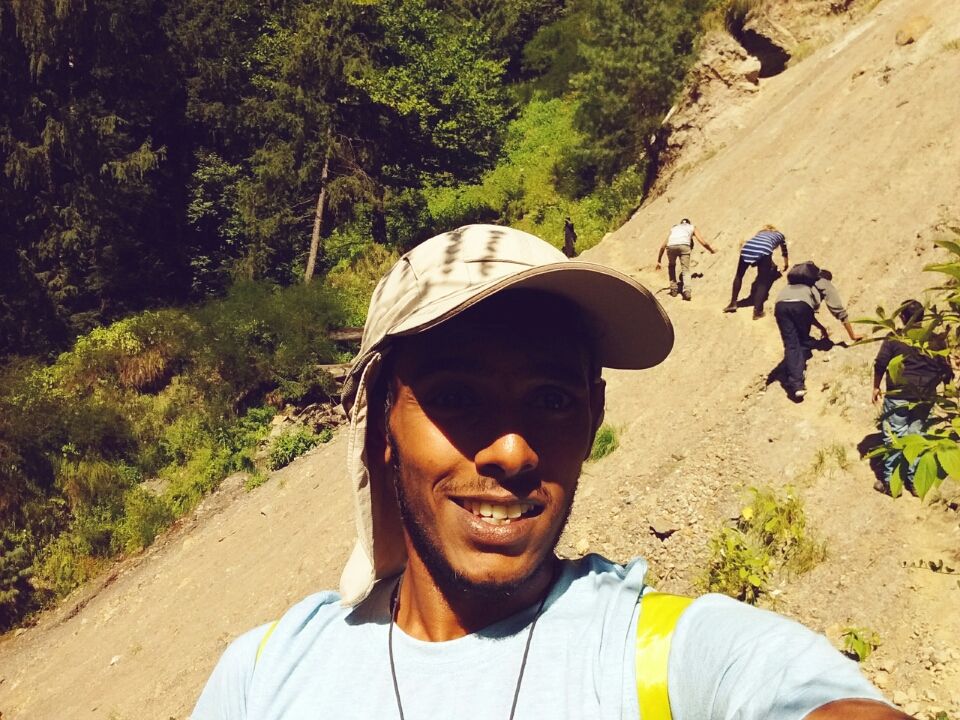 Adventure..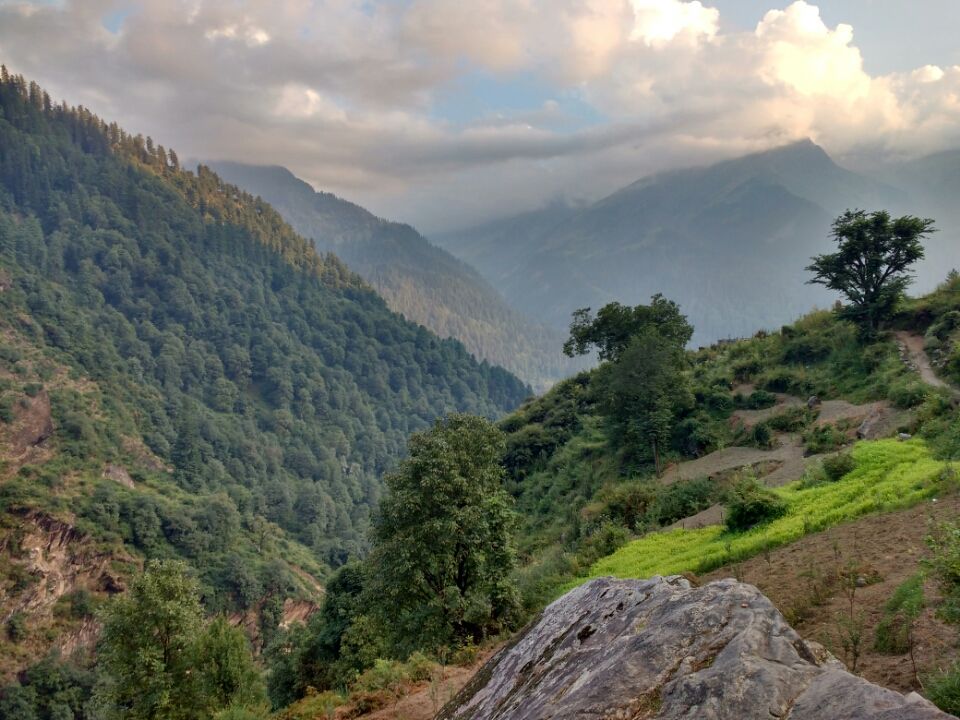 mother nature
  Khirganga :  Khirganga was one of my top priority cos of its hardthng.we dnt knw if we could complete it,but we've cracked it.It is comparatively hard trek,12 kms one side and it tests you hardly.On the way to khirganga
I took about 5hrs to complete this trek and I had gave up everything to reach the top.On the way up there is soo much thngs to make your eyes cool..nd its soo special and you only get these in here...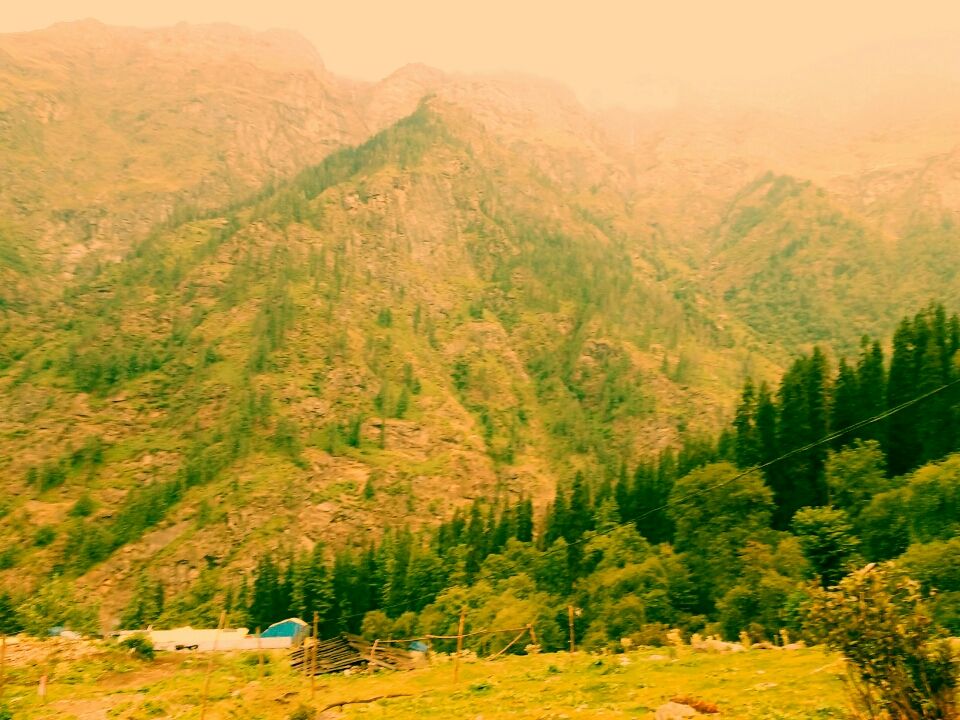 up in khirganga
At the top there are few places to stay nd we opted an ashram where you can stay for 100 bucks a day,and you get free dinner as complement..You can also stay at cafes at the same rate.At the very top there is a hot spring near a  Shiva  temple . you can have a holy dip in this pool and it refreshes you like anything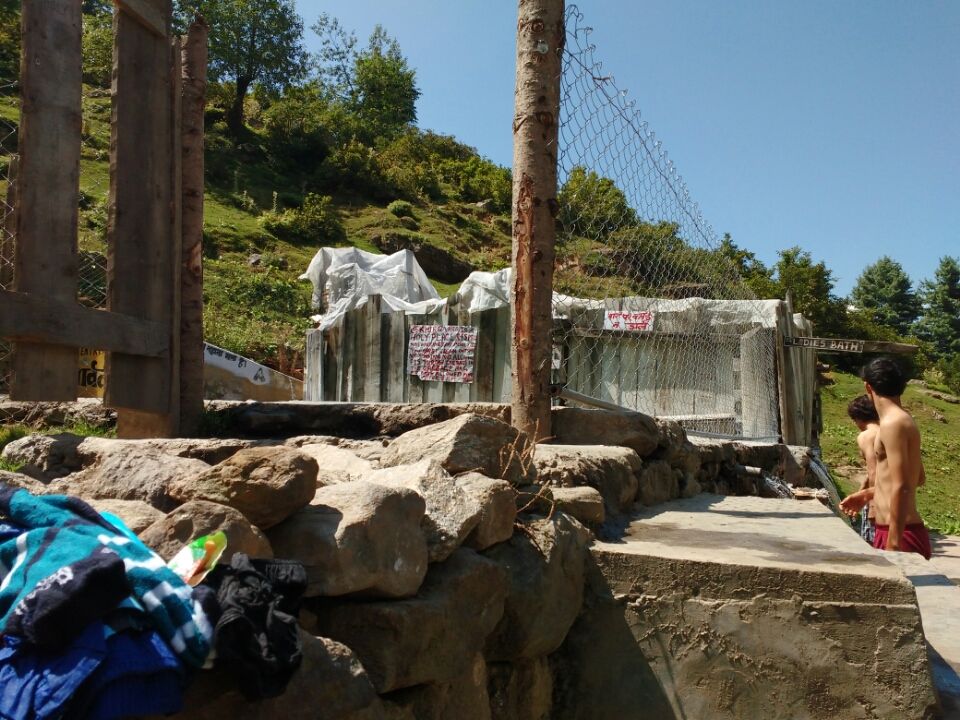 hot water spring 

On our way back I covered the same distance in 2hrs.This trek route was the one which attracted me the most and its also expensive out there,a bottle of water costs you 50 bucks !!! So after khirganga trek we were out of money and we had to come down back to Kasol for an ATM.There was only 1 more thing in our mind the malana...

 And @ last Malana .... Last but not the least, comes the beautiful village of Malana.Its a different world totally different one.we knew that we can't touch the people over there and other strange metes but good rules.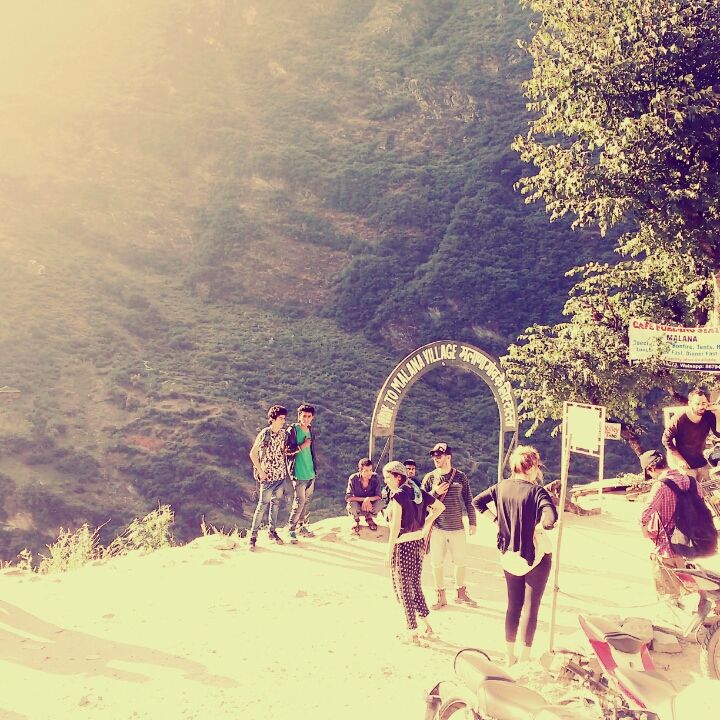 To reach Malana we took 2hrs,and its a moderate trek.You will find decent places to stay and best cream to smoke.In my words it's a  smokers paradise on de way to malana
We only stayed there for 1 night..and its more than enough.by that time we were running out of time of had to end up the trip.so we went to Kasol for final purchase and from there to Bhuntar  My opinion: If you have money you can visit these places with ease,but do try to respect the community,culture and people out there.This was a lesson I've learned from the mountains.I've travelled in a close budget of 25K including everythng,and I am happy for what I've spent.If you are a bachelor do try smthng like this before settling in your life,to be frank it changed my life in  ve manner nd I've learned many thngs.
 What made me do this ??      This is my first attempt doing something like this,I mean the writing stuff and I thought this might help someone in anyways.So do accept the faults that I've made in my trip review as a beginners mistake.I'm also inviting precious cmmnts so that I can  improve.This is also something I gained from the mountains...:)I'll also share some pics,if you want to see more,I'm also in Instagram @ TMEBIN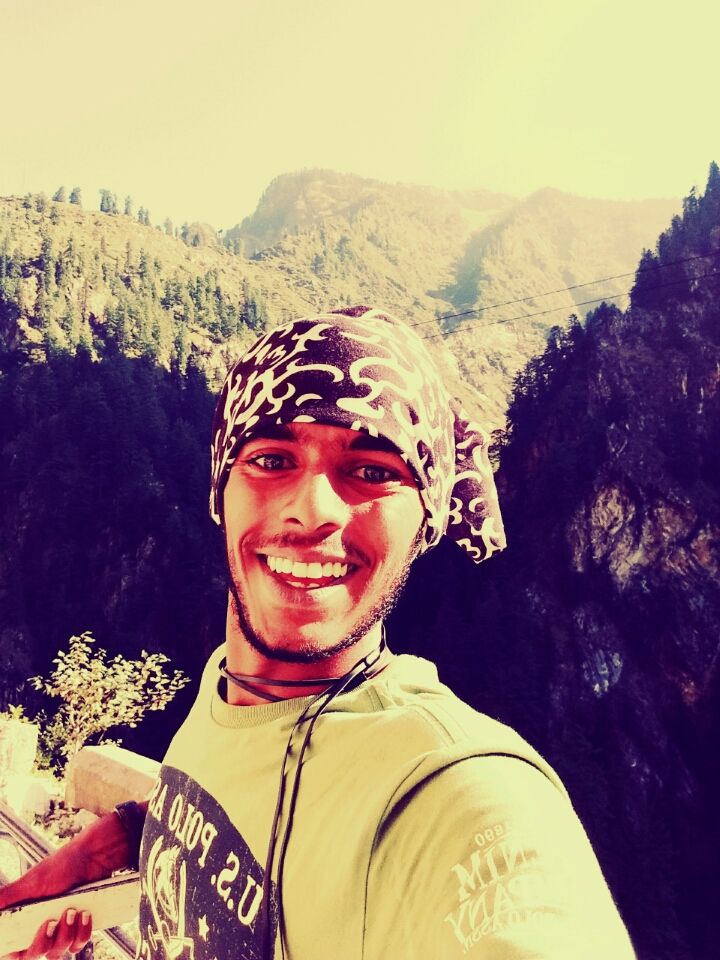 way 2 malana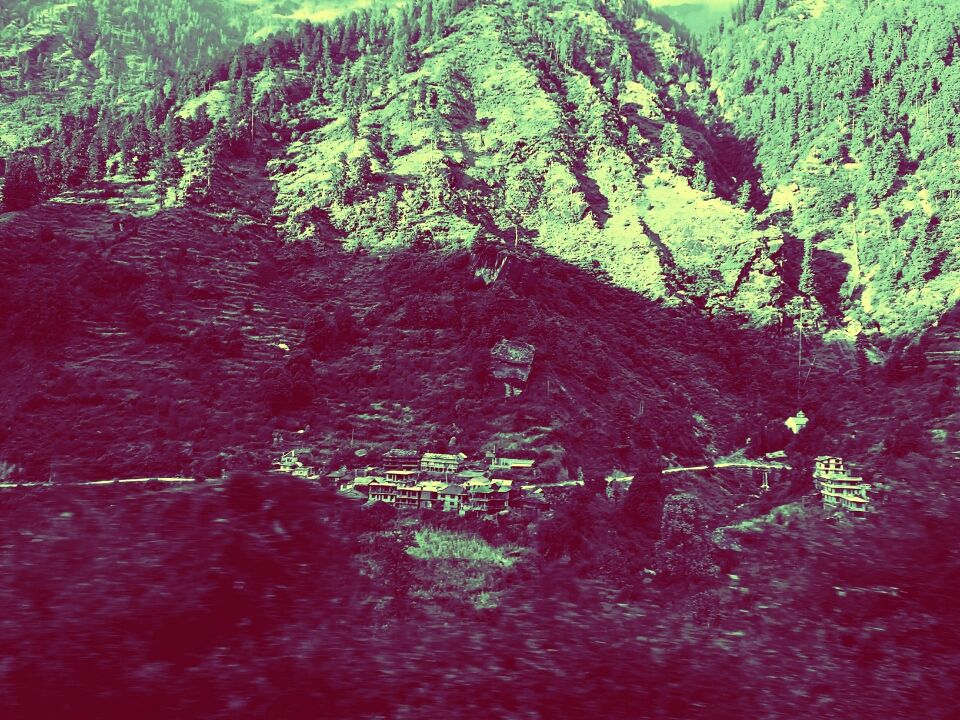 small village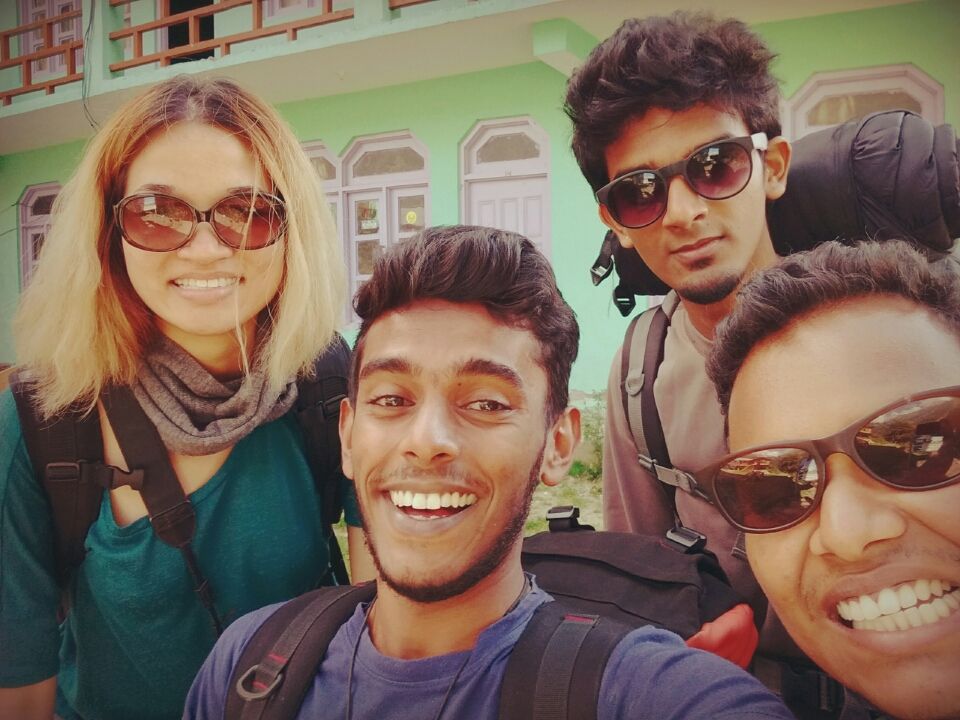 with Sally @ Omar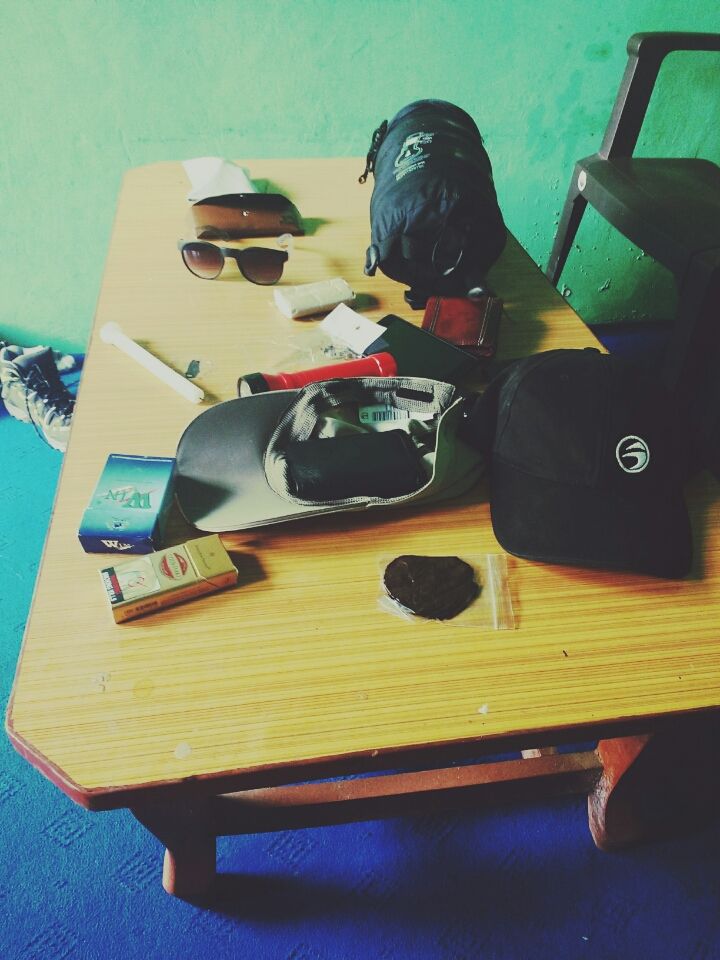 our table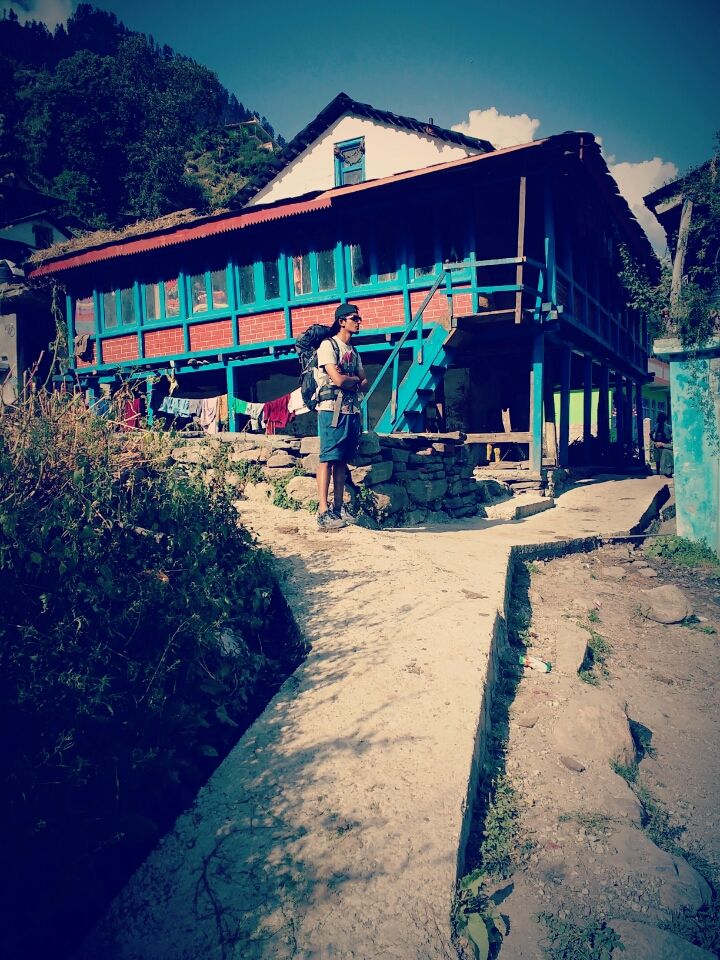 my sweet buddy...luv u mann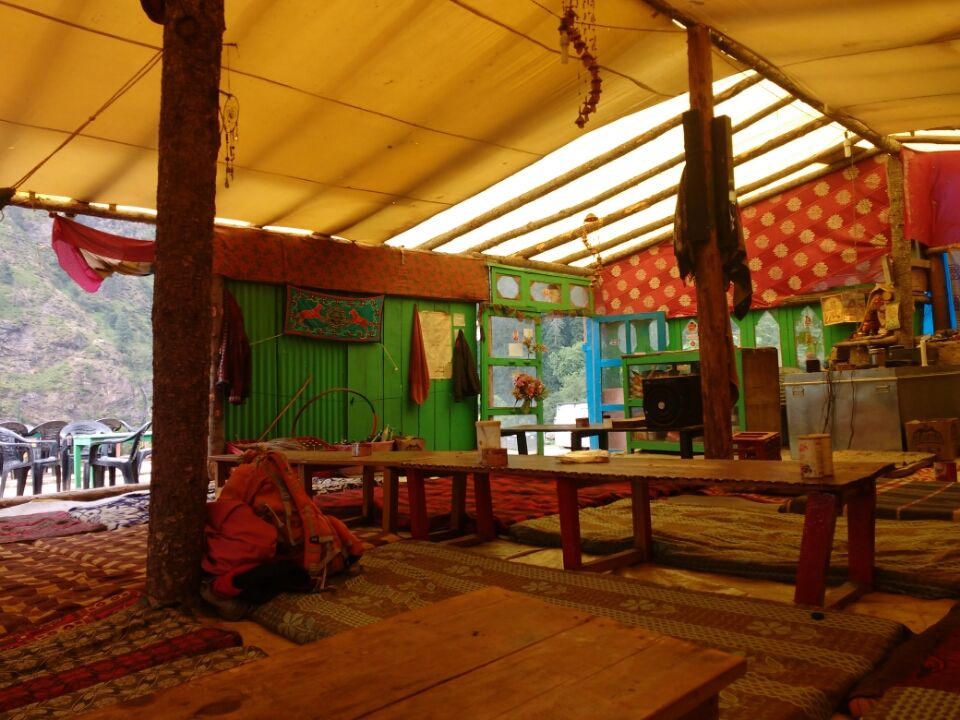 cafe in khirganga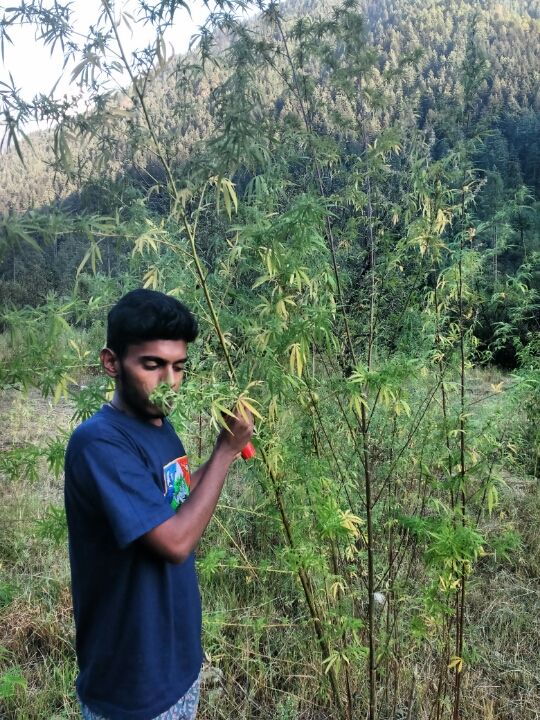 a friend I met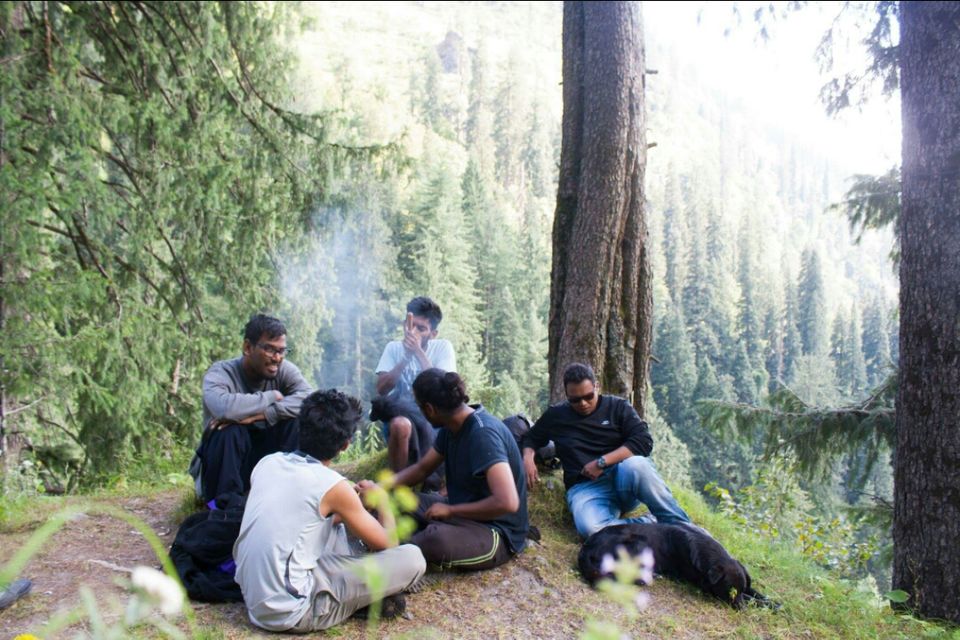 refreshing time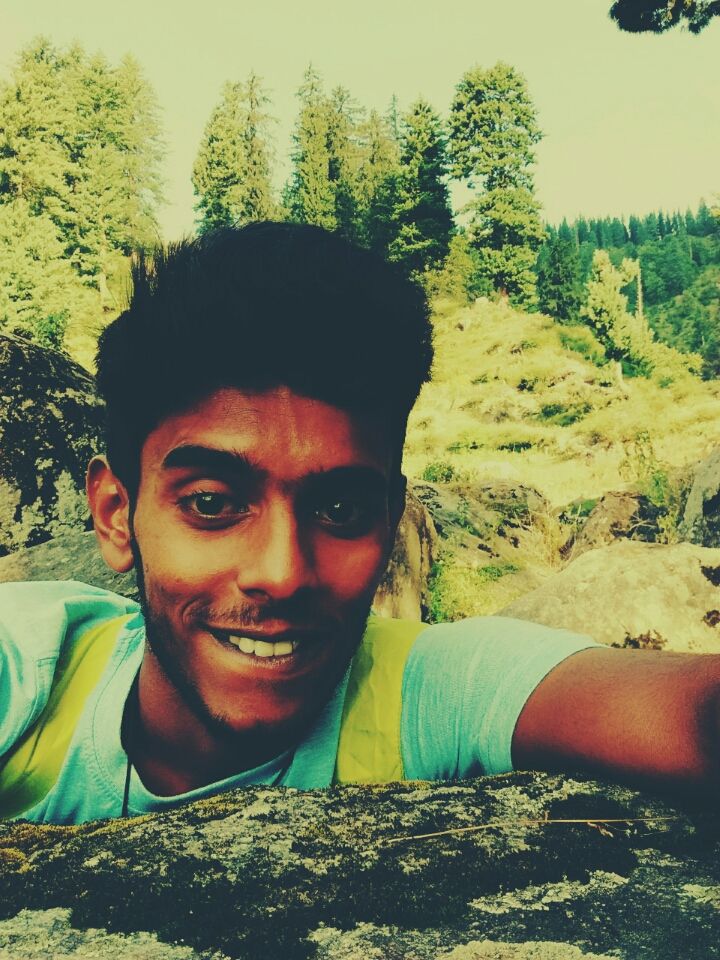 it says it allll :)
Nb:every PIC got its own story guys