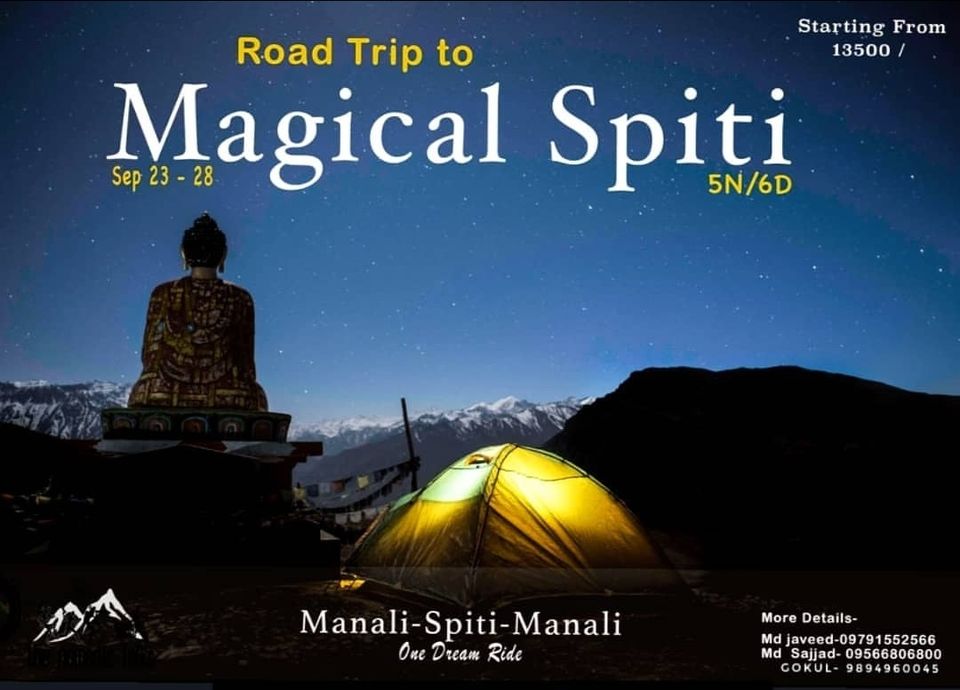 The experience at Spiti Valley can be best described through Rudyard Kipling's words, "Surely the Gods must live here, this is no place for men."
Located at an average height of 12,500 feet above sea level, Spiti Valley consists of stark high alpine lands, scattered with small postcard-perfect villages of whitewashed mud-homes and monasteries. Prepare to travel to a world where villages appear like a mirage after miles of trailing a turquoise green river nestled between snow-capped barren mountains and blue lakes; a world which has the coldest winters you'll ever see, but therein reside the warmest people you will meet.
This comfortable and carefully curated six-days Spiti Valley trip is designed for travellers looking for an authentic Spiti Valley experience in a week's time.
ITINERARY
Manali - sight seeing
Bike check up
Manali to Kaza
Highlights
Manali - Rohtang pass - Kunzum pass - kaza
Kaza - Lanza
Kaza local sight seeing - Komic - hikkim - Lanza stay ( near the Bundha statue )
Highlights
Night photography - star gazing - camp near budha statue - world highest post office - lunch at world highest restaurant
⁃ spiti wine - fossils
Lanza - Kaza - Dhankar monastery - mummy village - Kaza
Highlights
Dhankar monastery - dhankar lake trek - mummy village - village sight seeing
Kaza - kee - kibber - Chicham - chandrathal
Highlights
⁃ kee monastery- kibber - spiti wildlife sanctuary - chicham bridge - night camping in chandrathal
Chandrathal - bathal - Rohtang -
Manali
Highlights
Chandrathal lake trek - photography - village visit - rothang pass.