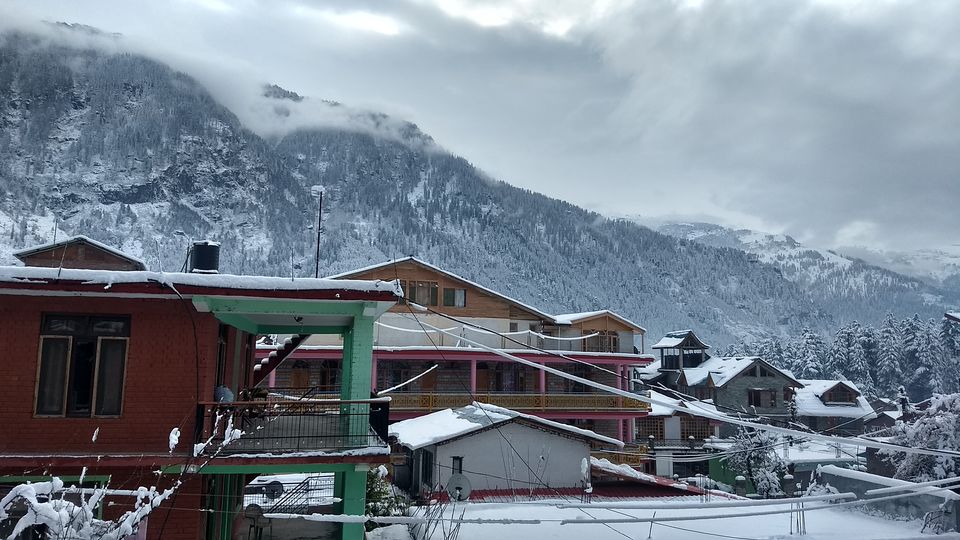 An adjective, they are not necessary to a sentence but they can add so much significance or detail to a simple info. Manali or lets say Magnetic Manali. This is what I personally like to call this picturesque town located near the northern end of the Kullu valley & in the Beas River valley.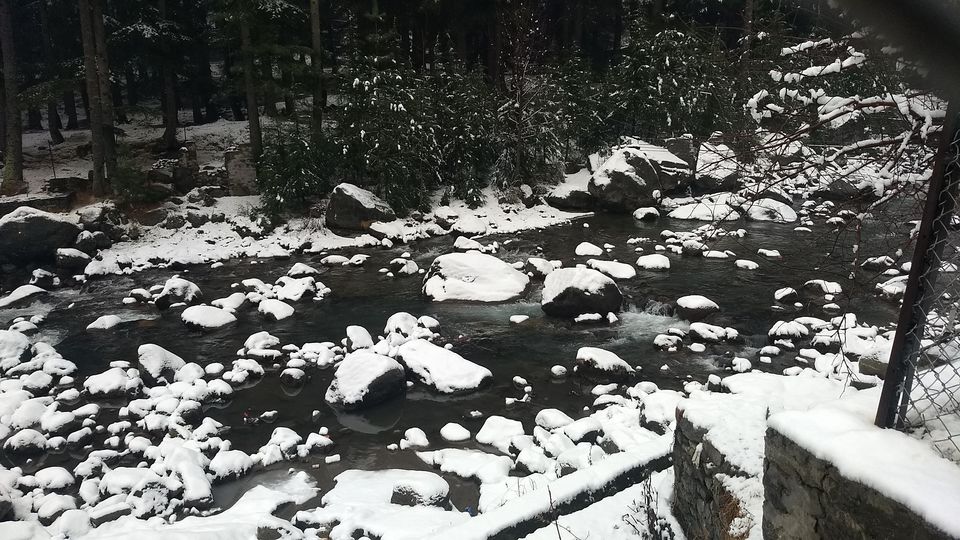 Kullu valley is formed by the Beas River between Manali and Lagri. This forest-clad valley is covered with pine & deodar trees and sprawling apple orchards. It falls in between the Pir Panjal, lower Himalayan and ofcource the great Himalayan ranges (just like a club sandwich).Kullu & Manali due to their close proximity often considered as a single destination but trust me guys you might not be able to cover it all even in a long long weekend.
Living in Chandigarh we consider ourselves very opportunate. Northern part of our country is so vast and so much to explore. Whenever we get time we start climbing up (literally).So it was Friday and we booked a cab and schedule it for 2 am in cold February night so that it would be like an overnight journey and when we would be walking up more than half of our distance would be covered.
But when something perfectly planned has actually gone perfectly as planned. The cab arrived at 5:00 am.
Chandigarh > Rupnagar > Bilaspur > Sundarnagar > Mandi > Kullu > Manali
We reached Mandi at around 10:00 am and we visited the Gurdwara Sri Padal Sahib. It is situated in a very scenic location.It is said that Guru Gobind Singh ji stayed here for about 6 months and he set up his tents on the bank of river Beas.
When he was about to leave, the ruler of Mandi asked Guru Gobind Singh as to who would save them from Mughal Emperor Aurangzeb's cruelty and terrorism.Guru Gobind Singh ji aimed his musket at a clay pitcher floating down the river. The Guru's musket ball pierced the pitcher but even with a hole in its side, the pitcher stayed intact and continued to float downstream.Guru Gobind Singh remarked,
"Jaise Bachi yeh Handi, Waise Bachegi teri Mandi. Jo mandi ko lootan gae, aasmani goley chootey gein."
Some of Guru Gobind Singh ji's belongings are still preserved at Gurdwara Sri Padal Sahib.
By the time we reached Kullu all we could focus on the snow-capped peaks, the overcast sky, pouring water & the cold breeze. We got to know that Manali experienced snowfall late last night.
The distance from Kullu to Manali is like 35-40km and it took almost 2 hours to finally reach there but all I wanted was to move a little further. The snow cover lodges, trees I just wanted it to never end.
Then we arrived at our guest house. There was no electricity and a very little fire wood and our shoes were wet, dripping but when you reach there, these things doesn't bother you any longer.
In my life I don't remember my pupils to be so dilated. Somewhere my subconscious knew that this is what I have always wanted (a small wooden home, a fire place, a small backyard, sound of water and mountains everywhere).We build ourselves fire and we were sitting around it had our lunch and chai (of cource).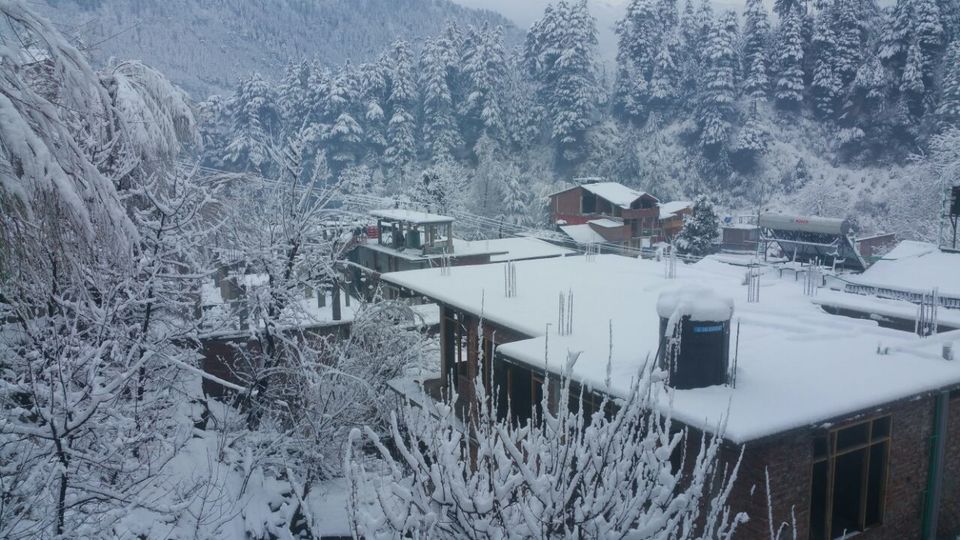 We didn't realize that it would be dark soon. We picked our comfy selves up and we stroll along the narrow streets. February is considered to be offseason here. Most of the market was closed and old Manali is all about the traditional, old school, adjacent to river surreal kind of cafes. Café 1947, Café amigo, Rasta Café are among the most famous cafes here but they were all closed. We even found a closed Tattoo parlor with beautiful graffiti.
Finally we found a typical old schooled cafe; shelves full of books, an old guitar, dim yellow lighting and a talkative mid aged cafe owner. He said that during this season most of the Café owners move to Goa.
While we were waiting for the food & chai some of us were actually helping the owner to ignite the fire in an old Bukhari(Space heater). The place offered us few things: overly priced food, 90's songs and a decent Hookah.
On our way back we even found a bakery. The carrot pudding and apple pie were so delicious(not kidding).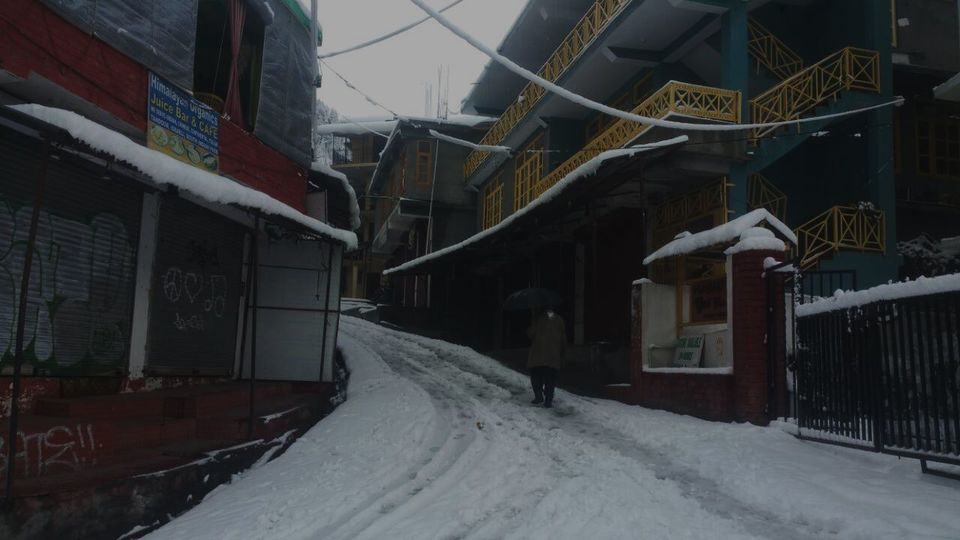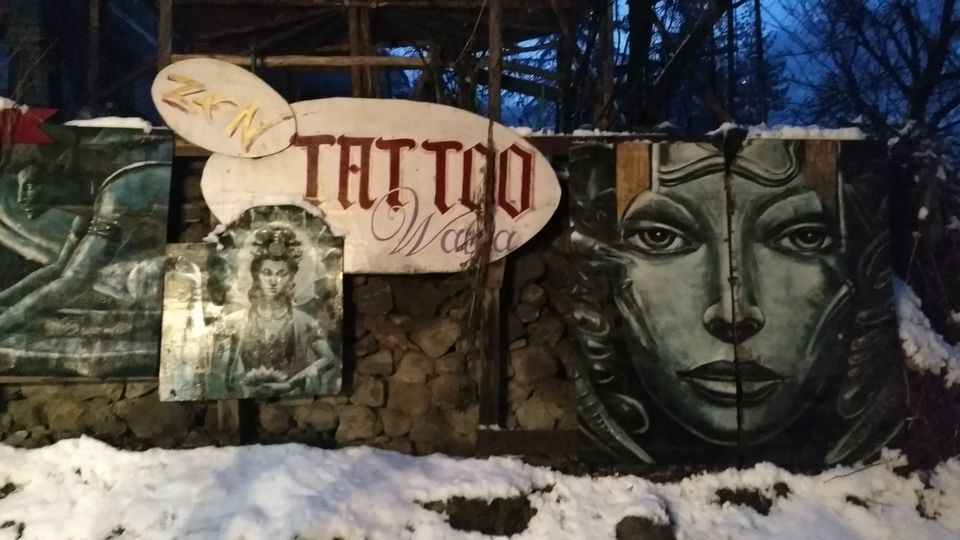 The next morning was blessing. When you wake up & you draw your curtains & you realize that it is not a regular day.
I stepped outside, wrapped in my warm puffed jacket as well as the sweater beneath it. I open my eyes to see beautiful snowflakes drifting through the air lazily, covering the ground with a soft white blanket. They don't have a care in the world.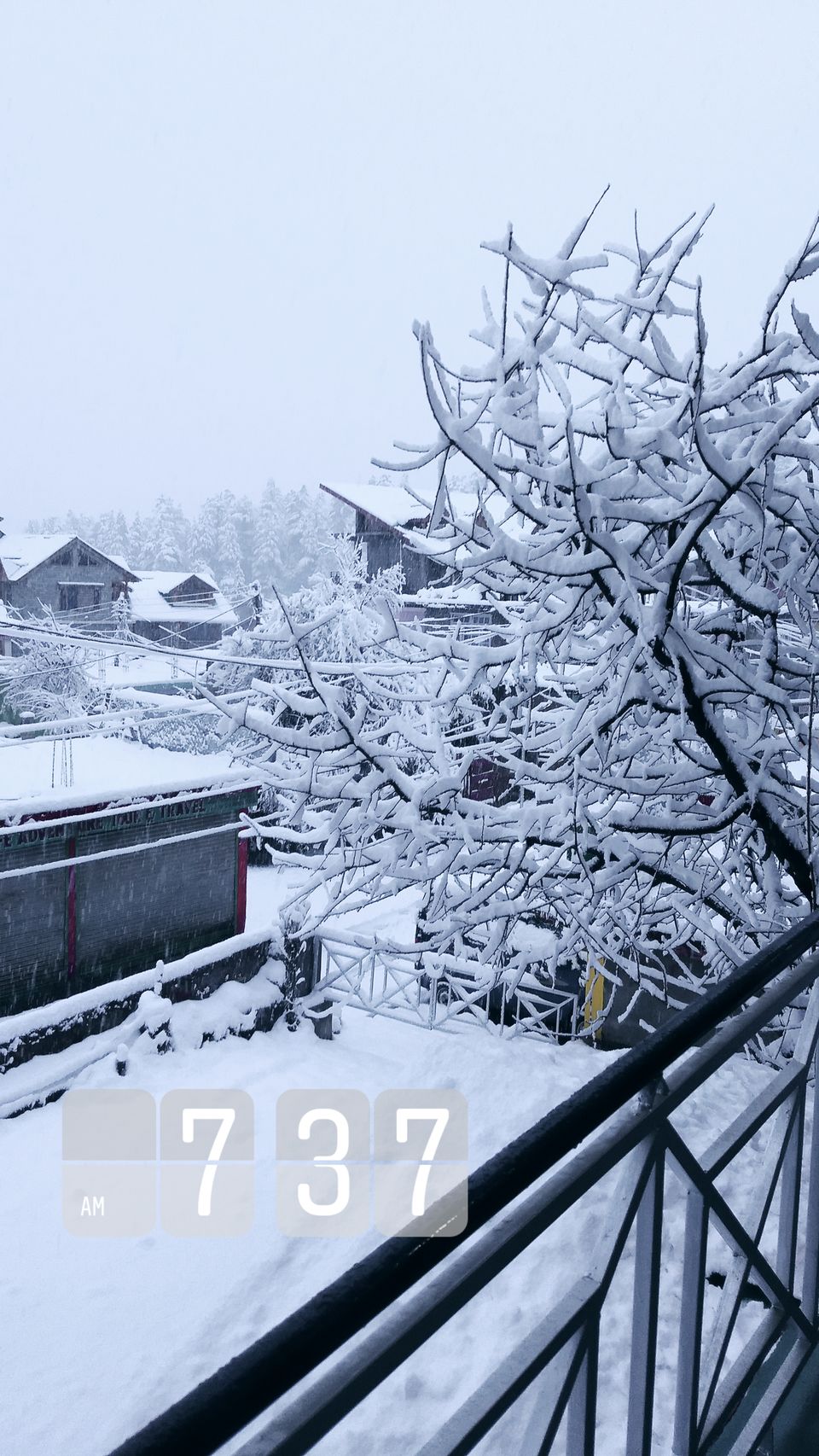 A part of me wants to be a snowflake, for just a moment. Tentatively, I take a satisfying step into the untouched, pristine snow and leave a footprint in it. It feels good to make the first mark in the snow. It's as if I am leaving a permanent trace somehow, despite the knowledge that it will soon be gone.
In this moment, I am an explorer of new worlds. I sink in my feet and then flip over, lying down in the snow. Tried to build a snowman even, but my hand were so freakishly freezing that after some time I had to rush inside.
We sat in our balcony and enjoyed streaming chai (I have had lost the count of the cups of tea I had during the trip).
So why Magnetic? Manali is situated in such a location that even while visiting to other places like Kalpa, Pulga, Manikaran, Kasol, etc we can always adjust an additional day to visit this place. I think this would the perfect adjective for Manali because No matter how many times you have visited before, you will always find a new feeling that you would take with you back.
Also not to forget it is so well connected tourist destination. People visit it during all the seasons (especially during holidays) and who is not aware of this route. Chandigarh-Manali is the most utilized route for holidays.
You can visit Manali via road or air. Bhuntar is the nearest airport but owning to the weather conditions flights are not the most reliable option (Also the drive upto here is extremely exciting, beautiful).
MAGNETIC MANALI...Indeed...