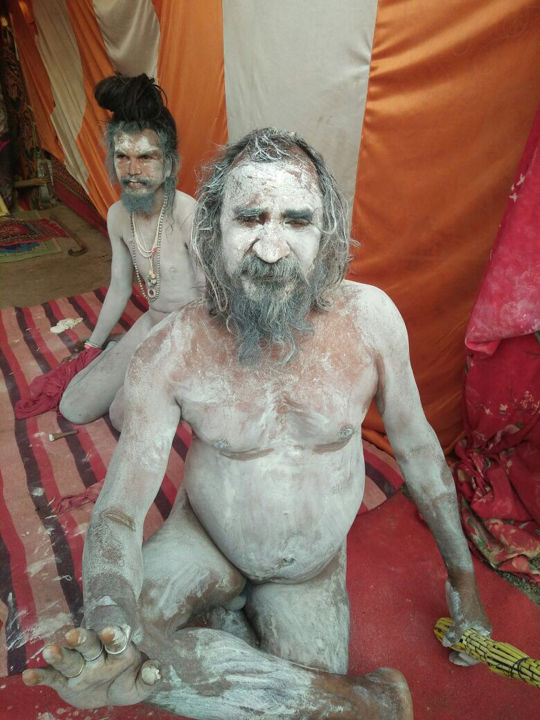 What when you grab a chance to witness of a holy fair which comes once in every 12 years. Where around 5 billion pilgrims who dives in holy Kshipra along with Hundreds of Akhara Samiti , Naga Sadhu (saint),Monk,Vestal,Mahamandeshar dive in Holy Kshipra at Shinghast Maha-kumbh. The several kilometers long Ghat(pier) a place to set foot, all knew it even though folks were coming in huge amount. What's the matter of fact
which attracts them, such a massive crowd of faith came together even though no invitation sent to anyone, after all, what the hell is in Maha Kumbh and why it held once in every 12 years. Why it is still number 1 Pilgrimage for Hindu. Too many question which were unanswered till i visited this year Ujjain. (MP)
Bumb BHOLE...!!!????
Year 2016, April 22 to May 21, when it falls during Jupiter stay in Leo(Simha in Hindu astrology), then the Simhastha Maha Kumbh held at Ujjain in Madhya pradesh (India). The city Also known as Mahakaal ki Nagri or A city of temples.
As per Hindu ethology or vedic scripture , every Hindu must dive onces in their life in Kumbh for get rid of all of their sins and purged . The Kumbh is held in four cities,once in every 12 years in each city . There it comes in Haridwar and Nasik with difference around 3 years and fair in Nasik and Ujjain celebrated same year or one year apart.The exact date is determined according to a combination of Zodiac positions of the Jupiter, the Sun and the Moon. The Four cities are Allahabaad (paryag) in where three rivers confluence Ganga ,Yamuna and Sarasvati (available as invisible), Nasik in Godawari, Haridwar in Ganga and Ujaain in Kshipra. (Courtesy :-by A Monk in Ujjain )
Hi everyone, it's Honey Rajpurohit. Sharing an another trip, a Holy trip infect. I'm also waiting for that day when i'll sharing a trip about wood, holy-wood. Joke a part, As i brief you above that artical for today dedicates The Shinghast Maha Kumbh 2016 which held at Ujjain in Holy Kshipra river. It was often, 'chaye pe charcha' in our abode about Kumbh fair. Nowdays i was frequently on trips and tours. One more added in my trip dairy, 'Mahakaal ki Nagri.' Many of masses unware of hindi version for 'Diary', its called 'Dainiki', Rail as'loh path aamini gaamini' and gym as 'Shareer Shadhnalye.' The Typical Hindi words. Ohh Gosh..!! "Ab kahe itna hindi ke pichey pade hain, chodiye naa. "
i started my 'Yatra' (journey) along with two person who bought me to this beautiful world. My lovely Mom and as usually, soft hearted and red eyed, my Papa. We boarded the train for Ujjain from ludhiana . After few minutes of boarding, i remembered chetan's 'three mistake...' And i stuck,realised that it was my first mistake to prefer train over four wheel drive . Malwa express only a direct train which arrived in Ujjain.
The Train was galloped and stoped on every fixed stoppage,mean while masses(passenger is word who travel with their desire tickets but here they Inroad in ac cabin while having journal tickets)were trying to get on the coaches like cattles in every coming station . And the most of passengers were pilgrims. It was long joureny, about 23 hours. We hardly slept due to co-passenger who kept coach busy by weep-bitterly,Scream-squeal,and here i experienced live for the word 'lol'(loughing out loud).. (Sick). The credit went for crying and screaming to all devil kid. Who the hell, wrote," kids are innocent".
We reached right time at Ujjain. It was 11:30 am. We grappled to get off the coach. I didn't want to share this part of the joureny, nonetheless i shared for those who plan in future via train, hope they think twice,before. Moreover it happened when you traveled a city where you never ever before.
New city, new folks and new auto-rickshaw wala's. Oh yeah , we were outside the station at 11:30 and i was trying to hire a auto for 'Peepli Naka,' and i was numbed and astonished because it was 12th auto in a row which i stoped and mumbled 'Peepli naka', he replied,"come again," this time i screamed "can u drop us 'Peepli Naka'. Firmly said NO, And therefore hunt was continued for another one who might be ready to drop us. Once i thought like a typical bollywood style, "isn't there some kinda Bhai's den so thus no autowala dare to go." It was all running crap in mind , Than i investigated with local vendors, why there was no auto for my desire destination. Eventually the 'Peepli Naka' was situated other end of the city and it took hours to come back here for another passengers due to heavy rush of pilgrims in inner market. In stead of chosen one long round they went for nearby areas and earned more. So as per vendor's suggestion we walked for next circle and finally hired a auto for 'Rajpurohit Bhawan, Peepli Naka.'
It was our community who served for pilgrims under the blessing of our Guru Shri Kheteshar Maharaj ji. They organised things very well. Serving of Tea/coffee was unbeaten. We took shower than dinner and made up plan for morning how and when,to make a safe dive. Dead on the bad, were so tired obviously.
It was early morning. Mum was evoking my name . I woke up in Slapdash. I thought i got up late. simultaneously i glanced over mobile and mum. It was 2 am. I looked askance towards mum, showing them time on mobile and mumbled," we planed for went there 3 am and it's still 2 am Maa." She made a hard look while replied me,"please, atleast be ready before 3 am." I nodded half-hearted and arose.
We all ready within half an hour and we begun walk.
My eyes were open wide when saw thousands of pilgrims walked towards holy Kshipra. Soon i saw group of Sadhu's who acclamation 'Bumb -Bhole, some were chanting 'Om Namah Shivaye'. They were switching the slogan continuously. Once they shout, "Bumb-2", the remaining folks respond back with "Bhole". "Har-2" ends by "Mahadev." Some of monks coverd their body with human ash and their dreadlocks several meters long,they were so called 'Aghori sadhus .'
They were wearing organic jewellery or mala of Rudraksha. Usually the beads of mala is 108 where one bead on the top counts as a 'Guru bead'.
Some monks showered with ash, some had kept 'Trishul, some with sword, the other had spear. Some were playing Cornets along with 'Tandav'. Some monk played 'Conch' and some monks and pilgrims were chanted , 'Har-2 Bole, ghar -2 Bhole; Bhole ki fauj,karegi Mauj; kaal uska kya kare jo Bhakt ho Mahakaal ka, Har -2 Mahadev etc etc. It was all happening around us while we were going towards the Pier named Ram-Ghat. It all was sounds so energetic. Seems you were in another world. Tremendous crowd which included Oldies,kids,youngs, ladies,handicaps, blinds ,monks and moreover every cast and breed of human. Con,clever,thief,humble,calm and honest. All were ready for dived into Kshipra to get rid of their sins.
There were two pier, 'Ram-Ghat and Sunheri-Ghat.' Ram-ghat is bigger than Sunhari-ghat.
It took us around 2 hours for covered 1 mile. We reached Ram-Ghat at 4:20. There i glanced over 'Naga Sadhu'. Infect,really they were all naked. Ohh gosh.! Nonetheless, they didn't seem vulgar at all. Too long dreadlocks, wore too many organic jewellery, sacred thread and compared to other monks they didn't wear any kind of earnings or anklets. Naga sadhu are shaivite saints who reside in the Himalayan caves and come to visit the civilization only during the Kumbh fest. They belongs to Juna Akhara along with many sub Akharas.They entered first into water for bath during Shahi-snan as fixed by tradition. The Naga Sadhu are prominent at Kumbh Mela. They are Maverick with mystical monks. There appearance in public area after n before Kumbh is so rare. You hardly met with Naga Sadhu on civilization areas. That's why i used Maverick word for them. Soon one by one they return back to tents which were situated along with bank area of Kshipra.
The pilgrims were continued to coming in passel. Ghat was now open for public as Naga Sadhus had to walk,So thus we started to bath in Holy Kshipra. We dipped ourselves in river several times. I didn't know why this was happening but when soul meet the water,that moment was miraculously wonderfull. It was all amazing observation surround me. It was about to dawn. The colorfull lights were spreading around every beam. The bridge was covered full of lights at uper side as well so overall view was like a rainbow. You found a changing room by every 10 meters distance. Arrangement were on full swung. 'Khoya-Paya Kendra' (lost -found centre) was so helpful for pilgrims. You listened announcement about pilgrims in very fast interval. It was second 'Shahi-snan. At 11 am we came back at Bhawan.


feed the Paunch
Not foodie! than you should skip this paragraph. Beautiful view and good food combined make a healthy unforgettable tour experience. I love street food and local area's special variants. Noon was too hot. We rested. At evening i setup my nose, cleanup my tongue and walked out for 'Changa food'. I first attacked on 'Pani -puri' (Gol-Gappe). Ohh Gosh..! These folks seems added water in chilli instead of chilli in water. It was too spicy as tasty as well. Apparently,my immunity to spiciness was good, although still it was painful when your asshole burns, that was time to ask,'why the hell was i eating it'. Big fail mary.
I found one more interesting thing here that is about juice. In most part of India,the juice wendor used machines which separate seeds of fruits but here they poured slices of fruits,water,sugar and ice all in a mug and made it like cold coffee in mixture grinder. All seeds mixed within. But you loved the taste. It was unique.
For tea they used too tiny cup to serve. Something i found different.
I'm Punjabi and no competitor stand among our lassi's taste. But human demos,listen. lassi was too good here. Yummy. They topped it with dry fruits. How and why but lassi was too thick. You had to use spoon to drunk it. Hain! drunk or ate?? Hmmm.. whatever. Complicated.
snan' which was held on 9th May.
Mahakaleshwar Jyotirling and some surprise local sightseeing

As i mentioned before, Ujjain is so called Mahakaal ki Nagari (city of Mahakaal). Mahakaleshaver Jyotirling situated on Rudra sagar lake just behind the Kshipra river. Its one of the lord Shiva's 12 jyotirling.The lingam at the Mahakaal is believed to be Swayambhu (born of itself). If you keen to witness of Bhasam-Aarti you had to book it online thru Temple's website http://dic.mp.nic.in/ujjain/mahakal/default.aspx
I booked before came here. When you go for booking than ask for from which Mandpam you want to attend the aarti. There were three option Nandi Mandpam, Ganpati Mandpam and Kartikey Mandpam. Chose Nandi Mandpam for best glance of Mahakaal. The devotees prays for Shiva as Mahakaal here. On the day of Maha Shivratri, a huge fair held near the temple, and worship goes on through the night. In normal days temple open from 4am to 11 pm.
Bhasam Aarti peformed 4am where Pandits bathed the Jyotirling with sacred ash, Bhasma. In ancient times, this ash used to be fresh and burning hot ash direct from human funeral. However, nowdays Pandits performed Aarti with Bhasma made by cow-dung, whom we call Vibhooti. The legend is that who watched this ritual never die a premature death.
It was heavy rush out side the temple. There were offline counter for booking as well. Due to heavy rush of Kumbh, it was too long queue. But still it was not bothering me thus all i surrounding with Bhole's devotees. I feeled so cheerful and energetic. Every passing second i was chanting 'Om Namah Shivaye.'
The time had came when Mahakaal was in front of me. Miraculous moment. Felt blessed. Bumb-Bhole.

As per mythology, devotees had to visit 'Kaal Bhairav' temple after bowed head among Mahakaal,which was situated on bank of Kshipra river 5 km north outside of the city. Kal Bhairav is guardian deity of city ujjain. Devotee offres liquor to deity which easily available on government's outlet outside of the temple. I grabbed one and forward it to priest who poured the liquor in a saucer. He then,offered prays and took the saucer near the deity's lips,which had a slit. He tilted the plate and liquor started deaspearing. What a miracle.
While returning we feed gray Langoor. It took 3 hours to come back from 'Kaal Bhairav' temple.

It was dusk and We had plan to visit one of famous temple of goddess 'Shakti' named 'Har-shidhi temple'. It was near bank of Kshipra. The temple was famous for its 'Maha Aarti' which done by 1011 lamp. The statue where the lamp were lights about hight of 25 feet. 2-3 Temple's priest lit up the lamps with extra ordinary speed. They started from top of the statue and handheld a torch along with them and dangle themselves with one hand and used other to lit those lamp. Then they kept holding torch in between thier teeth and lil alighted and again doing same and within 4-5 minutes they lit all the lamp out there. My maw was freeze in surprise. The view was incredible. The 'Deepmala' made u astonished. There were 1 0 1 1 lamp, high on flames..!!

Other places to visit
1. King Bhartri Cave
2. 84 Mahadev (that is incredible, there are 84 Lord Shiva's temple each with different name and location in entire Ujjain


Feed the belly
I'm totally foody as you saw i manage to make extra paragraph for description on food and beverages. You can enjoy a new fruit named Karamdeya and karunde, here i didn't mean for Carissa carandas. Karunde was far differ from Carissa carandas. The taste was like raisins and Tiny in size like Mulberry. It was tested tengy. Unforgettable experience of taste.
In snacks i liked the way they cooked 'potato pakora'. first they sliced the potatoes in wafer style,than dipped in gram flour and than fried it in 'karahi' which contains edible oil. Pakoras was absolutely yum yum!
And tongue twist word was 'Baatli'. They didn't use bottle or baatal for mineral water bottles , all shopkeepers used the same word ' baatli'.

Started with mistakes, it was ended up with sumptuous memories. It was a great change of promenade.
That's all from this tour, have fun and keep trying hard to take a breath outside of civilization. Stay tune for next tour updates which probably about Kauri pass trek. Waiving bye.. Bumb Bhole..!!

"Farida pani da bulbula, eh teri aukaat ;
Jis Ghar mojan manian, ik naa rakhan raat..!"
Jis ghar maujan manian,ik naa rakhan raat ..!"