A burgundy colored walls, a personal assistant throughout the journey, lounge bar, deluxe suites, cabins, restaurants to treat a never ending appetite, a grandeur of luxury,a red carpet welcome, all in all a feel of Maharaja….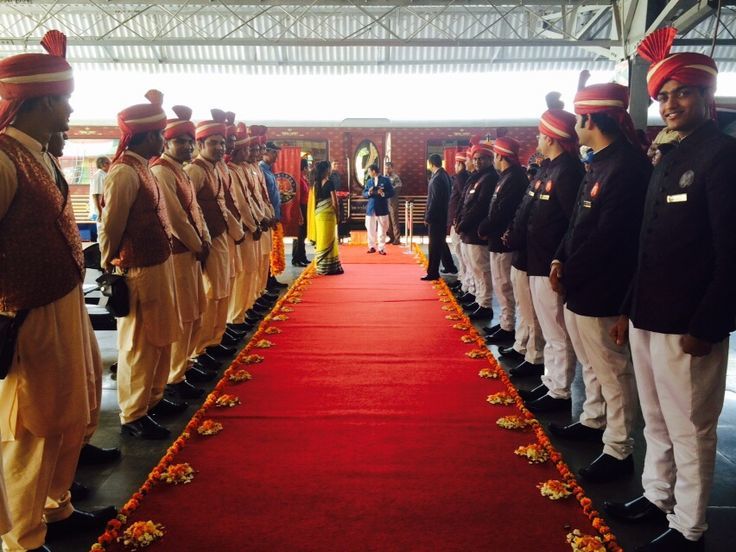 This is something which you get to see the minute you step on Palace of Wheels called as Maharaja Express. And now the world's leading luxury train is much more affordable for your pockets. IRCTC has announced an undeniable discount on it's website for the tickets on Maharaja Express on 5 routes in India.

Indian Railways used to run a number of luxury trains for Indian as well as foreign tourists. The tickets for these luxury trains are booked using the IRCTC's official website irctc.co.in. Now, the IRCTC has announced 50 per cent discount on the booking of a second ticket on Maharaja Express.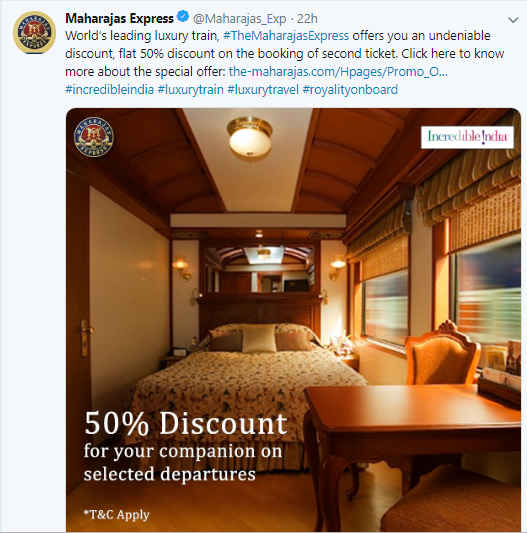 This is a limited period offer. "Applicable for all Nationalities. On the selective departures on the booking of the first adult on twin sharing at full cost, the second adult sharing the same cabin will get 50% discount on the adult cost. Offer valid till the date of departure and is subject to availability of cabins,"
The payment for the 01st Adult will be as per the normal terms and conditions and for the 02nd adult availing 50% discount, will have to make full non-refundable payment," the website describes.
Last year, the IRCTC had decided to run the train on two more routes with new packages named as 'Southern Sojourn' and 'Southern Jewels' to cover prominent destinations in west and south India.
The five routes along with the departure dates which comes under the 50% discount range are:-
1. The Treasures of India:
Delhi-Agra-Ranthambore-Jaipur-Delhi
Dep date - 14th Apr 2019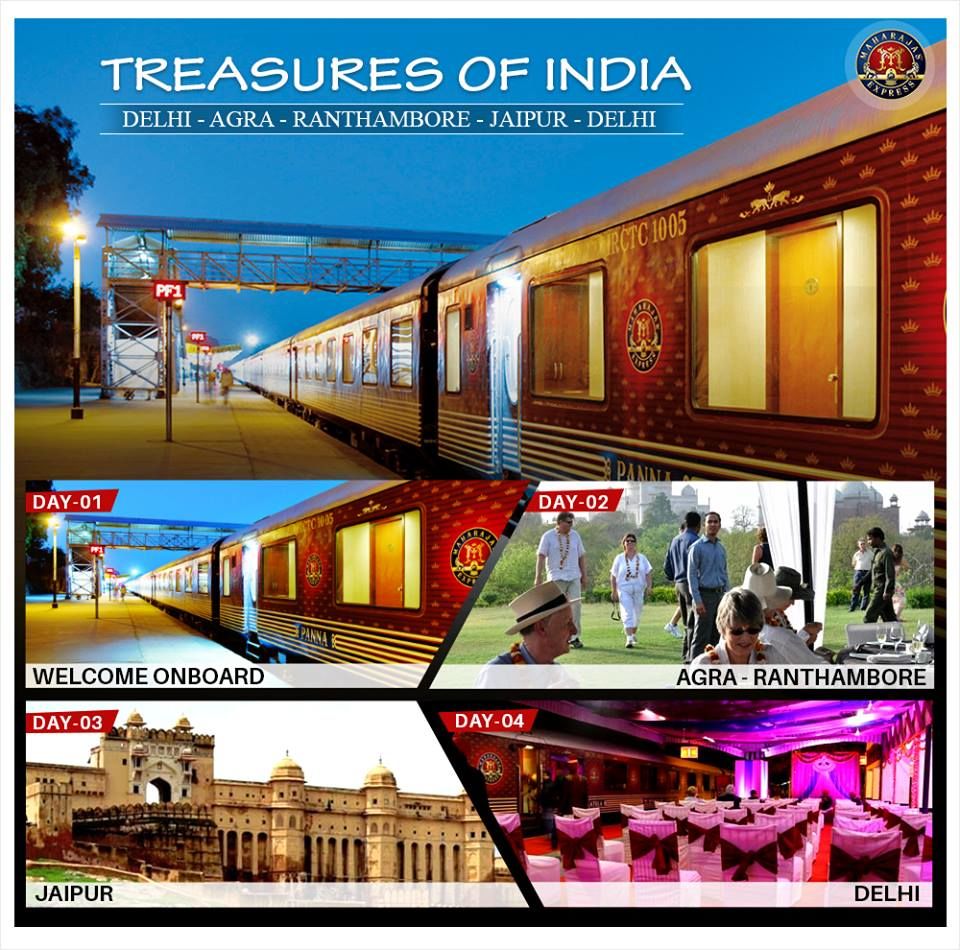 2. The Gems of India:
Delhi- Agra-Ranthambore-Jaipur-Delhi
Dep date - 28th Nov and 26 Dec 2018 20th Mar 2019

3. The Indian Panorama:
Delhi-Jaipur-Ranthambore-Fatehpur Sikri-Agra-Gwalior-Khajuraho-Varanasi-Lucknow-Delhi
Dep date - 23rd Mar 2019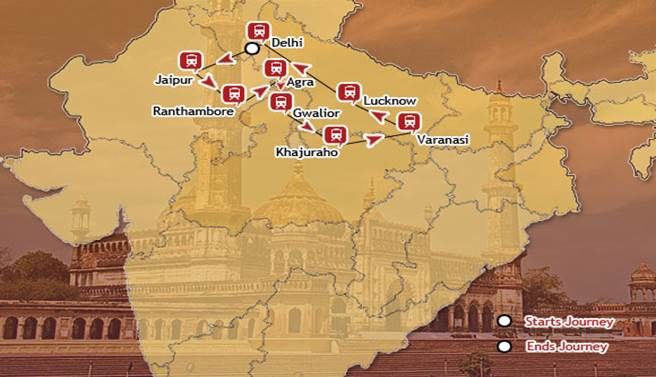 4. The Heritage of India:
Mumbai-Ajanta-Udaipur-Jodhpur-Bikaner-Jaipur- Ranthambore- Agra-Delhi
Dep date - 15th Dec 2018 6th Apr 2019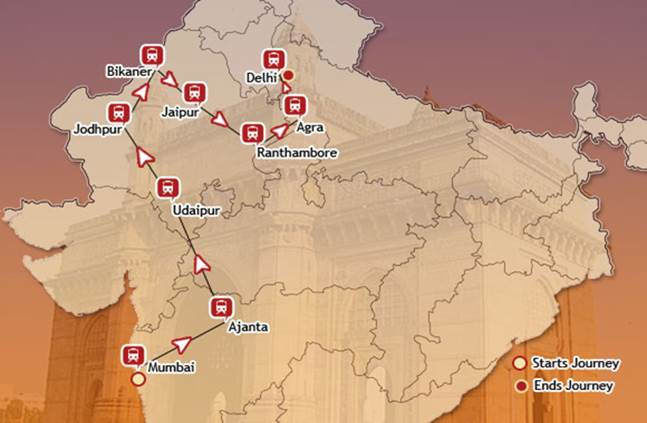 5. The Indian Splendor
Delhi-Agra-Ranthambore- Jaipur- Bikaner- Jodhpur- Udaipur-Balasinor-Mumbai
Dep date - 8th Dec 2108 and 30th Mar 2019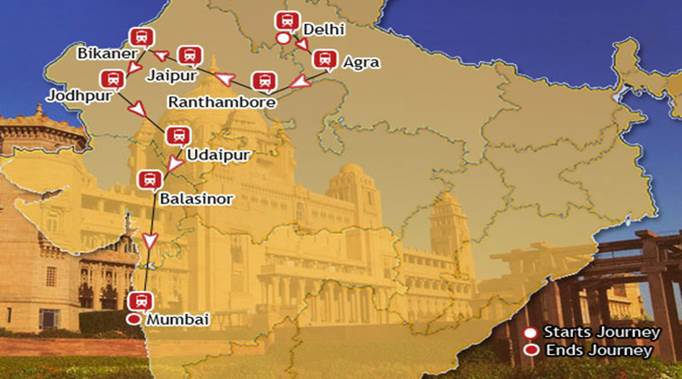 Hurry Up!!! The offer is on first come basis and depends on the availability of cabins/suites on the particular trip and the tickets can be booked here.
Salient features of luxury on wheels:-
Maharaja Express is considered one among the best luxury trains in the World.
Won the World Travel Awards for five consecutive years from 2012 to 2016.
The train has on board features like restaurants, lounge bar, deluxe cabin and junior suite.
Most Spacious passenger cabins along with bigger wardrobes..
On Board Water Filtration Plant
On Board Paramedics
Air Ambulance in case of Emergencies.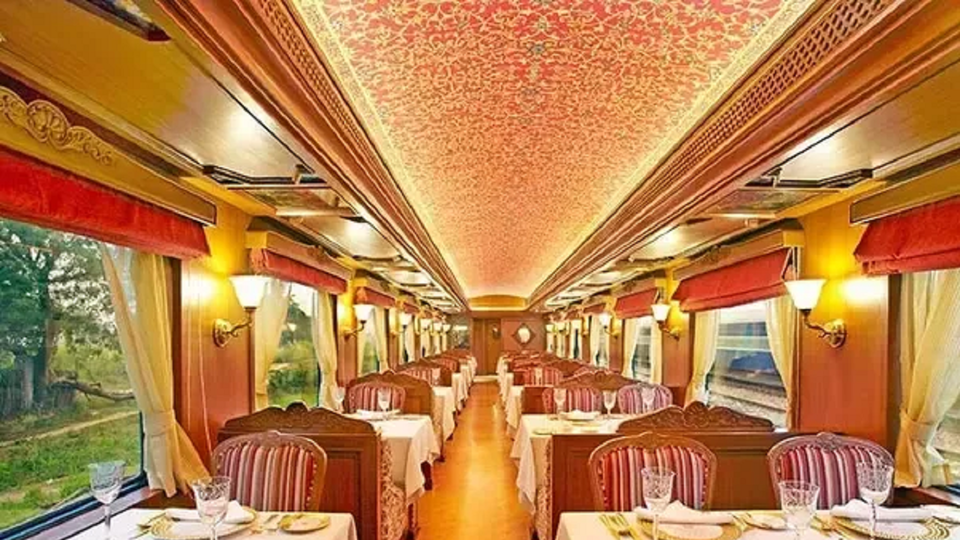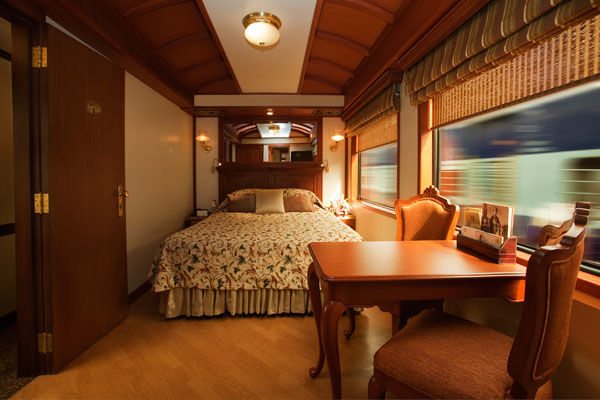 Don't miss this opportunity, if you are a luxury traveler...
Happy Travelling!!!