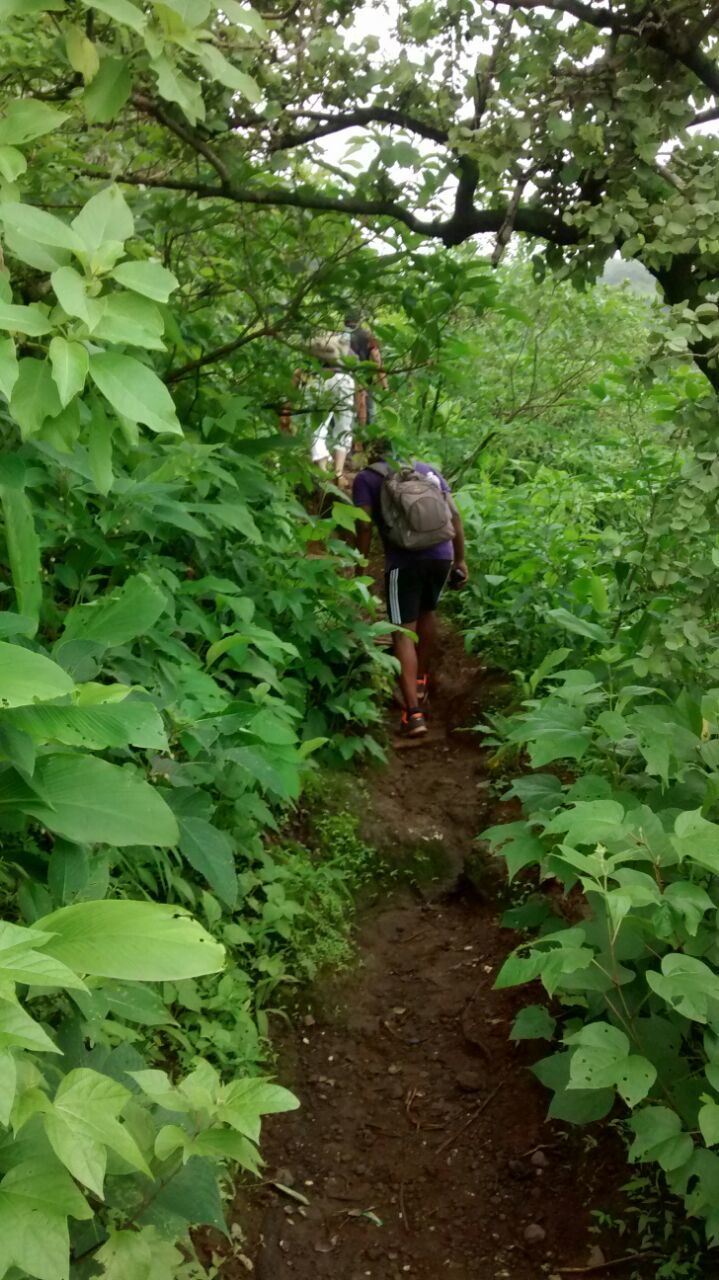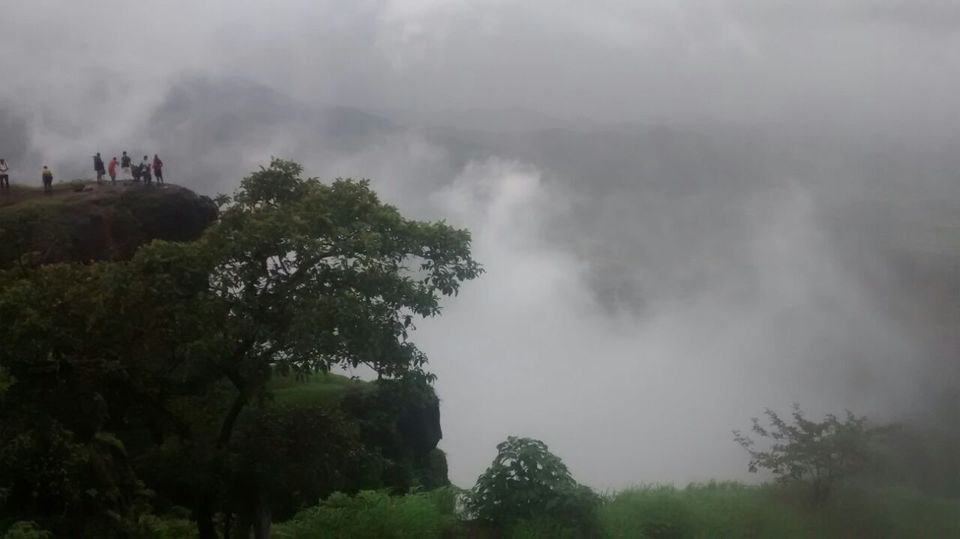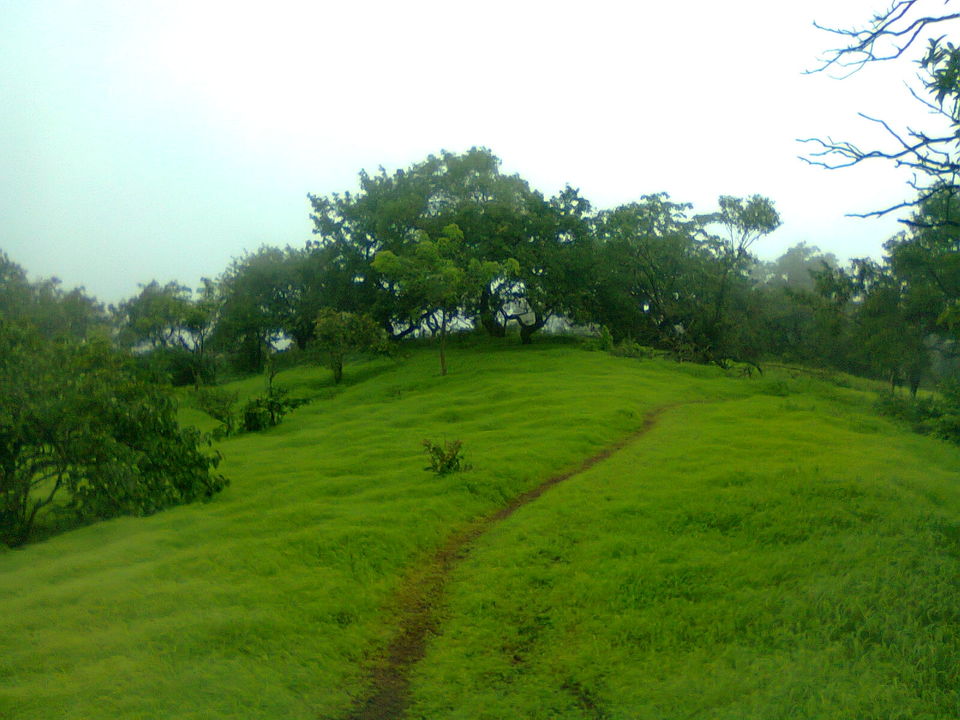 The Start- Ticket Govandi to Asangaon return- Rs. 40/- per head.
We were 8 of us- and each had about 3 litres water, a bed-sheet, a pull-over, torch lights, and good shoes.
We started from Govandi around 4.30 PM and caught the Asangaon local 5:12 PM @ Kurla station. We reached Asangaon around 6.45 PM and were looking out for options to head to Mahuli base village. But the charges were exorbitant and thus we decided to walk.
It is a nice hike- one would have to cross the highway (where there is the food hub) and head on to the road that leads to Manas Mandir (which is pretty famous amongst our Jain friends) and walk straight to the base village- about 3-4 Km walk- it is a straight road- there would be lots of lefts and rights along the way- but one has to just keep following the road that goes down from from the highway towards manas mandir and keep walking straight. There are lot of villages (and thus villagers there) to guide you.
The last time we were there in the morning- and we got a pick up truck heading to mahuli base village- that charged 20 per head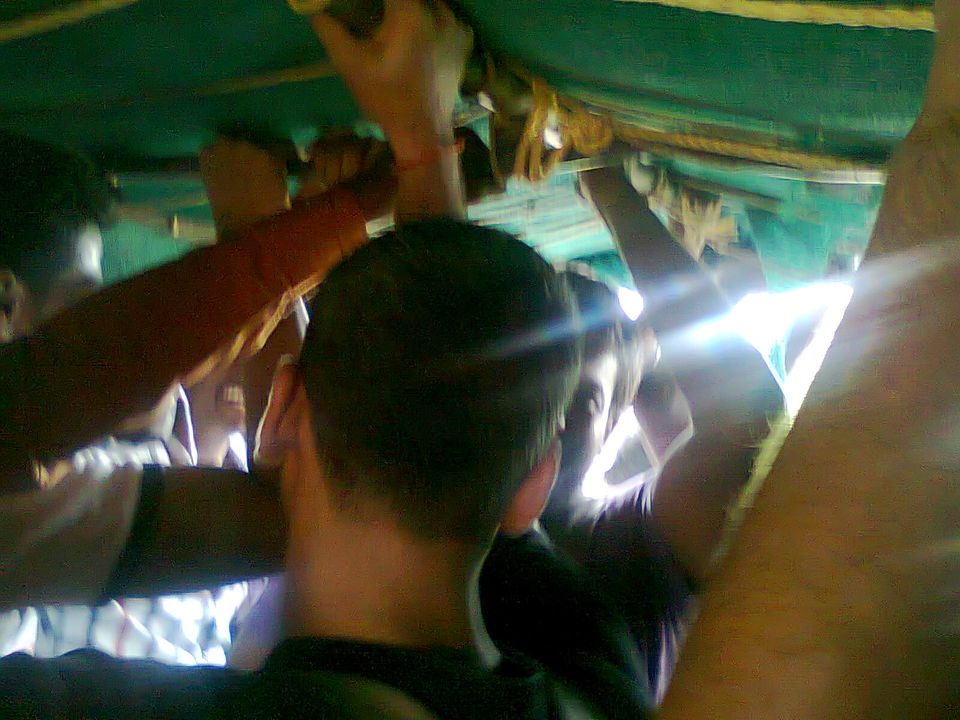 and started from this junction (Highway and the Manas Mandir Road)...but since it was pretty late we could not get any cheap transport option so we had to walk!
We reached the base village around 9 as we were walking at our own pace slow and steady enjoying the nature walk- no lights- just the occasional two-wheeler zipping past. The only light was from our torch-light and the natural light that managed to reach us through the atmospheric window from the moon!
There is a temple there where we could spend the night- they welcome people to come there and spend the night- but we had decided to do the trek at night- and thus decided to continue onwards (after dinner of-course). And for Dinner- Mr. Suresh Thakre- (09209526268) owns a small hotel there- and we had previously spoken to him and asked him to make dinner- 3 veg (@Rs. 100/- per plate) and 5 non-veg (@Rs. 150/- per plate)- and it was super awesome food. Bhakri + Basa fish with spicy rassa + Rice for non-veg and Bhakri  with Pitla and another subji of Soya for veg. It was a wonderful dinner specially prepared for us by Mr. Thakre!
After good food, and refilling our bottles, we started from Mr. Thakre's hotel at the base of the village- at around 10.30 PM and started our trek up. There is one small right turn from the road that we took from Asangaon to the base village few metres after crossing the hotel, and we reach the gate- where usually (read weekends) they charge Rs. 25/- per head as tourism/maintenance charges. From the gate we proceed forwards and there is one more small right (we need to cross a small stream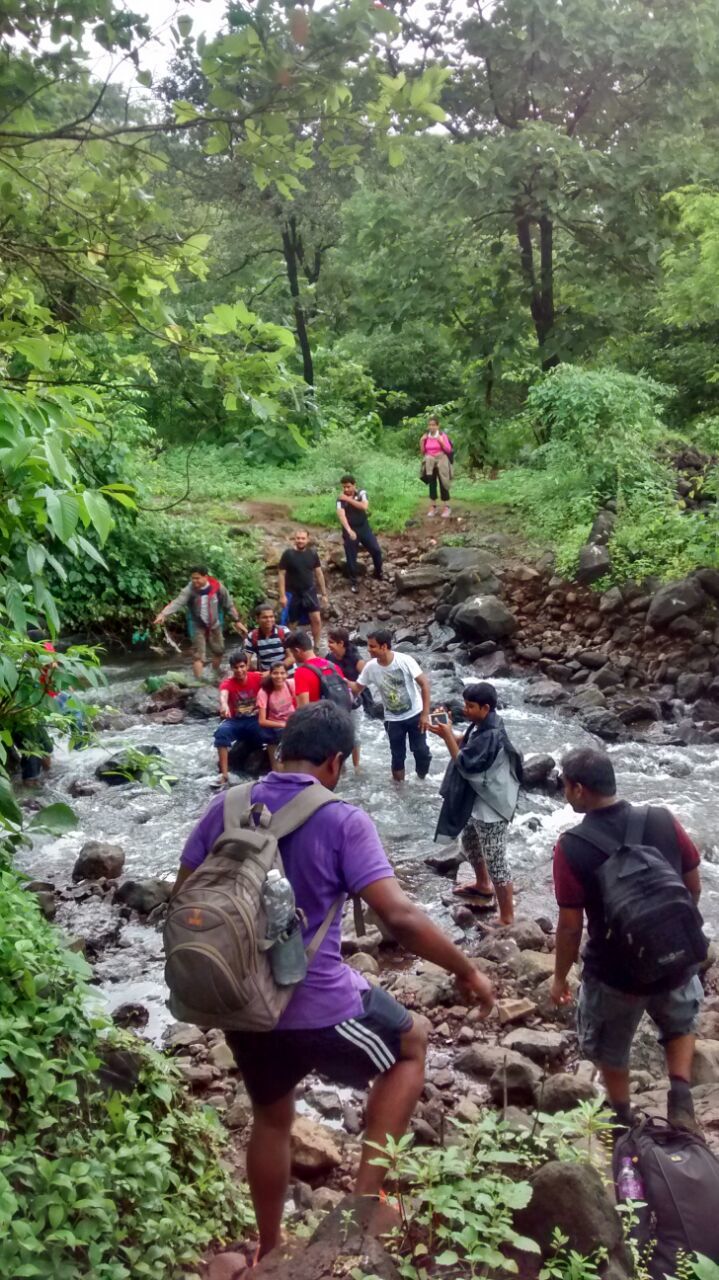 - there is a small dam built there), and then proceed straight. From there there is no way one can lose track of the route! Mahuli is a very frequented route, and one can blindly follow the path up to the Fort!!
Few stops, few breaths, few small breaks for water and kela & oranges (which we also carried) later, we reached the peak (for reaching the peak we have to cross a iron ladder- that is sturdy and strong- it can hold one at a time- even people upto 95 Kilos!- tried and tested!!). We reached the peak at 1.30 AM
We decided to spend the night on the cliff, and explore in the morning. It was very very windy and cold there! Good that we brought bed-sheets and pull-overs!
The morning- gave us fresh trouble!- one friend lost his shoe -as it flew down the cliff while we were just about to start exploring- and then we realized we were out of water- and finding potable water there at the top is a small issue- in my 2 visits to Mahuli- I have not been able to find the water cistern that people say is there on the Fort- perhaps because I did not try hard enough!
But we decided to head back after the sun-rise. We started around 6.30 AM- kuddos to my pal who walked all the way barefoot- over stones and thorns and grass!
This time we missed the most important highlight of Mahuli-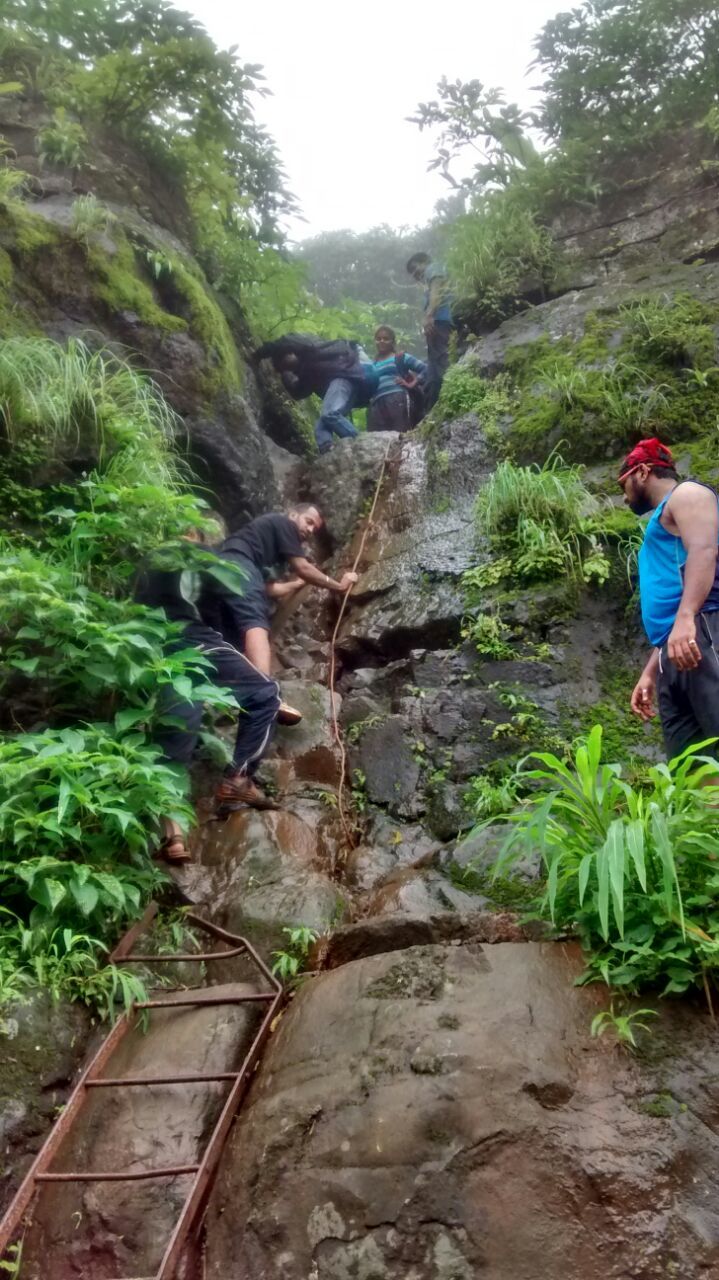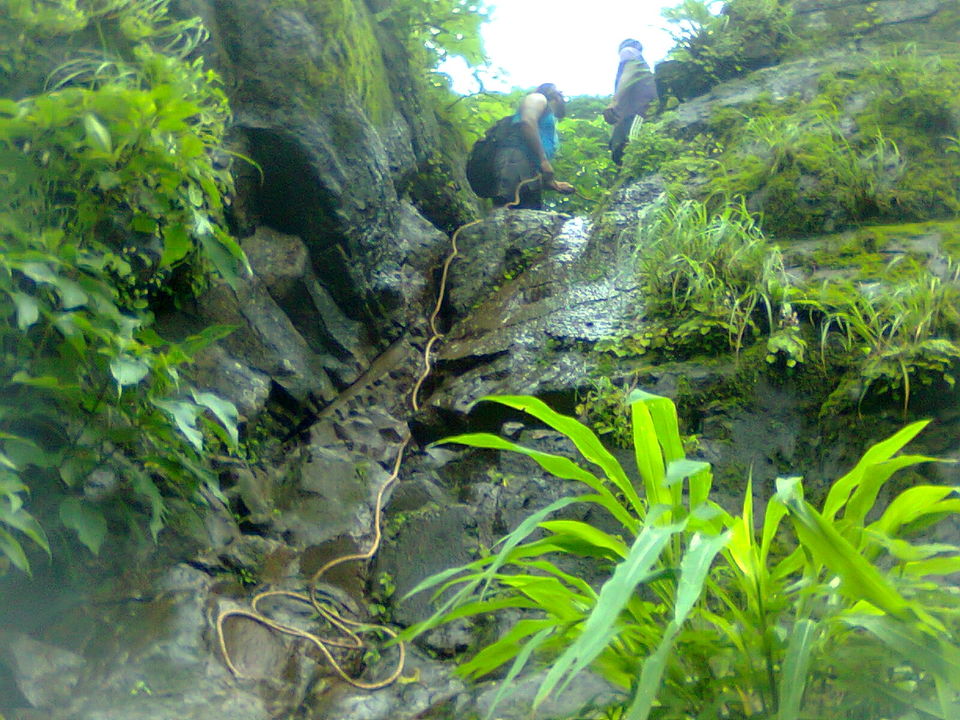 We reached Mr.Thakre's hotel around 8.30- had Poha (Rs. 50/- per plate) and Chai (Rs. 10/- per cup) and got the bus at 9.15 AM that dropped us at the highway- near the Food Hub and walked to the station and got the train back home!
Few photos from previous trips to Mahuli!! 
It would definitely be a very memorable trip hardly costing around Rs. 200-300/- per head!!