I remember standing beside my parents, this was the view, though this photograph is taken in November 2016 and my memories of this scene are from 2001. It has been 17 years since then but still exactly same-refreshing, rejuvenating, and mesmerizing. I can use a lot of "ing" words for this view (captivating, motivating, inspiring, and so on..). These memories brought me back to this place after 15 years.
It was a family trip to Jageshwar. We were travelling with my uncle's family as well. It is one of the few family trips I actually remember. I was a kid back then in class 5th. I have hazy memories of that trip but this one was strong. We visited Jageshwar Dham which is one of the most beautiful and peaceful temples of Lord Shiva that I have visited in the Himalayas so far.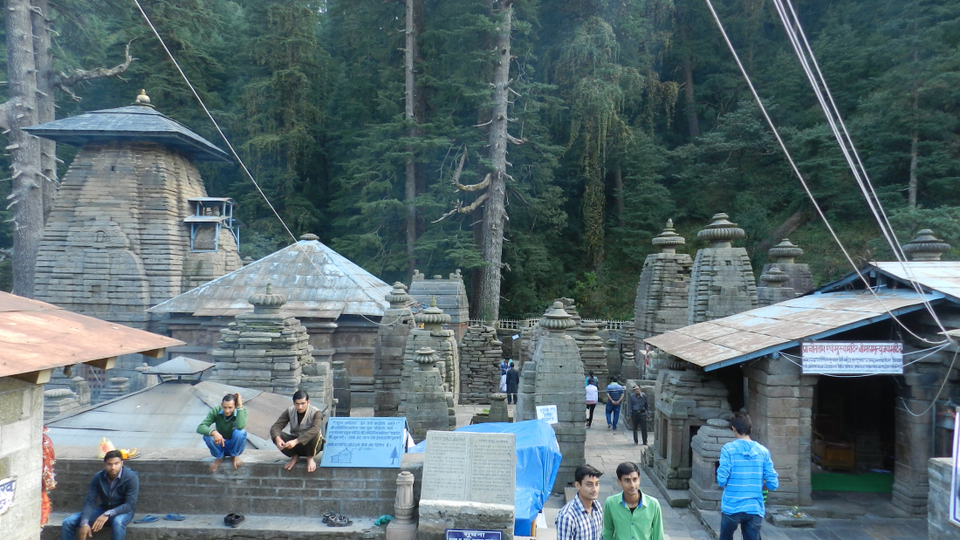 Just another morning at Jageshwar Temple(photo Taken in 2014, 13 years after my first visit)
I remember it was a full moon night with no electricity, the moonlit deodar forest around the temple looked sublime. It was a cold night and an equally cold morning too. It must have been winter as I had one of the worst experiences with Frost. There was a layer of white ice crystals formed on windshield of my uncle's car. I wiped it with my bare hands and what followed was an excruciating pain. It was like needles piercing my hand. That day I got to know what is Paala, a local name for frost, which later turns to black ice and is very challenging during treks. It was the mildest form of frost bite I experienced that day.
Later that day, after having a Pooja Ceremony at the temple, we moved ahead to Vridha Jageshwar. There are many stories behind the Vridha Jageshwar Temple. It is said that it was abode of Lord Shiva before he came down to Jageshwar.
The Road to Vridha Jageshwar looked dangerous back then. Narrow, patchy, and steep, one of the worst I had traveled till that day. Yes, I was nervous being on that road, I didn't feel like looking out of the car. I was a kid and had a fear of heights. I had carried that fear for so long and I know it has turned mild today. Finally, we arrived at the temple. After Climbing the stairs we reached a platform. Yes, we were there and we could see them right in front of us. My first encounter with the Himalayas and yes, it was indeed love at first sight. I was drawn to them, it was something that I had never felt before, it was magical. They were beautiful, shining like white crowns to the green hills under them.
I wanted to know how to reach there that very moment. By the way, Junargali pass is the closest I have been to Mt. Trishul so far. I have seen that mountain rising from its base and trust me it is an amazing feeling to witness the glory of the Trishul Massif from that point. I do dream of sitting at its summit one day and see how the world looks from there. Mt. Trishul has always been the closest to my heart and why not. It was the first peak which acquainted me with The Great Himalayas. I heard my mom saying that pointed peak is Trishul and I see her pointing towards that peak. For me each peak was Trishul as all of them were so pointed. It took years for me to identify each of those peaks and trust me my geography books didn't help a lot, though we had to read about the Himalayas in our text books, I got to know about them more from the various journeys I took years after passing out from school.
Six years after that trip I planned my own trip in class 11th to Gangolihat with the curiosity of meeting the Himalayas again but this time it was in vain. We did see a glimpse of them from Berinag but it was just for a while as the weather was cloudy.
Years passed and my curiosity to get a sight of the Himalayas increased. I kept travelling to places from where Himalayas were visible. A failed trip to Gaumukh and another one to Chopta during my college days were few such attempts. For everyone else it was just a trip, for me it was something else. Something I cannot explain. It was an inner call which kept me coming back again and again. I never knew it would change my life forever. It is now that I can connect the dots.
To be continued.....