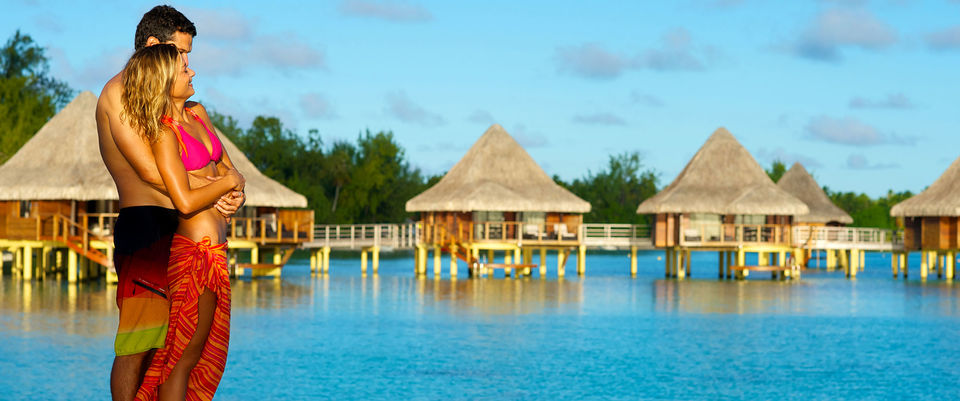 Maldives, officially the Republic of Maldives is a South Asian Island Country with unsurpassed natural beauty, abundant wildlife, great history, rich culture and the most warm-hearted people. The human history of Maldives is around 2500 years old with the earliest settlers coming from Sri Lanka and India. Being entirely surrounded by sea, fishery was the traditional livelihood of the locals. Today, Maldives stands as a destination of uber-luxurious resorts, attracting honeymooners and vacationers from all over the world. A potpourri of melting cultures, Maldives offers ultimate experience to travelers treating them to adventures of a lifetime. Also, the great underwater variety & beautiful coral reefs makes Maldives a perfect water sport & scuba diving destination with a lot of appeal.
Why Maldives as a Holiday Destination?
Maldives is one of the world's most sought after tropical destinations with travelers and honeymooners flying in from every corner of the world. Home to world-famous diving sites, luxury resorts, and great beaches, Maldives is nothing less than a paradise for vacationers.
And, if you are wondering about the facts that make Maldives truly appealing, here is an insight into some of the highlights.
Spectacular Sunset
While a sunset is an occurrence that occurs every 24 hours around the world, but a Maldivian sunset is nothing less than ordinary. As the light goes down, the entire horizon comes alive with vibrant oranges, yellows and fiery reds.
World Class Diving & Sea Life
During your Maldives tour, you can get a chance to explore the rich underwater life, dazzling corals, and the tropical fish and manta rays. The clear waters allow for great visibility and the amazing underwater life makes for a great scuba diving spot.
Excellent Surfing
Whether you are a novice or an expert, Maldives treats surfers from all over the world. The atolls offer year-round sunshine & monsoon, something that every surfer looks forward to. So, if you are up for some water sport fun, then Maldives is here to treat you in the most amazing manner.
Secluded and Romantic
Maldives boasts secluded luxury coupled with a lot of romance, making it one of the best destination for couples & honeymooners. The overwater bungalows perched on stilts above turquoise lagoons make for a perfect spot to get cozy with your beloved and relish the finest accommodation. The views of the vast blue turquoise beaches from your hotel is a picture perfect site to relish as you sip your favorite cup of cappuccino with your partner.
Culinary Delights
Traditional Maldivian cuisines are made from fresh fish and coconut. Also, influences from neighboring countries of Sri Lanka and India can be tasted in the curries, and spices are also used to add flavor to the delicacies. The must try delicacies here includes Garudhiya, Mas huni, and Fihunu mas etc. So, get ready for a gastronomical experience in Maldives during your vacation.
Sensational Spa Experiences
The spa treatments of Maldives are divine for the senses. The healing techniques provides rejuvenation to the mind, body and soul and is a must for travelers who wish to admire the signature Maldivian massages.
White Sandy Beaches
The picture-perfect coastline of Maldives offers various options for travelers looking for a great tropical vacation. The sun kissing white sandy beaches make for a great spot, whether it's about getting the perfect tan, spending a relaxed vacation beside the beachside, or indulging into some water sports.
Why Choose Ava Vacations Pvt. Ltd for Your Maldives Holiday Packages?
AVA Vacations has years of experience in designing customized tours for Maldives and Maldives honeymoon packages. Designed by best travel agents, our itinerary for Maldives is all inclusive and organized to offer the most incredible holidaying experience to you. Moreover, all the packages are customizable and designed with the varying duration, accommodation, attractions covered, and other facilities. AVA Vacations not only takes care of your flight booking but also provides timely services, comfortable accommodation, guided sightseeing tours and even visa facility to make your journey truly smooth.
Why Choose Us?
Efficient & friendly travel services Flexible & hassle-free modes of payment Passionate and honest travel agents Transparent business dealings Value for your hard-earned money Unparalleled support throughout your tour Customized Maldives packages as per your travel interests What We Offer for Your Maldives Trip?
AVA Vacations offers lucrative deals on Maldives tour packages, honeymoon packages for Maldives, and Maldives family vacation trip. Understanding the travel needs of our clients, we offer easy customization of each of the tour, making them highly suitable and popular among travelers & tourists. Moreover, our all-inclusive Maldives Holiday Packages includes flight fare, transportation, accommodation charges, breakfast, sightseeing tour, and as well as visa services & solution. You can also check some of our cheap & best tour packages for Maldives and book a holiday that fits into your budget.