When John Irvine and his family arrived at the Nice airport in France, no one expected what was about to unfold. The family was informed that their luggage was heavy and that an excess baggage fee was applicable. This is when John decided to wear the clothes from the bag and put on 15 shirts to avoid the fee.
He wore a staggering eight kilos of clothing and the moment was captured on camera by his son, Josh. The 46-year-old from Scotland managed to save 96 pounds of money and his tactics have the internet in splits. As he put one layer after the other, the viewers watched in amusement.
A similar trick was performed by 30-year-old Natalie Wynn, who wore seven dresses and two shorts to avoid paying the fine. She seems to have inspired many people, including John, who was flying by an EasyJet airplane. His video has already been watched by many, making him one of the overnight internet sensations.
John and his family were flying to Edinburgh and their baggage was reportedly overweight by eight kilos. Josh tweeted a series of Snapchat videos indicating the situation and how the ordeal took place. Of course, the multiple layers of clothing made him look suspicious to the security staff. They thought he was hiding something underneath. When asked to remove some of the tops, John started removing all the 15 layers, one by one, causing peels of laughter.
While John looks exhausted and kind of roasted in the video due to the smothering 15 layers, he definitely reminded us of Joey Tribiani from F.R.I.E.N.D.S. when he wore all of Chandler's clothes.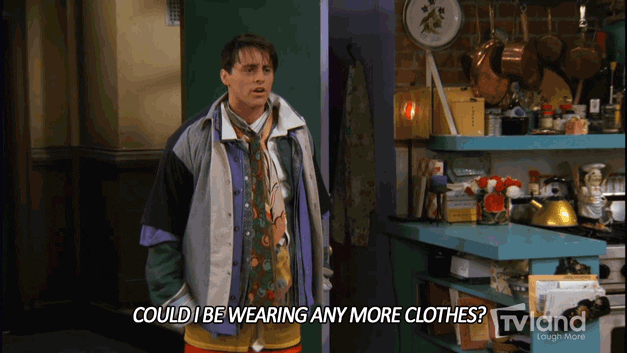 Tell us about your views in the comments below or here on Tripoto.
Get travel inspiration from us daily! Save our number and send a Whatsapp message on 9599147110 to begin!