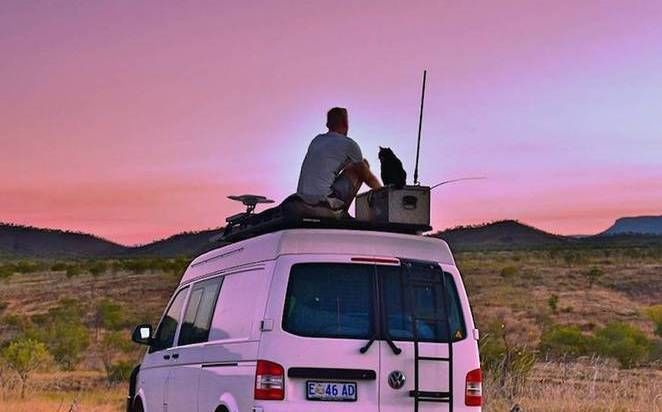 We have all read and heard of mid-life crisis stories, but here is a story that will not only take you by surprise but also inspire you in many ways.
Rich East of Hobart, Tasmania, founder of 'Van Cat Meow', took a life-changing decision for himself five years back, and since then, there has been no turning back. He chose to quit after 10 years of corporate life, his house and all other possessions in exchange for an endless road trip with his cat in a campervan.
Yes, you read that right. A cat (Willow) and a van; that is all he needed.
When did it all begin?
Early in 2014, Rich, unhappy with his monotonous corporate lifestyle, began to plan the next phase of his life. He started designing his campervan and started selling out things that did not bring him joy (basically Marie Kondoing his own life). After getting rid of almost everything he had and quitting his job, Rich began building the campervan. He decided not to give away Willow and make her van cat instead of a house cat.
Soon, ideas turned into reality. After a few trials, Willow also proved to be better off in the open than indoors, and then, began the journey of Van Cat Meow.
Travelling with a cat
There have been many opinions and questions on this unique style of travelling. Rich thinks that travelling with cats is much easier than travelling with dogs as they do not need too much attention. He also uses a special tracker installed collar that helps him look for her if she gets away.
The only disadvantage of travelling with a cat is that they can only be around in pet-friendly places.
The Journey
The duo has already travelled more than 50,000 km across Australia and plan to cover more. They have already completed their tour of six Australian states and two territories. They also managed to pass the Great Barrier Reef and camped on mountains in Burketown, Queensland and the Northern Territory.
Update
Rich and Willow are now accompanied by another person, Stephaine. Stephaine is Rich's fiance and plays her role as chief attendant dutifully.
Will you let go of everything and travel with your pet, where will you go? Let us know about it here.