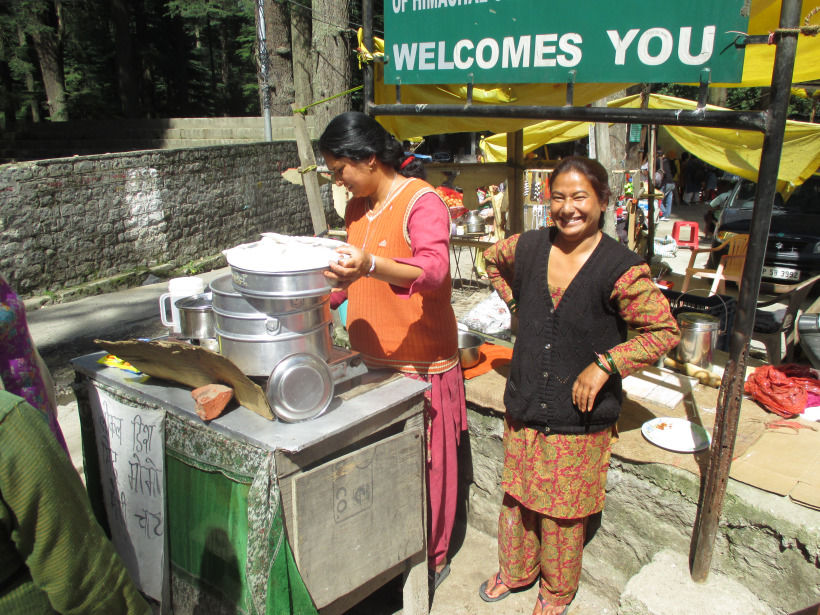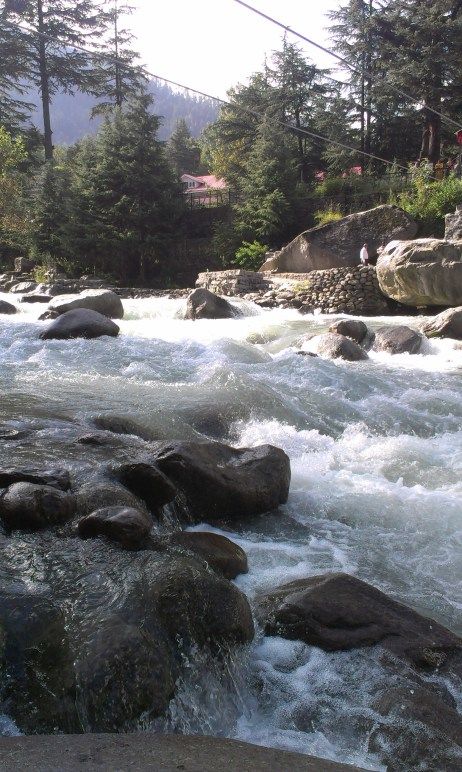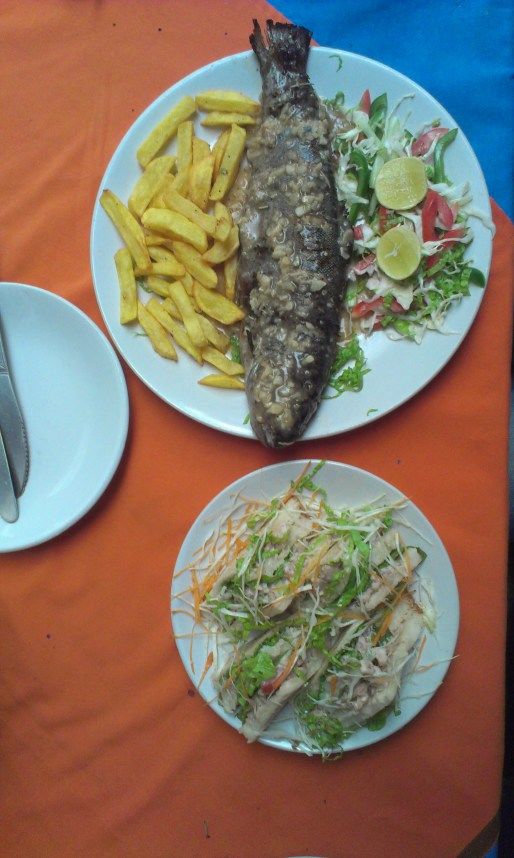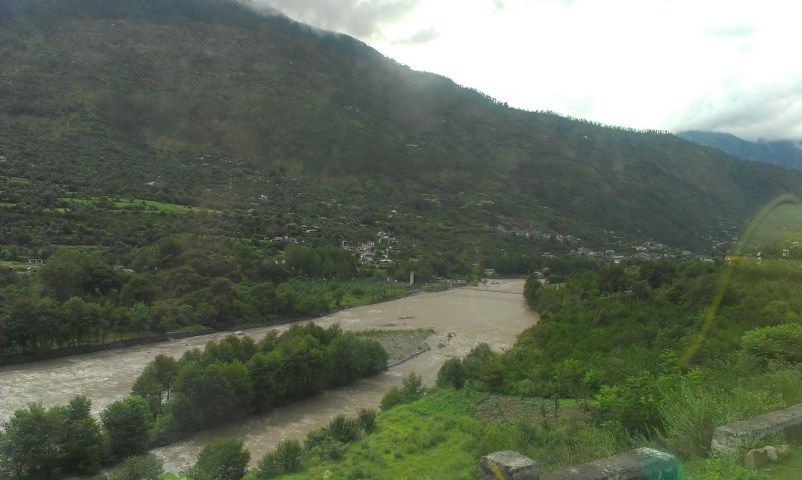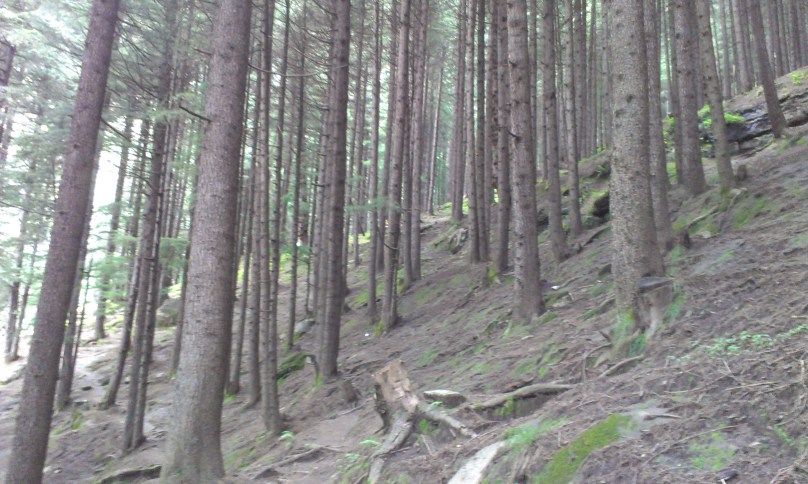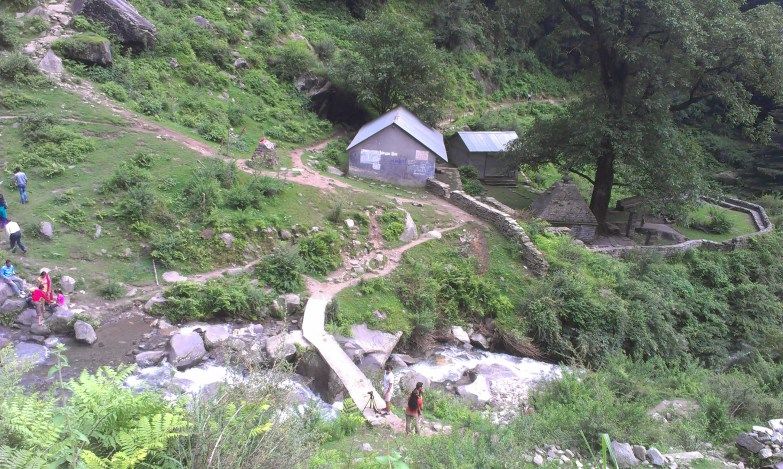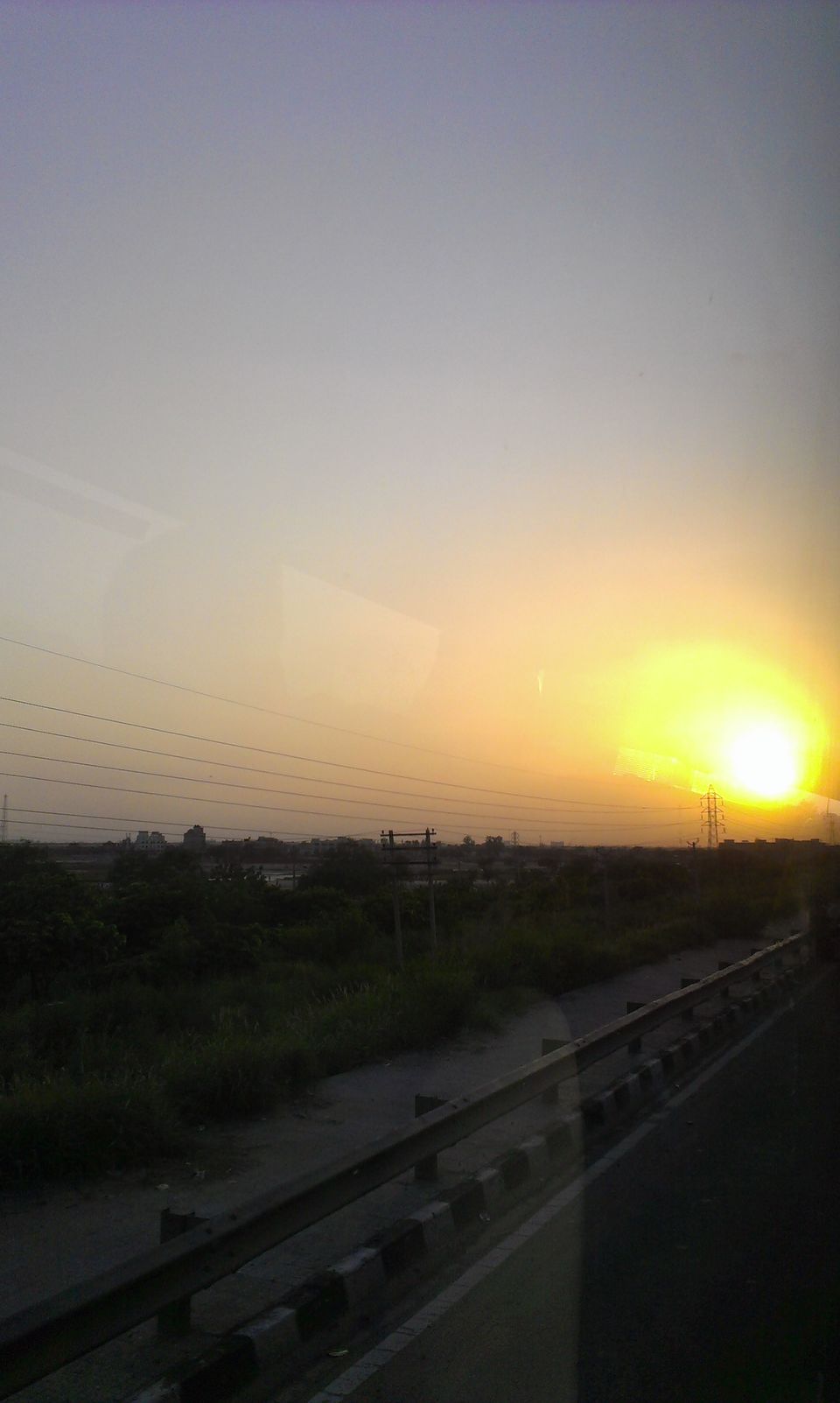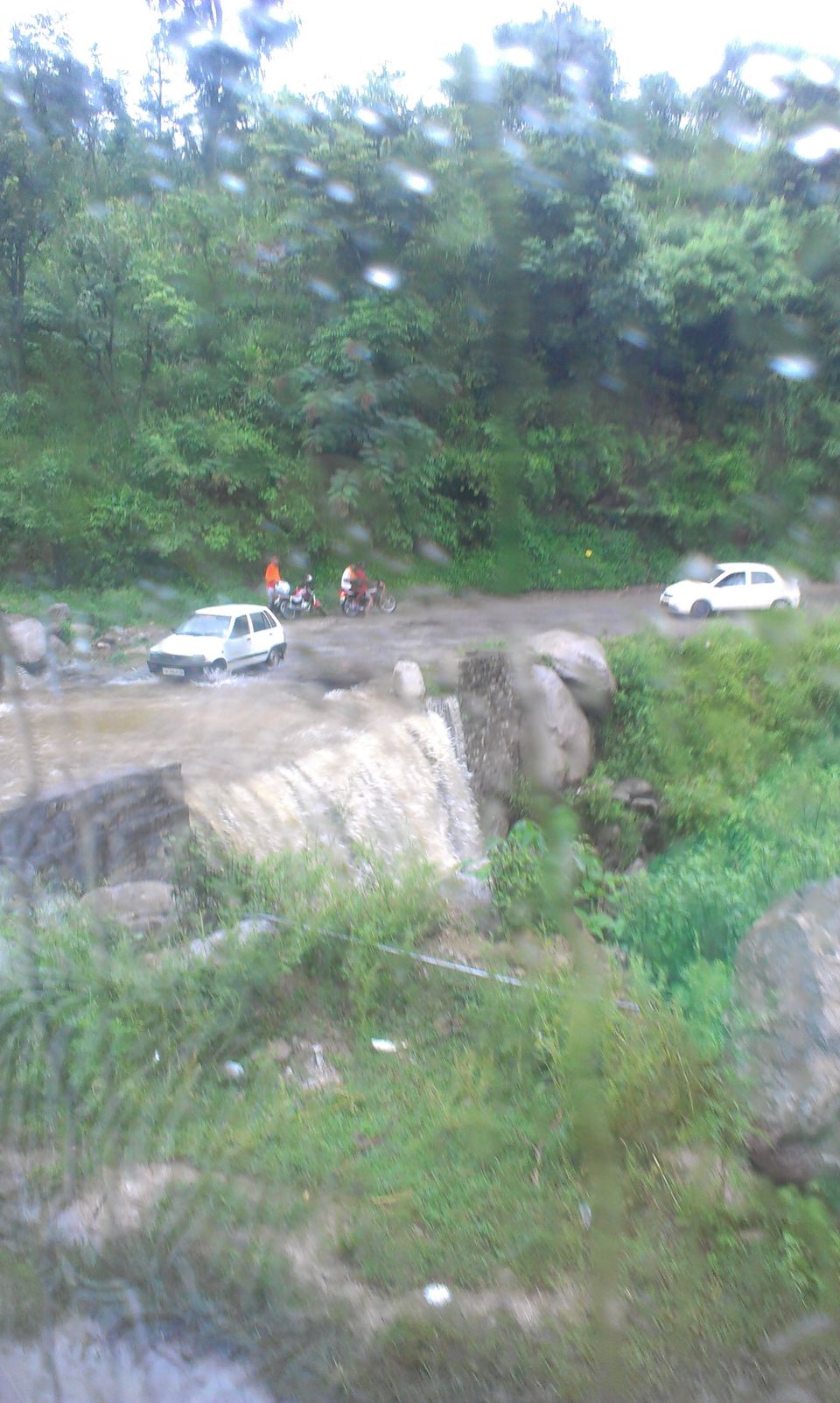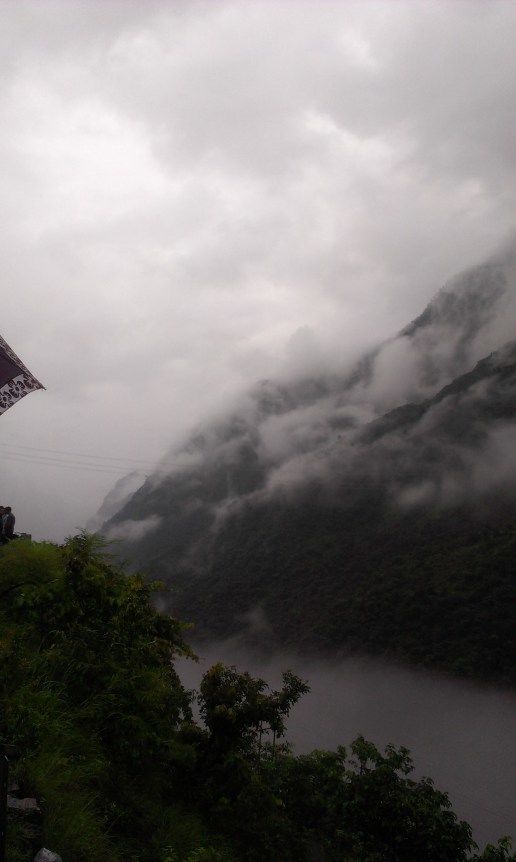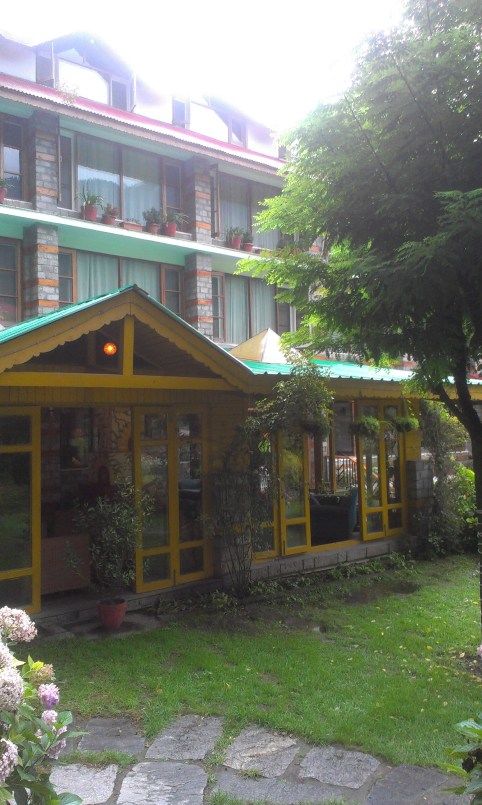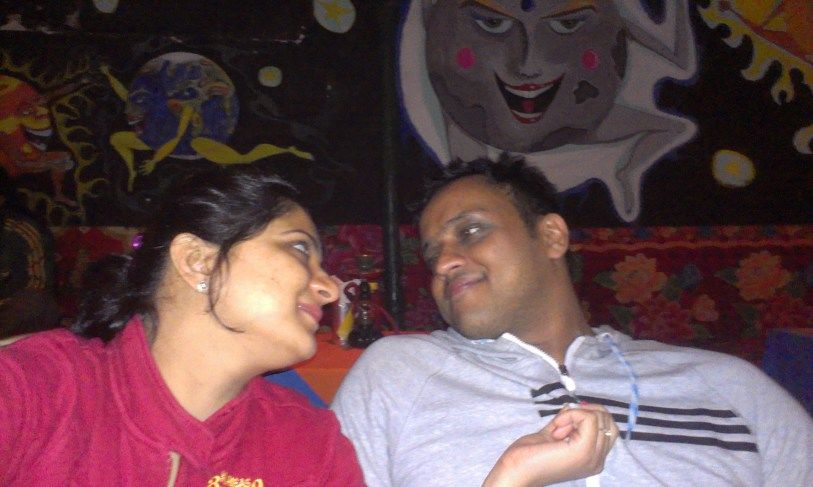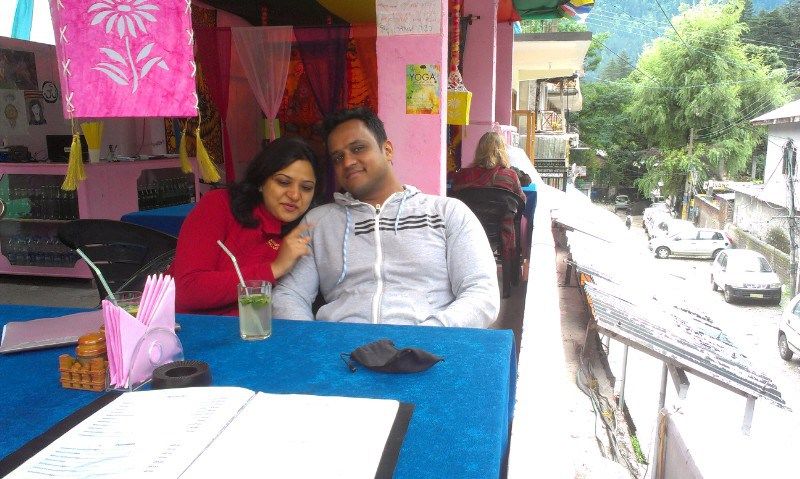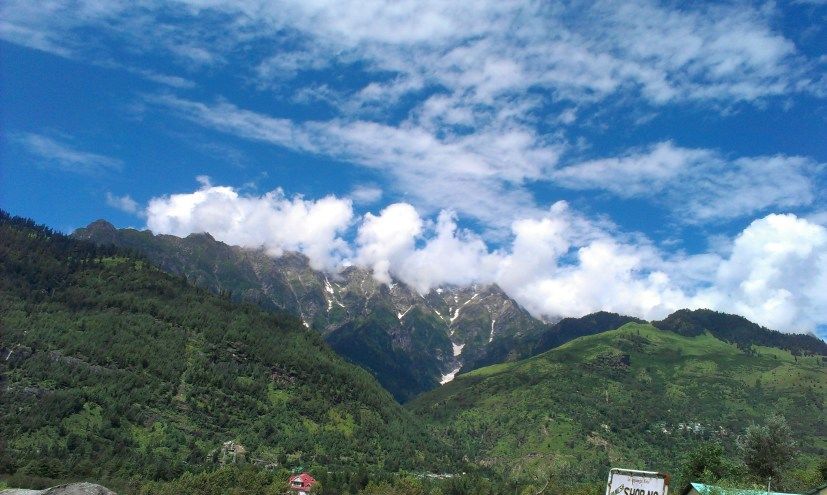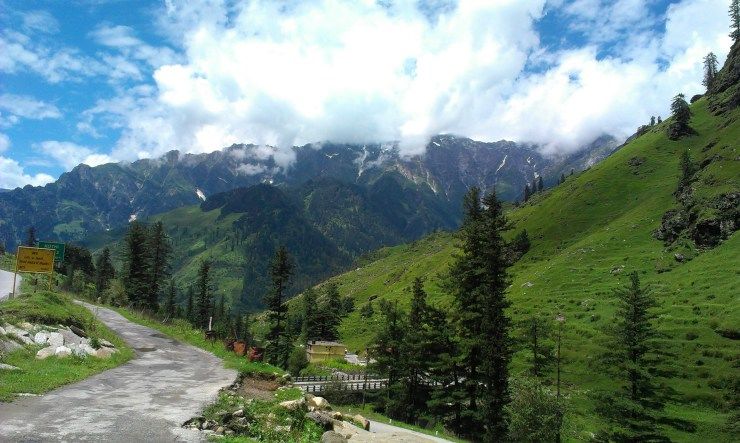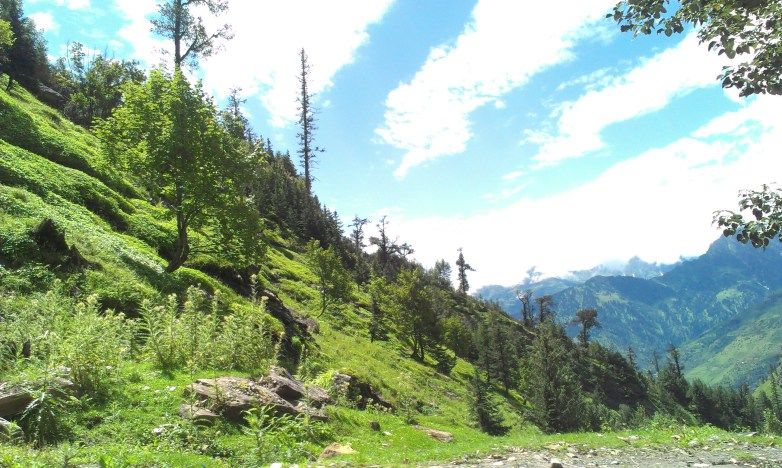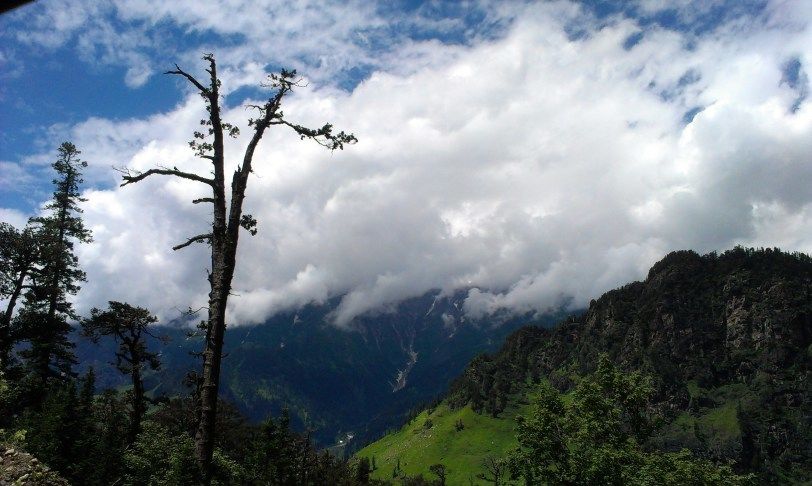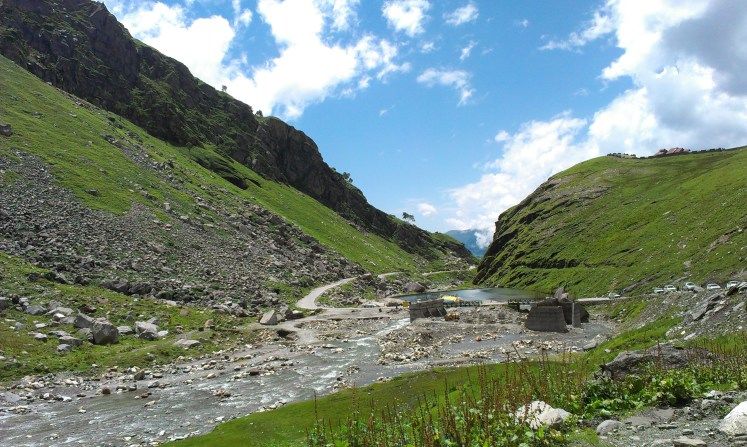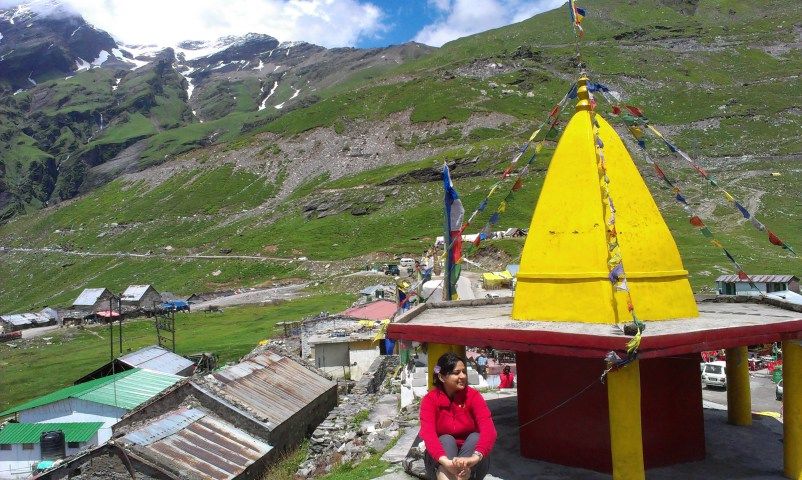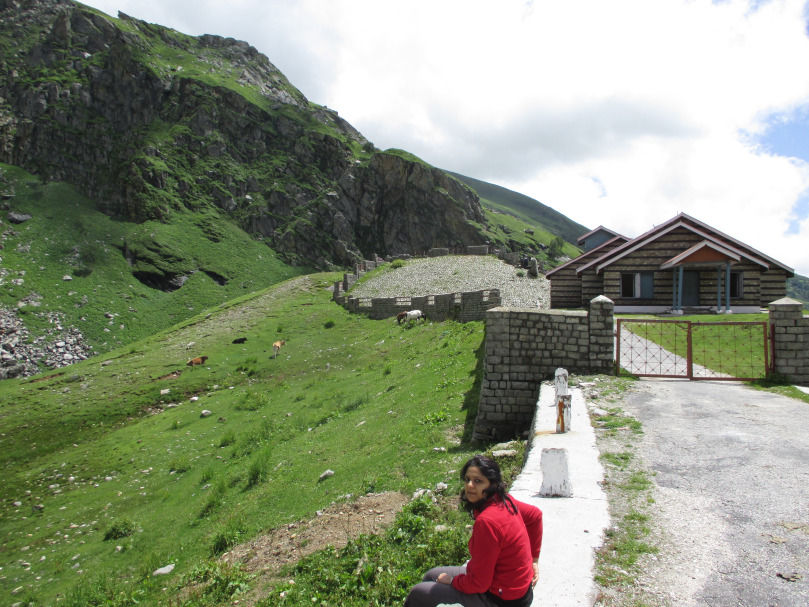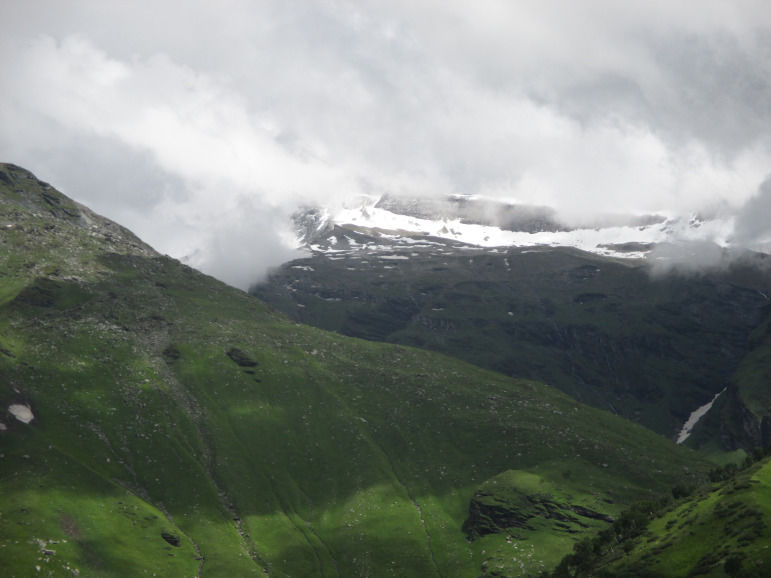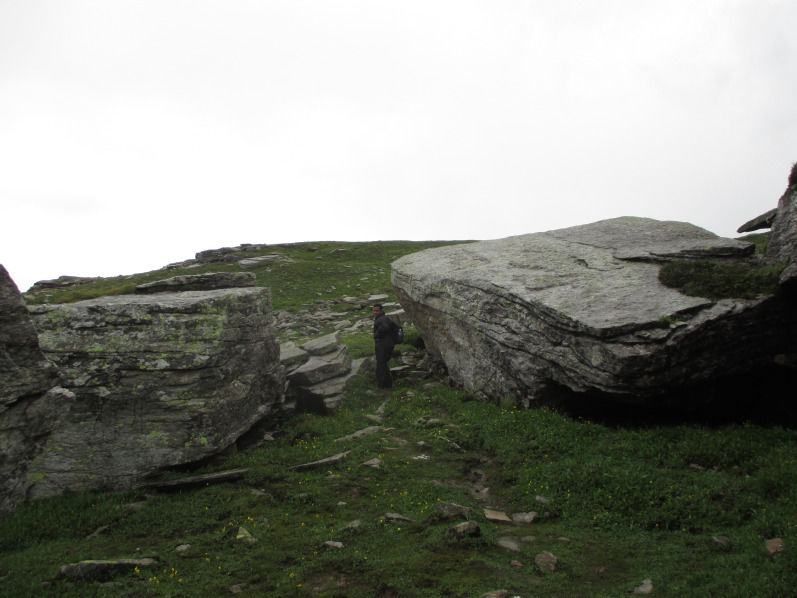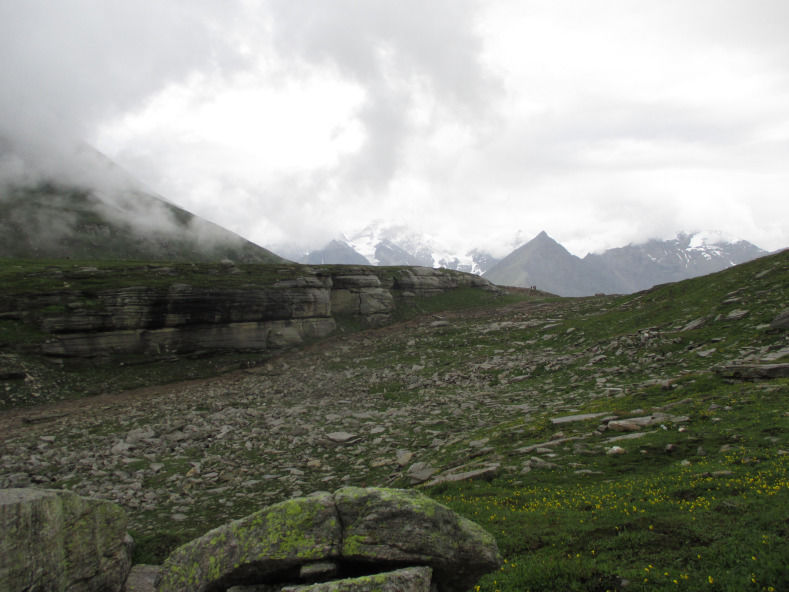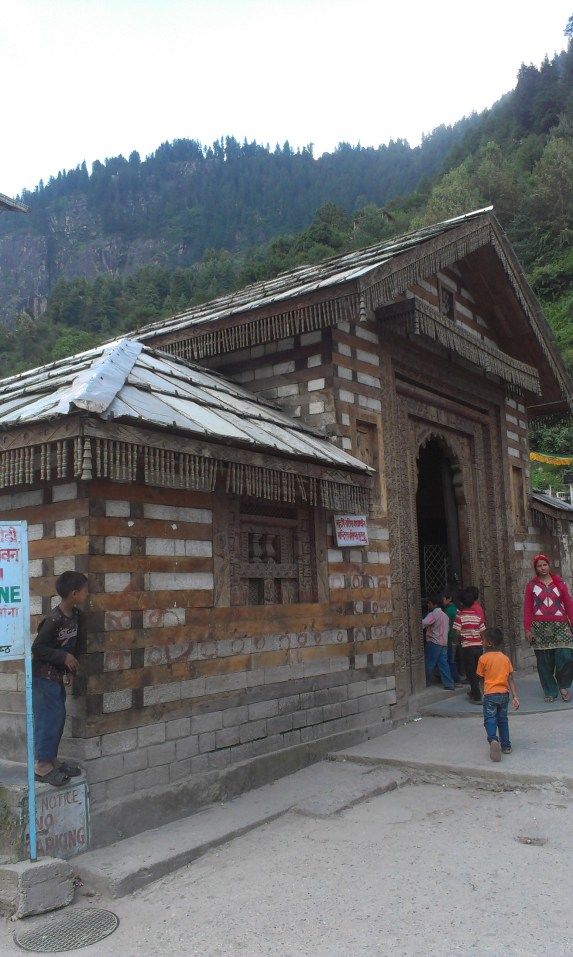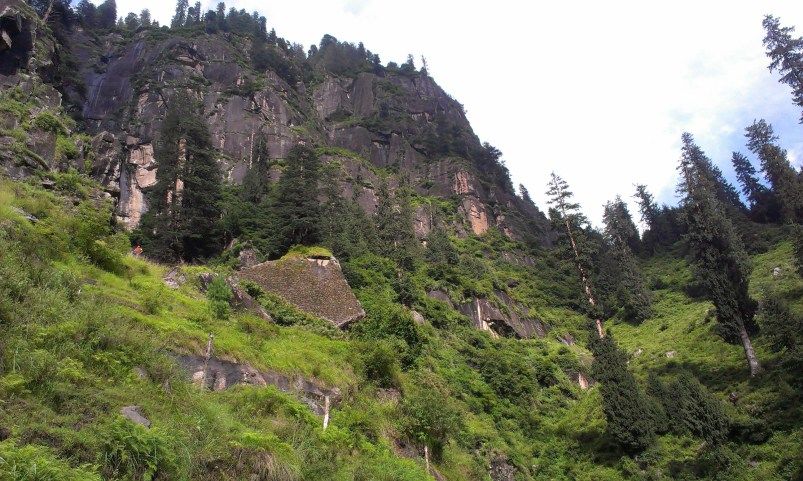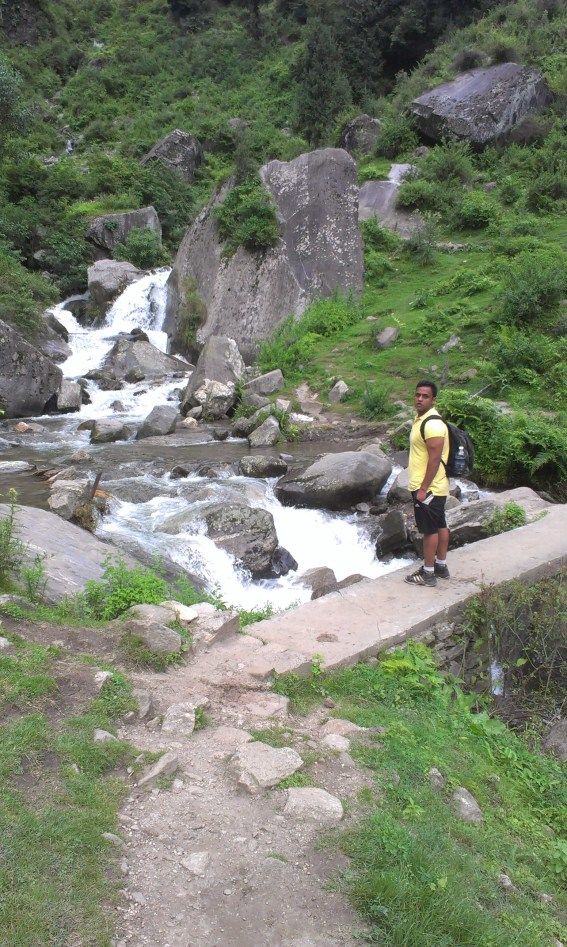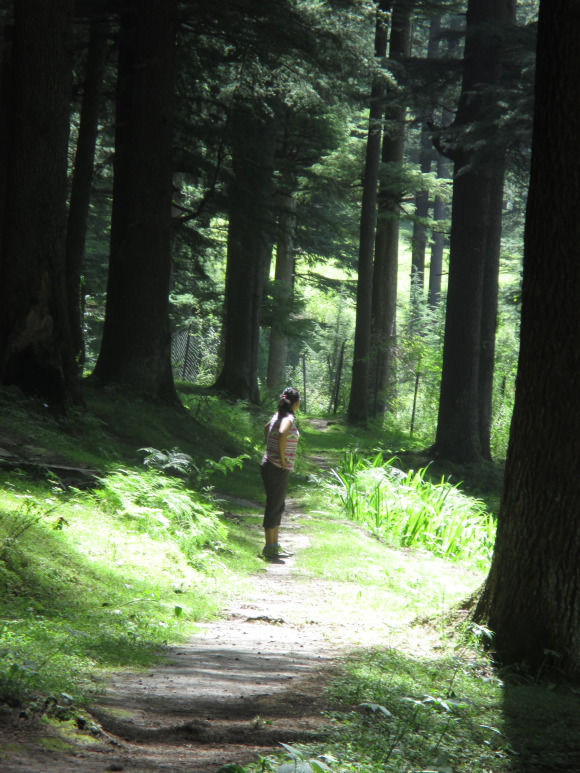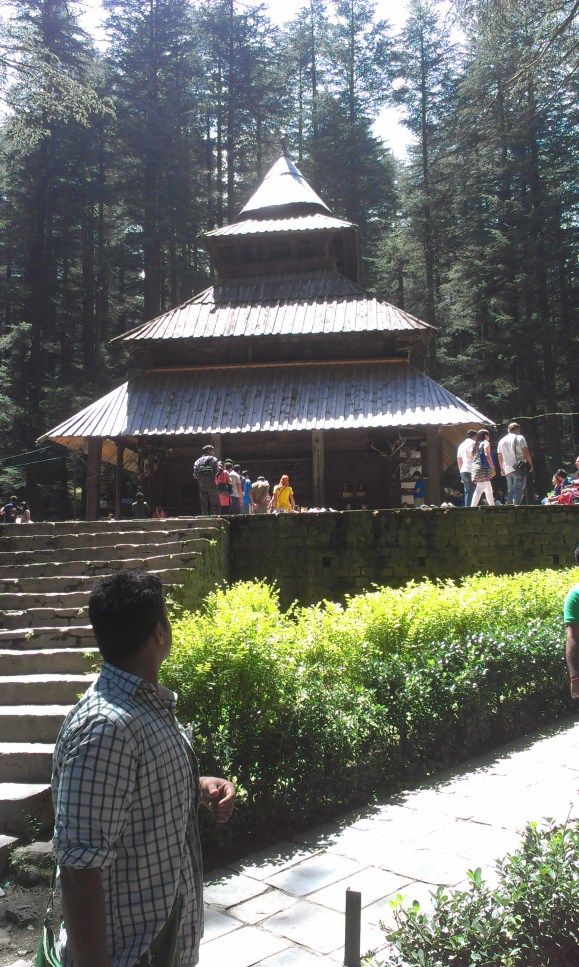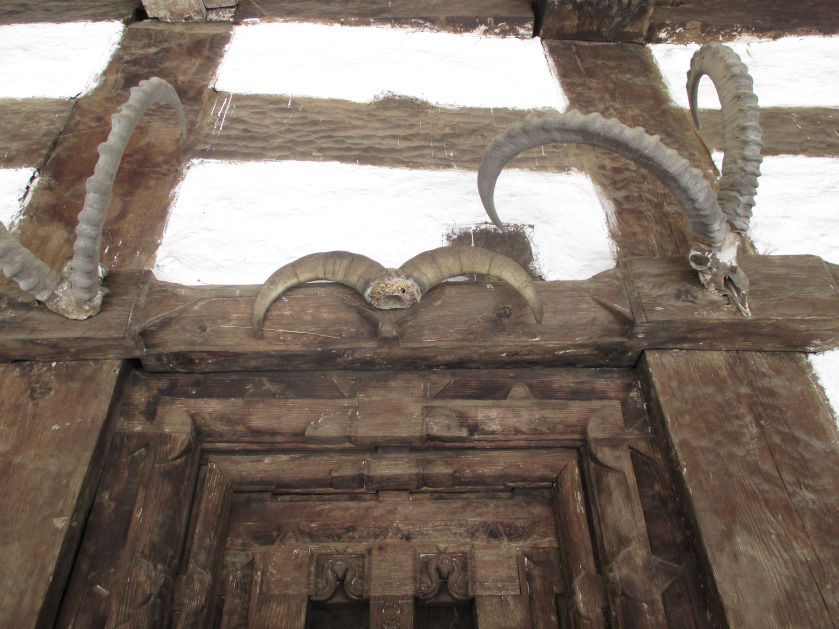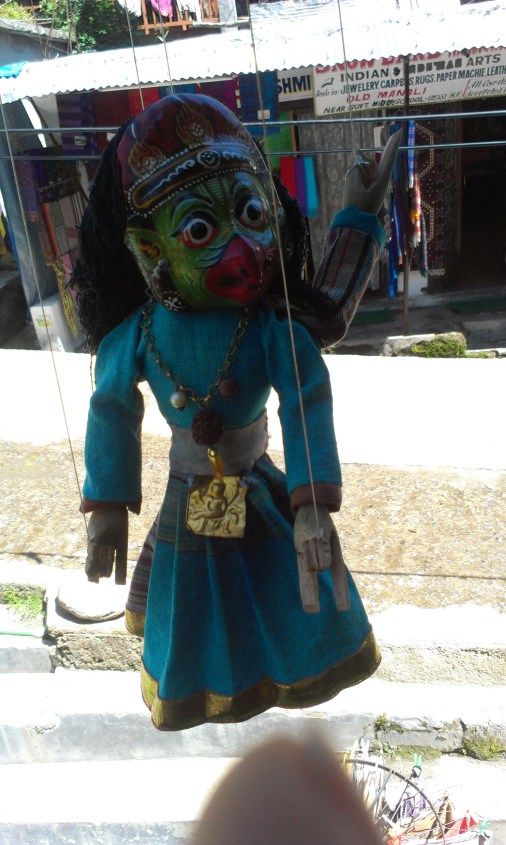 Manali as a destination to visit caught my attention after 'Jab We Met'. My travel loving husband is always ready to visit a new pretty hill-station and loves to plan the trips in details, so for this one the onus was on me.
Everyone warned us against visiting the Himachal during monsoons for the fear of landslides and getting stuck on our way. But when has anything like this stopped us from another adventurous trip?
We booked seats on a private bus- semi sleeper (were little late for HP Tourism buses- they were all booked) and started our journey on the 14th of Aug in the afternoon.
It took time to get out of Delhi owing to the city traffic and soon we were on NH-1 speeding against the wind. The driver played some Hindi comedy without sound but it was enough to kill some time.  The bus halted at a small dhaba for dinner but we decided to skip dinner and feed some biscuits to stray dogs. The journey resumed around 10 pm only to stop early morning at Manali (ETA 8 am the next day). We happily dozed off hoping to wake up in the midst of the mountains.
Around 2 am I felt some disturbance in the bus when I heard people talking continuously. I had a feeling that the bus was not moving for quite some time now. I peeped out of the window and realized we were in the middle of a very long traffic jam and rain was pouring heavily. Disappointed that we ll reach late in the morning I slipped back to my dream world of mountains and snow. Next when I woke up it was 6 in the morning and raining continuously.  We told that it would take 4 more hours to reach Manali. Soon we entered Mandi which is a big town in HP.  The hilly region had begun and there was beautiful green misty scenery all around so we didn't mind the delay. We halted after Mandi for tea and breakfast but Kartik and I decided we could wait until we reached our hotel.  We saw the roads were all destroyed due to heavy rains and a lot of small water streams were flowing on the roads making it difficult for the traffic to move smoothly. This was one of the main causes of the jams.
We were getting stuck in such jams after every few minutes due to landslides, slippery and narrow passages and sometimes due to the stupidity of other vehicle owners who were creating confusion. Beas River was constantly in the background, raging fiercely and overflowing with muddy water threatening to pull us down.
Eventually we reached Manali around 4 pm in the evening. We were really scared that after such an ordeal if the weather remained like this, we wouldn't be able to go as planned.
We had booked our room in the Johnson Lodge which was towards the road leading to Old Manali. It had a rustic yet clean and modern look and I fell in love with the place at first sight. The garden was beautifully maintained with flowers in every color teaming the bushes. There were garden chairs and umbrellas. I made a mental note of ordering the breakfast in the garden the next morning.
Our room-it was very minimally decorated with neat smart furniture which looked out of Old British era
We were extremely tired with every bone in our body twisted beyond explanation after a 24 hour journey (which was supposed to be 14 hours). We decided to run shower and sleep and then head out for dinner.
We woke up around 8 pm and after ordering tea, decided to explore the mall road.
The mall road looked like a mela of a festival and then we realized that because of 15thAug the next day and a long weekend Manali was overbooked with tourists. Both of us being crowd haters rushed towards old Manali which is around 2 km walk from our hotel. The Old Manali town starts after crossing the bridge over the Manalsu River. Old Manali seems like a different place altogether, like a village out of some old British Novel, maybe colonial India. The street teams with small cozy cafes which serve mouth watering food, easy on pocket and rich in taste. The café owners are hospitable and welcoming and you ll find relaxed individuals sipping away ginger lemon honey tea or smoking pot ignorant of the crowd.  I loved the place.
We discovered a cozy place called Moon Dance Café which was not much crowded and too tired to move ahead we settled there. The place was sweet and cozy with graffiti spewed all across the walls giving the place a rebellious look. The food was very tasty, fresh and inexpensive. We dragged ourselves back to the room after much difficulty and booked a cab for next morning for Rohtang Pass. That night I slept like a child.
Next morning we left the room early for breakfast and decided not to visit New Manali at all. We went back to the Old Manali and found a bright little place called New Friends Café. The place was decorated with bright pink walls, bright colored curtains, paper made lanterns and low cane seating, giving the place an aura of Buddhist worship place. We liked it instantly and had our breakfast there.
After hogging down our yummy breakfast comprising of lots of cheese, eggs and chicken we ran back to the hotel as our cab was waiting there. The walk from old manali and back to hotel was pretty tedious but with beautiful views so we didn't mind the work out.
Our cab driver was Ravi- a 16 year old enthusiastic boy who we got chatty with very soon. He was a very simple boy who lived on the outskirts with his mother. We began for Rohtang pass and the weather became awesome with sun smiling down at us. On our way we rented the snow clothing ad the ruber boots for trekking. I selected a bright yellow one and Kartik settled for a black one.
The drive to the Rohtang pass was ethereal and I had never witnessed the grandeur of nature from so close-  the brightest blue, the freshest green,  pristine white clouds, pretty bright pink flowers.
The traffic was moving very slow and there was some army consignment coming down from Rohtang towards south, so although the pass was just 51 kms away, it took us almost 7 hours to reach. We halted midway at Marhi a beautiful valley surrounded by lush green mountains on all sides and most amazing views. The snow had almost melting due to monsoons and new clean bright green vegetation carpet couls be seen scattered across till the horizon. We spent around an hour there, got chased by a cow, clicked some beautiful pictures and then headed to the pass.
As we approached Rohtang I could feel the effort I was making to breath. The air is thin at 14000 ft and we could feel the heaviness on breathing.
We reached Rohtang around 4:45 pm and s along with us came the clouds. There was no snow – except a small dirty patch of ice on which almost a 100 people were posing for photos. We decided to start the ascent and after much difficulty we put on our space suits and boots.  The ascent was not steep but very rocky, and small piesces of rocks were slipping under our feet. It was my first experience of its kind and so my speed was quite slow and I had to halt every now and then to catch my breath. We saw some amazing views while climbing and Kartik was leading. When around 100 meters were remaining suddenly a bulk of clouds surrounded me and I couldn't see anything and started screaming of the fear of falling down.
We turned back immediately for we were the last ones and I didn't want to be stranded there. Coming back was an equally horrendous experience as it had rained and I was slipping. My suit was totally soiled and when we returned it to the shop keeper she was perplexed as to how did we manage to soil the clothes so bad. J
We reachd the hotel around 10:30 pm only to realize that our keys were lost. The hotel staff after creating much trouble and annoying us, made us wait for almost 3 hours and then agreed to break the room lock. After cleaning and feeding ourselves we retired to deep sleep around 3 am.
Next morning (17 th Aug) we decided to keep it lazy and explored the garden. We strolled to old Manali for breakfast and chatted with the café owner trying to find out where we could get some stuff (;) you know). After a yummy and filling English brunch we left for Vashisht. Vashisht is 3 kms north of Manali and famous for hot springs. But we headed to see the famous Jogini falls. It is a 5 km hike from Vashisht temple and mostly through Deodar forest.
The hike is pretty easy with the path laden with stones and boulders to make it easier, and moves along the Beas. Towards the mountain edge we could see trees laden with apple bunches. Manali is full of apple orchards but we didn't have a chance to visit them. The way to the Jogini falls is serene and perked up green. We crossed a small stream in between and reached the falls in around 40 mins. The place was raided by a lot of tourists who were yelling and making noises so we chose to select a higher point where it was peaceful and uncrowded.
We sat there for around an hour, lying down on the rocks looking at the high mountains and the skies. It was a very fulfilling feeling, it helped me connect with myself, leaving back all the worries and concerns. The nature has the power to absorb your negativity and fill you up with a new zeal for life.
We came back to Manali by 7 and decided to stay indoors. We ordered a pizza and accompanied it with some beer and watched a movie. It was a pretty lazy yet fulfilling day.
Next day or the last day in Manali we decided to explore the city at ease. We  went for an early breakfast and came back  to check out. Leaving our luggage with the reception we first explored the forest next to Hadimba temple. The forest is beautiful with pine trees which tend to stretch till infinity and filter the sun, making the rays a hazy mesh of golden.
We wanted to go for Lamadugh hike but couldn't as it had started early morning and we were pretty late. Maybe next time.
We had our lunch at Moondance and had the famous trout fish. It was my first time with the fish and I loved it.
We walked through the Pine woods along the Beas and sat there sometime gazing at the gushing overflowing river. We were already depressed that an amazing trip was coming to an end. We reached our hotel at 5 and collected our luggage and reached the bus stand for the bus was to leave for delhi at 6 pm.
Manali is one of the most beautiful places I have been to and in 4 days I was feeling happier and healthier. But tourists should understand that they have a responsibility towards a place they are visiting. The visitors have turned Manali streets into streets of Chandigarh and Delhi by racing their personal vehicles, passing lude remarks at women on mall road, playing loud Punjabi music. All these things spoil the environment of a quiet place in the natures lap and this is what you apparently are escaping from when you come from your city to a place like Manali. This behavior shows the sheer ignorance of people who do not understand the true meaning of tourism.
Ignoring these, Manali is a place I would love to come back to, maybe marking it as a starting point of a Lahaul Spiti trip by road.