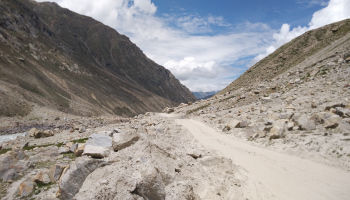 "My bones will never be the same again…"

Was one of the many thoughts that crashed into my mind today. It was a treacherous day.
Woke up at 4.30 a.m. to leave for the New Manali bus stand. The auto to Manali at 5 in the morning is a rip off. Hukum Chand ji said he'll charge Rs. 300 for the 10 minute road because he had to wake up early. So did the others I asked. So I decided to walk it. It's not such a shocking length anyway but with the backpack... well let's see.
I had barely walked out of Old Manali when a Maruti with two drunken locals offered me a ride till the bus stand. Jovial fellows. Slurring directions and advices for my journey ahead.
Dev even offered to drive me all the way to Spiti forewarning me about the bus ride. However, a crowded bus seemed more entertaining than a white Maruti with a drunk driver. I bid them farewell at the bus stand with the parting gift of a handshake to Dev with his eager outstretched hand.
Google told me the bus leaves at 5. No. It leaves at 6. It arrives in Manali at 5.30.
Yesterday I had failed to secure a seat in the bus. Today solved that problem for me. A woman was almost waiting for me at the stand to buy off her ticket. She had cancelled her trip as her child needed a doctor's visit. Worked out well for me.
Seat 29 W. A window seat at that. For the exact genuine price she had bought it for. No extra money. She even returned the extra ten rupee note that had snuck in with the other notes I handed her.
And thank god for that ticket because to stand in that overcrowded bus and go all the way to Batal would have been too much really. Not because I have a problem with standing but because there is no space to stand in this bus. There are too many already standing and way too many bags crammed in the remaining space.
By the time I woke up from my nap the bus was past Rohtang. The cloudy, misty and cold Rohtang top made way for clear blue skies. Which then made way for a burning devil of a sun peering down the barren stretches of the dusty Spiti route.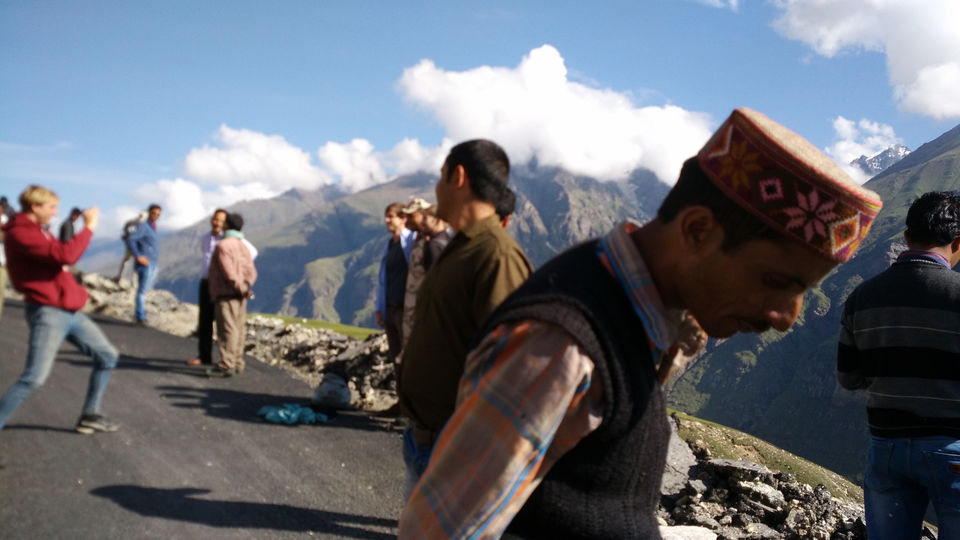 It's hardly a road. It's something to do by. To imagine acres and acres covered with thick inches of snow from October till April and even May! The snow then melts and washes off the hills and the far away cliffs, bringing down with it broken bits of rocks and loose soil.
The hills here are washed out left overs this time of the year. Grey, red, brown and dusty. White dust everywhere. In my eyes, ears, nose, mouth and lungs.
The terrain here is tough. I wouldn't have realized half of it had a truck driver not run away blocking more than half the road with his untended vehicle. He must have given up and gone to take a nap somewhere. So we stopped the bus and everyone got off to build us some extra road.
Watch the video below for better explanation of this.
First there's the wind, howling away.
Then there's the sun and the dust.
Then there's the breathlessness because of the wind and the harsh sun.
It is here that I truly understands the blessing of having other people around. Thank god for people in this mountainous desert.
The journey had only started after Rohtang. Bumpy road after bumpy turn after bumpy stretch. Never ending juggling of bones.
A group of foreigners with two bottles of water each at the back of the bus are discussing the innocuous details of their life. Questions like what are your hobbies? - have never ending answers punctuated with a profusion of umms and aahs.
The Nepali woman next to me, who has hijacked my window seat in the pretext that she might want to throw up, wants me to accompany her every time she needs to piss. She has her very young baby with her. Neither can stop fidgeting.
Her baby is a well. Unwrap edibles and hold it before her mouth, a pink tongue appears and the product disappears. All through the way. Chips, Munch, Kurkure, Eclairs, bun, Monaco, mother's milk, water... She was at it the entire route, even when I got off the bus at the lunatic windy Batal.
There's no respite here. The wind won't rest at Batal. It won't let me keep my eyes open. My hair, even after two layers of hair banding, pokes my eyes and my ears. Everything is desperate to fly off. You just have to look the other way. Cups of tea will topple over. Tissues will disappear, towels will too. Biscuit packets have to be clutched.
But more about that later.
Peace lovelies <3