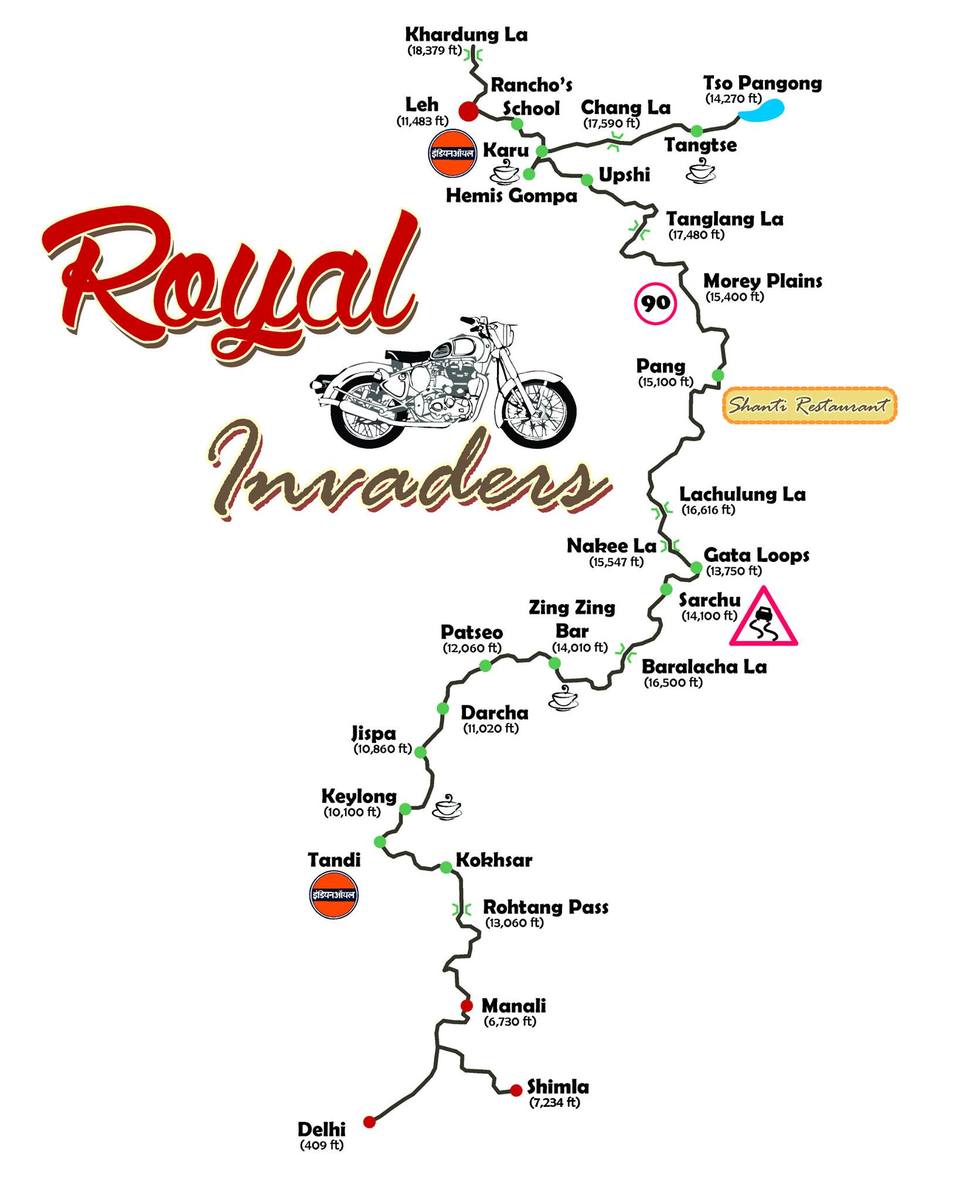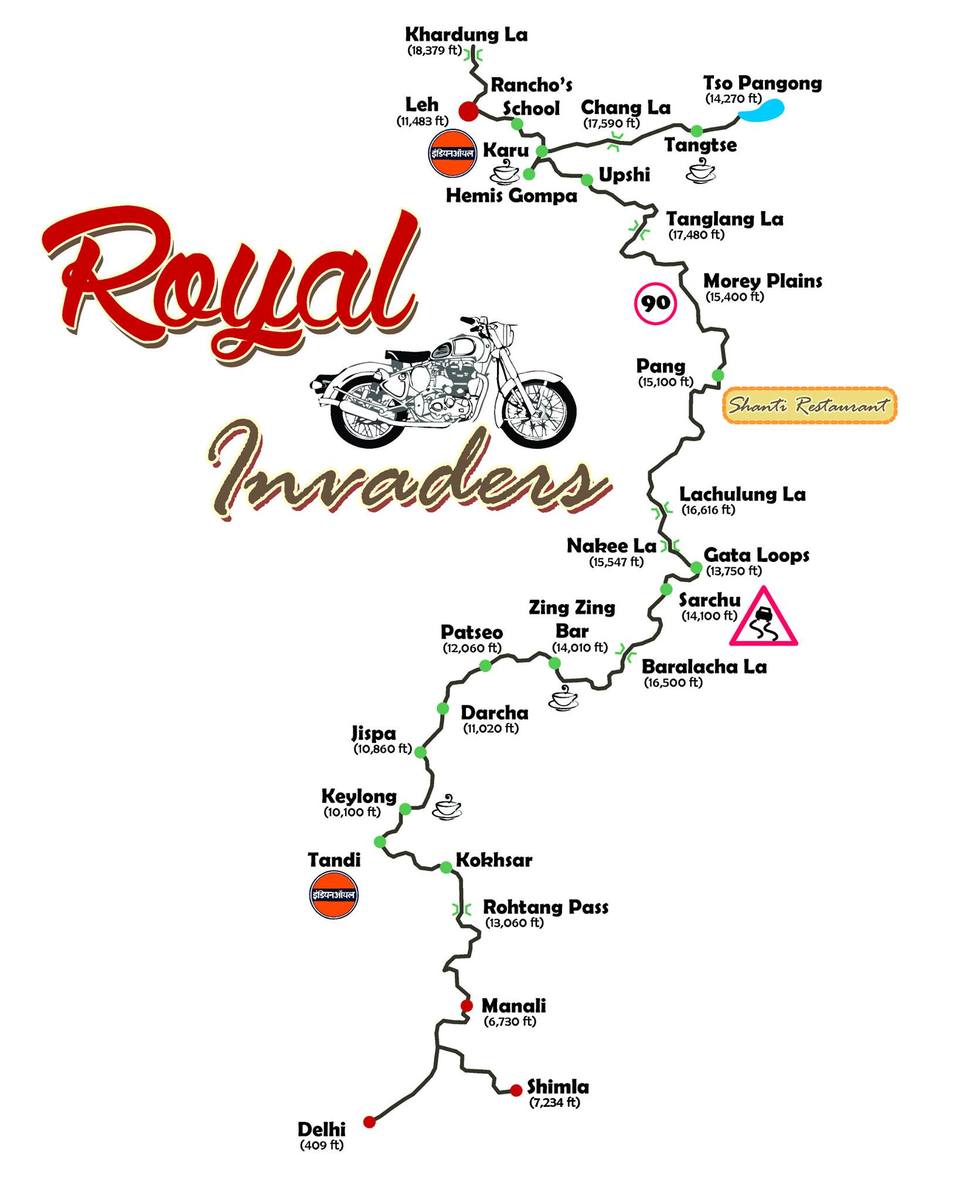 Our journey began in Delhi. As the setting sun was spreading the hues of its glorifying colours in the sky, our bus started for Manali. I and few crazy riders were up for doing the craziest thing in their entire life. Slowly moving northwards from the National capital, crawling through the heavy evening traffic, slowly as we moved, the traffic got lighter and soon we were on the Delhi-Chandigarh highway.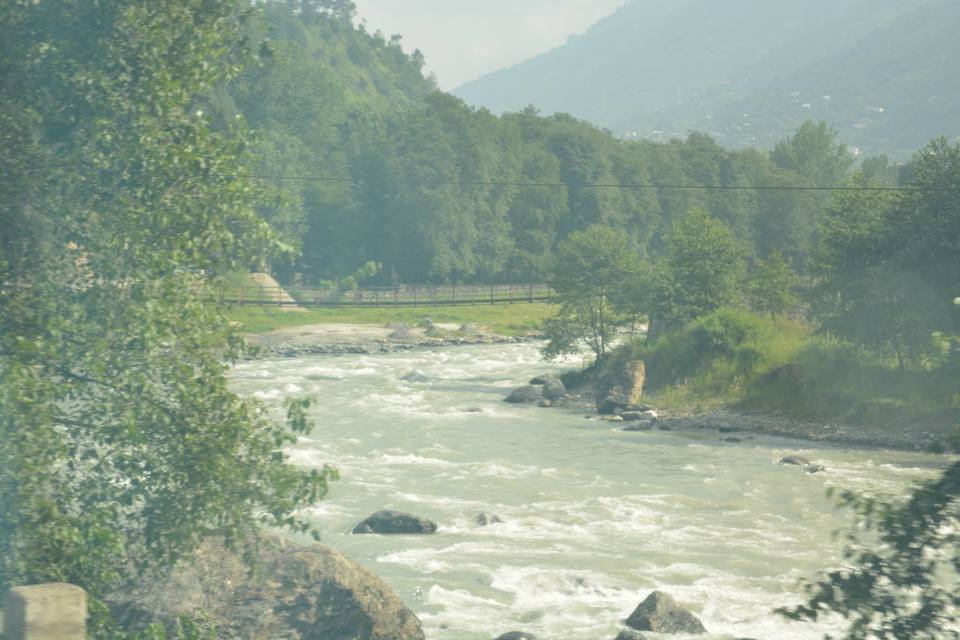 It was about eighty Kilometres and a couple of hours of journey that we had our first stop at an Indian Oil petrol pump. By that time we did not know the crucial role Indian Oil was going to play in our Journey. Just next to the petrol pump was a small tea shop, by the time the Bus was being tanked up with diesel, we had the refreshing tea at the stall. In the next fifteen minutes or so, we were again on the run. As we passed by Panipat, we saw large dhabas on either side of the road. Our bus again came to halt after covering some twenty kilometres from Karnal, at a small dhaba. We had our first dinner of the entire 10 days trip. As the bus started from the dhaba, people started falling asleep, and after 1:00 am as we left Chandigarh, the road started becoming curvy. By the time it was morning, we had crossed Bilaspur and Mandi. The first stop for the morning as a restaurant by the banks of river Beas, about 12 kilometers from Mandi. There we had our morning breakfast with a welcoming view of Beas River flowing through the valley.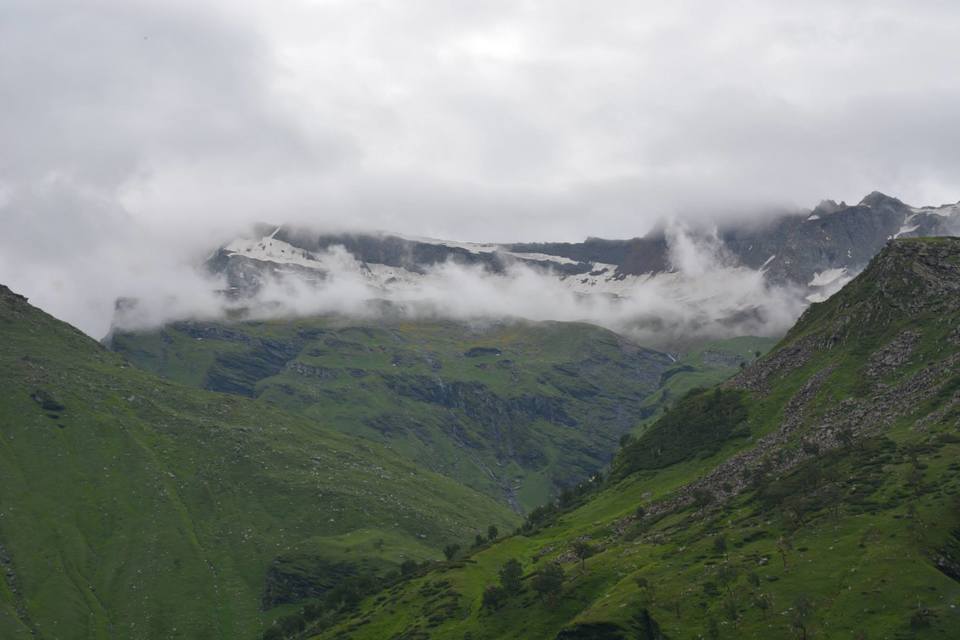 We reached Manali by the afternoon where we checked in a hotel called Apple Bud Cottage. The hotel was good and we had a good view of the valley from our rooms. Our next big task was to get ready and go book bikes for rest of the journey to Leh and back. After a tiring day, we were finally able to rent four Royal Enfield Classic 350s and the necessary permits to continue our journey. We also did make necessary preparations, purchased essentials and tanked up fuel for the next and the most exciting part of our Journey. We were scheduled to start early next morning, so we packed everything in the night itself and went to sleep.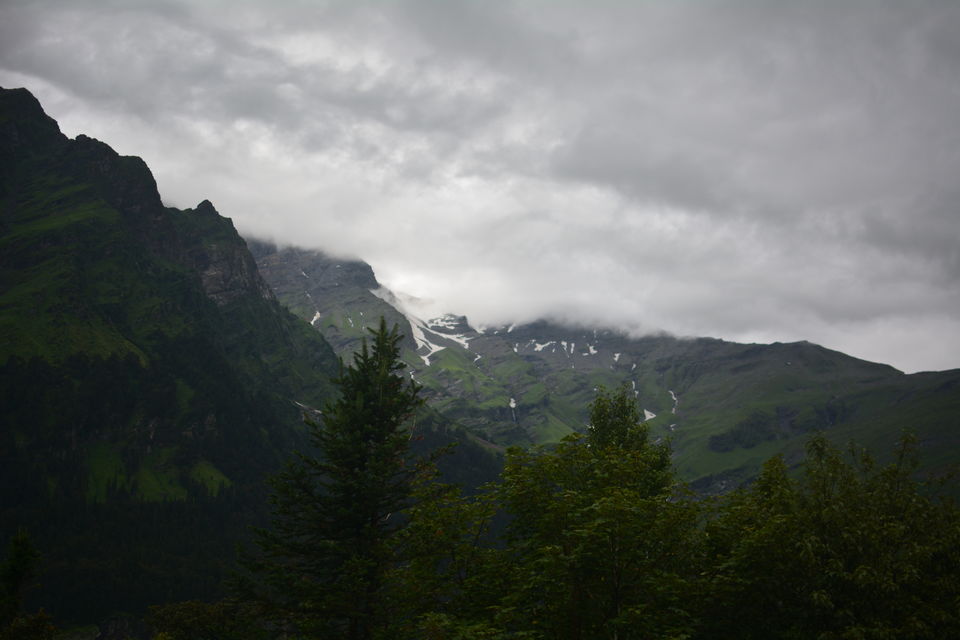 It was 5:00 am in the morning, a perfect time to start. In a journey like this on this particular route, the rule of the thumb is to start early and reach the destination before sun set and avoid the domino effect caused by a late start. By 5:45am we had loaded all the bullets with the bags and petrol containers. But the nature was against us. It started raining. What seemed to be a bright and sunny a day ago, was now cloudy and gloomy. Heavy downpour was set back for us as we were not well prepared for the rains. Adding to it, the idea of riding in rain on such a terrain was a bit uncomforting and scary. Moving out of our comfort zones, we decided to start as the downpours subsided to drizzle. After moving about first seven kilometres, we had to pull back as it again started raining heavily. At a tea stall we parked our bikes and watched the rain ruining our plans. After 45 minutes or so, when the rain slowed down a bit, we decided to use some of the spare plastic sheets as makeshift rain coats and continue our journey.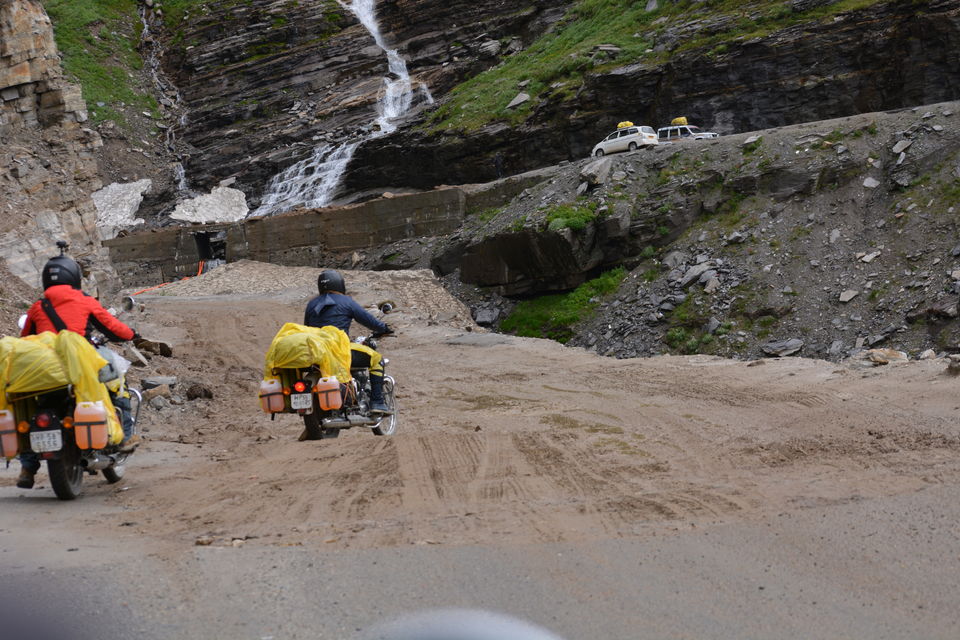 We hurried to the first checkpost at Gulaba which is 22 km from Manali. After making quick entries into a couple of registers and paying the environment duty, we got on our bikes and moved towards Rohtang pass. The road was good with a fair ascend making us to move to lower gears and rev up the engines for enough traction. The scene was mesmerising. We were riding in the clouds, at times visibility would be a few meters, add to that narrow ascending road and deep valley on the other side of the road, everything added to the adrenaline rush. We were both excited and anxious about that day's journey, firstly because started late and second that the locals informed us that road ahead was not so good. The air got thinner and we could feel the temperature dropping at every hairpin turn. We actually did not realise that we had crossed the Rohtang pass at an altitude of 13051 ft until we reached the other side of the Pir Panjal range. Till now we always had seen the Rohtang pass in pictures and in the movies (Jab we met). And each of them showed us a narrow pathway through a thick 8 to 10 feets of snow, to our surprise there was no snow actually left thanks to the summers.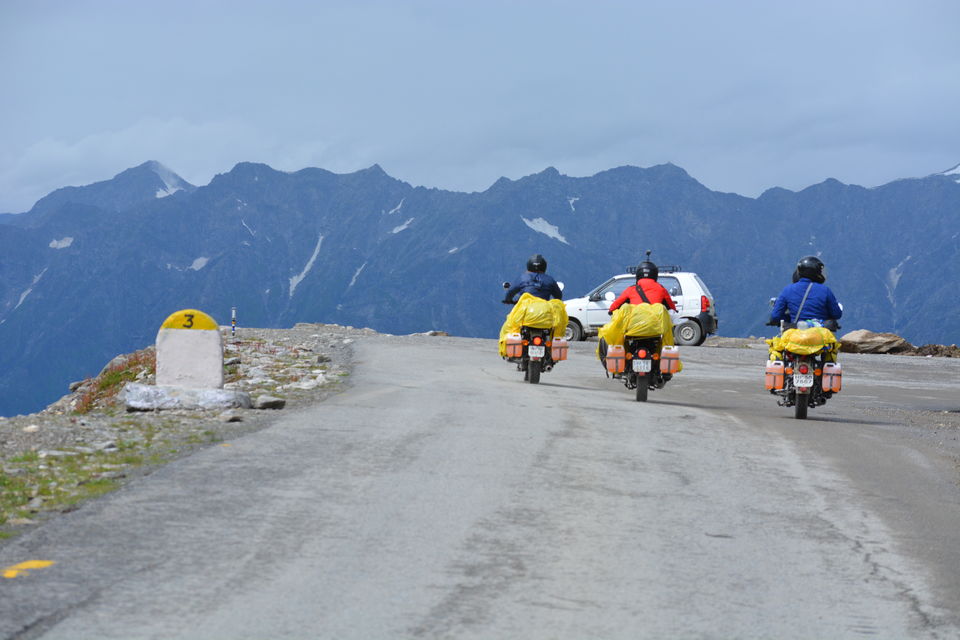 The next section of our trip was to descend on the other side of the pass, and reach the Koksar checkpost. This was the first rough section of the road that we hit, we were told that the next 14 kilometers would take us minimum two hours to cross. And then it happened. There was a land slide on the road. Traffic was stopped on either sides and road was being cleared. This added to our concern for reaching our first night halt at Sarchu in time. We actually did not consider all these contingencies and made a packed schedule. BRO did hard work in clearing the land slide in just 35 minutes and made road running. We immediately started and reached Koksar. By now we were already 2 and half hours behind our schedule.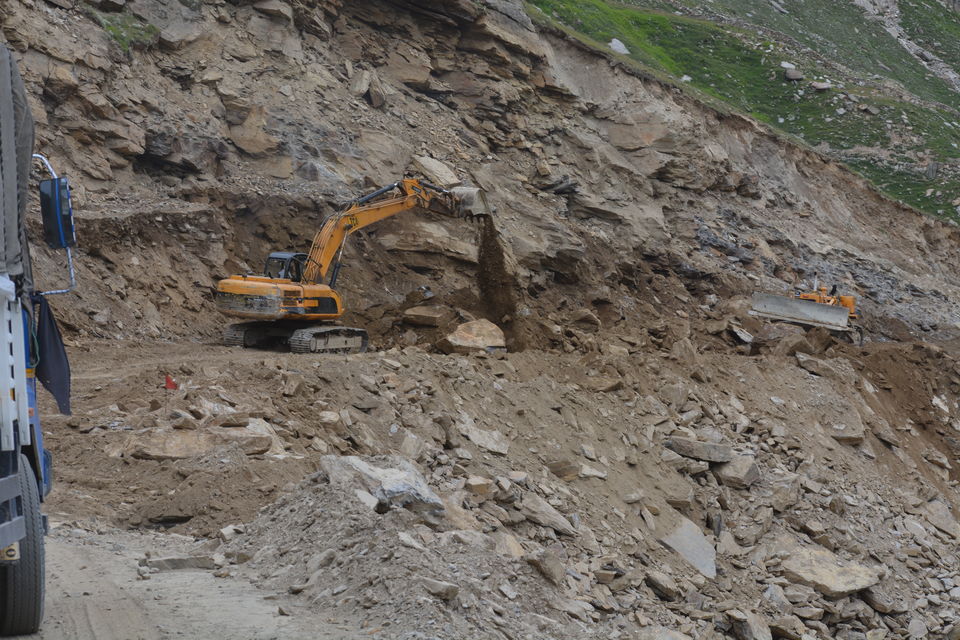 At Koksar checkpoint there was a strategic change in the riders and pillions, so that we can reach Keylong which was another 60 Km covering up some lost time. Road from Koksar to Tandi was on the leeward side of the mountain, so the region was mostly arid. After a couple of kilometres from Koksar, the road was good again. The clear blue sky was a bit of relief to us. Riding along the valley, we were doing a handsome 50-60 kilometers an hour. The panaromic view of the valley and the road making its way through the mountain ranges on its either sides was just mesmerising. With some rough patches, mostly of loose gravel and sand from the land slides that often occour in this region, we reached Tandi, making about 20-30 minutes of our lost time.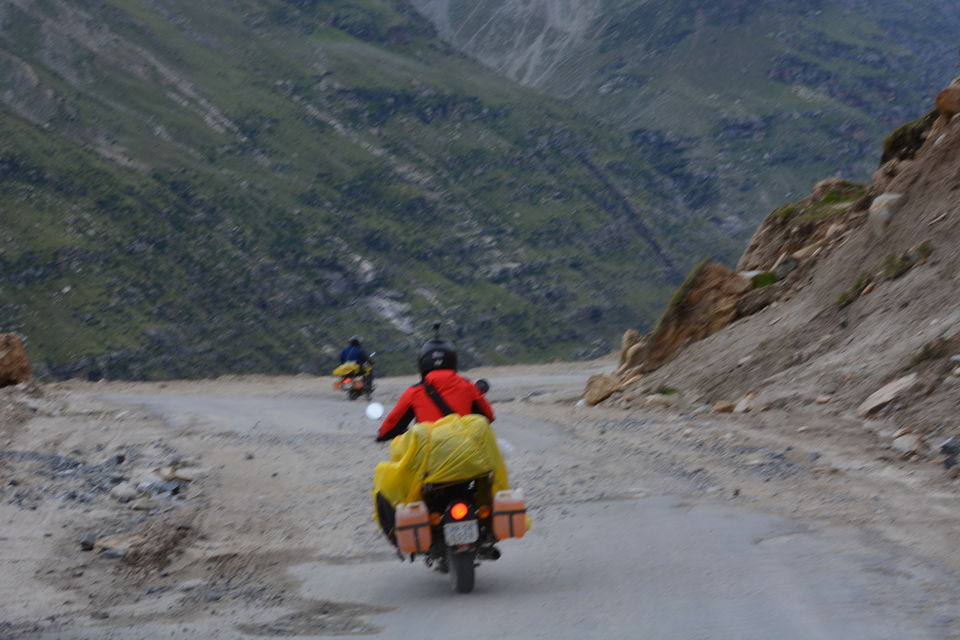 Tandi is the last filling station before Leh. The next petrol pump after Tandi is 365 km, so we had to tank up before we could move further. After gathering near the sign post that says "Next Petrol Pump 365 Km ahead" and having ourselves photographed, we continued on the rough road.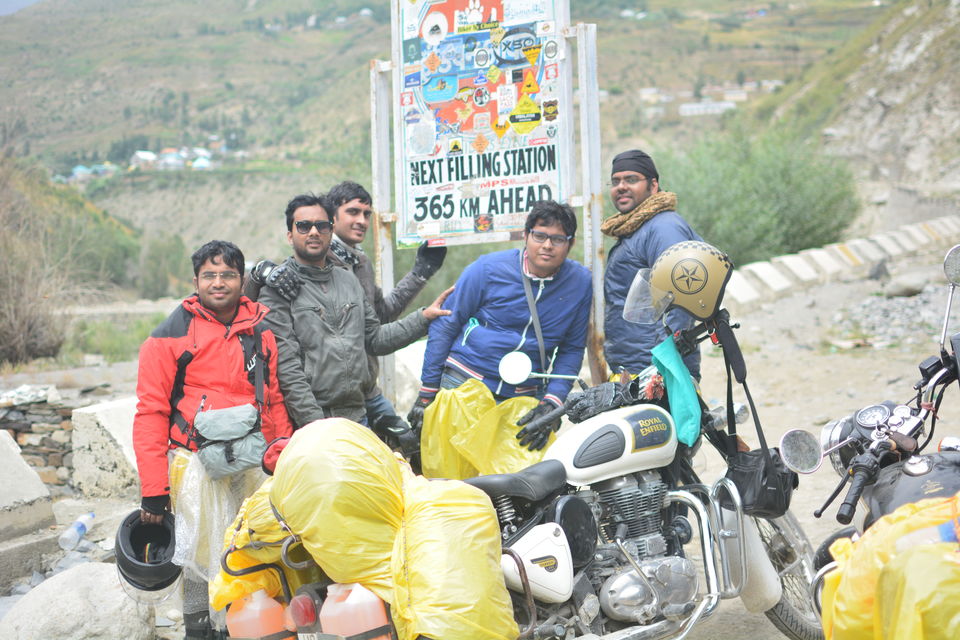 Keylong is another 8 Km from Tandi, but the road condition and the recent land slide has made us crawl through. Having covered first 120 km of the journey, by 1:00 pm, finally we reached Keylong. Keylong is the district head quarter of the Lahul and Spiti district. We had lunch in Keylong. After gathering quick updates about the road ahead, we got back on our bikes and rode. We were glad to know that the 70 kms out of 110 kms of our day's journey which was yet to be completed, was a good road.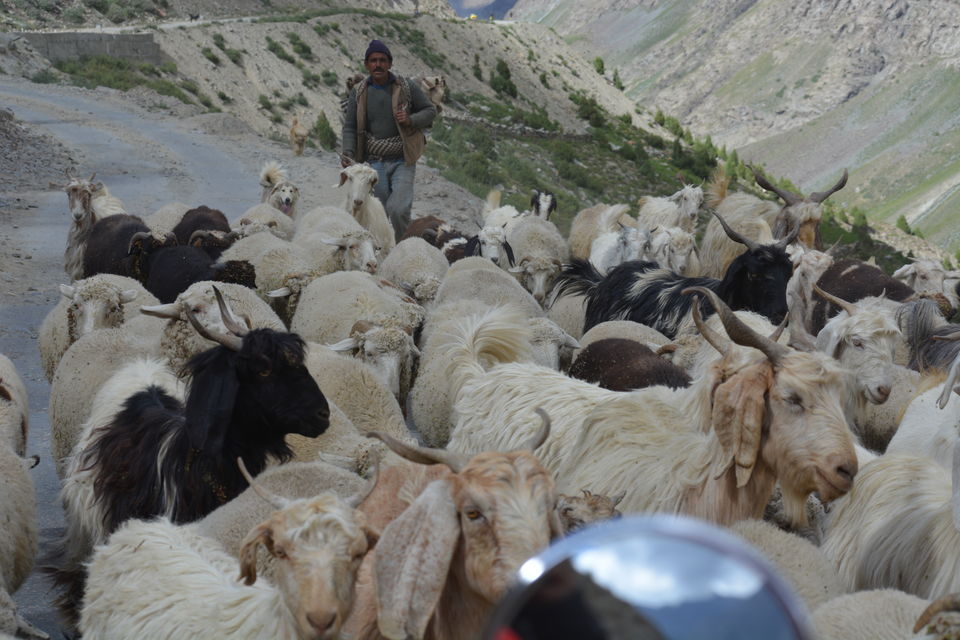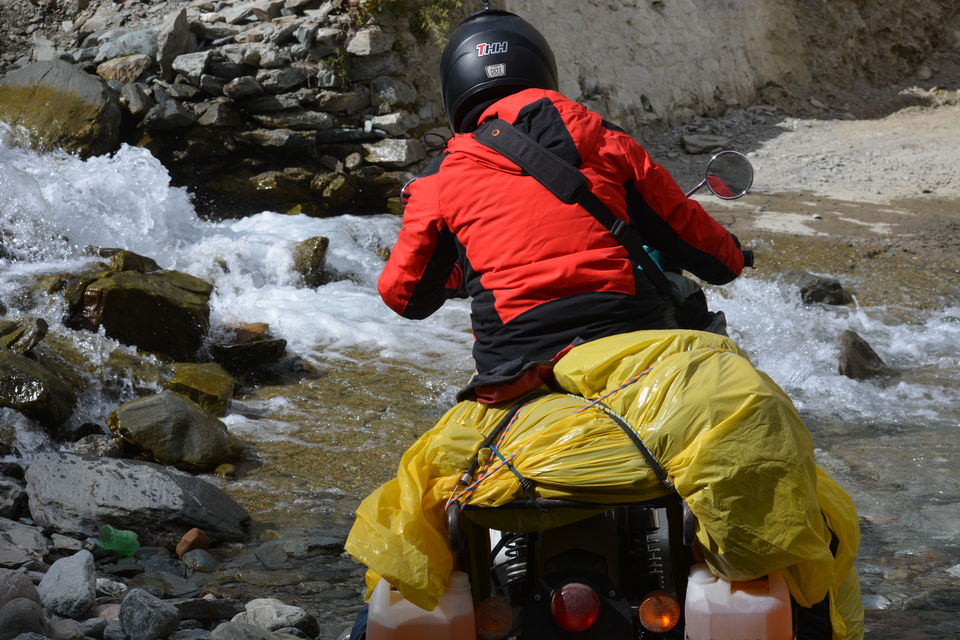 We reached Darcha which is slightly above 11000fts. After quick entries in a couple of registers, we moved further without wasting time. From Darcha would begin the climb for the first high altitude pass of the journey.. Baralacha La which is at 16043 ft to be very precise. Moving ahead from darcha the ascend would be steeper. In the next 40 Km we would be climbing more than 5000 ft. After a couple of hairpin turns and few kilometres of bad road, the road condition improved. There was no vegetation at this altitude, the hills looked like piles of rocks. The view was mesmerizing. On such type of roads, the sublime beauty of nature puts you awestruck. We crossed patseo, a small village and reached Zing zing bar.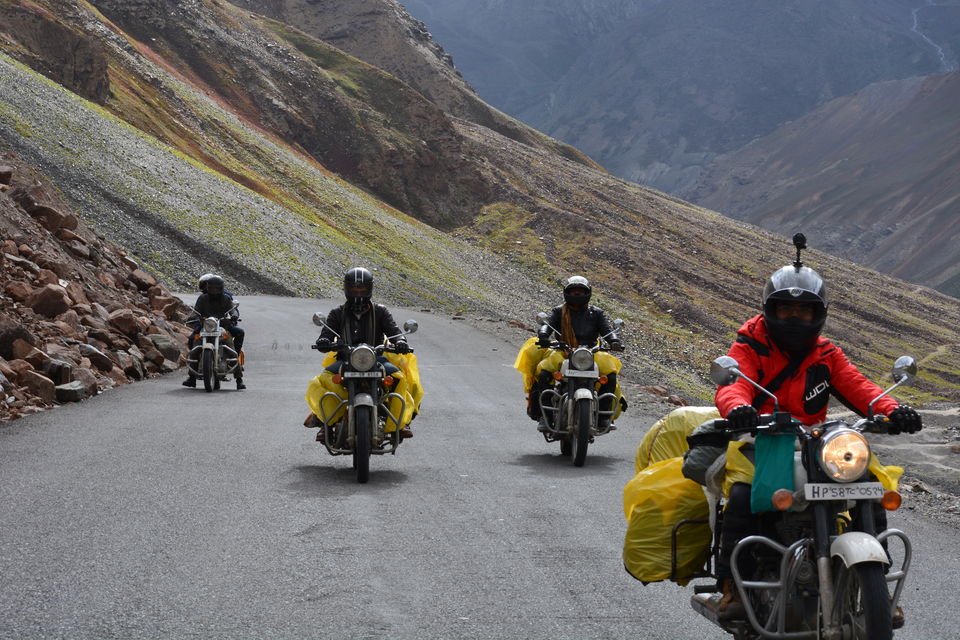 Zing zing bar is a small camp with a couple of tea stalls. Baralacha La was another 18 Km from there. The ascend would be even steeper with all hairpin turns. We didn't stop at Zing Zing bar as we were running out of time. Continuous ascend and the thin air had an effect on our bodies too. No one would even like to walk in that climate. Nearing to the pass, at 16000 fts is Suraj Tal lake. Three kms more and we reached Baralacha La.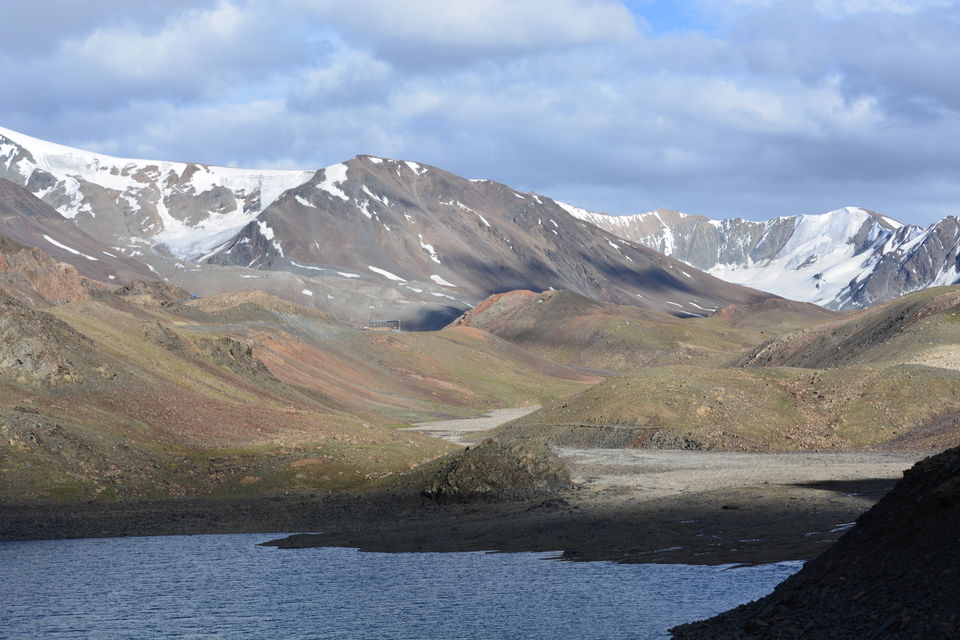 Baralacha La Pass at 16043fts is a high mountain pass in the Zanskar Range. It connects the Lahul District in Himachal to Laddakh in J&K. As suggested, we tried to spend not more than 5 minutes there. The air was thin, Diamox was in action and silence was so profound that you could hear yourself breath.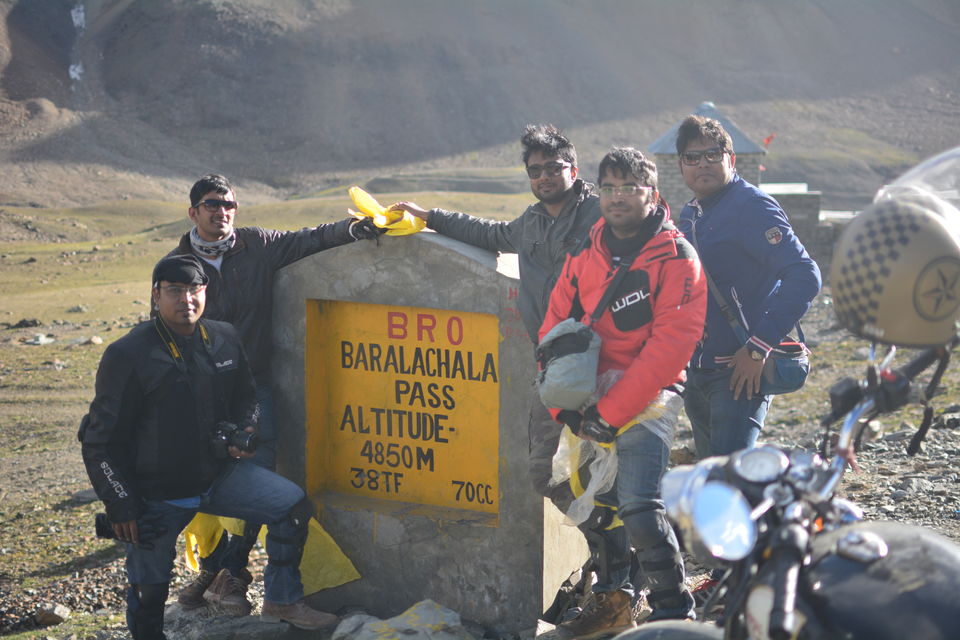 We left Baralacha La and moved ahead. Descending from the pass we halted a small road side Dhaba for some tea, which could keep us moving. All of us shared our bit of experience of the Baralacha La and ascend to baralacha la. One thing was common.. all of us were excited for what we were doing and anxious about what was to come. This is where you realise that was a good idea to not to join any tour group, rather do it on your own.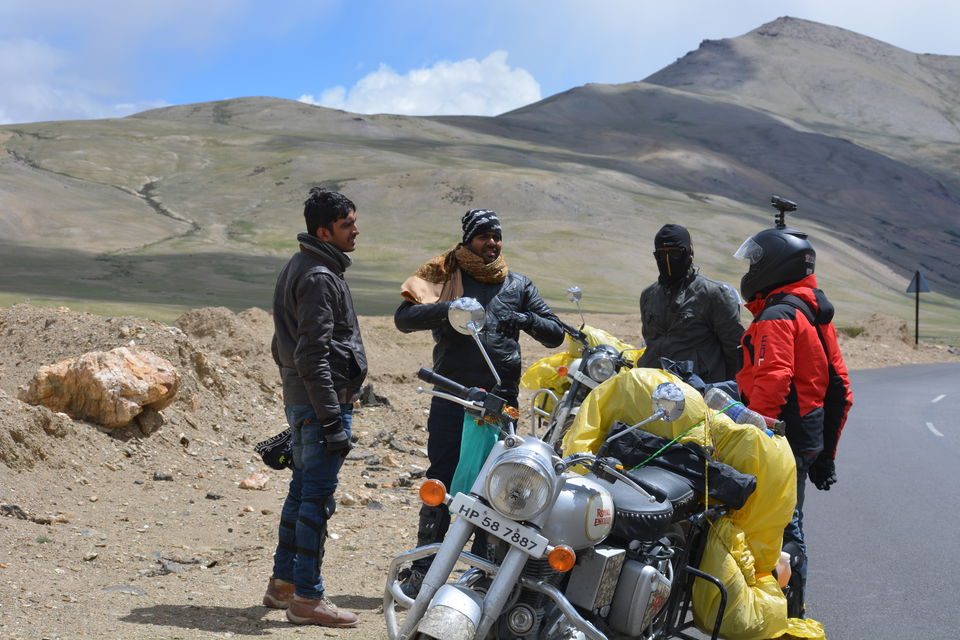 Sarachu was another 30 kms. The information that road ahead was not good and 3:30 pm in our watches, gave us a hint of fear. But with the enthusiasm "We will do it, it is doable", the fear turned into energy. We started again. Riding slowly on the rough road, through the humps and bumps of the road and occasional encounters with the Indian oil trucks, we kept moving. Soon the sun had started dimming. Evening was in. We knew we had to move fast, another 15 Kms seemed to be astronomical for we couldn't move any fast than 10km an hour. We reached our camp at Sarchu, at around 6:00 pm just as the sun was setting for August 21, 2015 was ending. The day when the 6 of us had endured to do something which will leave a beautiful memory and an ultimate experience with us.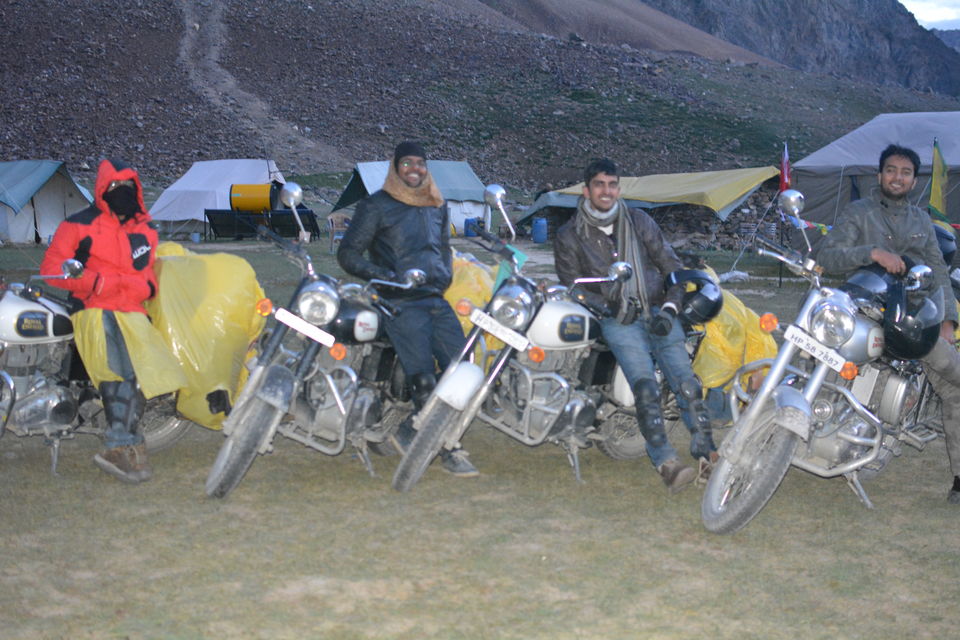 Having accomplished the Day 1 ride just in time, we were excited to see the sun set behind the mountain. Sarchu is a vast plain area surrounded by mountains from all sides. It was the toughest terrain where we were to spend the night. Accommodations available in Sarchu are camping tents, mostly full service tents wherein package includes evening snacks, dinner and morning breakfast. There were a few setups of such camps, mostly the tents were erected in a semi circular arrangement, with a common dining hall.
We parked the bikes and after a couple of photographs, we realised that it was colder than we expect. Temperature seemed to be sub zero, add to that the wind. After we unloaded the luggage, we made ourselves comfortable in the tent accommodation available there. After the hot tomato soup, which was served in our tents, we were still struggling to keep our selves warm. It was here in sarchu, that we had the effect of low oxygen content in the air, clearly visible. Unloading the bikes was tough, taking out the soggy wet shoes from the mountain stream en route was difficult. Even more difficult was to change clothes. Most of us didn't even took out our riding gear and slept wearing those. It was 8 PM when we were called for dinner. It was so cold that we somehow crawled in the cold and went to the common area to have the dinner. We had already dropped our plans for nightscape and star trail photography thanks to the cold. The night sky was crystal clear. Something we had not seen in years. I could remember my childhood days, when we in summers, we used to sleep under the sky, and during power cuts, when there was no inverter, the night looked that way. But, here in Sarchu, it was even more clear because of no pollution at such high altitude. It seemed that it was a campfire all that was needed at that moment, but we were sceptical that whether the fire be able to beat the cold. Hence it was decided to go and sleep, relax ourselves and prepare us for the next day's journey.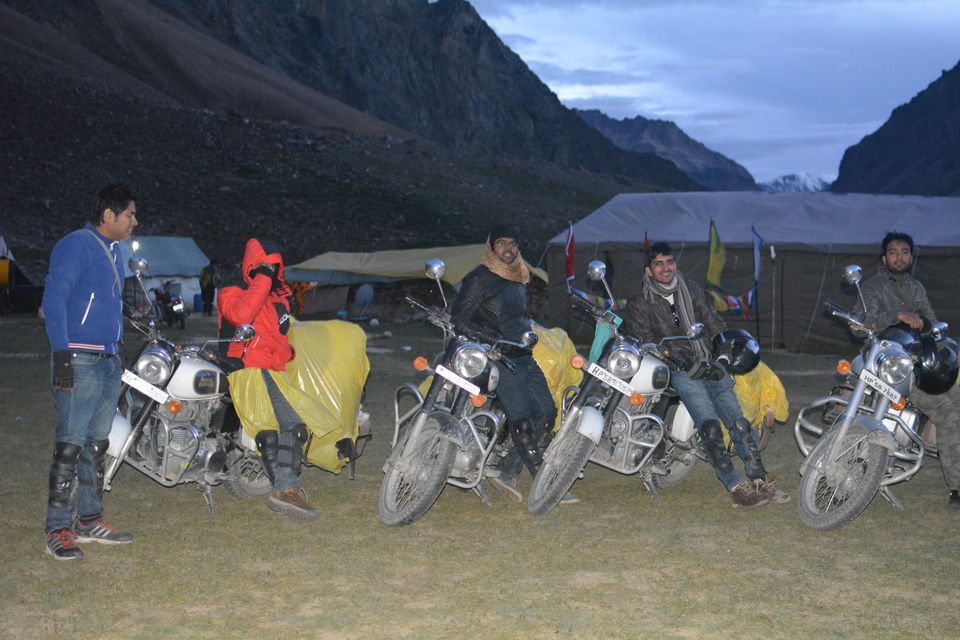 It was our first night at 14100ft altitude, the night was rather a scary one. Wind seemed to blow away our tents, add to that occasional breaks in sleep because of thin air. By morning when we woke up, all of us were feeling dizzy and headaches prevailed. Morning tea and breakfast came to our rescue. After breakfast we decided to start our next day's journey. It was already 8 am on the clock. We were kind of surrendered to the forces and decided to stay wherever we would reach by the evening, contrary to our earlier plan to ride to Leh on the second day.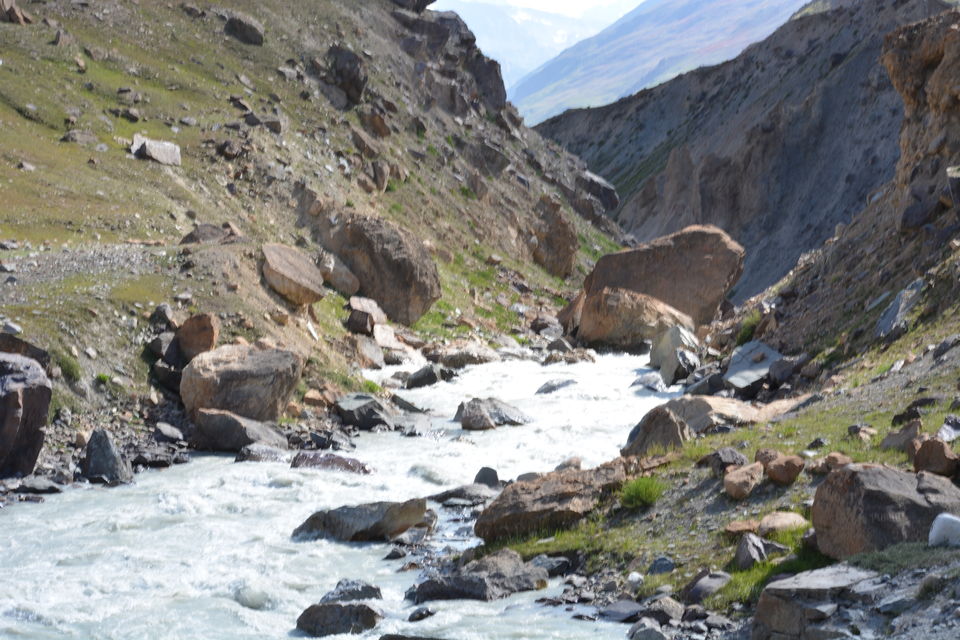 The road was still a challenge, after the first 15 Km we reached the Sarchu Checkpost, where we entered into Jammu and Kashmir. As we entered J&K, our exit from mesmerising Lahul & Spiti and to the far flung areas of Laddakh region. After a few kilometres of good road, we reached Gata Loops, the famous 22 hairpin turns that lifted you 500 m. By each passing hairpin turn, the road condition would deteriorate. We passed by Nakee La pass which is at 15500ft and LachungLa pass which is at 16616 ft.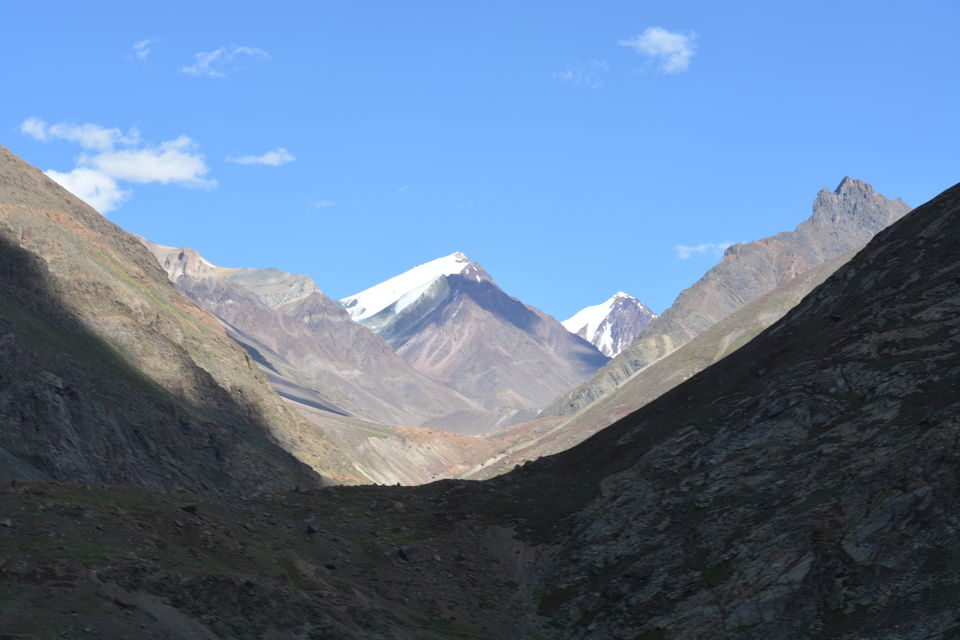 Our next stop would be Pang which is at an altitude of 15100ft. The distance between Sarchu and Pang is mere 80 kilometers, but is the worst road condition with steep ascends. It took us more than 5 hours to reach Pang. There was no road after Lachungla, just a pathway of dirt, created by trucks. It was an experience to ride in such conditions- Thin air, bumpy and curvy road, steep ascends and to add to all, the passing by trucks. Somehow, thumping across the bumpy road, we reached pang.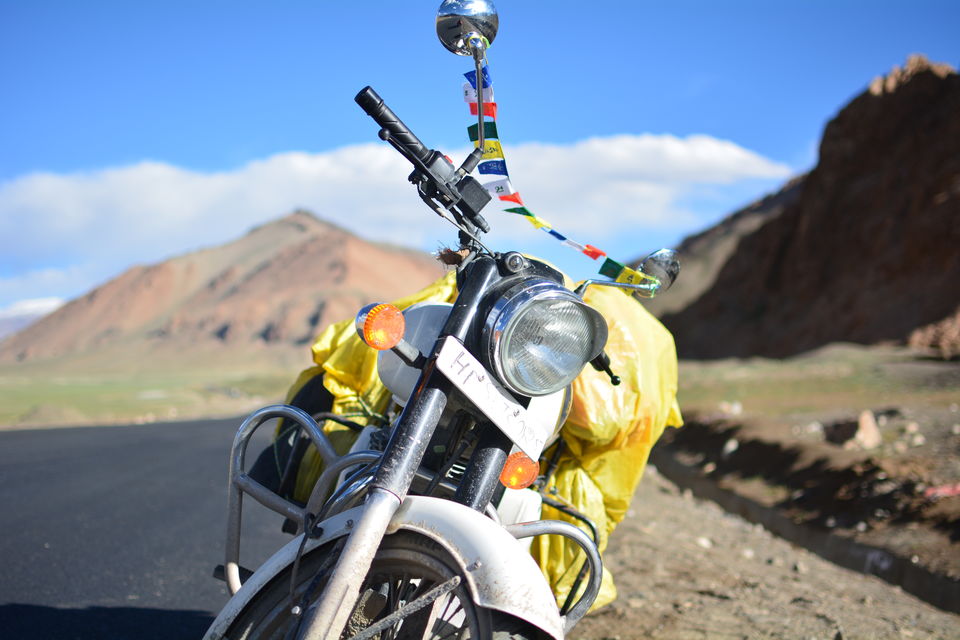 Pang is a small halt, at 15100 ft, just before Morey Plains. There are a few dhabas where you can get hot tea and snacks, and food with limited options. We decided to stop at one such dhaba called, Shanti Restaurant. We were about to get such a good hospitality that best of the best hotels may not be able to offer.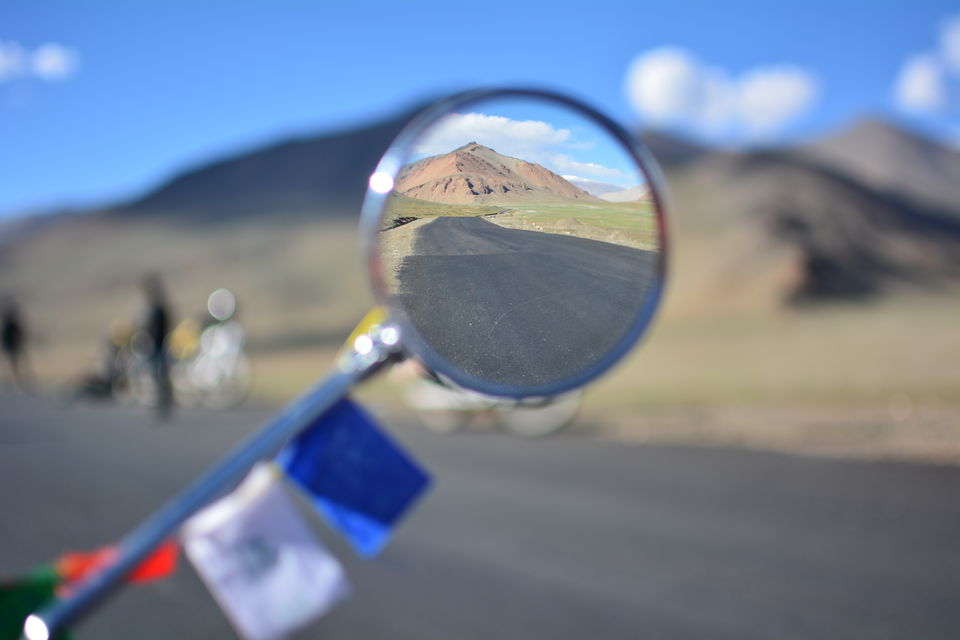 Shanti restaurant, run by a lady named Shanti, as soon we reached there, we were offered water to freshen up. The stove was lit so that we may feel warm and comfortable, we ordered Tea, Omelette and noodles. After a short break, we started again, having a notion in our mind that on our return journey, we will stop there again.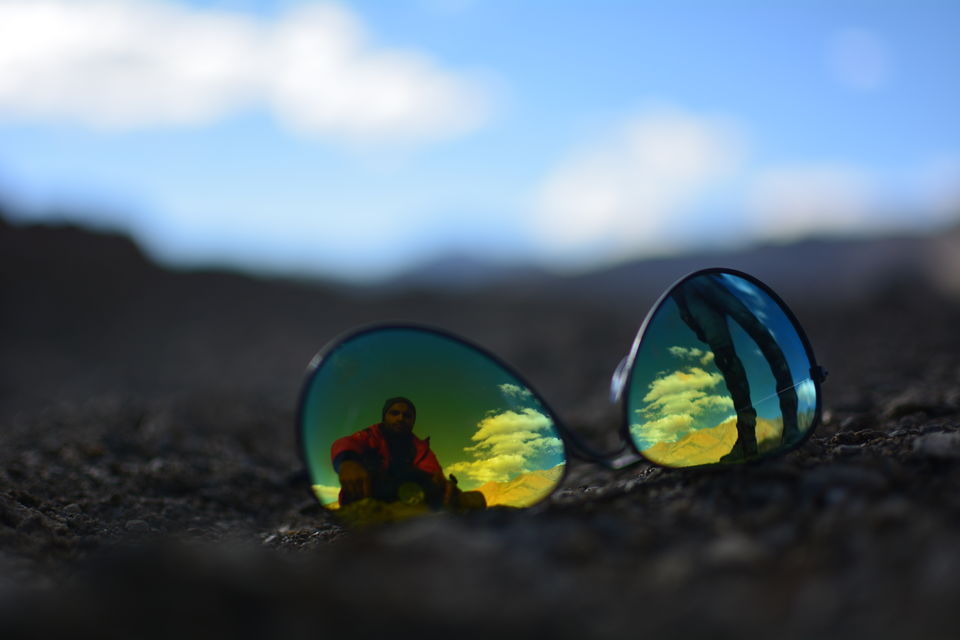 After a couple of Kilometers from Pang and a few hair pin turns, we were on the Morey Plains. The Most beautiful place we had been in our life time. Morey Planes is a plateau region at an altitude of 15500ft. The road is amazingly good. And the stretch of 50 Km is the Bikers' Heaven. Cruising at 80-90 Kmph, we covered our lost time. Good road, cold breeze, mesmerising view... what else does a biker need. We cruised through morey plains in little less than an hour, we reached the point fromm where the climb for Tanglang La started.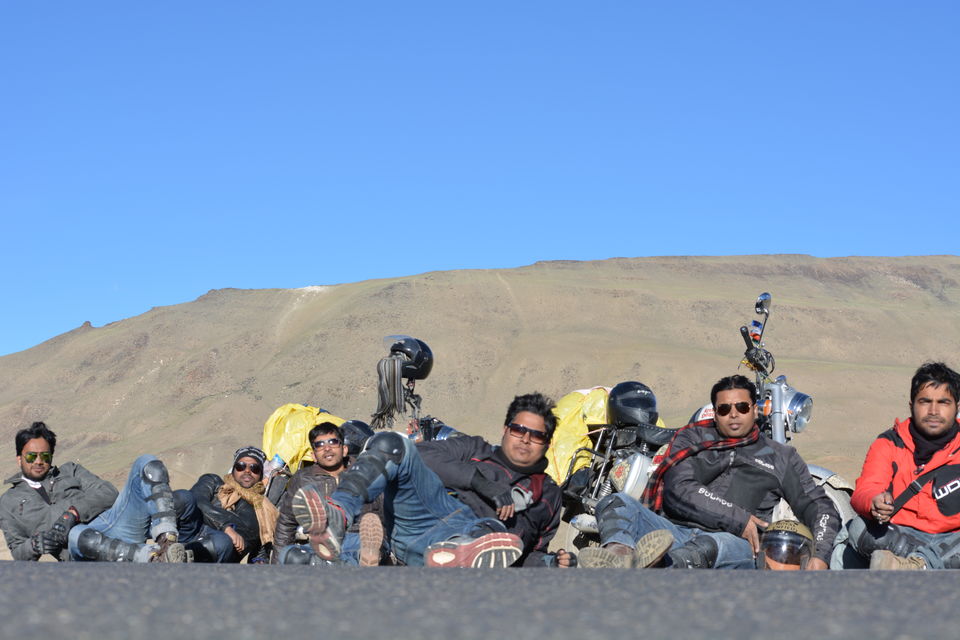 This was a 18 km streach and was going to be the scariest part of the ride. Initial few kilometres, the road was good, but as we were gaining altitude, road condition deteriorated. The Tanglang La pass which is at an altitude of 17480 ft was 3 km ahead. And then it started raining. It was getting difficult to keep our enfield running as visibility became only a few meters. As we traversed another 500m on the road, the rain drops turned into fine flakes of snow. It started depositing on helmets and gloves. With another 2.5 kms ahead to reach the pass, we all were scared as it was freezing cold. All of us were shivering despite our heavy woollen clothing.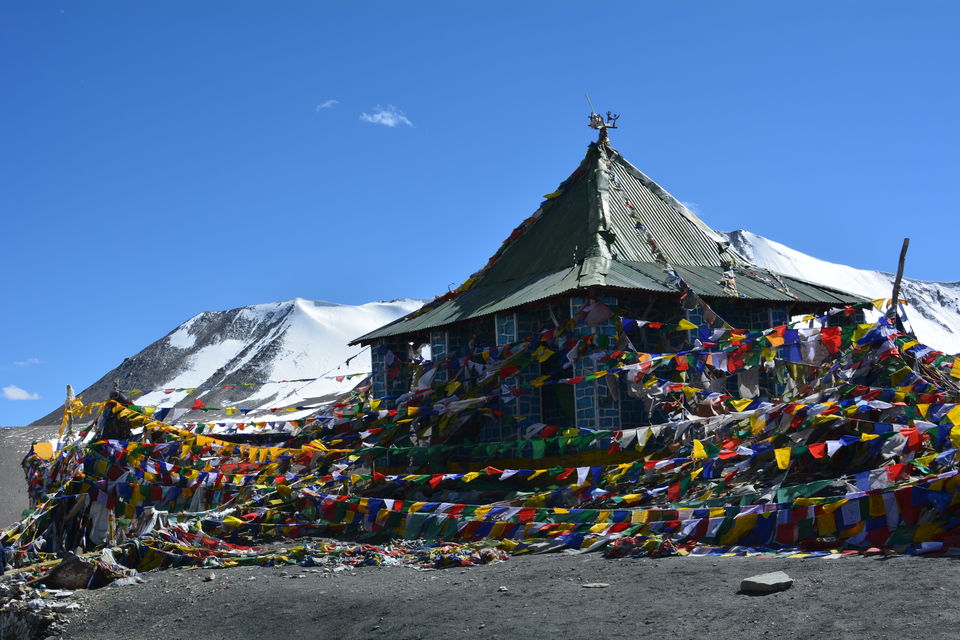 Wiping off snow from helmet, and trying to follow the tail lamp of an Indian Oil truck which lead us, we reached the pass. By that time it started to snow heavily. We recognised our fellow bikers by the yellow plastic sheet which covered the luggage. And then came into our vision a temple atop the pass. We rushed into the temple in an attempt to get shelter from snow and keep us warm. The snow was accompanied with cold winds which was not more than -6 degrees. We were hiding behind the temple, to save us from the chill. And then a truck driver came, who stopped by as nothing was visible on the road, he brought with him a rug and some diesel to burn it and provide us some heat to warm us.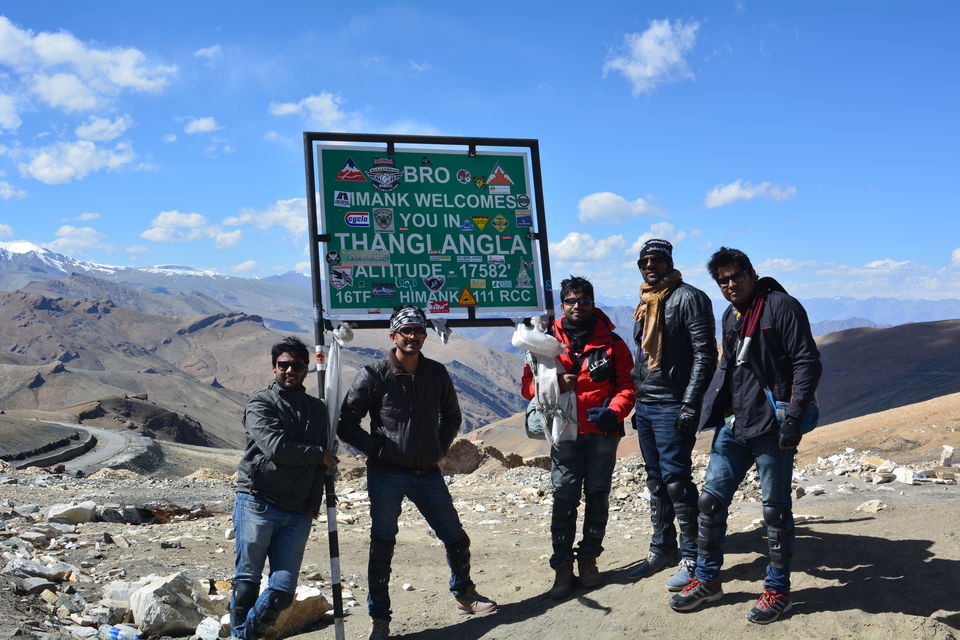 After a good 15-20 minutes snowfall stopped. Entire area was covered by a layer of white snow. We were back on the roads. On the leeward side of the Zanksar range, descend was rather easy. We were reaching Upshi, a small village from where descend ended. After a break for tea and some snacks, we headed northwards, towards Leh.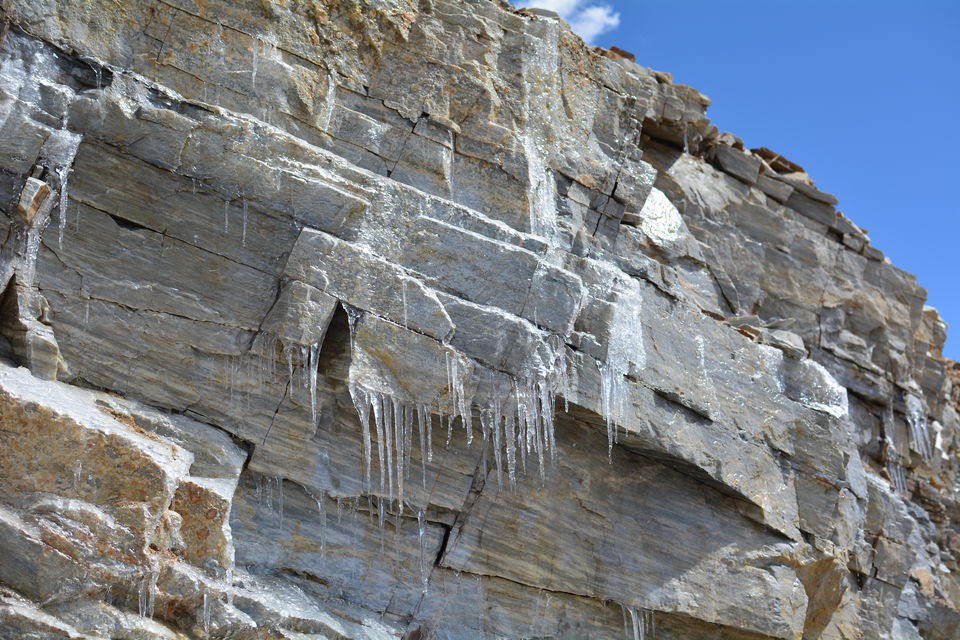 16Kms more, and after crossing Indus river, we reached Karu. It was time to refill our tanks as it had been a more than 300 km without any pumps. We tanked up and cruised along the next 35 Kms to Leh. Road was good alongside the Indus river. Rays of setting Sun made our shadows longer, and another adventurous day was coming to an end. We reached Leh just before sunset and checked into our guest house.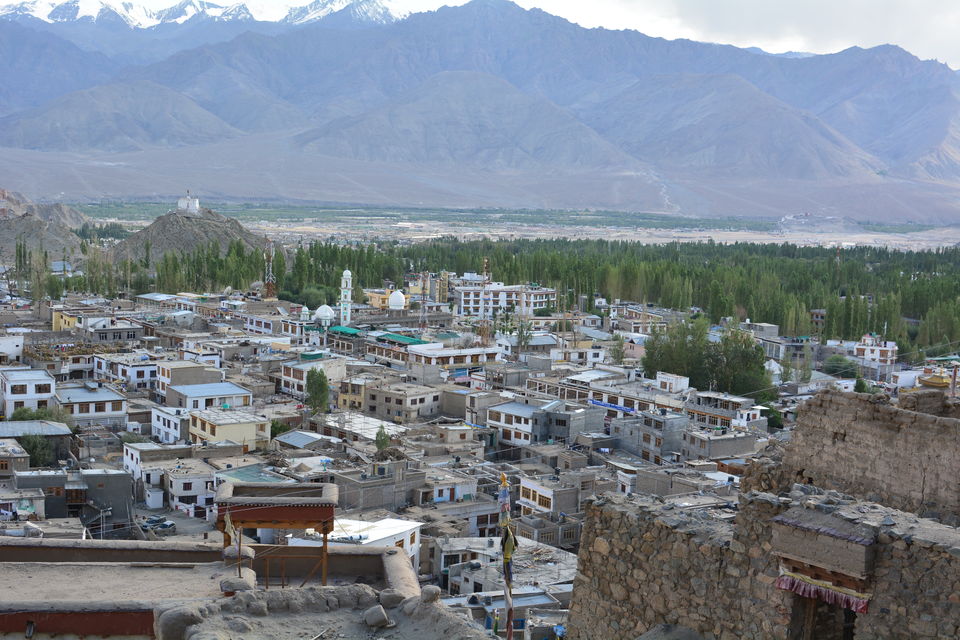 The open road is a beckoning, a strangeness, a place where a man can lose himself. Half the fun of the travel is the aesthetic of lostness. In Himalayas, you realize yourself to be so small; all you have is gratitude towards the nature and almighty. When you have lived life on its edge, you value it more. Our deeds still travel with us from afar, and what we have been makes us what we are.