PANGONG TSO
The morning of Pangong with all its freshness and serenity had mesmerized me so that I had forgotten about trivial things like time while sitting on the banks of 4400m high fresh water lake. I now realized that clock had already stuck 8. My friends had woken up and were photographing the stunning scenery framed by the blue lake and hills behind it. I finally made up my mind to leave the warmth of my quilt and embrace the chilly air outside the camp. My shoes were still wet after riding through the water crossings, the day before. My bare feet were going numb just as the shining blue water, engulfed by the hills, dazzled my eyes. The whole setting looked like from a Peter Jackson movie. The lake, already having featured in several Bollywood flicks, has become the predominant tourist destination in the Leh circuit. Even the camps were named after the movies like "3 idiots" and "Jab tak hai jaan". Located on Indo-China border, the lake runs 45 Kms in India and 55 kms in China. As I walked beside the lake, an army helicopter took off from the nearest army base and started circling over it. The mercury crept up to 5-6 degrees after sunrise, having stayed sub-zero during the night. I tightened the scarf around my neck as I started to think about the day we rolled on to our journey.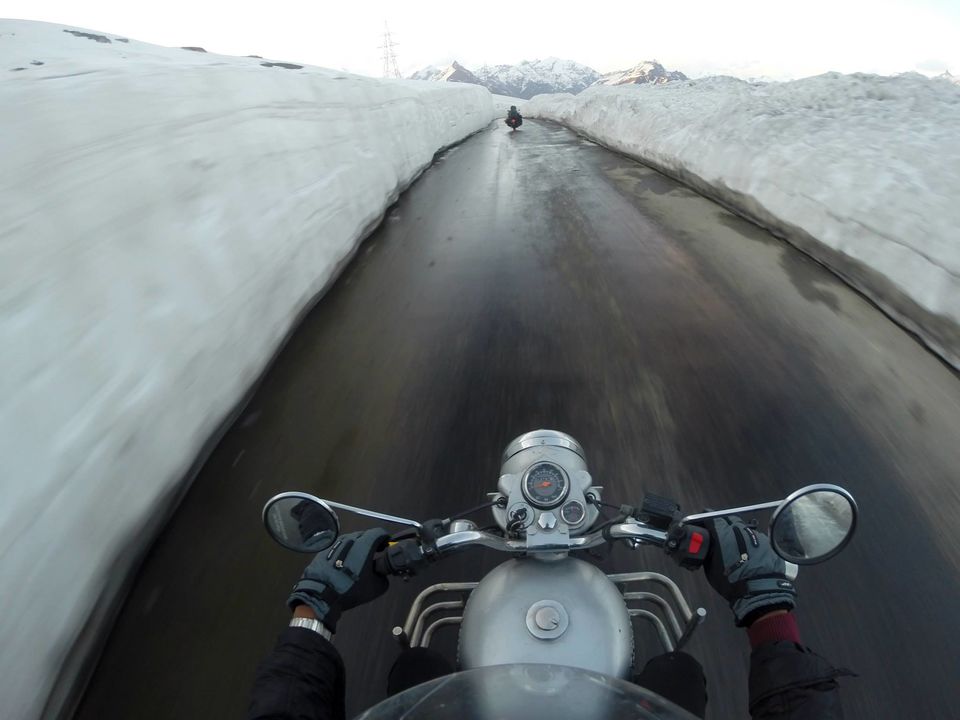 The scorching heat of Delhi was hard to imagine once I had acclimatized to the pleasantly chilly climate of Ladakh. The first day had been the toughest as we battled the summer heat of the northern plains. The journey became exciting once we reached Mandi. It started raining so heavily that even our raincoats couldn't keep us from getting drenched. Reaching Manali had almost become an impossible task in such mad weather and we were apprehensive that heavy snowfall might have closed Rohtang pass. Luckily, Manali was dry and this got our spirits high. Old Manali definitely enjoys amongst the most festive atmosphere in Himachal, with cafes and lodges giving shelter to hundreds of foreign tourists dancing and relaxing, some playing music and singing while some get high on wine and weed. Next morning, we were already racing the clock and the traffic in Manali didn't help. By the time we headed for Rohtang on our Enfields, the sun was already on its way down and by the time we crossed it safely the sun was kissing the horizon. The snow walls were still high and narrow and created a bottleneck for the thousands of visitors in their cars. We, being on bikes, somehow squeezed our way through several traffic jams to reach the 4400-meter high pass. Reaching the Rohtang Top after all the hassle filled us with a feeling of triumph. Rohtang has claimed many lives since early times that have established it in local folklore as possessed by evil spirits. To appease the mountain spirits and ensure safe journey, Buddhists erect rock cairns called ovoos, which are essentially a pile of rocks tied with mantra flags, at the peaks and passes. When you are riding through the narrow strip of road between the ice walls and the moonlight is shining off the white snow, the devilish beauty of rohtang distracts you from the road. Roads worsen once you start descending Rohtang, which is no easy task during the day, even less so during the night. After two dreadful hours of driving on muddy slopes in complete darkness, I was overjoyed at the sight of a small dhaba as we entered Jispa village.
The heart and soul of adventure lies in these moments, when you feel closer to life after flirting with death. For the people driving bikes on this route, there is no shortage of adrenaline. After Rohtang we encountered 4 more passes, one of them the third highest pass in the world climbing to a height of 5300 m. It was named Tanglang la but it was less prominent as compared to Bara La cha, the most daunting pass on the route and the one I found most beautiful. Just 3 km short of Bara-lacha-la while you are in Lahul valley, on the right is a frozen lake. It is the stunning and beautiful Suraj tal, the origin of Bhaga River which is a tributary of Chandrabhaga River commonly called Chenab.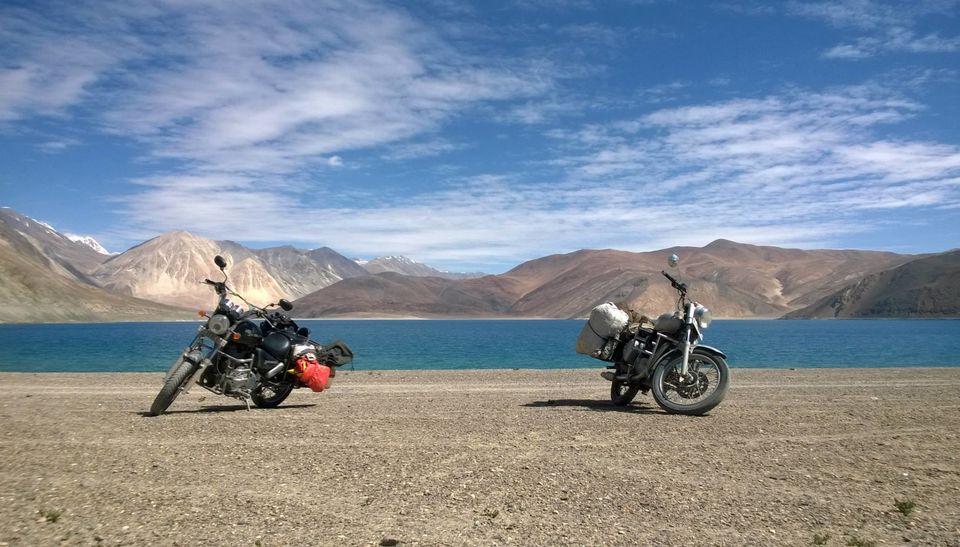 The pass itself is 8 kms long and is hidden in snow. The road at the top is so narrow that traffic jams are a common occurrence. Patience is the key when you are stuck in a traffic jam at the height of 4800 m. While we were stalled, I grabbed the opportunity to have a little chitchat with some fellow commuters. The army was doing the clearance work along with some truck drivers. One of the truck drivers I was talking to traverses this route every 15 days to transfer supplies. When I told him about our bike trip he dismissed the idea. For him riding a bike on this route was sheer madness. The beauty, the adrenaline, the whole experience that had enchanted us, for him this path was nothing more than a means to earn a livelihood. An army guy from Rajasthan standing nearby had been in this area for the past 2 years. His thoughts resonated with the truck driver's thoughts. Though he did not completely dismiss the sense of adventure but he would never allow his children to tread these paths, he said.
Life is hard when your food consists of vegetables frozen so hard that they can be used to smash the enemy's bunkers. A family was returning from Laddakh. They had come to Leh by air and decided to add some spice to their trip by taking a taxi to manali. By their disheartened expressions, it seemed they had lost the enthusiasm after being stalled for more than two hours. A 50 year old French couple was cycling on this route which was amazing, for me who was half their age, had started to feel drowsy at the top due to low oxygen levels.
All these people were on the same journey but their motives were different and even more different were their perspectives. Even at that summit of crossroads, you could meet people from all walks of life.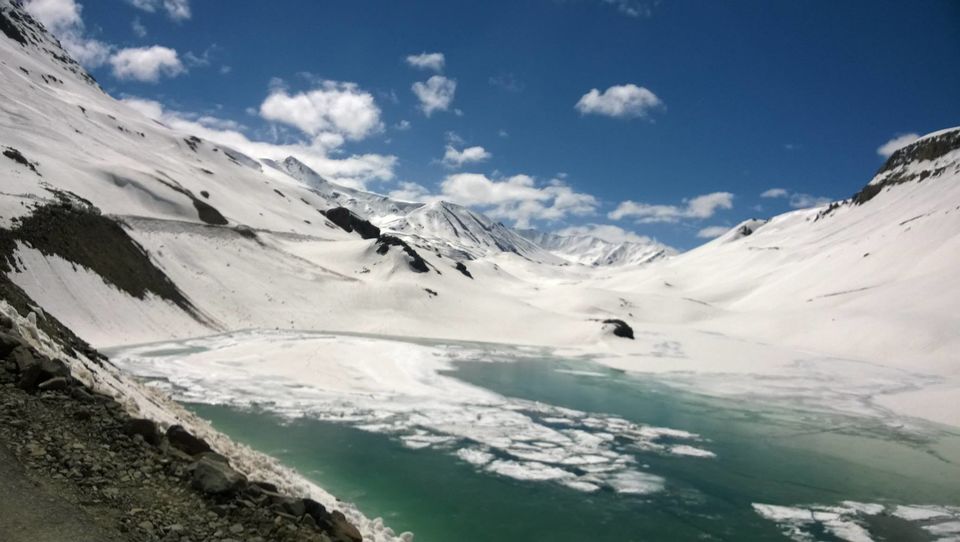 Our next stop was Sarchu which was a small camping site. While descending Bara lacha la, sludge of mud and ice makes biking very adventurous and the sunlight glazing from the snow – fields in the valley gives a paradisiac appearance to the scenery. Several camps are located at the small ice field at the bottom of the valley where we stopped for some snacks and tea. We reached Sarchu in the afternoon but that was the only distance we could traverse since one of the bikes had been punctured. There was no puncture shop till Pang, which was 80 kms away. Luckily, we found a guy named Alex who helped us fix the bike. Alex was an American, once a mechanical engineer in US but living in India since the past 10 years. He was tall, his clothes were dusty and he lacked the aura of sophistication that most foreigners carry. He knew these mountains as well as any local. He had left his job, married to an Indian girl and settled in Manali (solely for his love of mountains), and was living the wild and wooly life of a traveler. The way these mountains charm some people is incredible.
A sudden noise brought me back from my thoughts. The lake was still calm and blue. The noise came from the helicopter that had returned from its patrol and was now landing on a ledge nearby. Some bikers were circling beside the lake, clicking pictures. I returned to camp and ordered a cup of coffee. The sun was still rising lazily from behind the hills. As I sipped my coffee, a weary man came to me asking help to fix his bike. My friend, who knows about these things a little more than me, offered to help. As I watched them fuddling with the bike, I pondered about us when we were in the same situation three days ago. The two most crucial lessons I learnt on this trip were to be familiar with the ropes of bike repair and to always carry a proper kit for repairs, for a piece of thorn or a nail can puncture your bike tire along with your zeal and enthusiasm. A group of people were carrying some barrels of Chaang which is a locally brewed beer made from barley. I had wanted to taste this local liquor but now was not the time. We decided to put pedal to the metal and return to Leh since the weather was getting deceptive. The road between Leh and Pangong goes through Chang-Thang plateau and a pass named Chang La (5360 m).
Several army posts are located on the way. The road is constructed and maintained by Border Road Organization (BRO), which has done a great job not only in maintaining the road but also in putting up some very innovative and tongue-in-cheek one-liner caution boards throughout the way. One of them read, "Be gentle on my curves", and the other one -"Feel the curves, do not test them". Riding through Chang-Thang reminded me of our ride through Moore plains, which is a stretch of 40 Km between Pang and Tanglang la. It is at an average height of 4000 m and flanked by mountain ranges on both sides. After all the twists and turns, speeding at a100 kmph on that straight-as-an-arrow road felt like nature's reward for all our hard work. Chang Thang's road was loopy unlike Moore but the valley was just as wide at some places giving a great panoramic view.
GETTING LEH'D
As we were entering Leh, the valley got wider. Indus, the river around which one of the oldest civilizations of the old world had flourished, was gushing at its full strength. Watching the historical river, I felt how miniscule and insignificant my role is in this play featuring all-encompassing space and time. Laddakh, ethnically more similar to Tibet than Kashmir, was established as a Himalayan kingdom after the breakup of Tibetan Empire in 842 AD by Nyima-gon, a representative of the ancient Tibetan royal house. Leh was its capital and an important stopover on the trade route along the Indus Valley between Tibet to the east and Kashmir to the west. Presently Leh is the second largest (area wise) district of India after Kutch. 15 kilometers before Leh, you come across Shey Palace, which stands looking over a cliff, and you experience a blend of cultural and natural heritage. This blend can be seen throughout Leh as most gompas (monasteries) are built to perch precariously on lone rocks or craggy mountain-faces. Monasteries like Shey, Thiksey, Hemis, Spituk and several others preserve the rich ancient culture of Buddhism in the form of precious manuscripts and old Buddha statues. There are many hotels in and around Leh but if you really want to experience Leh more intimately, make your abode at one of the home-stays to get acquainted with the contemporary Laddkhi ways and mannerisms. The markets in Leh are as colorful as laddakhi culture. T-shirts with quotes like 'My friend got Leh'd!" can be seen around the market but the item that is Leh's forte is the thin and soft wool, from the inner coat of hair of Laddakhi goats, called Pashmina. You will also discover the most imaginative cafes in Leh, hidden down unlikely footpaths with variety of cuisines ranging from continental to Asian, including local laddakhi food. After dinner, we strolled to a café where some locals were sitting around a campfire, watching the FIFA world cup while downing beer. There, with my calm and content spirit, I felt peace like never before. I wanted to savor these last moments in Ladakh as much as possible, for the next day we would leave, not the empty vessels we came as, but filled with a montage of experiences to savor for a lifetime.