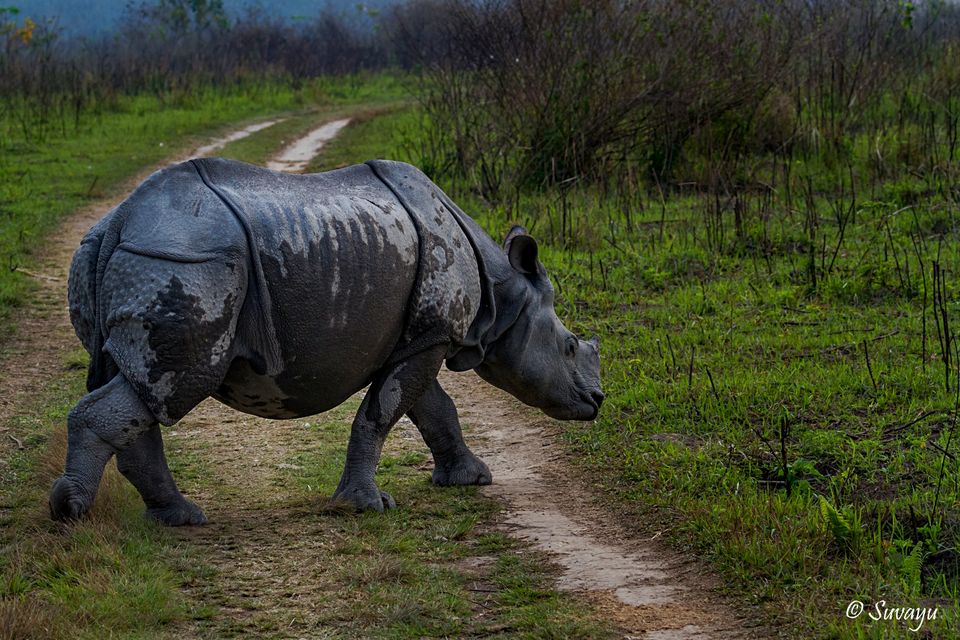 Against the backdrop of the Eastern Himalayas, where wooded hills give way to alluvial plains and tropical evergreen forests, Manas National Park in Assam is the only landscape in the world where pristine Terai grasslands can be seen merging with the Bhabhar grasslands. It is contiguous with the Royal Manas National Park in Bhutan. The name shared by both national parks is derived from the tumultuous Manas river that swirls down the rugged wooded hills.
Declared a World Heritage Site by UNESCO in 1985, this national park harbours the most number of endangered species mentioned in the 'IUCN Red List' from India – including tigers, elephants, One-horned Rhinos, the Assam Roofed Turtle, the Hispid Hare, Capped and Golden Langurs, and the Bengal Florican, to name a few.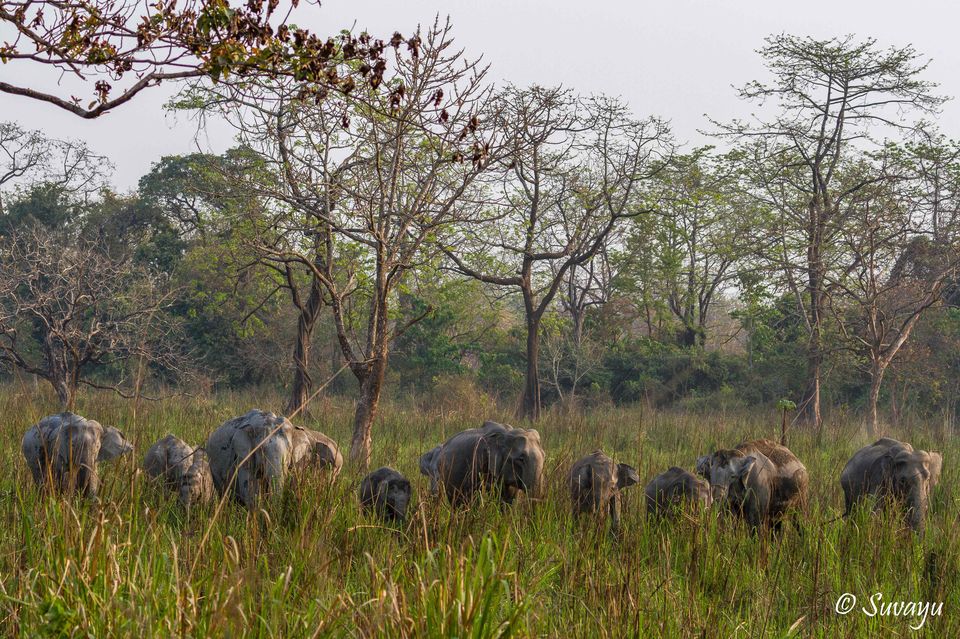 During March this year I rode my Caravan to Manas. A slim span of two and a half days though, but my lenses could kill a life time of what is called "Beauty engraved in Peril". Mentioned below are a handful of my strides:
Bengal Florican (IUCN 3.1 – CR)
Indian Hog Deer (IUCN 3.1 – EN)
Great Hornbill (IUCN 3.1 – NT)
Indian One-horn Rhino (IUCN 3.1 – VU)
Capped Langur (IUCN 3.1 – VU)
Wild Water Buffalo (IUCN 3.1 – EN)
Sultan Tit
Black Napped Monarch
Brown Oriole
Red Jungle Fowl
Indian Peafowl
Khalij Pheasant (Male and Female)
Pygmy Woodpecker
Grey-winged Blackbird
Asiatic Elephant (IUCN 3.1 – EN)
Rose Breasted Parakeet
Black Giant Squirrel (IUCN 3.1 – NT)
Asian Barred Owlet
Smooth Coated Otter
Osprey
Fish Eagle
Changeable Hawk Eagle
Common Hoope
Emerald Dove
Racket Tailed Drongo
Silver-breasted Broadbill
Long-tailed Broadbill
Black Drongo
Scarlet Minivet (Both Male and Female)
Crested Serpent Eagle
and The R O Y A L Bengal Tiger
Below are few of the images from my trip..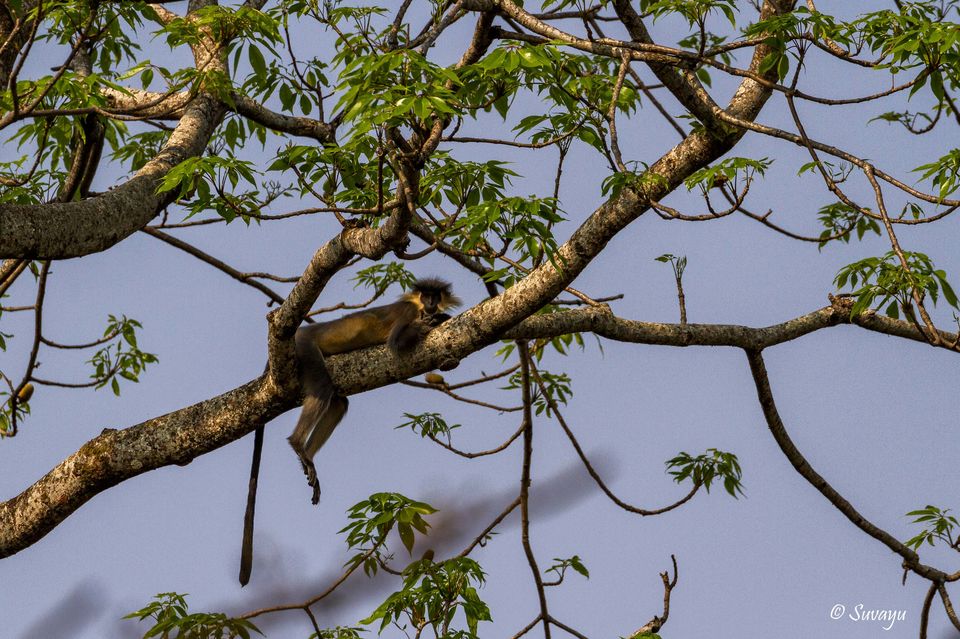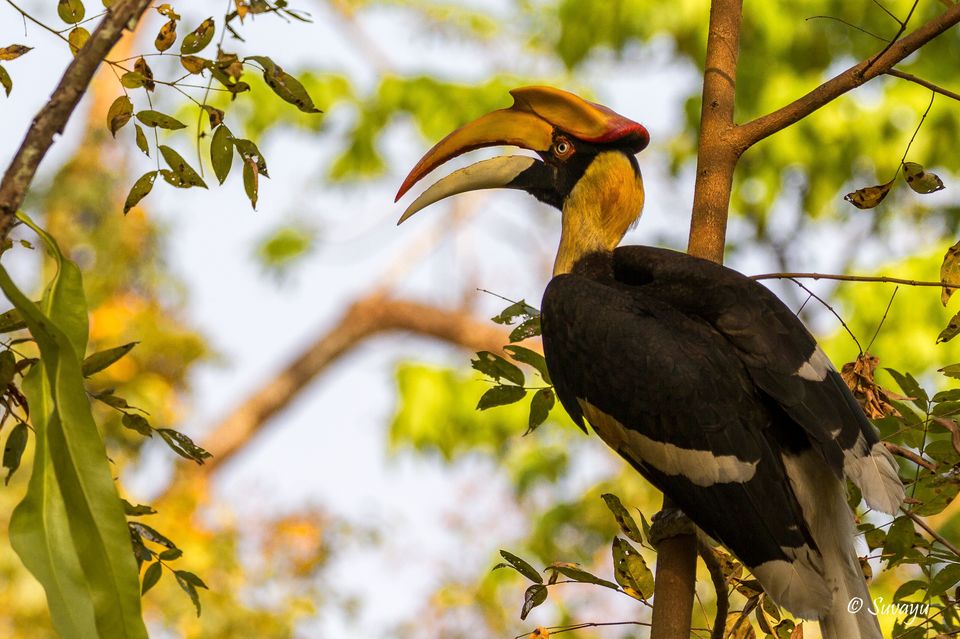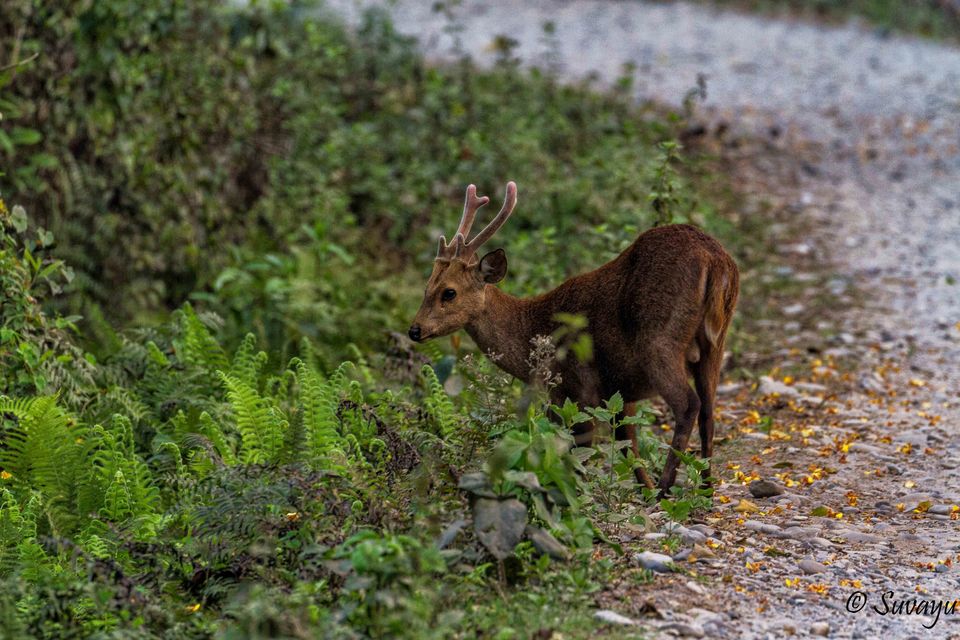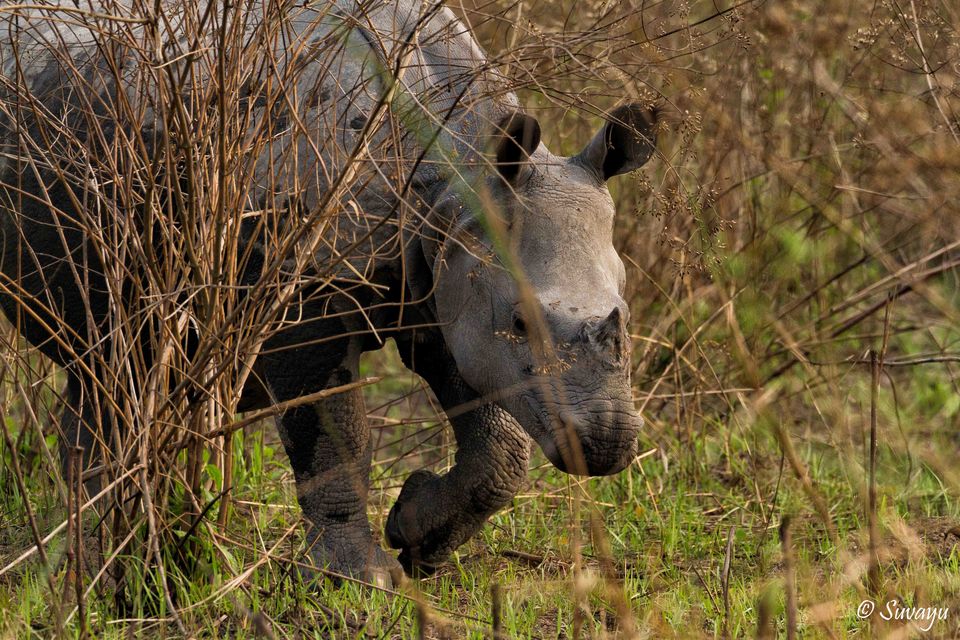 My guide story on Manas National Park has already been published in one of the prestigious online wildlife magazines of India - 'Nature In Focus'. Please find below the link of the same - Guide Story on Manas National Park. You would get very useful information in that guide.

For more photos please check my blogpost on Manas - Mesmerizing-manas-a-true-eden-of-natural-biodiversity. 
Few Information on Manas National Park:
How to reach:
By Air: Manas NP is well connected by road to its nearest airport (LGBI) at Guwahati, Assam; the distance is 180 kms approx. There are regular flights from Bagdogra, Kolkata, New Delhi, Mumbai, Bangalore, Chennai, Jaipur, Hyderabad, Goa, Dibrugarh, Jorhat by Indian Airlines (Air India), Jet Airways, Jetlite, Indigo, spicejet & Go Air.
By Road: The National Highway No. 31 adjoins Barpeta Road which is 22 kms to Bansbari (entry point of Manas NP). Manas is also well connected to Siliguri and Bagdogra by road. The distances are
Siliguri to Manas NP: 326 Km
Bagdogra to Manas NP: 335 Km
By Train: Guwahati is gateway to the North East India. All major cities of India are well connected to Guwahati including Rajdhani Express. There are several trains heading to Guwahati that stops at Barpeta Road Railway Station, which is 22 kms to Bansbari.

Stay at Manas:
There are several resorts near Manas but the best one is Mothanguri FRH, situated on the bank of Manas river that divides Manas Nation Park and Royal Manas National park of Bhutan. In fact this is the only accommodation available inside the forest and that to in the core area. Needless to say that the view from the balcony of the lodge is breathtaking.
Booking Information:
Field Director, Manas Tiger Reserve, Barpeta Road -781315 Tel.- (+91) 3666-261413(O), 260288(R), 260289(Control Room) Fax – (+91) 3666–261413
Dy. Field Director, Manas Tiger Reserve, Barpeta Road -781315, Tel.- (+91) 3666-260289 (Control Room), 260338 (R) Website: www.manasassam.org
Please remember, this place is not meant for luxury hunters. The amenities are basic. There is no electricity during daytime though the place runs on Solar for few hours after dawn. You may get few hours to change your Camera. Food is also too basic. You get local rice with a fry, Dal, one vegetable curry and choice of egg, chicken and fish (though mostly you get an egg meal).
The one where I stayed was Birina Eco-camp in Fatimabad Tea Estate, just 10 to 15 minutes from the gate of Manas National Park. It's basically the bungalow of the then directors of tea estate, converted to the resort later on. The property is really good. The rooms are specious with all modern amenities, all the stuffs are very cordial, helpful and the food is of really mouthwatering taste.
For booking you can get in touch with Rupam Mukherjee. Phone: (+91) 98306.54492 / 84207.73373
Any suggestion are gladly welcome..
Best....