In the month of January, I planned to visit ancient city of Ujjain, Madhya Pradesh. I reached Indore, nearest airport, by evening and took a cab to Ujjain. But I completed my Mahakaleshwar and Omkareshwar darshan in one day. I had full one day in hand before my return flight. The cab driver suggested me to spend my day at Mandu, just 100 km from Omkareshwar. I was doubtful because I had no knowledge about the place. But driver assured me that it's safe and worth a visit. All excited to explore a new place, I agreed and we started our journey towards Mandu in evening.
It was a wonderful ride until we entered dharam puri road, after which it got scary. I wanted to check GPS if we are on route but beauty of GPS – it does not work when most needed. I was regretting my decision. I asked the cab driver if there are any decent places to stay and confidently he said- "O! yes. Plenty." At around 9 pm, I reached hotel.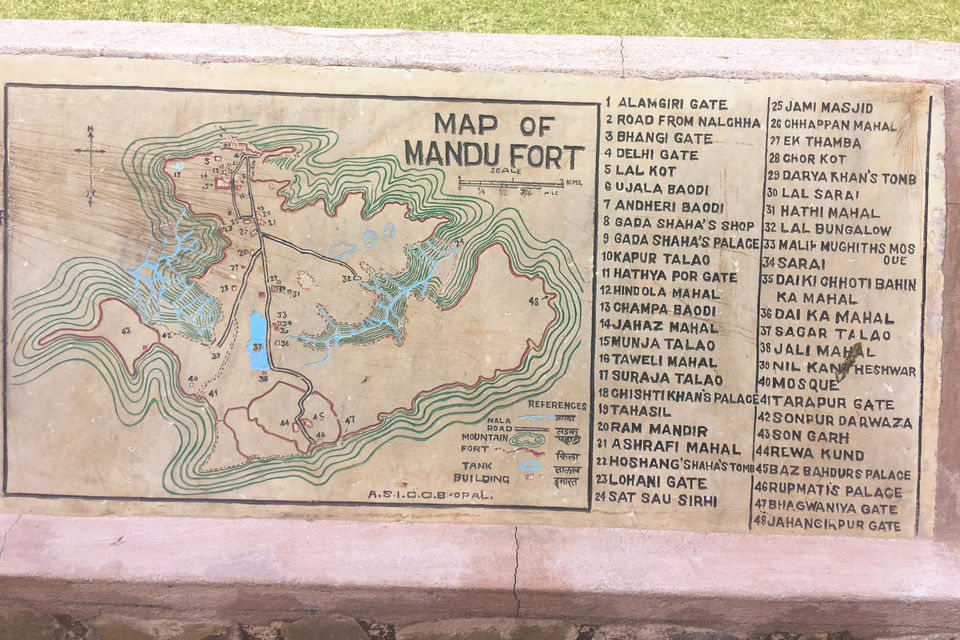 Mandu is well known for its architectural beauty. Mandu is blessed with ample of tourist attractions including the Jahaz Mahal (ship Palace), Jami Masjid, Hindola Mahal (Swing Palace), Jain Temple, Rani Roopmati Pavilion and Neelkanth Mahal. After having breakfast, we left for local sightseeing.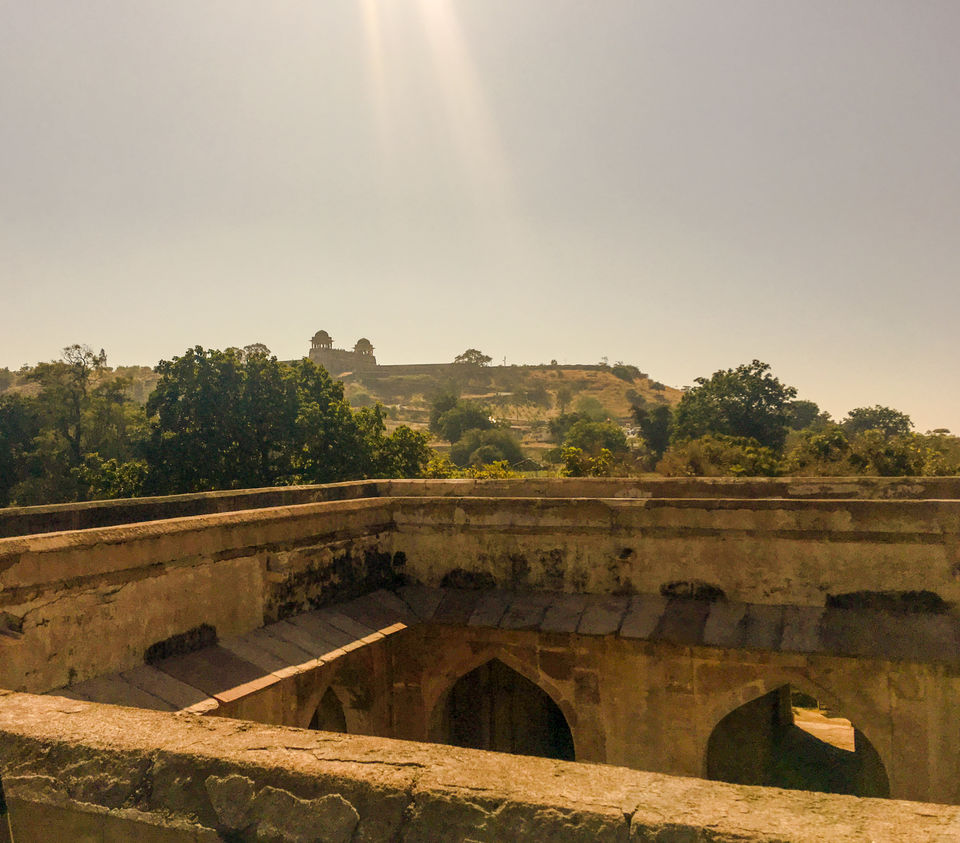 First we saw Rani Roopmati Pavilion, which initially was build as army observatory post to keep eye on wide area of Malwa riasat. The region is cover by a boundary wall from all sides and has 12 gates. The guide at the pavilion showed us where guards use to stay and a water storage tank for them. Guide also told us the story of Roopmati. A beautiful girl staying on bank of river Narmada. Mesmerised with her singing, Baaz Bahadur begged Roopmati to accompany him to his capital. Roopmati agreed to go to Mandu on the condition that she would be allowed to offer prayers to river Narmada. Roopmati was very religious person and would take meal only after offering her prayers to the river. This watch tower was thus converted to Rani Roopmati Pavilion, where she use to come every morning in her palaki from Baaz Bahadur palace to view venerated river Narmada. At sun rise and if sky is clear, one can see the river from the watch tower as a very fine line for short period of time. Because of this uncertainty in visibility of the river, she would stay without food and water for days. This adversely affected her health. Upset by her condition Baaz Bahadur ordered his army to send her back to her maternal home.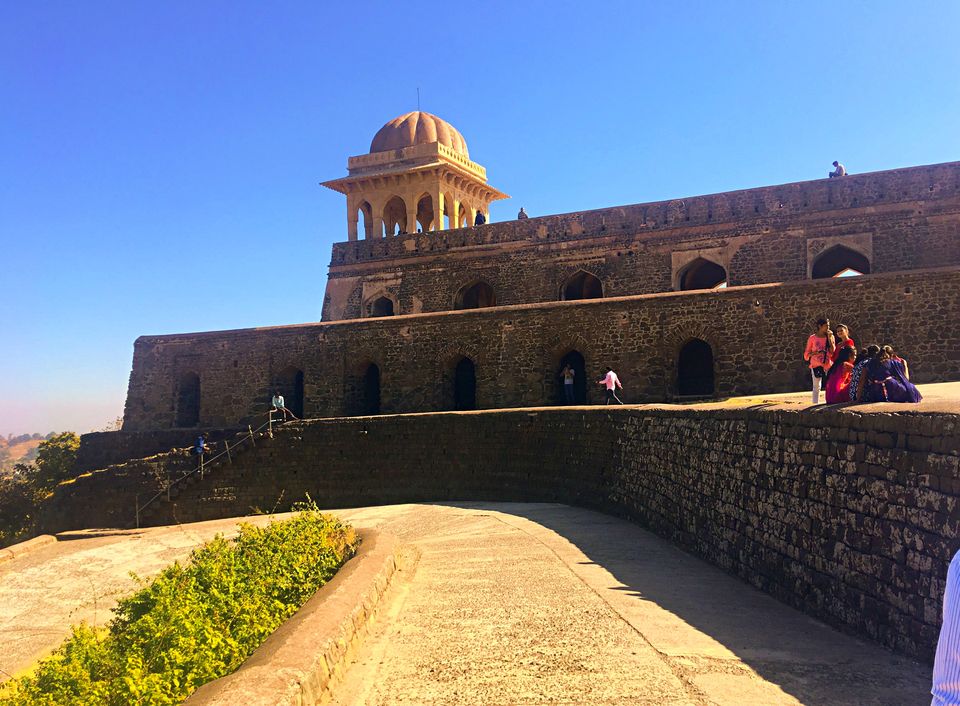 Baaz Bahadur palace was constructed in the early 16th century, and is notable for its spacious courtyard fringed with halls, and high terraces which give a terrific view of the lovely surroundings. The Rewa Kund is a reservoir built by Baaz Bahadur to supply water in his region.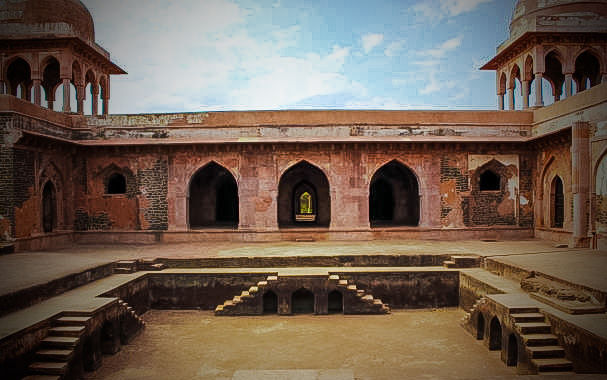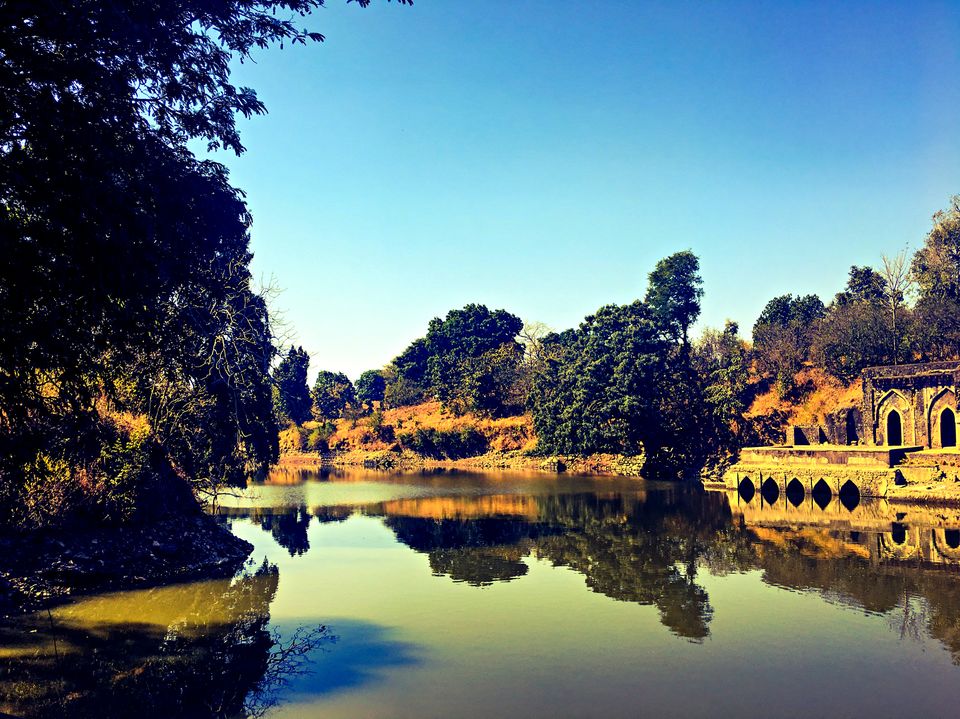 Our next destination was Jama Masjid, a mosque built in Mughal style covering an area of 88 square metres. Near to the mosque is Chaturbhuj Temple where Ram ji is in form of a quadrilateral. It is the oldest idol of Ram ji. It is believed that Lord Shri Ram in this form appeared in dreams of Mahant Raghunath Das ji, priest of Pune and told him about his statue in a basement below the statue of Bhairav Baba, situated in eastern side of Mandu under the sycamore tree . Mahant Das ji left for mandu in search for this place making his way according to directions he got in his dreams. Finding the celestial tree, he informed the Queen of pune (Maharani Shaku Bai), who ordered to excavate the place mentioned by the priest. Chattra bhuja Shri Ram, Mata Janaki, Laxman ji, Hanuman and Sun God, together with the Goddess of Shantinath Bhagwan, found in the Jain temple, were recovered from the basement.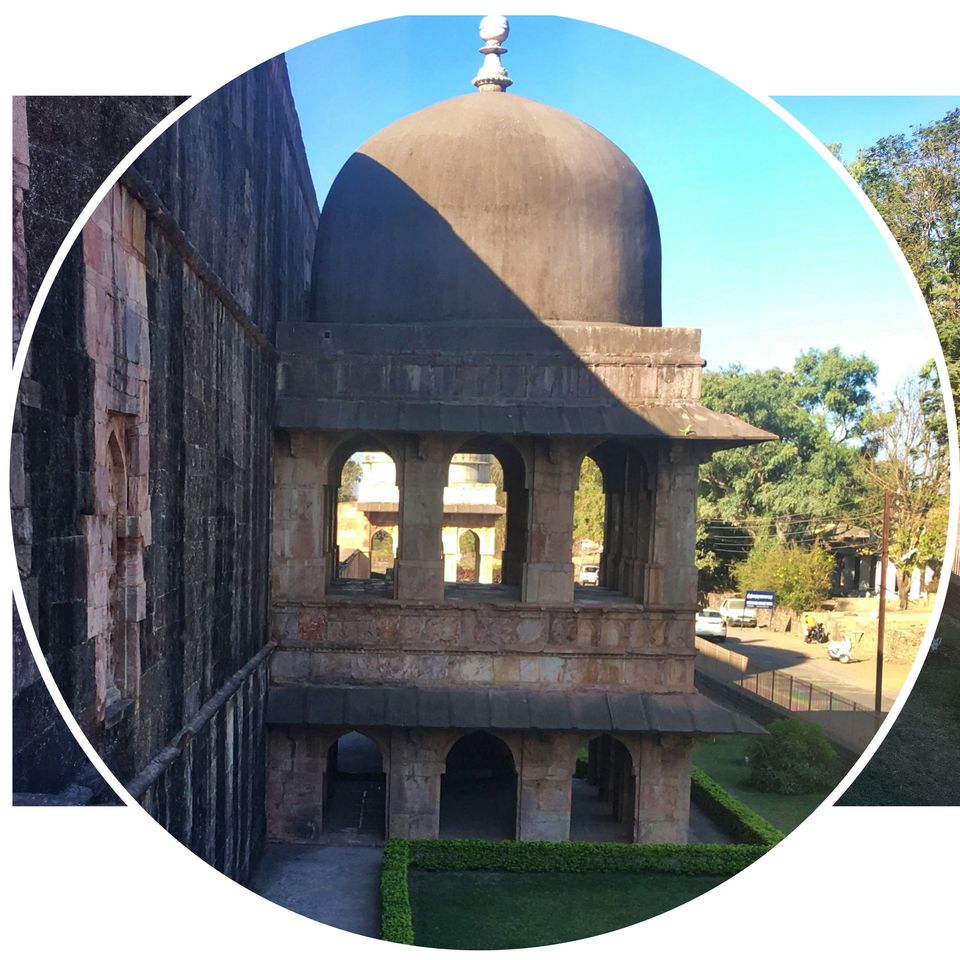 Outside the temple, I say a hawker selling new variety of fruit. It is called "Mandu-ki- Imli" grown only in this region. It is highly nutritious fruit of Baobab tree. The dried fruit contains seeds covered in fibrous material, which are sour to taste. They are said to contain more vitamin C than oranges. Most of the baobab trees are huge- and some are said to be 500 years old. During the dry season, the trees store water in their trunks. The leaves of the tree are also used as a green vegetable.
Although there are many small archaeological structures in the city of Mandu, due to time crunch, we decided to visit only Jahaz Mahal before we leave for airport.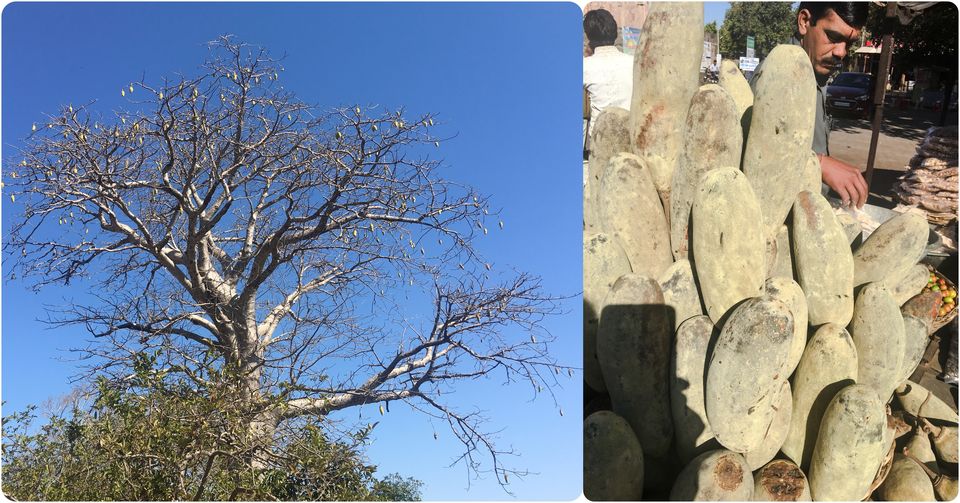 Surrounded by two artificial lakes "Munj Talao" and "Kapur Talao" (Tank), the double-storied structure seems to be floating gently and hence named so. Built by Sultan Ghiyas-ud-din-Khalji, it served as a harem(a palace for women) for the sultan. As per the guide, the sultan was a pleasure seeker who gave emphasis to women in his ruling life. And these tanks were used to maintain the beauty and fitness of women in his hareem. If any queen's hair turned white, Camphor was mixed in kapur Tank and she was asked to take bath in it to colour her hair. And if any queen gained weight, thousands of coin were put in the pond and she was asked to collect all of them. But after storytelling, he did warn me not to experiment on any one. It seems they had some different variety of Camphor than what we get in market now days.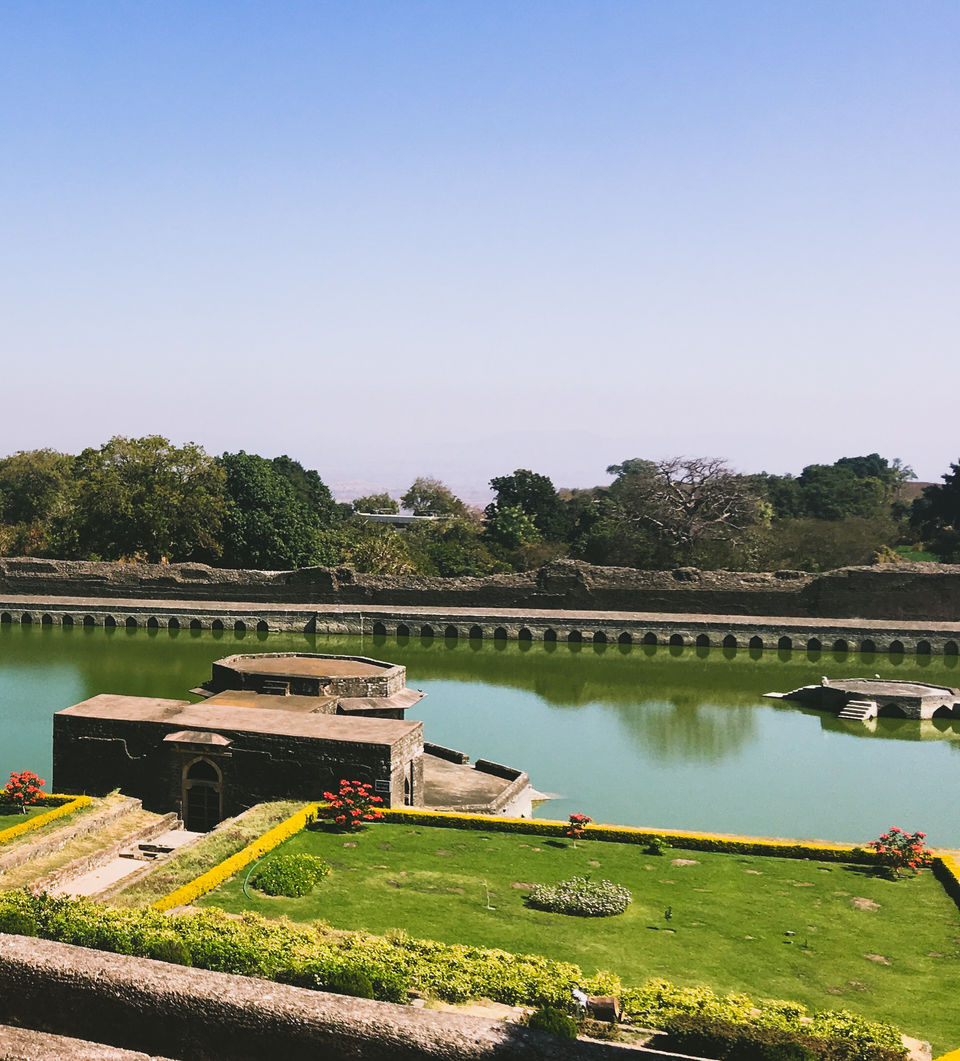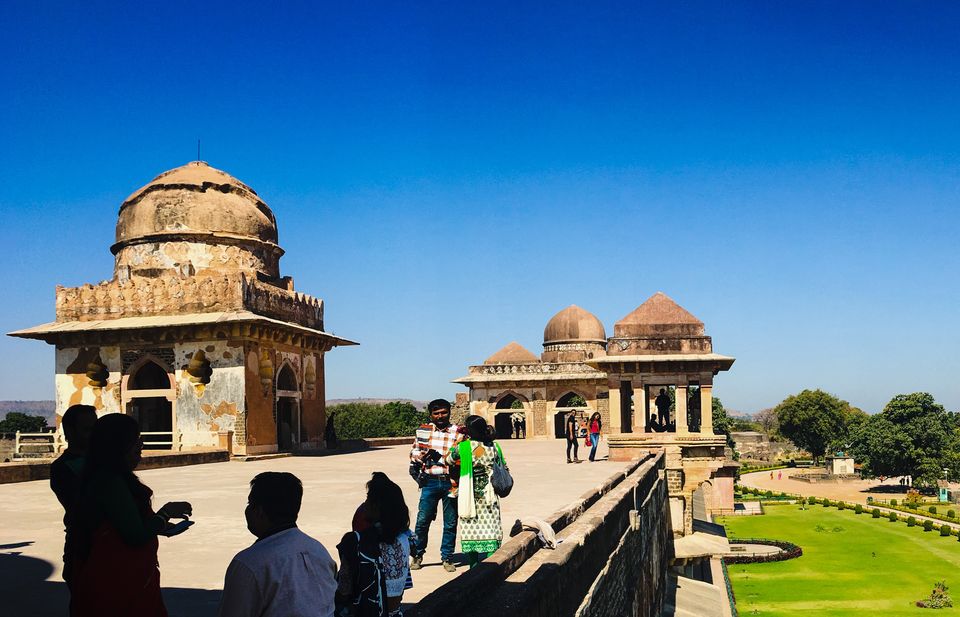 The creative architecture of Jahaz Mahal is sure to inspire you. Back in 15th century, implementation of such a structure, with various creative design patterns on floor and window arches, artistically designed water channels to fill swimming pools, designer swimming pools is an example of marvellous craftsmanship. This place is a paradigm of elegance and luxury.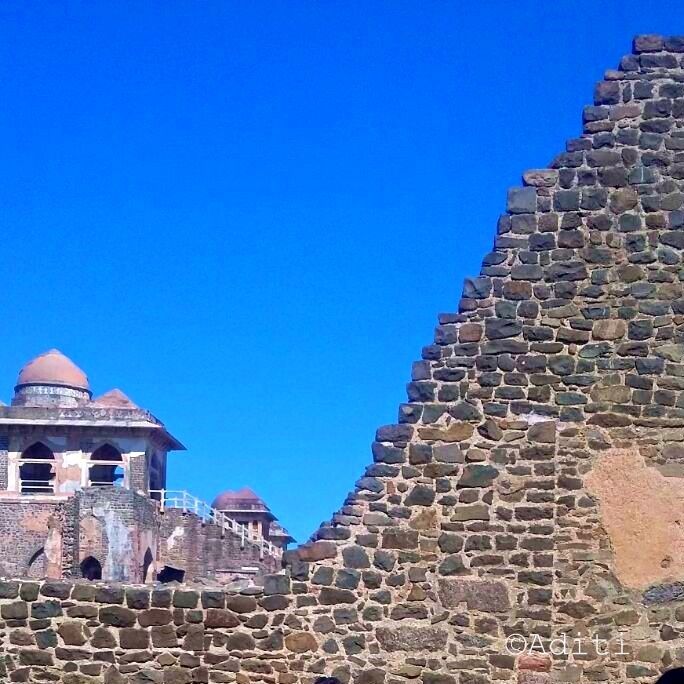 I never thought that this place would have such a dynamic history. A word of advice for travellers: Do hire a local tour guide to understand the history and architecture of the monuments. The famous song of Kinaara Movie - 'Naam Gum Jayega' was shot here.