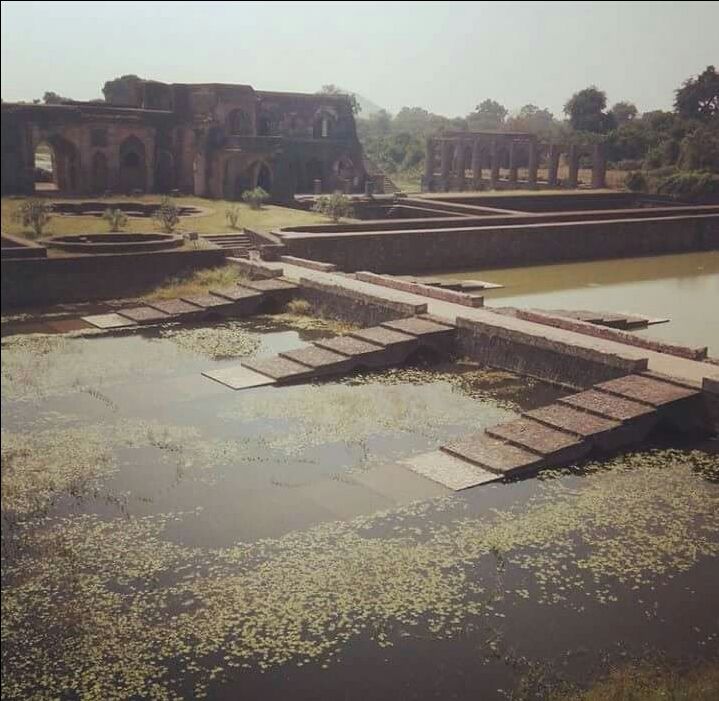 It was a very impromptu trip.
To be honest I wasn't very excited as it was the off season and the ideal time to visit Mandu is during the rainy season.
I'm glad that I went because Mandu's architecture can be appreciated in any season. It looked lovely in November and I'm sure it must look heavenly in the monsoon with lush green hilltops.
Mandu is well connected via road from Dhar and Indore. It took us about 2.5 hours to reach mandu via a cab.
I don't remember all the details of the tour guide's narration but I recommend that you hire one otherwise it would be pointless to roam around the architectural marvel without knowing the interesting facts.
For example at the sunset point the guide would describe Rani Roopmati's beauty. She was so fair and delicate that one could see the water passing through her throat when she sipped water. (not my idea of beauty but was amusing.)  He would also show you the point from where she used to see Narmada river every morning because that was her ritual and she didn't eat or drink anything till the time she  did that.
Guide at Jahaj Mahal would take you through an underground passage and explain the water supply system, architectural details and other interesting info.
DO'S
Haggle with guides. Indians don't pay more than 450 rs. For foreigners maximum 1000 rs.
There are different guides for Jahaj Mahal and other places so make sure you discuss everything beforehand.
Wear comfortable walking shoes. Some places at Jahaj Mahal are steep.
Apply sunscreen
Try custard apple fruit, Mandu is famous for it.
Carry a hat and water bottle.
Can buy coconut water and uncut fruits from small stalls or vendors.
DON'TS
Try local food at small stalls.
Start trip late in the afternoon , the early the better.
Happy journey 😊