After trek to Tikona fort last year, this year we planned Lohagad trek for this monsoon season. The Iron Fort – as known to Lohagad – is one of the strongest forts in Maharashtra and obviously is in much better condition. Fort is situated 52km from Pune. It is at an elevation of 3,450 feet. Trekker usually start there trek from Malavali railway station. It is just 9km away from station. There is tar road built till base of the fort.
We were total 6 travellers for this trek. We decided to catch 8.00 am local train from Pune station for Malavali. My friends boarded local at Pune and I joined them a Chinchwad railway station. There was rush in local than what expected, full packed. My friends were in other local bogie. We reached on Malavali railway station at around 9.15 AM. There were lots of travellers and trekking groups get down at Malavali Railway station along with us. It was raining continuously. Weather was perfectly set for trekking conditions. Sun was busy in hide and seeks game with rainy clouds. There are trax and sumos were available outside of Malavali railway station charging Rs 100/- per head for drop at Lohagad and Visapur fort. Without wasting any time, we started our first trek patch. After 1.5-2km walk we reached at Bhaje village. We had some breakfast and then our trek began.
Base village Lohagadwadi is around 6-7 Kms from Bhaje village and you need to walk on a gradual ascent. This is one of the most pleasurable walks you will ever have with lush green surroundings.
There was a huge waterfall at the foot hill of Bhaje cave. Nature at its best in rainy season. We decided to move on towards Lohagad and visit Bhaje cave while coming back.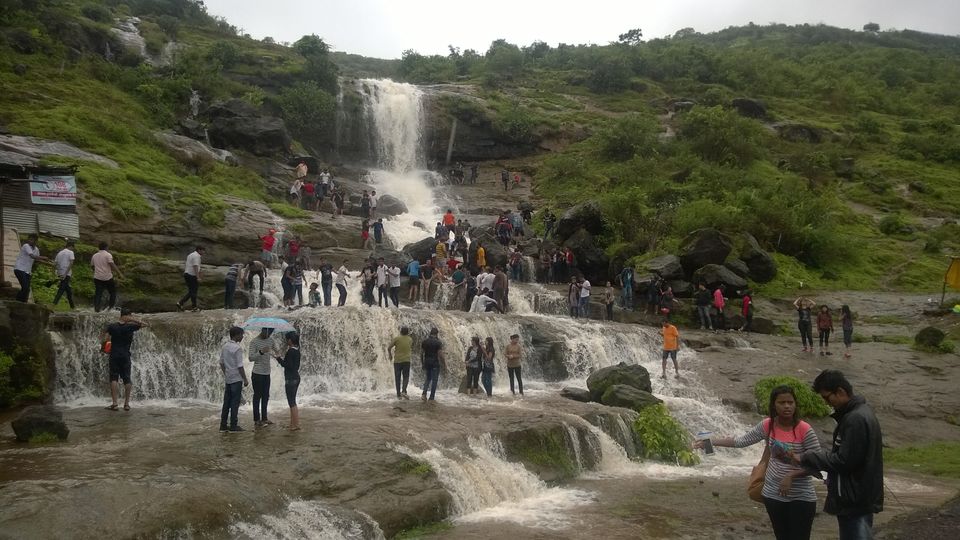 The climate was quite pleasant with mild showers at regular intervals. Soon we reached to Gomukh Khind. From here, you need to take right to go to Lohagad and left to go to Visapur.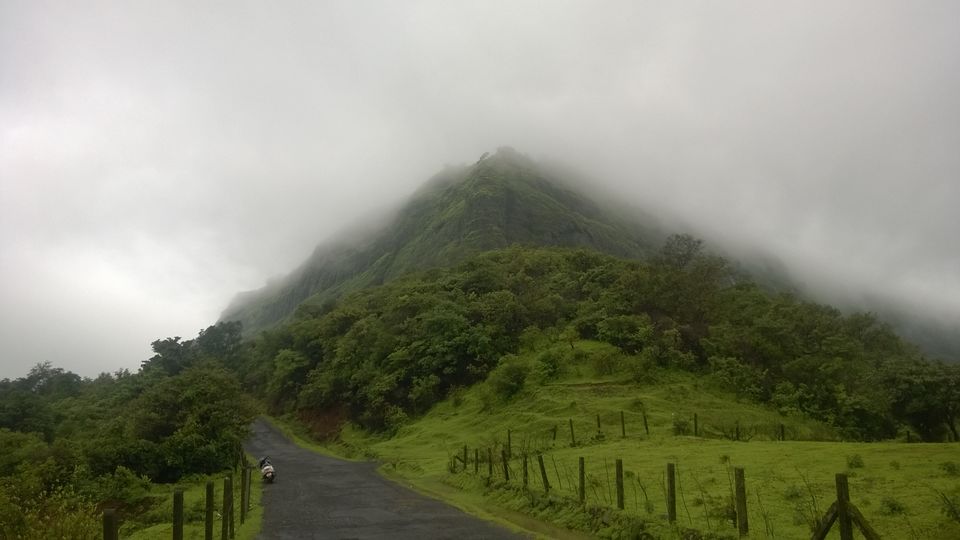 After around 2 Hrs trek we reached at the base village Lohagadwadi at 12 PM. There is sufficient parking space for vehicle and they charge Rs 20/- for two wheelers and Rs 50- for 4 Wheeler parking. There are stone steps till the top of fort.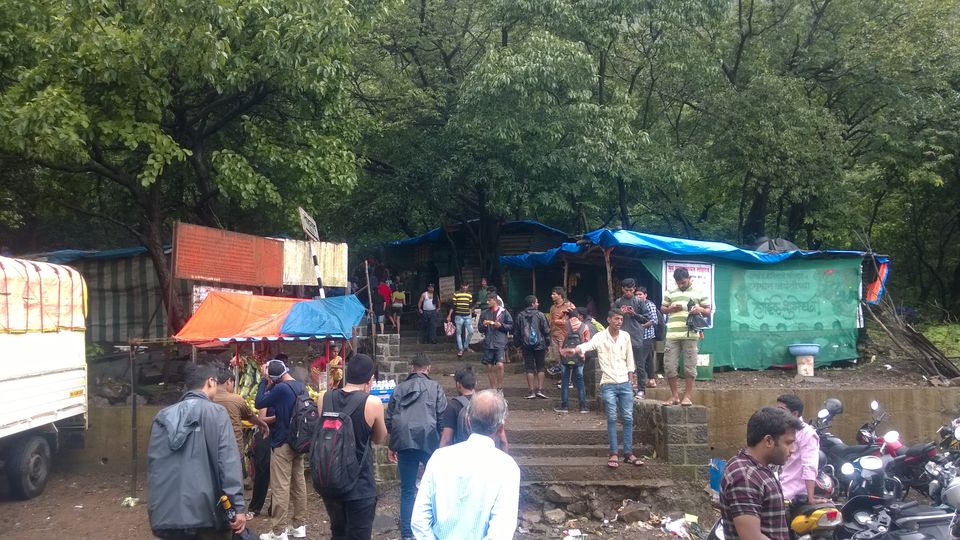 During the rainy season, water flows on the steps making them a bit slippery. Climbing on stone steps was quite easy task and we reached at the top in 45 min. We found too much crowd and traffic jam of people while climbing the steps. It was raining heavily so we didn't get a chance to click any photo. Please carry raincoat instead of umbrella as it is of no use because of high wind.
The fort has 5 successive entrances, Ganesh Darwaja, Maha Darwaja, Nana Darwaja, Trimbakeshwar Darwaja and Hanuman Darwaja. All the doors are still quite strong. Soon after entering Hanuman Darvaja, you enter the fort and come across a mosque like structure on the fort containing the tomb which is Rajarani Mandir. Going further there is a Mahadev Temple. Trimbak Talav next to the temple. Fort was surrounded with clouds.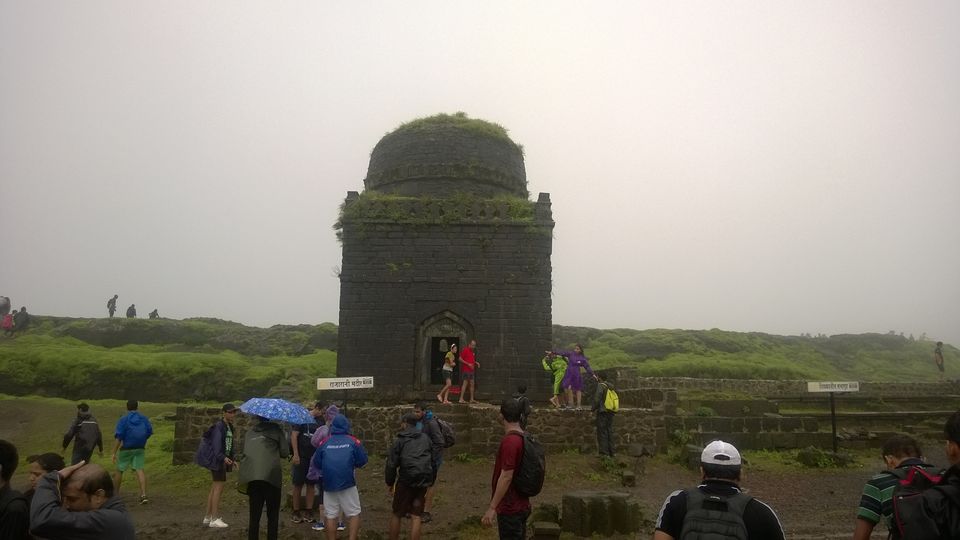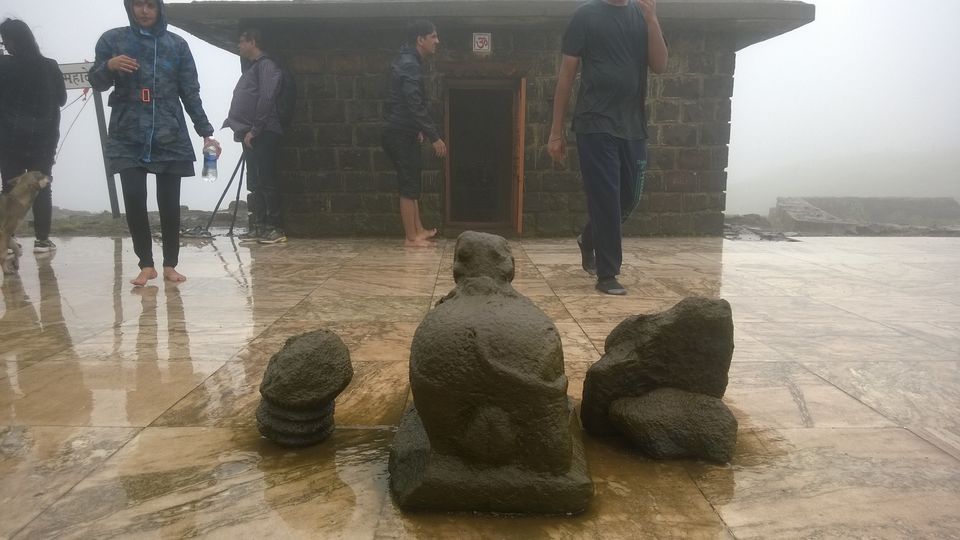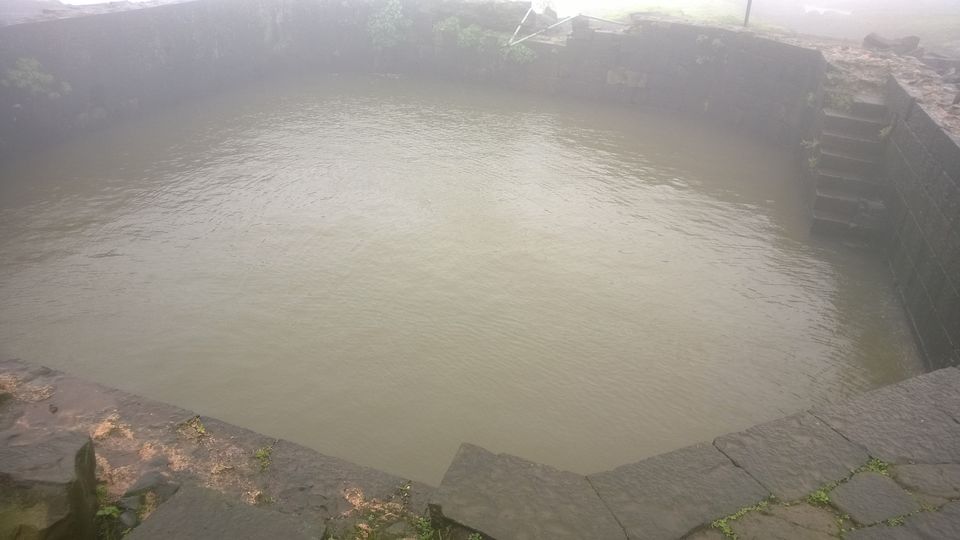 Further along the fortification is a spacious rock cut cave named "Lakshmi Kothi". It was used to keep the loot from Surat. This is an ideal place for staying on the fort and can easily accommodate more than 50 people.
On the west side, there is a long and narrow wall-like fortified spur called Vinchu kata (Scorpion's tail) because of its shape. (Dimensions: 1500m long & 30m wide). This Vinchu Kata' was used for keeping a watch on the nearby area. On the way to Vinchu kata, you can see newly built Dargah. This is the tomb of Sheikh Umar.
Since it was raining heavily, at times the visibility was hardly a few meters. It's windy, foggy on the top. So we decided to skip visiting vinchu Kata and Lakshmi Kothi and started descending fort at 1.15 pm.
While descending the fort, we found too much crowd and traffic jam of people while climbing the steps. It hardly took 20 min to reach base village. We had our lunch at local restaurant at the base village, Lohagadwadi. We ordered Pithle-Bhakri, Food was average but as we were hungry, we found delicious.
We started with our return journey at 2.15 Pm as we wanted to visit Bhaje cave before catching 5.30 PM local at Malavali. Soon, we reached to Bhaje village by 4 pm and spotted few enthusiastic tourists who were trying to get drenched themselves under waterfall. As we started climbing step towards Bhaje cave, soon there was heavy rain started along with heavy winds for almost 10 mins. It took 20 min to reach caves, Entry ticket was Rs 15/- each. We spent almost 45 min there and then started descend. We reached Malavali station by 5.30 PM, saw there was huge rush on the platform for train going towards Pune. Since we all were tired and we don't want to travel in standing till Pune, we decided to catch 5.35 PM local to Lonavala which left from lonavala at 6.20 PM towards Pune. I got down at Chinchwad at 7.30 PM. We reached home by 8:30 PM. A bit tired, but with sense of fulfilment.
Bhaje Cave:
Weather condition was very cloudy with heavy rain shower. There is a huge waterfall just at the base and lot of people enjoying themselves in that waterfall.
Bhaja Caves or Bhaje caves is a group of 22 rock-cut caves dating back to the 2nd century BC located at Malavali, near Lonavala 60 km from Pune.
To reach the caves, it is a short climb of around 20-25 minutes on a properly laid out path, aprrox 220 steps to climb to reach cave. The best time to visit Bhaja caves would be late evening, the caves officially close around 6 pm and they don't allow anyone to enter beyond 5.45 pm. There is a small entrance fee of Rs.15 for the Bhaje caves. The premises are clean and well conserved by the Archaeological Society of India.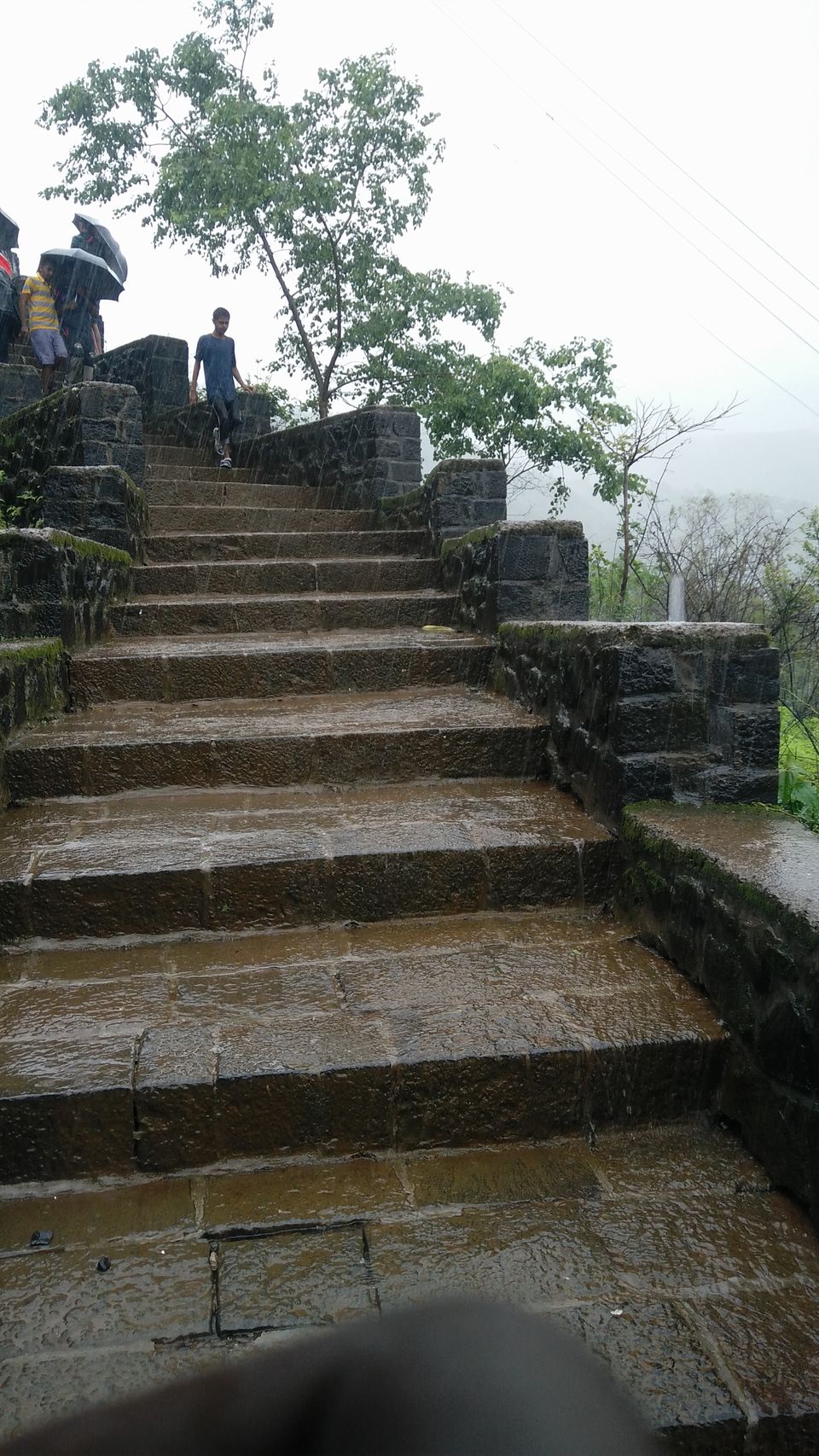 The Bhaja caves have the same set of architectural designs as Karla caves. The main hall Chaityagruha is magnificent and hosts a large stone stupa. The best thing is wooden roof which act as support for main vihara (Prayer hall). Notable part of monument is a group of 14 stupas, five inside and nine outside an irregular excavation. These stupas used to be constructed in the memory of the Buddhist Acharyas. You can see the names of these Acharyas carved out on these stupas. There is a small-medium size waterfall at the end of last cave.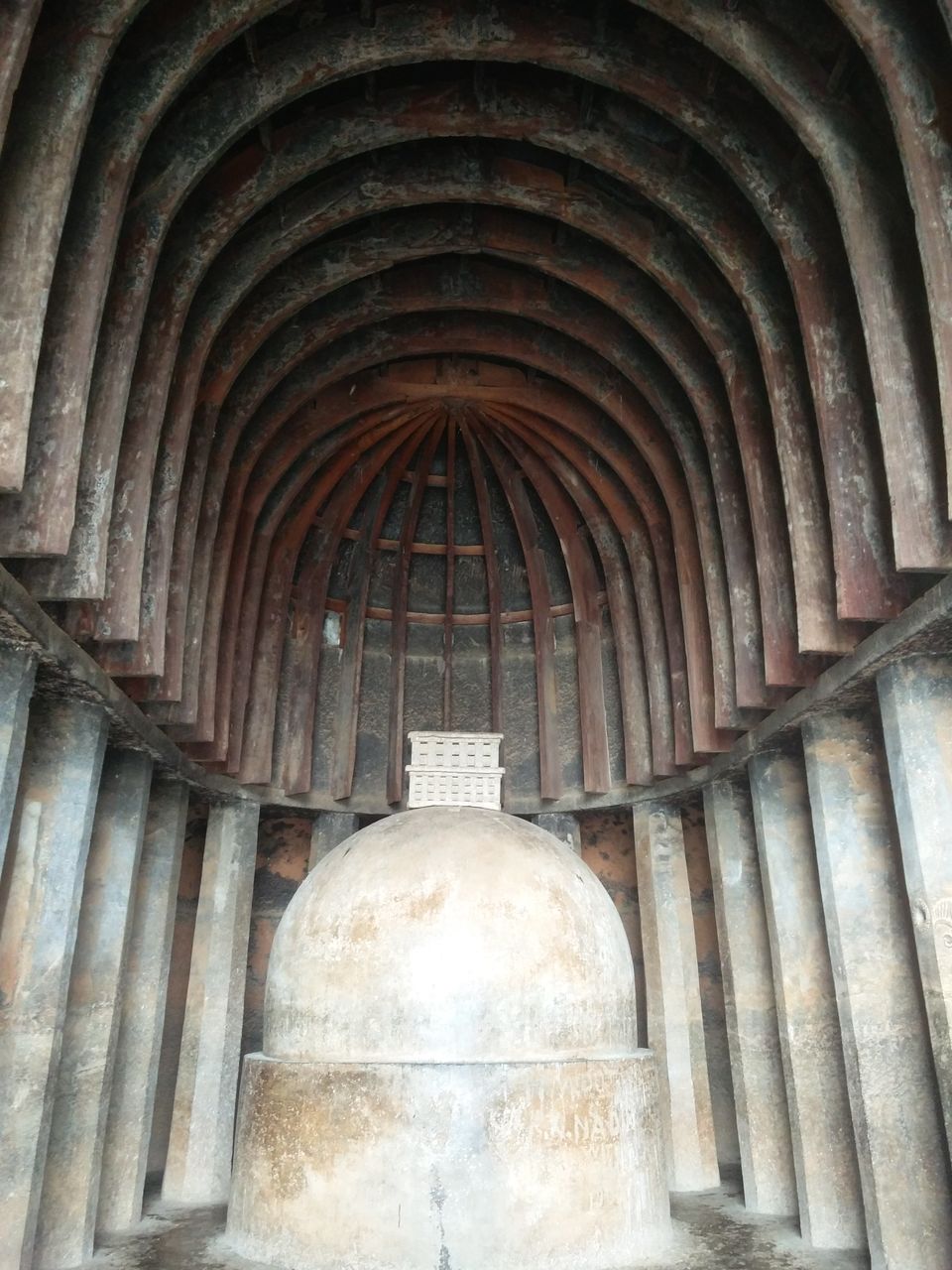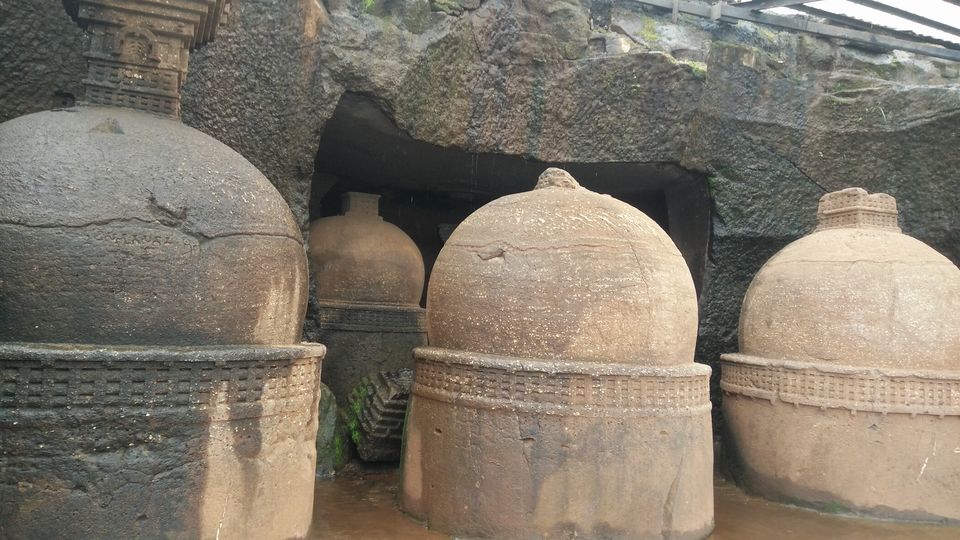 How to go to Bhaja caves from Pune:
Take Old Mumbai-Pune highway, few kilometres (6-7) before lonavala, you should see an exit on the left towards Bhaja/Malavali (and one on the right towards Karla caves) -> Cross Malavali railway station and express highway bridge -> Reach at Base village Bhaje (Approximately 60km)
Local train ticket: Rs 30/- per person (Pune-Malavali return journey)
Breakfast at Bhaje village: Rs 280/- for 6 (Misal Pav & Tea)
Bhutta at Base Village: Rs 25/- each
Pithle-Bhakri at Lunch: Rs 90/- per person.
Local train ticket: Rs 10/- per person (Malavali-Lonavala return journey)
Thanks for reading this Travel Blog. Happy traveling.