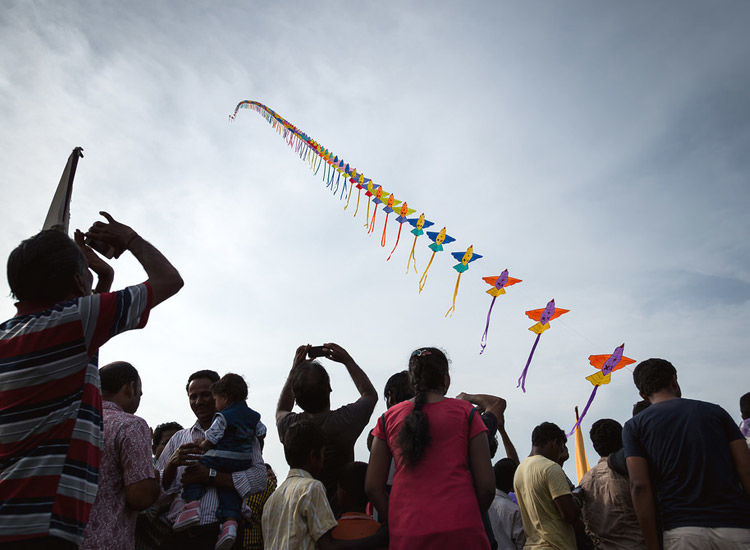 India is a land of unity in diversity quite evident in its culture, traditions and festivals. Even kite flying skills are celebrated in India, which brings us to the colorful International Kite Festival celebrated in Jaipur. Every year the royal capital of Rajasthan, Jaipur invites kite flying enthusiasts from all over the world to test their skills and indulge in the simple fun of kite flying.

About International Kite Festival, Jaipur
The International Kite Festival in Jaipur is celebrated on the auspicious day of Makar Sankranti, i.e. 14th January. The religious day according to Hindu mythology is marked with a sky full of kites of numerous colors, shapes and designs. The joyous shouts of 'Wo Kaata' reberate as people celebrate victory on cutting other person's kite while saving his own.
Makar Sankranti is a celebration in Jaipur. People usually commence the day be taking a holy dip at a sacred pilgrimage Galtaji. It is then followed by praying to the sun for good crops and healthy and wealthy life. The day is marked by Kite Festival which is celebrated with great pomp and show. Numerous kite fliers from far and near flock together in the Pink City to witness and participate in this.

The International Kite Festival is divided into two categories. One out of them is the Kite Fighting and the other is the Friendly Kite Flying. But, in both of them, a rainbow of colorful kites is formed in the blue sky.
As the sun rises is the sky, people also start warming up for the kite flying session. Many paper lamps also start flying as the sun bids adieu to a wonderful day. All in all, this festival brings much of the vivacity to the royal land of Rajasthan.

It is on the last day that a prize distribution ceremony takes places and the winners of the kite flying competition is bestowed with numerous awards.
Significance of International Kite Festival, Jaipur
International Kite Festival at Jaipur is a perfect vista to the vibrant aspect of the Rajputana splendor. Rajasthan is blessed with rich heritage and cultural legacy and going with the trend, 14th January holds a special place in the hearts of dwellers of this state.
Makar Sankranti is believed to be the day when people say sayonara to the winter and welcome the onset of spring season. The colorful kites in the sky are the reflection of the hues that spring season brings along with it. Donating food, money or the necessary essentials to the needy is also a ritual and brings prosperity and good luck. Sweet dishes made of Sesame seed (Til) and Jaggery (Gud) are offered to each other and is eaten with great fervor. Fini, Til ke laddoo and Gajak are most remarkable ones.
History of the Kite Flying Festival
Kite Flying has been into practice since time immemorial. Earlier, it was enjoyed by the kings and royals as a sport or an entertaining activity. Professional kite flyers and makers from all around the world were hired. They were invited to demonstrate their expertise in their art of kite flying. A zeal to beat the competitor on the other end was worth witnessing.
But, as a matter of fact, the actual date or time period of the beginning of kite flying is still obscure. Kite flying is gaining popularity with the passage of time and has been now associated with the Hindu Uttarayan festival.
Where to see Celebration of International Kite Festival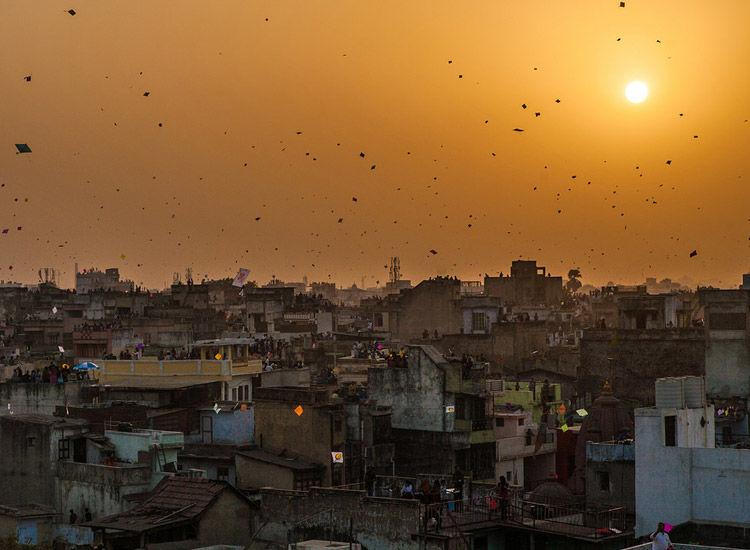 The kite fliers usually climb up to their terrace for flying kites whereas national and international participants and tourists move to following locations for honing their kite-flying talent.
• Specifically reserved open grounds
• The City Palace
• Jal Mahal ki Pal
• Even rooftops
What to do at International Kite Flying Festival, Jaipur?
There is so much to do and explore other than kite flying at the International Kite Flying Festival in Jaipur.
• Savor the Rajasthani delicacies specially prepared on this day.
• Enjoy some of the Rajasthani dance performances.
• Tune into some peppy numbers with famous musical bands.
• Unravel at fun fairs.
• Explore decorated kites exhibitions.
Dates of the International Kite Festival, Jaipur
International Kite Festival is a 3 day fiesta which will start from 14th January 2018 and will run till 16th January 2018.
How to Reach International Kite Festival, Jaipur?
• By Air – Sanganer Airport (10 km)
• By Train – Jaipur Railway Station (0 km)
• By Bus – Jaipur Junction Bus Stand (0 km)
Do witness this colorful festival and try to take part in it. Who knows, your kite flying skills can bring you lots to prizes to boast of.