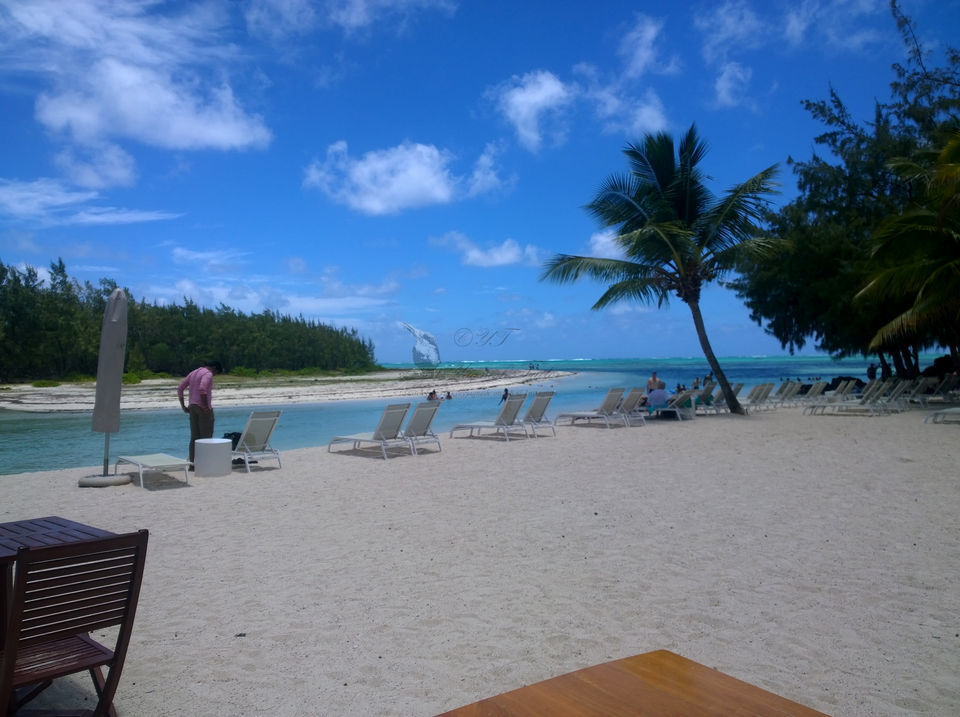 It was our first international trip together. We did most of the booking ourselves. We were very exited and started from Mumbai international airport T2 terminal. From Mumbai we had a direct flight to Mauritius operated by Air Mauritius.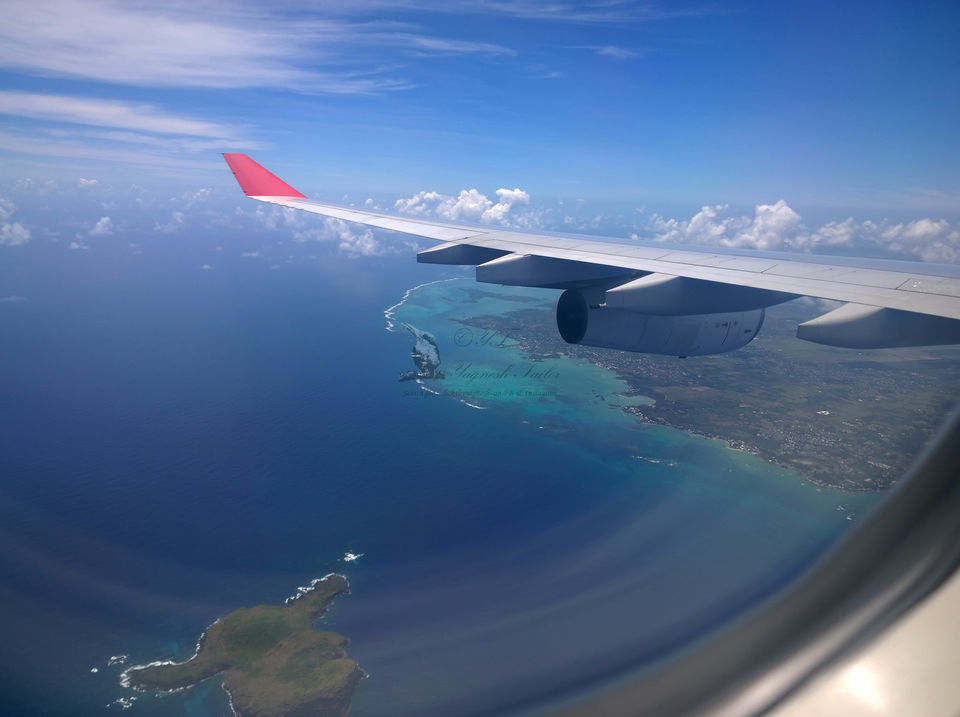 Flight Tips: Book your flights in advance to save maximum. Also check with multiple provider & card offers to save max.
In the Flight, before reaching to Mauritius you will be given form to submit to get on-arrival Visa for Indians. Do make sure you provide all necessary details. Carry stay details, return flight details, passport and photographs. Once all formalities done, you will be moved towards exit gate to enter the city of blue water , clean blue sky and crystal beaches, Mauritius.
Visa Tips: Keep all necessary documents handy with you along with passport. Also keep Pen to fill the form.
We reached our hotel Laguna Beach Hotel & Spa. What a view it was! This hotel is located Grand River South East part of Mauritius. This is a budget friendly hotel with really nice facilities. For water sports & activities, this hotel is very convenient.
Our room was spacious with attached balcony which gave wonderful view of the mountains, pool and sea all in one frame. Numerous birds could be spotted in and around hotel premises itself. Wow.. what else does one ask for?
Room Tips : You can ask for mountain and sea view room. Which are of super deluxe category. I think bath tubs are available in family rooms only.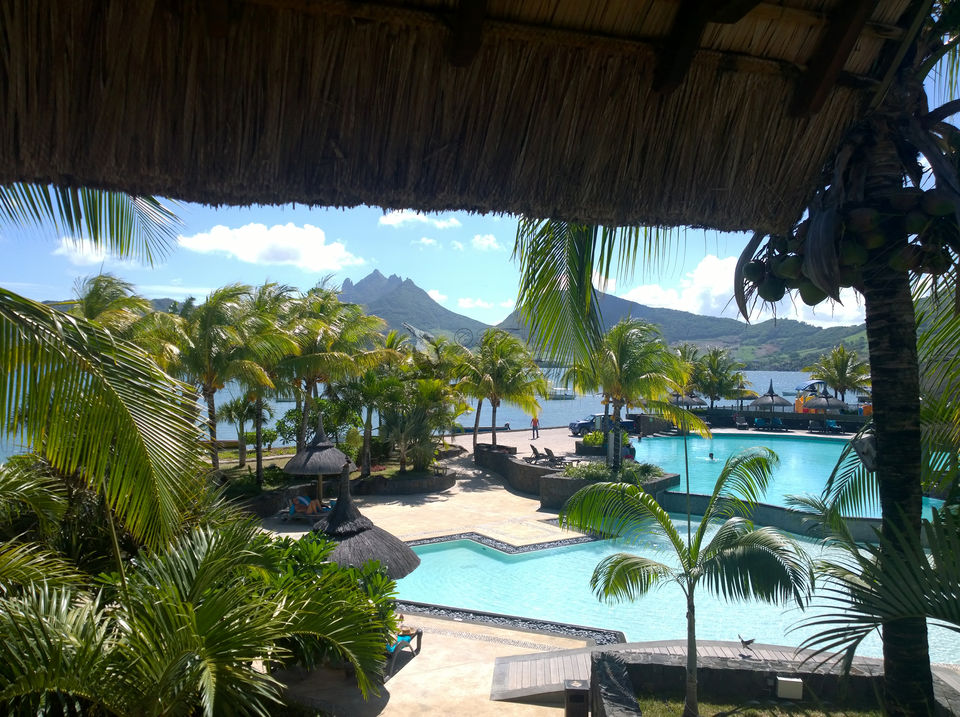 After reaching, starvation kicked in. We ordered a Pizza and a Sea-Food soup à la carte which was delicious. We enjoyed alongside Pool and outdoor bar.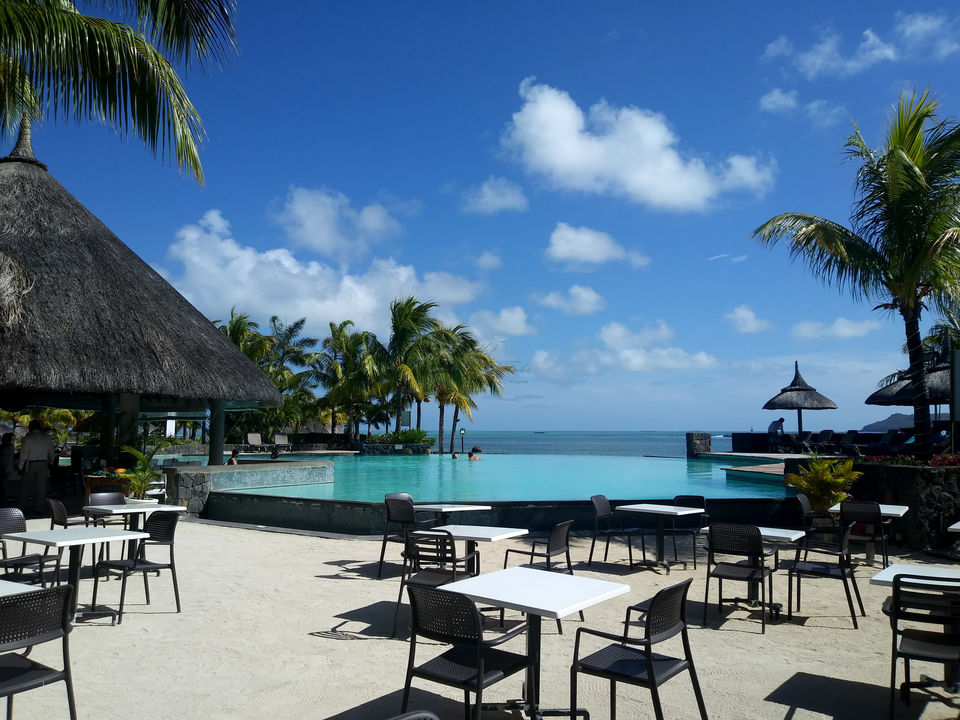 Water sports & Activities : We decided to do all the activities suggested by our guide and started the day with climbing speed boat. We reached a spot near South East part of Mauritius. It's time to have some fun. We did paragliding, under-sea walk and tube ride. It was lot of fun.
Tips : If you want to save on this, book such activities from island Ile aux cerfs. You can also book these activities online. Activities in the afternoon costs less as its very sunny.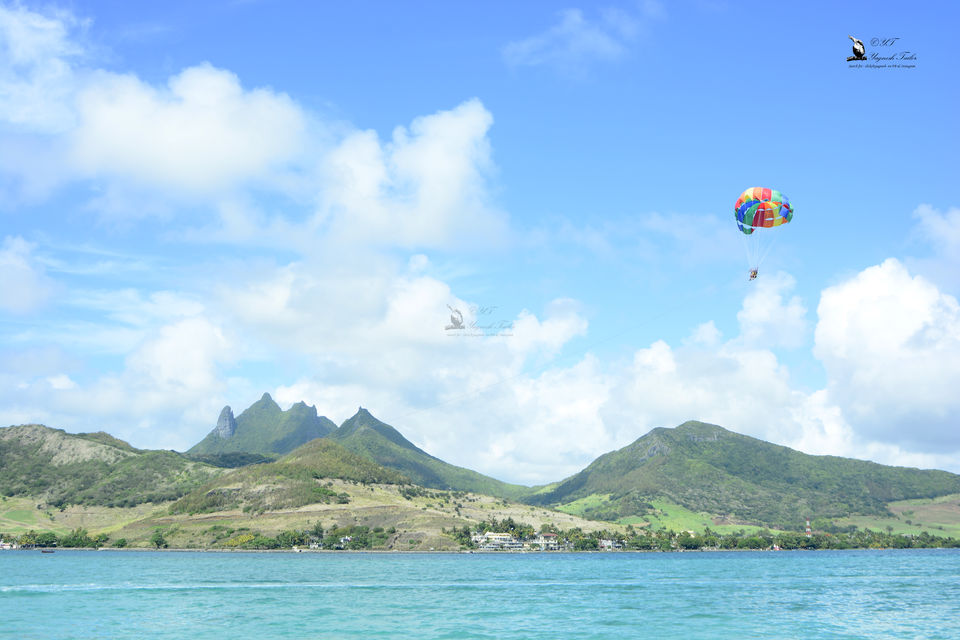 Next day after breakfast, we started by visiting model ship factory. There are many such factories in Mauritius who makes small ship models which can be used in the house as decoration piece. FYI, the Mauritians consider keeping such ships at the entrance of the house as a good omen. We visited "Le Port". They showed us the process of how they make such models and how they take care of the minute details. Some of the ships costs more then $1000 USD. All the model-ships were really awesome. We did bought some souvenirs ourselves and then proceeded to visit the Volcanic Crater, Trou aux Cerfs. (Viewpoint)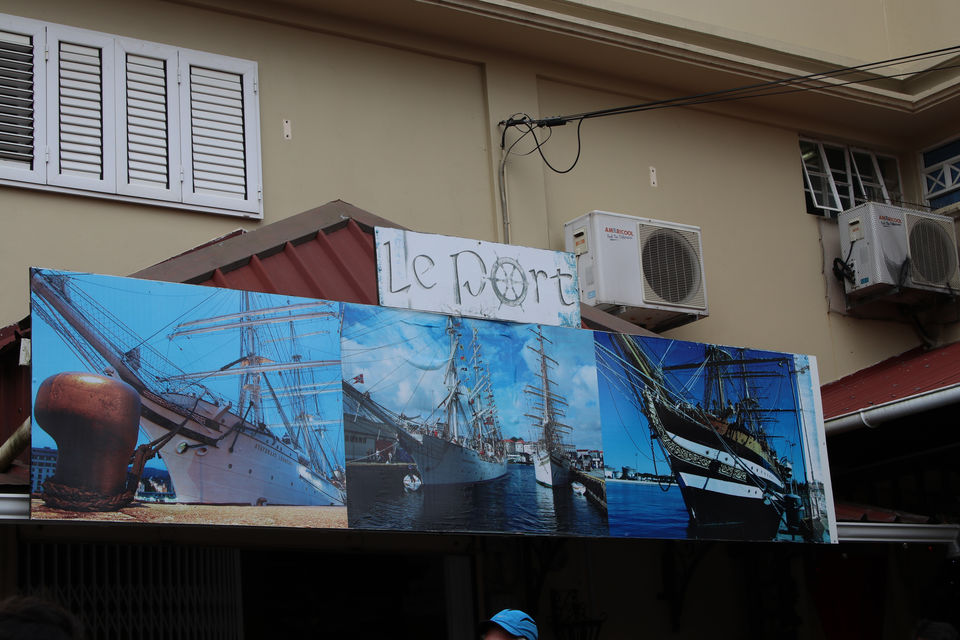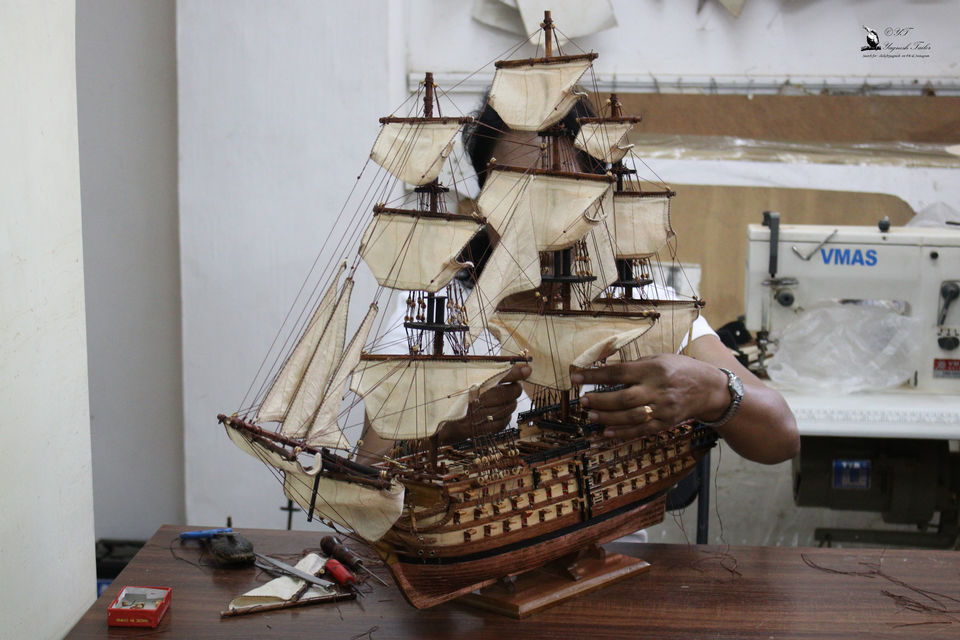 Beauty of Volcanic Crater can be seen from the mountain top. This place is surrounded by forest. You may hire guide if you want to explorer more inside. Generally in SIC tours, they only spend 15-20 minutes to take few pictures only. I suggest you should spend more time to explore beauty of this place.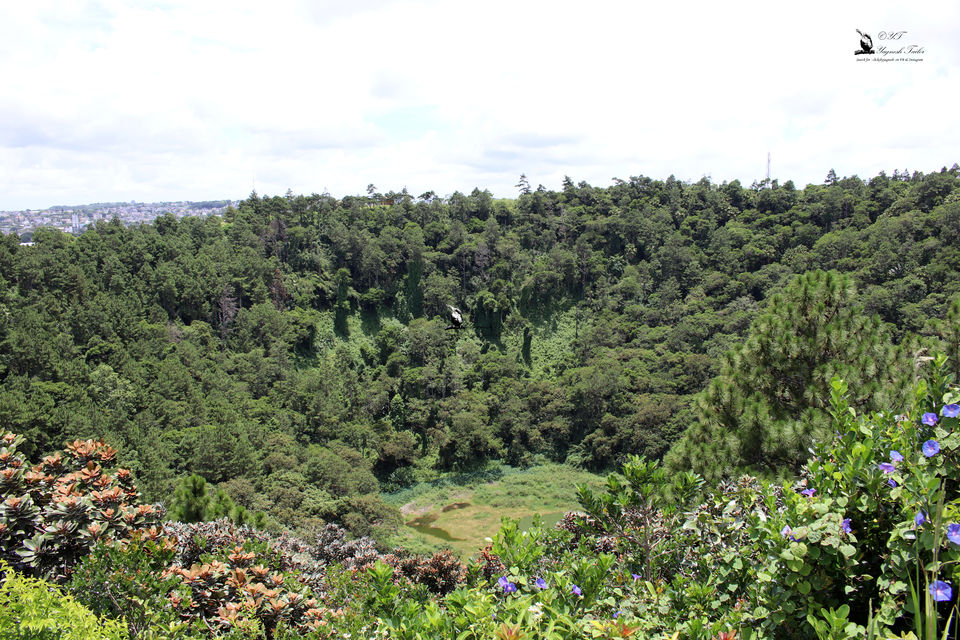 From Volcanic Crater we moved towards Grand Bassin- Ganga Talao and famous Shiva temple. There are temples dedicated to other Gods including Lord Hanuman, Goddess Ganga, and Lord Ganesh along the Grand Bassin. During Shivaratri, many pilgrims in Mauritius walk bare feet from their homes to the lake.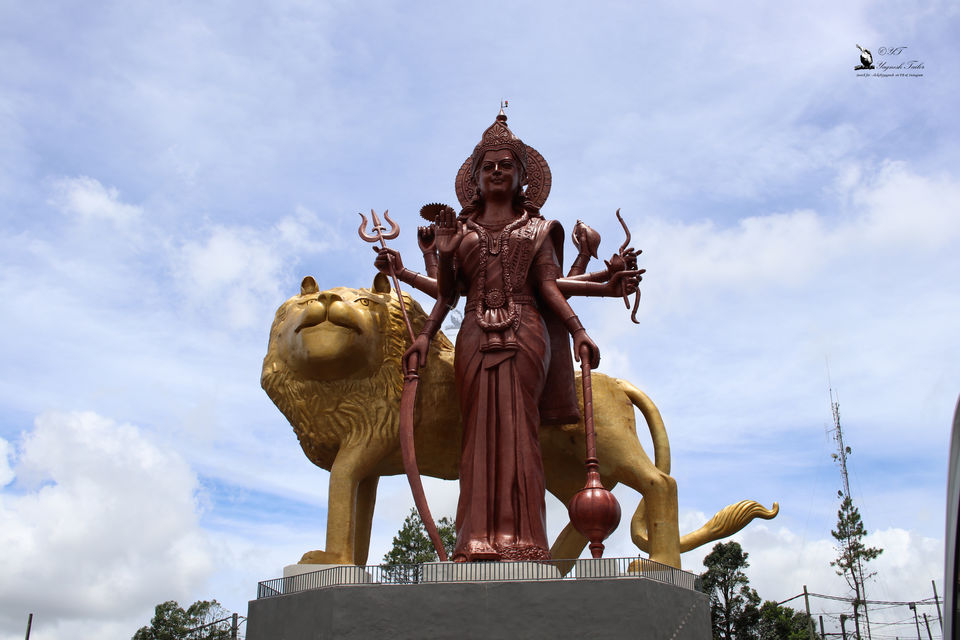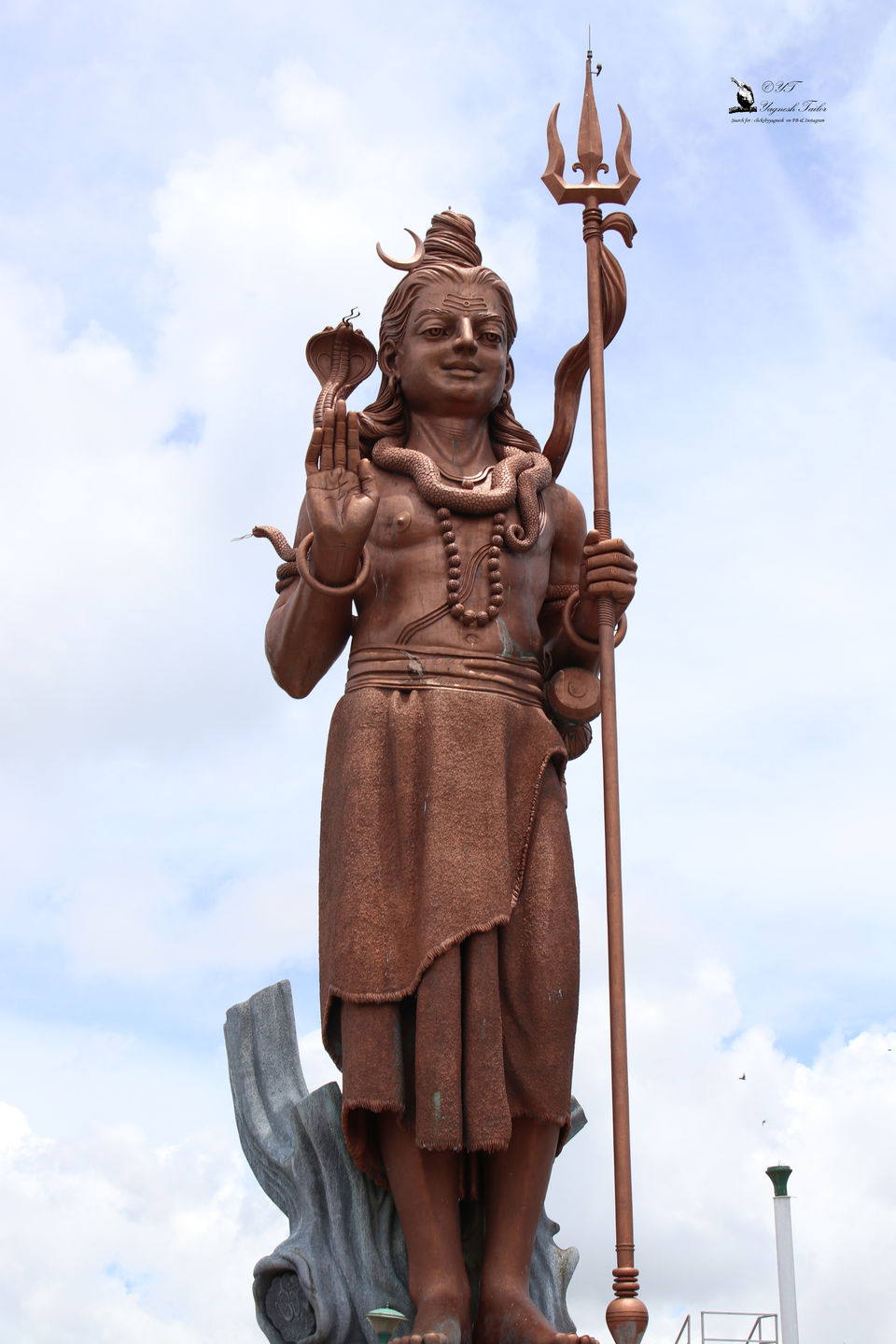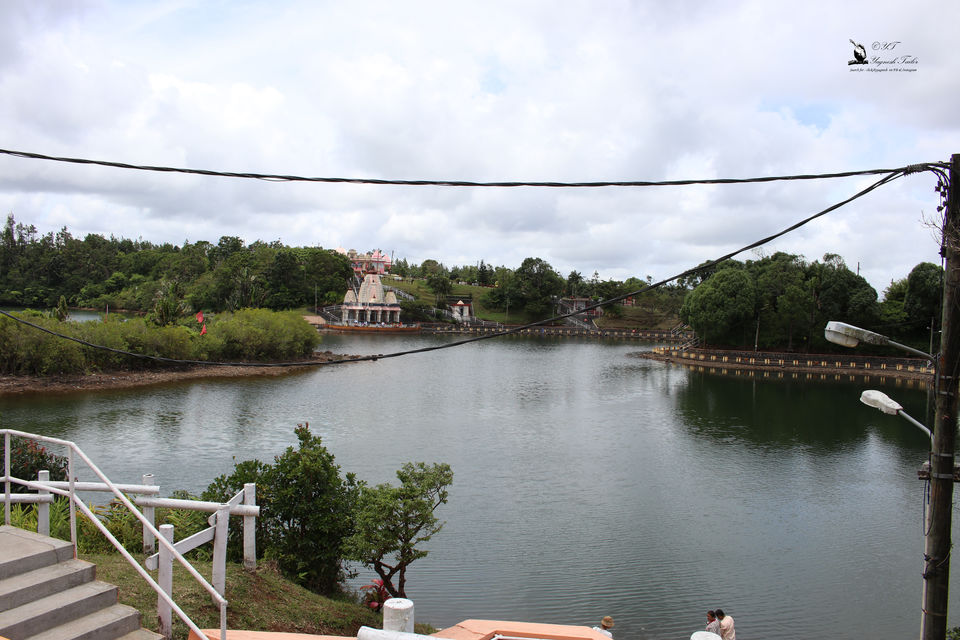 After the spiritual encounter at the shiva-temple, we moved ahead to explore La vallee des couleurs nature park. We had our lunch at a small french restaurant located at the mountain-top of the park. the view and the food was breath-taking.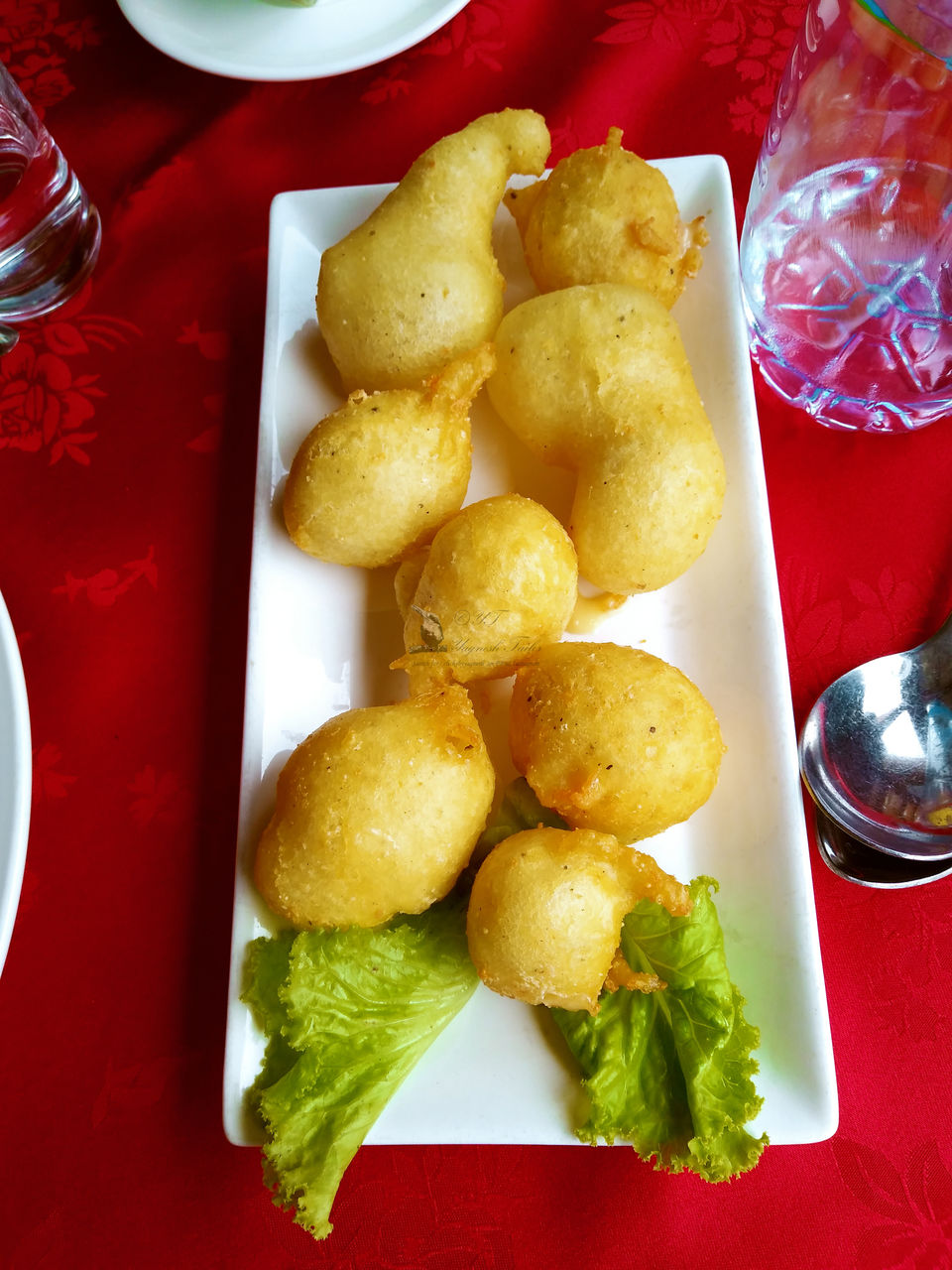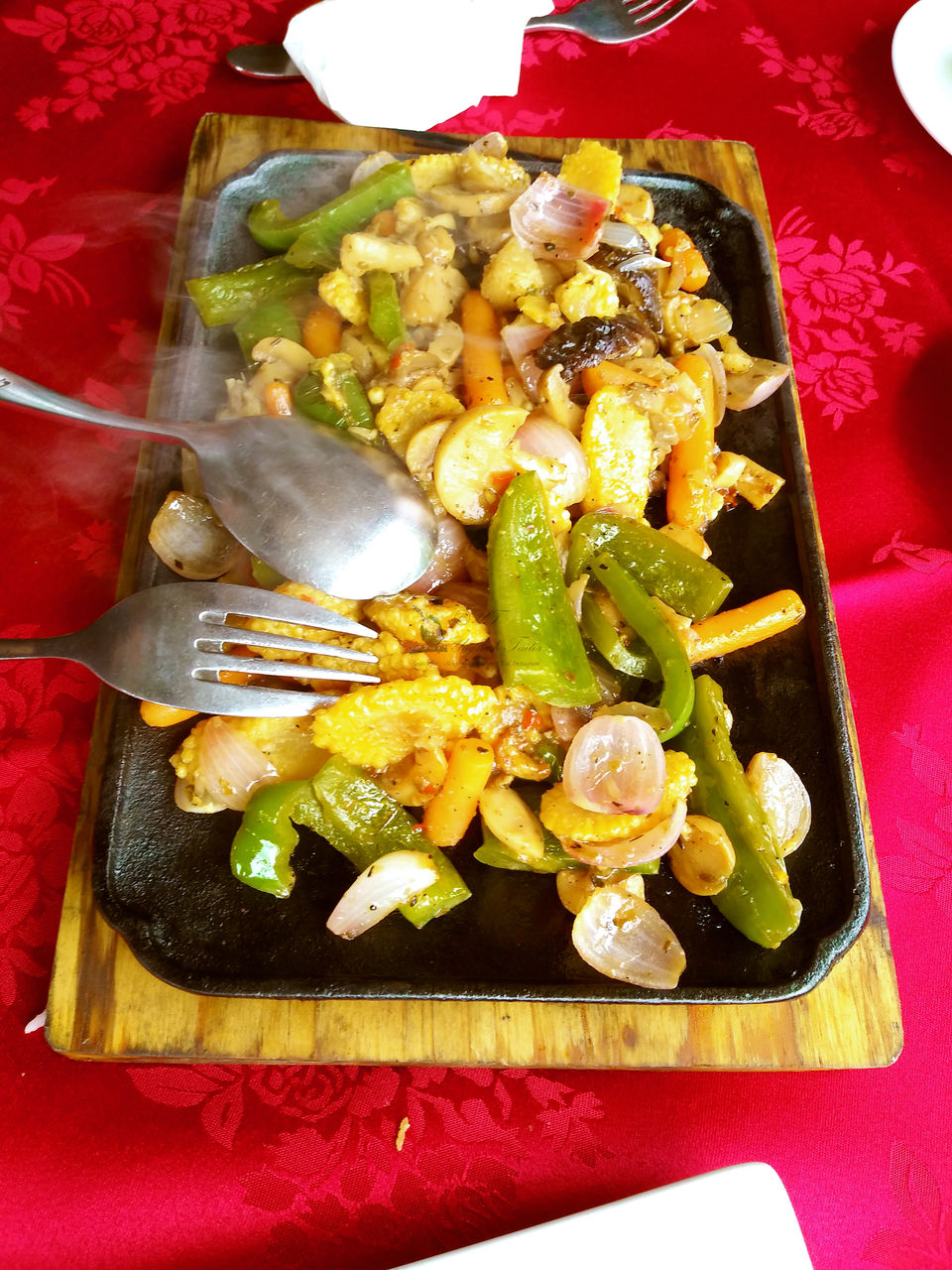 Tips :
1. Water : Carry your water as it will cost 100 MUR for 1 ltr water bottle.
2. Food : There are 2 restaurant here. One serve Asian / Indian food (Thali) and other one is french restaurant. The Indian restaurant gives 1 glass of water with 1 Veg thali which can be shared between multiple person. The french restaurant is well-known for its non-veg cuisine and sea-food delicacies.
3. Activities : Based on your budget, go for the package. Remember that 1.5 KM long zipline is the 3rd longest in the world which can be experienced here.
We decided to do all the activities that the park had to offer. Quad biking, 1.5 km zipline and also Nepalese bridge walk. It was thrilling and cannot be explained in words. JUST GO FOR IT GUYS :)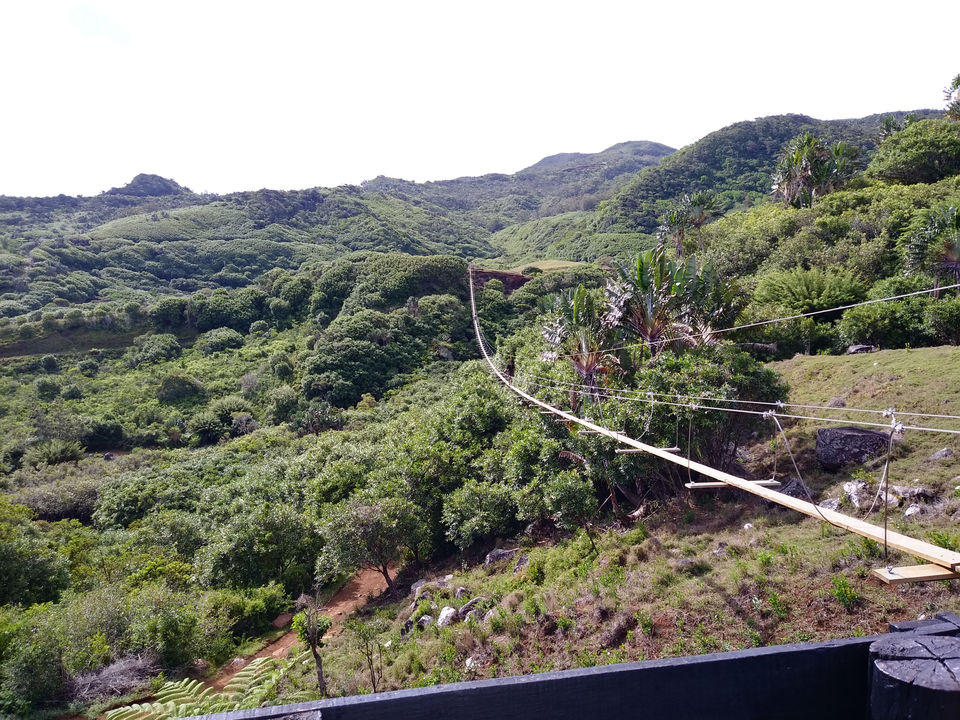 On our quad bikes, we visited 2 waterfalls, huge Turtles and colorful earth. The name it self say's all.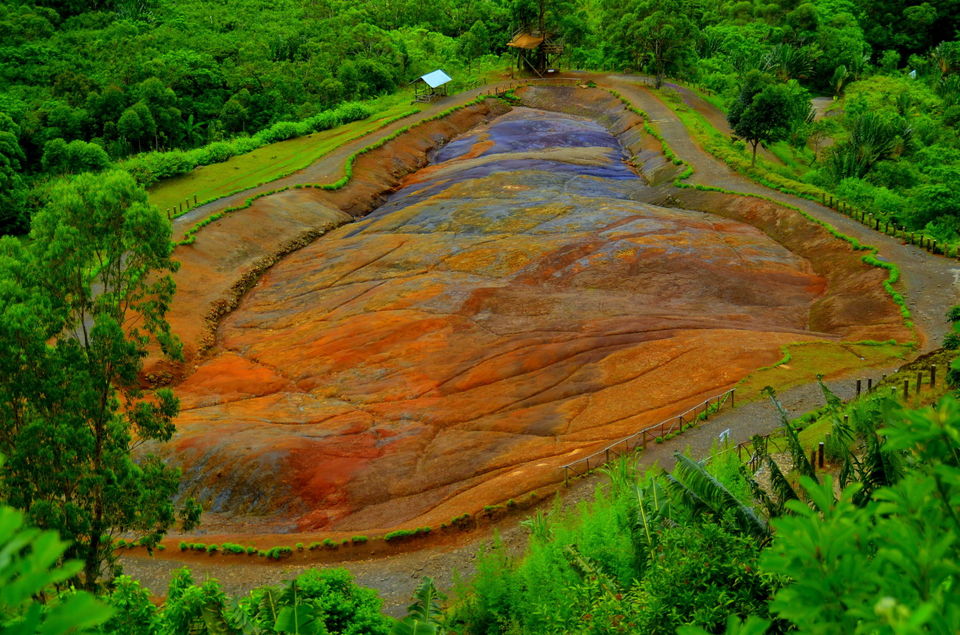 After spending wonderful time, we returned to our hotel and decided to enjoy the view & luxury of the serenity.
Today it was time to do some shopping. We started north of Mauritius, Port Louis capital of Mauritius. First we visited Citadel Fort Adelaide. The fort is built on a High area from where one can have a panoramic view of the city and sea port of Port Louis.Entire city is visible from this fort. One can also see oldest race course from this spot.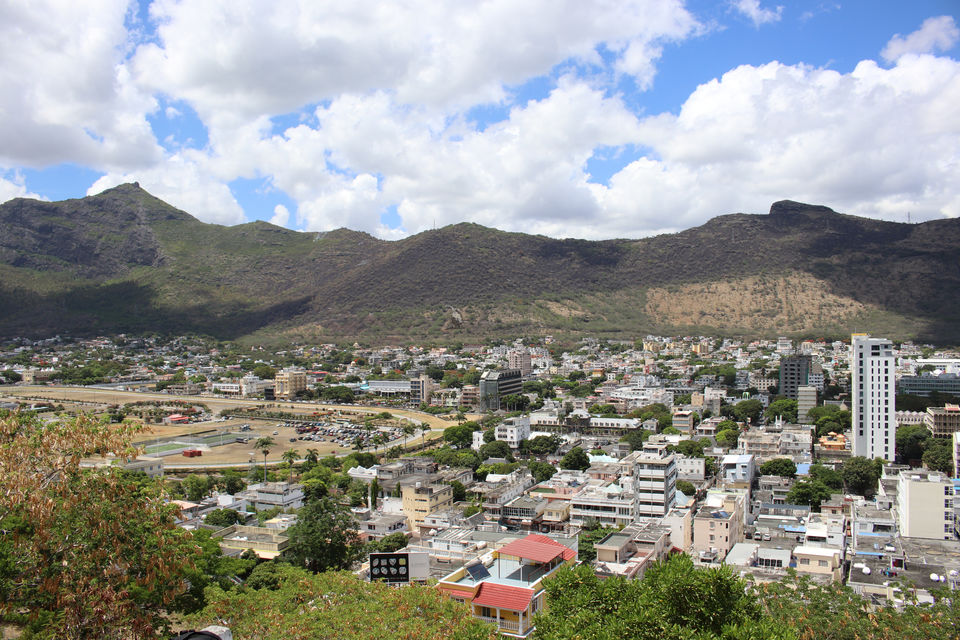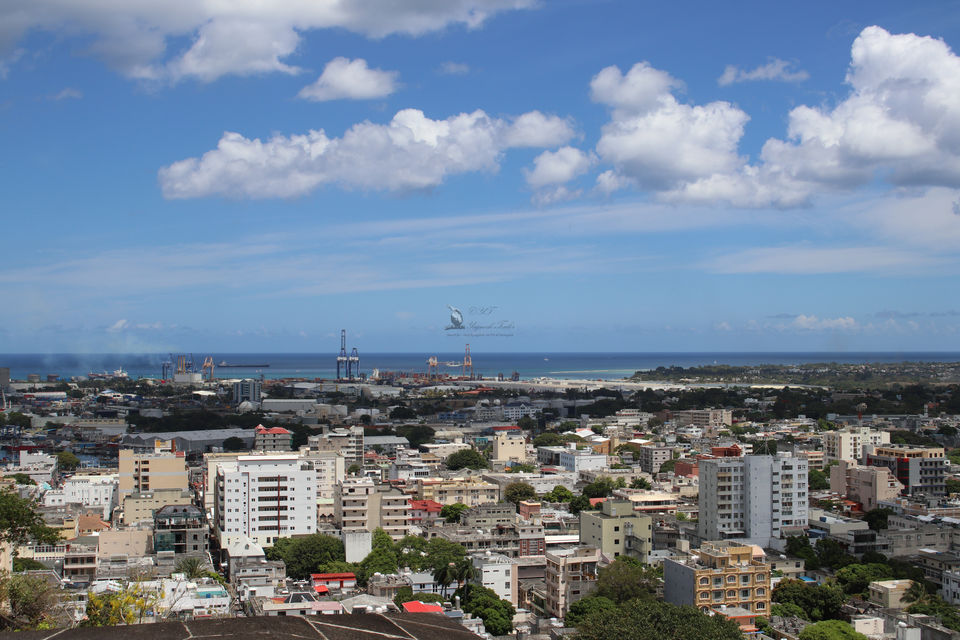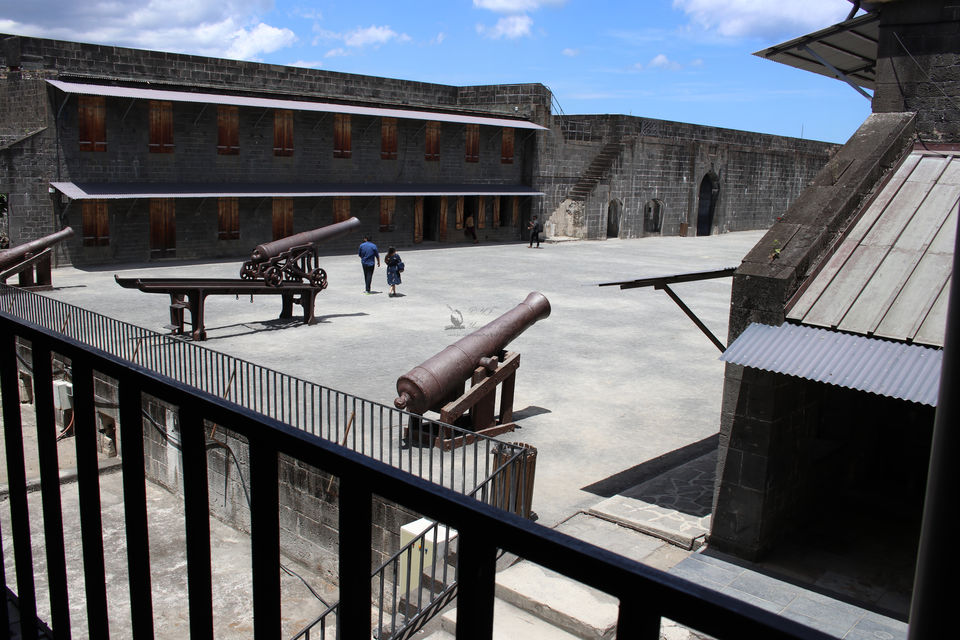 Now it's time to visit Marie Reine de la Paix. Hundreds of locals and tourists daily visit the Marie Reine de la Paix church to pray and enjoy the beautiful greenery around. The premises of the church are an ideal place from which to enjoy the view of Port Louis. Do you remember anything by looking at below picture? Any Bollywood connection? Nahh.. Let me tell you. If you have seen movie No entry? You will come to know if you go to climax. :)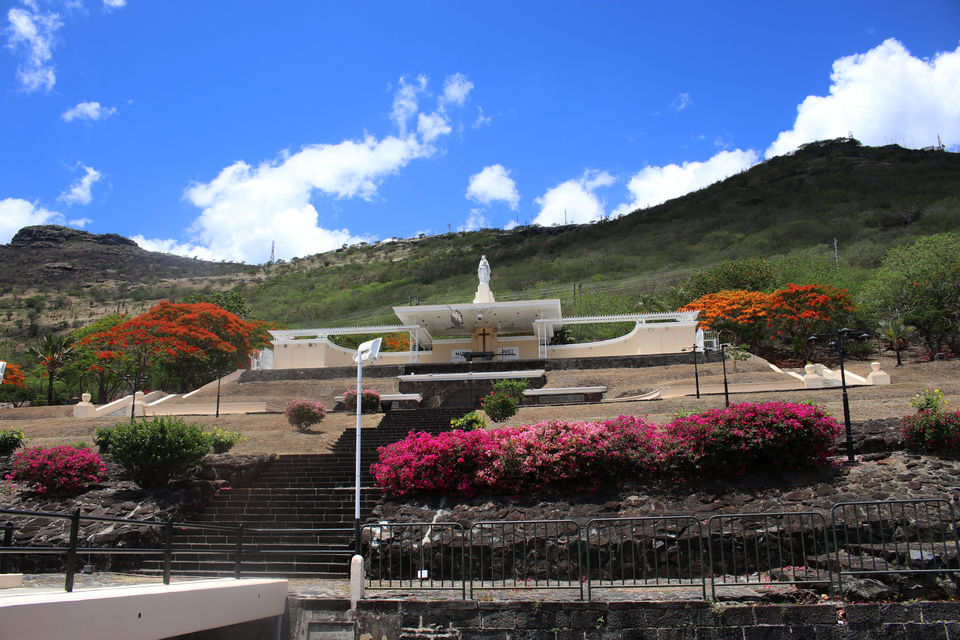 We were already hungry and no shopping in 4 days.. So my wife wanted to make my wallet a bit lighter. We visited Caudan Waterfront. More then 170 shops and huge food court. This very good place to visit to buy some local souvenirs and also Mauritius special rum. We first wanted to taste the most famous food item in Mauritius, Dholl puri. One person since long time sell Dholl puri here in Caudan Waterfront near food court. We took 1 for tasting and we loved it so much that we end up eating 3 :).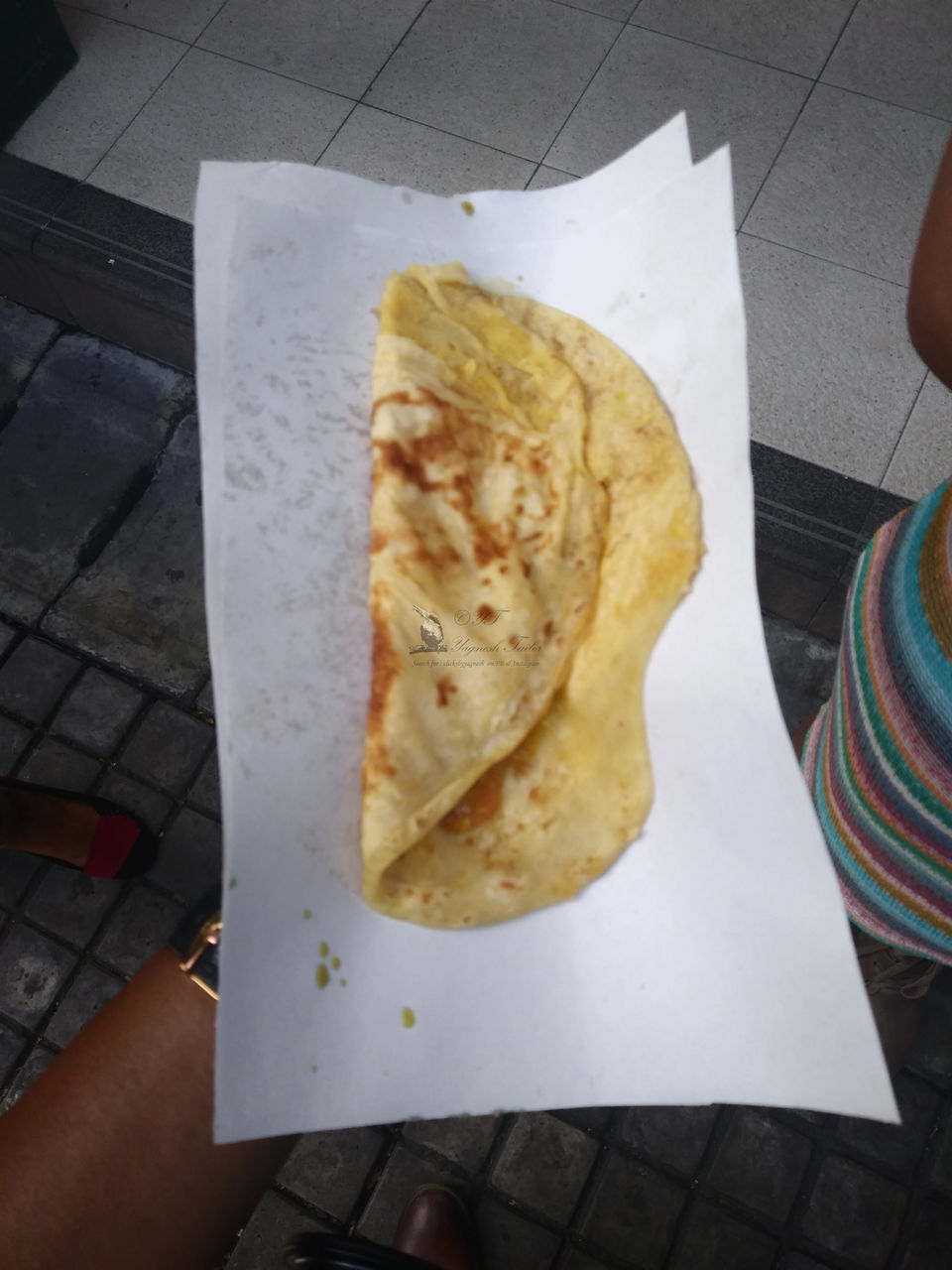 After having lovely Dholl puri, we did some shopping. There are many options to buy souvenirs and also local famous RUM. Few options are Chamarel Premium, Pink Pigeon, must try. You can also buy flavored sugar. Vanilla is one of the best that we liked. It goes really good with coffee. You can buy the same for gifting as memory to someone. After finishing with shopping we had lunch and then we moved on and back to hotel.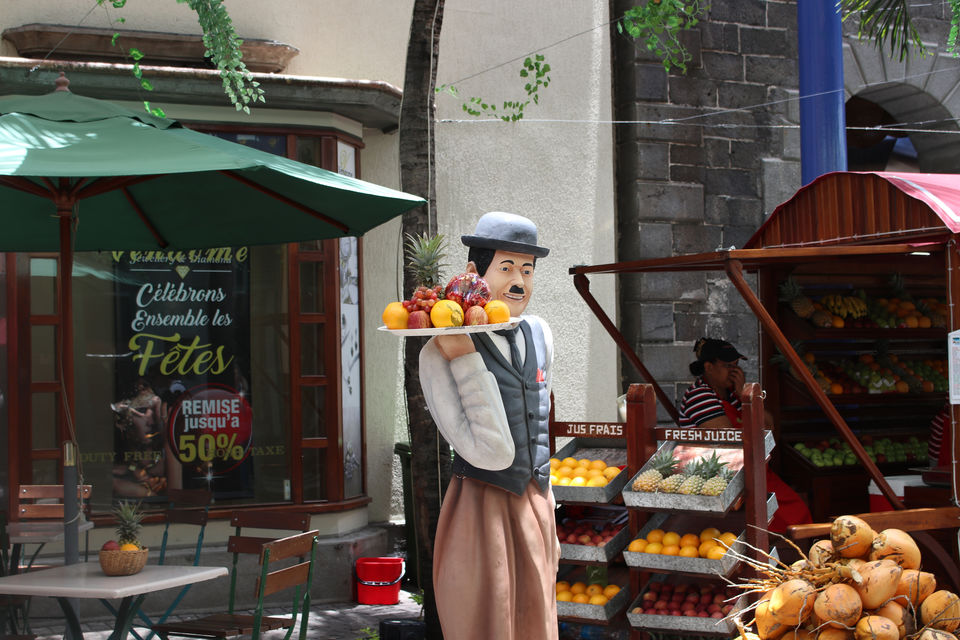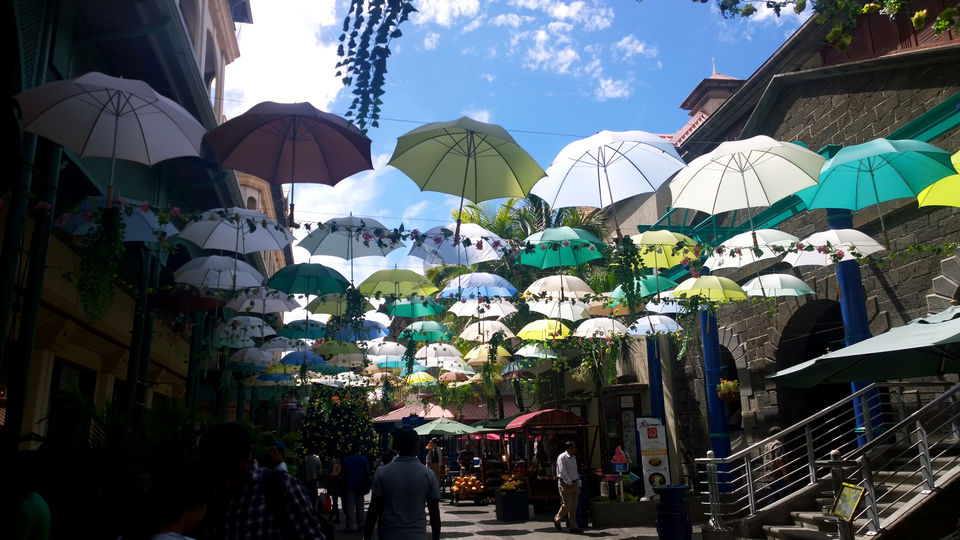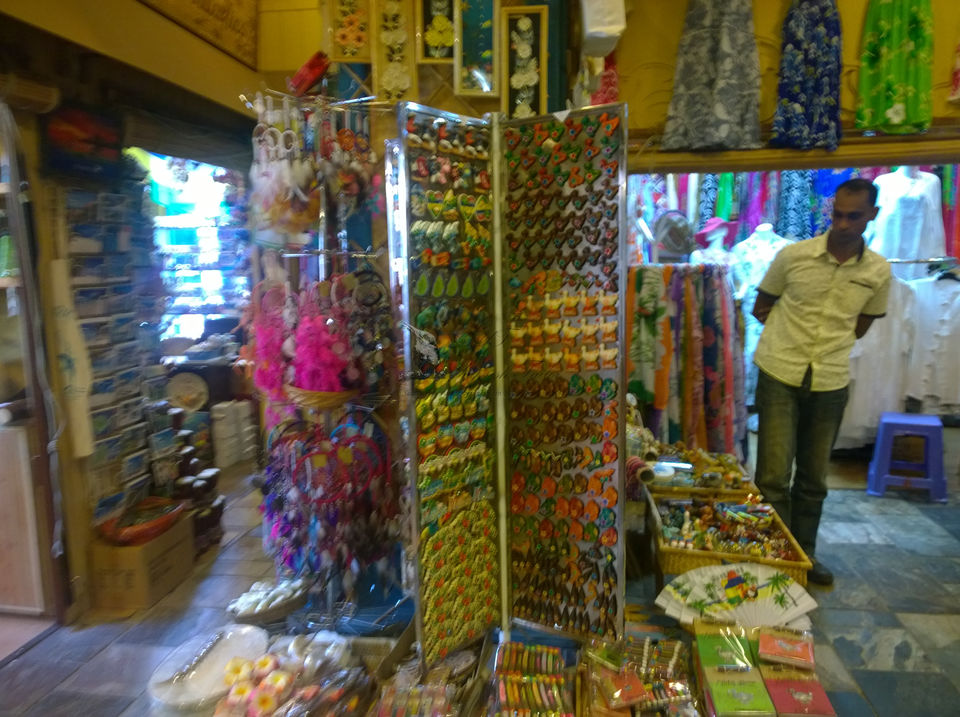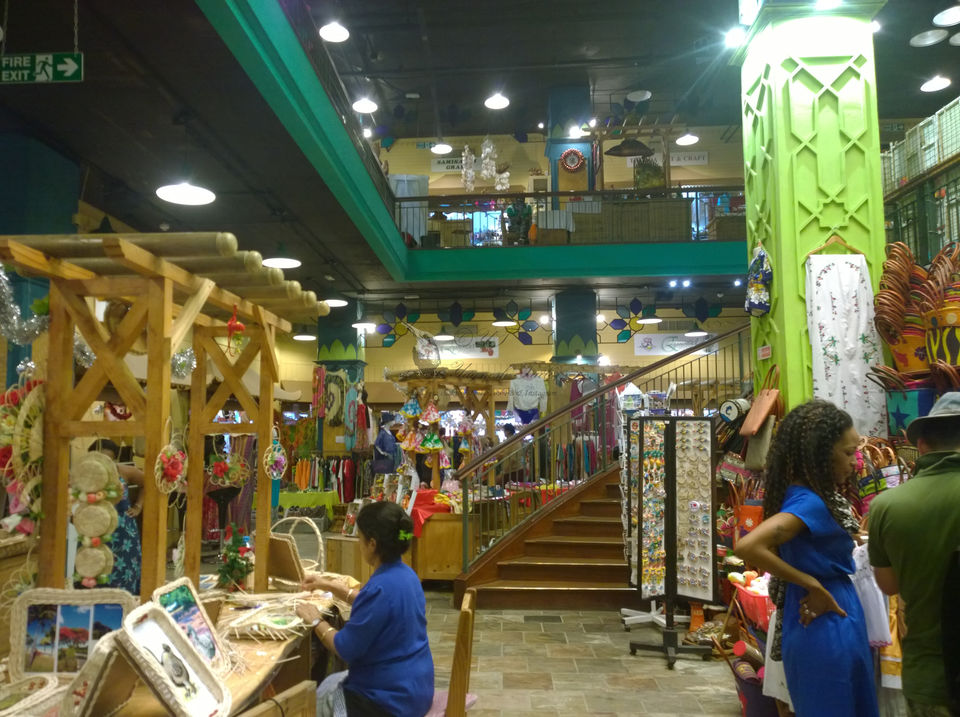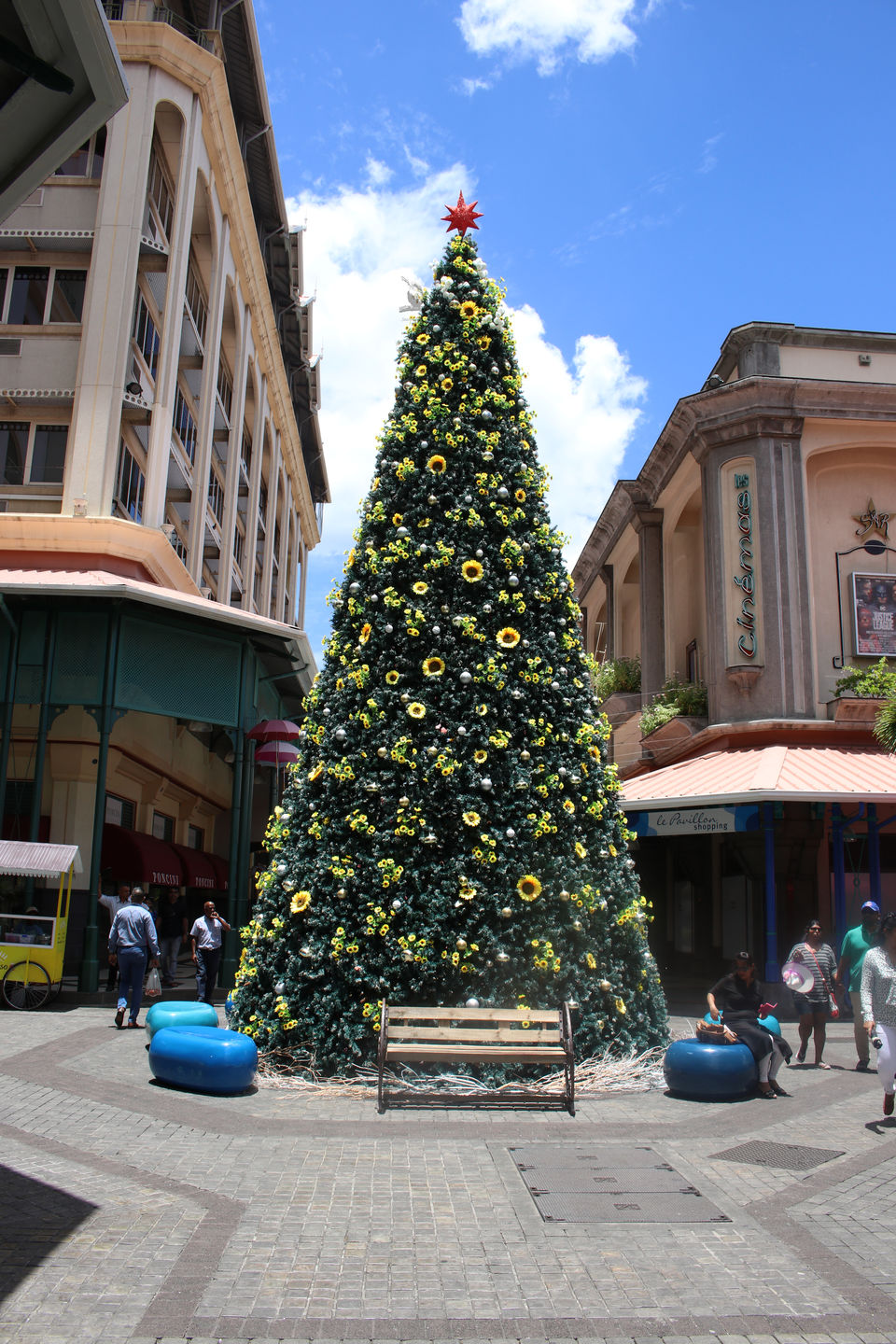 It was last day before returning and we kept the best for the last. It's time to visit Casela world of adventures. We have booked Casela cruise for dolphins watching and have breakfast on the cruise. We started at 5 am in the morning to reach our starting point. It was really good decision in terms of having amazing breakfast on cruise with champagne arranged by Casela. Also the cruise was amazing. It was Eco friendly boat basically. We were not able to see dolphins as they swim fast and batteries operated boat can runs slow. But we ended up doing snorkeling and it was lifetime experience.
After wonderful memory, we check-in at Casela park. Park is really good with so many things to look at. They also have quad bike which is really good and zip-line at small scale. Of the exclusive thing you can do here is interact with lions & cheetah and some other beautiful animals. We did the same it was lifetime experience. You can book online also from Casela site related to entry & all other stuff. We did our all booking from Casela site and received 15% discount. It was really good day :)
After finishing all the activities & visiting the park , we left for the hotel again.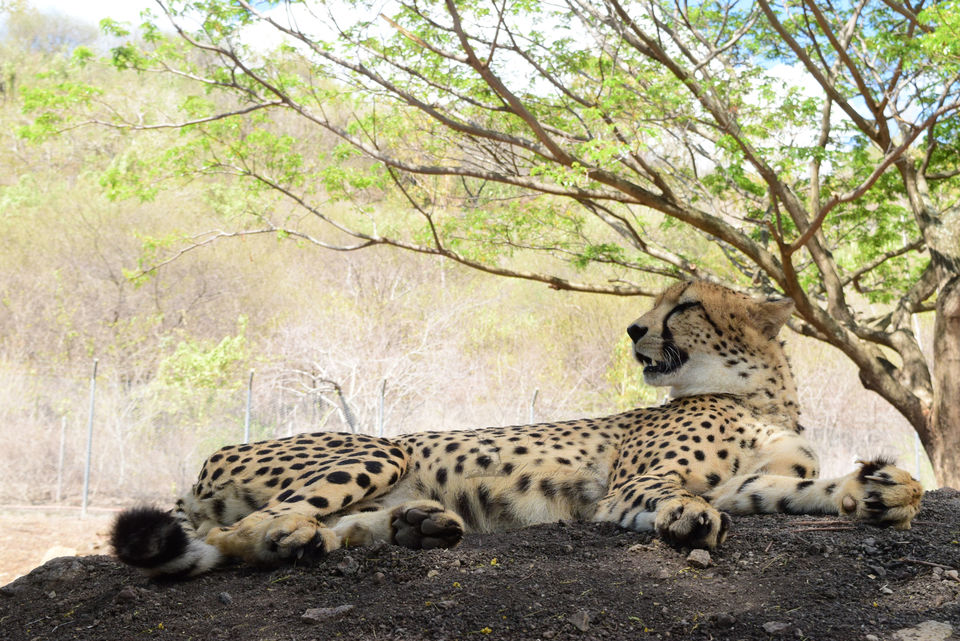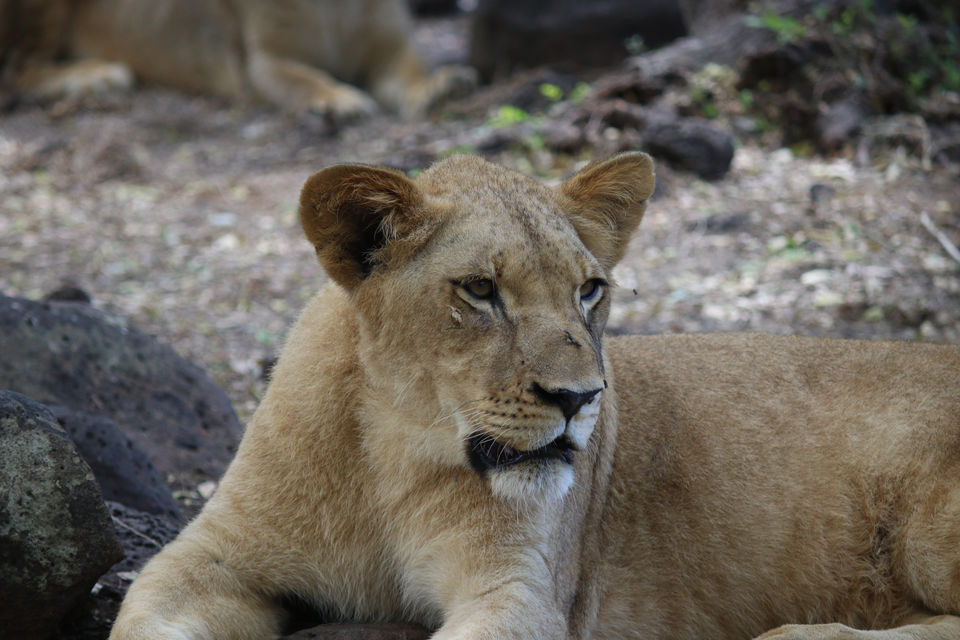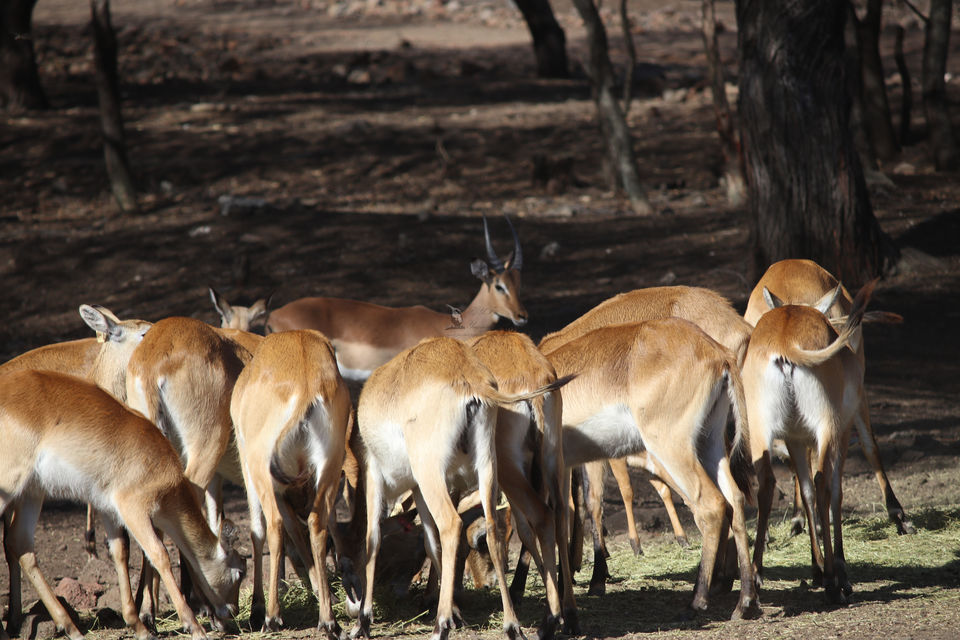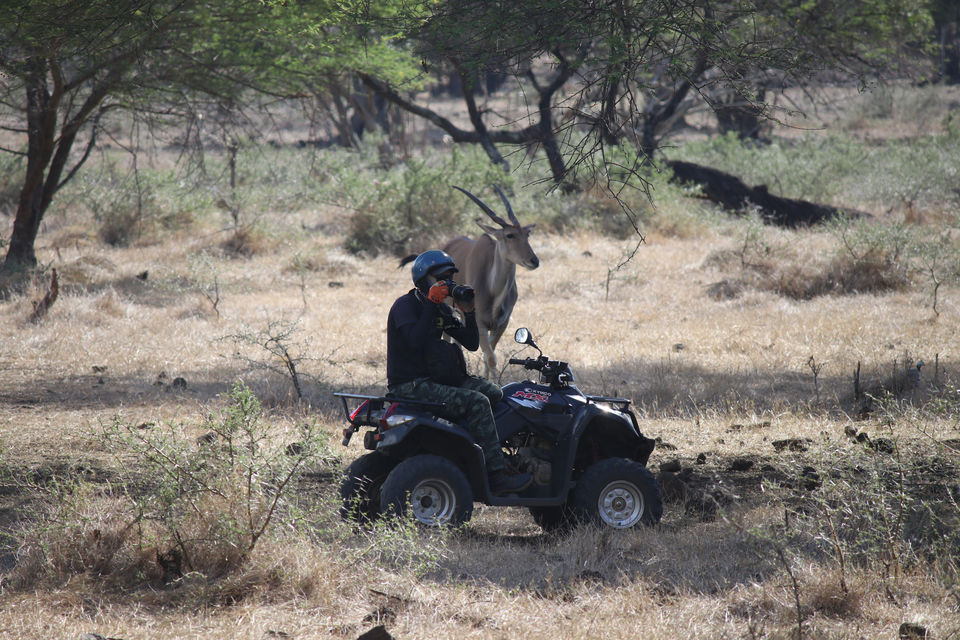 It's last day now. And it's time to say goodbye to Mauritius. We enjoyed a lot and had amazing time. Would definitely like to come again. Feel free to contact me for any query or would like to know more about something. Don't forget to mention how do you like the article on Mauritius written by me.
General Tips for Mauritius:
1. If you want to save some bucks on water, purchase water bottles from shopping mall. They will cost you around 13-18 MUR for 1 to 1.5 ltr. Hotels may charge something around 70 and above for the same.
2. You can hire vehicle if you would like to explore on your own.
3. Plan your stay properly in advance. Day wise to make it more comfortable and enjoyable.
4. Don't think much on certain points where you are not sure weather to do it / buy it or what to do. Just go for it. The moment may not come again :)
5. Last but not the least, don't forget to enjoy :)