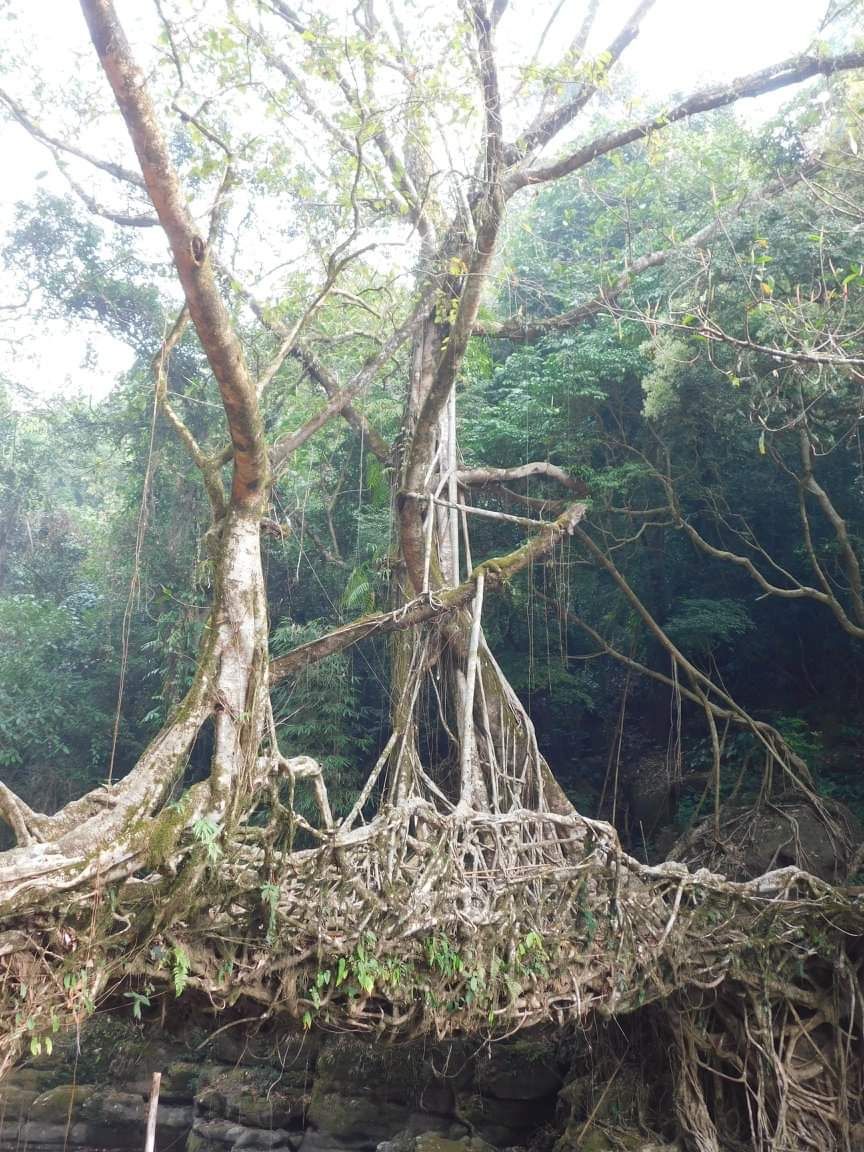 While Aadya and I escaped to NorthEast and most of you know one of the most visited tourist destination is Mawlynnong for being the cleanest village in Asia.
How to get there:
While we have just used local transport to travel across Meghalaya, it's mostly shared Cabs than buses. So from Shillong, we need to take a shared cab from Anjali theatre to Pynursla(I guess I paid Rs. 70) and from Pynursla you get shared cabs to Mawlynnong(I paid around Rs. 50). You can also hire a cab from Shillong as well from Anjali Market.
First impression:
When I just entered the village, there was a village centre with a few small hotels where you get the Khasi food and a few stalls here and there. I felt the place very commercialised with a lot of tourists, vans, crowd and busy roads.
Accommodation:
While we were looking for a place to stay, there was a boy in one of the shop whom I asked if he can route me to any home-stay. He said he with his Mom runs a couple and asked me to check that out. This was very close to the village junction and felt that was a wonderful place for me to drop by. We stayed at Umpohview stay.
The Magic:
After getting bored of doing nothing, Aadya and I hit the roads after the sun-set. That's when we saw the magic of the village. The children on the streets - screaming, laughing, fighting!! ah!! what a bliss. I was carrying a few toffee's. I let Aadya share it with the kids so gel with them with the limited time we had and it worked well. Aadya was literally running after each kid she saw to share her chocolates and then I was just watching her sitting on the street. That is when I met Montila, my host and she was a lovely woman. After a long time of play, all the kids started leaving and Aadya and I were still sitting on the road making sand castles with the sand that was available on the roads and then I saw this incredible gesture, a boy who was playing with her a while ago, went back home and came back to buy biscuits and he made sure he handed on biscuit to Aadya. It enlightened her face to know that they accepted her as a friend.
Living root Bridge:
A friend told me living root bridges are best when you see them early morning all alone. So Aadya and I started walking for about 3 kms from the village very early as soon as we woke up to see the living root bridge of Mawlynnong. Me being an unfit woman and Aadya being very young, we almost walked for an hour and we were not scared since every passing Khasi waved at us and smiled at us.
We walked walked walked and walked and then I curiously peep on how this living root bridge would make me feel like. You gotta trust me, I had goose bumps. when there are heavy rains, it is easy to cross the hills to connect villages, so man used huge trees to plait its roots to form a bridge. I wonder how much more trees have to offer us!
While returning, a Khasi offered lift until the village centre and then we packed our bags to leave Mawlynnong. So, as soon as we reached the city centre my little host informed us that we have a shared cab if we want to travel back(I asked him to inform me as I didn't want to crazily reserve a taxi). We were on budget trip
We miss you Mawlynnong!