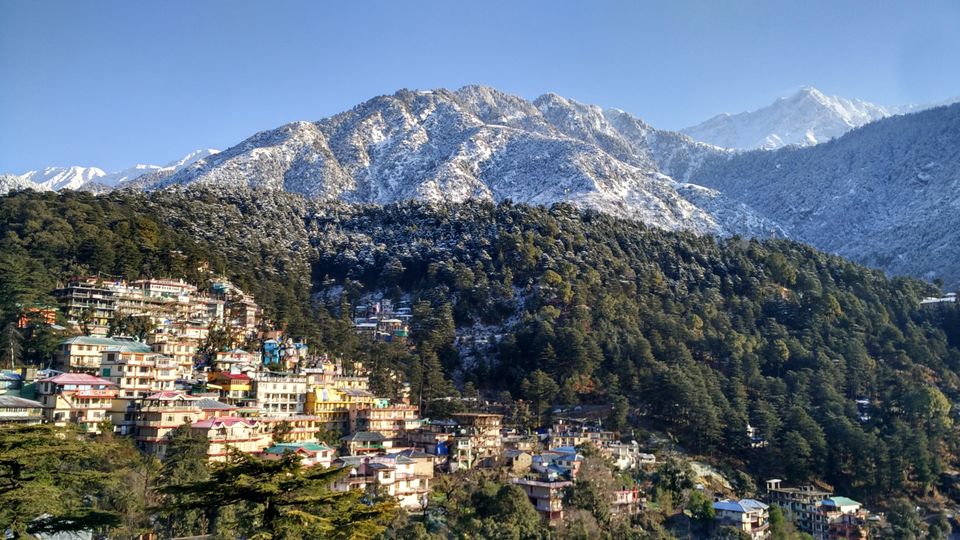 I have been to quite a few places in India with my family ,this was my first trip with "Friends" and wow !! what a place to start with. It was a journey full of peace,fun,food,lots of walking(trekking I should say!!), rain , a little snowfall and much more.
We started by catching bus from ISBT, Delhi which dropped us at this Little Lhasa (as they say because of its large population of Tibetans ) at 9 am next day. We had our guest house already booked ( my friend has got contacts there as it was her 8th visit to this beautiful place ).
The first place we visited is obvious, all could guess ....yes its Dalai Lama temple. This temple complex is centrally located. We walked from our guest house Takhyil.The main attraction is big golden statue of Buddha and is on the 1st floor. There's a book shop and souvenir shop inside the temple complex. Our next destination was Dal lake Located at a distance of 2 kilometres away from McLeodganj Market, this beautiful lake is set amidst lush green Deodar forests having peaceful surroundings. 1 Km ahead of this lake is Naddi village . When we reached at its top , we witnessed a magnificent view of Dhauladhar mountain ranges. After having our dinner at famous Dhabha(actually a restaurant which offered delicious north Indian food in mountains) in front of our guest house ,we went to bed waking up next day to conitinue our journey .
The next stop in our list was Bhagsunag water falls. Around 2 km from our place, the road journey to this was amazing giving us great views of Mcleodganj. On the way there was Lord Shiva temple popularly known as Bhagsunag temple.There was a nice Shiva Cafe next to the fall where you can have lip-smacking snacks and drinks served with warmth.One of the things worth trying is Israeli food.The view from this place was fantastic , leaving us completely spellbound.
The Third day started with rainfall (which ruined our idea of Truind Trek ).We decided to go to Dharamshala Cricket stadium after having yummy breakfast at cafe near to our place. The view of stadium is supremely beautiful.The overlooking snow capped peaks of the Dhauladhar range gave a feel that it is set in Heaven.After witnessing this picturesque stadium we returned to our abode( the guest house felt like our home)
The fourth day started with gorgeous view of mountains covered in shining snow.We could not take our eyes off snow covered peaks.This was last day of our trip .
These 4 days were accompanied with unlimited strolls on Temple road ,spinning of prayer wheels,standing for hours at the main chowk,tea-biscuits,Maggi ,talks ,clicking photos , videos and much more which cant be expressed in words.
When we were about to leave to get back in our daily lives , we all felt we could have one more day with us to explore this amazing place .It is a divine place which has left me wanting more of it ,I would definitely like to visit Mcleodganj again and witness this amazing beauty of nature.