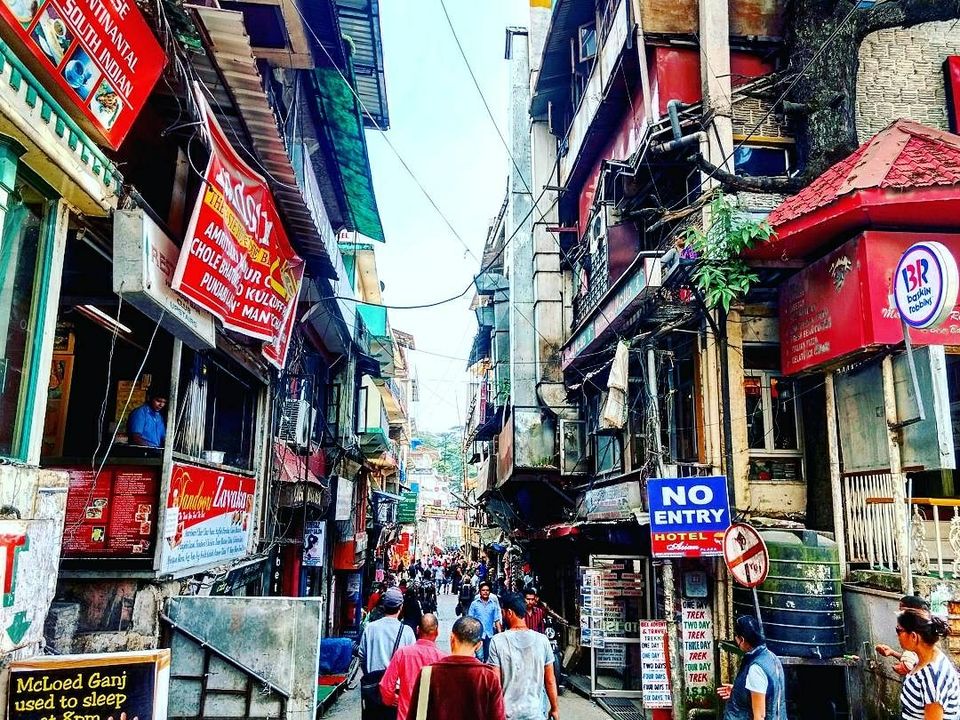 Mcleodganj also known as 'little lhasa'(nickname used mainly by tibetans) is small suburb of dharamshala with a area of 29sq km located in the dhaulander range and can be easily explored on foot.
I went solo to mcleodganj in last monsoon, I wanted to do Triund trek but I was advised not to because of whether condition as path gets slippery
and treks aren't advisable for amateurs in that condition.
I went to bhagsunag only, and that view of waterfall was so enchanting it filled love in my heart for that place
then I came back to delhi, but I wanted to be at mcleodganj again.
So, I made a plan for Triund trek in October I went with one of my college friend. Our bus departed from Majnu ka tilla, Delhi. We reached mcleodganj in morning after having some Maggi and paranthas we explored market and then in afternoon we went for trek and on our way we met another trekker going for indrahar pass trek, three of us started our trek from gallu devi temple, it took us around 4 hours to reach Triund hill and the feeling of reaching on top was so amazing through the rough beautiful paths somewhere clouded somewhere clear.
That experience of reaching on top was so refreshing, everything was so joyful.
We stayed there that night, and the night sky is a must watch.
From there on the top whole city looks beautiful in night.
Next day we went for Snowline it took us around 2 hours, that path was bit difficult but it was worth it. Snowline cafe, that place was so calm far away from crowd there were not much people and the view of dhaulanders was gigantic.
Then after spending some good time there, we descended down to mcleodganj.
Next day we went for Bhagsunag Waterfall,bathing in that cold water was one great experience, if you're at bhagsunag you must go for shiva cafe
They serve great food and ambience there, is rad ????.
One should must visit mcleodganj once✌.
Places to visit :
• St. John's church in wilderness
• dalai lama temple
• Namgyal monastery
• Triund trek
• Illaqa got
• Indrahar pass trek
• Bhagsunag Waterfall
• Shiva cafe
• Dal lake
• Naam art gallery
• Dharamkot
.
IG handle : its_aman7