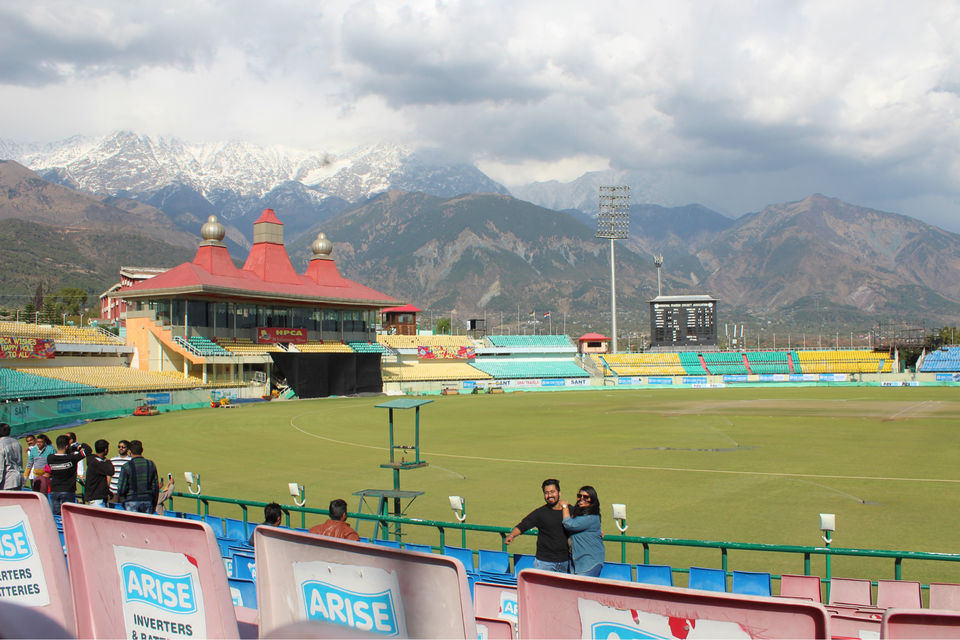 It would not be incorrect to say that Dharamshala lesser known among the masses become extremely popular after the establishment of Cricket Stadium & those sight to behold scenarios they show you on TV. Beautiful mountains surrounding the Cricket Stadium is something very unearthly to experience.
So, we were in Dehradun & the plan was to come to Delhi but in between our brains struck a cord & we decided to head to Dharamshala instead. Dharamshala is the first place we travelled in Himachal. But I have to say, the road from Dehradun to Dharamshala is nothing short of a fairytale. It was so pretty, the dams, the villages, the serene views, the setting sun, the open farmlands- damn my heart!!!!!
Since it was a impromptu trip, & our loving Wolfy a.k.a Ecosports eats a lot of petrol, we could only manage a budget stay in Mcleodganj, which we pre-booked because we were suppose to reach Mcleodganj by 1:30-2 in the night. We had some quick snacks & bought our booze at Chandigarh & headed towards our destination. To be honest, I was really skeptical about moving further that night, & rather wanted to stay in Chandigarh & start again in the morning but friends thought otherwise & continued.
So, now the most beautiful journey of life till date, the most amazing moon of my life, the biggest moon of my life, the dark curvy mountain roads & no one on sight. Yes! It was like I was just about to see some fairies & all that stuff. It was so damn magical. I didn't even had the strength to just click the view because I was in such an awe!!!! It was spellbinding! Heavenly experience altogether!
But soon it turned out to be the most horrific ones & one night to remember throughout my life! As we reached Mcleodganj bus stand; there were 3 roads in front of us. The left one was showing 9 kms to the hotel; the middle one was 2 km but was a steep upward slope, & the final one was from from narrow lanes & showing 3 kms. So we decided to take the best from the shorter ones because obviously it was 1:30 or 2 in the night. So we started off & then after only help from Google Maps (cz' no single physical soul was there) we reached a very narrow road which ended on top of the bloody Mcleodganj hill. Yes! We could see all the lights & houses & the city below us; like much below. It was called some Naggar Road; even the hotelier didn't knew about its existence. There was death on our right side & no space to reverse & also the road ended in front of us. Terrified & petrified; we somehow managed to reverse the car & headed back & then took again the sloppiest one & our souls knew that day how we survived those small narrow roads & our mammoth car. That was not enough & our car brushed to a tantrik lady at bloody 2:45 or so in the night. Who the hell walks in such a area with all those tantrik clothes & with such a look on her face. To be honest, we thought we just crossed a ghost untill the morning when we saw her again. There was silence & horror & only desire in life was to see our hotel. Somehow we found our way & reached the hotel around 3:15-3:30 in the night & it was aweful. The horror in our souls could be felt. It was all a nightmare!! We somehow cuddled & slept & then it became the story of our life till date.
The morning was beautiful; the valley was mesmerising, the city was cute & worth many visits. We were short of time & couldn't make it to Triund but yes hiked to Shiva Cafe & it was all fun thereafter. The spellbinding view from the Cricket Stadium was the moment to hold & Bun Chana walas outside were must to have. It was an amazing trip. I wish to hike to Triund soon & also visit more upwards. Heard of some haunted church n all there. ????????
Must must visit the Shiva Cafe if you unfortunately can not make it to Triund. We are among those unfortunate ones! Shiva Cafe has got all those vibes & immense inspiration amongst all the calmness & medicative properties. The food is awesome & seriously tasty. The view is worth it. Those visiting Dharamshala, do take some time out & just do not miss the narrow lanes of Mcleodganj. Trust me! The city looks amazing from above the hills even at 3 A.M. in the morning. ????
Happy travelling!