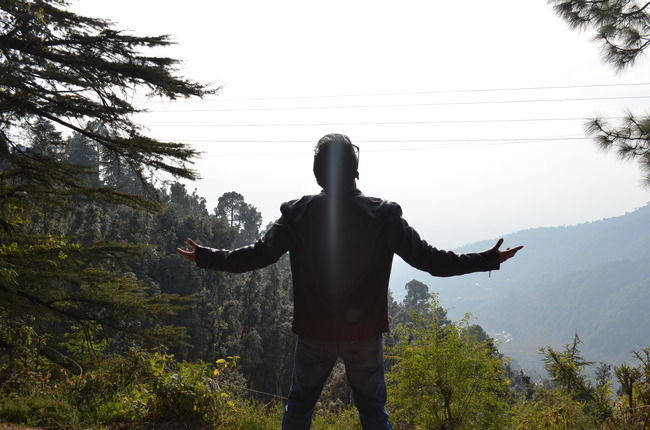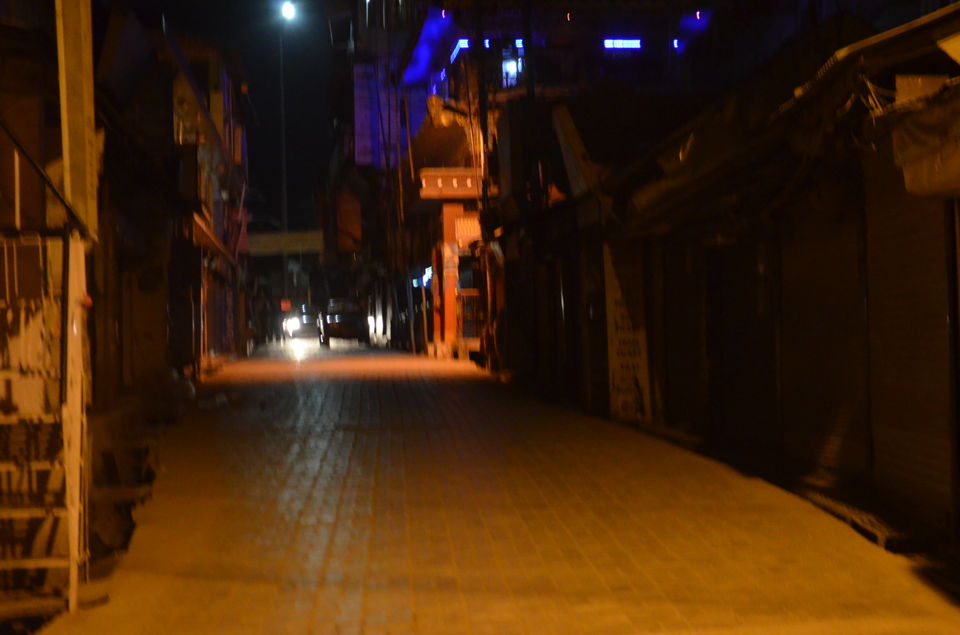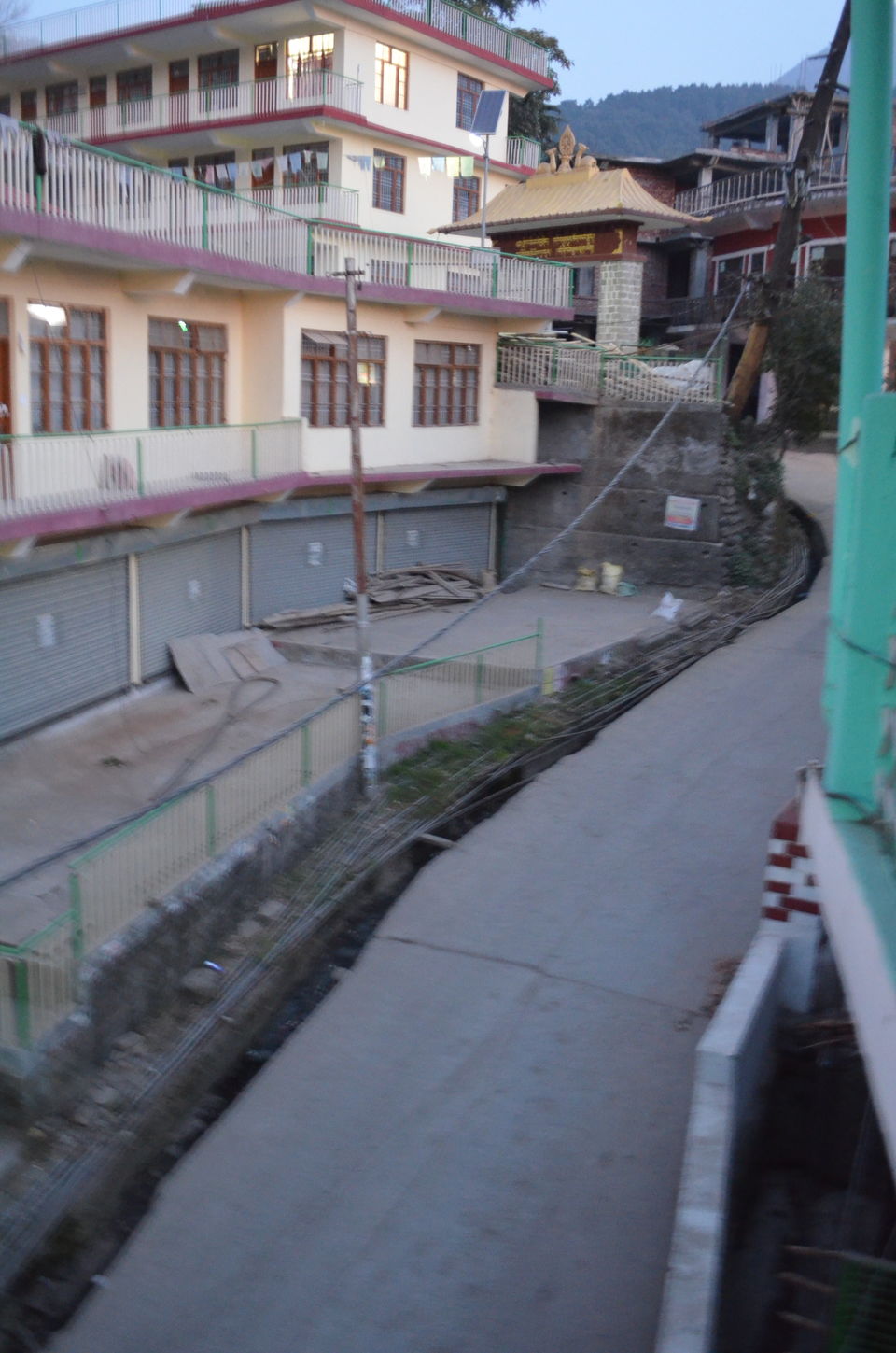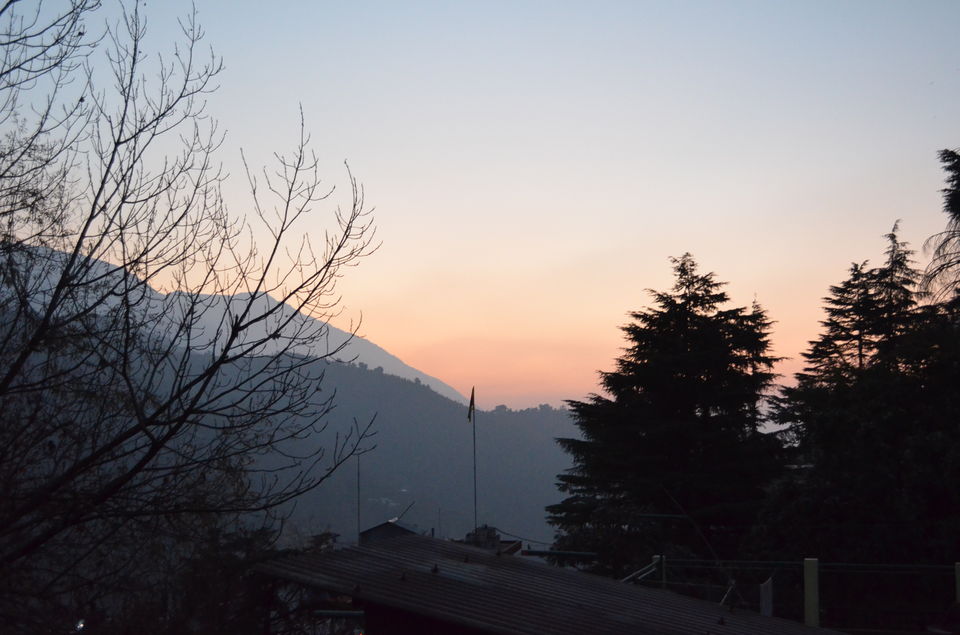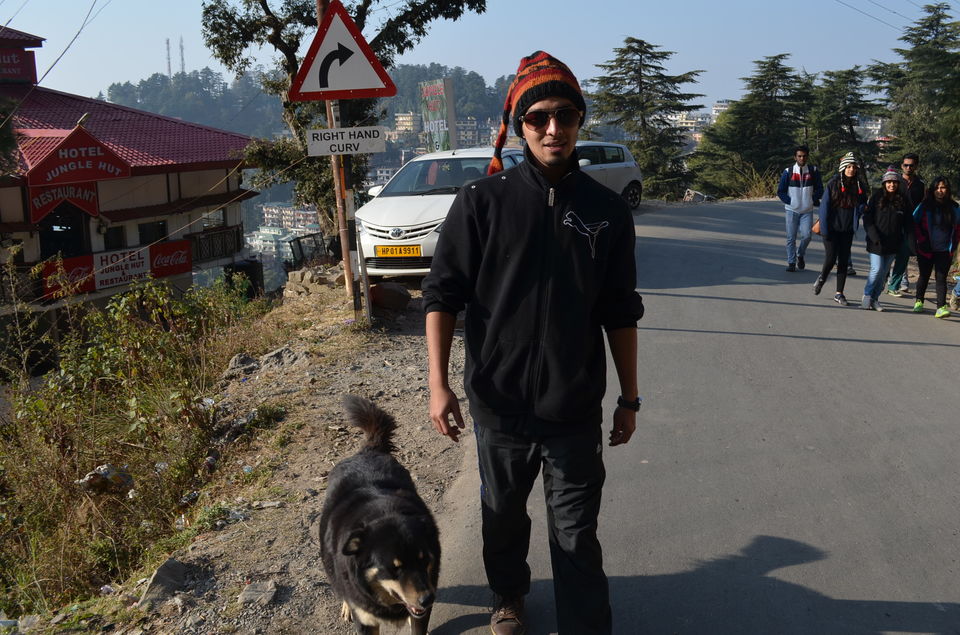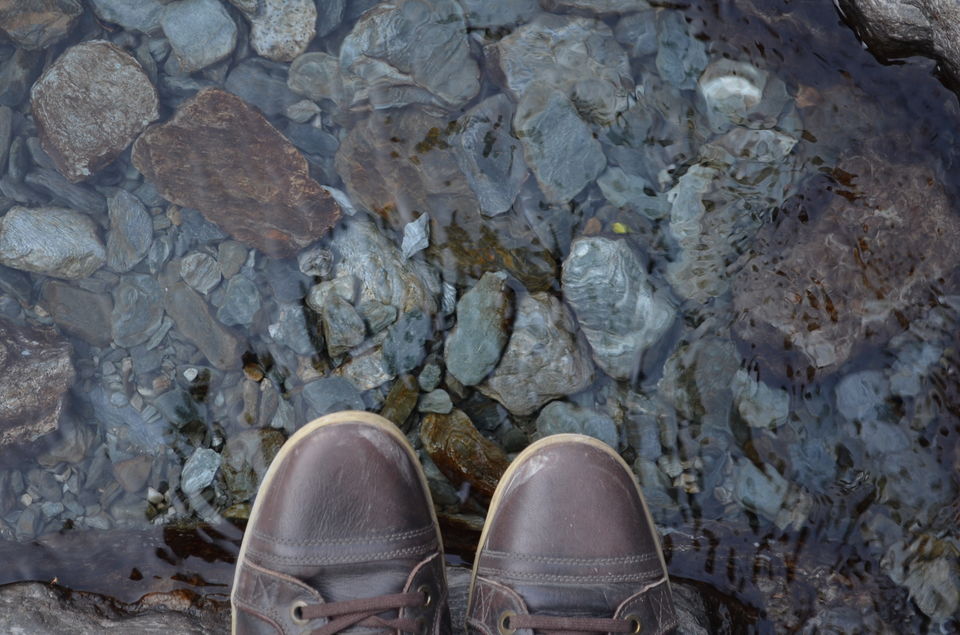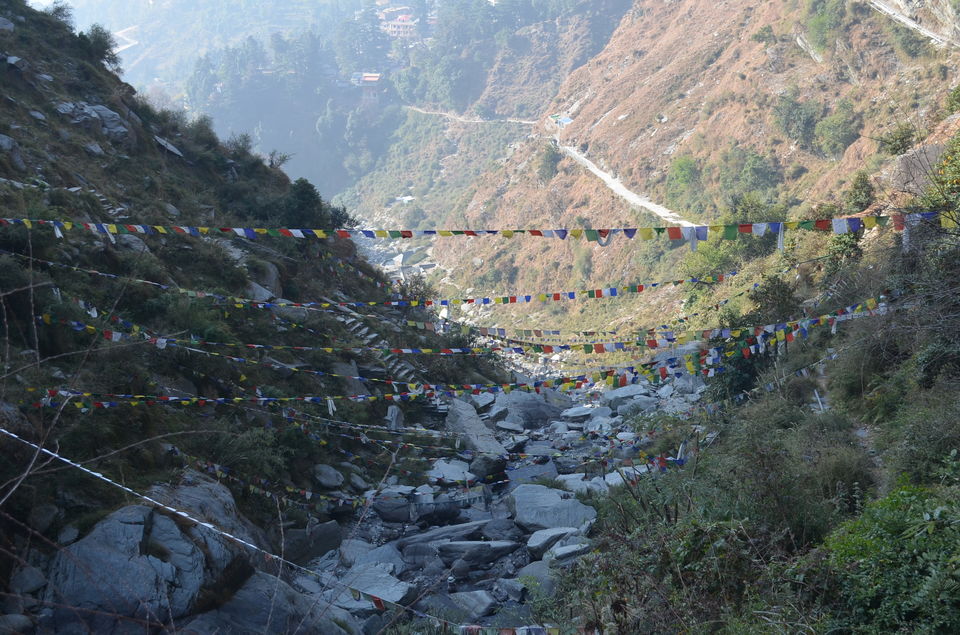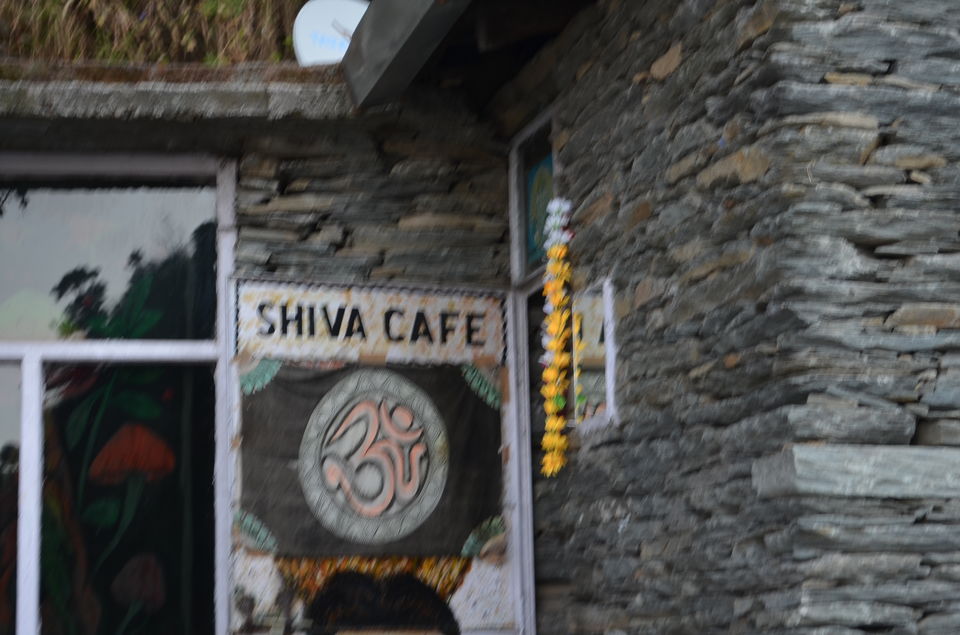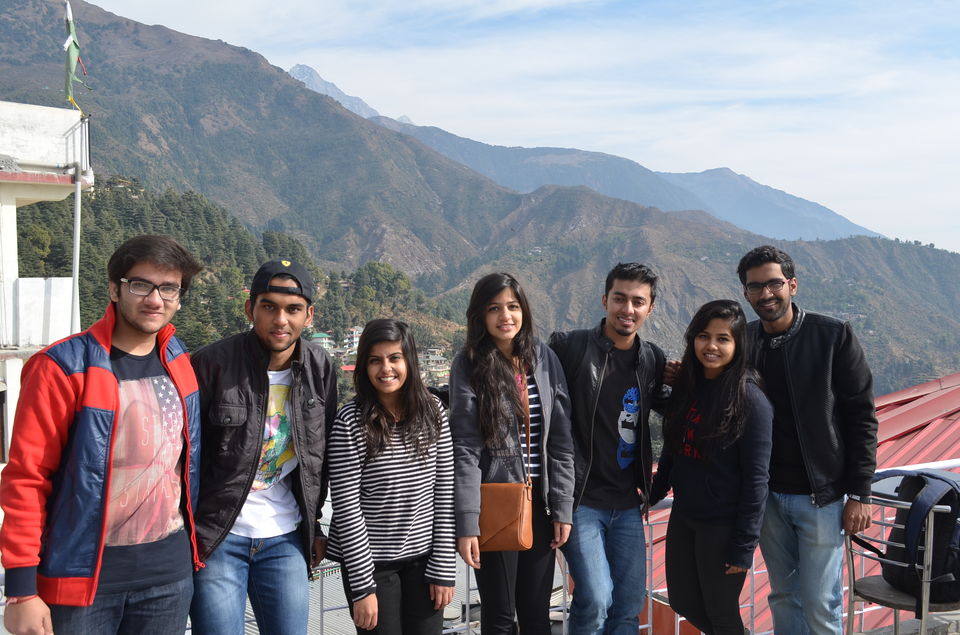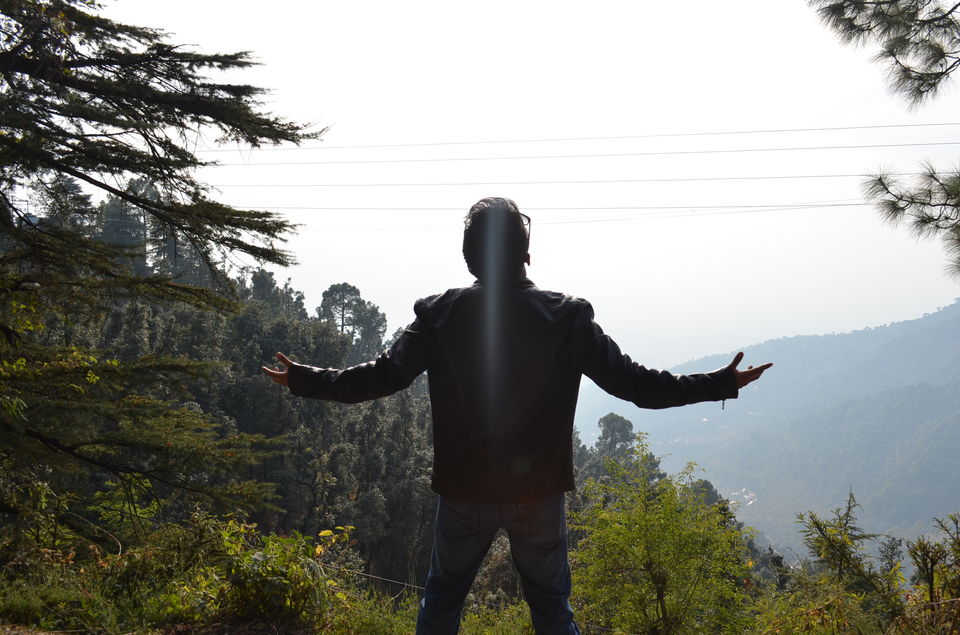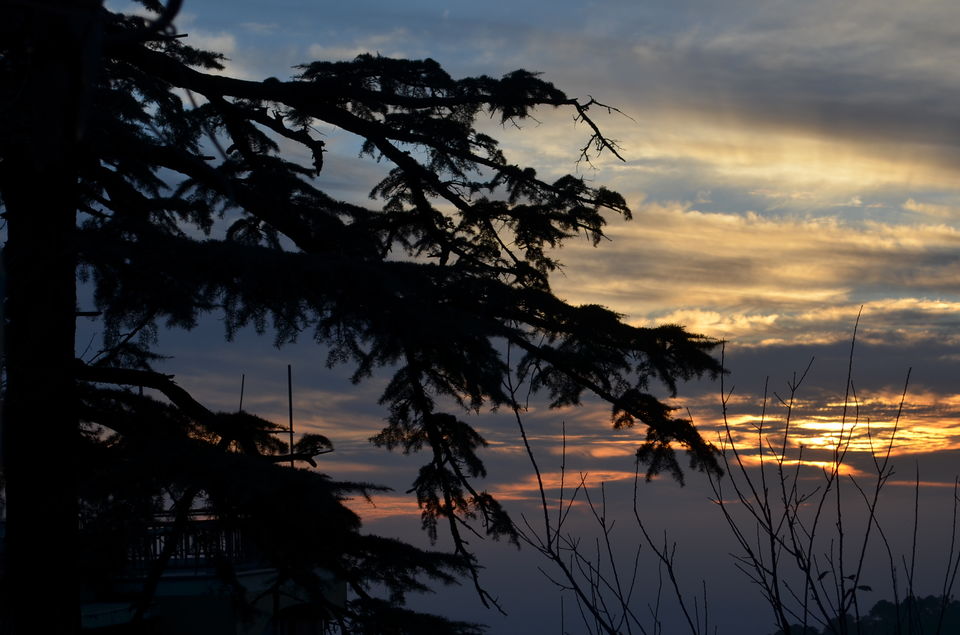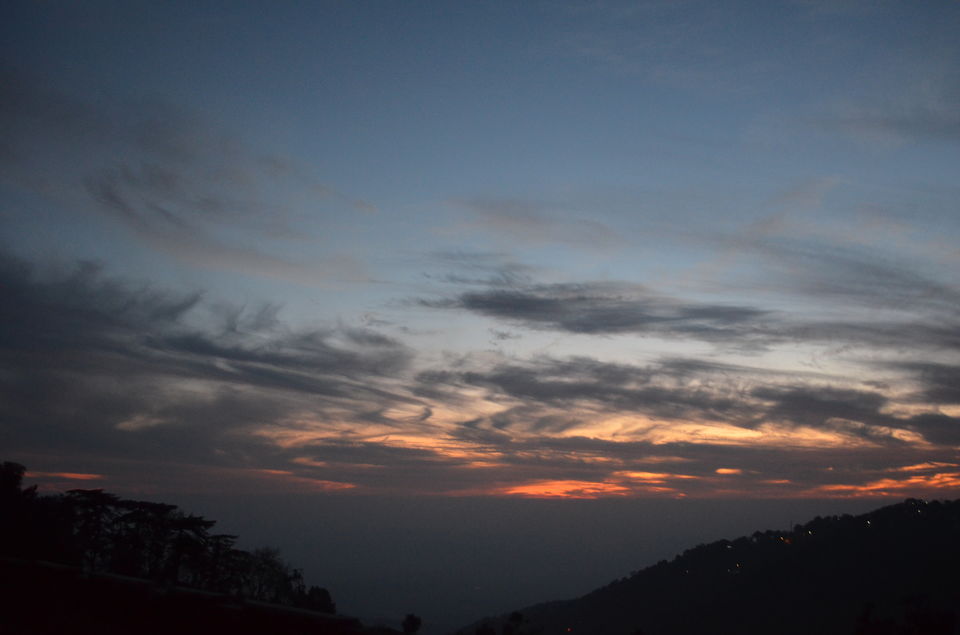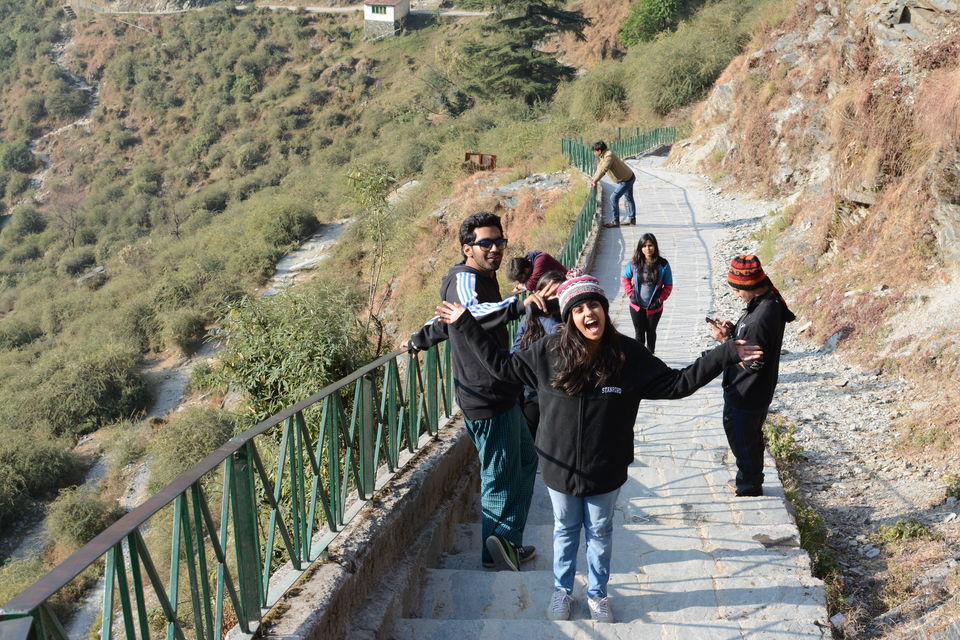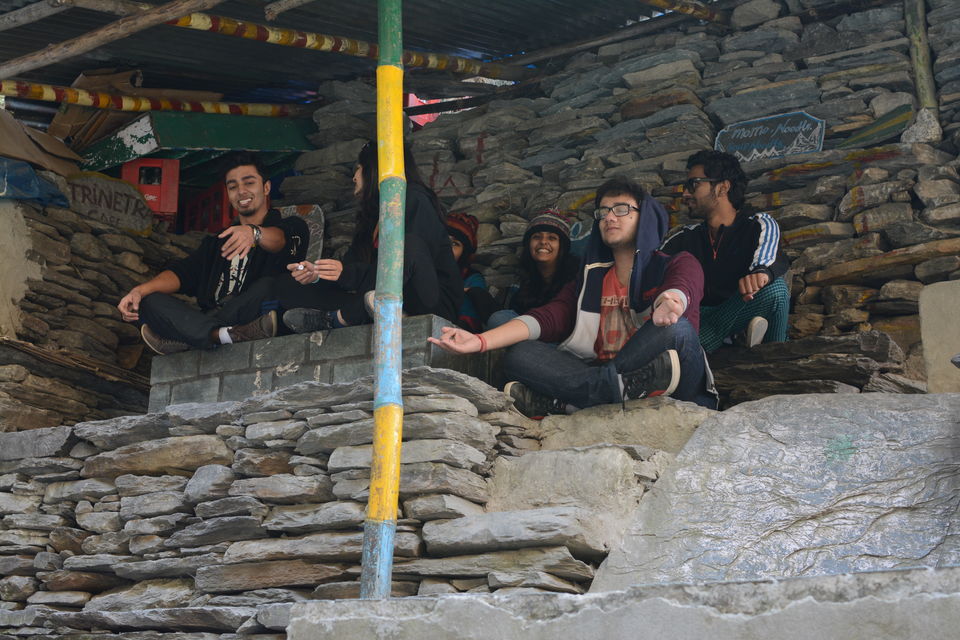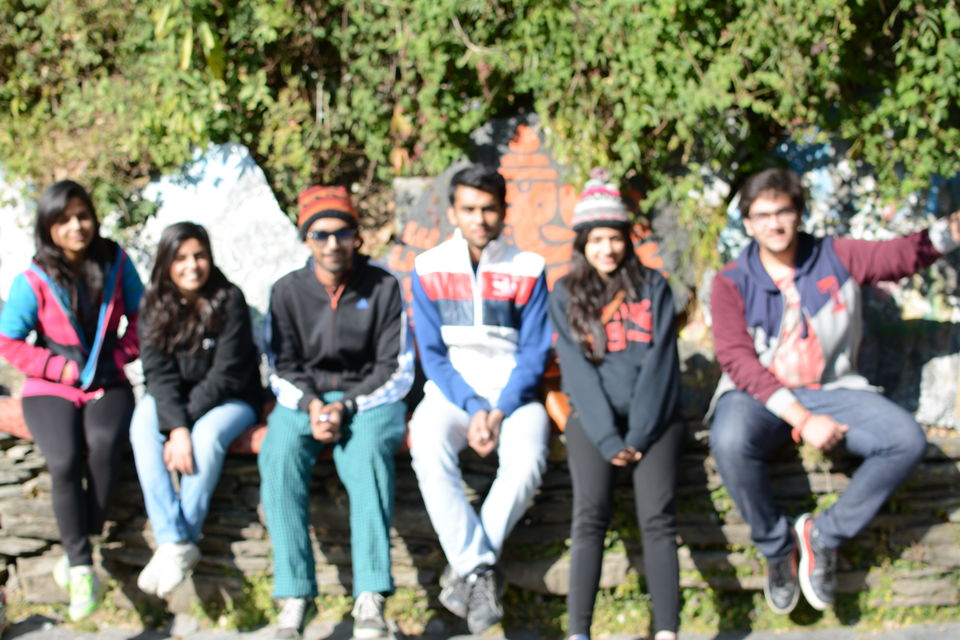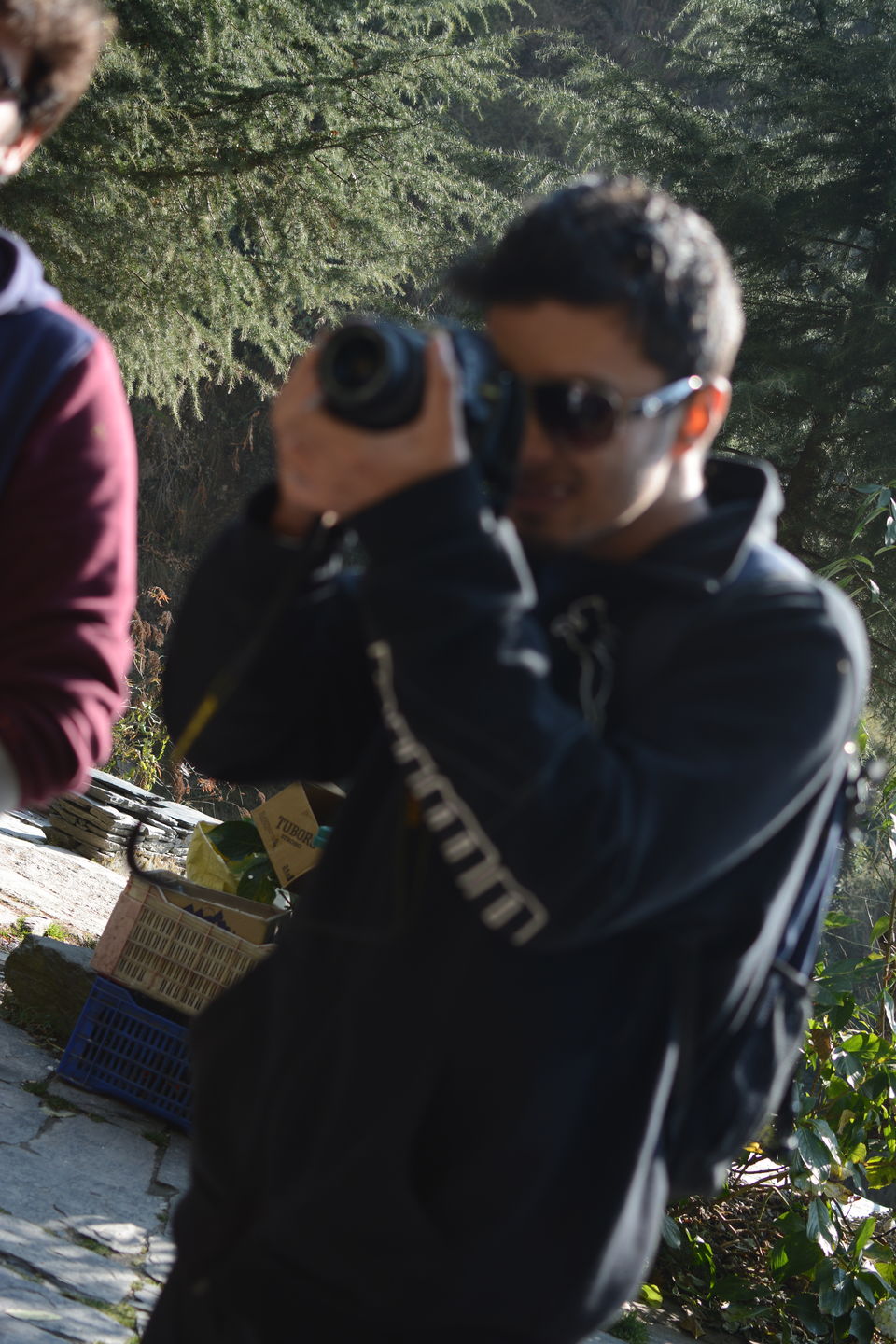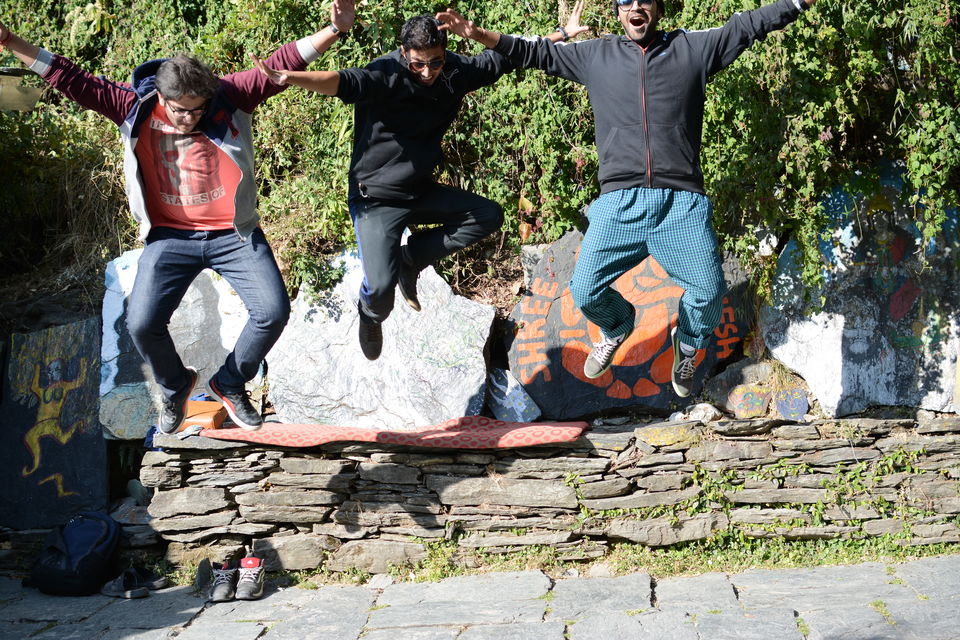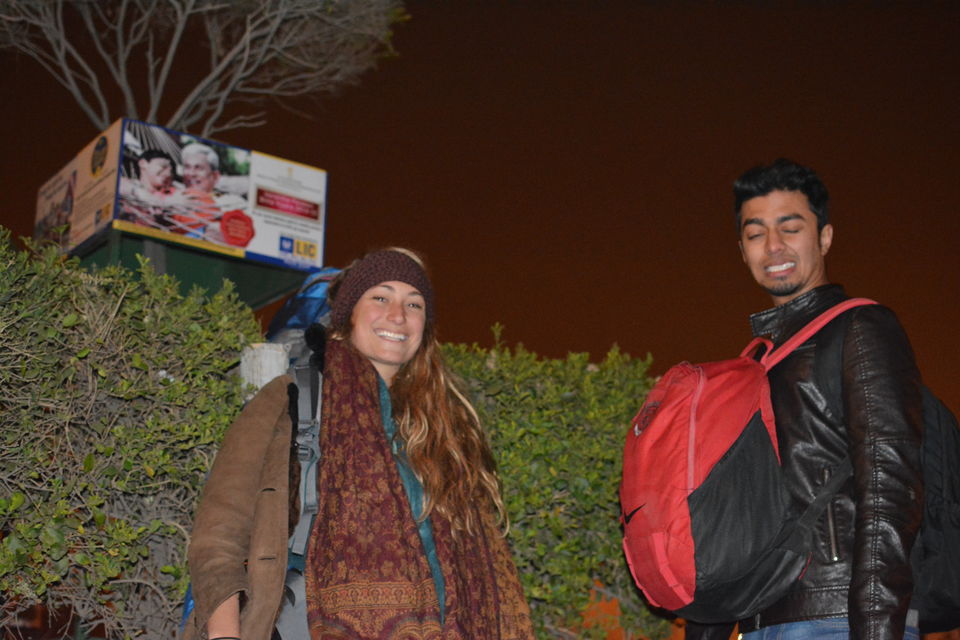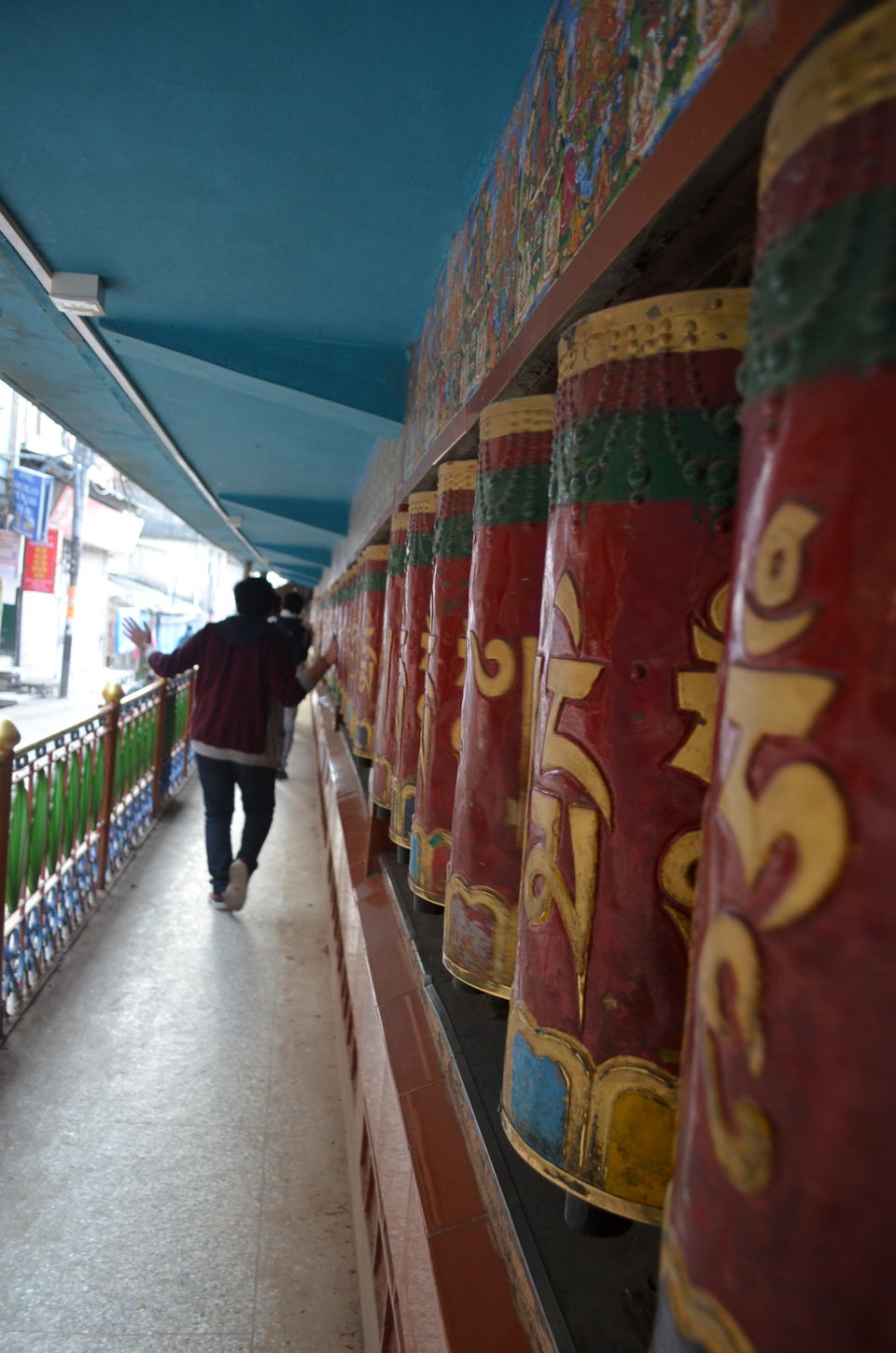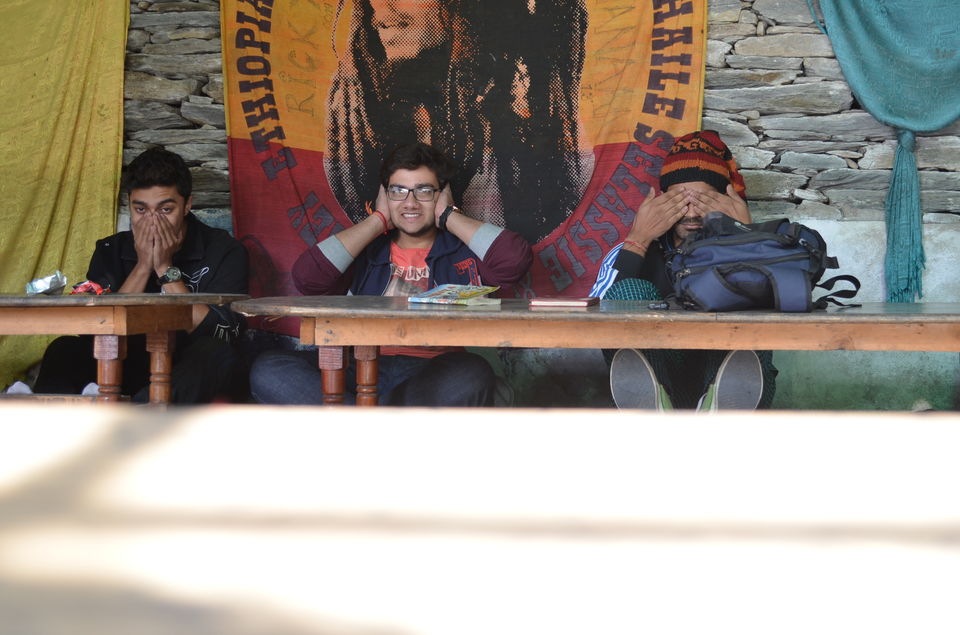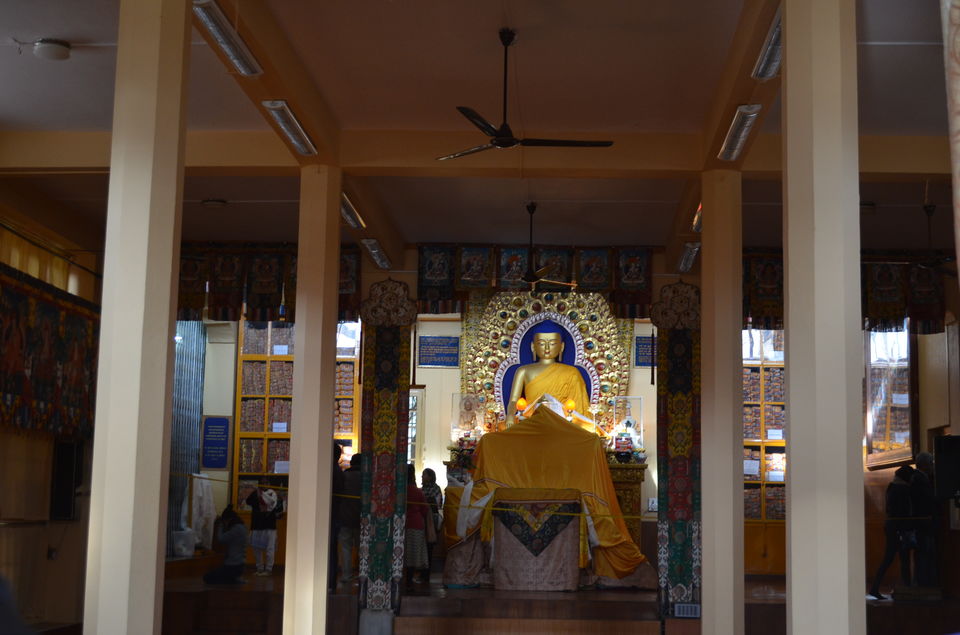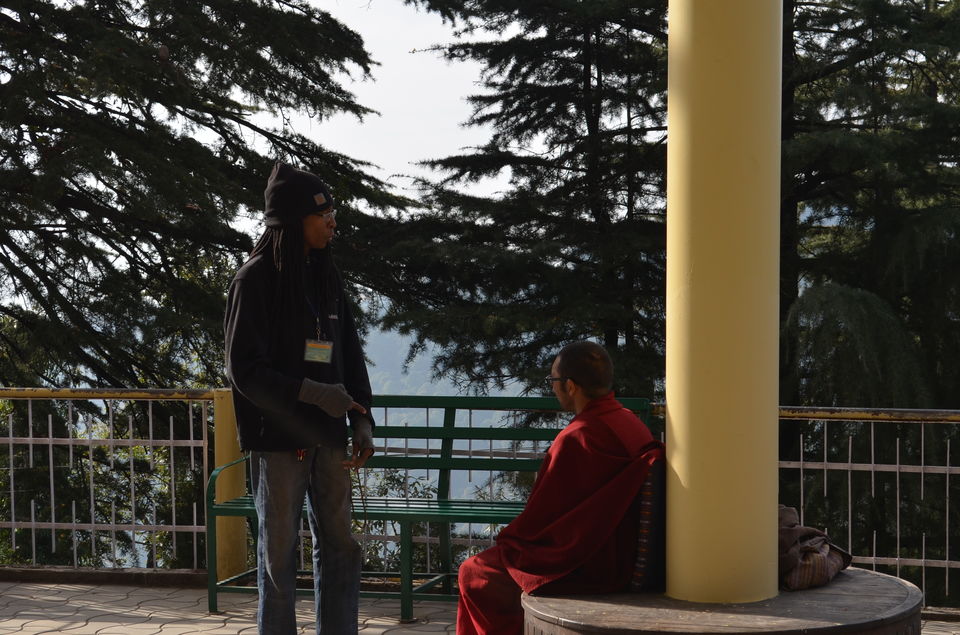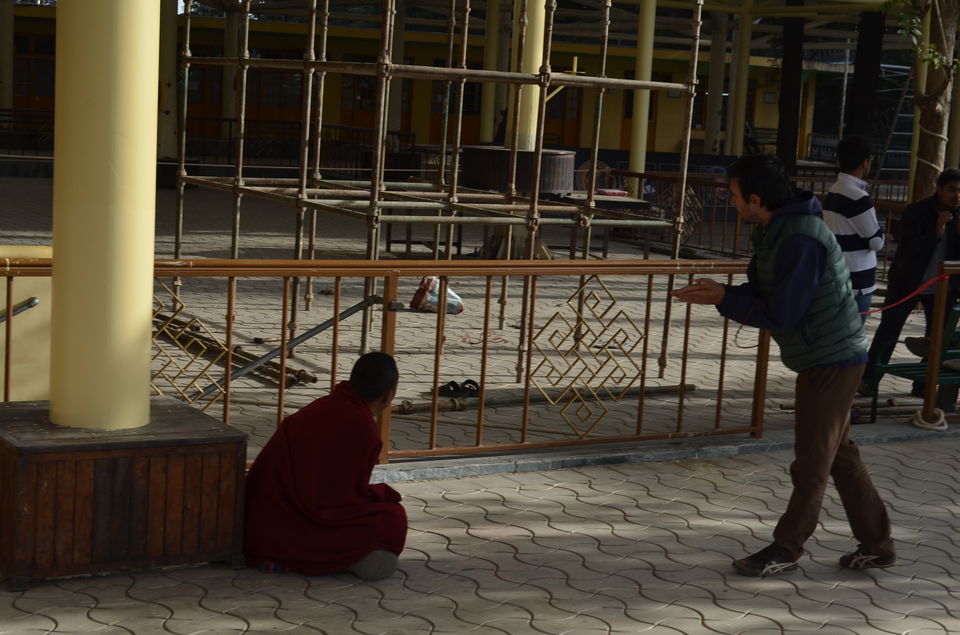 It was a friday morning and we had the entire weekend to look forward to but nothing to do really. So we woke up and decided to take a trip not so far away from Delhi...and thats when we made a whatsapp group and added the most potential candidates who would agree for an instant trip like this :p. A few hours later 7 of us met at Kashmere Gate bus station and booked our tickets for Mcloedganj,Dharamsala.
The best thing about trips like this is that you never know who you'll meet along the way. In the Bus itself we met a few Swedish travellers, very much like ourselves(except the fact that they were from Sweden ofcorse :p) and the next eight hours were spent with heavy discussion about Zlatan Ibrahimovic(football player), Indian politics and snow. We reached Mcloed early morning at around 5:30-6ish and the next task we had in hand was to look for a guest house for us to stay. That didnt take us a lot of time as we found a cheap yet big room where all 7 of us could fit easily. We rested for about two hours and left immidiately to explore the small hillstation. It was like Little Tibet...posters of "free tibet" everywhere and monks and followers of the Dalai Lama could be seen roaming around everywhere and inviting people to the Monestary.
We stopped at a small fast food joint and had the brunch of a lifetime! And after our stomachs were a little more settled after an hour or two, we finally started our trek to the waterfall and above (the highest point in Mcloedganj). It took us over two hours to reach the waterfall and after reaching we realized it was worth every second we spent. The place was filled with dingy old rocks put together in a pattern by perhaps nature itself and the waterfall had its own beauty. There was also an old abandoned shack where we hoped to find something to eat (yes, even after the extremely heavy brunch) but no one was around but us, so we could'nt. After relaxing for a while at the waterfall and clicking lots of pictures, we continued our journey to above the waterfall where we found one of the most famous Restaurents of Mcloedganj- Shiva Cafe.
Shiva Cafe was originally that high(Pun intended) because it was a stoner's point, but now it all stopped because of the high security(pun intended again!) in and around the hill station. Nonetheless, it was a beautiful place, a big rectangular room with low benches and cushions in the ground and wall hangers everywhere. The food was one of a kind and the view of the whole town, the waterfall and beyond was visible from the front balcony. Then later when we trekked back to downtown we stopped at Carpe' Diem , another beautiful yet cheap restaurent in the hill station. All of us were tired out of our guts so most of us, after ordering, fell asleep, but as soon as we smelled the aroma of the hot food coming our way, our tired eyes awoke themselves and started investigating all around! Then after yet another heavy meal, we finally headed back to our room and decided to call it a day!
Though none of us slept the entire night, playing all sorts of games(no pun intended ;) ), we were all ready and set by 9 to begin day 2 at McloedGanj. Our first detination was Mcllo, a famous restaurent about which probably all Mcloedganj visitors know. By now, all of you must've established the fact that either all of us were hungry all the time, or we were just a bunch of foodies. I say we were both but at the same time, when you're in a place that high (;)) and where the food is that cheap and brilliant, everyone would want to eat everytime! :p Then later we finaly went to the famous tibetian monestry and saw every bit and corner of the place and clicked as many photographs as we're allowed inside! There was one group of people who were lying flat on the ground and praying to a whole bunch of small lamps, while another group were in smaller groups of two in a large ground. One of the two was sitting and the other one standing and both of them were engaged in a conversation so deep that they probably blocked everything and everyone around them from their sights. I dont know for sure but it seemed like they were potential monks learning about what and how things work in the monk culture.
Out of all the things we saw, the most amazing sight was that of the chair of The Great Dalai Lama which was situated in a silent room, infront of a huge golden statue of the Buddha. Infront of the chair were four pillars at a distance from each other, which could easily fit 20 people in the room. No photography was allowed inside. Then there were these ancient metallic rolls with tibetian inscriptions on them surrounding the perimeter of the Monestry and it was a tradtion to keep rolling them untill you finish the whole circle. We all did it quite enthusiastically.
We then left the monestry and decided to take a walk along side the hill with a beautiful view of the clear sky, snowy mountains and nothingness. This walk proved to be benefitial especially for me as i found the one thing i always wanted since i was a kid, a funny woolen skull cap with a tail :D. Along with this i also made 3 new friends along the way and back- Hound, Simba and Goldie. All of these were furry, healthy mountain dogs who just randomly decided to take the walk with us, craving for attention and love. Simba was my favourite because he walked the entire time with us and had the most energy for playfullness!
We then ate again and (i wont give you details anymore because well...its food...its good everywhere in Mcloed :p) took our luggage, made the payment and started walking down the hill to the bus station to catch our bus back home. None of us honestly wanted to leave, but our weekend was about to be over and reality was about to hit us back. We all wanted a liiiiitle bit more because after all we're all humans, we're never really 100% satisfied. We caught our bus and instantly made a new friend too- Katie. She was from the US and was staying in Mcloedganj for over a month now because she wanted to relax and stay somewhere...well...high (if you know what i mean) :p. We talked to her the entire time and she though all of us were crazy because we were inviting her to stay over with us and already planning our next trip! After reaching Delhi the next morning, she had to go to Gurgaon to her friend's place so she took the first metro with us after waiting for it to start for over an hour. Everyone said their goodbyes at the station and started heading home.
It was a short yet amazing trip and i recommend everyone in and around North India should go there atleast once. It's beautiful, the food is amazing, lots of places to see, and the best part, it's only a bus ride away!