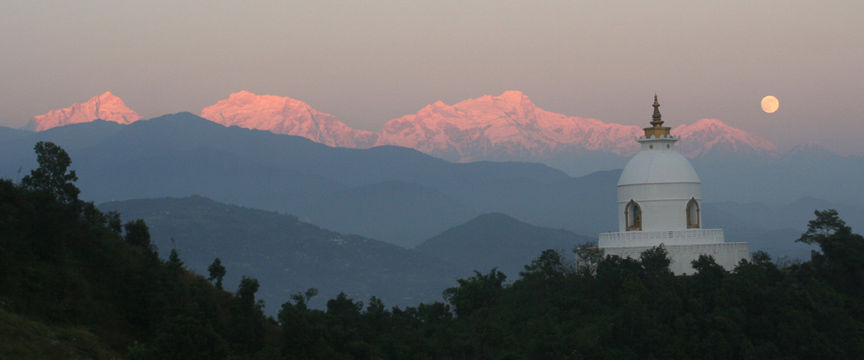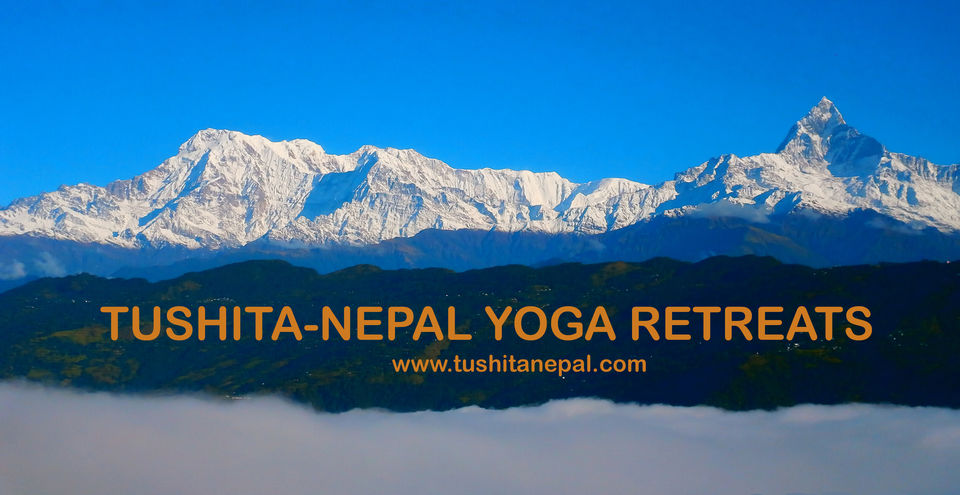 SPIRITUAL YOGA RETREATS IN THE HIMALAYAS OF NEPAL
Situated in the bosom of mighty Annapurna, Tushita-Nepal (meaning 'Heaven' in ancient Nepali language) is an ideal yoga retreat resort in Pokhara Valley for self realization - spiritual awakenings. As the name suggests, Tushita-Nepal is amidst the nature (as seen in this picture) and spectacular dramatic views compel to ponder upon mysterious creation of Nature. Indeed, it is a paradise on earth. And, you realize YES! Tushita-Nepal is the ultimate destination for healthy body, mind and soul. It is the best place to detoxify, release, refresh, to kindle and Alight Your 'Self'. Tushita-Nepal is meant for those who are in pursuit of happiness and Peace.
UNIQUE FEATURES
• 3 mountains above 8000 m. can be seen from Tushita-Nepal
• 9 rooms named after 9 planets and accommodated according to zodiac sign
• Check in on Sunday and Wednesday only for tantric reason
• Planted 64 herbal plants and 15 fruits varieties inside own organic garden
• Provided Ayurvedic meals and herb detoxify drink (Self Service!)
• World Peace Stupa is Just in-front 5 minute walking distance
• Sunrise, Bird watching, jungle hiking, barbeque, gazing milky way in naked sky
• Assisting for Astrological outlook, Chakra Healing, Spiritual connection
• Every Saturday: Complimentary Yoga course in search of World Peace Ambassadors!
Not blowing own trumpet, we have classic location,
Please Watch Himalaya View from Tushita- Nepal
htpp://www.youtube.com/watch?v=kLXLa-nna4k
LOCATION : In the heart of Annapurna Himalayas Pokhara city – Nepal. 200 km west from Kathamndu; tourist bus leaves at 7 am from just infront of Royal palace at Euro 15 and flight in every hour from 8 am to 2 pm at Euro 122. Let us know if E-ticket needed.
ALTITUDE: We are at 1122 m above the sea level- always above cloud. No problem of Cold although mountains are so near just 19 km away areal distance.
TEMPERATURE: Winter: Nov-Dec-Jan (8-20 degree) Summer Jun-July-Aug (16to29)
GROUP SIZE: 2 to 4 person only in order to maintain spiritual vibration and personal care
RETREAT COURSE: Retreat program starts on every Sunday all the year around.
FOOD & DRINKS: Ayurvedic Food only, herb juice, fruits, milk, Organic coffee, herb tea, detox drinks, organic vegetables and fruits from our own garden.
ACCOMMODATION : One person one room according to their ruling planet.
PACAKGAE COST : 7 night 8 days (Intensive) retreat package costs Euro 666 per person. Twin bed sharing room for 2 person shall be Euro 999 (2 person price).
COST INCLUDES: Pick up transportation, accommodation, 3 Ayurvedic meals a day- fruits- juices, herb detox drink, mineral water, slipper, mattress, tissue papers, yoga-meditation am 2hrs & pm 2 hrs a day, astrological outlook, Ayurvedic cooking class, hikes, taxes, gifts etc.
PAYMENT: Cash on arrival appreciated because we do not have Pay-pal account and for master card payment bank charges you 5 % extra.
YOGA TYPE: GYANA YOGA , HATHA YOGA, BHAKTI YOGA, KARMA YOGA, RAJA & TANTRAYOGA
WHAT TO BRING? = Carry Bag (not suitcase) shall be easy to travel in Nepal, your personal medicine / things and just 2 extra pair of clothes (LIGHT TRAVEL), wind & rain proof jacket –trouser, comfortable walking boots. Otherwise, you can buy anything at reasonable cost.
NOTE: Let us know if you need tourist bus ticket or air ticket. Other tours can be discussed here. No need to worry as Shrestha is a travel book writer. Feel like your own home. . .
OTHER NEEDED INFORMATION
(a) Tushita-Nepal is a place for purification. Experience spiritual vibration and receive BLESSING FROM ALMIGHTY GURU GORAKSHNATH….
(b) Check in only on Sunday or Wednesday throughout the year. (2 to 4 pax only at a time) for personal service and maintaining spiritual vibration.
(c) Accommodated according to the zodiac sign / ruling planet only. So, please give us your date of birth- time- day- place we need for accommodating you (Vedic astrology)
(d) Shoes off / Mobile off / Self service is the basic rules. (Email & Phone time after breakfast or Lunch for 1 / 1 hour through WIFI)
(e) You need to think your own home and learn more BHAKTI YOGA (devotion), KARMA YOGA (selfless duty), GYANA YOGA (knowledge), RAJA YOGA (purity), HATHA YOGA (activating male and female nadis).... all the types of yoga.
(f) May you come and discover your 'self' – kindle your inner light. It is like digging your own well for quenching thirst. We take you beyond Buddha, Jesus, Mohamad, Nanak. You may have 100 of questions- related to spiritual path- yoga but once you understand "What does Vedic Sanatan Dharam Mean? and why must we go around temple anti-clockwise- Then, you will be able to understand who you are and the purpose of life...
Please feel free if you have any questions. Thank you !
Rajesh Shrestha (Mobile: +977-9856025232 / Land phone: +977-061621222
Detail information at: www.tushitanepal.com / www.nepalyogaretreats.com
EXPLORE THE ULTIMATE YOGA DESTINATION !