For travel lovers like us, 6 months of not travelling seems to be tough. So we took our vrooming machine, our S-Cross one Saturday morning and reached Agra.
In Agra, we checked in at Jaypee Palace which itself is like a huge palace. Built in a sprawling 25 acres land, this property is an ideal weekend getaway. The palatial architecture, well maintained gardens, the food and moreover the hospitality of the stuffs will make your stay even more enjoyable.
Though it's our 4th visit to Agra, this time we decided to give Taj Mahal a miss, rather explore some other historical place (as I never explored anything but Taj Mahal in Agra). So, we went to Fatehpur Sikri. Fatehpur Sikri is one of the finest examples of Mughal architectural splendour at its height.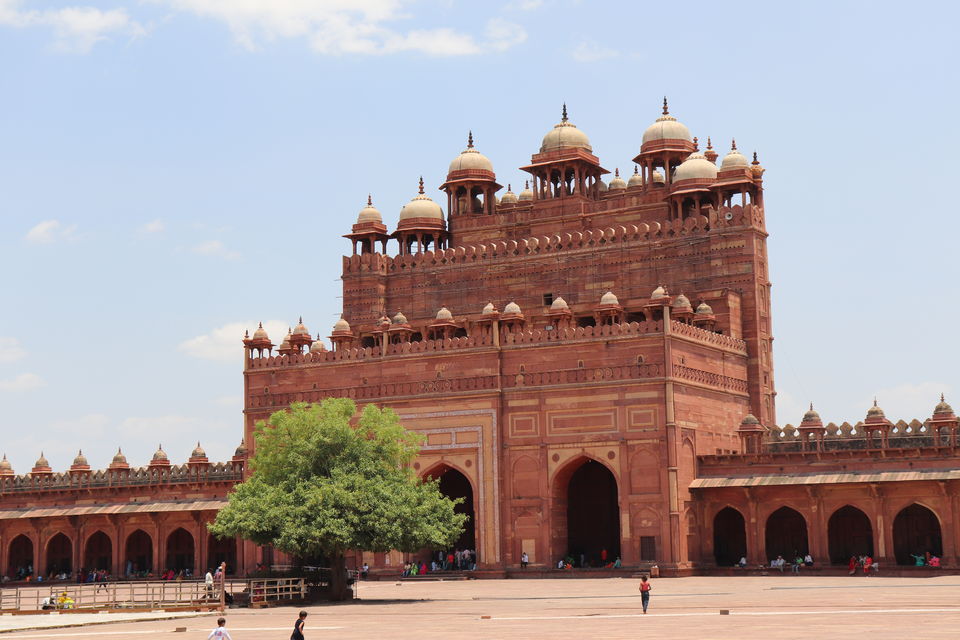 So, the next morning after having HEAVY breakfast (yes, it was literally heavy because of crazy breakfast options), we started our journey for Fatehpur Sikri, which was 40 kms from Agra. Fatehpur Sikri is sharing its border with Rajasthan. So, if you are travelling to Jaipur, on way you can come and explore Fatehpur Sikri too.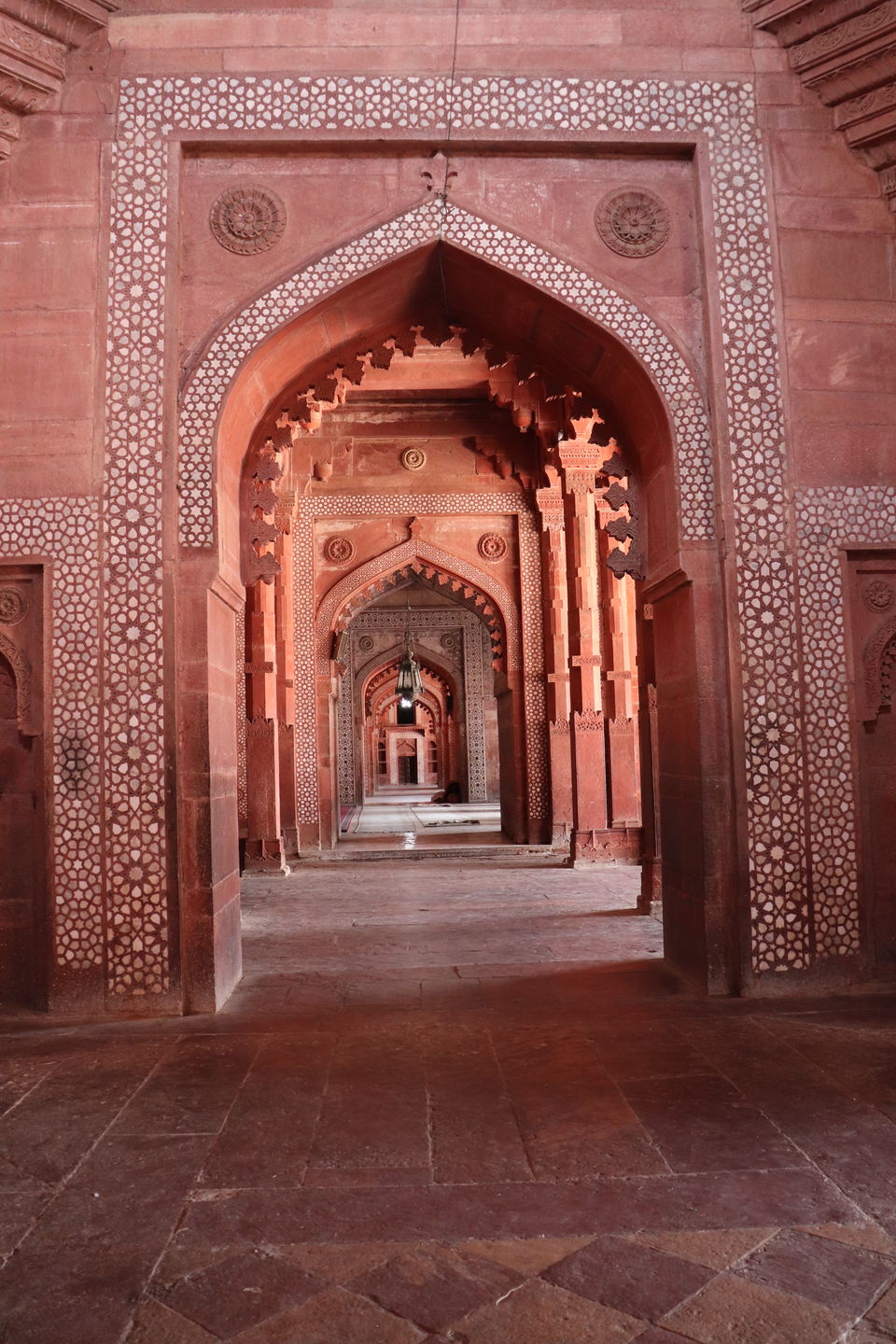 Fatehpur Sikri, as the name suggests "city of victory" has been made after Akbar won the battle in Gujrat in 1573 (though he built the famous dargha of Saint Salim Chisti on 1571 on 2nd birthday of his son Jahangir).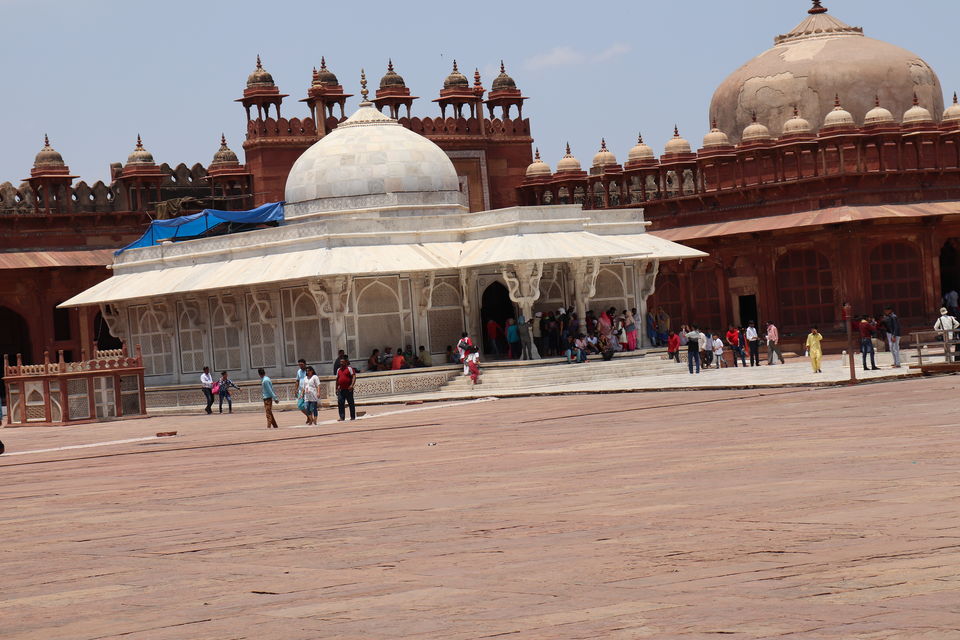 This place is divided into two parts, one is Fatehpur which is basically a religious place having Dargha of Salim Chisti and Jama Masjid located behind Buland Darwaza.
The other and the most beautiful part is Sikri (means village) having Akbar's palace or Khwabgah (Dream Palace), Palaces of Akbar's three wives, Diwan-e-aam, Diwan-e-Khas, Paanch Mahal and etc. You need to buy ticket to enter this complex. You can enter the Sikri from any of two gates, Jodha Bai palace side or Diwan-e-aam side.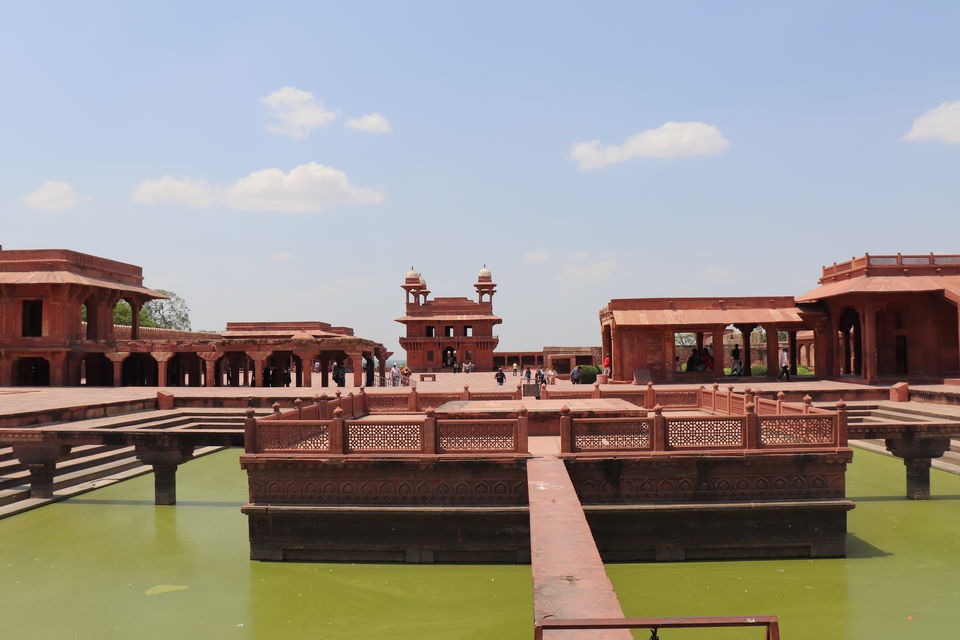 As you enter the Sikri complex, you will see Anup Talao, where Tansen used to perform. It is an ornamental pool with a central stage attached with 4 bridges. This place is surrounded by some important buildings, like Khwabgah or Emperior Akbar's palace, Panch Mahal, Diwan-e-khas, Ankh Michuli etc. Inside the complex, Diwan-e-Khas is a magnificent structure featuring a single pillar (the Lotus Throne pillar) that apparently supported Akbar's throne which is connected with 4 walkways attached with balcony. Another magnificent building is the palace of Jodha Bai, which was build for Queen Jodha Bai. This palace is the most elaborate structure in the complex.
But in spite of this magnificent and beautiful structural wonder, Emperor Akbar had abandoned this place mainly because of water supply shortage in 1585.
Things to remember:
It's better to explore Fatehpur Sikri either early in the morning as it opens at 6:30 am or in the evening in fewer crowds. While going towards the complex, you will find people approaching you as the guide especially young children. Don't pay any attention to them as they are locals with no knowledge only trying to fool you around. While entering from Buland Darwaza side, you need to take off your shoe which you can carry too. I suggest to carry your shoes with yourself which will save your time as you don't need to come back to collect your shoes.
I suggest hiring a govt guide for Sikri as it will make your journey more informative and interesting like ours. The Govt. parking lot is almost 1 km before the entry point of Fatehpur Sikri. However if you want to have your breakfast or lunch there, you can take your car ahead of the parking lot and park it at any nearby restaurant's parking lot.