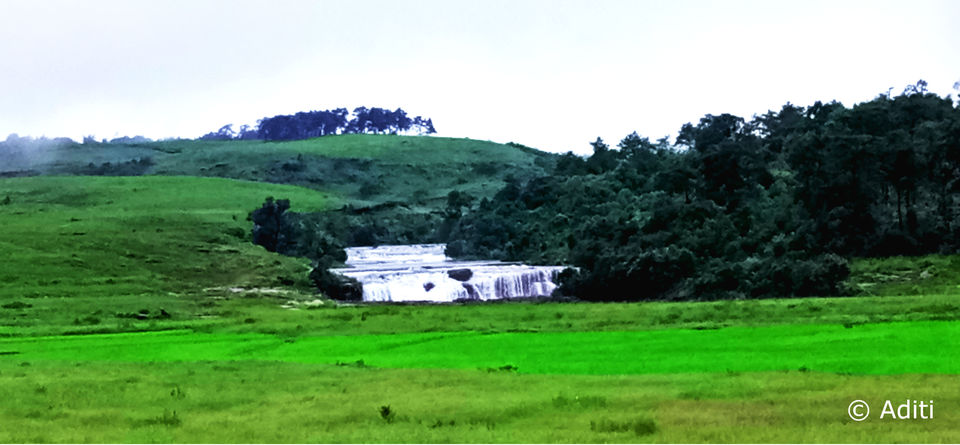 Meghalaya is one of the seven sisters of North-east India. I had been to Meghalaya before, around 20 years ago, I was too young to remember it. This rainy season is planned to cherish those fade images of Cherrapunji and my favourite pastry shop. Meghalaya's natural beauty is said to be at its peak during monsoon. I booked my tickets for an early morning flight to Guwahati. There are no direct flight to Shillong though one can opt to take a helicopter (Pawan Hans Helicopter service) from Guwahati to Shillong, but I preferred road trip.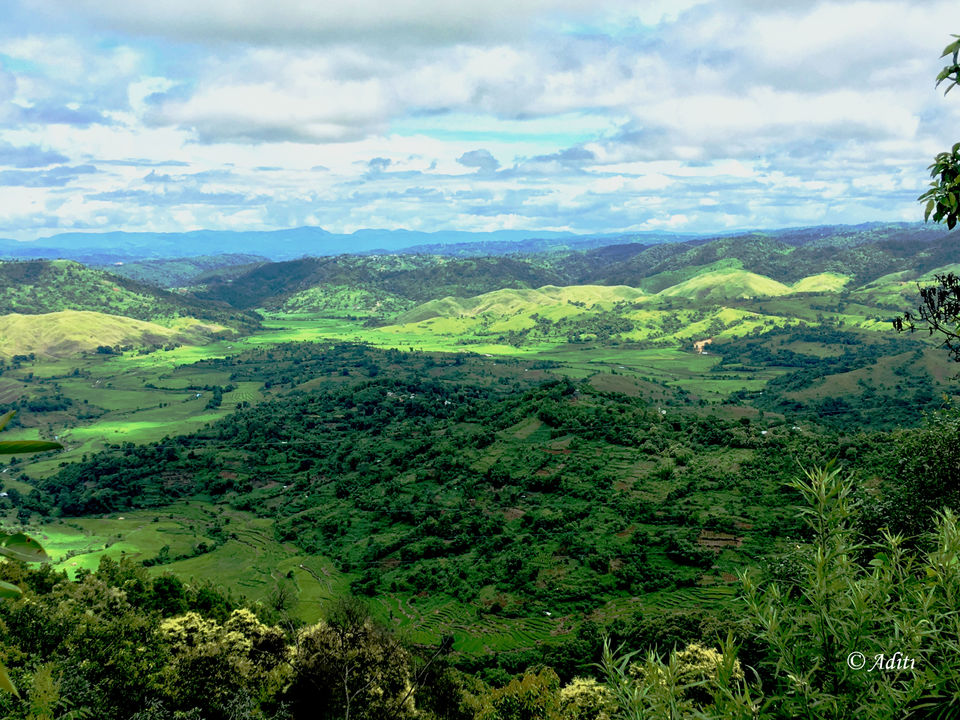 On my way to Shillong, I stopped by to take blessing of Maa Kamakhya. It is one of the 51 Shakti Peethas on earth. Situated in the heart of Nilachala or Blue Hills, the temple is not only known for its history and religious importance but also known for overall architectural shape of the temple. If you are a vegetarian or love parathas, then do stop at JIVA, a vegetarian restaurant. It is mid way between Guwahati and Shillong. Around 15 km before we reached Shillong, there is a beautiful lake called Umiam Lake (Bara pani as localities call it). The reservoir is spread over an area of 220 sq km and a major tourist attraction for boating.
After check-in at hotel I went out for a walk in the busy market called police bazar, the heart of Shillong. A typical Indian market! Crowded by shoppers and vendors, who had spread their stalls all over the large pedestrian area. My attraction was a black fruit - it looks very similar to black grapes but localities say its blackberry. I have never seen such blackberry! So I bought a bundle. It didn't taste like blackberry to me but yes it was delicious.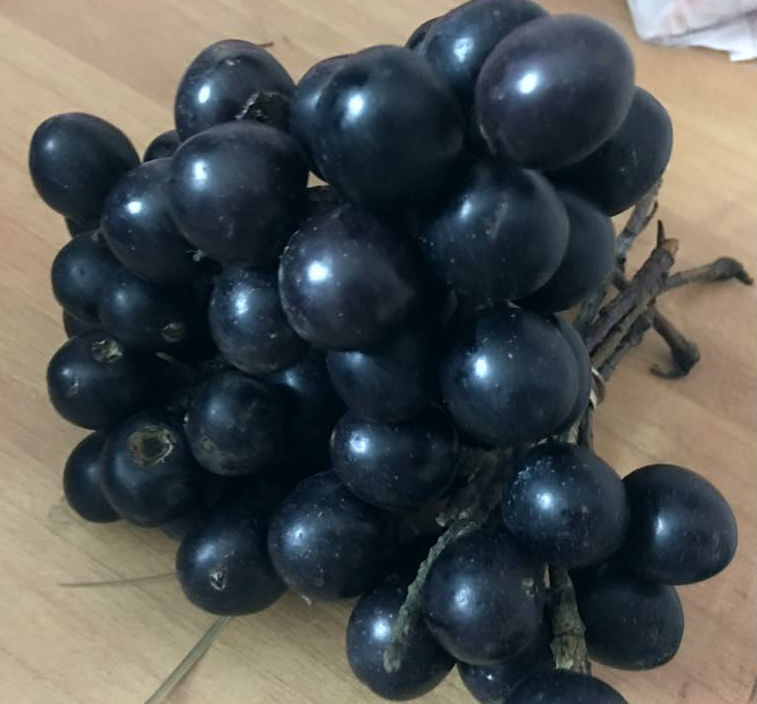 Plan today is to visit Mawsynram, that is 65 km from Shillong. Mawsynram is reportedly the wettest place on Earth, with highest rainfall recorded in India. The name of the village originates from a Khasi word "maw" which means "stones". Meghalaya is home to three major tribal populations - Khasis, Garos and Jaintias. Mawsynram is a village in the East Khasi Hills and is known to be home to some of the world's most complex cave systems, which contain remnants of a past that tells us of the history of the plateau that was once present. Archaeologists claim to have discovered more than 1,650 caves in the state. A lifetime is less to explore all of them!
Located in Mawsynram, is a small cave named Mawjymbuin, known for its stalagmites and natural shivLing, with water dripping from elephant trunk like structure. I recommend wearing sports shoes when you plan to visit. My next planned point was Krem Puri cave, the world's longest cave (24 km in length) in sandstone, that was recently discovered and lot in News. Even though, I was all ready and excited to begin my excursion, with proper attire and headlight, I could not pull courage to go in all alone after I saw it with my own eyes. The cave is a remarkable experience to be in but if you loose your way, you may never be able to find your way back. So not worth taking the risk, I have a lot other places in my to-do list to explore before getting lost :) The valley was hidden by mist on my way to caves but on my way back from krem Puri, I saw a beautiful distant fall playing ice-pice (ankh macholi) with nature. The route from Shillong to Mawsynram reminds me of Cinderella story, If she were for real, she would have lived in one of such picture perfect villages - wide-spread green fields all around, sky touching mountains and small steam dancing between man-made homes. "Everything cannot be captured in camera" says Mawsynram.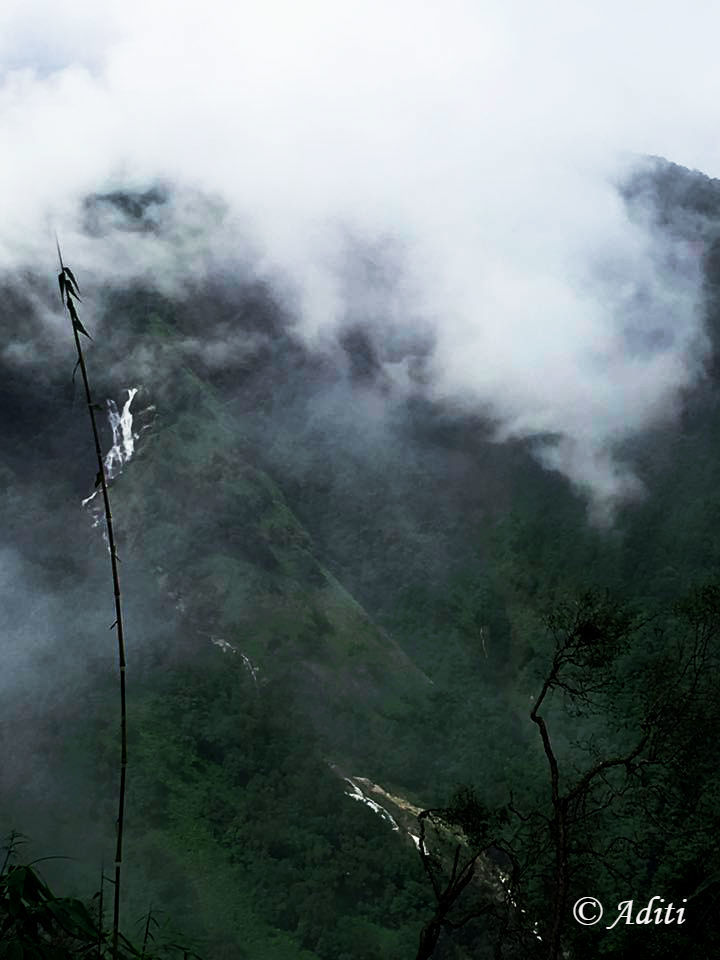 We returned to Shillong to see our local points - Shillong peak and then Elephant falls. Elephant Falls is a three tier cascading beauty and the most spectacular waterfall of the city. 20 years back, approach to the falls was not good specially for old people and expecting mothers'. Today, It has well constructed cemented stairs, a hike of around 50 steps. Cleanliness is well maintained by the authorities at the falls. The path way have small cane baskets at regular intervals to trash waste.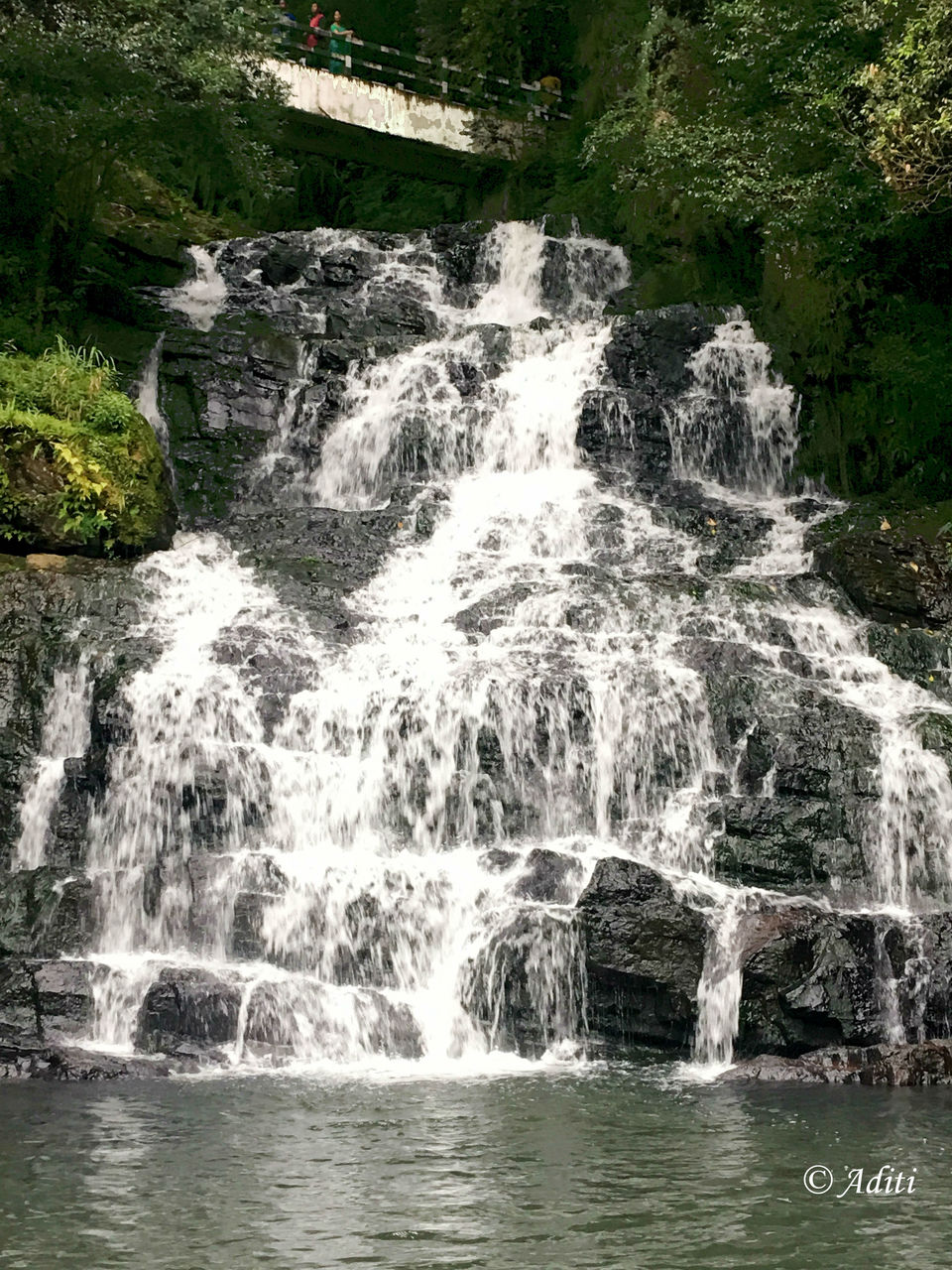 Early morning we left for Nartiang, Jaintia Hills District. The Village of Nartiang is significant for its Summer Palace of the Jaintia King whose Capital was Jaintiapur. Adjacent to the ruins of the Summer Palace of the Jaintia King in front of the arched gateway of red bricks stands the Durga Temple. Being one of the 51 Shakti Peethas of Hindu Mythology, this temple is one of the holiest sites for devotees. It is believed that Sati Devi's left thigh has fallen here.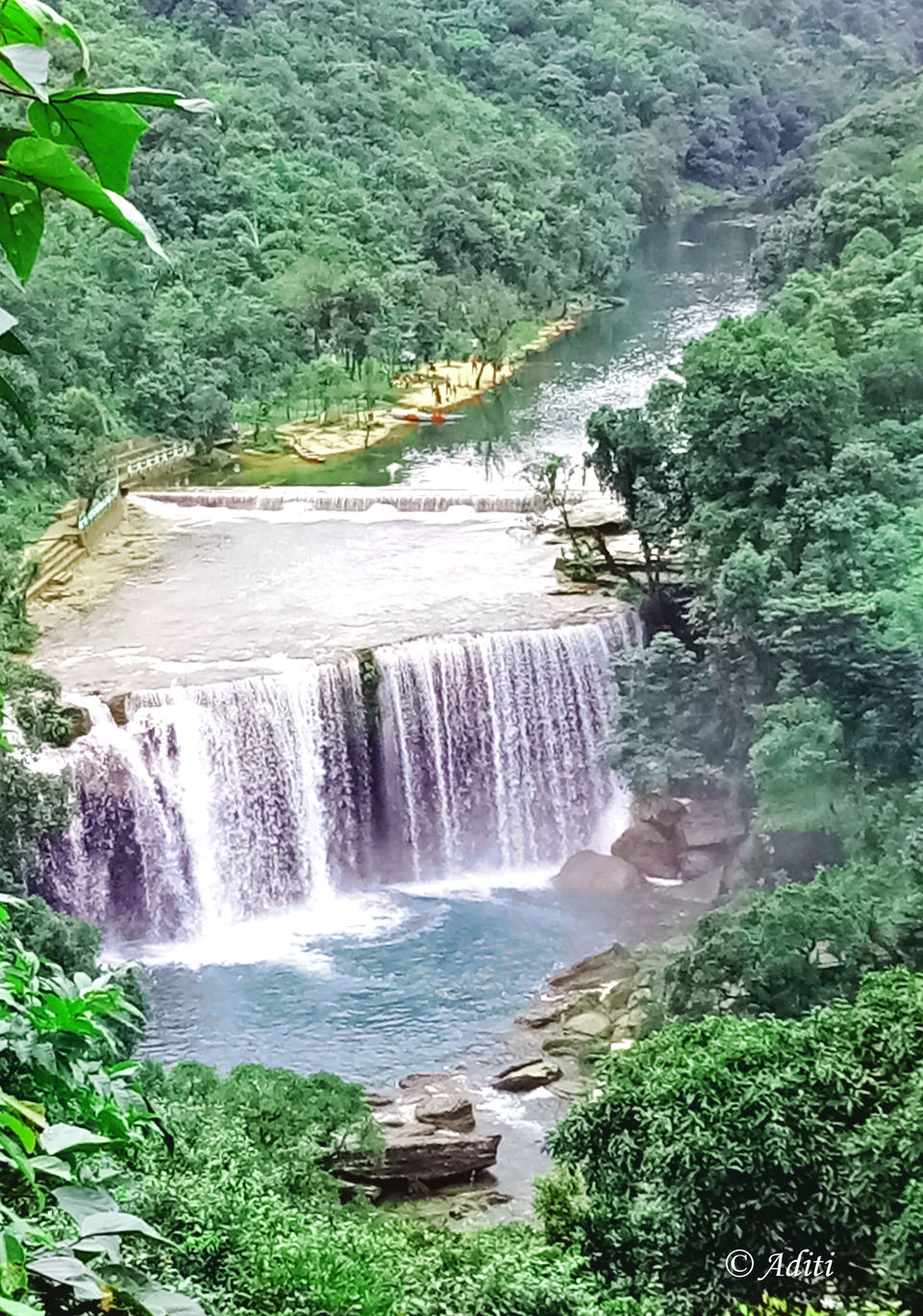 From there we left for Krang Suri Falls. Drive till the falls is again a splendid experience - on both side stand pine trees and rice fields. Not many website or tour planners will mention it in there tour package as it is little off route, but going these extra miles is completely worth it. I would suggest having local thali at restaurant run by local women. You need to hike for sometime, around 500 steps but easy walk (not suggested for old age), before you reach there and jump into the cold water. The river is so clear that one can see the bed of the river. They have built a small dam that controls the water flow and also provides a uniform depth for boating. I wish I had entire day with me. I would recommend you to spend entire day here or else plan so that you can stay overnight in camps which are available on rent. But I had to move on, off to my next destination Dawki, in West Jaintia Hills district.
After a splendid drive of an hour passing through deep gorges and ravines, we crossed a suspension bridge over the Umngot River. Due to rainy season, river water was not crystal clear compared to any other time of the year but the view was amazing. On both edges of the river you will see local children fishing which, along with rice, is their main staple food.
What surprised me was security at India Bangladesh Border - an Indian Army Jawan sitting on top of watchtower and a Bangladesh Jawan controlling there people (100 men with a stick) from stepping in India. Forget fencing, there is no board stating where India end and Bangladesh starts. With all that buzz in media recently, I'm sure many questions will pop in your mind as well!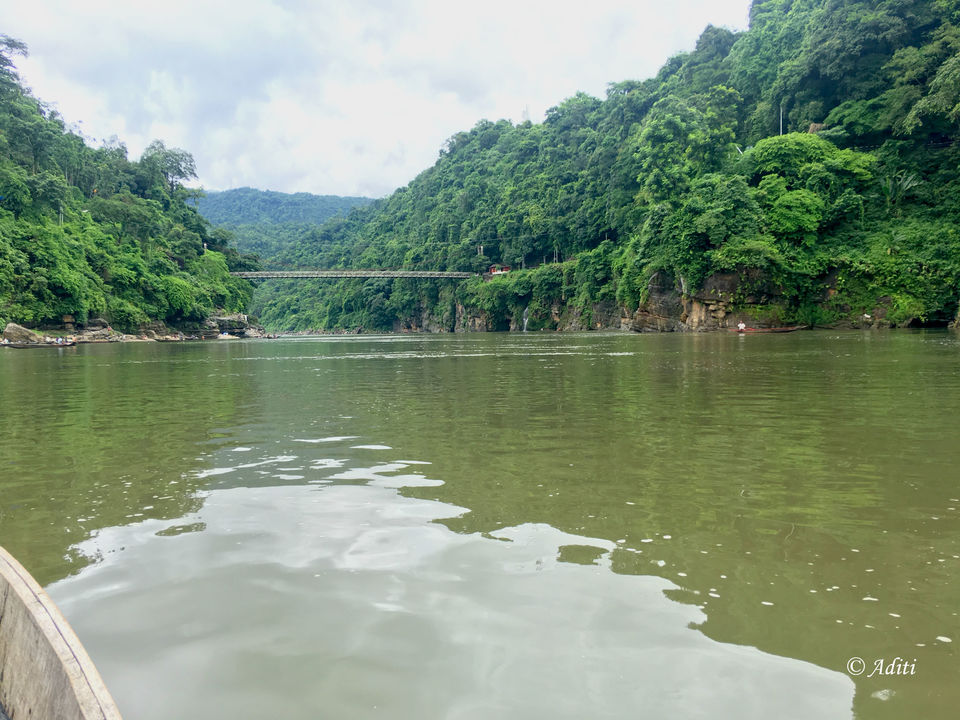 After boating at dawki, our next destination was Mawlynnong - "God's own Garden". It's another hour drive from Dawki. Mawlynnong has won the acclaim of being the cleanest village in Asia. With just about 15 minute walk you will reach Living Root Bridge - spectacular natural bridge. Cherrapunji has a similar bridges known as Double Decker Living Root Bridge. These bridges are unique to Meghalaya as Khasi people have, over decades, woven the roots of ficus trees across rivulets and streams. The hardy roots slowly grow to form a cantilevered and intertwined mesh that is used as a bridge over waterways.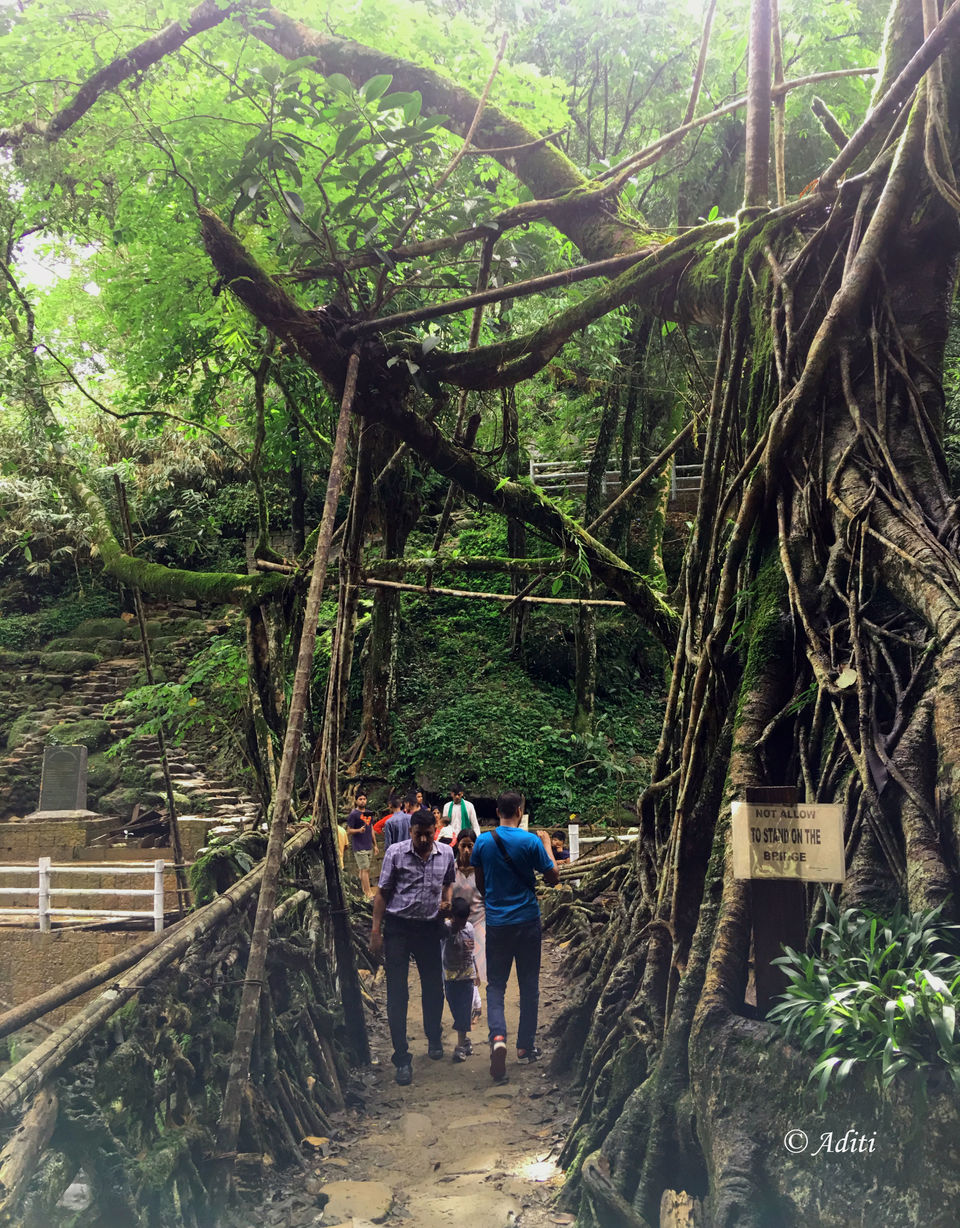 My last day in Shillong! As we were heading towards Cherrapunji, mist started to increase and visibility reduced to say 50 meters. I was disappointed thinking its my bad day and will not be able to see the most famous Seven Sister Falls AGAIN! Back to my childhood memories, I remember not being able to see falls because it was raining in Cherrapunji for 8 continuously days and weather was not clear. 8 days rain, sky still full of clouds --- Delhi sinks in a days rainfall! On our way, we stopped at a bridge to do zip lining. The view of the valley is beautiful provided you get to see it. Stay there for an hour, have your breakfast and you might get lucky just as I was. From there we went to Wahkaba Falls, as cave was closed due to monsoon.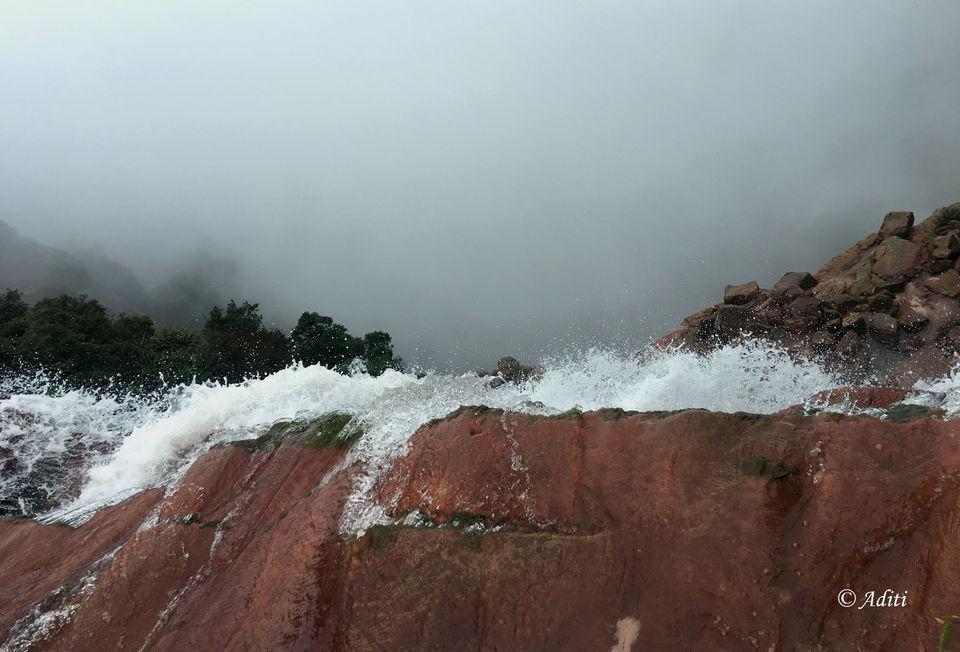 Then we went to Seven Sister Falls. Just an hour before the sunset we passed Nohkalikai falls and went to Wahkaliar falls. You have to park your car on road and hike for some 10 min. Descending down the hill is not a concern, but returning back will take your breathe away. We had 30 minutes to go and come back. But the fall is really worth watching.
There are many home stay near by, so if you plan take 2 days for Cherrapunji. There are many falls and you have to hike to reach there. So you will need time.
We came back running from Wahkaliar falls to reach Nohkalikai falls before sunset. Sunset from top of a waterfall is something I have never seen. Its was an indescribable view. As I have said earlier, "Everything cannot be captured in camera", but still here is my click to cherish this moment for life.