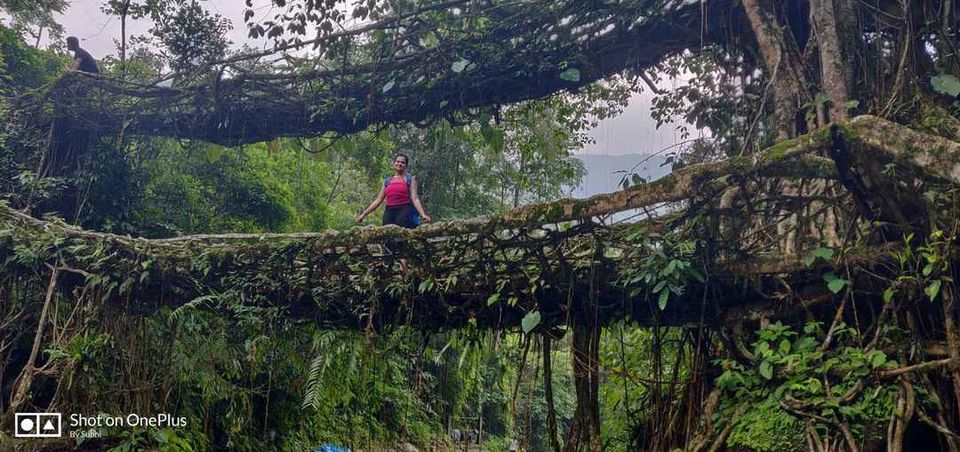 June 7th
So it was nearly 6 months I had taken any trip or exploration..after checking 4 destinations for 5 months decided the next will be SCOTLAND OF EAST aka SHILLONG and ABODE OF CLOUDS aka MEGHALAYA...So took leaves from 7TH to 15th to explore the NORTH-EAST beauty ....
Finished office in afternoon...had a late night flight from PUNE via HYD to GUWAHATI....now many travelers make a mistake while booking tickets...they book it directly to SHILLONG which costs them more .The ideal way is to book till GUWAHATI and from there you get shared taxis or cab till SHILLONG for RS. 500 per head...We were 2 people.Reached GUWAHATI by next morning 8AM on 8TH JUNE ,it was raining in HYDERABAD AIRPORT at midnight and GUWAHATI climate was cloudy...cool breeze .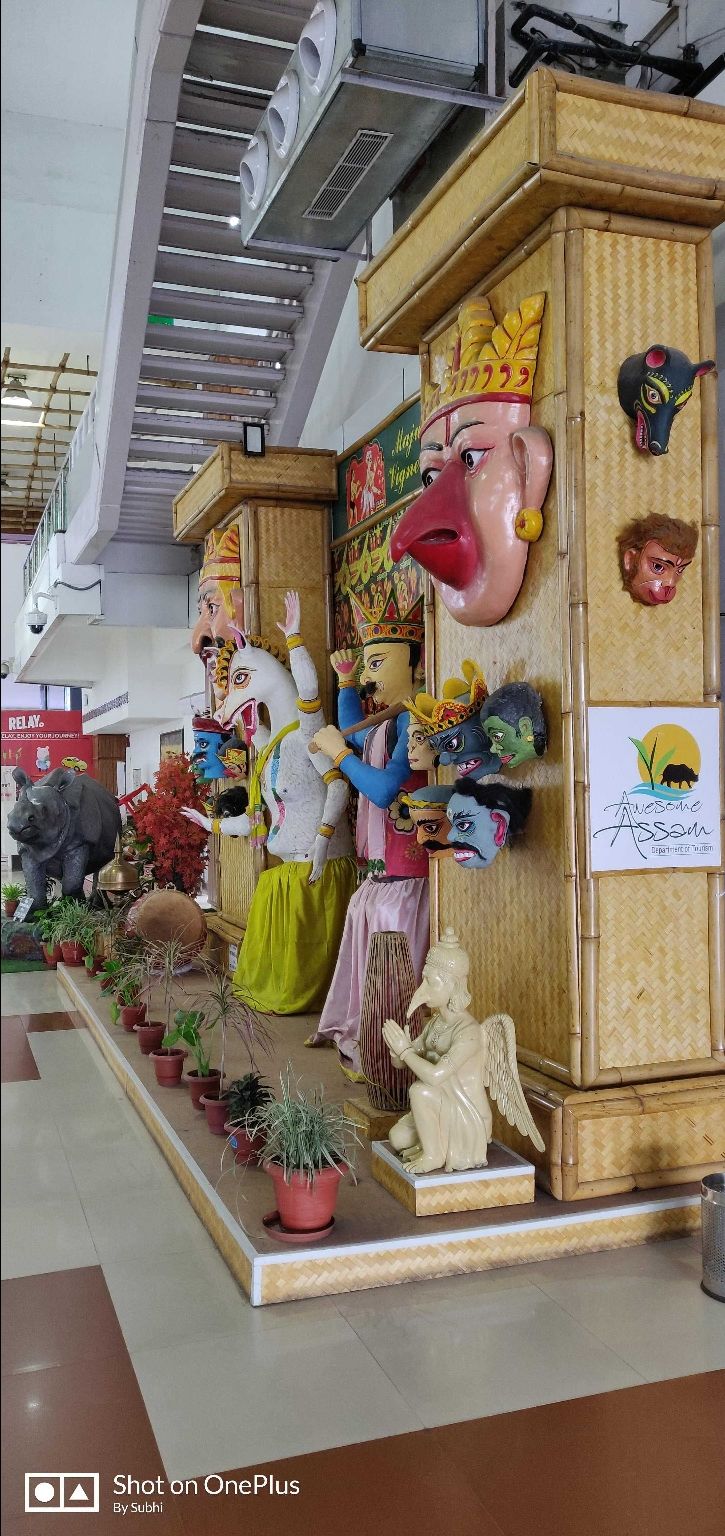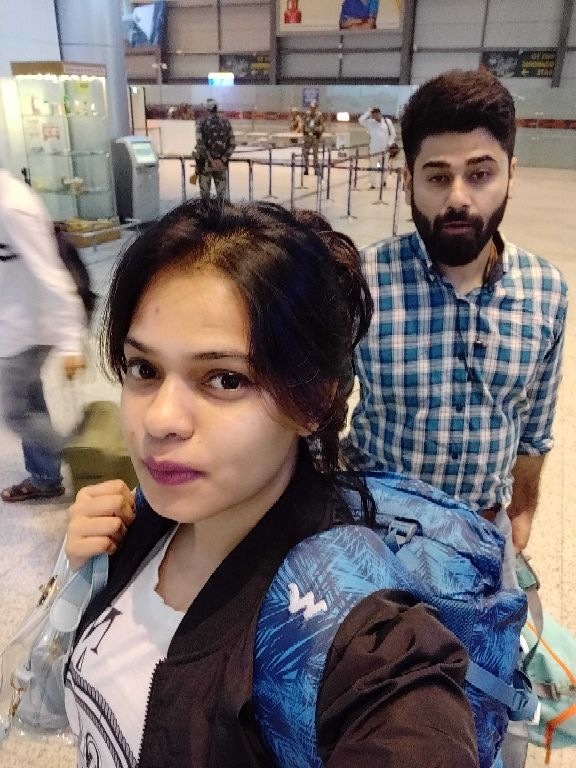 8th JUNE
It was totally rest day for us.We did all our bookings via AIRBNB....if you compare and check prices it is more affordable and luxurious.Our check in was with EMORDINI our first host in UPPER SHILLONG area called NONGSHEK...the host offered us keys as we arrived.We were dropped near ANJALI PETROL PUMP in SHILLONG CITY area from where our host EMORDINI negotiated with cab driver and we paid 150 only to reach upper Shillong!! If you don't have good local connection you might pay upto 300 to go to Upper Shillong..ANJALI PETROL PUMP is a known area apart from POLICE BAZAAR in Shillong...you can reserve a private taxi or shared cabs , depends on the availability.At evening we went out just for stroll ...attaching pics of the beautiful view of Shillong city.We decided to ask our host to rent her 2 wheeler YAMAHA RAYZ scooty for next day to travel to our itenaries...as all were 2 or 2 n half an hour away... being in PUNE you have a habit of driving between Pune and Mumbai or Lonavala,so we thought 2 wheeler might sound good....we booked it for RS.500 for a day.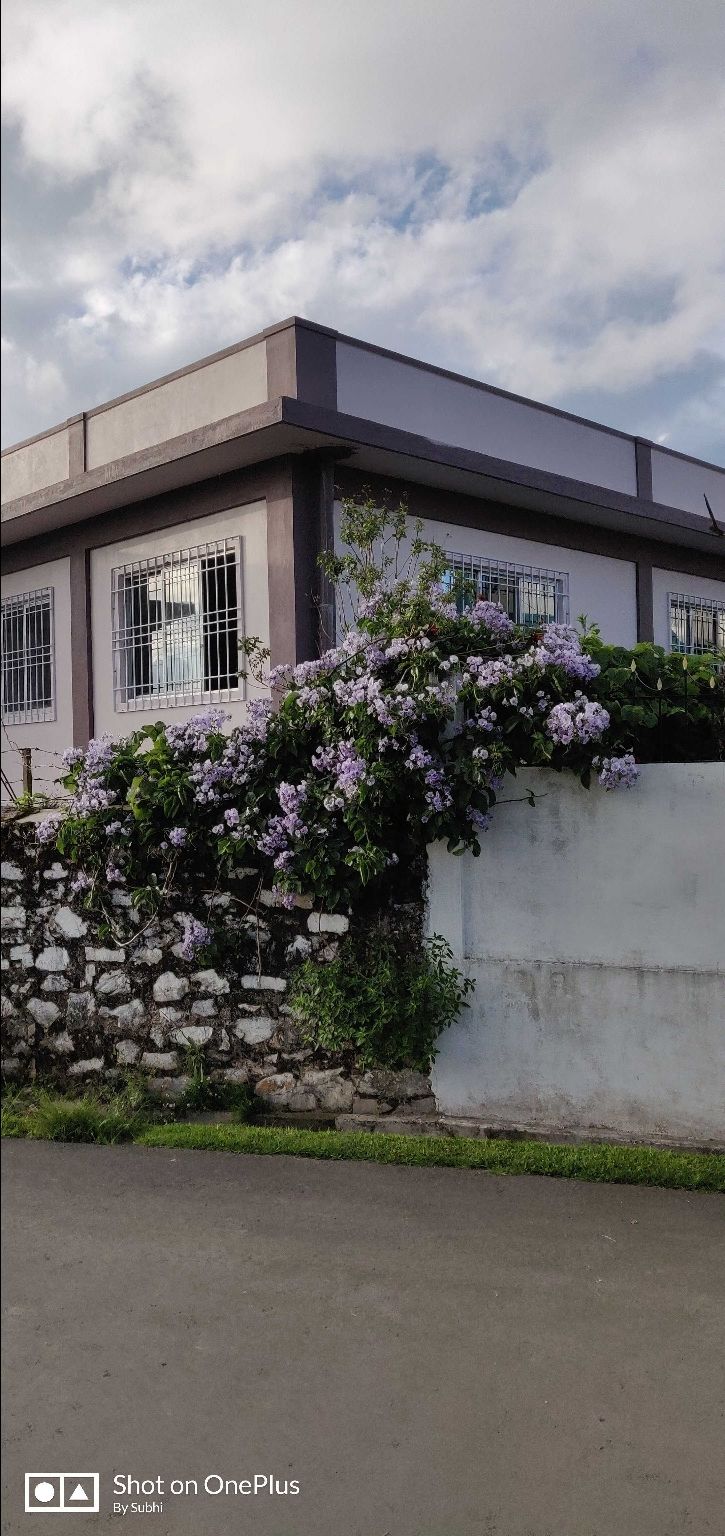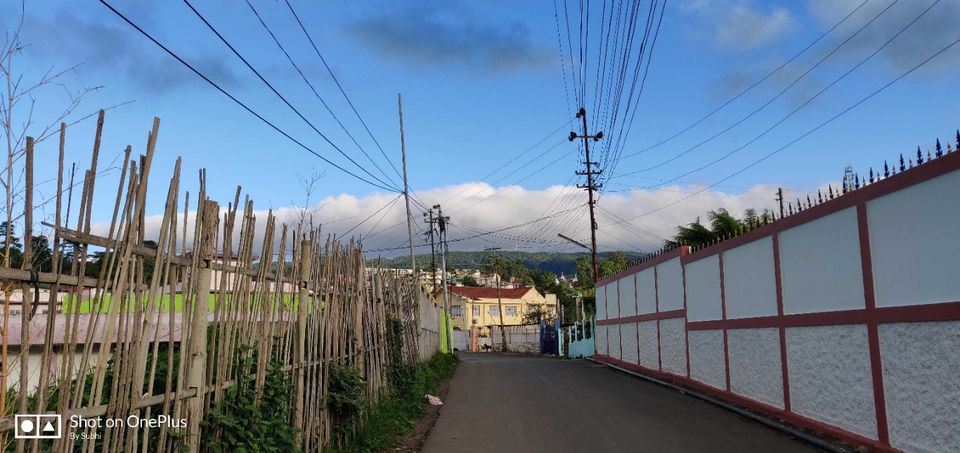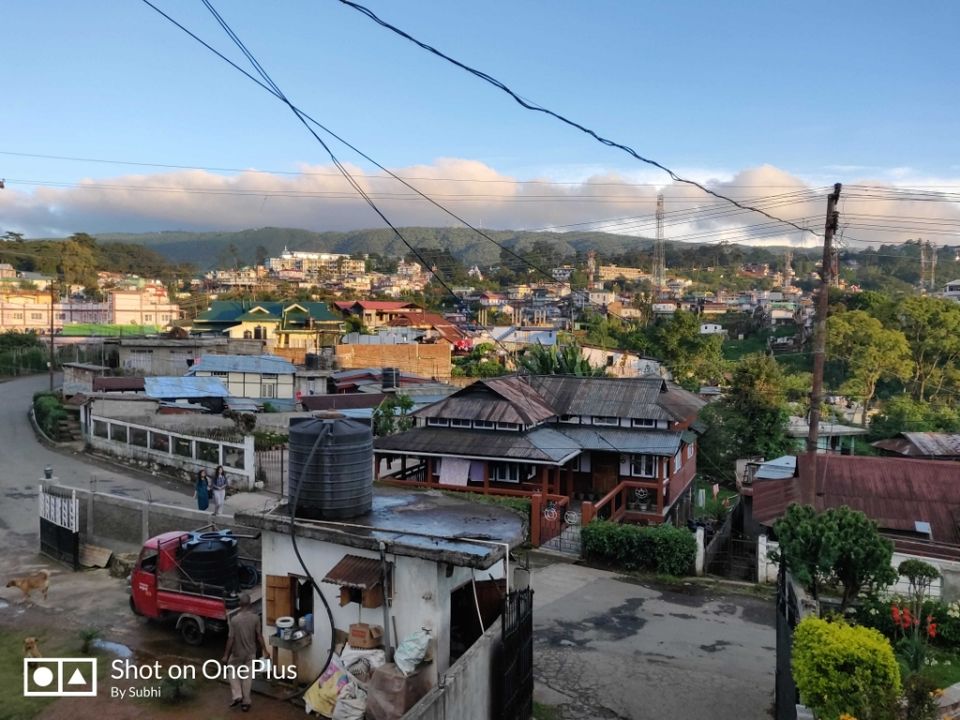 June 9th
Early morning it was raining as monsoon started for North east already....by 7 AM weather cleared so we got ready for DAWKI visit ....now it was 85 KM's up and 85 KM's down way till DAWKI....the beautiful scenery while one rides on bike through meadows.... mountains covered in clouds and steep gorges ....scary but beautiful.
We visited first ELEPHANT FALLS as it was 25 minutes ride and on the way to DAWKI ....it is common tourist attraction point one can find water cascading in numerous falls with a panoramic view n with the onset of monsoon the waterfall was that mesmerizing.
Our badluck was it rained that day....we halted midway to have lunch before we reached DAWKI...It is at INDO - BANGLADESH border....one can see BSF on the bridge once you near to DAWKI RIVER...the water was muddy as it rained....I was sad as I went to capture the bluish green color of DAWKI .....So the trade off here is DAWKI appears bluish green in winter and before JUNE ...keep that in mind!!! No rains should be there...my partner decided that we must VISIT SHNONPDENG instead which is 8 - 10 KM's up from DAWKI to have good clarity of DAWKI source...it is known as UMNGNOT RIVER as well.One can find boating options there also...refer images.
By the time we returned we were half drenched in rains and tired....it was almost 10 PM .The disadvantages of scooty is you are not safe from rains and depends if you are a good rider in rainy season or not....with those roads I will say a big "no" to people to have 2 wheeler in rainy season better hire a tourist cab...a bit costly but safe at least.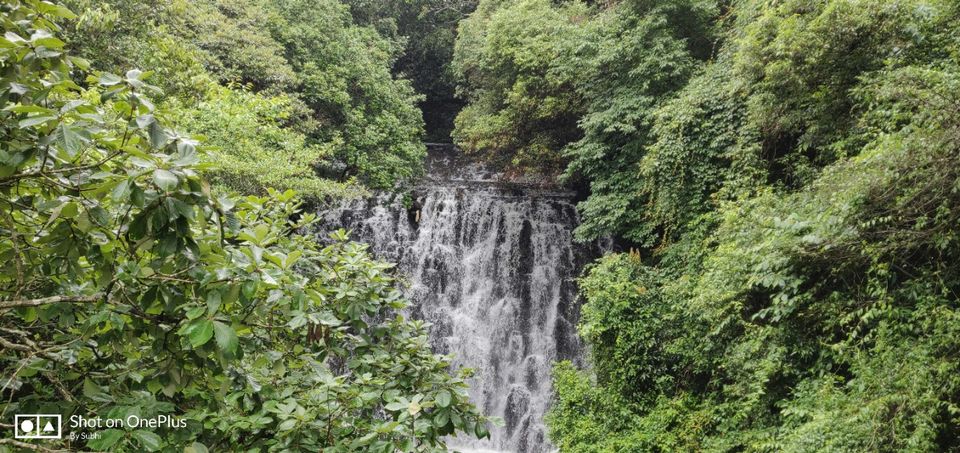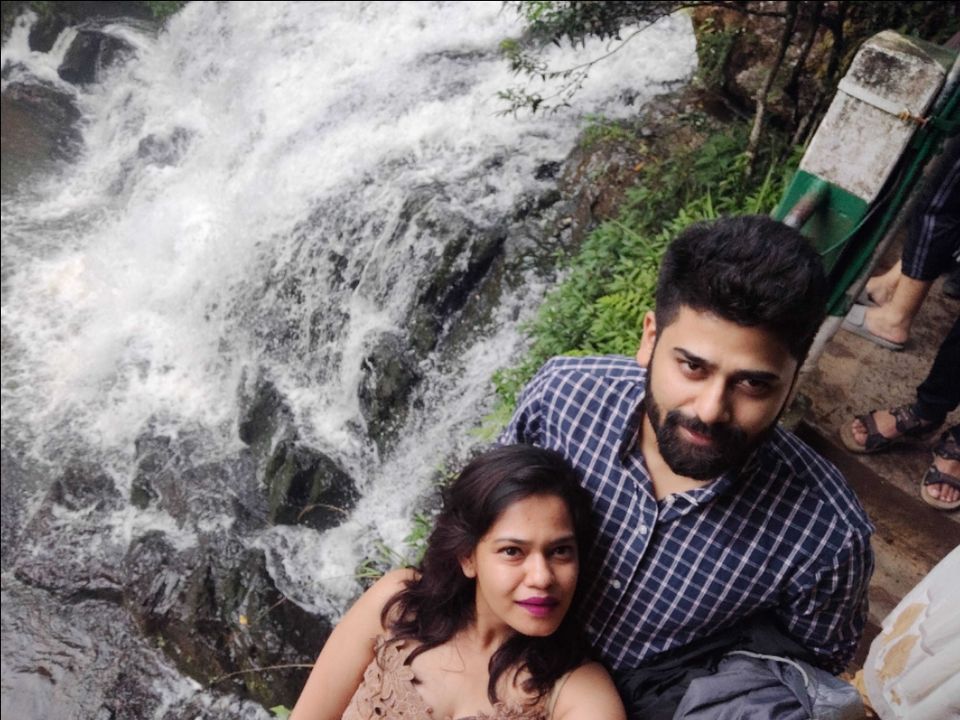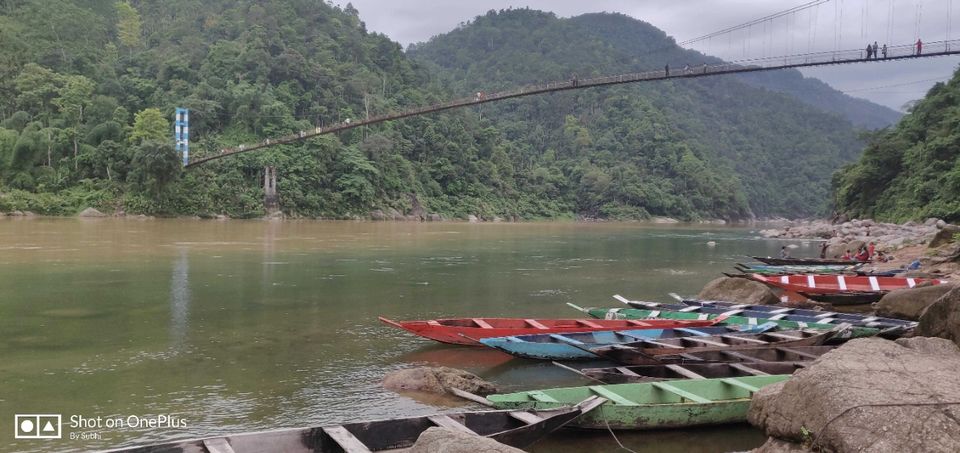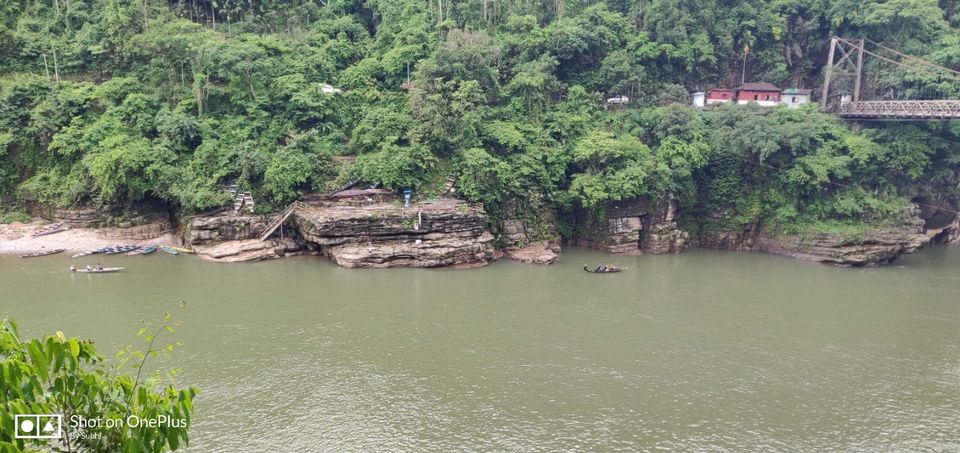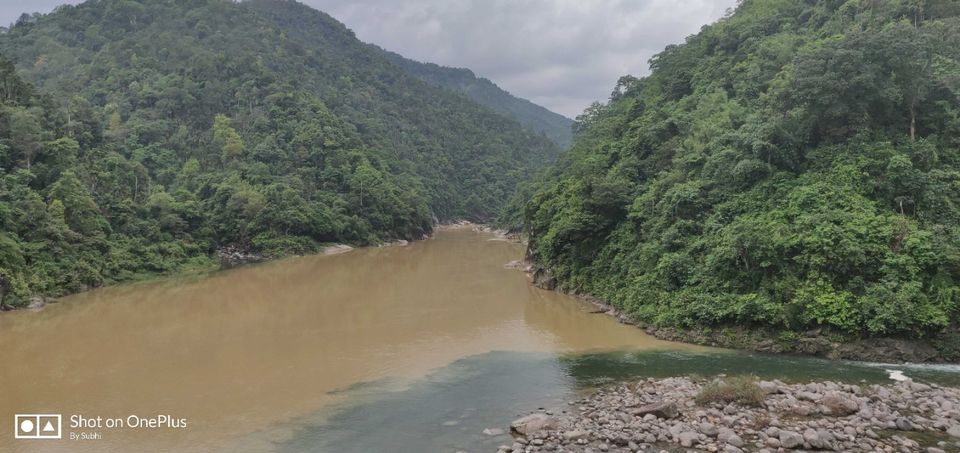 June 10th
We checked out from EMORDINI'S home and checked in to next AIRBNB destination SILVER BROOKS located in MYLLIEM near to CHERRAPUNJI...it offers you country side feel with green lush mountains ...tents...campfire and awesome hostel accommodation for backpackers...check images and photo gallery.After yesterday's ride I was a big no for 2 wheeler so we hired a private taxi and paid him 1500 to take us to GARDEN OF CAVES... NOHKALIKAI FALLS .... MAWSMAI CAVES....all are in SOHRA or CHERRAPUNJI...my fav was garden of caves as there is one particular waterfall called SIEM SYUEM WATERFALL at entrance which is totally unique in its own the way the cave has curved into waterfall it is super awesome to watch it.After strolling through garden of caves for an hour or two .. we went to NOHKALIKAI FALLS.There I learnt that spices grow in abundance here...so I purchased few for my mommy....watched the fall which is just spectacular and named after girl who suicided by jumping into it.On my way back to MYLLIEM we went to MAWSMAI CAVES.The cave has natural stalagmite appearance and due to rains water was logged in caves ....one who explores the cave fully have to wade through water logged areas and at least a one and half an hour exploring in total .....out from there one can see local stuffs to buy .I bought a local Khasi embroidered shawl for my mom as I was unable to decide a poncho for me..!!!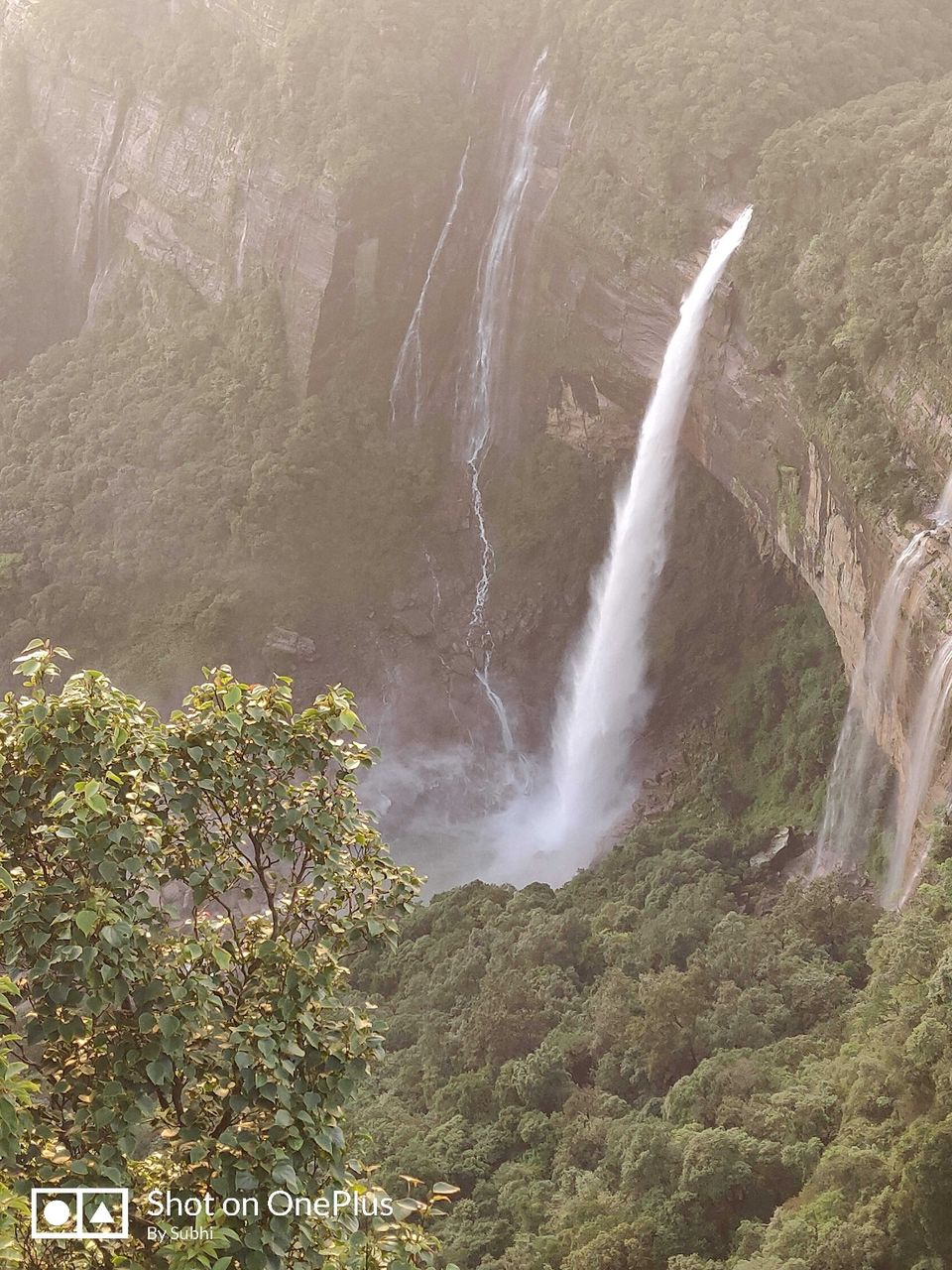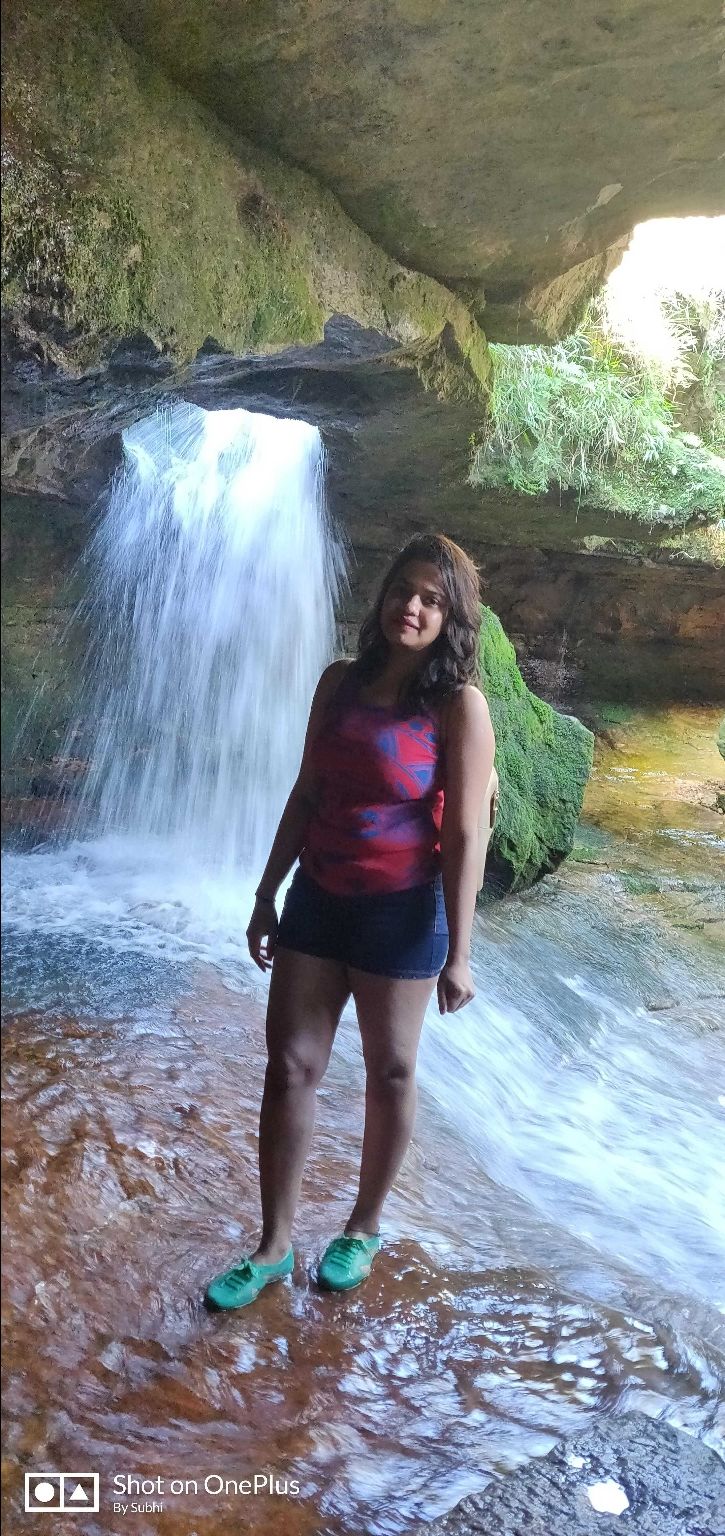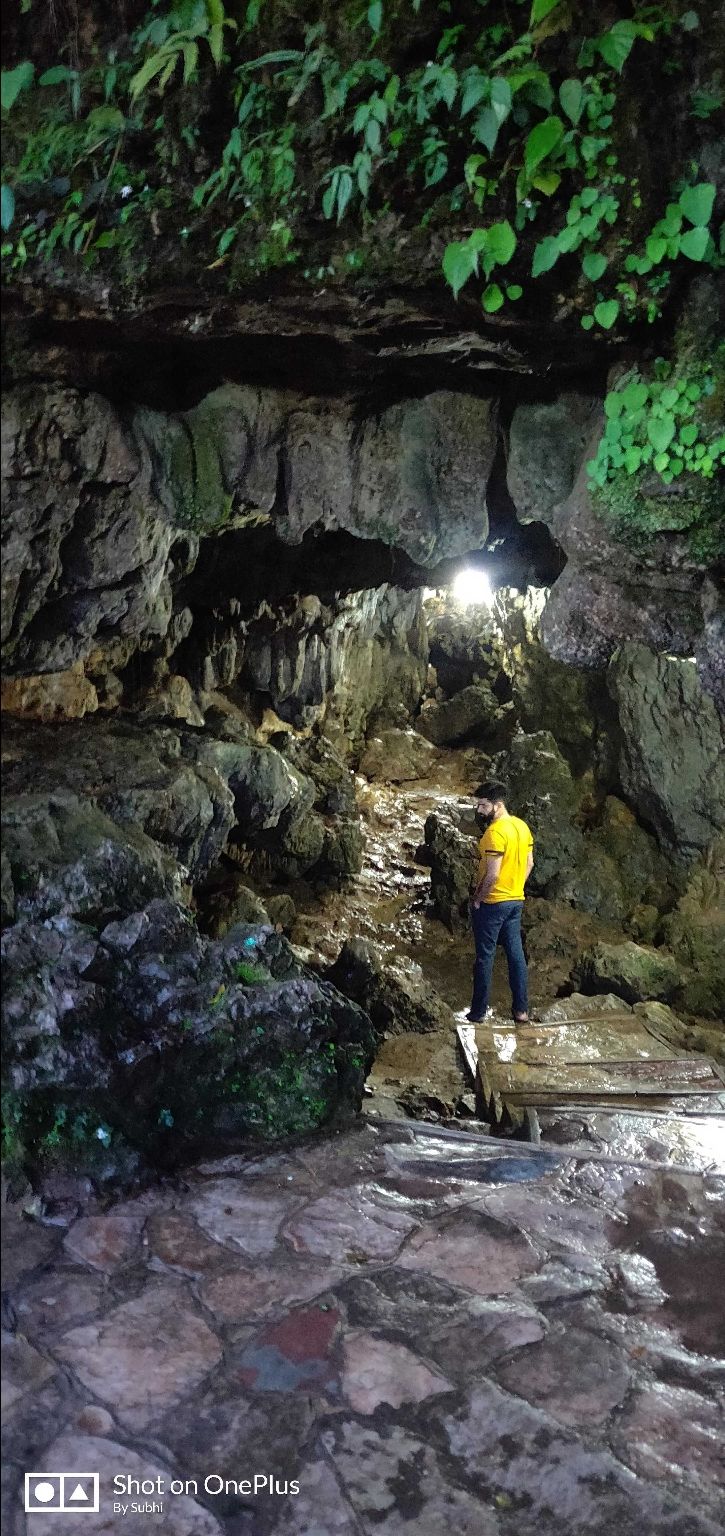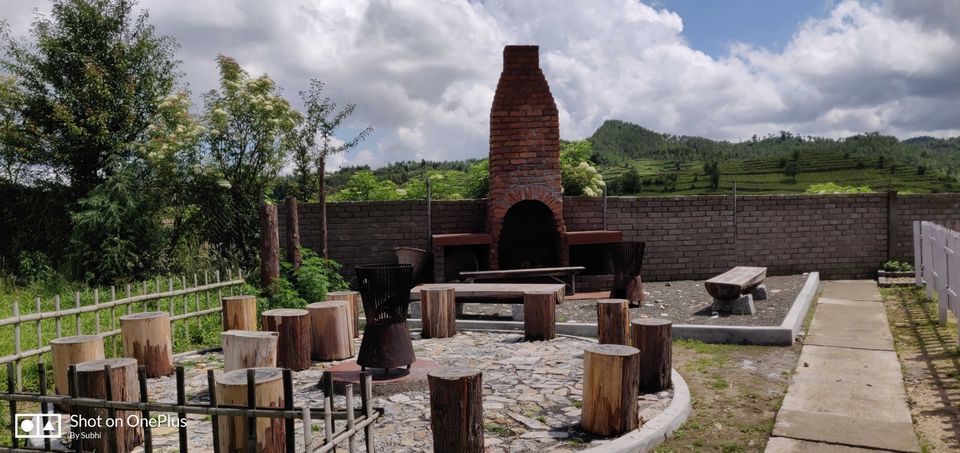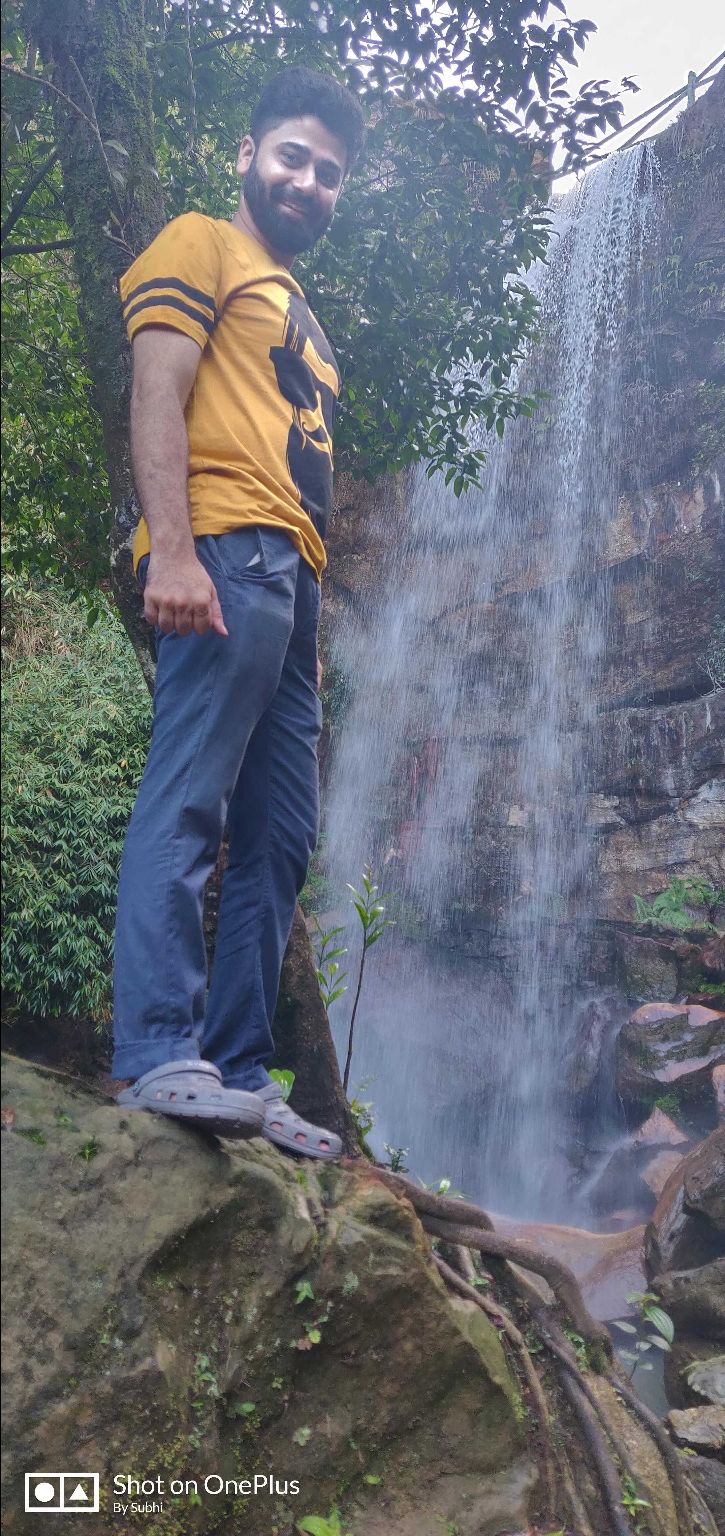 June 11th
We started around 10 AM on a two wheeler that we decided to rent from our host in silver brooks for 800 per day until 15th....it was an ACTIVA...it took half an hour ride to MAWPHLANG SACRED GROVES .It is the sacred forest for KHASI'S !!! specialty of the forest is ,it grows backwards only!!! a natural borderline is formed because of which forest doesn't grow forward...spread on more than 76 hectares this forest is abode of all elements that is dedicated to lord SHIVA.One can find exotic Orchids...Mushrooms...Rudraksh (sci-name- Elaeocarpus ganitrus).....Belpatra (Bengal Quince) ....Lilly cobra plants inside it....many streams and medicinal trees harbor inside it....it takes 90minutes for entire trek and costs you 500 with a guide as mandate ....if you want half trek it takes 200-300 with a time span of 45 minutes...we opted entire trek.This forest is preserved by KHASI'S...they won't allow you to take single leaf out of it.
From MAWPHLANG we went to MAWLYNNONG which is cleanest village in Asia.By the time we reached there it was evening....and the diversion that sends one to Dawki and another to MAWLYNNONG is totally deserted road for 18 KM's with narrow serpent roads and deep gorges on sides....still you can find villagers lurking in mid of night without any fear....might be because they are away from city's chaos...we just saw the village and truly it is the cleanest village .One can see tourists residing inside village in tourists lodges....it is home of root tree bridge RIWAT ...so I dint take any pics as it was dark by the time we saw the village and got back by 9 pm ....had dinner on the way back...the major issue for me was I am vegetarian in some days and non vegetarian in some.For vegetarian it is hard to have options as 90 percent population is non vegetarian...with pork and beef...for me chicken is the limit,rather than that I am fine with fish...and that was the only thing that made my food option easier.It's your luck if you come across Chapati (Indian bread)...Paneer (Cottage cheese)...which we found but after searching a lot.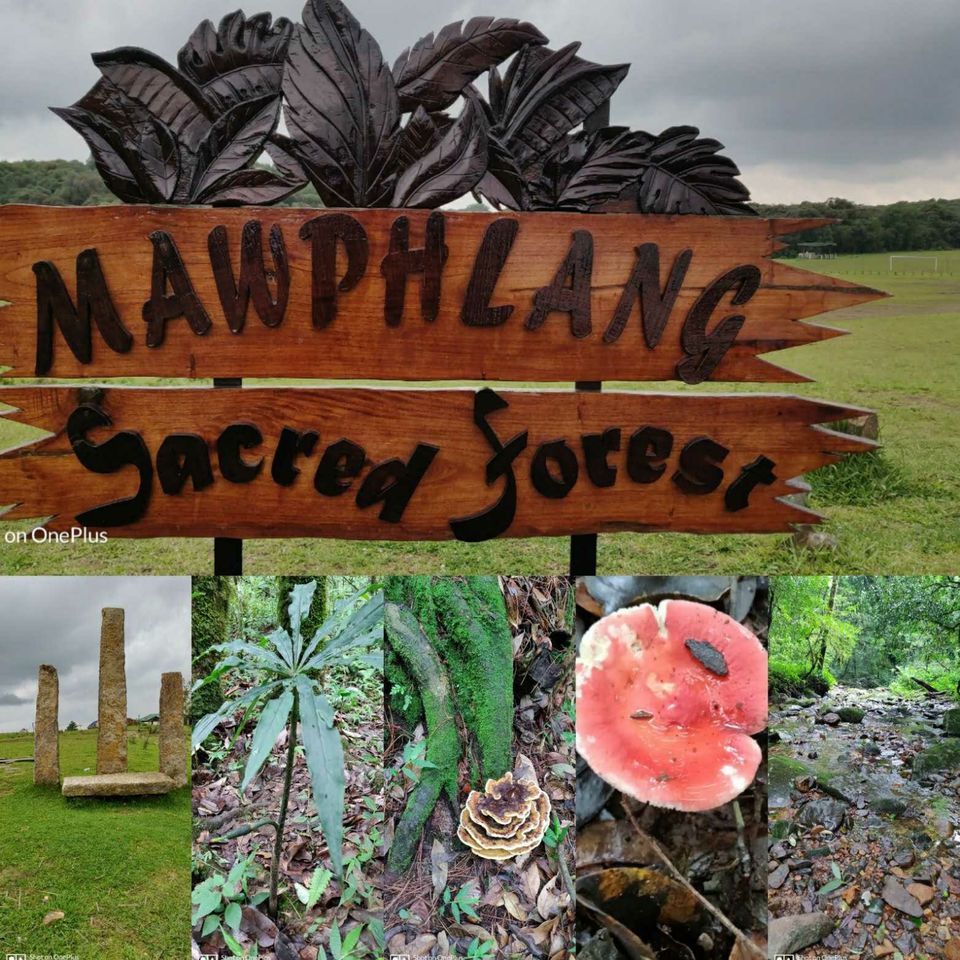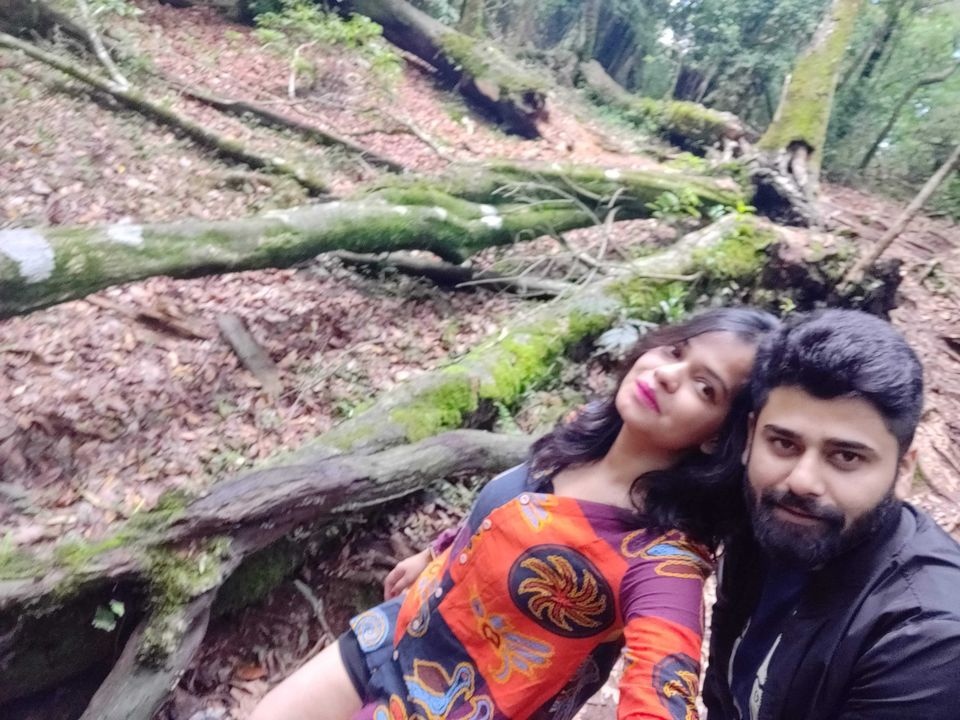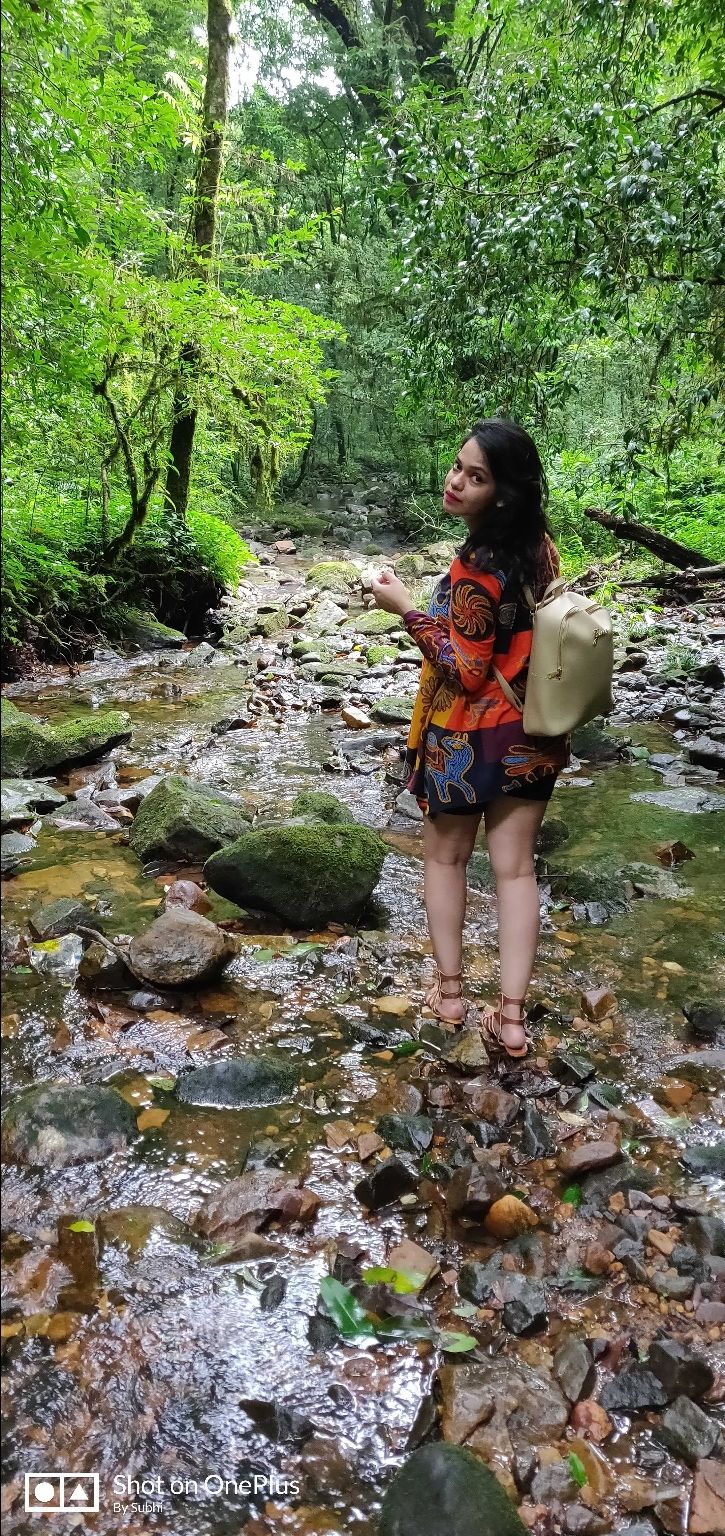 12th June
This was important day as we had to trek world's unique DOUBLE DECKER LIVING TREE ROOT BRIDGE in NONGRIAT village...CHERRAPUNJI.We woke up around 4:30am in morning....but started our journey at 6::15 am to NONGRIAT village where we had to start trekking. We went on 2 wheeler as it was sunny day...reached around 8 am. You have an option to hire a guide....but we didn't .We started our trek casually!! for few hundred steps I was fine...then we saw the first SINGLE LONG ROOT BRIDGE,from there it is 40-45 minutes to Double Decker root bridge. The trek is totally up and down terrain once you complete 1000-1500 steps. In total 3500 steps down and then up. Sunscreen and mosquito repellent is a must!!! For physically fit people also this trek is a challenge,don't do it if you start feeling breathless after ascending few stairs in normal days.It is 3500 steps .My calves and thighs ached like hell till I finished my trek around 3 pm. The view is mesmerizing at Double Decker ,you can choose to lodge near the resort inside NONGRIAT or you can travel back. A well known resort near is SMOKY FALLS. The entire trek path is laden with fruits like Jackfruits..pomelo... pineapples here and there. It's kind of rain-forest trek. You can see travelers trekking in and out of there.You have refreshment counters after every 300 to 400 steps having ORS and glucose in abundance.Its not free you have to buy same.I consumed more than 7 lit fluid on trek .Water is must must!!! Winter trek will be good for this place as you don't get fatigue by hot and humid climate like I did .But you won't get the water level under Double Decker that much.
We returned around 6 pm to our stay ,I was dead tired till then. Keep one single day for this as after this you cannot do anything for entire day.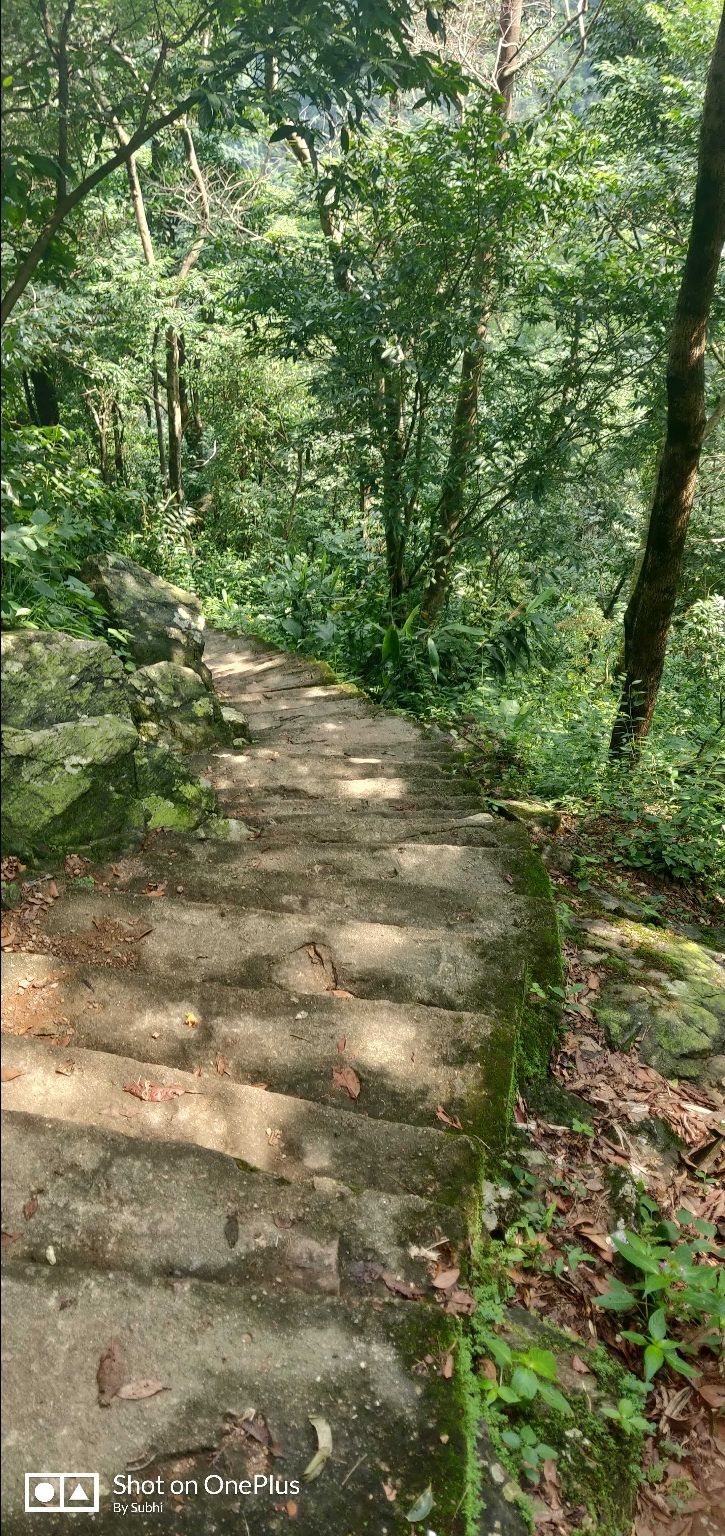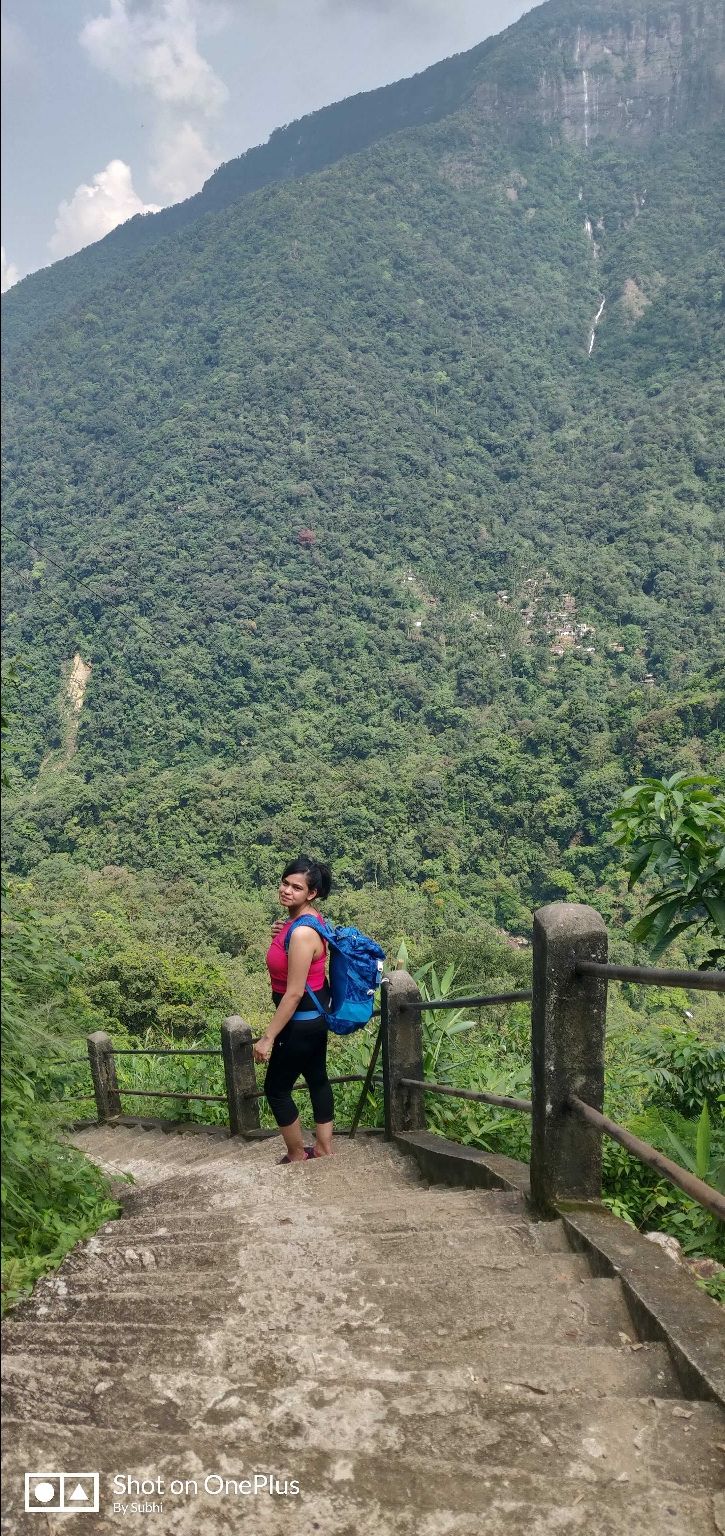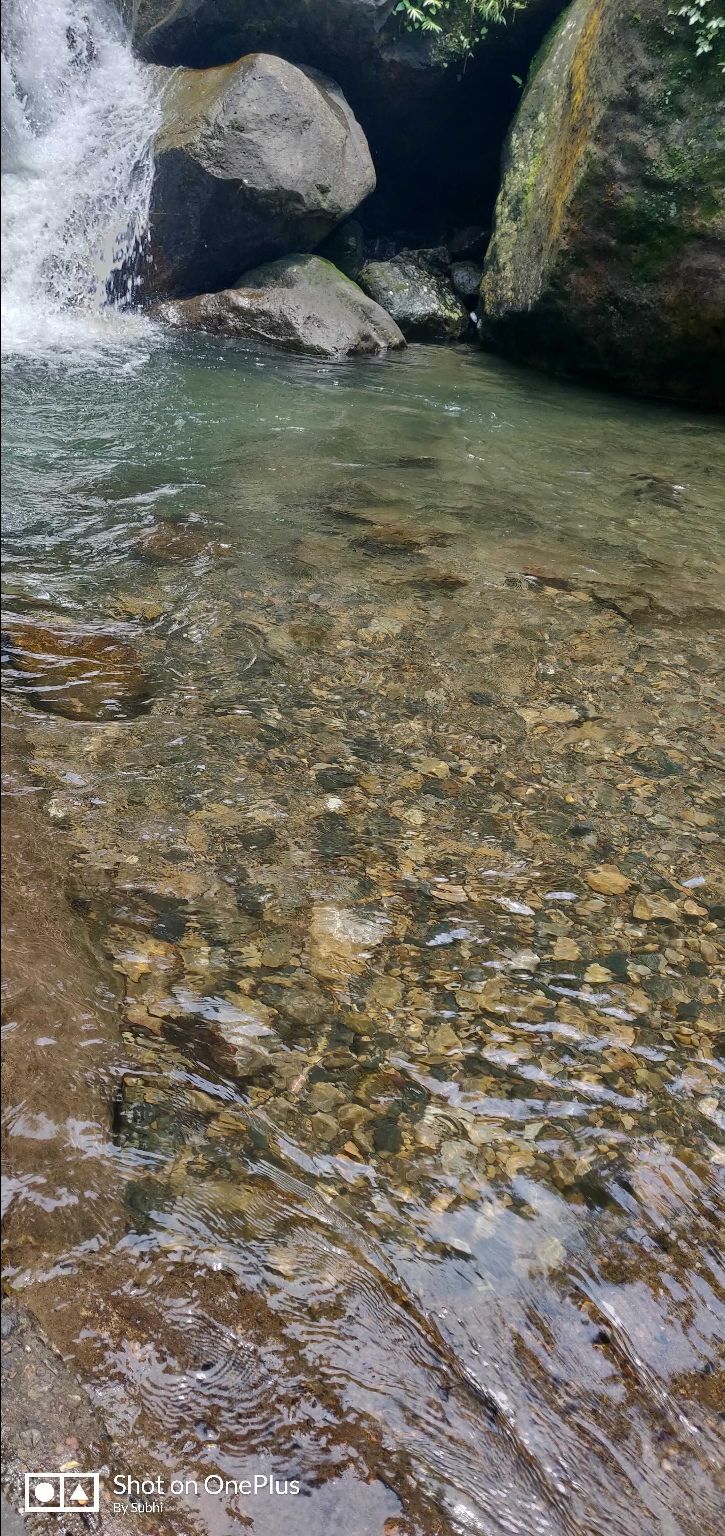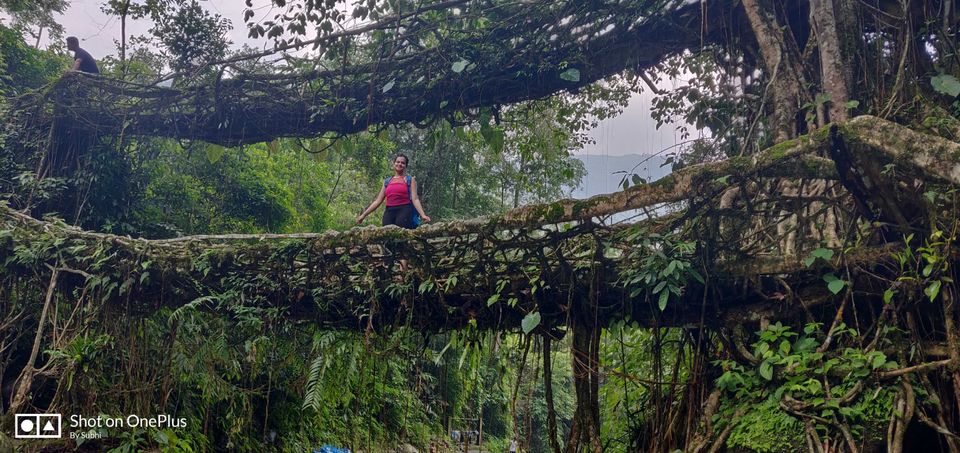 13th June
I woke up late this morning as my calves and thighs were hurting because of last day's trek...I couldn't walk or squat!!! I fell down many times because of my calves unable to bear the pain....bought a Volini spray and checked out from MYLLIEM .Went to our last check in at SHILLONG CITY ,MOTINAGAR... NONTHANGMAI.....THE KANJAI HOMESTAY -Airbnb ....all modern amenities provided in the room and had access to wi fi...decided to go to UMIAM LAKE as I was limping in pain ...so that evening we simply went to Umiam had a gaze over it...spent some quality time watching the sun set reflections over the lake...it's unlike the other lake in day to day life we see...the serenity just bounds you to its beauty...one can book Umiam lake stays resorts as well on Airbnb but those are bit expensive .While riding back we had some snacks and dinner in Shillong's LAITMUKHRAW area .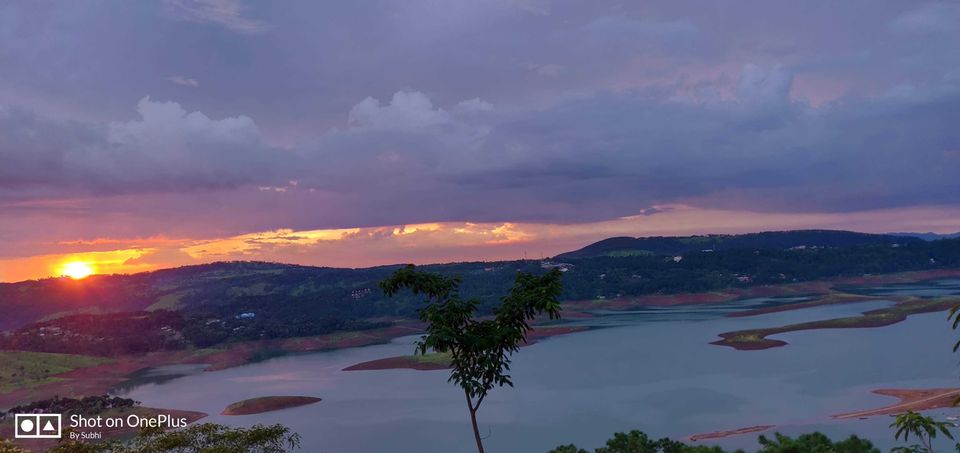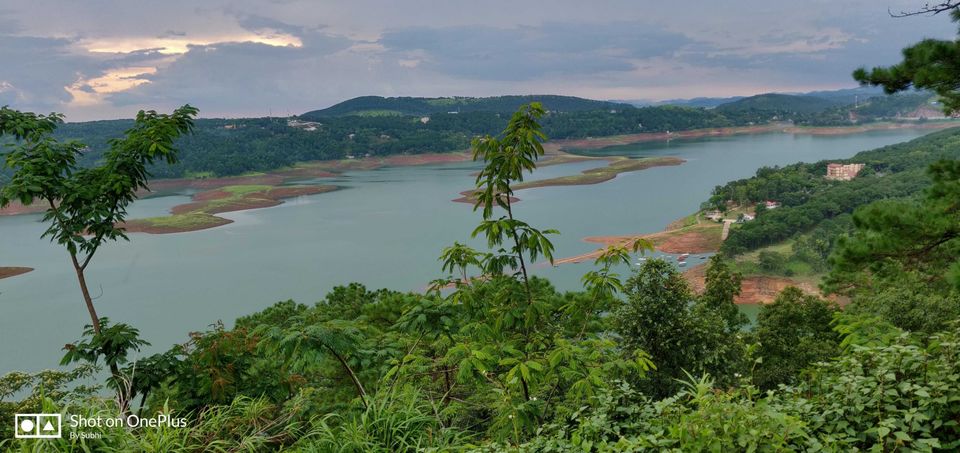 14th June
We hired a cab for 2500 after negotiating lot to visit KRANG SHURI WATERFALLS and NARTIANG MONOLITHS which are located in JAINTIA HILLS.
KRANG SHURI was almost 95kms from my location the farthest of all ....good that we hired cab as my legs were already hurting....JAINTIA people donot have pork or beef so it was easy for me to have a normal fish plate as my lunch which I had on entrance of krang shuri...paid 340 for 3 people including driver it was very economical and tasty....it is a walk of 20 minutes till the waterfall.You can find adventure activities of canoeing ...rafting on the upper area of krang shuri waterfall....there are adventure camps as well..ziplining activities are also there....well as I told u the water has its blue green texture only in winters and before June...I missed this too....but enjoyed the water gushing over the fall...cloudy weather with no rains and cool breeze was a blessing that day ...stayed there for 2 hours and went to MONOLITHS OF NARTIANG after it .It is an archaeological site the monoliths park is preserved as heritage ....strict imprisonment and fines can be implied if one tries to damage the parks property there....it's simply that you can find largest collection of monoliths in MEGHALAYA here only...by the time we tip toed out of the park it was evening 5 pm....and as usual I was like I need a rest now...we reached our stay and went for dinner near our accomodation with a normal Indian restaurant AAHAR ...very good food!!! had indian thali with fish....my partner had special veg thali with fish curry ....paid 260 for all....it was a wrap up night for us....just slept tight.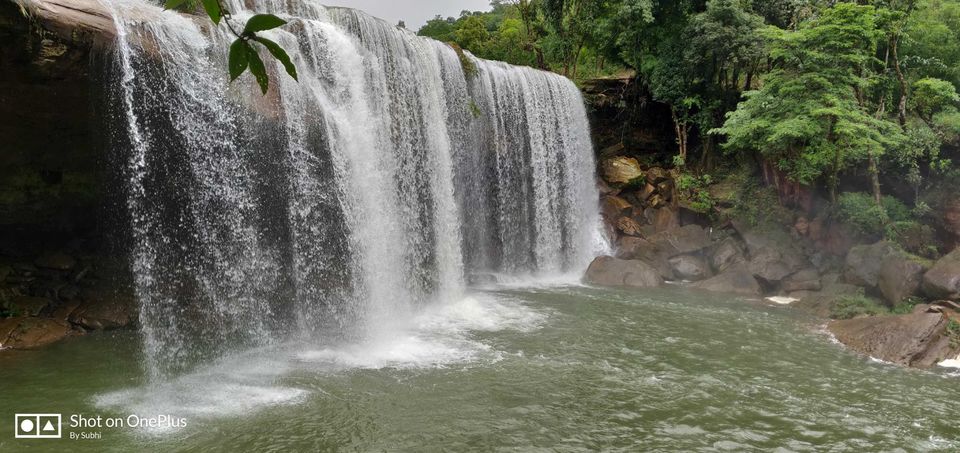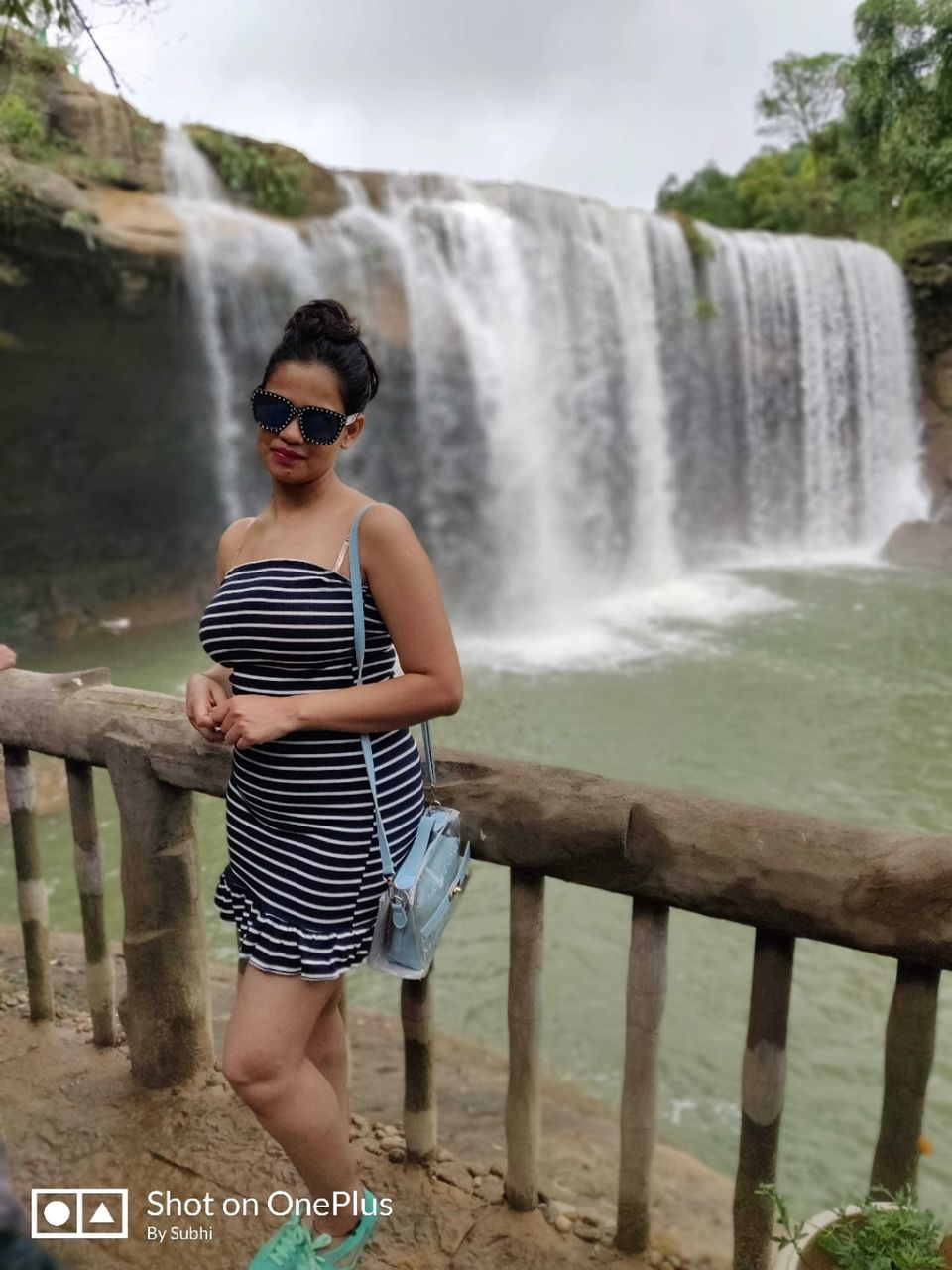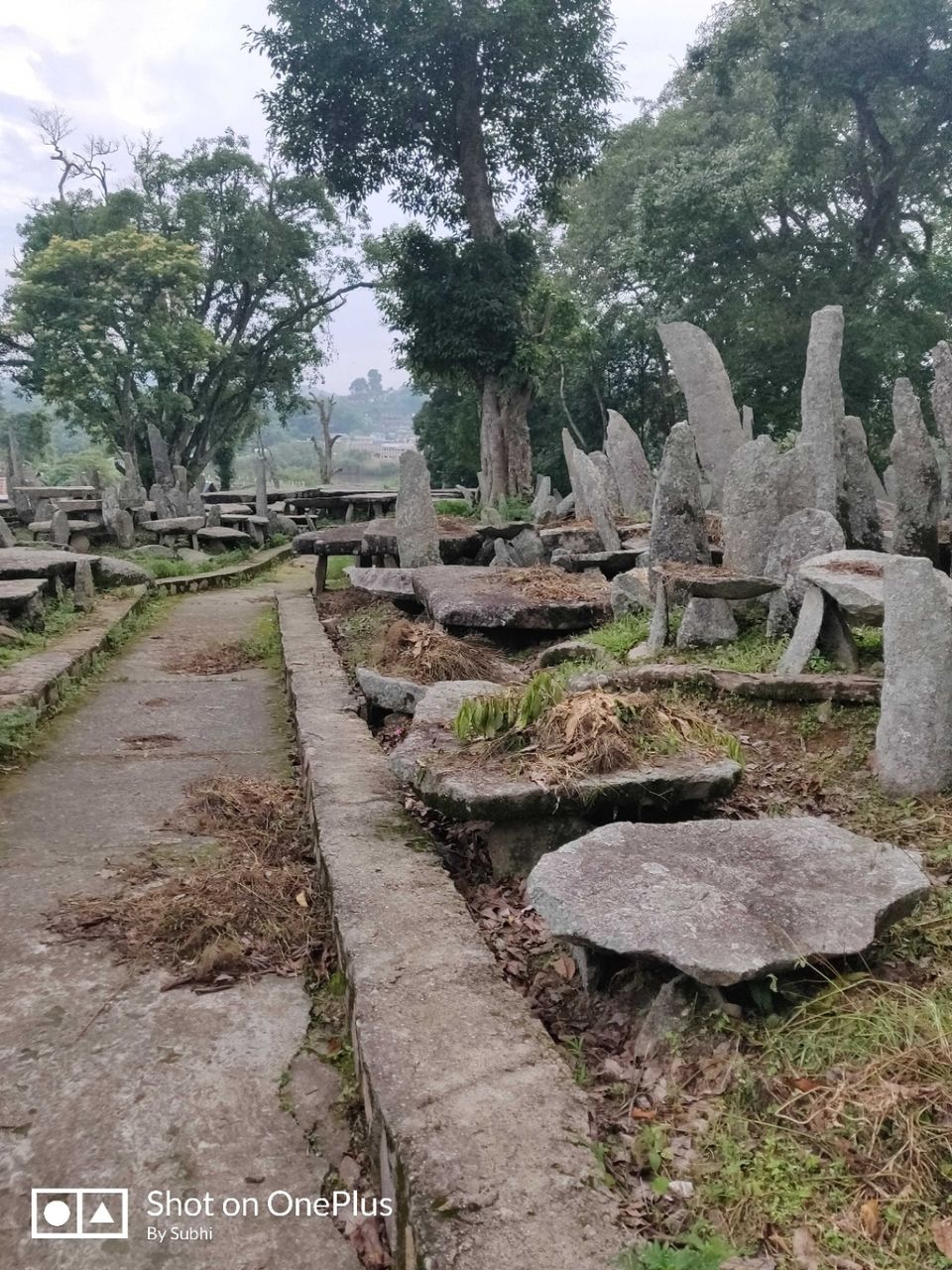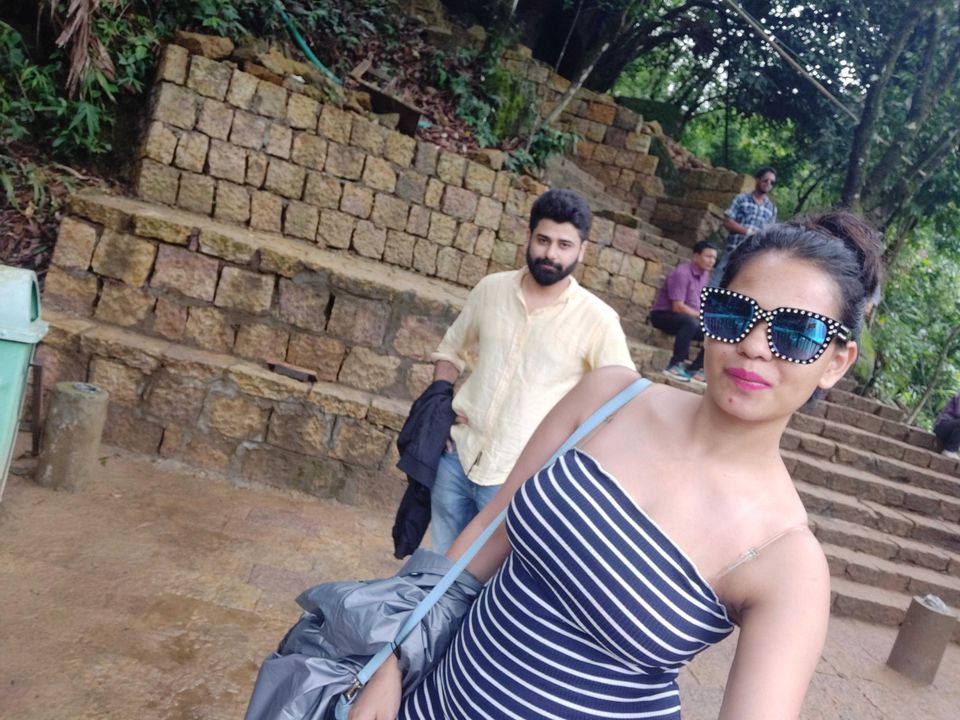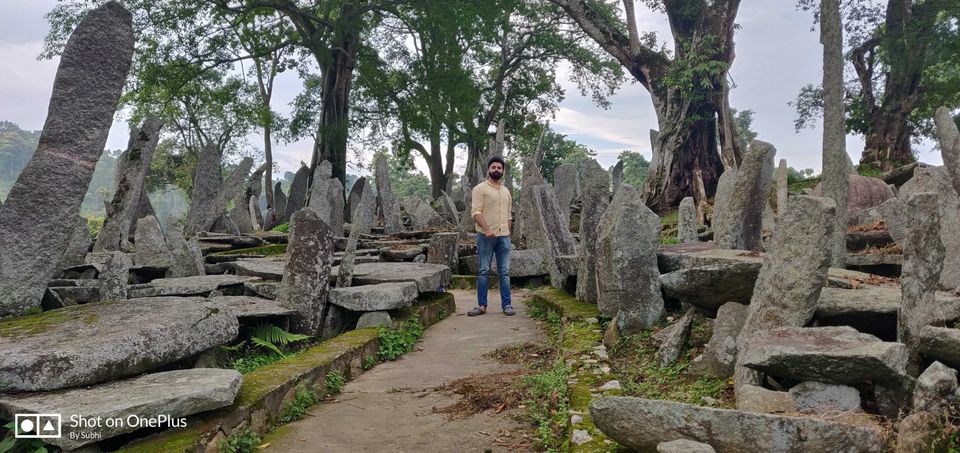 15th June
Last day ....woke up late in morning....went to return the two wheeler and paid 3200 in total....checked out of our stay at Nonthangmai around 3 pm ....went to police bazaar and headed to Guwahati airport via a shared cab...My flight was at 9:45pm via Delhi to Pune.
The tips that I took was...traffic jam a big issue in SHILLONG so you have to plan your things accordingly...5:30pm onwards and morning hours cars are jam packed....no Ola or Uber there....shared taxis or entire taxi is reserved....learn names of few famous stops in city from where you can easily get cabs...cash money mandate as very few locations have card facilities for payment....veggies are locally grown....so you can witness the natural color in abundance....spices and fruits are extremely cheap....foreign goods upto some level are cheap ...but KOLKATA can give u better options...so with this and a wish to explore some other new place soon I closed MEGHALAYA DIARIES ....do visit my photo gallery to see MEGHALAYA through my eyes...