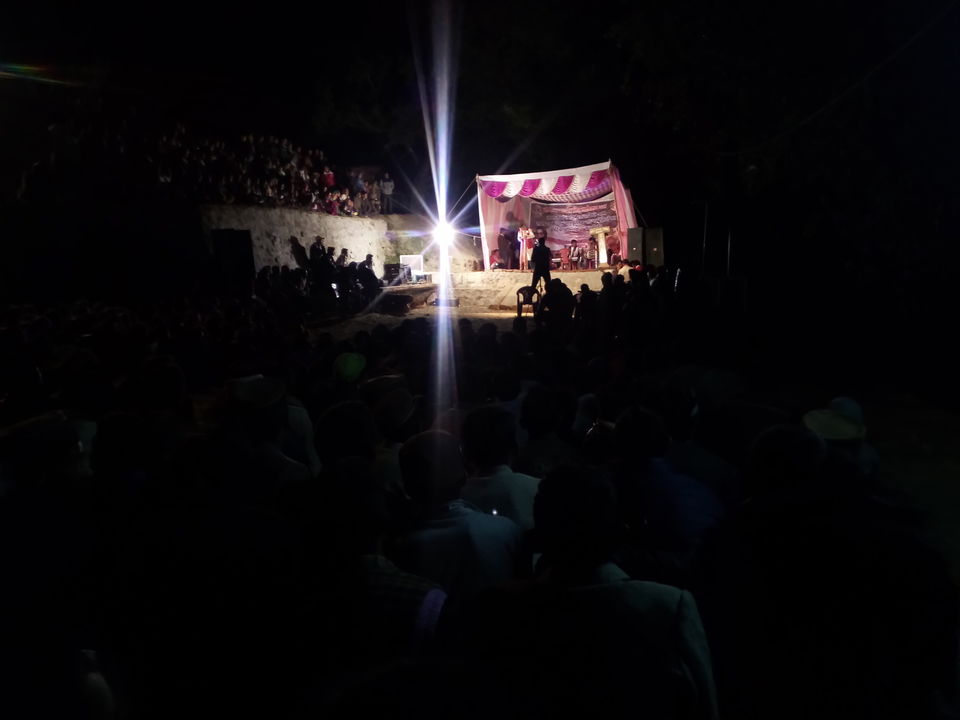 Jhakol main Mela hain!? Chale kya!?
Jakhol is a village in the Supin valley. A 30 km drive from Sankri.
The main temple of Someshwara Devta is in the village of Jakhol
My answer to a Mela and most things in life is YES.
Now the boys are excited, what time do we leave? 8 pm ish — yes. Who all wants to join?
We hire a Mahindra bolero and by the time the vehicle starts it is full. When I say full it is an understatement, it is overflowing — two guys in the front seat, two guys sitting on their laps, eight in the back seat and further back some more. We hit the road to go to Jakhol and fit in some more people in the vehicle on the way. The road is like a snake which makes it exciting. The music in the vehicle is loud and everyone sings and whistles — the night is on! We hope to spot a Bagheera — an Indian Leopard.
The village should know that the boys from Saur and Sankri have come says one of them ????
In the city, you can go to a pub, drink beer, listen to music and blah blah. However here there ain't no liquor shops for miles. That doesn't mean we don't drink. We do, the villagers stock it up.
Toh kya piyenge? kachhi ya pakki kinds.
Kachhi is the local alcohol made out of Jaggery. It hits you in the knees and one is hungover for days, so let us just gulp Pakki for now.
Melas are mesmerizing, the whole energy of hundreds of village folk gets you high. Not for the faint hearted- this is a high altitude party which goes till 4 am. Well jokes apart, The most beautiful part is that they take care of you. Everyone's house is open and everyone is a friend, they check on you and ask you to stay back, offer you food and their time. I love their culture — Athithi Devo Bhava — the guest is equal to God.
This time around, Mahinder Chauhan is singing. I haven't seen a live music performance in the earlier melas so I was pretty excited.
Another singer sings a song about departed souls and it is cathartic. A lady walks up crying when he is singing this song and gives him a hug. A respectful and soulful space is created — unspoken and deeply felt. Many people walk up to the stage and offer money as a sign of gratitude and admiration. Beautiful spaces for people to feel and be themselves.
This Mela went on till 4 am and this one goes on for 3 days. See you in the next one. We called it a night in Jakhol and slept in a wooden house room made out of Cedras Deodara.