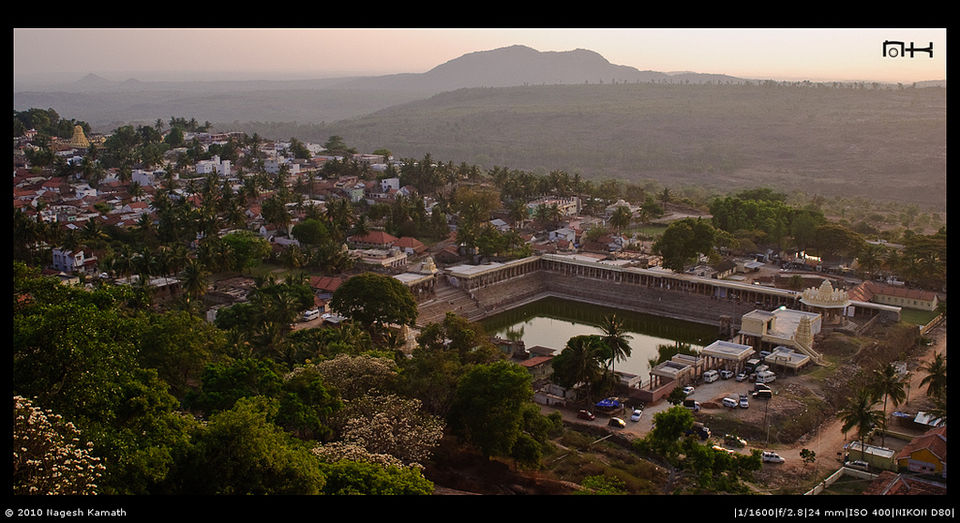 Situated up in the Pandavapura taluk of Mandya district in Karnataka, is south India's ancient temple town, Melukote or Melkote. A popular pilgrimage city overlooking the Cauvery valley, Melukote is situated on the bouldered hills of Yadavagiri or Yadugiri. Also known as Thirunarayanapuram, the sacred place abounds in history and heritage, and is sure to transport you 4000 years back to its inception. The simplicity, the calmness, the ancestral relic and the spiritual legacy in the air along with some excellent sculptures, carvings and architecture are the highlights of this town, also referred by some as South India's Badrinath.
Deriving its name from two words, Melu meaning top and Kote meaning fort, Melukote is also the birthplace of late Tamil Naidu Chief Minister and AIADMK leader Jayalalitha. The irony also lies in the fact that despite being one of the most religious destinations of the country, people in this town don't celebrate Diwali as it was the date when Tipu Sultan slaughtered in many cruel ways more than 800 Mandyam Iyengars of this town.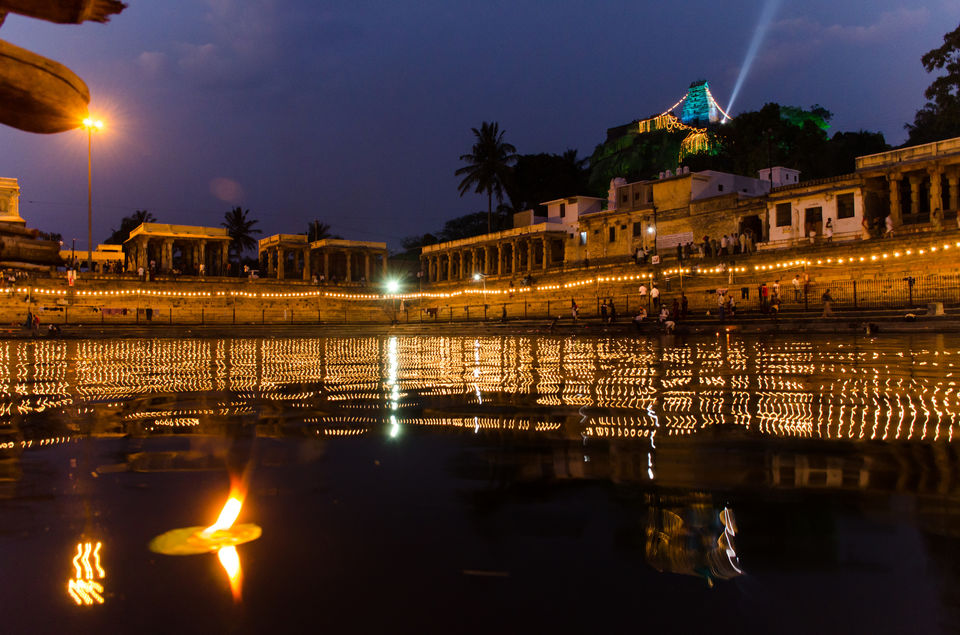 Why travel to Melukote?
Dive into religion at the holy temples
Melukote is known for various Hindu temples. Cheluyanarayana Swamy Temple and Yoga Narasimha Swamy Temple being the most prominent. Located at the top of Yadugiri hill and dedicated to Lord Vishnu, Cheluvanarayana is the most important temple in Mandya and a must visit. While the Yoga-Narasimha Swamy Temple attractively sits on a hillock, offering a worthy panaromic view of Melukote town after you climb 400 steps from the foothills. Apart from these two, the town is also known for Raya Gopura, ISCON temple, Vanaprasta Ashram.
Trace the timeworn literature at ancient institutions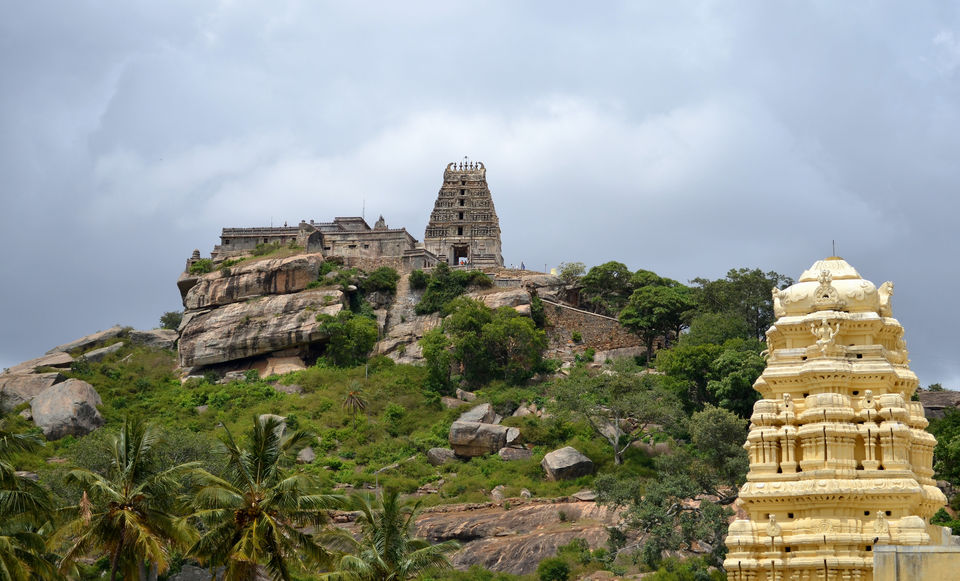 Established in 1978, the Academy of Sanskrit Research (ASR) is also nestled in Melukote, holding history that goes back to the times of Ramanuja. Spread over 14 acres, ASR has schools which still practice the gurukul system of Sanskrit education as well as those with modern methods. Major research on ancient Sanskrit texts is also carried out here, alongside a library that contains 11,000 manuscripts and 35,000 books. Sri Vedavedantha Bodhini Sanskrit College, established in 1854, is one of the oldest institutions. The Sri Yadugiri Education center that provides cultural education to rural students and other colleges giving traditional education are located here, making the town a significant center of learning. Melukote is also known for its distinct handlooms especially dhotis, sarees, etc. There is also an artisans training centre in the town.
Engage in a spiritual sojourn at the Vairamudi festival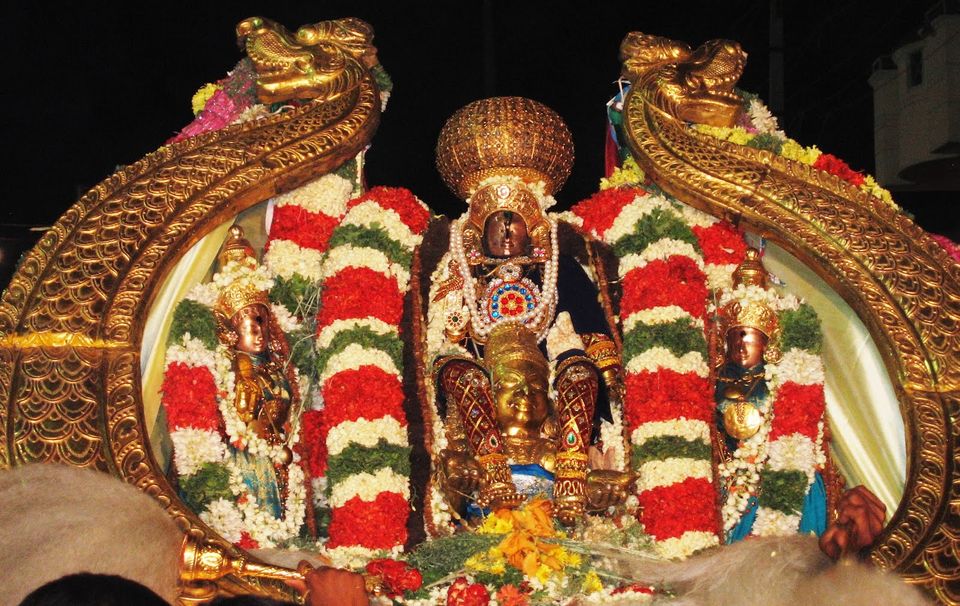 Vairamudi Brahmostava or Vairamudi Utsav is an annual festival celebrated in Melukote ate the Cheluvanarayana Swamy Temple with thousands of devotees who take part in this grand celebration. Held in March-April, the festival witnesses the main deity Tirunarayana adorned and taken in a procession that begins at night and goes until dawn through the decorated streets of the town.
Experience a peaceful recess
The town of Melukote abounds in shrines and ponds. The holy tank of Pushkarani or Kalyani with the backdrop of Narasimha Swamy hill is a photographer's delight. This is the largest pond of the town and has graced many movies with the captivating sight of its steps leading into the water and the mantapas built around it. The twin tanks Akka-Thangiyara honda and the Raya Gopura are a must visits that will surely offer you pictures worth for your travelgram. 18 km from the town via Kere Thonnuru Road is the Thonnur Lake, an excursion site spread across 2000 acres that makes for the perfect spot to enjoy the sunset.
Trek your way closer to the wilderness
If you have had too much of religious encounters, you can trek your way to Dhanushkoti caves and experience nature at a proximity. However, the touch of history will still accompany you even here. There is also a rock garden near Dhanushkoti. Melukote also has a wildlife sanctuary that was created in 1974, primarily for wolves. However, now it has other mammals as well like leopard, jungle cats, langur, bonnet macaque, pangolin. It is also a haven of over 200 species of birds and hence a must visit for the ornithologists
Cuisine on offer
Being a small town, there aren't any fancy restaurants or wide range of cuisine on offer. However, you will find a number of small mess through the town that offer you immense warmth and food that tastes like the one at your home. While you are in town, you must get yourself some delectable puliyogare served with home-made pickle and buttermilk, the most famous dish here. You can also get some Maddur vada, idly, pongal, and coffee.
When to go
There is no specific time you should visit Melukote as the temperature through the year is mostly similar and is a decent time to visit. However, you can avoid the summer months.
Getting there
By air: Melukote is around 68 km from Mysore Airport which is the nearest, and it is around 168 km from the Bangalore international airport.
By train: The closest railway station is Mysore which is at a distance of 51 km from Melukote. From there you can take a cab or a bus.
By road: Melukote is around 50 km from Mysuru and around 140 km from Bengaluru through Nice road. KSRTC buses are also available to Melukote but are not very frequent. You can get buses from Mandya rather.
Getting around
Some parts of the town can be covered by walking itself. You can otherwise that auto-rickshaws that will charge you anything from ₹50 depending on where you are headed to.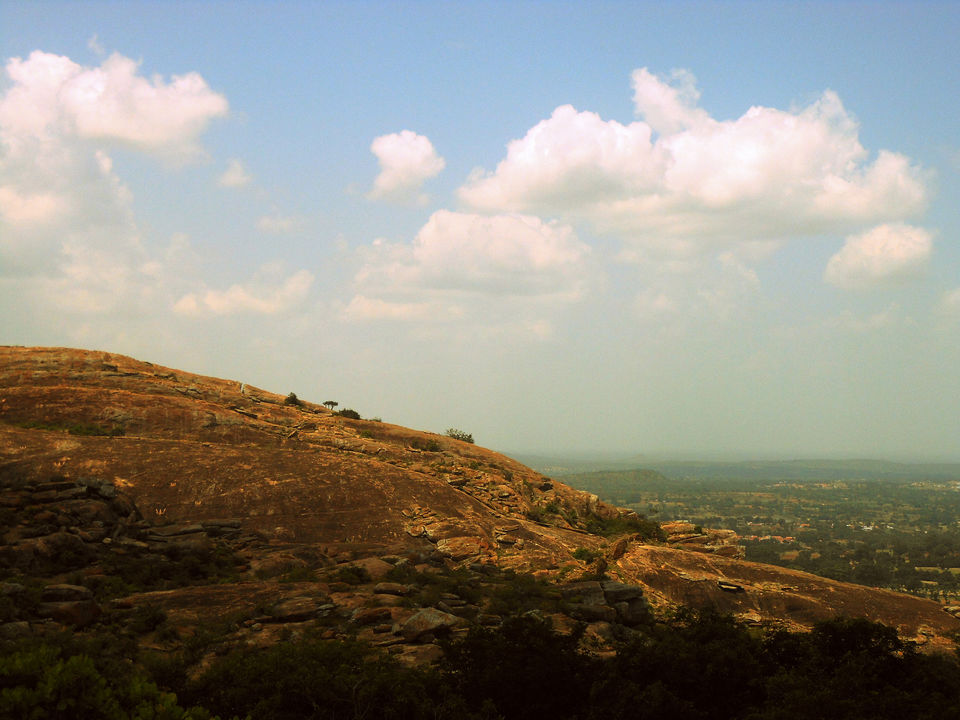 Melukote is a small ancient town and not so much pf a tourist destination yet. You can check for rooms in Melukote Ahobila Yatri Nivass or Bagur Yathri Nivas. You are also likely to spot some guest house like the Yadhugiri Guest House near Upper Temple where you will get rooms at a very low price, beginning from ₹500. However, since Melukote is only about 50 km from Mysuru, it is advised to stay in Mysuru for better and more accommodation options.
Know of any other place that deserves a spot on this list? Click here to share your magical travel tales with the Tripoto Community right away! Get travel inspiration from us daily! Save and send a message at 9599147110 on Whatsapp to start.