Memoirs from the mountain kingdom
I had been planning this trip for the past 2 years, but was just not able to go. This July I finally got an opportunity to go to my dream destination.
My fascination for Ladakh has its roots in my childhood. As a Buddhist, I have always wanted to look at the other aspects of Buddhism. Ladakh, is a place where my wanderlust bug and spiritual exploration meets.
This journey was a road trip from Srinagar to Leh. We took a flight from Delhi to Srinagar because we didn't have too much time at hand to explore the 2 regions.
On 8th July 2013, my family, stayed for a day in Srinagar in a houseboat at Dal Lake.. That one day was an experience in itself, it was the first time I visited Srinagar. The armed forces are everywhere, in every corner of the street in a stretch, a pair of armed soldiers. The political aspirations of the people in Srinagar are quite overpowering, they know their history and they know what they want in the future.
9th morning we left for Kargil via Sonmarg. Lotus, our tour organizer, was sent as a driver from Leh who was waiting for us at 5am across the lake. He told us that the altitude sickness won't be a problem for us and we would acclimatize well, we popped in a diamox and ate a light breakfast at the houseboat. I can never forget the morning of 9th July. I woke up at 4am to the sound of raindrops on the roof of our carved wooden houseboat. I wore my jacket and went out to see the sight, which was something i'd never seen or heard of Dal Lake before. The entire expanse of the lake, not one creature could be seen, only the parked houseboats and that was about it. Dal lake was so quiet and peaceful, the only sound that one could hear was of the pitter patter of raindrops on the calm lake.
On our way to Kargil, we stopped at the Zoji La Pass. Tough route that is. Our next stop was the Zoji La War Memorial, all this while it was raining outside , the windows of the car were slightly rolled down so that we could acclimatize.
The winds at zoji la war memorial were ice cold, i thought they would literally pierce through me . When our car stopped at the memorial, a few young indian army officers came to us with a container of 'halwa' . It was tuesday and they had made prasaad for everyone. You can possibly imagine how excited i was when i got off the car. I was running around with full energy to go to the temple at the top, until i realized that i wasnt anymore at normal plateau range. The height was increasing and it was becomin difficult to catch our breaths if we did any more exertion .
In ladakh, you will notice that if youre going there for the first time, everything will seem like a wonder to you. The mountains are so might and huge that you'd probbably want your eyes to open up a little wider to capture the whole scenery in one moment, and trust me, that will happen alot of times.
To sum it up, this place is so amazingly important for me, that it will shape the course of events in my life in future. Do not overlook the small get aways in this place, youre gonna love it :)
This hotel is owned by our friend , late lotus sandup a very famous travel Agent in ladakh. The hotel has 8 rooms for now, the staff is so friendly that they became like my family, they took care of our meals and speacially made food for us apart from the buffet when we came back to the hotel at odd times .. They would ask us what we would prefer to eat. Every morning the tea and coffee used to be on our doors at the right time. The hotel is spick and span. The rooms and the bathrooms are very clean, being an army fanatic, i loved this hotel because it was right across the army cantt. The staff took care of us like family and it was such a wonderful experience for us. Ladakh retreat has become like my own home in leh, i spent 7 days there which will never be forgotten! All my love is for that hotel, even though it is a friends hotel, i am not biased in writing this :)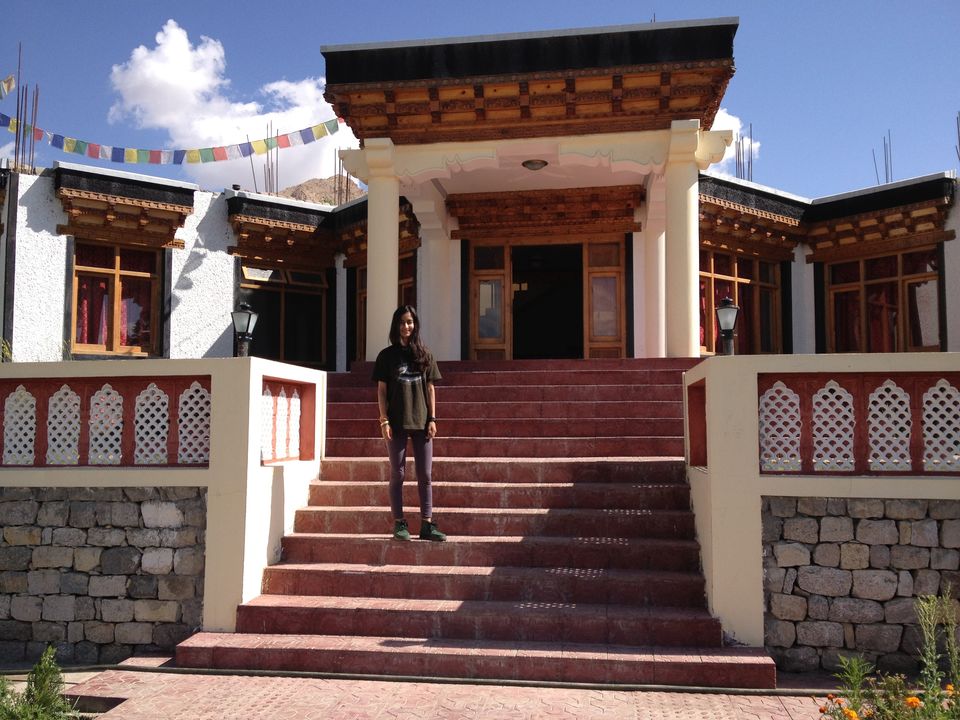 We were looking for a good place to have dinner at the leh bazaar.. Found this little restraunt. The place was jam packed and the aroma of italian and iseraeli food was pulling us to it like a magnet! We really wanted to have a good pizza and thats what we got! Gesmo is amazing for italian food, even the iseraeli dishes they serve are quite amazing.. The food did not cost us much and we loved it so much that we came to the restraunt the next day again for lunch.. The service can be slow , but its not there fault because its always full! Do not miss eating here, grab a seat next to the painted windows :) you will love the experience!
The lamayuru monastrey is located on the way from kargil to leh. Situated in the middle of moonland, it has the most serene and peaceful aura to it that one can ever , ever imagine! The view, because of the moonland is absolutely breathtaking! The monks there are friendly and always ready to pose for your cameras :) why i love this place so much would be because of my personal experience, it was almost there prayer time when we reached the monastery and they invited us to join them in the prayer hall. As we sat with them while they chanted, the whole hall was full of some mystic energy, it seemed like just the place where i belong, being a buddhist i wanted to know the other philosophy of buddism as well, the experience cannot be explained in words, it has to be felt,.. As soon as you reach lamayuru, you will know that youre part of a bigger universe than you imagined!