My husband and I got married in 2011, and every year we make it a point to travel at least once a year. We have covered many destinations in a span of 5 years, some together and some solo. But a trip that is etched in my heart and I think would be forever, is the trip to Lakshadweep Islands. What sets the trip apart from the others is not just the serene sublime beaches, blue lagoon or white sand but also the company we had during the trip.
Anyone who has been to Lakshadweep or has tried planning the trip to the island would be aware of the long and tedious process one has to go through to get the permission to enter the island, book the SPORT resort and plan the travel. Its worth all the effort. Well so we had overcome that and had arrived from Cochin airport to Agatti island airport. The airport was like a small classroom and all our fellow companions for the trip were waiting there on the chairs to complete the formalities to enter the island from where we had to take a boat to go to the Kadmat island. We were five families of all age groups but waiting there like excited teenagers. After the airport formalities we were taken to a restaurant for lunch before our boat trip to Kadmat island. All the five families including a German couple ( they were the silent ones coz of language problem) were busy chatting and sharing with each other the planning and travel woes each had to go through to reach the island. This was the beginning of the companionship for the next 7 days together.
Next was the 3 hours boat ride from Agatti Island to Kadmat Island. Every member was excitedly busy spotting a dolphin or flying fish and sharing their discovery with each other and lo behold within a span of 2 hours we were all one big group of friend travelling together. Yeah we were having fun together.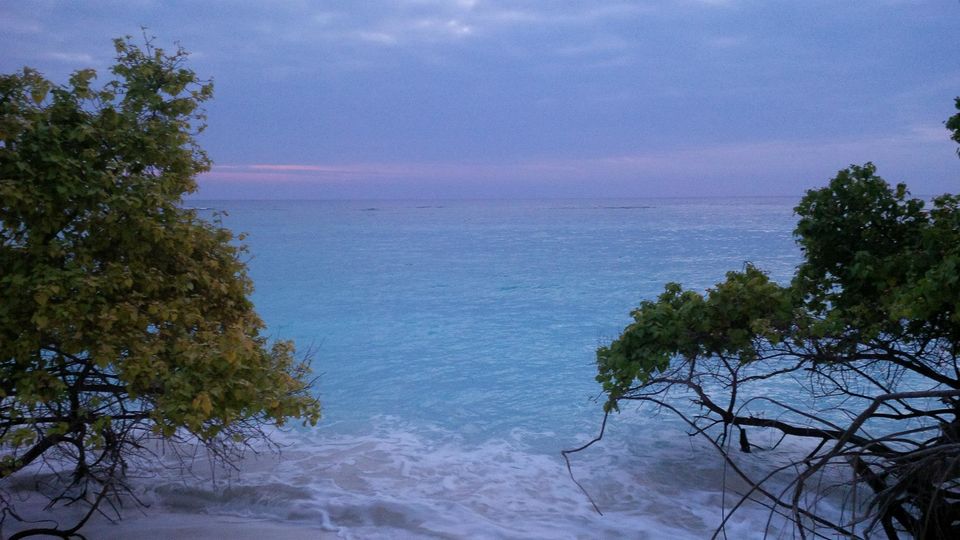 Kadmat is a beautiful island which seems like a world of its own. It is cut off from the rest of the world as you have no other network other than BSNL. So it was our own sweet paradise. The sublime sunrises, the serene sunsets, the blue ocean ,white sand and corals underneath, not only help you introspect but also help in nurturing relationships and cultivating new friendship. I remember lying under the naked sky on the sand watching the million little stars and beautiful moon reflecting on my life. They are the most beautiful nights of my life.
We got particularly close to one family, father mother and their daughter who was of same age as us. She was into advertising by profession, a traveler by choice and an adrenaline junkie. She became my husband's snorkeling partner. I was pregnant at that time so wasn't allowed to go scuba or snorkeling. Well, they shared the sights of many beautiful fishes and corals under water while I relaxed on the beach with her mother. She was a mother to me too there, feeding me fruits and coconut cream, saying it would be good for the baby. She inspired me in so many ways, to be fearless, independent, happy and positive. My husband, she and I took long walks across the length of the island sharing so many stories of our previous travels, our professional lives and so many things about our lives. We had our meals together having animated conversations.
The 7 days just flew by and we again boarded the boat for the return journey. This time we were all friends with each other exchanging phone numbers, sending friends request to each other on Facebook and creating Whats App groups. Its been 2 years now, we have moved on in our lives but the memories of our time together stays back.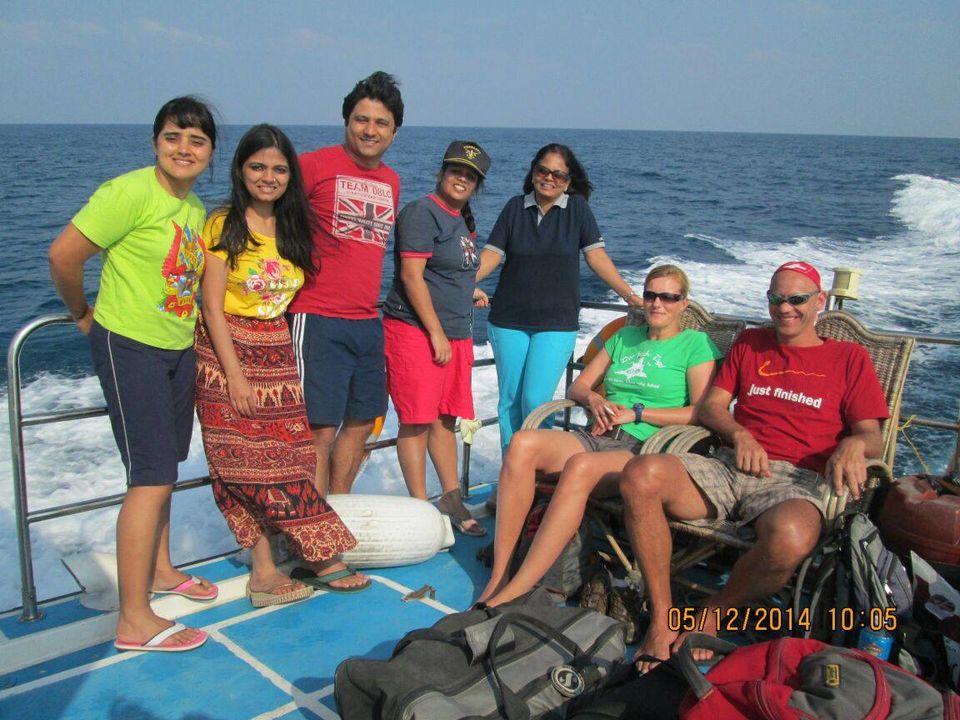 All smiles and happiness together. On our return journey, we clicked a pic together. Left to right, Prerna (our close friend), me, hubby. soumya, her mom and the German couple.