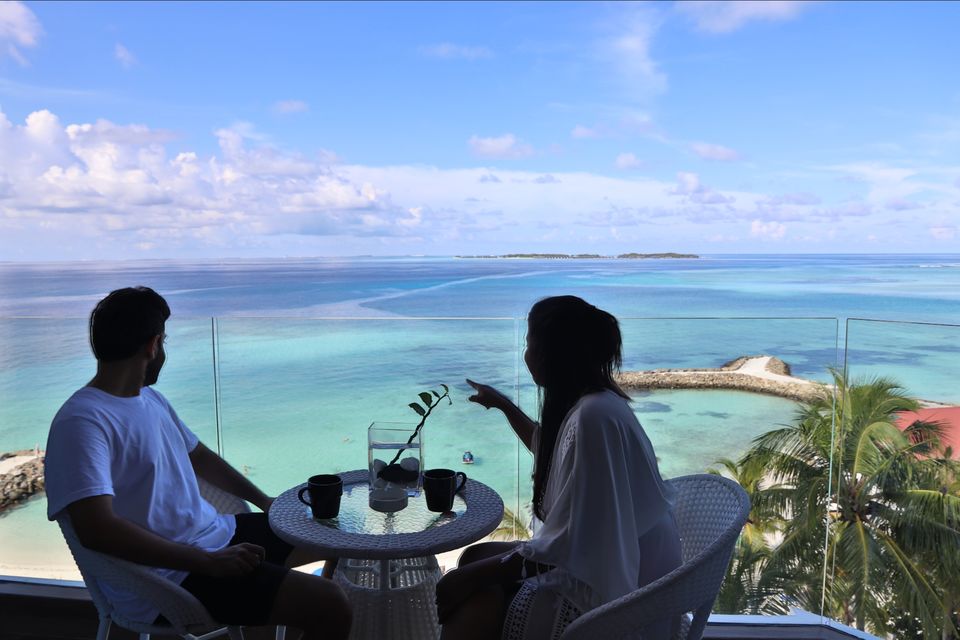 Hey guys, so this year early November during our birthday we planned a short trip to Maldives. One of the most exotic and nearest international destination from India. Trust me if you are a beach person you must visit Maldives. I am personally a mountain person but was fascinated by its beautiful lagoon watercolors. The lagoons have got multiple shades of blue and are dreamy. The temperature was very convenient for vacation approx 25-30 degrees Celsius and it was not much humid.
So, there are many flight options to travel, multiple domestic flights in good intervals are available to Male. We went from HYD, so we booked our flight to Kochi and from Kochi to Male, which is a travel time of approx. 1 hour 30 Mins. So yeah, it's a pretty short journey and you can reach these Sandy Coral and Beautiful Island.
We had Pre-Booked our ferry from airport to Maafushi Island. So, our contact person was waiting for the airport., we had done ferry booking through Icom tours and travels and it costed us around $20 per head for the rides.
We booked Arena hotel at Maafushi. I have tagged the location here guys. Please make sure you ask them a room for top floor while you are booking, coz you don't want to miss the view. We did the same and they had provided us the top floor, of course it depends on their availability as well. Another tip, you can also try for a corner room at top floor ;) the view is magical.
That afternoon we had lunch at crystal sands and the food was just yum. Make your choices accordingly as there are many options available and good quantity.
We took a short nap to relive from our journey tiredness and then took a bicycle rental to take a round of the island. It's a small island and you can cover the complete island in approx. 20 minutes.
The beach in front of arena is quite convenient we spent some time in water and watched the sunset. Later we took a small walk to explore the nearby cafes for some snacks. Also, just to add the dinner buffet in arena and other restaurants starts early around 6:30 PM. We completed our dinner and the quality and variety of food is again vast. And yeah during dinner the local guys performs live music and dance so yeah, it's quite an atmosphere by the beach with the cool ocean breeze, food, music and dance. If you are celebrating any special day like your birthday or anniversary you can specify them the details , and they will make your evening even more special.
Alright so the next day we were up early, well who would like to sleep in such a beautiful destination. We started our day with a short morning walk, watched the sun rise and walking the empty streets and doing some photography.
We had the breakfast buffet at arena and strolled around the island and to cute souvenir shops. Later we went for a relaxed sauna bath and a refreshing time in the pool at the top floor in arena. We checked out of the hotel that day afternoon and took a ferry provided by the same Adaaran Club Rannalh where we were for stay the next 2 days.
This was again a very small island and the complete island is only this particular resort most of the resorts in Maldives are in planned similarly covering the full island.
So, we had booked a suit for one day and a pool villa for the next day. So, its quite efficient to book in this way coz you can experience the in both the suit and the villa. Plus of course, its magnificent. So here we booked the package of breakfast, lunch , dinner and free drinks all day. After the lunch we took some rest on our lounge chairs by the sea. In the evening we went kayaking and spotted variety of fishes, friendly white sharks and stingrays and watched a spectacular sunset.
The resort in the evening has so many entertainments like live band playing music and beach party and then there is always food and drinks. So as it was my birthday, and it was mentioned by my spouse earlier to the resort they had our table decorated and a cake ready to cut, singing our birthday song and tourists all across echoing it. Its really a special one.
Next morning was rainy and we dint experience a sunrise instead a rainbow. But it was just a matter of 2 hours until we had the sun again. We roamed the island after our breakfast did a lot of photography and then moved to the water villa. Most of that day we spent our villa deck reading books, sunbathing and swimming in the sea water beneath the villa and Spotting many fishes. This was our last day of trip. The next morning after breakfast around noon we took our ferry back to Velena International airport.
Please make sure to keep your cameras ready while landing or take-off from Maldives you will be experiencing beautiful island and lagoon views. Our return booking was via Mumbai it took so its approx.3:30. Make sure you book the flights well in advance and have enough time gap if it's a connecting flight. Ours was a short trip and we did not go for much of water activities as we had already experienced them earlier, we tried to make the most of it spending time on the things we cherish.
So, if you are going to Maldives it's a vacation of full of water activities relaxation, food, drinks and FUN!!!! Don't forget your sunscreen and shades. There is snorkeling, scuba diving, parasailing, kayaking etc. Ask at your hotel or resorts for options and deals. Also, there are many spa options available in good deals so just make sure to thrive.
Hope you guys have a Splendorous Maldivian Va-cay :D