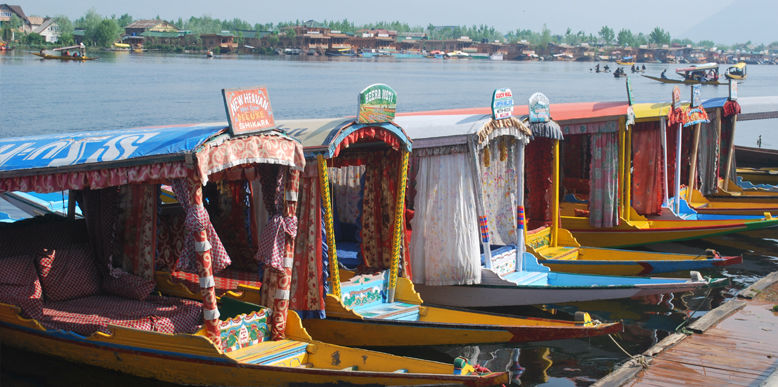 When you have great memories of a place, there are chances that you get disappointed the second time. To be one of those fortunate ones, whose experience gets better the second time feels extremely content. You feel inspired to visit a place again and even encourage others to take a trip if you return with absolutely beautiful time and experience. Similarly, the 2003 trip memories brought me back to the 'Paradise on Earth'. And this time, yet again, the hospitality took my heart away.
The moment I reached my hotel, the excellent arrangements and amiable staff greeted with warm welcome and a special tea. Mr. Yasin, the owner of the hotel and his team was more than efficient in living to my whims and serving me with all that I needed and information that I asked for. The wonderful trip started with Gulam bhai, my taxi driver (recommended by the hotel). He was kind and a jovial man with the 360 degree information on the dreamlike land- Kashmir. The drive through the Srinagar-Leh highway spending the night at Kargil was his idea, which turned out to be a windfall!! It was indeed the most enticing drive on earth till date making the trip truly unforgettable. Gulam bhai actually was too instrumental in making the drive enjoyable and he took me places where it was not possible going otherwise.
Pahalgam- The Valley of Shepherds
With breathtaking scenes, once a humble shepherd's village, Pahalgam is situated at the confluence of the streams flowing through Sheshnag Lake and Lidder Lake. It is very famous among tourists as the place keeps cool even in soaring temperature and caters to all kinds of guests from plush holiday makers to unpretentious trekkers. Pahalgam, being associated with the Annual Amarnath Yatra, is the beginning point of the yatra that takes place every year.
What to do- Horse riding, golf, fishing, trekking, visiting Pahalgam club, shopping...
Around Pahalgam, there are a lot of places of interest that I visited. To mention:
Baisaran- The most beautiful of all these surrounding places is the huge, undulating meadow of Baisaran. Being embraced by thickly wooded forests of pine, it is nothing less than visual treat to eyes.
Betaab Valley- On the way to Chandanwari, is an idyllic spot for picnic. As it offers too much of adventure and exploration, it has also served as a location for so many movie scenes.
Aru Valley- 12 kms from Pahalgam, is a picturesque meadow and base point for trekking to Kolhai glacier, Katar Nag, Lidder Watt and Trasar & Marsar
Srinagar- The Jewel of a destination
Srinagar, more fondly famous as the state's winter capital, is the most favourite stopover to travellers in Kashmir due to its great lake views, meandering river, exquisite gardens, romantic shikara rides, the old-world charming houseboats, agelessly graceful architecture, and what not!! I got a chance to witness the mesmerizing Dal Lake and the vibrant Mughal Gardens. The vast Dal Lake is undoubtedly an exemplary feature that offers just the introduction to the enchantments of the valley. The lake's deep waters carry the biggest Srinagar attraction- houseboats and shikaras. If at all you would think of leaving one boat, you will do it to step into the other one- the dainty and canopied shikaras. On the shores of the lake, is the colourful and fragrant Mughal Gardens. It offers an earthly heaven of many-hued flowers, carpets of lush green grass and playful fountains.
Sonmarg- literally means "Meadow of Gold"
The visually arresting views of the region brought this impressive name to Sonmarg, a town positioned at a hefty altitude of about 2700 m above sea level. Surrounded by the heart-stirring glaciers and tranquil lakes, it is a snow-capped amazing flower-laden meadow in the majestic Himalayan mountain region. Another most important factor with Sonmarg is - it is the gateway to Ladakh, a land that boasts of being the perfect blend of serenity and adventure. The pleasant climate- mild summer and cold winter makes this place an ideal holiday destination. I got a chance to visit the everlasting Thajiwas Glacier, situated at 3km from Sonmarg. It extends a chance to enjoy Sledge River on the snow.
Yousmarg- A mesmerizing world
Yousmarg is again a place which you should not miss while in Kashmir. It is compared with the European Alps....what can be more invigorating than this!! The mighty river Doodh Ganga adds to the flavour of thrills that this place talks about. And guess what!! I got a chance to taste the adventure and challenge my brave streak after so long. The skiing opportunities at the natural slopes of Yousmarg were a true respite from monotony.
Beside these places, that I could cover in four days (in assistance of Gulam bhai), Kashmir still offers ten times more than this to explore. To mention, other pictorial stopovers in Pahalgam are- Tulian lake, Sheshnag lake, Chandanwari, Katernag lake, Mt Kolahoi, Tarsar lake, Marsar lake, Litherwath. In Srinagar too, there are other attractions as well that are worth your while- Nishat Garden, Shalimar Gardens, Chashma Shahi, Pari Mahal, Dachigam Wildlife Sanctuary, Floating vegetable market, Jama Masjid, Nigeen Lake, Royal Springs Golf Course and many more. When you talk about other must see places in Kashmir, Gulmarg falls into the list giving you an insight to the culture and quaint landscapes at Baltal, Gangabal Lake,  Vishansar Lake, Kishansar Lake, Gadsar Lake, Nund Kol sar, Naranag, Kanasar, and many more.
The concluding statement from my side would be- visit the heavenly Kashmir once and you will take home reasons to keep turning back time and again!!