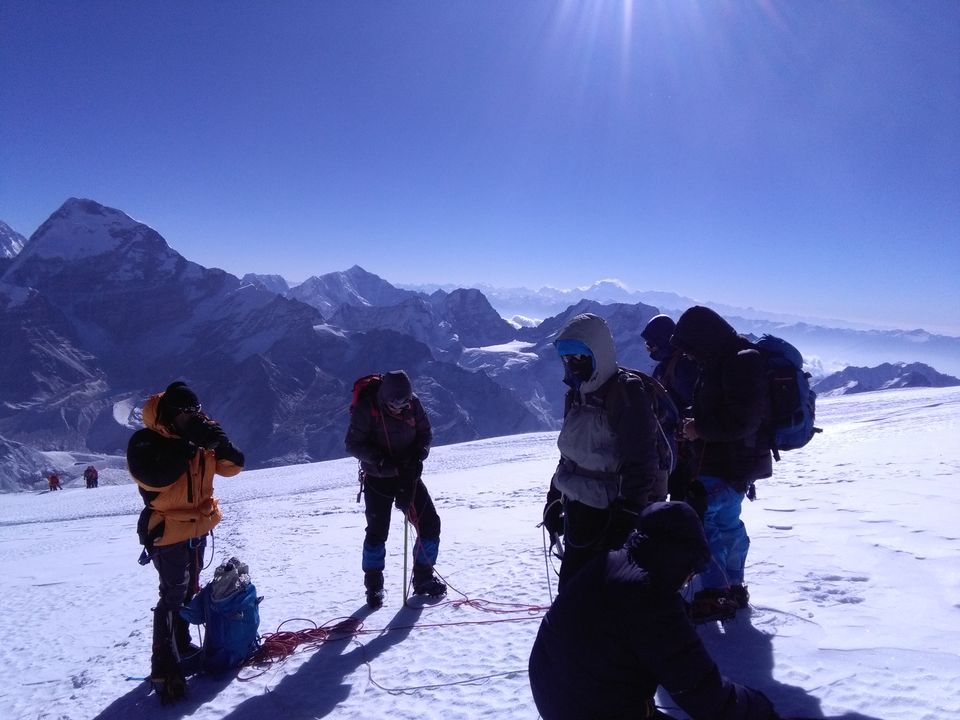 Mera Peak (6476m)Climbing is the highest trekking peak in Nepal and a suitable challenge for a first-time climb in the Himalaya. Our specially devised itinerary allows optimum time for building fitness and acclimatisation - key factors that have contributed to our success record. On our trek - that leads though the traditional Sherpa villages of the Solu Khumbu and the blue pine and rhododendron forest trails of the Hinku Valley - you appreciate why we have selected this magnificent approach to the base camp. Fully acclimatised we ascend to a high camp just below Mera La and prepare for our attempt on the main summit of Mera Peak. The ascent is not technically demanding and unequalled views of Everest, Lhotse and Makalu will more than satisfy your aspirations on this fine Himalayan climb.
Day by Day Itinerary
Day 01: Arrival day and transfer to hotel.
Day 02: Kathmandu Valley sightseeing and trip preparation
Day 03: Fly to Lukla and trek to Paiya (Chutok) [2730m/8954ft]:3-4 hrs
Day 04: Paiya to Pangkoma [2850m/93,48ft]: 5-6 hrs
Day 05: Pangkoma to Nigmsa (Shibuche)[2745m/90,003ft]: 4-5 hrs
Day 06: Nigmsa (Shibuche) to Chetrakhola [3150m/10332ft]: 7-8 hrs
Day 07: Chetrakhola to Kothe [3600m/11808ft]: 6-7 hrs
Day 08: Kothe to Tangnang [4,350m/14,270ft]: 3-4 hrs
Day 09: Acclimatization Day: Hiking to Charpate Himal Glacier
Day 10: Tangnang to Khare [5,045m/16,486ft]: 2-3 hrs
Day 11: Khare to Mera Base Camp [5300m/17,384ft]: 3-4 hrs
Day 12: Mera Base Camp to High camp [5,780m/18,958ft]: 4-5 hrs
Day 13: Mera High Camp to Summit[6,461m/21,1907ft] and back to Khare [5045m/16,547ft]: 8-9 hrs
Day 14: Reserve day for Contingency
Day 15: Khare to Kothe [3600m/11808ft]: 4-5 hrs
Day 16: Kothe to Thuli Kharka: 5-6 hrs
Day 17: Thuli Kharka to Lukla: 6-7 hrs
Day 18: Fly to Kathmandu
Day 19: Departure day