Manali is the place I always wanted to explore.. And the best way to see her beauty is to go for an adventurous trek..
I always wanted to do trekking here in Himalayas 😍 and finally my dream come true 😋
Trust me exploring manali alone or with friends both are the best 🙌
From my hometown I traveled to pathankot by train, from there by car ride to manali 😊
It took 10hours to reach the Naggar town which was 1000feet from sea level. Naggar town is the place from here our trek was suppose to start!
I reached Naggar by 7am. After breakfast, there was follow-in, in which group of trekkers will build up their team. The team includes 10 person in each. There were 5 teams.
After all the instructions we were ready so see some nearby attractions. I was feeling so good fresh air, cool weather, snowy roads, beautiful surroundings, I will never have this kinda nature in my city 😅 so I wanted to feel it completely. People living here says if you want to get attached with the atmosphere here then drink the natural water which comes from the mountains 😍 OMG! What a feeling .. I know water has got no taste, but I kept on drinking this water till I left.😋 water was fresh, clean, sweet to tongue and why not, its gift of mountains.. Try natural water if you travel to the mountains. So moving ahead we walked for some kilometers and than visited beautiful temple in Naggar town known as Tripura Sundari Temple. This temple is ancient one and built using woods and stones. Structure was simply amazing and the view of Moutains peak covered with snow, breezing wind and your soul is enough🌼 after almost one hour clicking picture and just keep on watching the view, we now headed back towards our hotel. After lunch there were some play sessions in some other area of mountains so it was again time for long trekking to reach there. The road we took was the narrow road which locals used regularly here for their daily work. The view on the way was mesmerizing. After 2 hour we reached the place and had some team games and fun.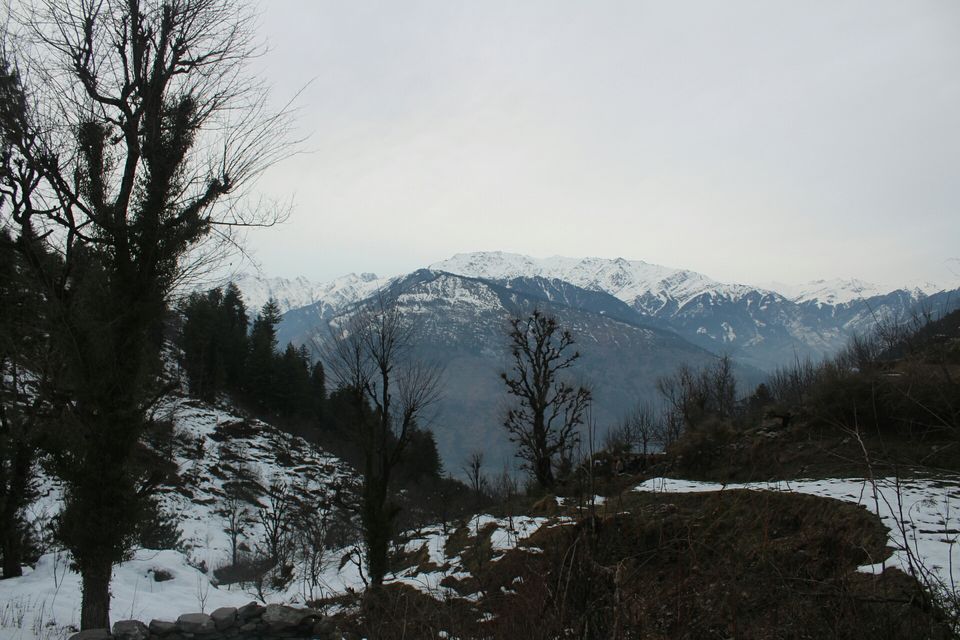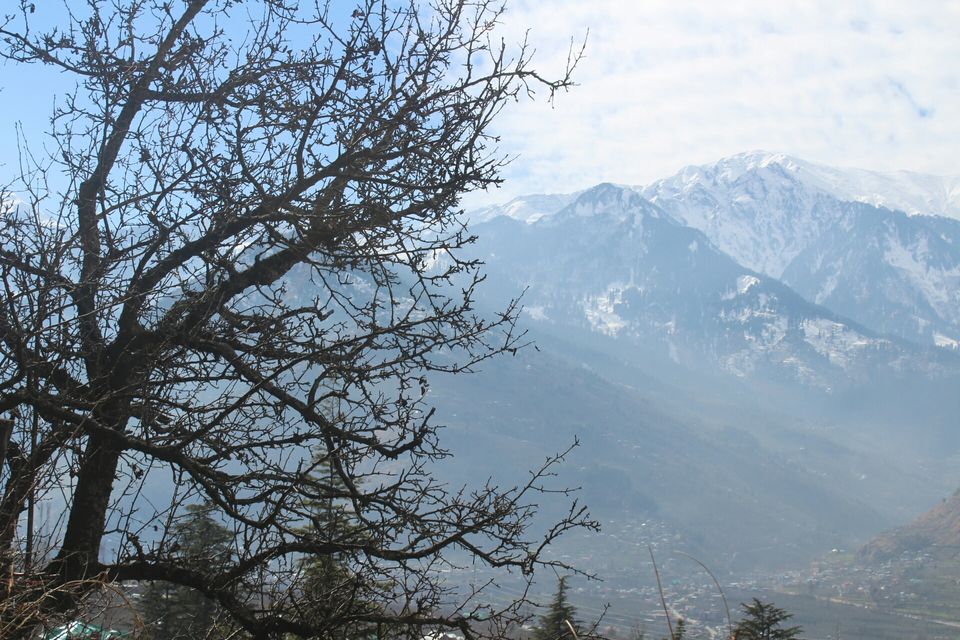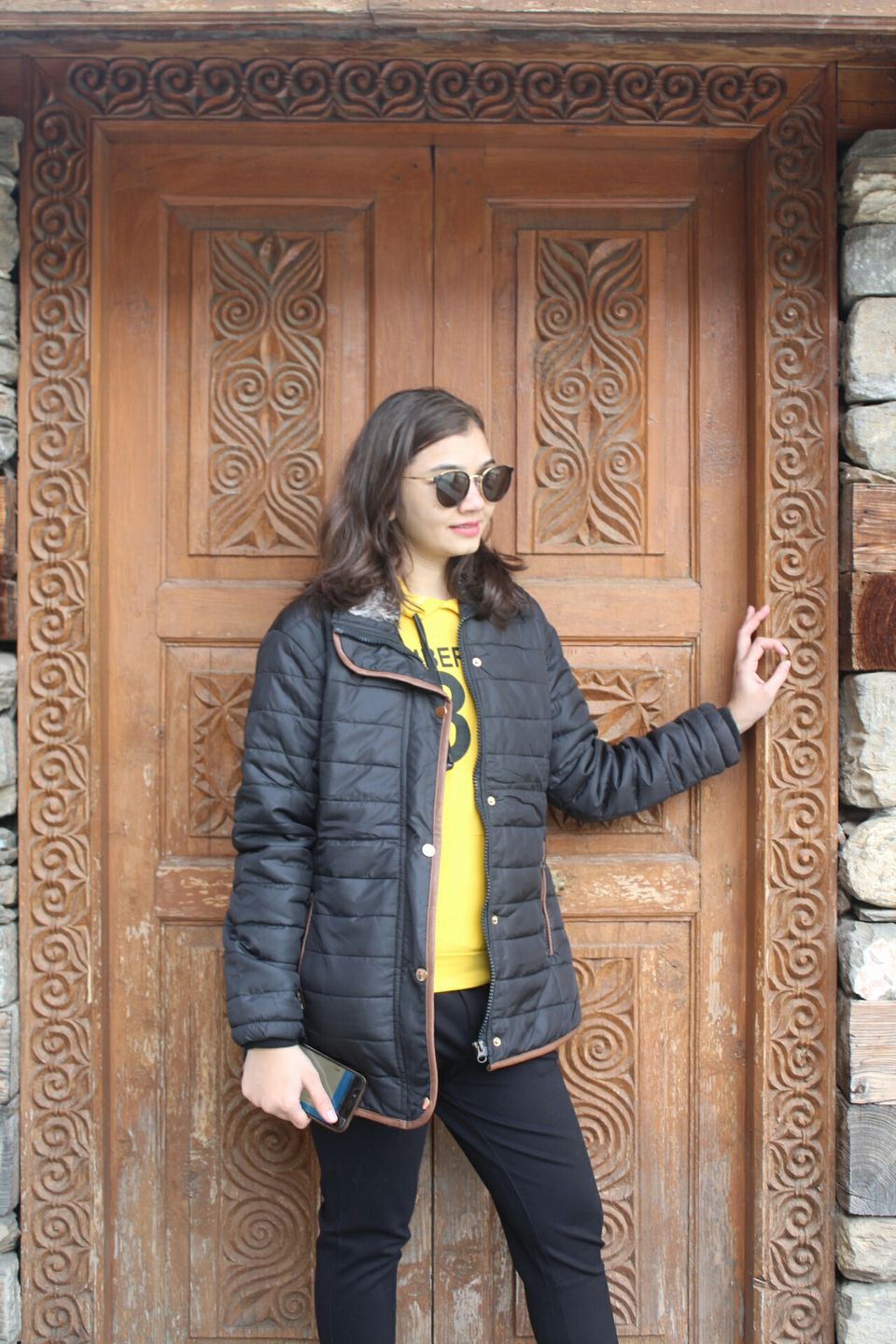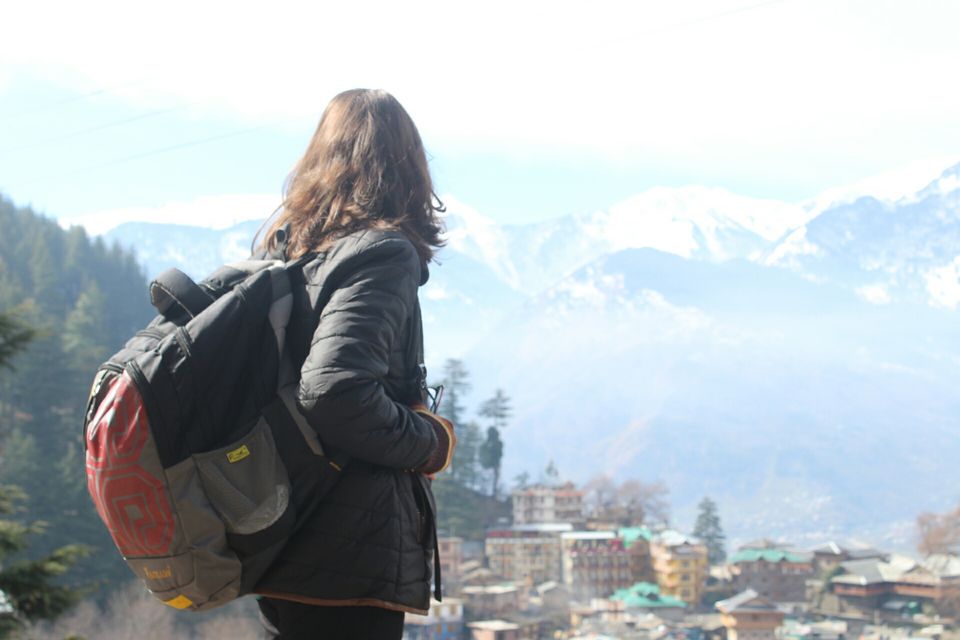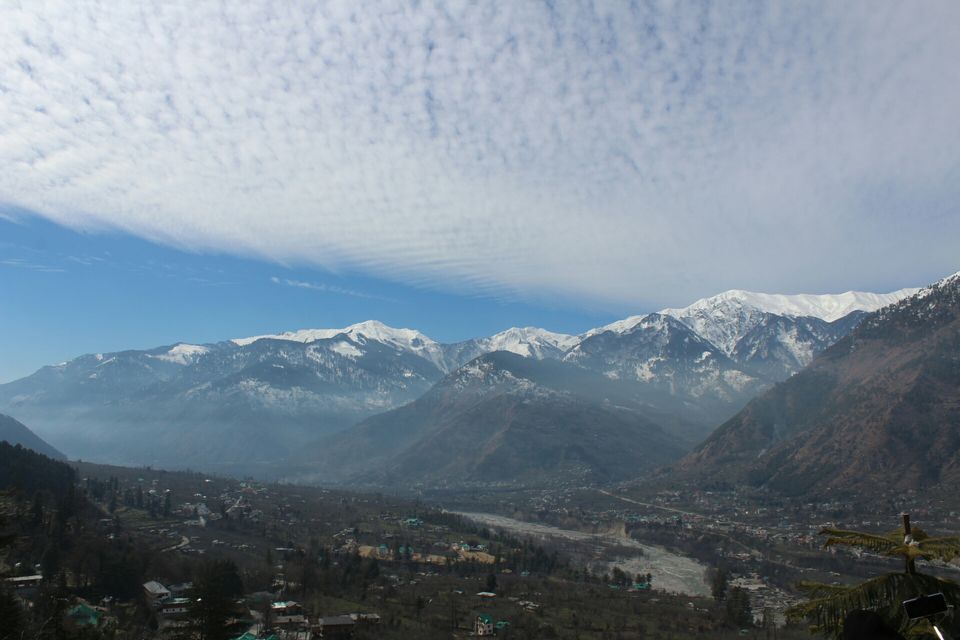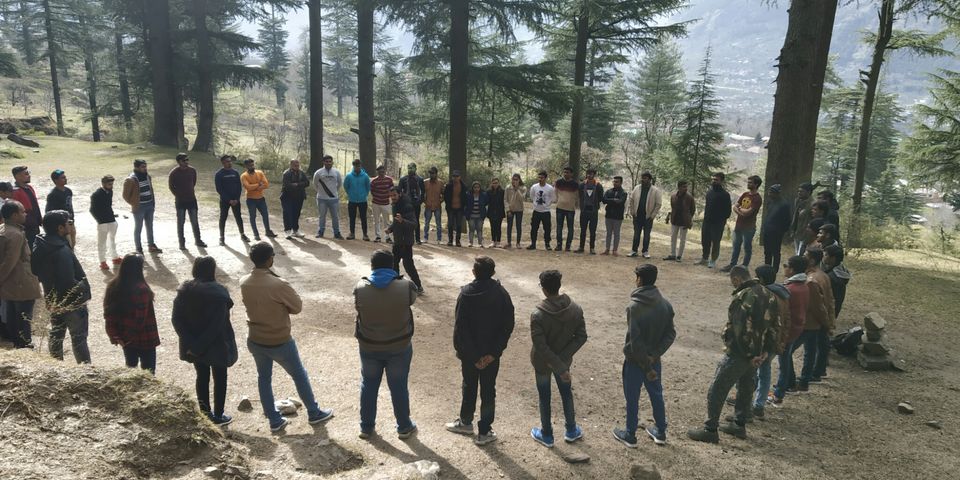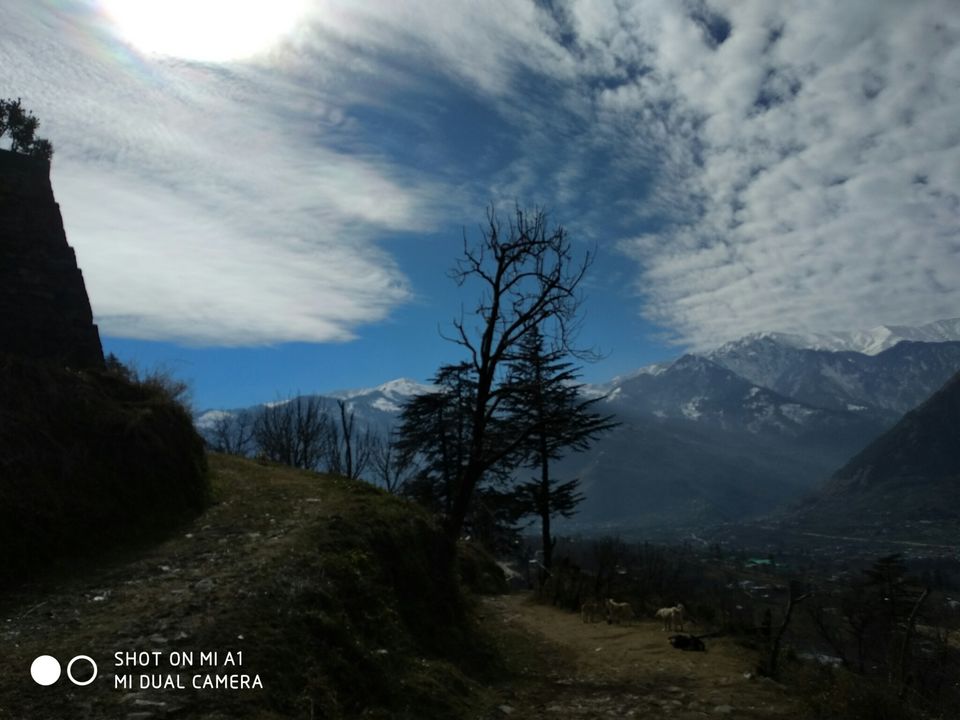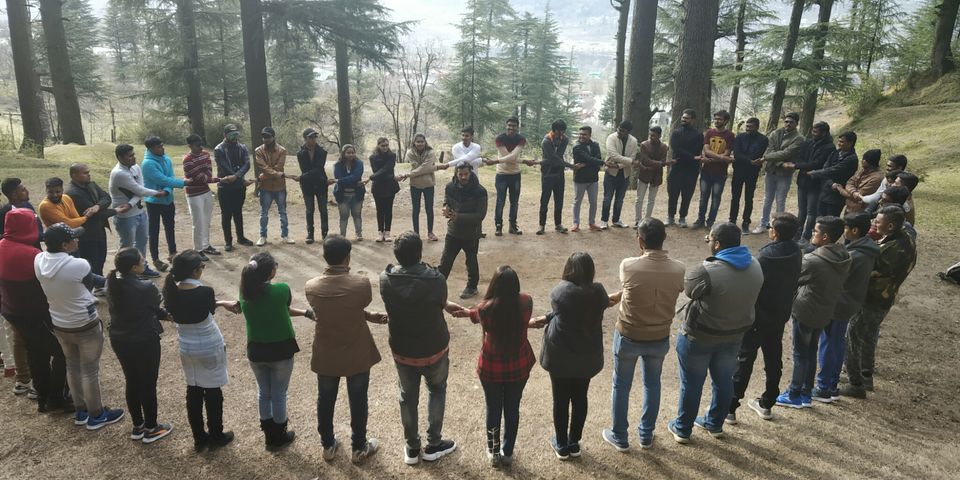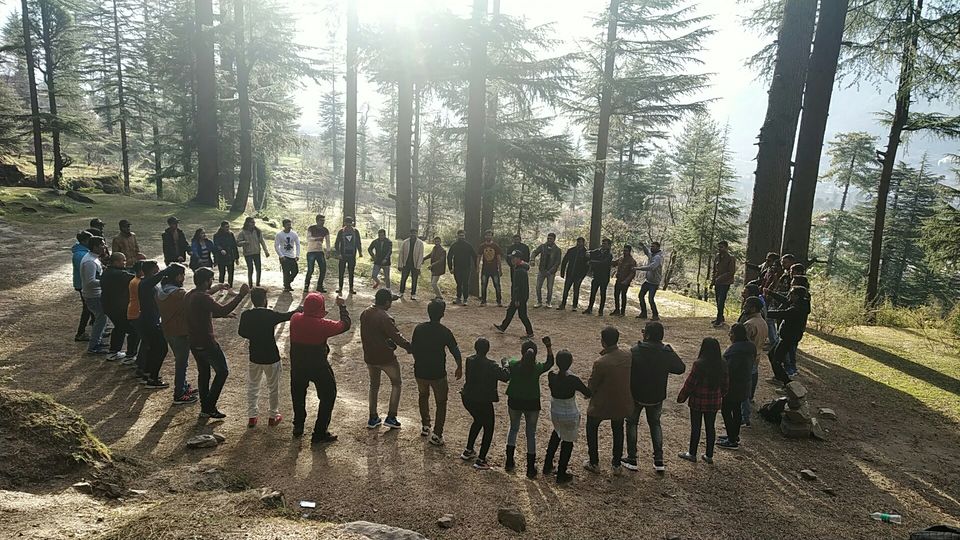 After fun and games, instructor gave us some important tips regarding how to trek on snow and what to carry.
Today what I called "big day" as we were gonna do real trekking for what I was here.😍 After a good breakfast, teams were already made and we started our trek at 8am sharply. One thing about the instructors over here is they all r on time and hate if one is not! By taking small uproads we were moving towards our destination. In the beginning roads were broad after walking up around 5km we took narrow path in Mountains so basically we were now trekking on Mountians. As moving ahead slowly on path snow was visible. It was not difficult for us to trek on the way as snow was not melting that faster as it was time of February so you may witness snowfall ❄ but there were some slipy way full of mud.. We were walking on edge of mountains and if anyone slips he/she will fall down in the mountains that only part was scary But as we know nothing can be achieved on safe side!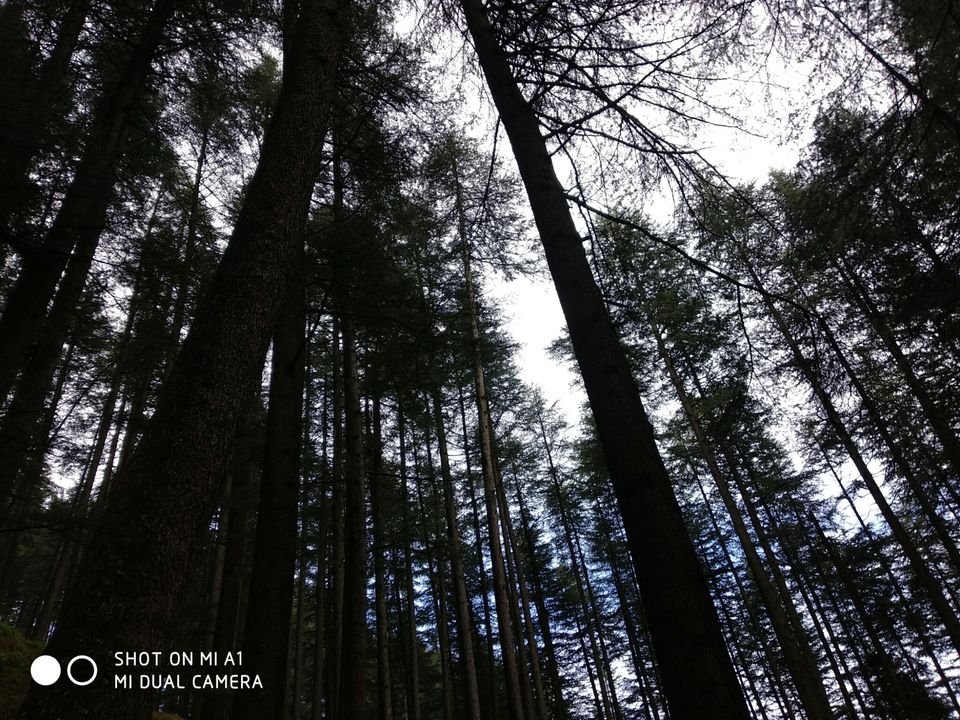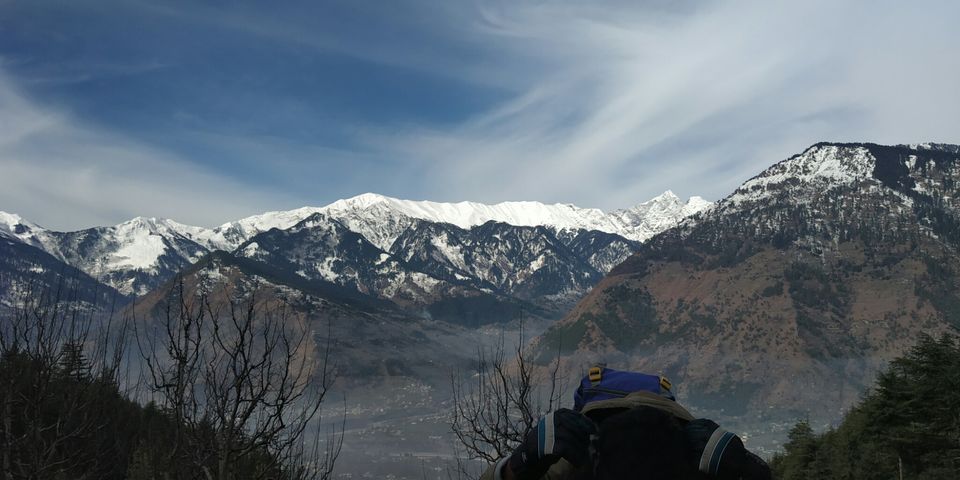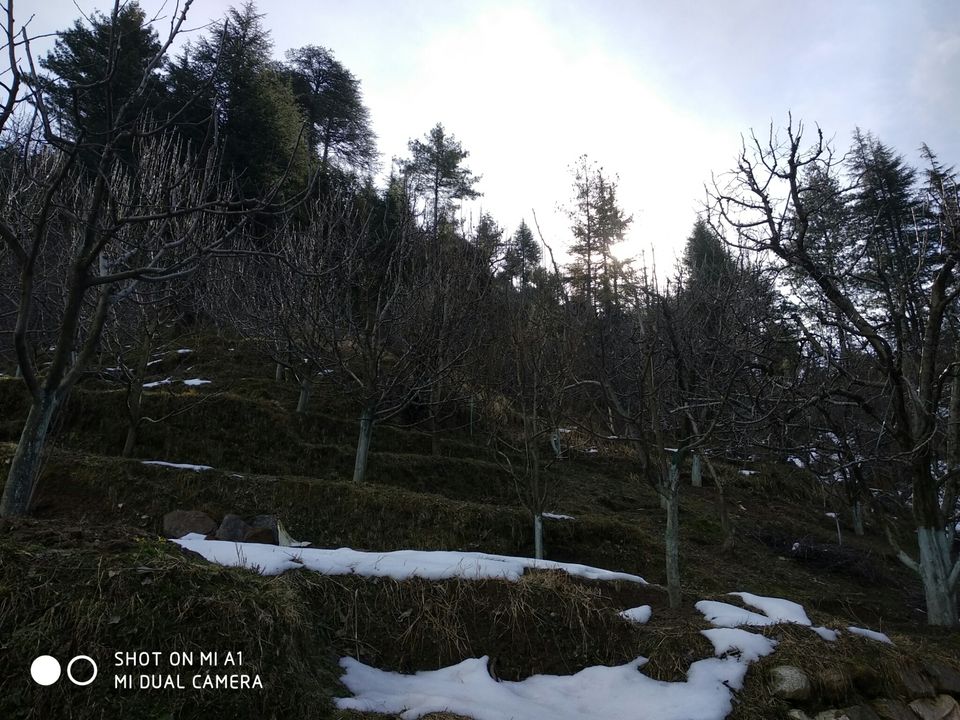 you can see tall deodhar tress around covered with snow. After trekking for 5hours by 1 pm we reached our first base camp that was a village named "Nathan" this village was at 7500 ft from sea level. That means we trekked about 6500 ft which is 18km or more from Naggar town which is 1000 ft from sea level. We all were tired as our rucksack was full with clothes and water bottles, and sweater. Please note down don't take things that are not required as it was our first time we didn't exactly knew. We had our lunch and it was our night stay here in this village. Let me describe this village. Nathan village is covered with snow throughout the year. There are hardly 30 houses here. The fact of houses in Mountains is they are made of stones and woods no other bricks or cement are used in making. This stones and woods combination make their houses even more stronger so as if any natural calamities occur they don't fall so easily. Most of the houses here were made by same pattern.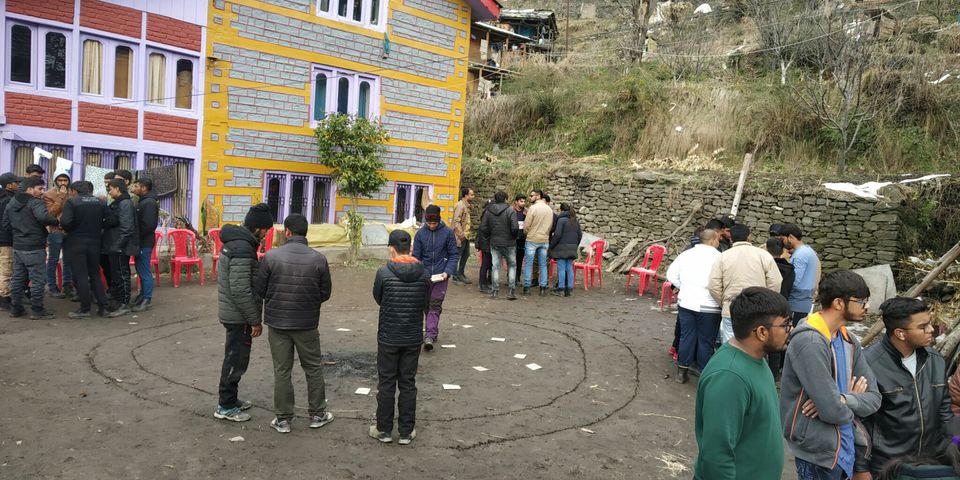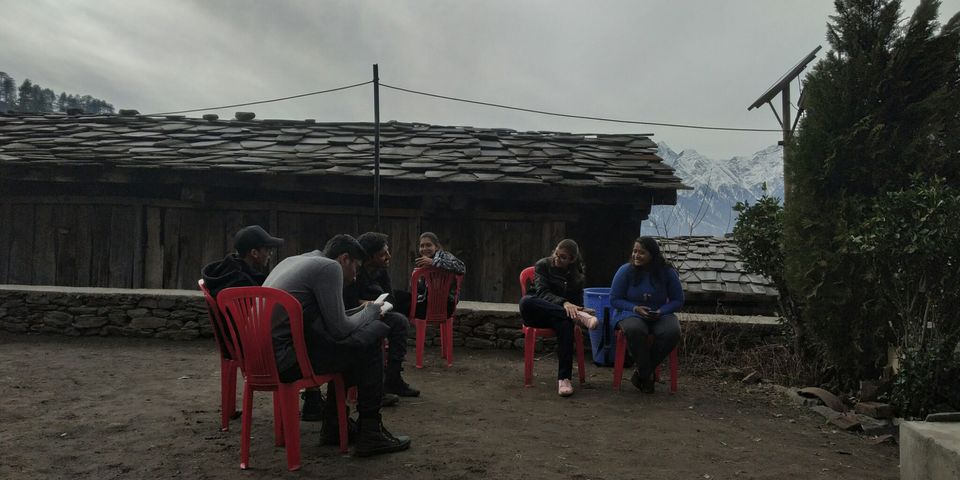 I made video so I didn't had much pictures of the houses. One best thing on trekking here is dogs. There are so many Himalayan dogs that accompany you through out the trek. They also trek 10500 ft as we were gonna do.. Wow what a pure soul they are ❤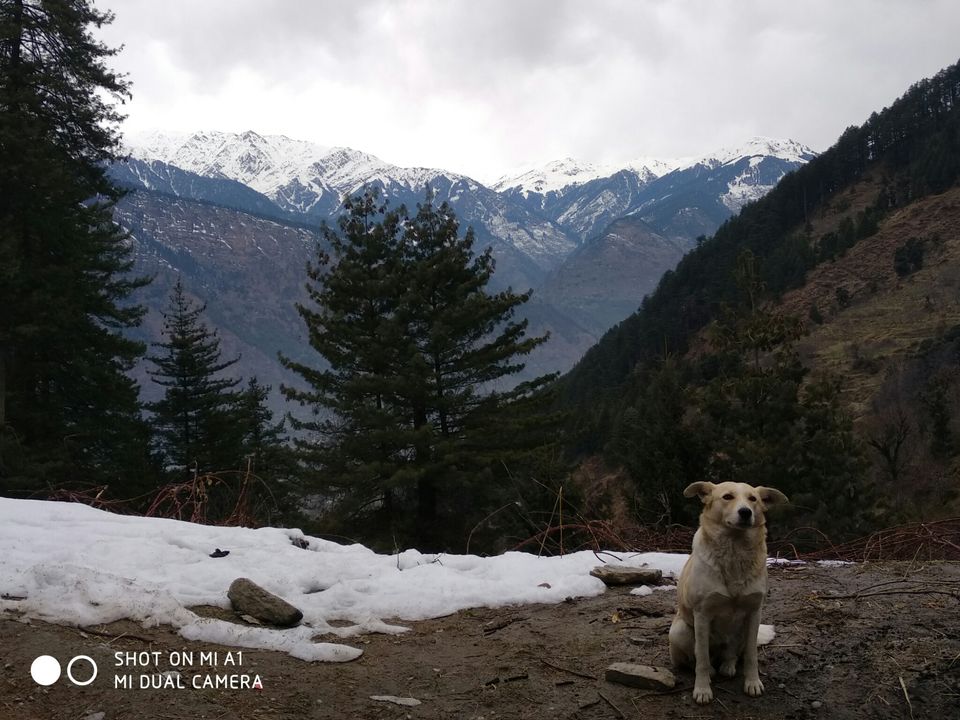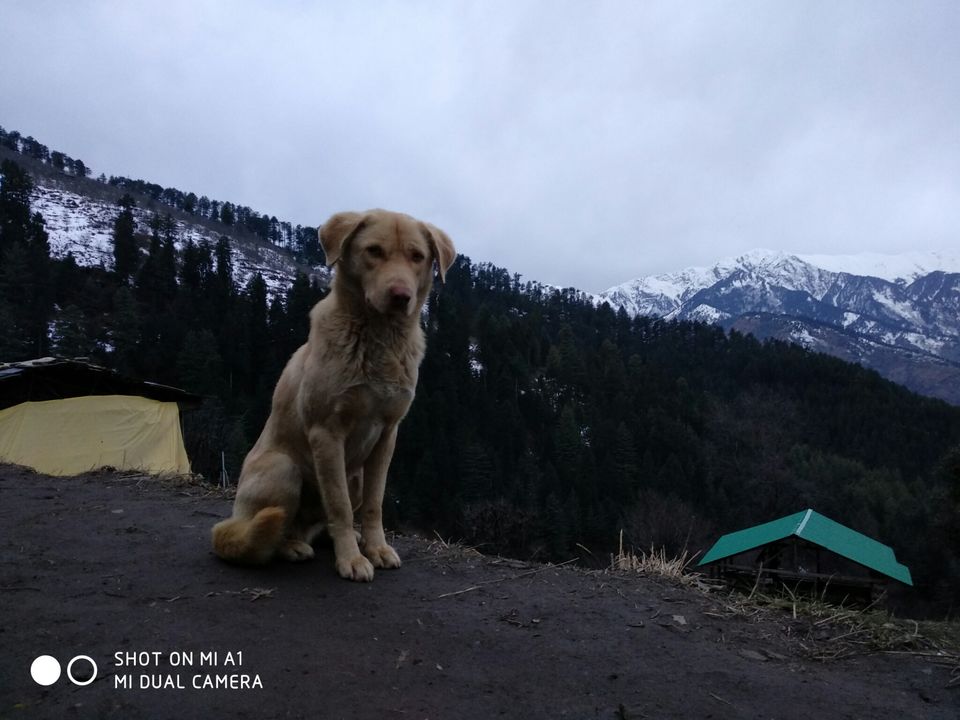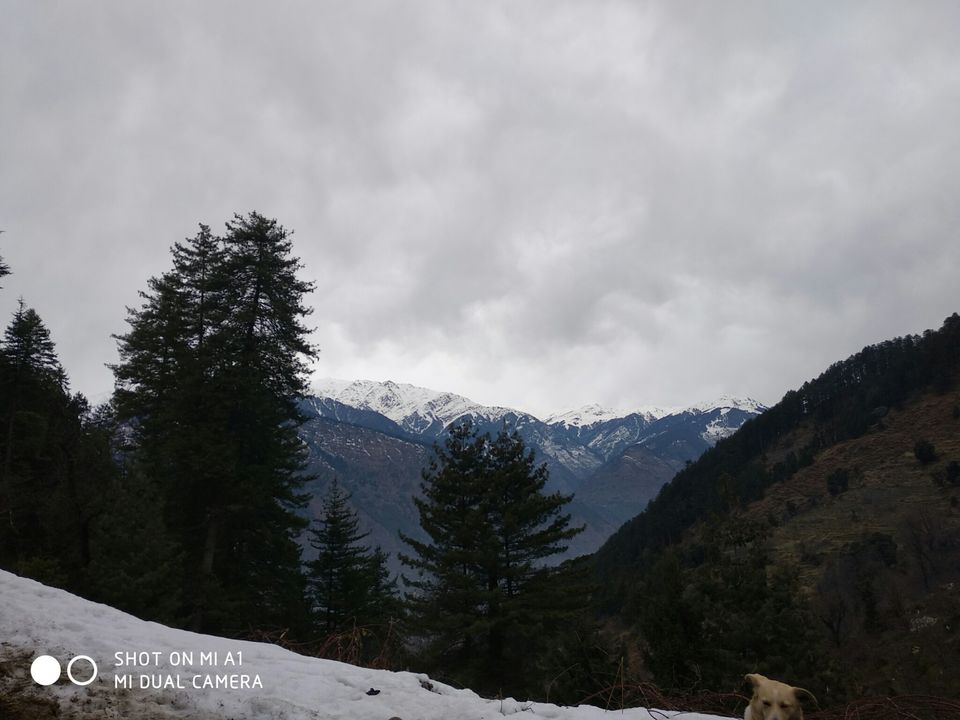 Now from Nathan we will go ahead to our main base camp which is located at 10500 feet so almost walk of 18kms more from here 😅 we packed our bags and said goodbye to beautiful Nathan and the people over here were nice too. The weather was quite snowy and yesterday there was snowfall in up regions so it was definitely going to be tough situation for us to trek. We were trekking on the mountain straight upwards and slowly there came a way were no way/path was visible and Snow was covering our knees.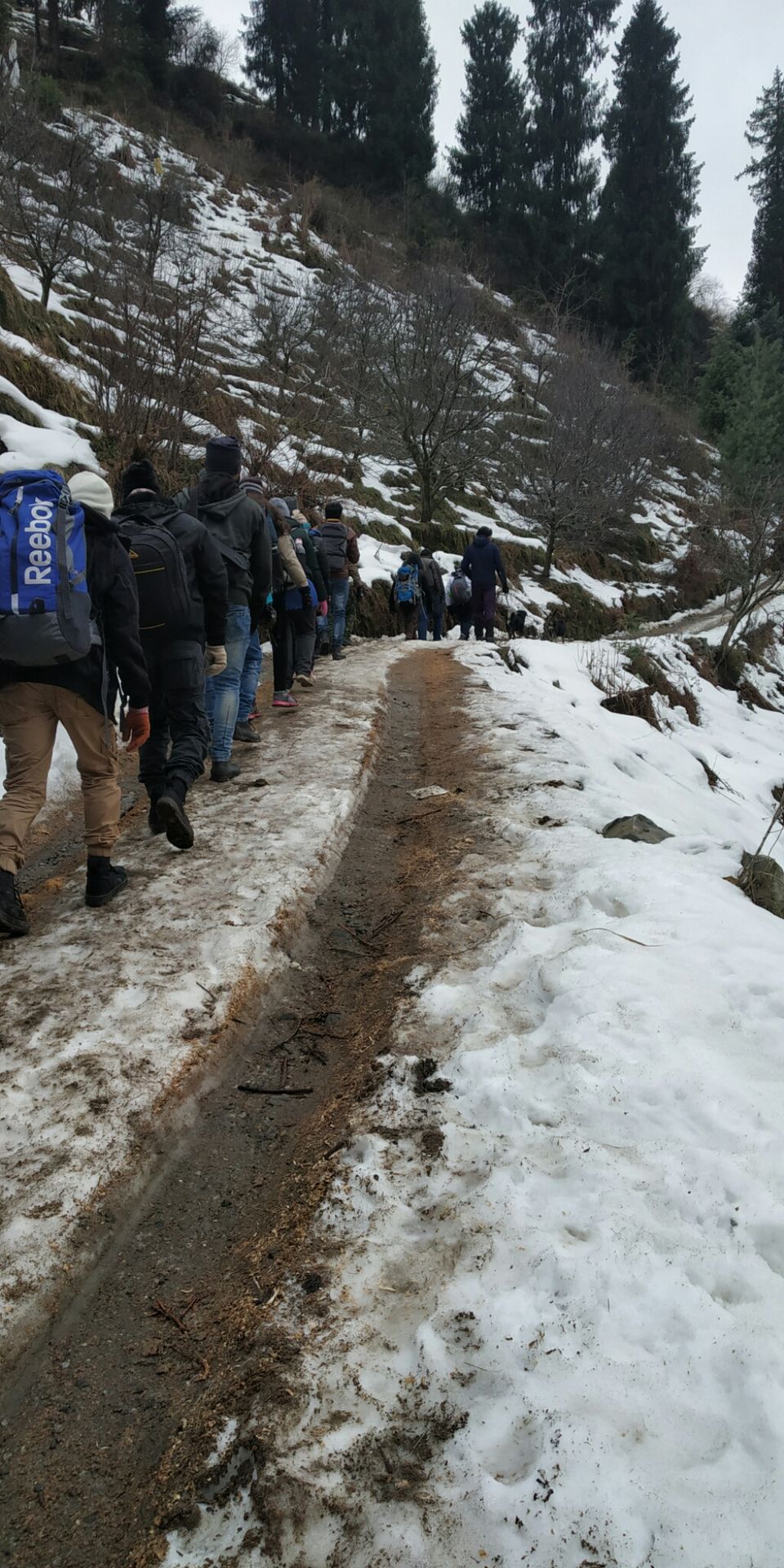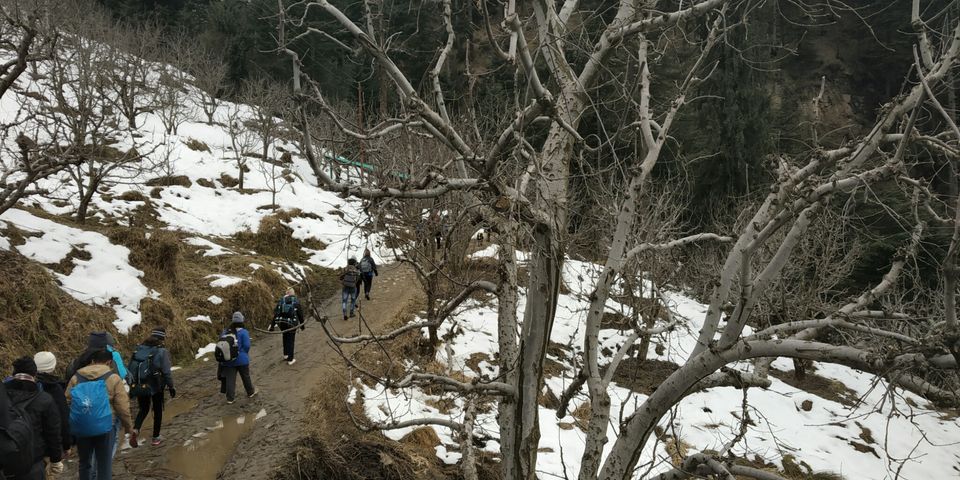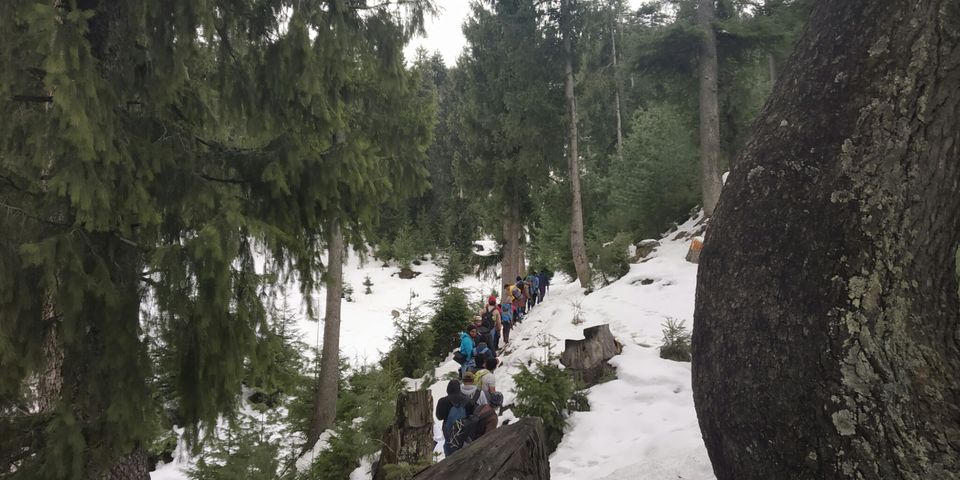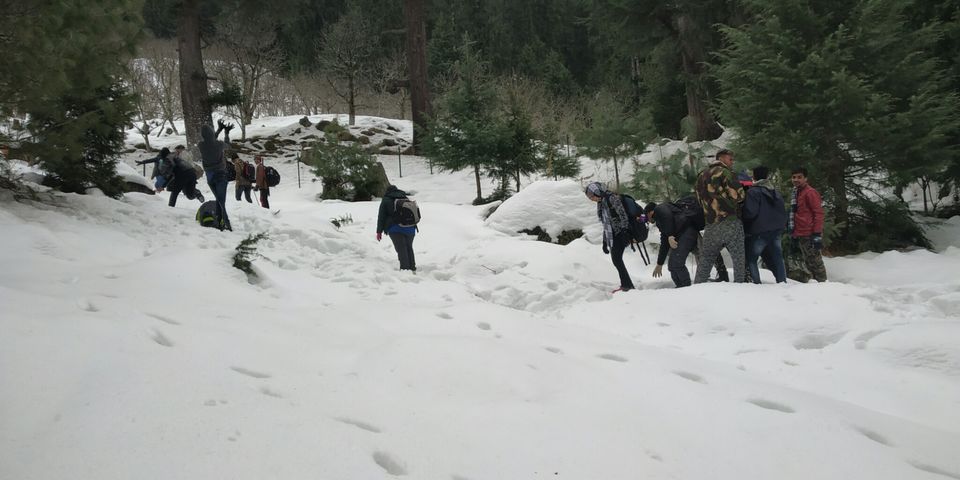 After a long snow trekking we reached at our final destination. We all successfully completed trek of 10500 feets.☺ now time to play with snow haha this is for what we all were waiting for 😂 we made balls of snow and started snow fight.. I didn't wanted to go back. The view, the fun, the snow all was soo good. We made snowman, clicked alot of pictures and collected so many memories. What one need if he has nature around himself! Can't ask for more... Blessed enough to witness a Heaven in my country.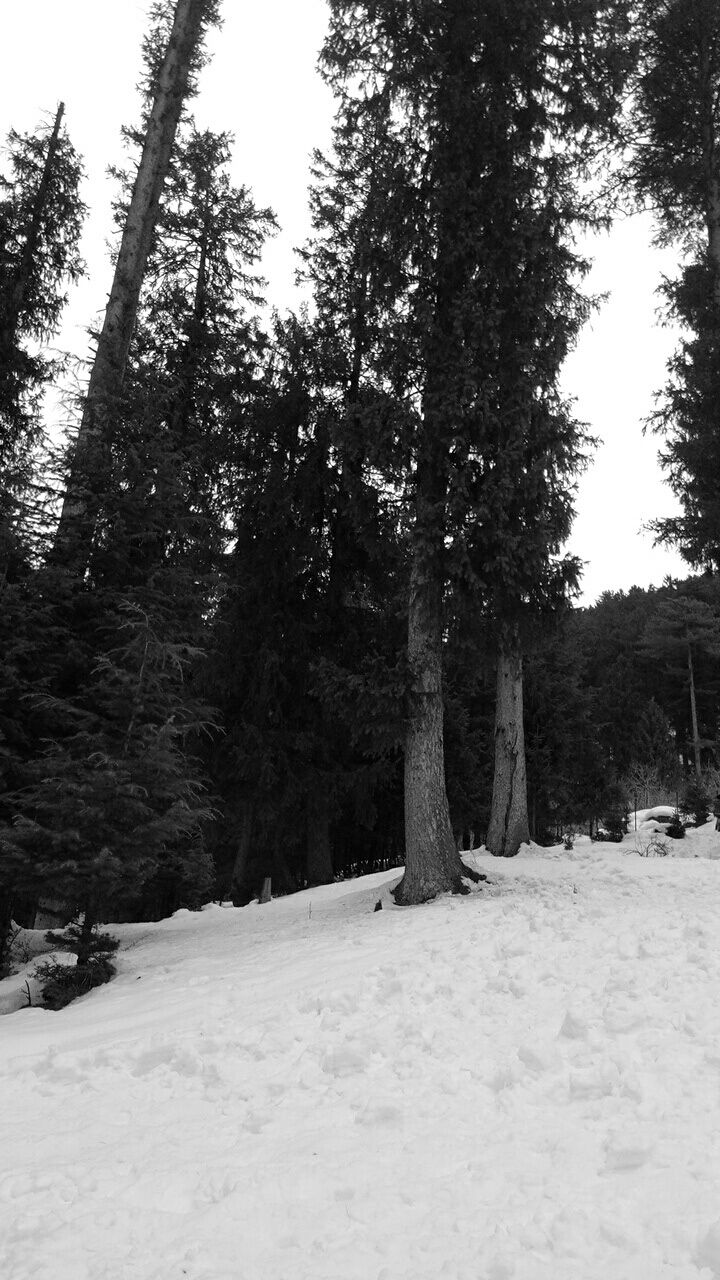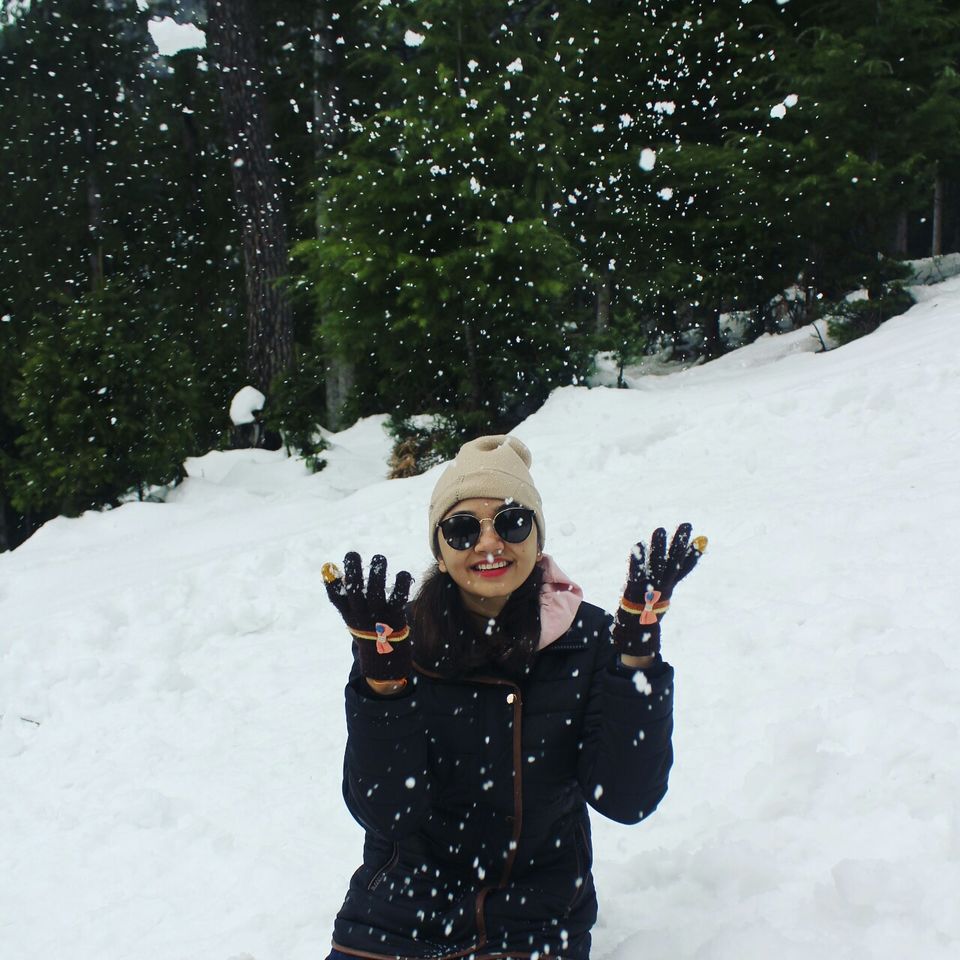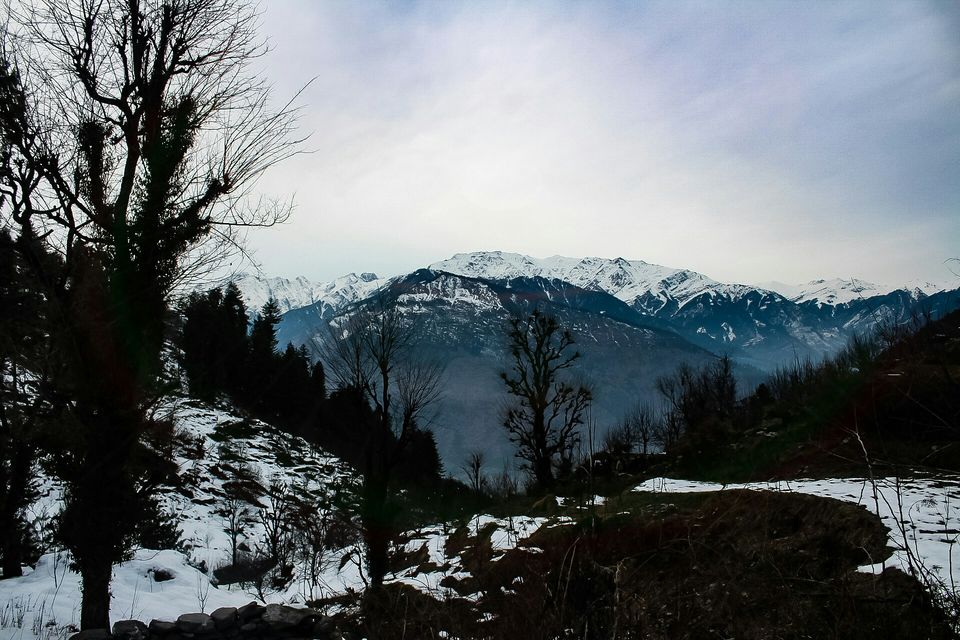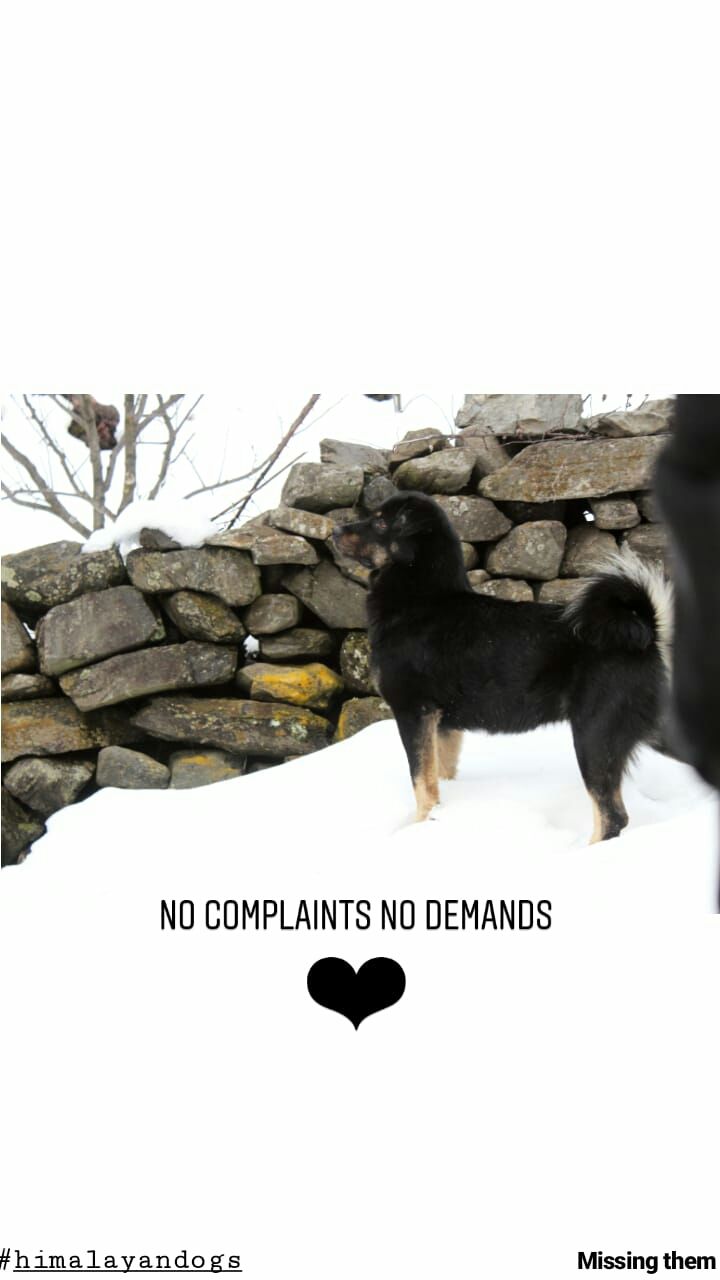 now we returned back for our river rafting 😍.. Oh this was always in my bucket list! Our bus took us to the river side for river rafting. Beas river flows through manali and is greatest of all in Himachal Pradesh. It was -1° temperature and we were going to do rafting in ice melting water 😯 I already started freezing... 😂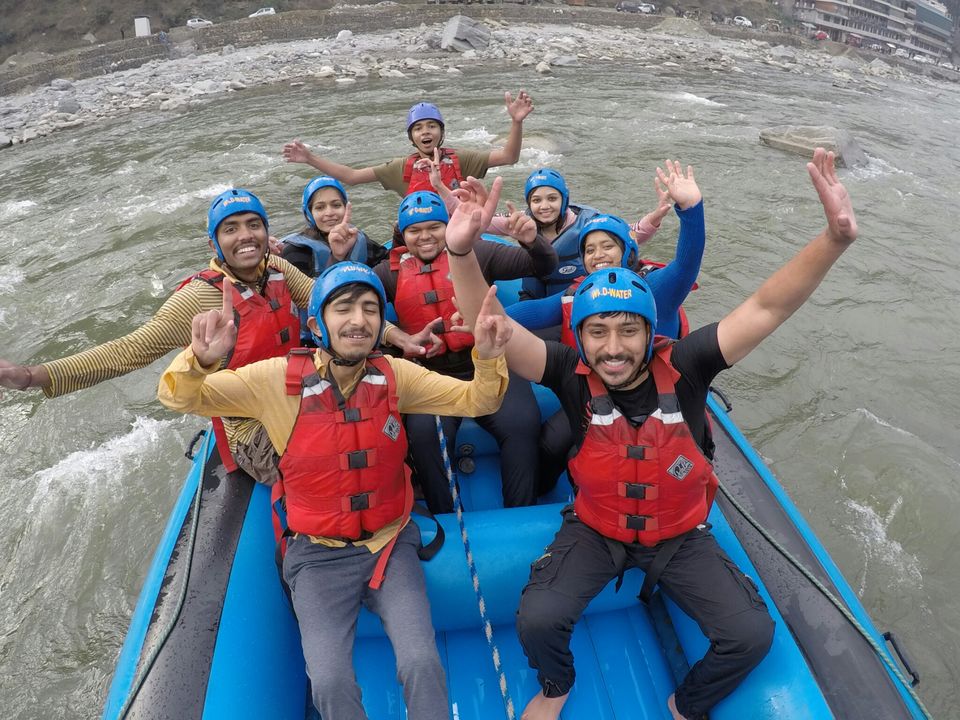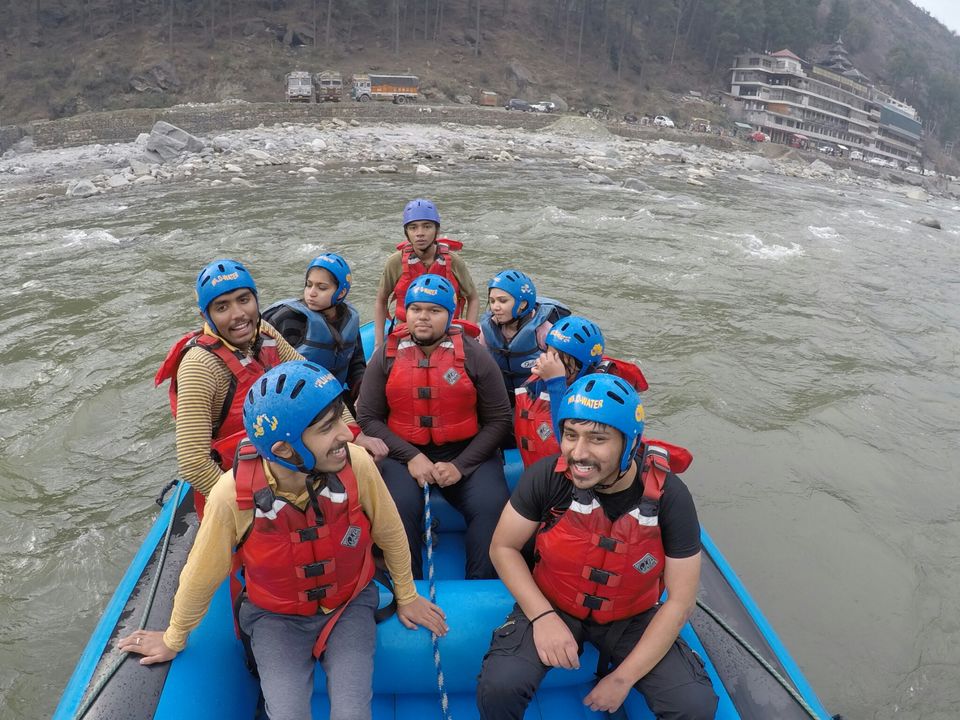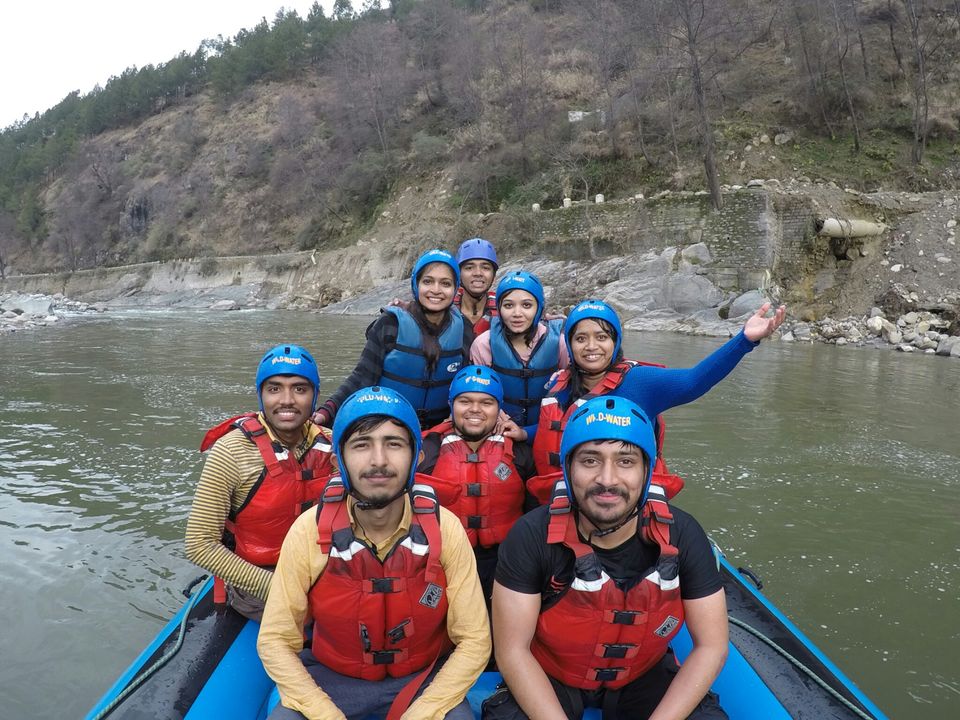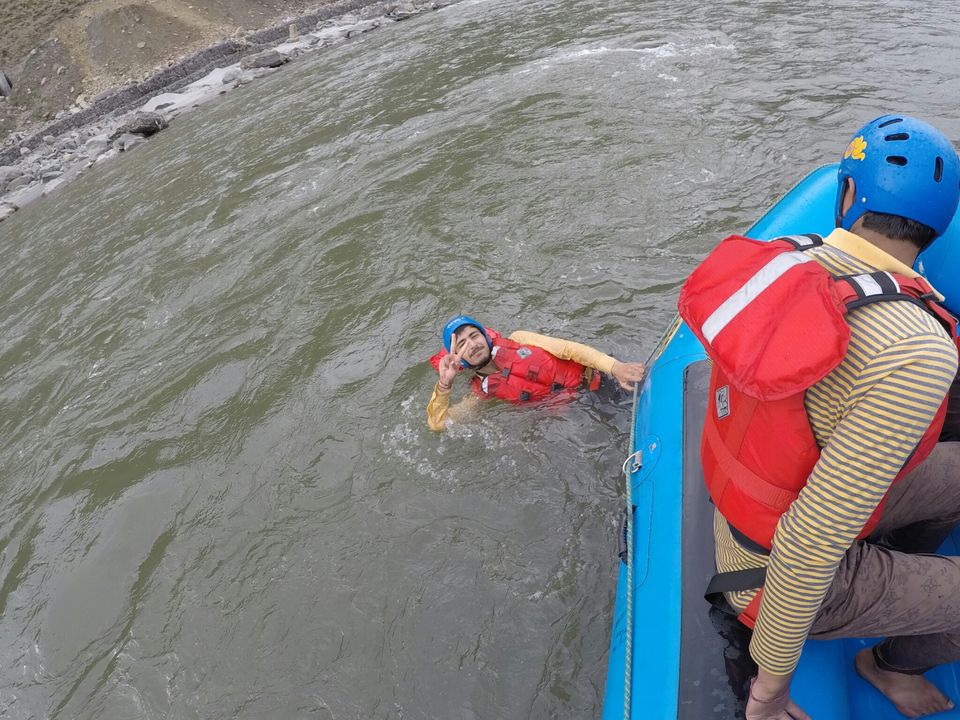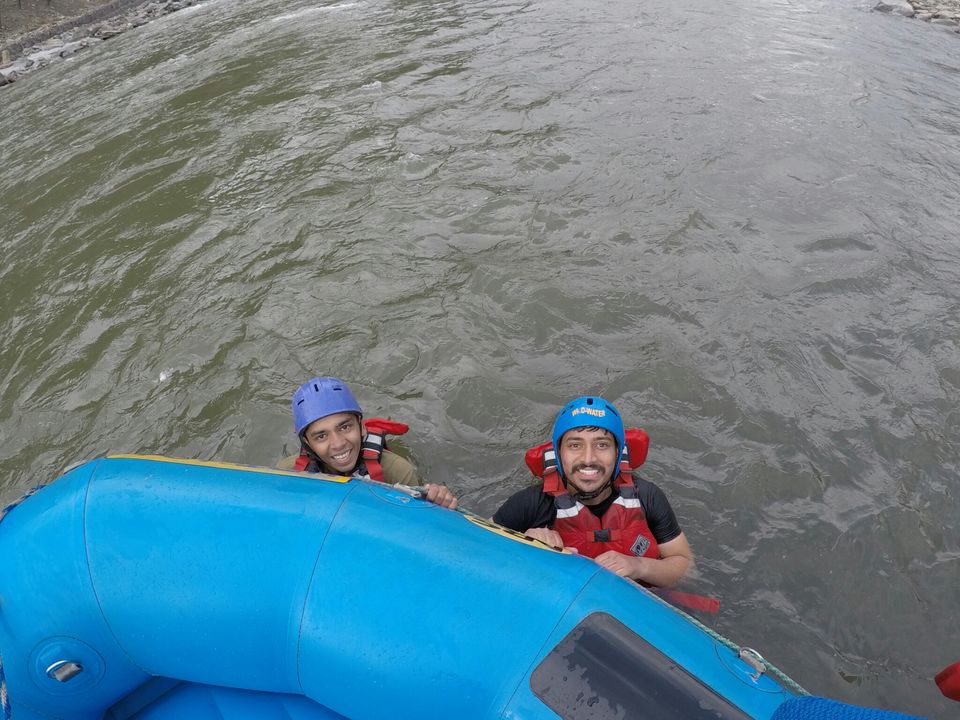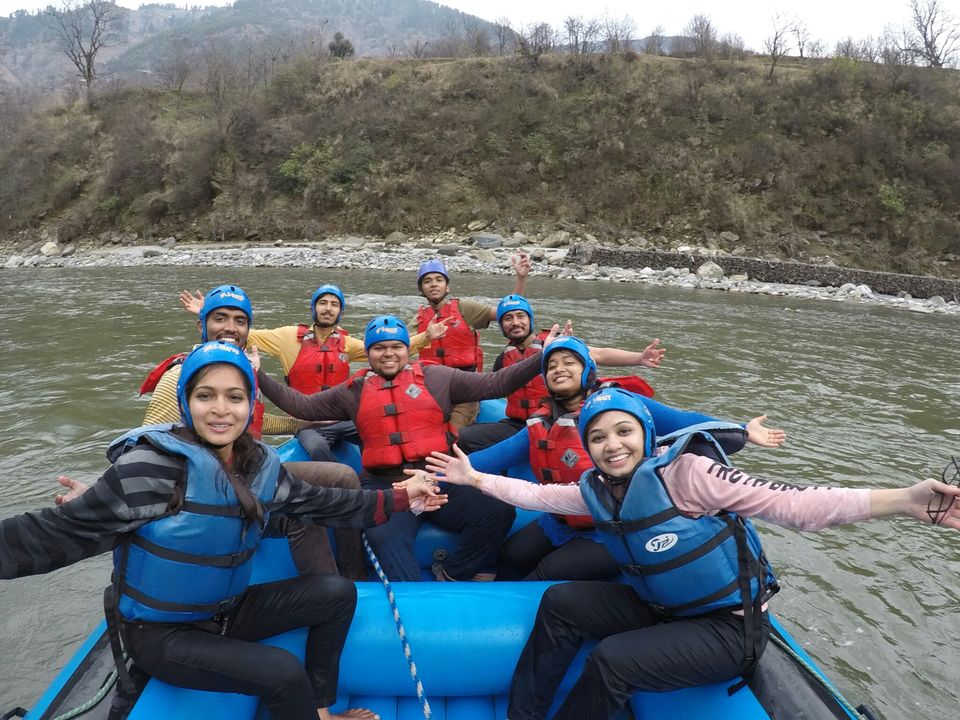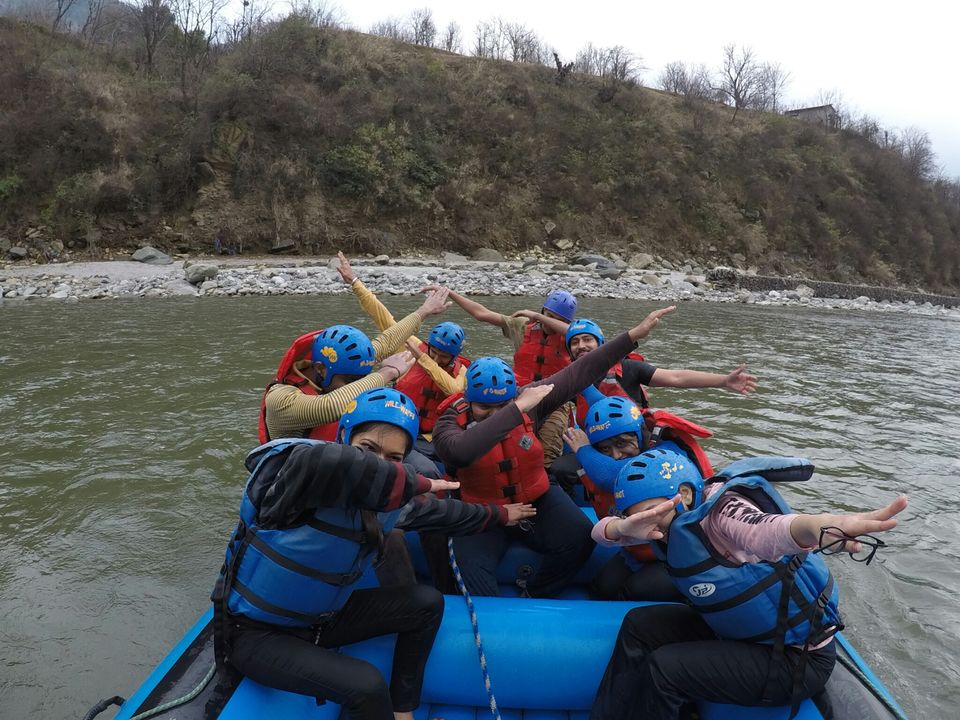 it was more than 40min and we all were frezzed. The boat Man was so friendly he made us do some stunt activities like going down in the water to feel it. It was sooo freezing and we almost melted 😂 after river rafting, near river side there are so many good stalls of Maggie and omlet. One must taste Maggie here in cold weather 😻. Our day ended so well. I have no words to describe what I felt and the beauty of Manali is splendid!
Good morning! Today I was going to fly ☺ we all always dream of having wings and just fly in the sky! Well paragliding can't fully fulfill that But surely you can fly and be like bird for some time. We all wwked up so early. From Kullu we were drive in a jeep, 19kms up in the mountains .. It was 8500ft from where we were going to jump 🙈... Honestly I am scared of heights but this is where I wanted to overcome my biggest fear of falling! There was a pilot he guides us how to take off and than what to do after taking off!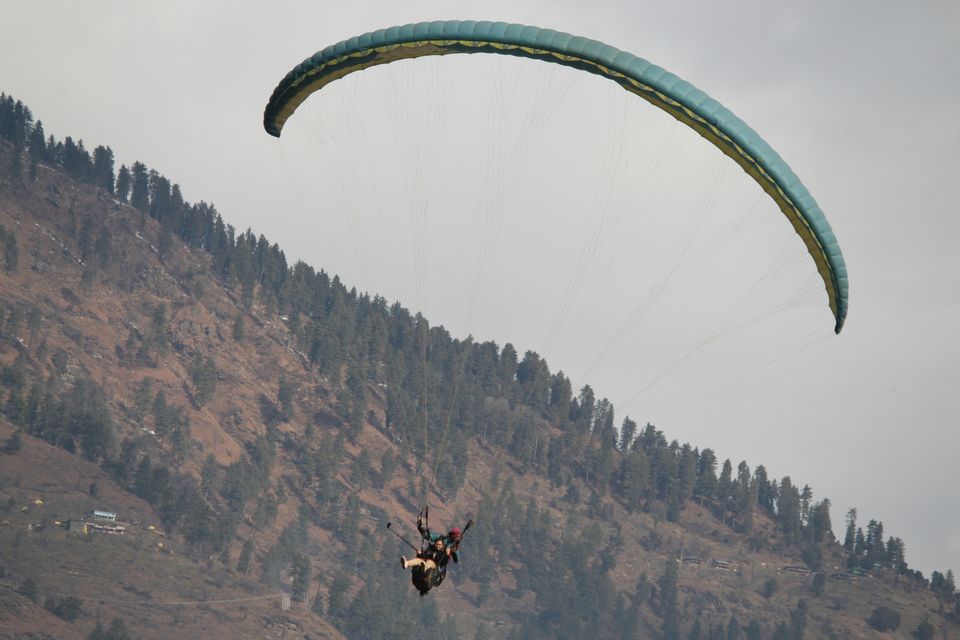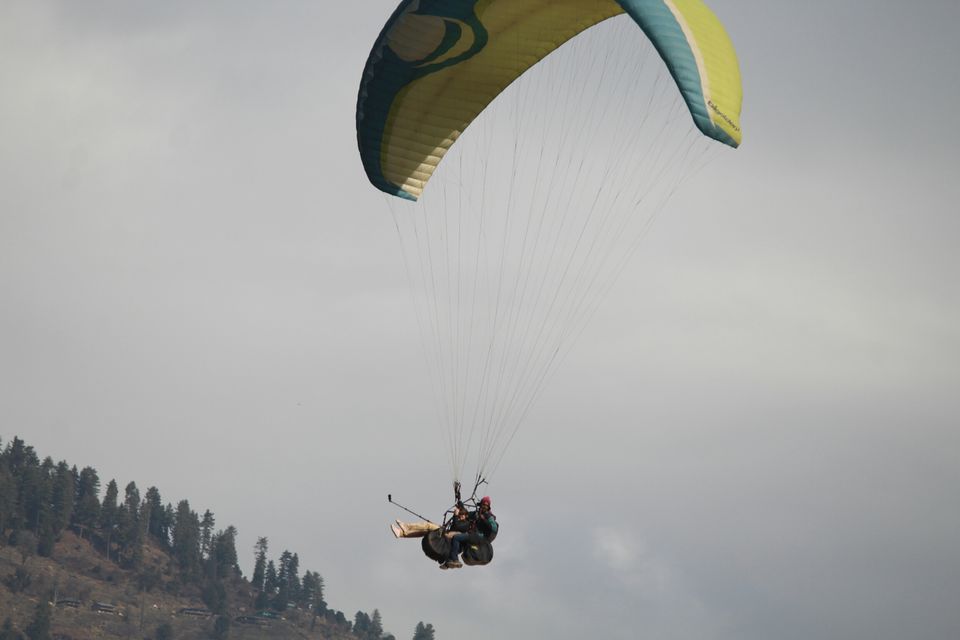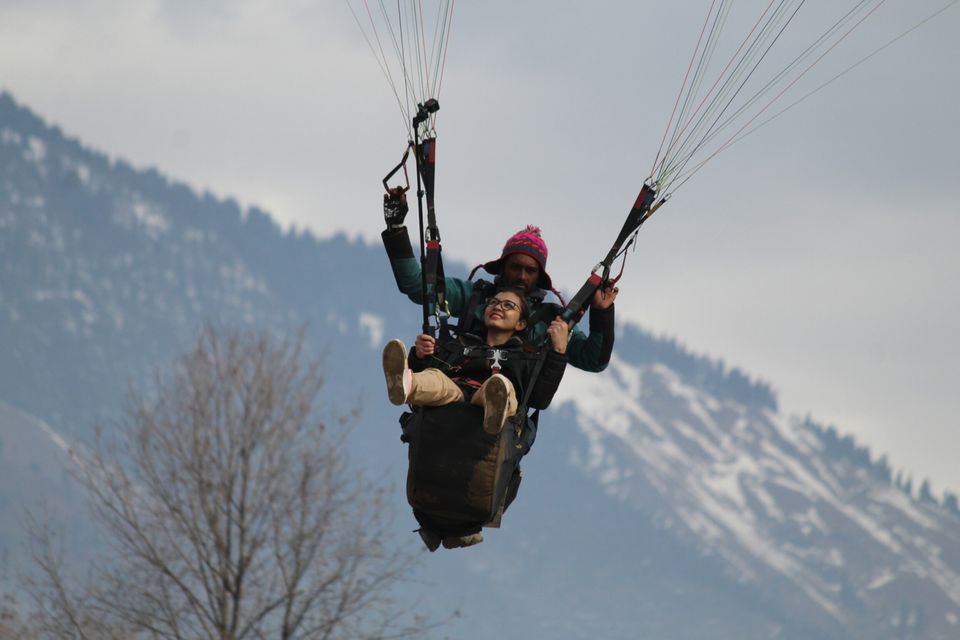 in other blog I will discuss in detail about paragliding and river rafting adventurous sport!
After paragliding, we visited manali city which is famous for hidimba temple and shopping at mall road. As here we were shopping, we find some glimpse of snowfall 😍
Our trip ends here! 😭 I wanted to stay here here but as what's started has to be ended 😌. It was surely a good trip with so many memories and thrilling fun, meeting new people and doing some good adventurous sport.
Once in year you must visit a place you have never been before to experience the thing you haven't done before! Manali is surely on one's top list to visit.. Do visit Manali💓 if you really want to witness the nature in her real pace! 😍
Thank you for reading!
Cheers!☺