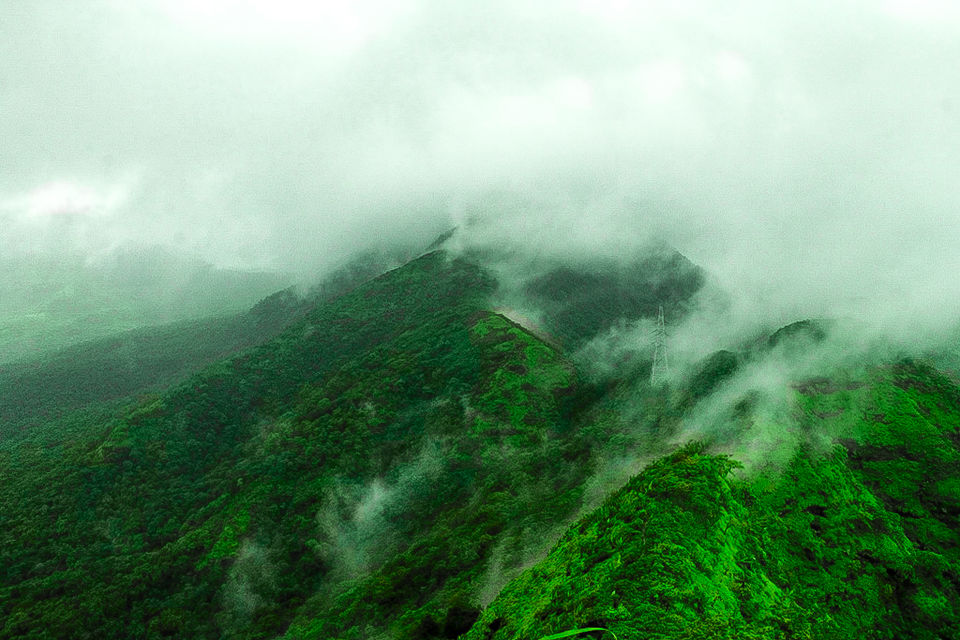 It was 14th Aug afternoon and the Indepence day celebration feeling was already in the air, So I thought of being independent from the four walls of my office and get back to my comfort zone. My comfort zone is being closer to nature. I wanted someone with me so I dragged in two of my friends who had never done trekking.
After spending an hour or so on internet finding the Getaways near Mumbai I finalised to Hike/Trek to Peb Fort, Also Known as Vikatgad Fort. I was all excited to visit the fort so were my friends for their 1st time experience to be on top of the mountain. well it was going to be my first Solo Hike/Trek with two new chaps. Peb is just 52 kms away from Mumbai City, So plan your next trip to Peb Soon.
Before I move on to how we travelled to Peb and How good our experience was being on top of the ridge let me tell you about Peb Fort in brief;
Name :- Peb Fort AKA Vikatgad Fort
Height :- 2100 Feet
Base :- Fanaswadi
Difficulty Level :- Moderate, But Hard during Monsoon.
Peb Fort is in the Matheran Forest range of Raigad District in Maharashtra State. Its one among the beautiful forest ranges situated in the western ghats of India. As per locals matheran means Forest in the Forehead of Mountain and Peb Fort is named after goddess Pebi.
It was the D-Day, 15th Aug.
We woke up by 05:00 AM and Reached Western Exp Highway Metro station to catch the very first metro of the day, It was scheduled at 05:27 AM. We hoped into the metro and reached Ghatkopar Station 05:42 AM. Next we had to catch the Mumbai Local Train to Neral Station and that was scheduled 06:35 Am. Expected travel time was roughly 90 minutes.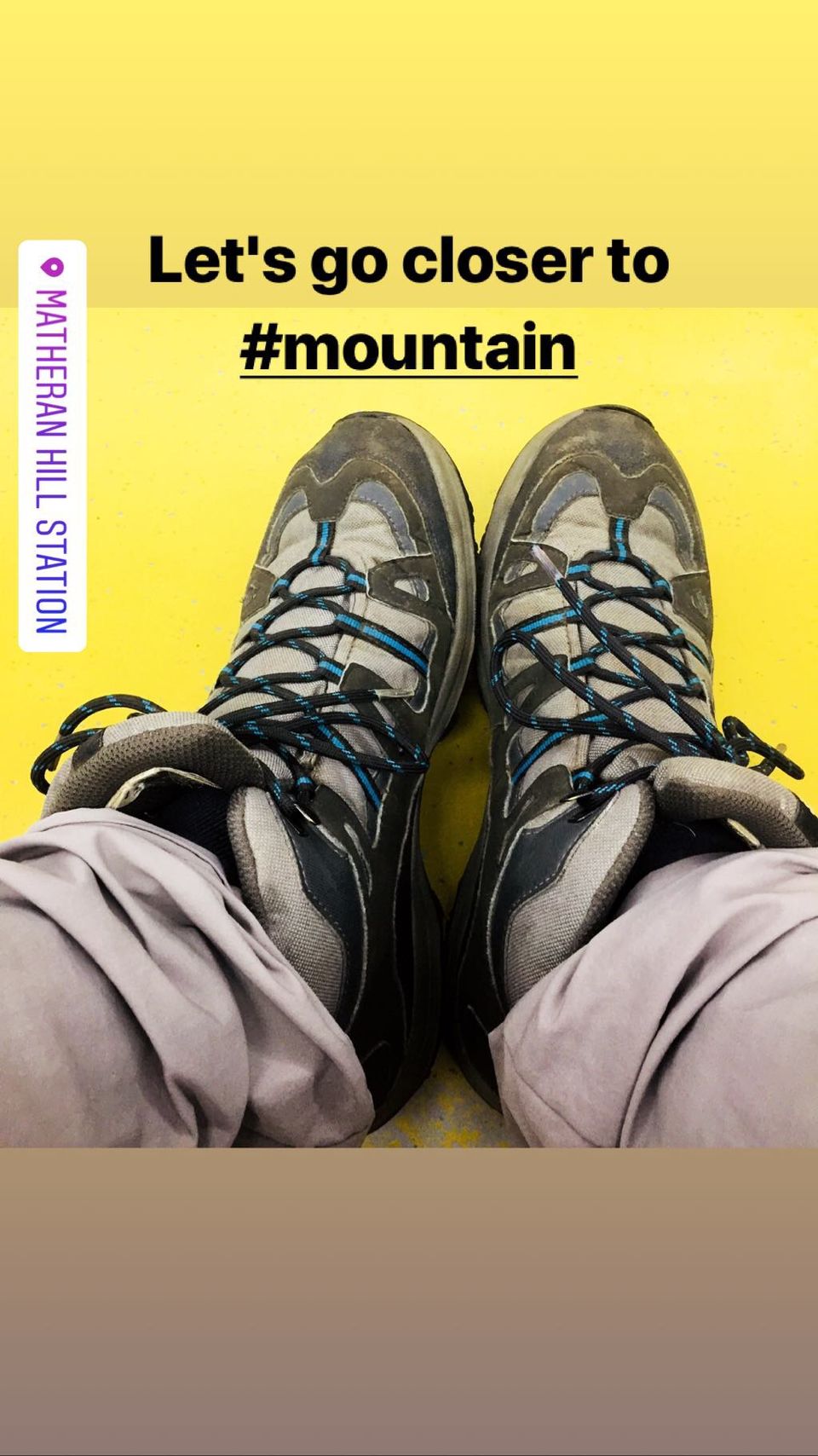 Yea so 08:02 AM we reached Neral Station quickly moved out from station and out side railway station had our breakfast and started to walk towards our destination point. There are local transport vehicles available which drops till the base.
I was clear with my route that we need to walk for 30 mins to reach the base of the mountain range passing through Anandwadi village. It was drizzling all the time. After around 40 mins of walk passing through the village we reach the base point of the Hike/Trek.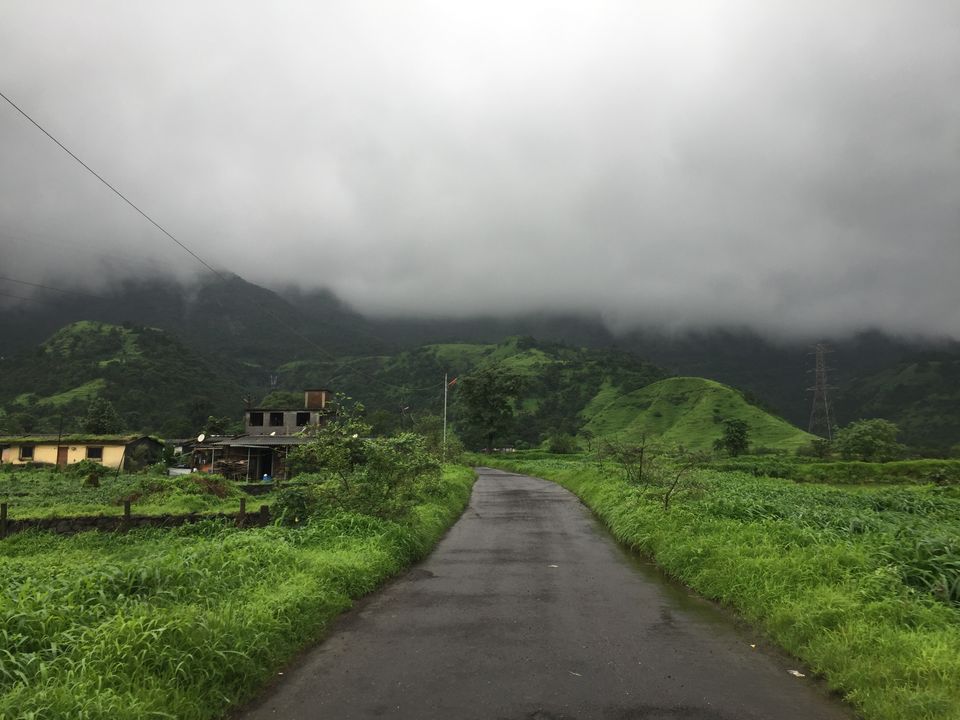 We had decided to go through our own way exploring the paths to reach the plateau and then take a common path. We were keen on exploring the route because we wanted to go closer to water streamline.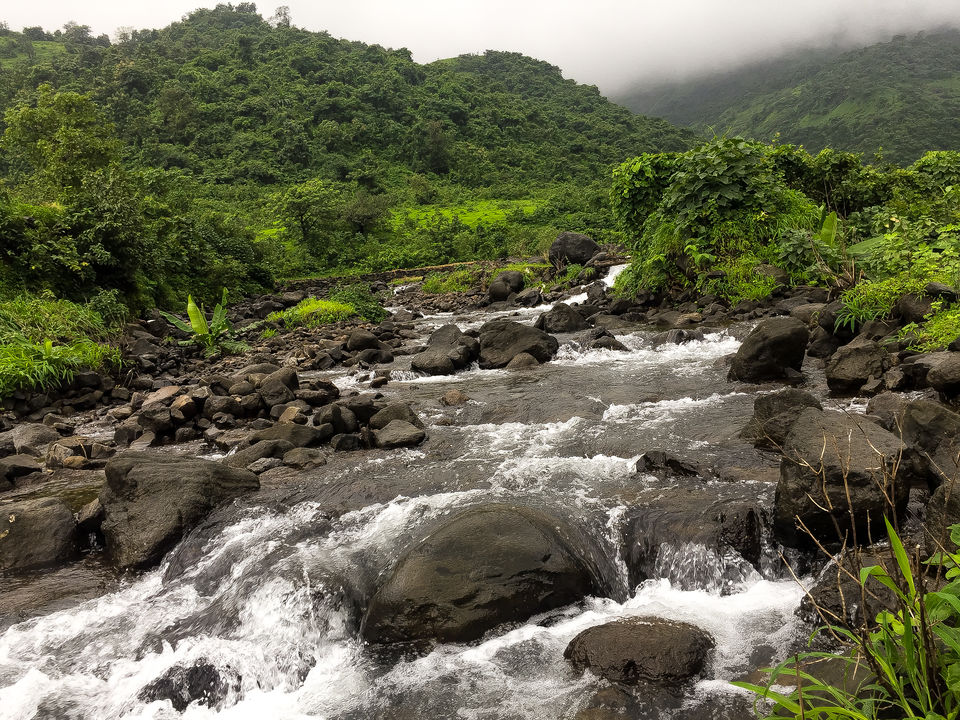 Sat next to this beautiful stream for few minutes and then we headed towards the Plateau, from this point the plateau was barely 20 mins climb but believe me you'll gain a fair amount of altitude. As it was drizzling and there were no paths the it was quite challenging for us to make our route and then on top of everything it was highly slippery. We made it to the plateau and the view was mesmerizing. We had barely completed 10% of the Hike/Trek but the view astonished us.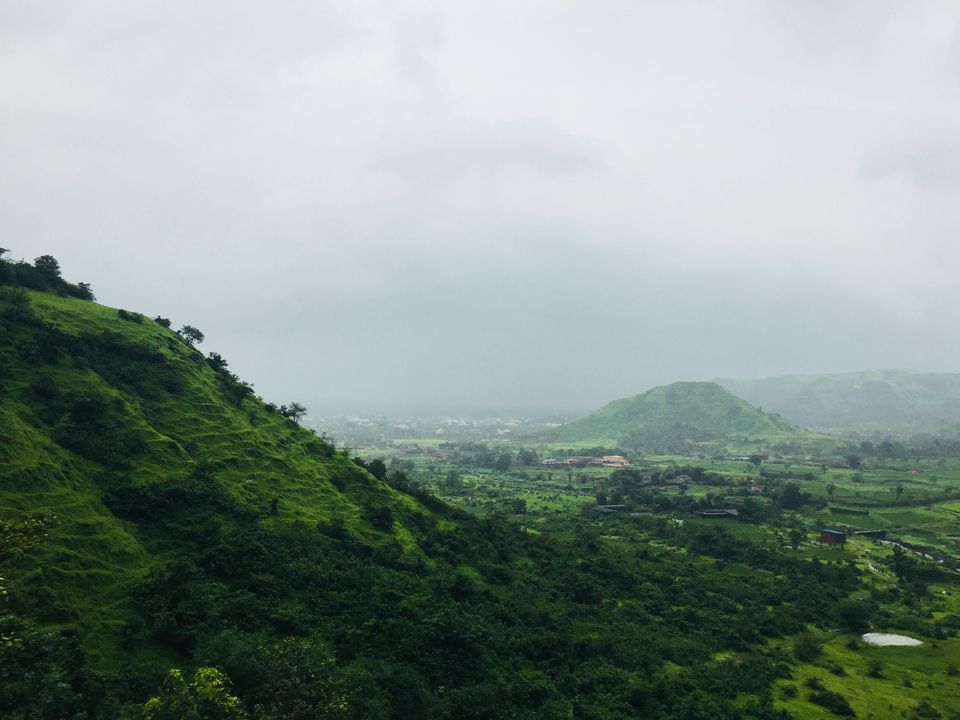 We had to see more the craving increased and we started to climb further. Let me tell you Peb Fort trek could be Easy or Moderate but its an endurance trek forsure. From this Point we decided to move with the route which the villagers take to climb up there were markings with yellow paint on the stones, But the challenge is that intimes you'll have to pass through the dense forest patches and without presence of mind there could be chance that you'll miss out the path. The markings are really old and due to monsoon the forest gets its new colours and covers the stones which increases the difficulty level in finding the markings.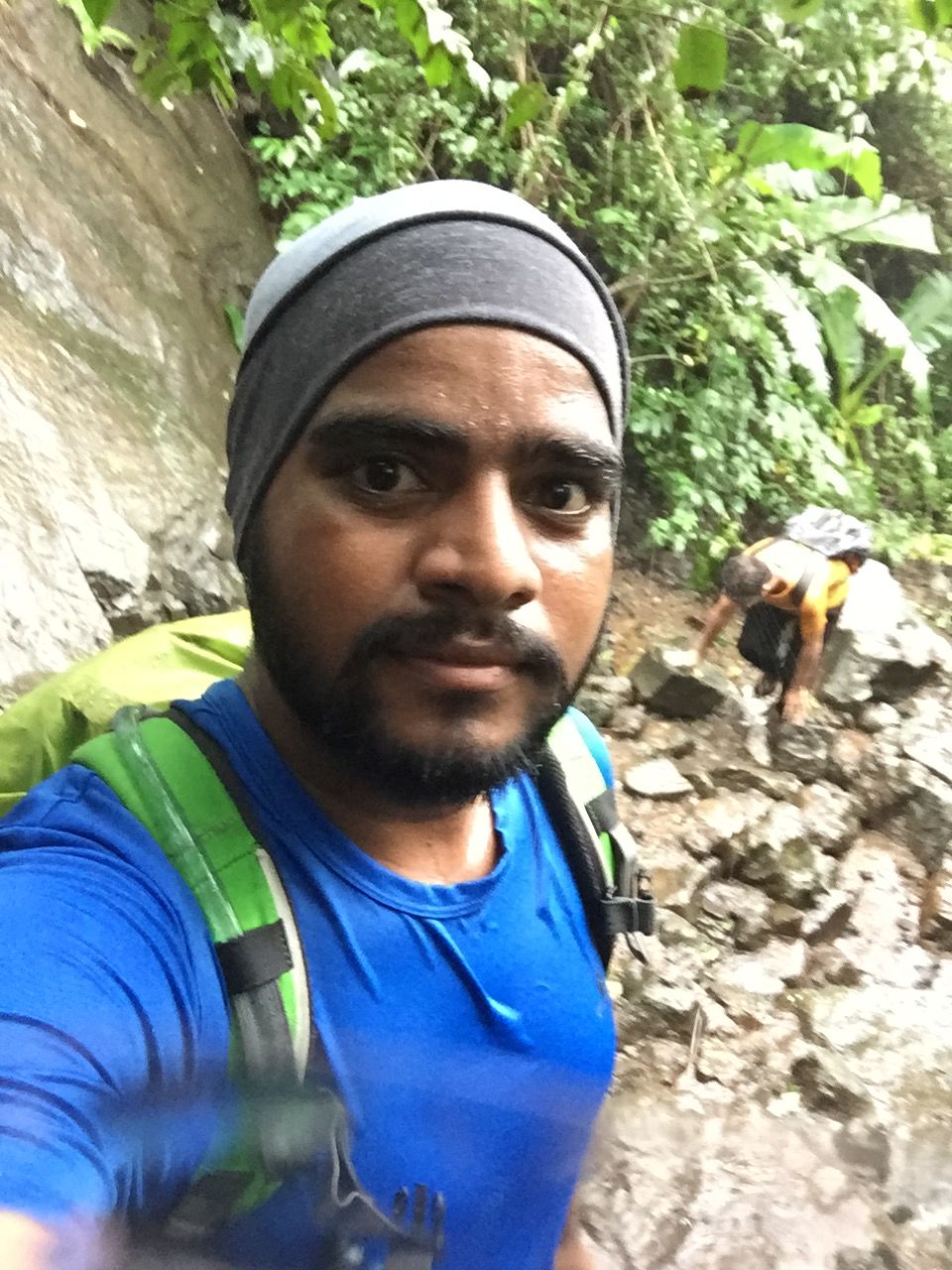 Its said that "Its important to know the way to reach your destination" but in mountains along with knowing the route you also need to Understand the mountains and respect them.
So we followed the route and after climbing for almost an hour we reached an another plateau which can be called as the neck point of the trek.
As every trek becomes challenging from the neck point, so did it happen here. There were two big stones on the ridge that we had to cross them. Here the challenging part is that those two stones were of 15 feet and there just a rope, and you can climb only using the rope unless you are a good rock climber.
We crossed the stones marched ahead and the route became much more challenging before last few kms of the trek.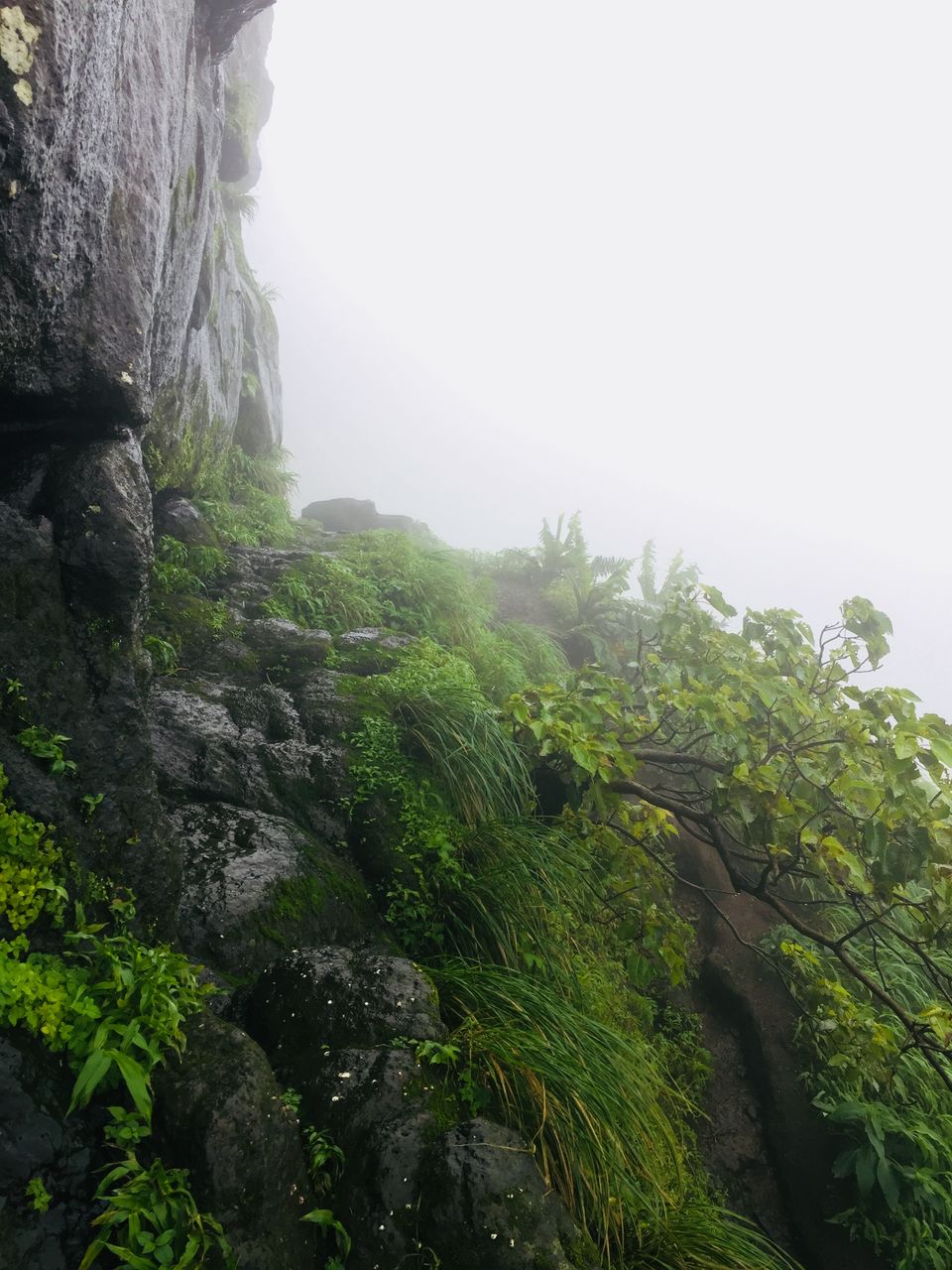 The next thing was a Very Old ladder what we had to climb through it to make it to the final peak, The ladder would shake in between. one needs to be highly careful here. Everything here becomes challenging due to the continuous Rain/Drizzling as well as due to the water streamlines. (Unfortunately I don't have the pic to attach here.)
And finally after 3 long hours we made it to the peak point, The view was mesmerizing. On top you'll find a Old temple which is being maintained by the disciples of Shri Swamy Samartha from past years. Its also believed that One engineer from IIT Bombay stays there (We didn't find him though). On top you'll find the Sholakas written in Sanskrit on the walls on the temple. One can also rest on the temple, its neatly maintained with tiles on floor.
By the time you reach the peak you'll certainly be hungry and thirsty, Please do carry food and Water as you get nothing once you start your journey from the base.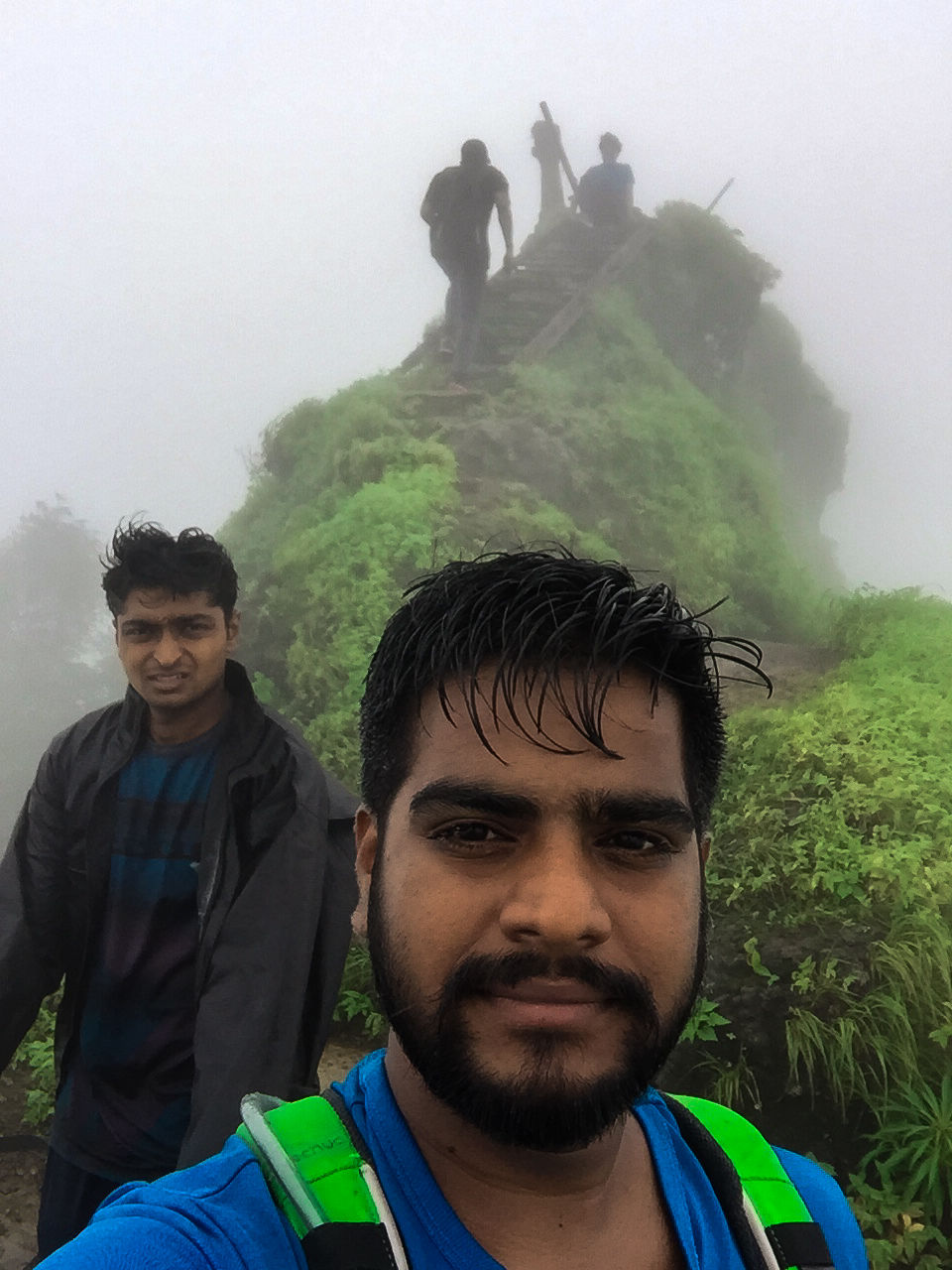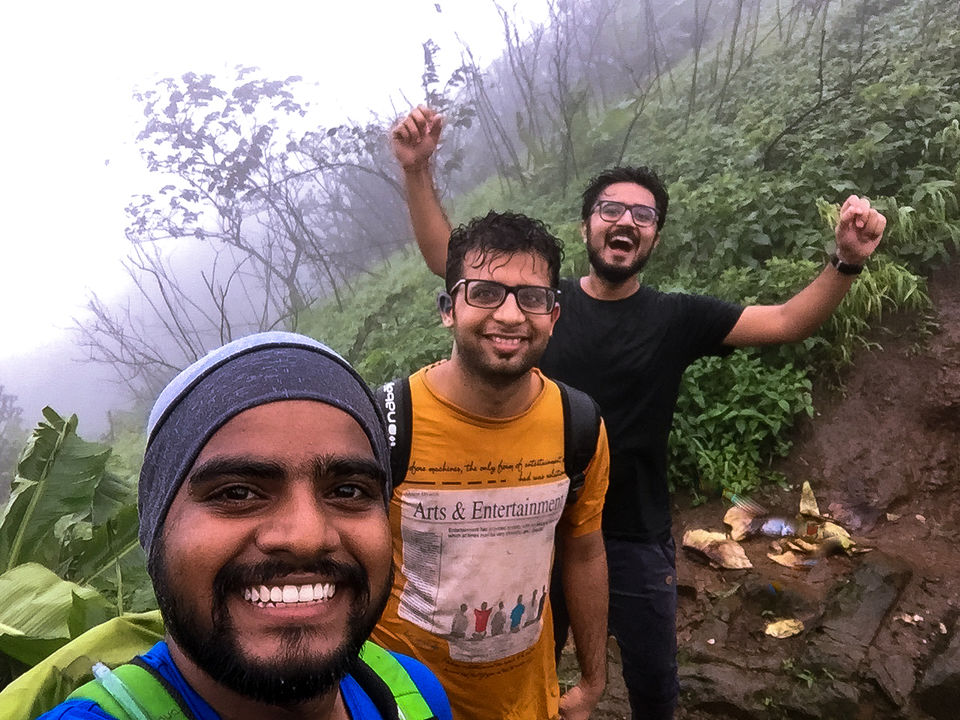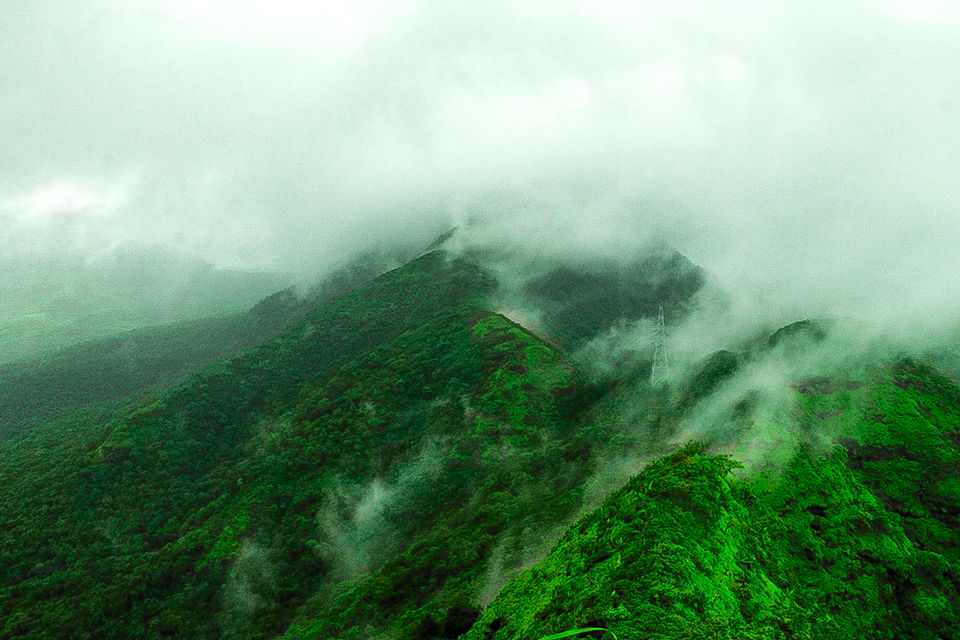 It was time to descend, and we decided to descend through the Matheran Side and join back to Neral route. As usual Descending was bit challenging than ascending. But to make it bit more tough we had to descend through 4 Metal ladders which were in bad condition and same rain and water fall were making it more difficult.
To our Surprise we thought we were descending initially but actually we were gaining altitude because we were heading towards Matheran, after an hour or so we reached the Narrow gauge Railway track where taking right would lead to Matherean and left to Neral.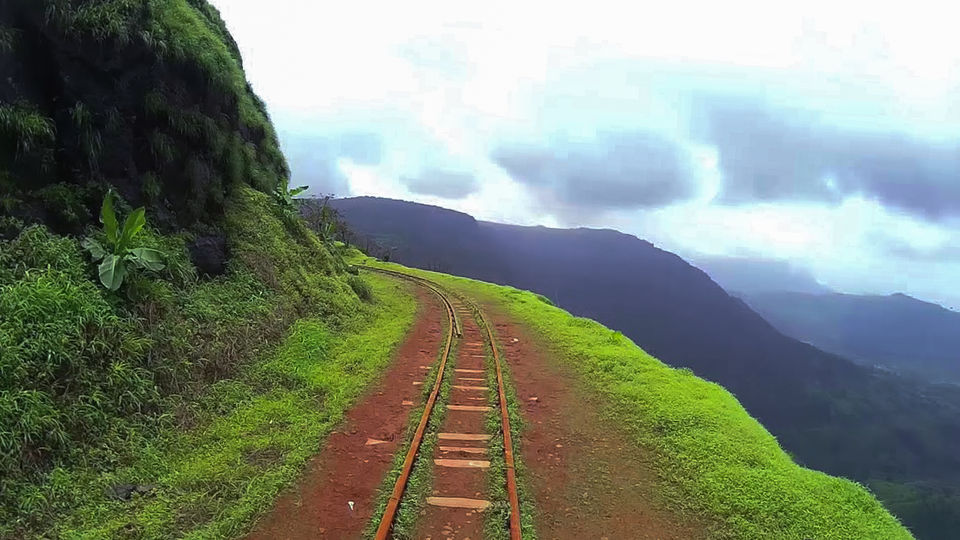 We took left turn and headed towards Neral and since we had no much time we took a taxi from half way and reached station. Took return train to Mumbai and the trek ended with a positive note without any injury.
Special mention :- Since it was the Independence day we found few NCC cadets on top of the hill who were there to hoist the Tricolour. It was pleasure joining them.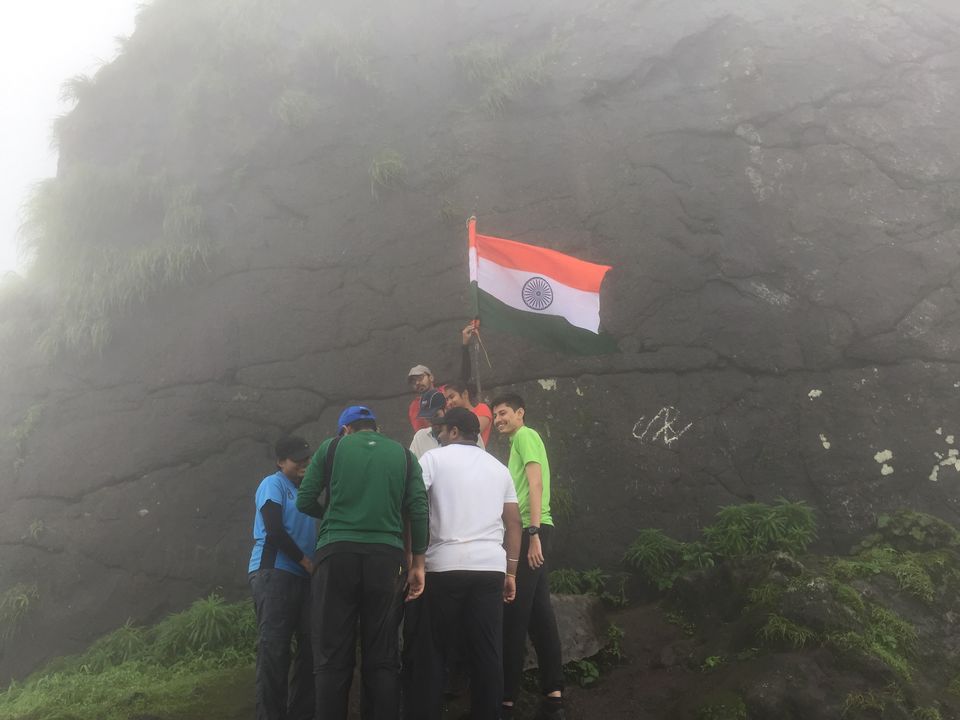 We faced challenges, we saw the beauty of nature, we also climbed 2100 feet above MSL surprisingly the cost of whole trip was only Rupees 210/- per head.
Cost breakup
Metro from WEH to Ghatkopar : ₹.60 (30 per side)
Ghatkopar to Neral :- ₹30 (15 per side)
Breakfast :- ₹40 only
Cab from halfway to Nearl Station :- ₹80
The smile on two of my friends face were worth millions when the Trek was completed. They both were Charted accountants who were out of their office for the 1st time and exploring the outdoor. Lemme tell you Peb fort trek is a Easy trek(Can you imagine my friends completed it), but go with someone who has experience in trekking.
Hope you'll hit the outdoor soon, if this helps you to plan your next trip then do share your pics with me.
Connect me on https://www.instagram.com/pkbishoyi/