Going to Dubai, one of the main activities that I wanted to do (aside from skydiving) was a Desert Safari, as I heard that they were all amazing experiences. The tour we had booked was the Overnight Desert Safari with Arabian Adventures. First off, there are a TON of different companies to choose, so picking one was definitely hard. The main aspect of the desert safari that I was looking for was an overnight option, as I thought it would be amazing to sleep out in the desert and watch the night stars. After looking into a bunch of companies, and all their options, as well as comparing reviews, pricing, and activities listed, we settled on Arabian Adventures, and it was definitely the best choice. They picked us up, promptly at 3:30 PM, and we then had a 45 minute drive out to the entrance of the Desert Reserve. All while driving, our guide Imran was making conversation. He was beyond friendly and kind, telling us about his life, and Dubai, and inquiring about ours, and Canada.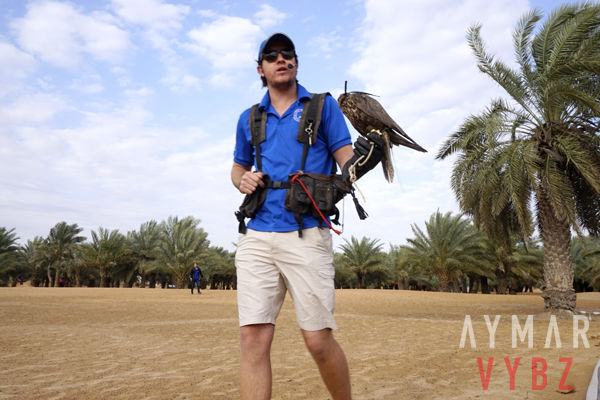 Upon arrival to the reserve, we met two other guides, Faisal & Arifa. Both were talking and entertaining us, while Imran was busy letting air out of the tires. After the car was ready, we got back in and drove a couple minutes into the reserve where we watched a short and brief falcon show. The show itself was nothing special, and removing it from the safari would not cause any loss to the overall experience. As soon as it was over, we were ushered back to the jeeps, in which started our dune bashing ride. That was definitely a highlight of the safari as it felt like a mini rollercoaster. Because it had rained the night before the sand was still a little damp, so it didn't spray all over the vehicle, but Imran was telling us on dry, hot days, that while dune bashing, the sand would fly up and cover the whole car as they proceeded through the desert. After about 20 minutes, all of the jeeps (atleast 50 total) stopped, and everyone started getting out for pictures of the desert land. Imran was quite helpful as he was willing to take pictures of us to capture the desert beauty. We didn't spend too long taking pictures, and then it was off for more dune bashing.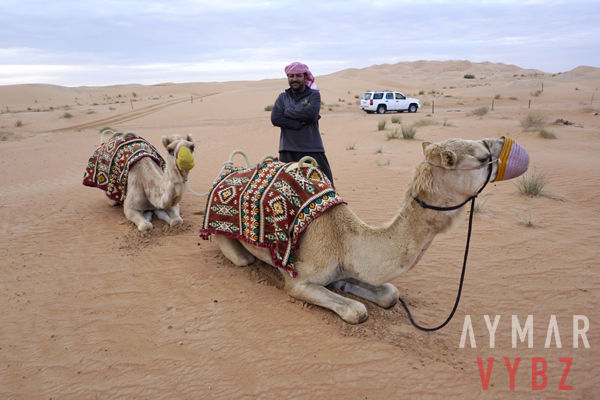 Finally, about 15 minutes later, we reached a stop, where there were two gentlemen and three camels. We were told that we would be taking a 10 minute camel ride towards our camp for the night. It was quite an experience riding a camel, which was something I thought I would do for the first time in Egypt. Seems like Dubai just happened before I made it to the Pyramids!
Approaching camp for the night, it was much more than I expected. There was an enclosed area, by large bushes/trees which made it seem more of a cozy setting, than just out and exposed. We walked through the opening, and were greeted by about 10 tents on the perimeter and a dinning and lounge area set up in the middle. By then, everyone who would be camping for the night had arrive. It was a much smaller group than I had anticipated as it was only 13 people total; 3 of which were the guides. Faisal came and gave us a quick tour of the grounds, from showing us where we would sleep for the night, to the outhouses and showers, which I was surprised as they were better than expected. We were then told we could hang out, relax, and talk with the other guests while they would be preparing our dinner for the night.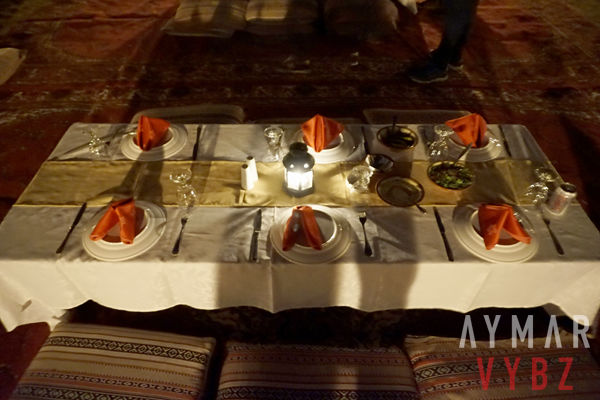 Unfortunately, the other group of people that were with us were from France and spoke very minimal English, and also kept to themselves, so we spent most of the evening conversing with our guides. I am actually quite happy it turned out that way because the guides were incredible, to say the least! They took the time to get to know us, tell us about themselves, and were always checking to see if we were okay, or wanted anything to make the experience better. After about an hour and a half, they had finished cooking the BBQ meal, and dinner was served. The food was excellent! We were served a bunch of different grilled meats, along with pita, humus, and tabbouleh. It was the first time I had Tabbouleh, and can definitely see myself ordering it sometime in the future. When dinner was finished, we just walked around the camp for a bit before returning to guides and conversing some more. As the evening progressed, it started to get cold, so we decided to retreat to the tents and call it a night, as we were going to be up early to watch the sunrise. They did have a lounge area were we could relax and smoke shisha for more of the night.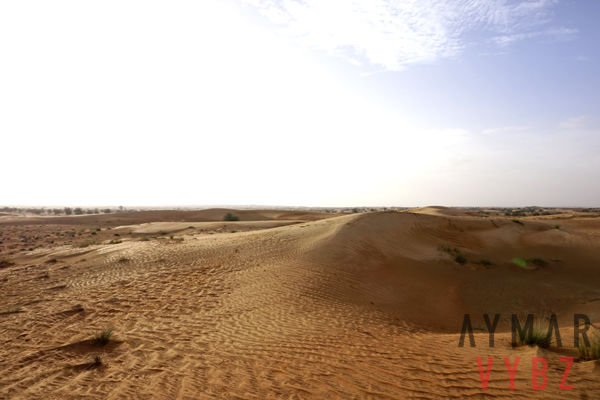 The next morning, we were awaken quite early, by the sounds of the birds. It sounded like a ton of them were surrounding the tent. We even heard owls making sounds. So we decided to get up and head out. It was still a little dark out, but the guides were already awake, preparing breakfast for us. We walked around for a couple minutes, until they told us that the sun should be rising. So we went out from the enclosed area and looked out into the desert, and my god… it was beautiful! Just being there, in the middle of nowhere, and watching the sun rise in peace, it was such an experience. We then returned to camp, and breakfast was ready. For being out in the middle of the dessert, and just having a grill, I must give props to the tour guides, Faisal especially, who cooked amazing food the entire time. For breakfast, there was scrambled eggs, chicken sausages, fried tomatoes, toast, and croissants. About an hour after eating, it was time to head back to the hotel. On our drive out of the reserve we took a different route in which we were on the lookout for the Arabian Onyx and Gazelles. We saw quite a few onyxes and just a small number of gazelles, but it was still cool just to see them roaming so free and in their natural habitat. After about 40 minutes of driving, we were out the desert and on the highway back to our hotel.
It seemed much faster to return to the hotel, but it felt good to be back, and to take a nice, hot, shower. Overall, the whole desert safari was an unbelievable experience in which I was truly happy to have done. Although it did get chilly in the evening, which in turn cut the night activities out for us, I was still satisfied with the overall adventure. It is something I would sign up for again, when I return (definitely when it's hotter), and I hope that we can get the same guides, as they truly did make the experience that much better.