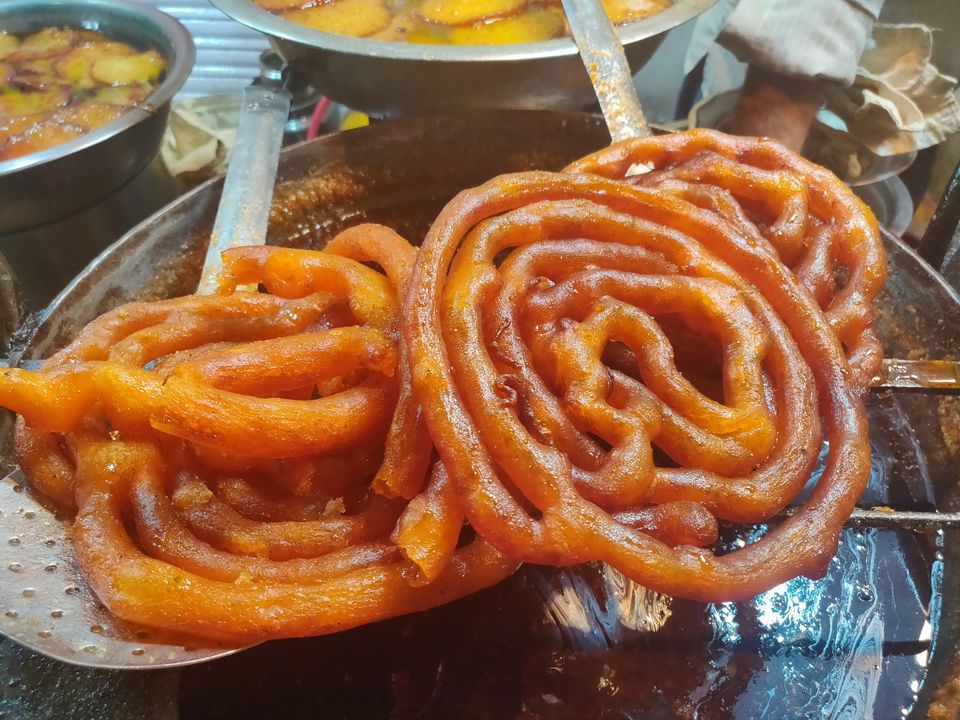 Every city has some kind of 'Khau Gali' famous for its street food and local delicacies. Indore is famous for its midnight Sarafa Bazaar. It is a popular tourist place because of its cuisine and night lifestyle.
Sarafa Bazaar is located in central Indore and it is the only market in India which remains as a jewelry marketplace at daytime and converts itself into a street food court at night. It has an amazing history, this market originated as central jewelry market and due to its location, a large number of tourist and localities would come here for shopping.  So the local street food vendors started putting their stalls outside these shops. But vendors were allowed to put their stalls only after these jewelry shops would close. So these vendors started putting their shops after 8 pm and hence slowly and steadily it turned into Sarafa Bazaar. Also the jewellery shop owners allowed these street food vendors to put their stalls outside their shop to safegaurd it from theft.
People of Indore are very foodie and this Sarafa Bazaar became the daily thing. It's not only about the weekends but usually, daily you will find a lot of rush in the Bazaar. But it's the food that attracts these many people.
Some of the cuisines that this Sarafa Bazaar is famous for are:
• Dahi Wada - If you like Dahi Wada then do not forget to have it at Joshi's Dahi Wada house. One Dahi Wada costs ₹50 but it is worth the price. It is very big in size and equally tasty.
• Bhutte ki kees - It is usually popular during monsoon. You can find corn everywhere at the roadside in monsoon but Bhutte ki kees is something you can have it with tea in Indore.
• Momos - Momos is something that you usually can find it in any city but in Sarafa there are many shops where you can have Momos of a different flavor.
At MeWay Momos, you can have pizza flavor, corn stuffed Momos, cheese stuffed Momos grilled in Charcoal. 
• Faluda - You can find 'n' number of dessert at Sarafa. One of them is Faluda, it consists of kulfi, ice-cream, milk, mango syrup (depends on flavor), vermicelli and psyllium. A chilled Faluda can sooth all the stressed nerves.
• Malpua - If you want to have a hot dessert, then you can have malpua, rabdi, gulab jamun, and many more things.
• Garadu - This is something that you can only find it in MP. It is usually eaten in winters to warm you body. It's very tasty and crispy. It's like 'ek baar khaoge, bar bar aaoge'.
• Jalebi - Indore is usually known for poha-jalebi. Indoris don't eat Poha without Jalebi. Jalebi is also eaten as a dessert in Indore. In winters, Jalebi is eaten with milk/rabdi. In Sarafa, you will find big-big Mawa Jalebi each weighing 250gm.
Other than this you can also find dosa, sandwiches, tandoori snacks, potato twisters, parathas, pav bhaji and many more things. Not only this but people on diet can also find many options to eat like fruit salad, juices, sikanji, coconut crush, etc.
And at last, while going home who can have flavored paan. At every paan stall, you can find different flavor coated paan like mango, jamun, Kesar, strawberry, litchi, etc.
Sarafa is a complete foodie place where you can find food from starters to dessert and that too in many varieties. You can find options for everything.
If you too are foodie then do visit Sarafa Bazaar to taste the Indore's local cuisines and witness its night lifestyle.