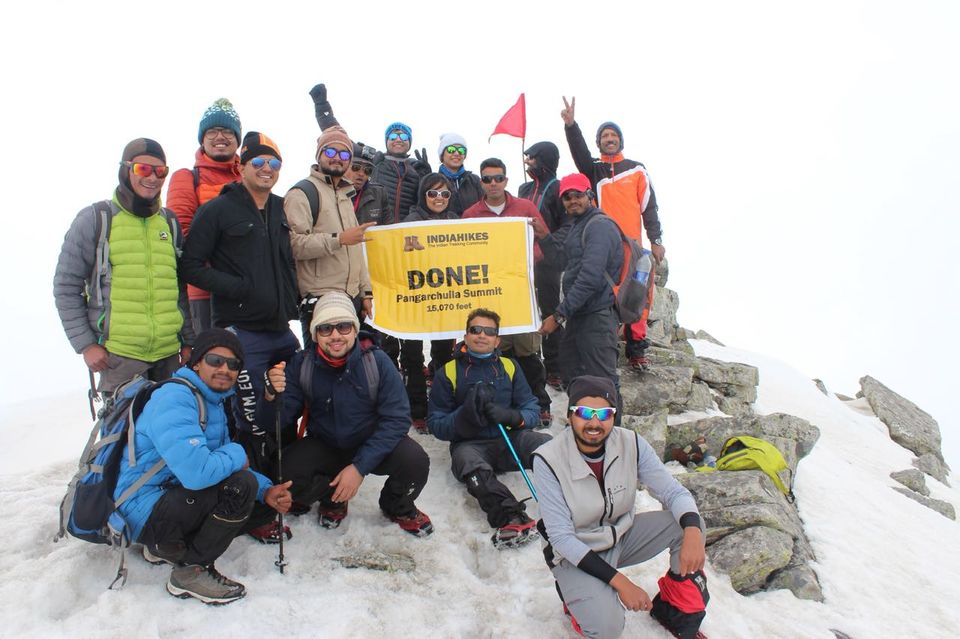 0100 hours
A shrill alarm blares. Some 20 trekkers wake up to that din. It is time.
0200 hours
It is pitch black. Even the moon seemed to be sleepy. A line of people start trudging slowing, their feet landing on the bare patches of rock and sparse vegetation, lit faintly by the headlamps and torches.

In the dead of this night, the only sound is of shuffling feet and heaving backpacks.
0400 hours
Two hours of climbing, and yet, we seemed to have made no progress. The summit is far as ever, barely perceptible in the distance.
0500 hours
A break, several sighs and sounds of backpacks being dropped on the rugged surface. It is time to don the micro-spikes.
0600 hours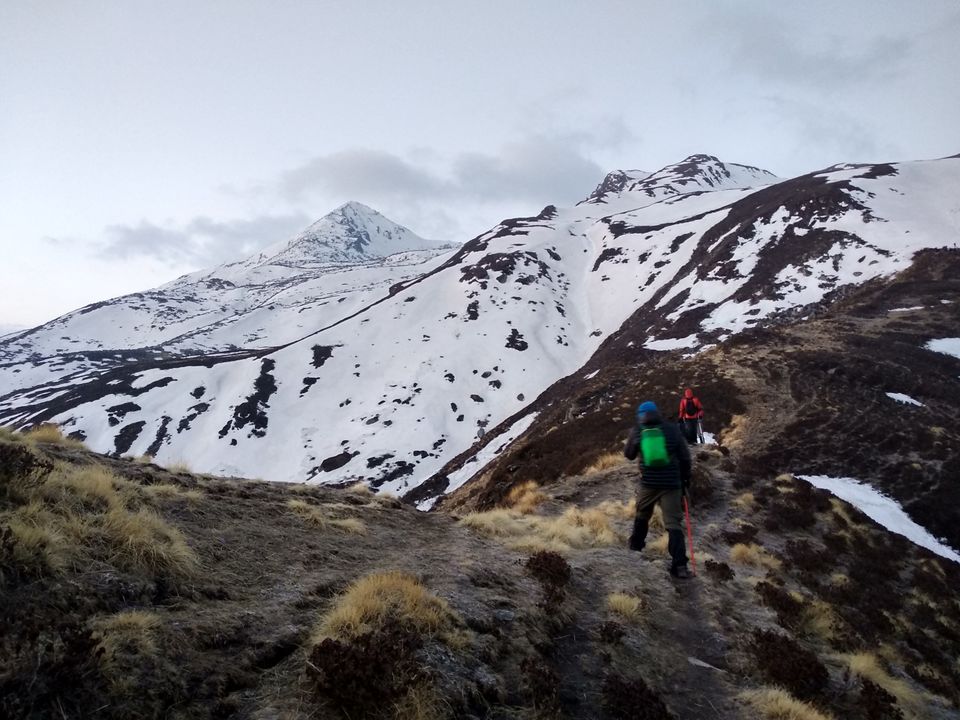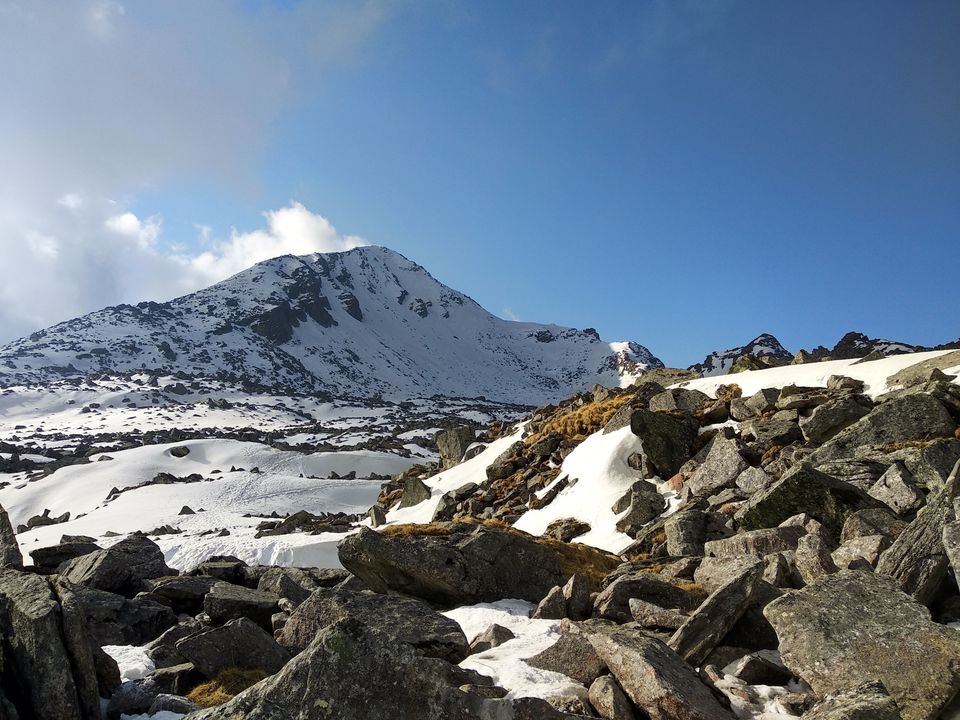 And deep crevices. Where you keep losing your foot. Only to pull it back with a heave, snow entering your boot most times.
0700 hours
We are at the base of the mountain. All that's there is the easy looking summit, we think. We think wrong.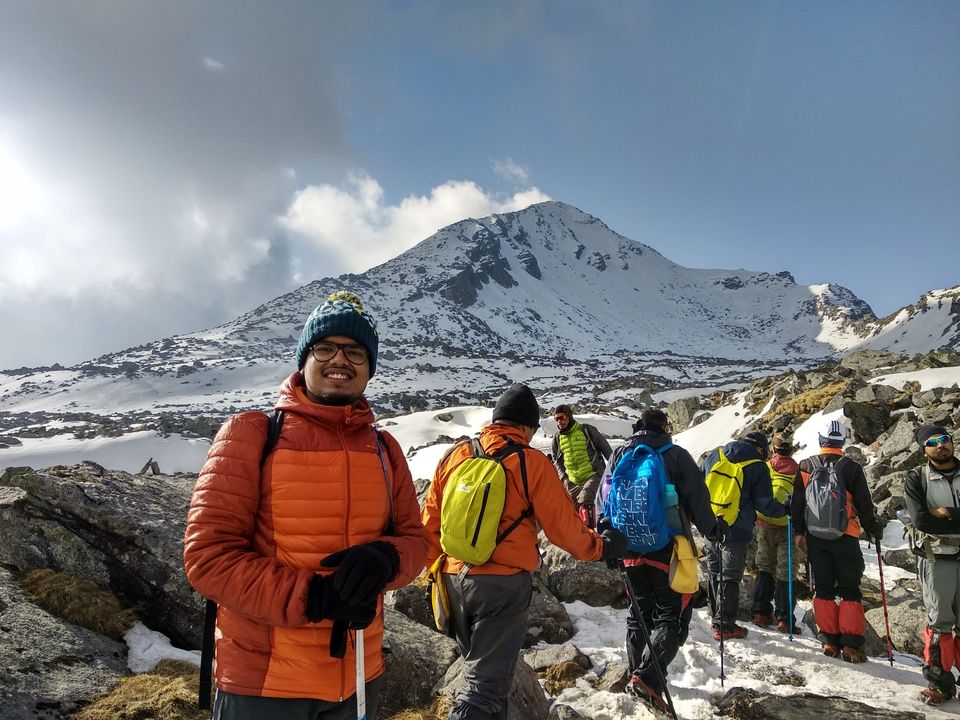 At 15069 feet, Pangarchulla is not amongst the tallest summitable treks in India. It is perhaps the closest one can get to an expedition-style climb (especially in winters) at such a relatively low altitude. The peak by itself is not imposing, in fact the other way around. It looks like a gentle climb up a ridge that takes you to the summit. But looks, like the cliché goes, are often deceptive than not.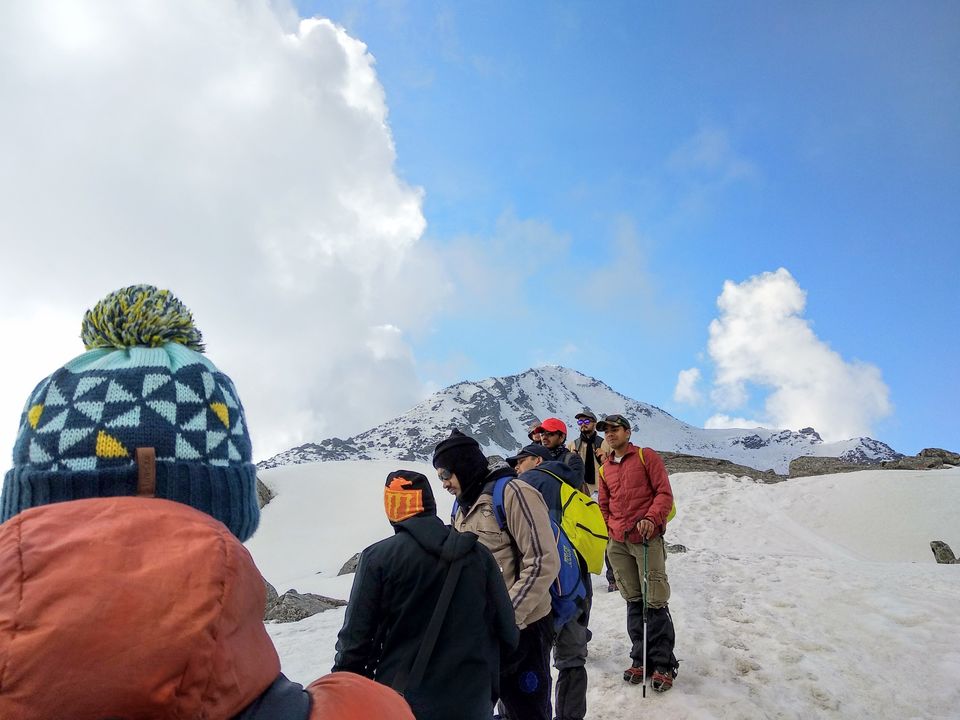 What starts as a superficial incline...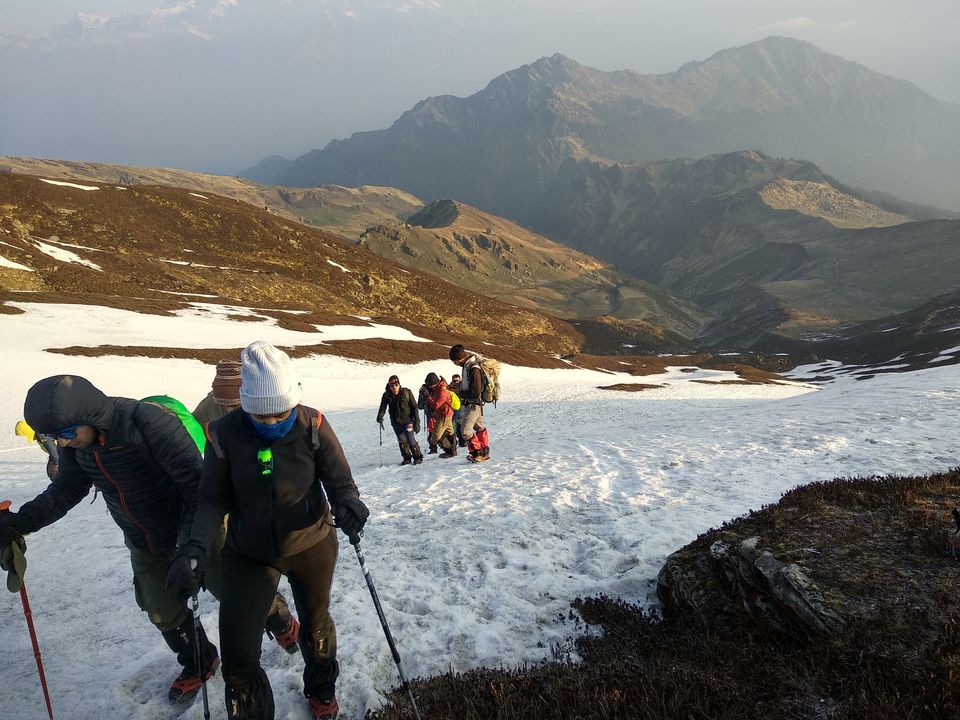 ...soon becomes a step one, coming at you out of nowhere.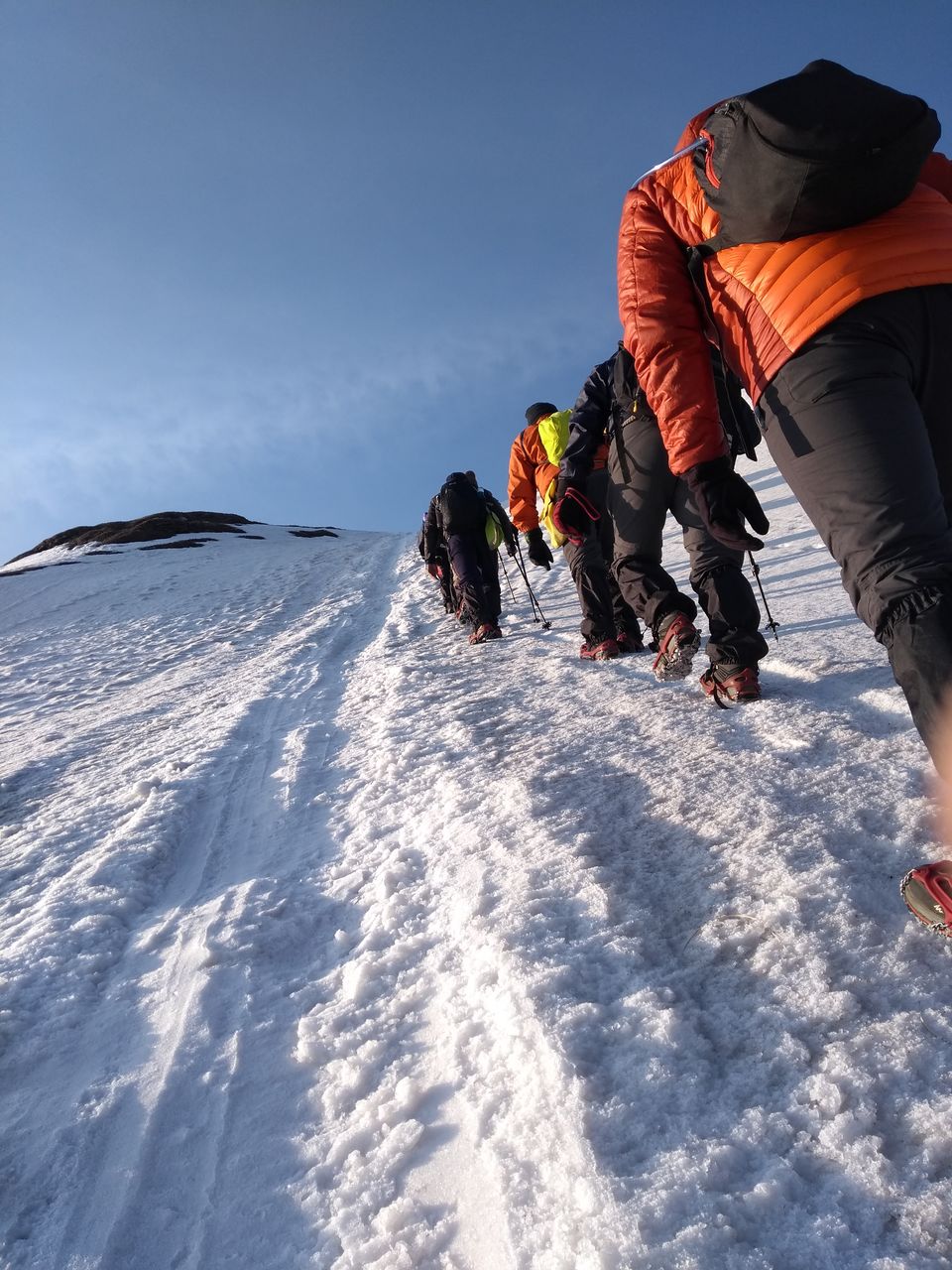 0800 hours
What felt like an eternity, was just an hour later. This one was going to take everything.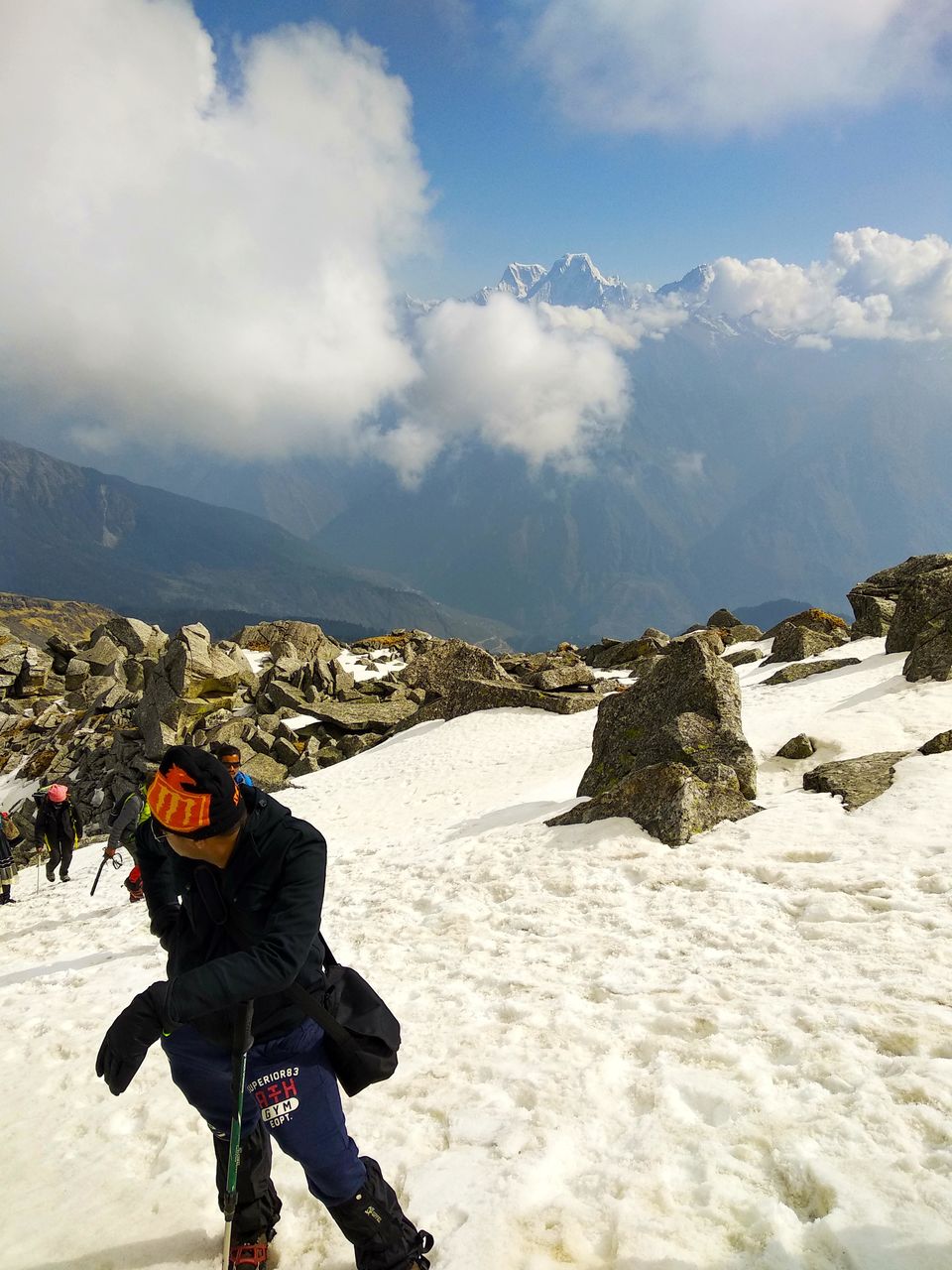 Several breaks later, what seemed like the peak of the mountain....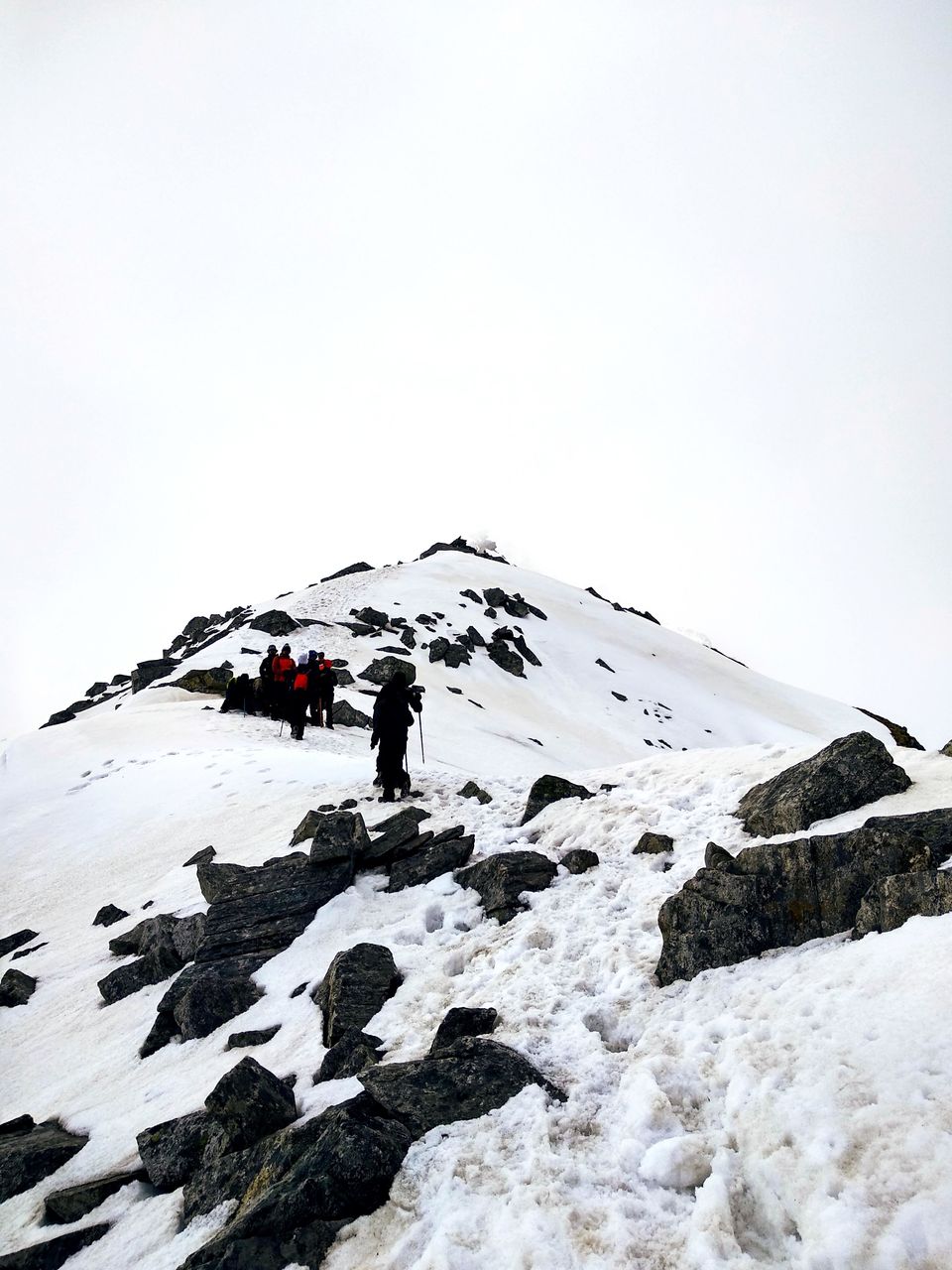 Capricious
That's the word I use to describe the weather in the mountains.
One moment, it is clean and clear; the other, it gets foggy and unbearably cold and windy.
What seemed like the top, was barely it.
Wait, did I mention I did not have my gloves on? Yeah, that.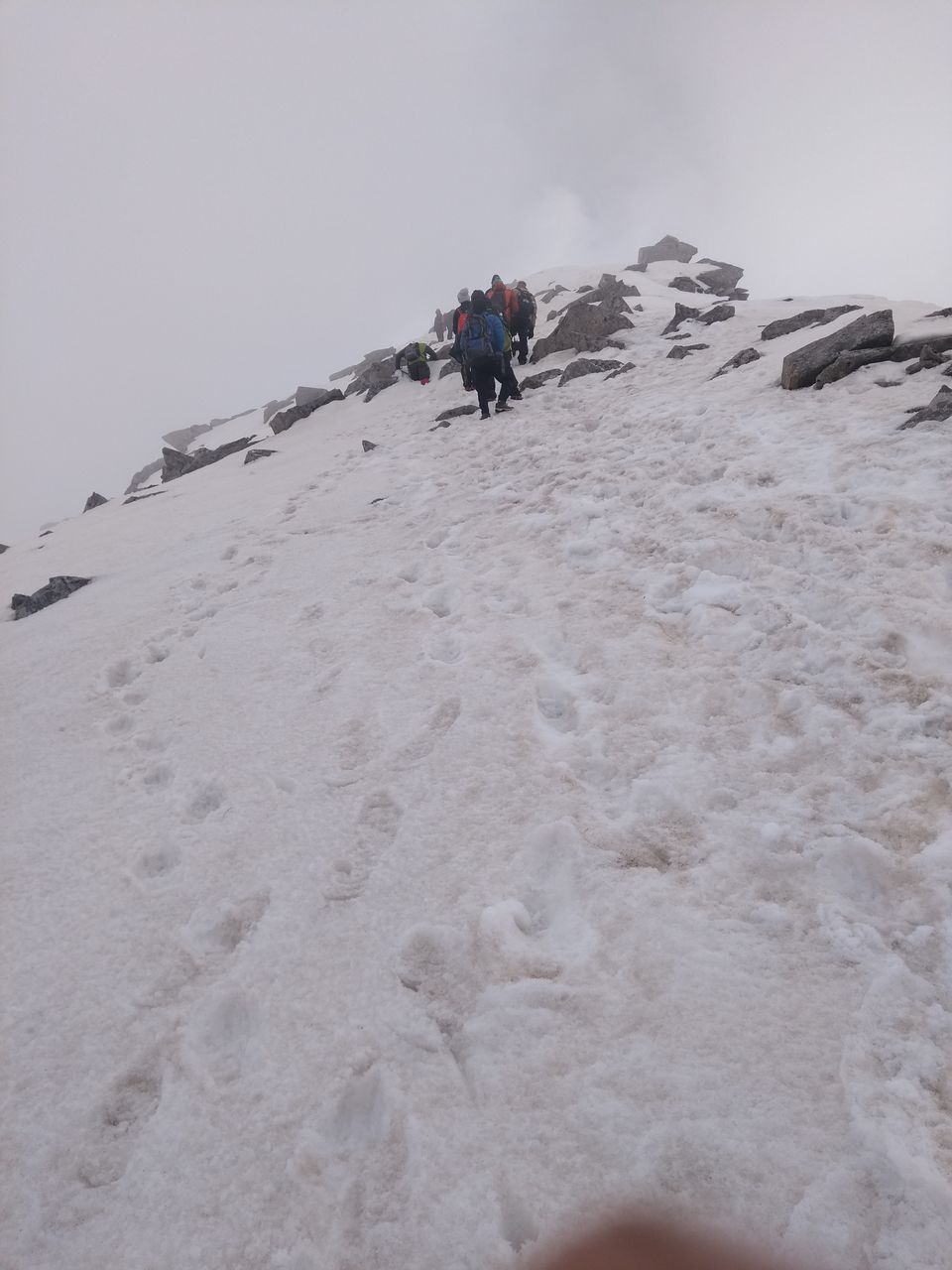 An hour later, we're still staring at what seems like the peak.
They say, the summit is worth the climb. Well, not this time. It was a whiteout when we summited after 8 long hours of climbing.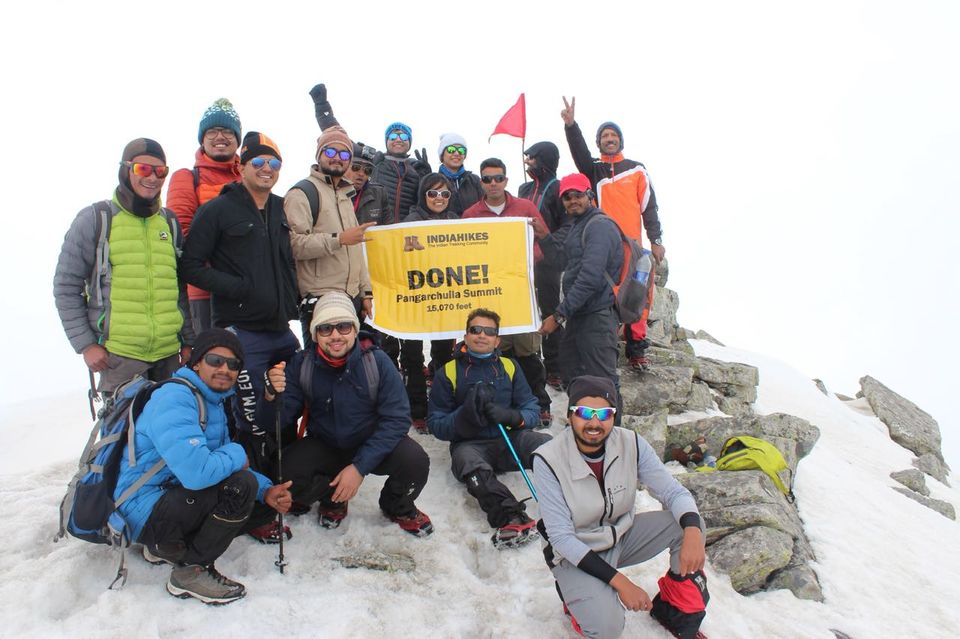 Was it worth it? Absolutely!
Is this the end of our adventure? No.
While the climb is hard, the descent is much harder.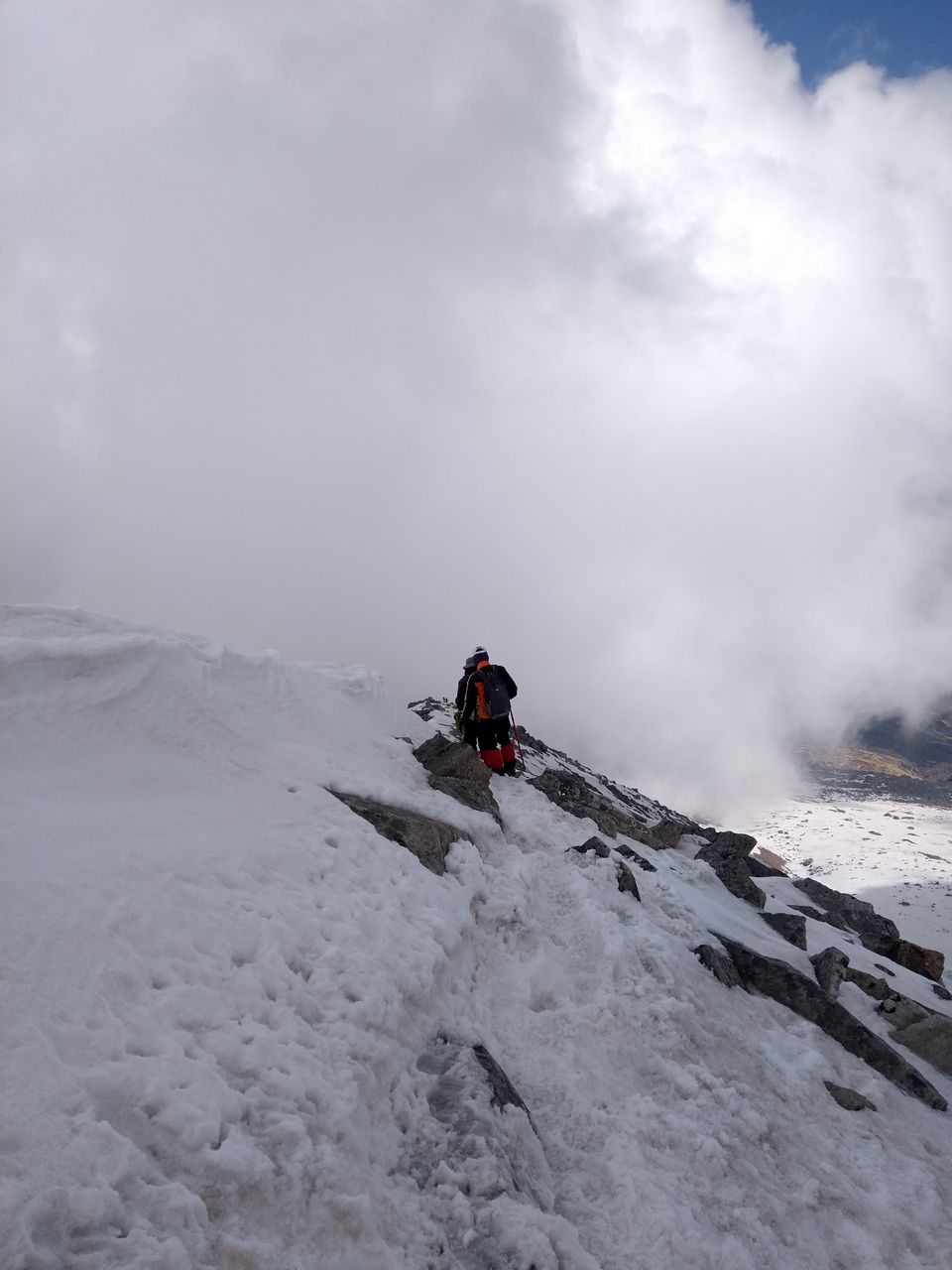 Arduous as it was, we did get off the mountain by noon.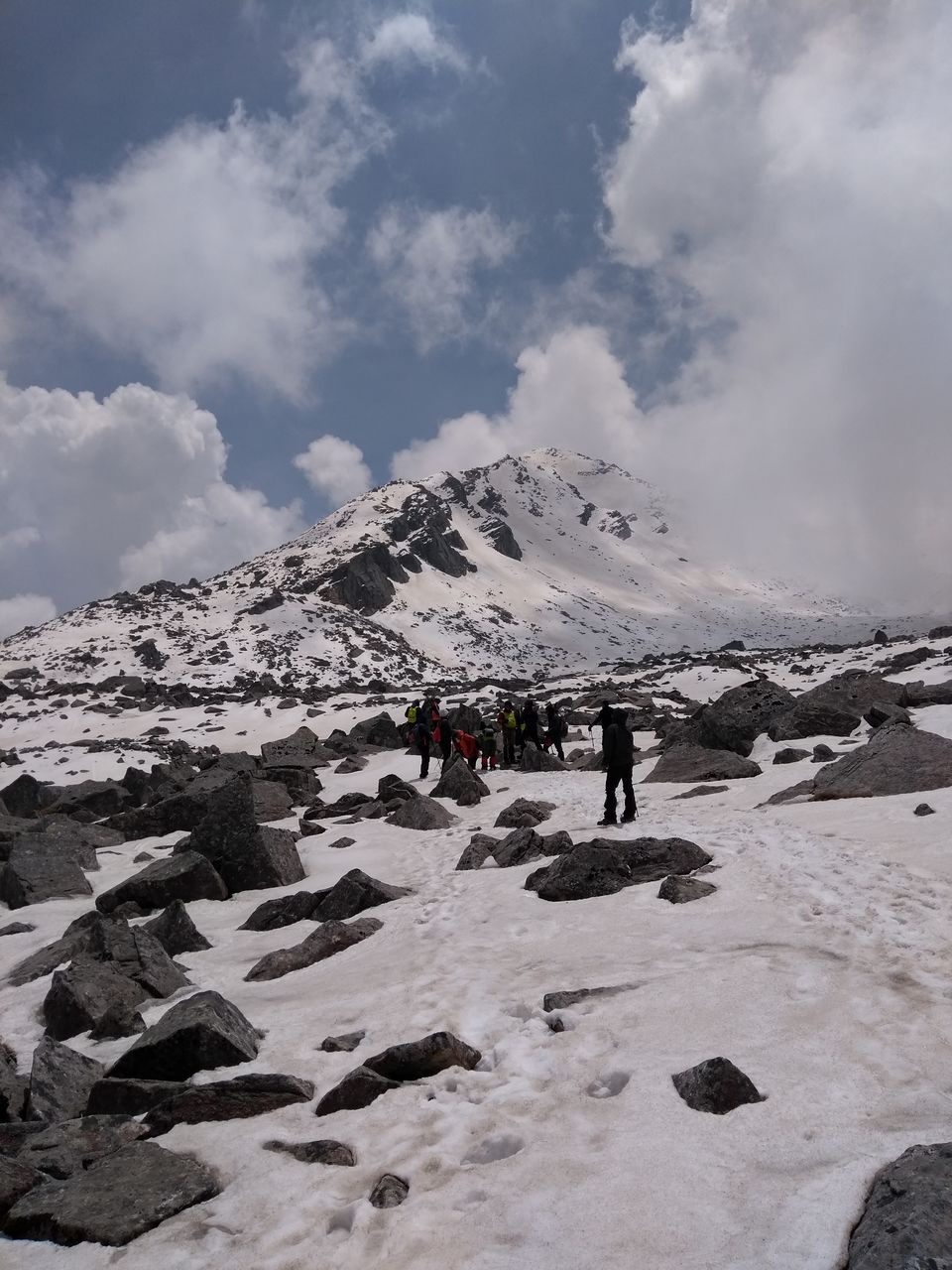 While we were celebrating our successful summit, the weather gods decided to have some fun. Didn't I say the adventure was not over yet?
Withing minutes, it was a complete whiteout and we could barely see anything further than our forearms. As we slowly tried to retrace our paths towards the camp, we were showered with a continuous barrage of hailstones.
Although it stopped within some 10 minutes, it definitely felt like an hour then. When the winds blew the fog off off us, we started back quickly, trudging along, weary, and reached the campsite back at 4 p.m - That's 14 hours of adventure for a moment at the top of a foggy summit. That dazzle you enough?