If you are someone who likes peaceful places and you are looking for inner peace, I am sure a visit to the monastery is something that you will definitely cherish. India is the birthplace of Buddhism and thus you can find many interesting sacred monasteries in the country. Visitors and pilgrims from across the world visit these sacred and spiritual places to take some time out from the everyday business of life and seek refuge.
India holds numerous monasteries within its borders and each one of them has unique collections, striking architecture, interesting rituals and historical background. Many of these monasteries are located in serene surroundings which further make the experience enjoyable thus resulting in the rejuvenation of mind, body and soul.
Mindrolling monastery is one of the six monasteries of the Nyingma school of Buddhism. The architecture is simple and striking, the building is located at a distance of 10 km from Clement Town. The monastery is one of the largest Buddhist centres in existence today. The organisation provides Buddhist education to over 300 monks, beginning with primary and secondary school and supports research about Buddhism and Tibetan culture.
Main monastery, practice centre, shrine rooms and several large prayer wheels make up the institution. Many ceremonies with ritual music and dance are held throughout the year. Tourists are fascinated by the great stupa which is 185 ft tall and 100 sq ft wide. It is the world's largest stupa and is surrounded by a two-acre landscaped garden. The Tibetan colony around the monastery complex has eateries where you can get authentic Tibetan meals, noodles and dumplings. If you wish to stay at the monastery guest house, you must contact them in advance. The stupa is open every day of the week from 9.00 am.
Where is it
3, Budha Temple Road, New Basti, Clement Town, Dehradun, Uttarakhand- 248002
Contact: 0135 2640968
Sakya is one of the four main traditions of Tibetan Buddhism. The Mission of sakya centre is to provide education to the public irrespective of caste, creed or colour. Residential school and institutes give education in theology, philosophy, art and culture with particular emphasis on the sakya order. This Buddhist centre offers education in Buddhism in general and sakya tradition of Tibetan Buddhism in particular. The monastic school teaches Buddhism, rituals, music and dance, art and other related subjects.
Where is it
187, Rajpur Road, IAS Officers Colony, Rajpur, Dehradun, Uttarakhand- 248009
Contact: 0135-2734286
This monastery is situated in the Tibetan settlement of khera camp at Laldang, some 45 km north-west of Dehradun. This place is home to about 90 monks of different ages who engage in the study and practice of mahayana buddhism. Gongkar Choede follows the sakya tradition of Tibetan Buddhism and is the only monastery outside Tibet belonging to the unique Dzongpa Lineage, the practice, study and preservation of which is the monastery's main objective. This is also a centre for the teaching and study of the Tibetan language and for maintaining the Tibetan culture and heritage. The monks of Gongkar Choede engage in a range of practice activities. The monastery has reached a stage where it is able to offer the young monks a firm training in prayer recitation, chanting, ritual performance and the memorisation of traditional scriptures. Advanced students can carry out scholastic studies in Buddhist ethics, logic, philosophy and debate.
Where is it
Gongkar Choede Monastery, Laldang Tibetan Colony, Plot Brotiwala, P.O. Vikasnagar , Dehradun, Uttrakhand- 248198
Contact: 9410353611/ 7055530543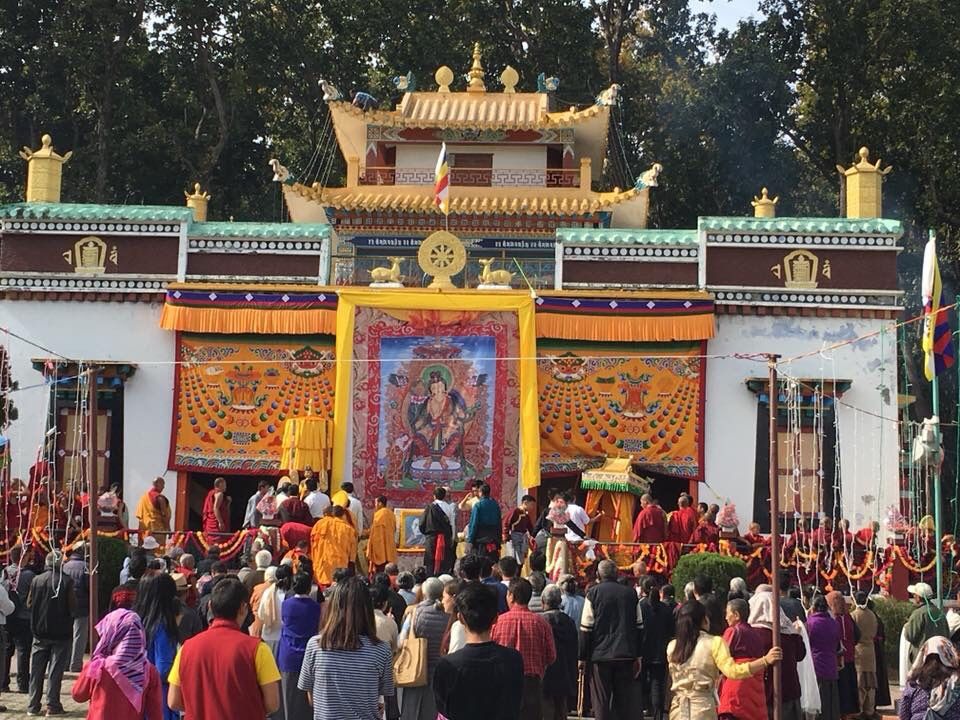 Tashi Kyil monastery is a sacred Buddhist monastery in Dehradun. This monastery rests among the foothills of the Himalayas that fill the ambience with serenity. Following the destruction of the original monastery in Amdo, Tibet, the exiled monks rebuilt their monastery in Dehradun in 1967. Till date, the chanting styles, rituals, practices, and self-initiation are preserved just as they were in Mejung Thosamling college in Labrang Tashi Kyil in Amdo. In addition to Dharma studies, the monastery also offers classes in Tibetan grammar and English.
Where is it
Tashi Kyil Monastery ,Tibetan Colony, Selection Board Road, Clement Town, Dehradun, Uttarakhand- 248002
Contact: 0135- 2640120
The name 'Ngor Monastery' has been synonymous with great learning. Ngor Monastery was founded in 1429 by the great master Ngorchen Kunga Zangpo. The main monastery of Ngor is an institute where comprehensive studies in both paramitayana and vajrayana are taught and is now regarded as the main hub for the vajrayana studies. This monastery has become a flourishing training school for young Monks, a retreat centre, a library and houses the only Sakya Pandita shrine in India. Ngor Monastery is divided into four monastic houses : Luding/ Khangsar / Thartse and Phende.
One of the main aims of this monastery is the preservation of the vajrayana Buddha dharma. The ngor monastery conducts advanced annual vajrayana rituals and ceremonies, which attract monks and nuns from India, Nepal, Ladakh and other countries.
Where is it
Bhauwala Rajawala Road, Manduwala, Uttarakhand- 248007
Contact: 09756204055
While visiting Dehradun next time, make sure you include these in your itinerary.
Know any other hidden gems , please share your story here. Bored of flipping videos, check out Tripoto's Youtube Channel.