India is the land where the benevolent religion of Buddhism was founded. It is where a prince named Siddhartha left his kingdom to find the source of humanity's suffering and under a peepal tree transformed to become Buddha, the enlightened one. The monasteries in India and reflect on the teachings of Budhha.
Buddhism, despite being native to India, could not become the dominant religion of the country. But India is still home to over 9 million Buddhists – some having settled here from troubled nations and others who have been cradling the Buddhist culture for almost a thousand years.
You can pay a visit to almost all of these monasteries in India. From the remote corners of Karnataka to the high-altitude villages of Ladakh, Buddhist households will welcome you warmly into their humble worlds. Here are some monasteries in India to start you off on an experience that will render you speechless.
9 monasteries in India you must visit
The narrative behind the historical town of Rewalsar is the mythical story of Guru Padmasambhava who is recognised as the second Buddha. Legends believe that the famous Rewalsar Lake (Tso Pema to Tibetans) appeared where Padmasambhava was burnt alive, who then reincarnated as a 16-year-old boy from a lotus in the lake. It was from Rewalsar that Guru Padmasambhava went on to spread the message of Vajrayana Buddhism in Tibet. The two main monasteries here are Drikung Kadyud Gompa and Tso-Pema Ogyen Heru-kai Nyingmapa Gompa. The small hill-town is also identified by the massive statue of Padmasmabhava, which is 123ft tall.
Where to eat: The Emaho Cafe is popular for its delicious breakfast menu, coffee and tea served with a great view of the lake. Another popular cafe, Kora Community Cafe, is located near Hotel Lotus Lake. Also check out Bogchi Cafe for some classic dishes while you are here.
Where to stay: Both Drikung Kadyud and Nygmapa Gompas have guesthouses in their premises. The Lotus Lake Hotel is run by Ziggar Monastery and has decent rooms with a lovely view of the lake. Also check out the Himachal Tourism-run The Tourist Inn for slightly fancier options.
Bir is another Buddhist settlement in Kangra Valley of Himachal Pradesh, which is slightly less crowded than Dharamshala. People come to try their hand at paragliding at Billing, whereas Bir is a centre for meditative and cultural courses that you can practice at the Deer Park Institute. It is an institute established by Dzongsar Khyentse Rinpoche in March 2006 under the patronage of the Dalai Lama for the study of classical Indian wisdom traditions. Choukling Monastery is one of the most popluar monasteries in India and has a massive compound that serves as a complex for several stupas, temples, learning institute and monks' quarters.
Where to eat: The Emaho Bir Bistro is run by a monk, Amit Negi and is a great place for breakfast. The Choukling Cafe serves delicious Tibetan food, and the Garden Cafe is ideal for a lazy afternoon meal.
Where to stay: In any of the guest houses in the Tibetan Colony. The Choukling Monastery has a guesthouse and cafe of its own, and a room here costs Rs 1,000 per night.
How to reach: Take an early morning bus to Baijnath bus stop (then a shared cab to Bir) or a taxi directly to Bir. It is only 70km from Mandi and makes for a very scenic ride.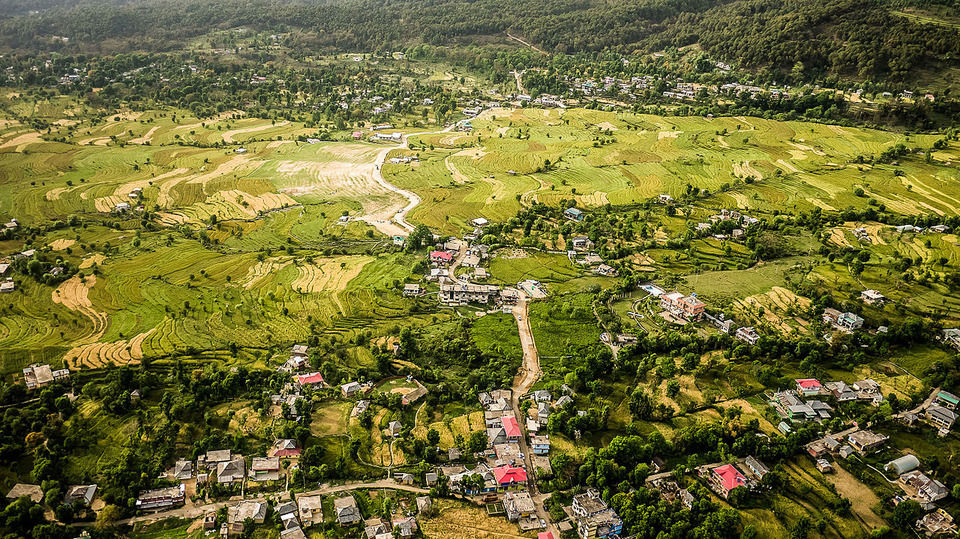 Dharamshala is the largest Tibetan settlement in India, as when Dalai Lama had to flee Tibet in 1959, the Indian prime minister of the time, Jawaharlal Nehru, granted him and his followers asylum here. Now, McLeod Ganj and parts of upper Dharamshala sustain the aesthetics, philosophy and culture of Tibetan Buddhism. On your trip to McLeod Ganj, you must visit the Namgyal Monastery and the Library of Tibetan Works and Archives that preserves over 80,000 Buddhist manuscripts. McLeod Ganj is now lovingly called 'Little Lhasa' by tourists, who often visit the place for its beauty, food and culture.
Where to eat: The Woeser Bakey is famous for its homemade cappuccino, pancakes and carrot cake. Head to Norling Restaurant for classic thukpa and momos. Have a delicious oven-baked pizza at Carpe Diem.
Where to stay: Tibet World located on McLeod Ganj's main road. Once you reach the main market, there are several small hotels that are conveniently priced and comfortable.
How to reach: McLeod Ganj is 478km from Delhi, which can take up to 10-12 hours on the road. The best way is to take an overnight bus from Delhi to Dharamshala then hop on to a local bus or taxi to reach McLeod Ganj.
The city of Gaya is home to four major religions of India; Buddhism, Jain, Hinduism and Islam. Gaya's origins date back several thousand years when the epic of Ramayana was written. The Buddhist relevance of the city is for being the place where Siddhartha achieved enlightenment and became Buddha, the Enlightened One. Just 11km from the city is the exact tree under which enlightenment was attained. Travellers, especially Buddhists, from all over the world visit this particular place to pay respect to the place that gave birth to the religion of Buddhism.
Where to eat: Hari Om International Café on the Bodh Gaya Road is known to serve the best ginger tea and coffee in Gaya. For European offerings and Italian dishes, head to Be Happy Café.
Where to stay: Check out Hotel Buddha and Maha Bodhi Resort, which are both at a convenient distance to the Bodh Gaya Temple.
How to reach: It is very easy to reach Gaya from the major cities of India. The Gaya Junction railway station is the main station for Gaya. The nearest airport is Gaya Airport, situated between Gaya and Bodh Gaya. Buses from Patna, Varanasi, Bhagalpur and Nalanda go to Gaya several times in a day.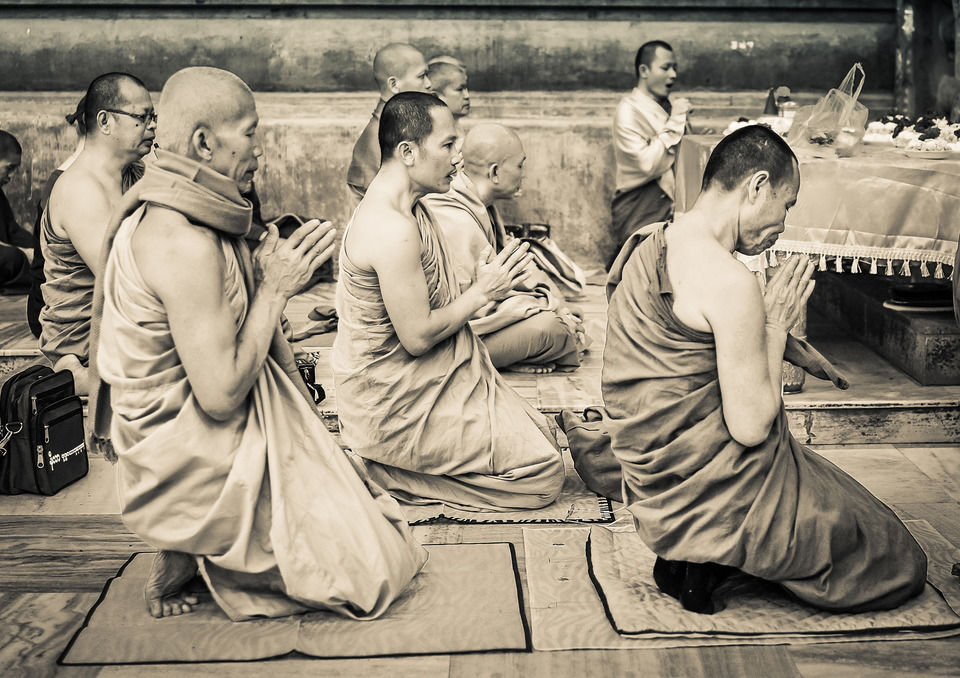 Hemis is a village in Ladakh that is built around the famous Hemis Monastery, which is said to be built in the 11th century by Kinf Snege Nampar Gyalva. The village is primarily visited by travellers during the time of the Hemis Festival, when the monastery is decorated with colourful masks and motifs. The Hemis Festival takes place in the first week of July to celebrate the teachings of Lord Padmasambhava and is frequented by travellers from all over the world.
Where to eat: There are very few tea-stalls and dhabas in the area. The Hemis Cafe, is the only proper restaurant in Hemis, which is also on the outskirts of the main village.
Where to stay: The Hemis Monastery provides rooms and stay options to travellers.
How to reach: You can reach Hemis via Leh from Srinagar on the Srinagar-Leh Highway or all the way from Manali going through Sarchu and Dharchu. Leh Airport is the closest airport to Hemis.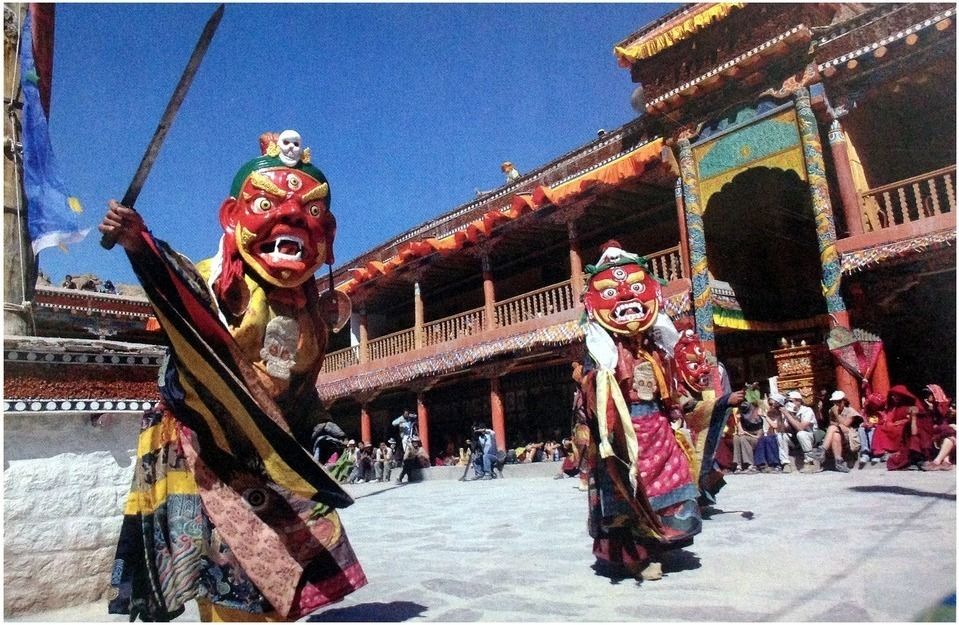 The town of Bylakuppe in Karnataka is home to several Tibetan settlements and was established in 1961 by the coalition of Lugsum Samdupling, a prominent Tibetan monk, and the Indian government to provide shelter to Tibetan refugees fleeing their homeland in search of a safe place. Bylakuppe is located in Mysore and shares its border with the eastern part of Coorg. The town of Bylakuppe is divided into two parts, Old Camp and New Camp, and the major monasteries in the area are built to represent the four Buddhist traditions of Gelukpa, Nyingma, Sakya, and Kagyudpa.
Where to eat: Rung ghang (free community meals) at Sera Monastery, small vegetarian cafes such as Cafe Tibet and Indian food restaurants, which are easily found in Madikeri.
Where to stay: Sera Jey Yiga Choeling Center is next to Sera Monastery; price per night Rs 1,000. Paljor Dhargey Guesthouse next to Namdroling Monastery; price per night Rs 500. Foreigners (non-Indian citizens) need a Protected Area Permit from the Indian Home Ministry to visit Bylakuppe.
How to reach: Bylakuppe to Bangalore is 230km (5 hours by road) and can be easily reached using KSRTC buses to Kushalnagar. The nearest railway station is Mysore.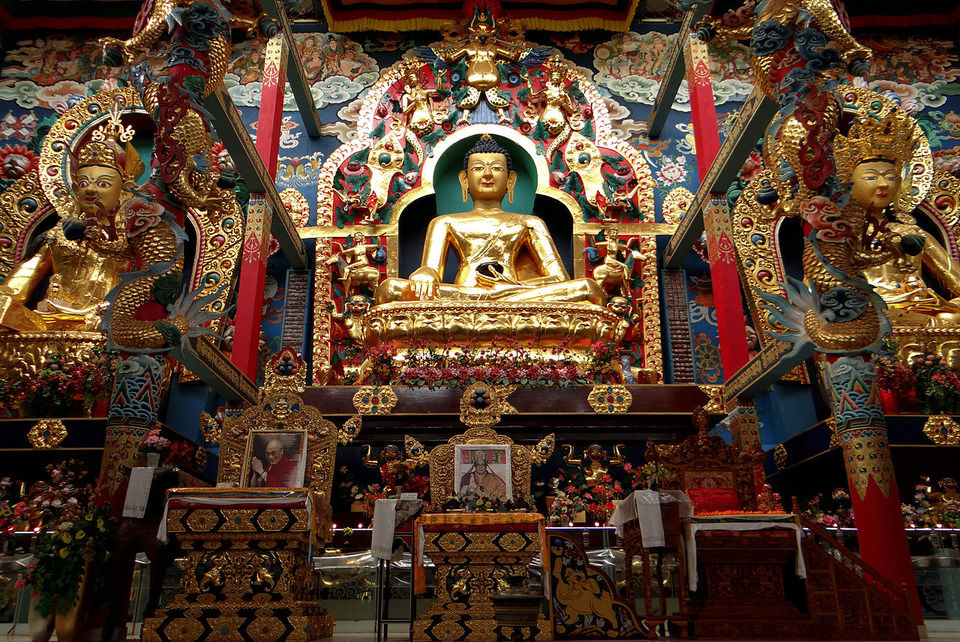 How to reach: Rewalsar is only 24km from Mandi and buses run from the main bus-stand every hour. It takes a little over an hour to reach Rewalsar from Mandi. If you are driving here, then it is a great stopover on your way to Manali.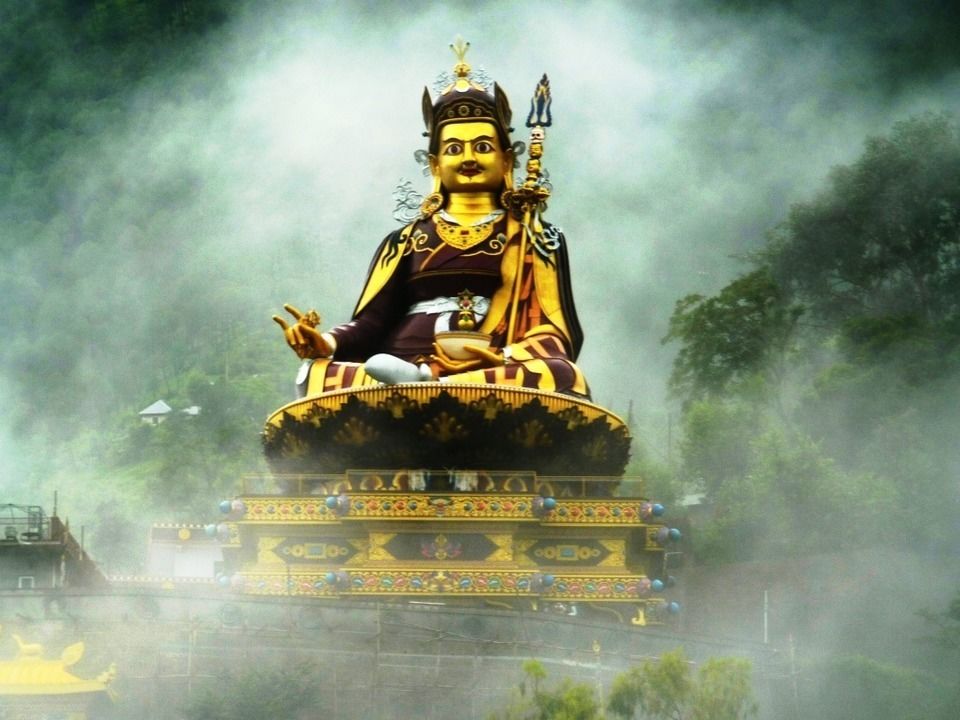 There are several other smaller monasteries in India such as Mulbekh, Rumtek, Kye, Kibber and Tupchiling in the northern part of the country. Cities such as Sarnath, Rajgir, Kaushambi, Sravasti, Vaishali and Nalanda in the central east parts are also dominated by Buddhist followers.
Have you visited any monasteries in India? Share you travel story and help our community of real travellers explore the world like never before.
Tawang's Buddhist community is deeply rooted in the political history of the place, as until early 20th century it was a part of Tibet. This hill town in Arunachal Pradesh is home to the Tawang Monastery, which is largest monastery in India and the second largest in the world. In Tibetan, the monastery is called Galden Namgey Lhatse, which translates to "celestial paradise on a clear night". The city preserves the culture and traditions of Tibetan Buddhism in the magnificent Himalayas.
Where to eat: During your stay at Tawang, definitely check out the small street vendors in the main market that sell the most delicious momos and other snacks. The Woodland Restaurant is known for its salt tea and Dragon Restaurant for chopsuey.
Where to stay: There are several stay options in Tawang, and most are widely available on the internet. Check out this page to get exact details, names and contact numbers of available hotels. Radiance International is one of the most popular hotels in Tawang.
How to reach: The nearest airport is in Tezpur (143km). From there you will have to either take a local bus or taxi to the Tawang Monastery, which will take up to 8 hours.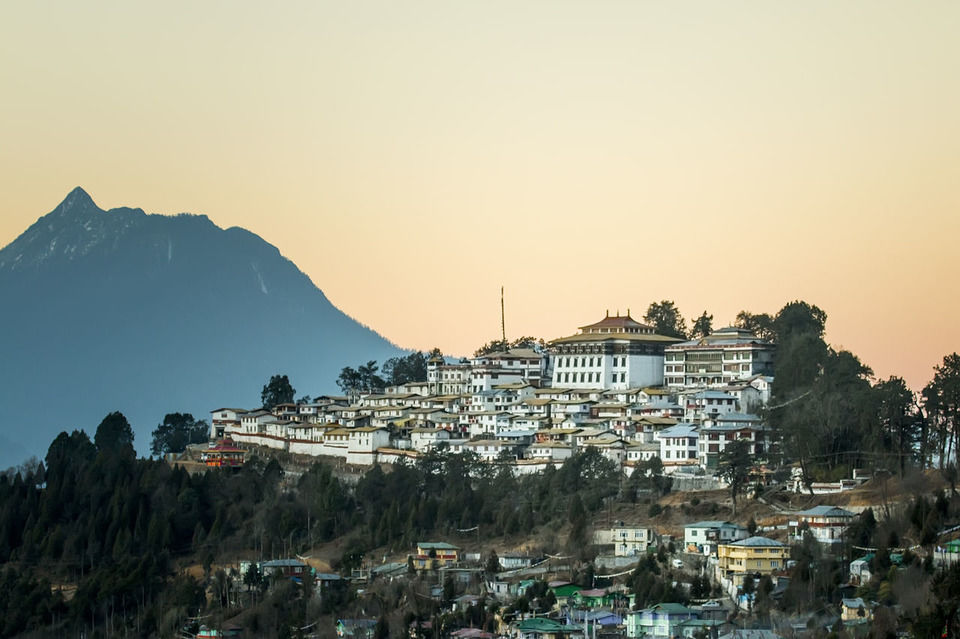 Tabo is a precious little town in Spiti Valley, which is considered to be one of the oldest continuous Buddhist establishment in India. This Buddhist town in India is native to the area, and is not a Tibetan settlement like many mentioned before. Lying between Reckong Peo and Kaza, Tabo is built around a Buddhist monastery that is over a thousand years old. It is known as the oldest continuously operating Buddhist enclave in both India and the Himalayas, and the monastery has such a sacred presence that the Dalai Lama has expressed his desire to retire to Tabo. The neighbouring villages of Dhankar and Nako are also Buddhist towns surviving in the cold desert climate of Kinnaur and Spiti, but Tabo holds a slightly more superior place in its relevance as a Buddhist cultural centre.
Where to eat: Tabo has only small tea-stalls and food joints that serve a very limited number of dishes but excel in their preparation of black tea.
Where to stay: There are a few hotels in Tabo such as the luxury Banjara Camps, Dekit Norphel Tiger Den Hostel, Tashi Gangsar and Menthok Dumra Hotel. Even the monastery has its own guest house for travellers.
How to reach: To reach Tabo you will have to take a bus or taxi from Shimla to Rekong Peo and then directly to Tabo. You can also take a direct taxi to Tabo from Shimla, but it will be expensive.